Marriage Not Dating: Episode 5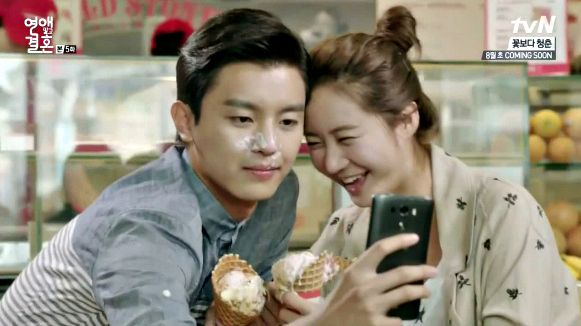 The contract romance fairy dust starts to work its magic on our not-a-couple, because as we all know, acting like you're in love has a way of making you feel all the attendant highs and lows anyway. To make matters even more complicated, a real romance comes along to threaten the fake one, and our heroine finds herself suddenly juggling three suitors all at once.

SONG OF THE DAY
Mamamoo – "Love Lane" for the Marriage Not Dating OST [ Download ]
Audio clip: Adobe Flash Player (version 9 or above) is required to play this audio clip. Download the latest version here. You also need to have JavaScript enabled in your browser.

EPISODE 5: "Words I can only say to you"
Today's cold open is soaked in dramatic angst: Ki-tae runs out to Jang-mi in the street, and she pleads with him not to come any closer. He asks if she's okay, but she cries again for him to stay away. (Agh, Shin Seung-hoon's "You Reflected in a Smile" is playing. My heart, it already breaks.)
Jang-mi: "It's all because of you!" Ki-tae hangs his head and apologizes, but it's no use; she tells him again to go, and this time tears trickle down her face. "Go. Please, go." Lightning strikes and the wind kicks up…
Rewind to: One day before the typhoon strikes.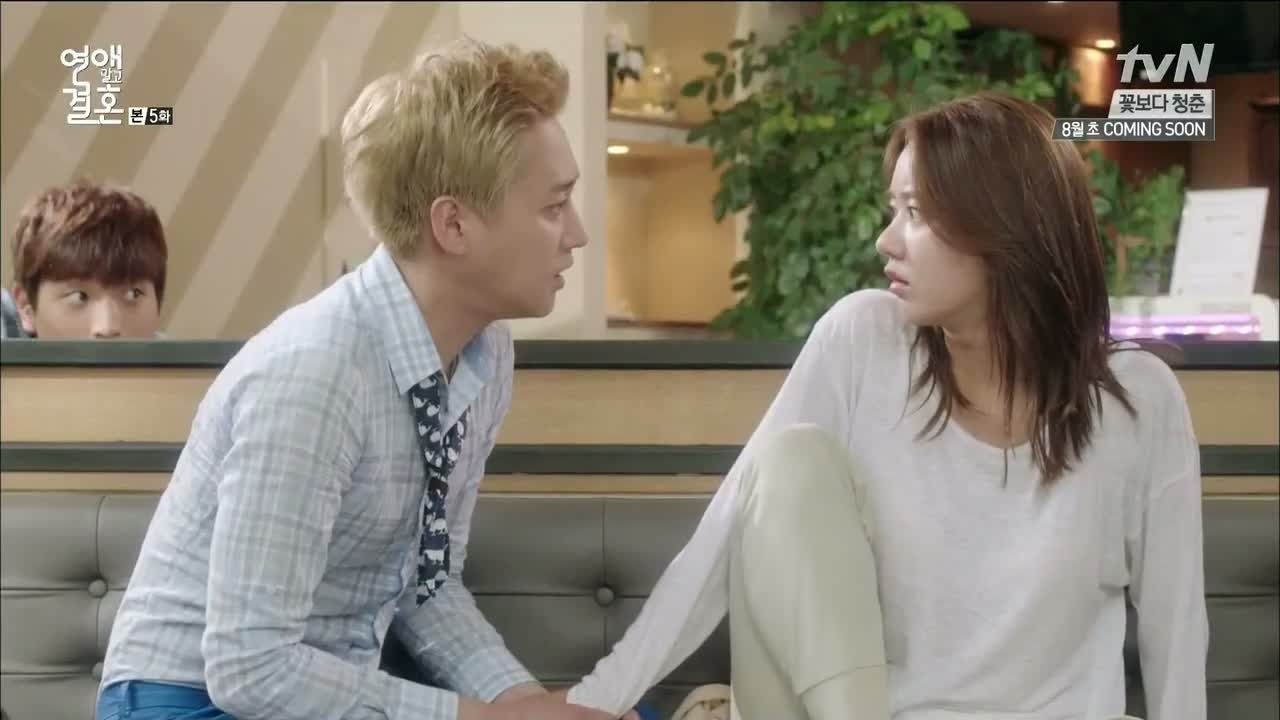 Jang-mi and Yeo-reum have fallen asleep in Hoon-dong's restaurant, unaware that everyone and his mother, literally, are on their way. Yeo-reum is the first to stir awake and when he hears the door open, he runs for cover, leaving a confused Hoon-dong to find Jang-mi sleeping there on her own.
He shakes her awake and she screams bloody murder. He wonders what she's doing here and she wonders the same, until she spots Yeo-reum hiding and motioning for her not to say anything.
Hoon-dong totally jumps to conclusions and decides she must've come to him for solace and waited all night to see him, and grabs her in a hug before she can explain. She gasps for air and reaches for Yeo-reum to save her, while Hoon-dong continues to overreact with promises to protect her now.
And of course, THIS is the scene that Ki-tae's mom and Hoon-dong's mom witness as they arrive for their brunch. Egads. Ki-tae's mom is shocked to hear that Jang-mi is the stalker she heard so much about, and that these events were very recent.
Hoon-dong defends Jang-mi and declares that he loves her, and she sneers when he says that he's having a hard time because of the pain he caused her. Hoon-dong's mom whines for him to stop embarrassing her.
Ki-tae's mom says there's nothing shameful about love, and then turns to Jang-mi to add that the truly shameful thing is to lie. Jang-mi apologizes to Mom, but Ki-tae's voice interrupts from the doorway and he snaps at for apologizing when she did nothing wrong.
He says he's the one giving Hoon-dong a hard time ever since he fell for Jang-mi, and despite Mom's insistence for him to drop the act now, he says he's going to marry her. Mom walks away embarrassed, and he reminds her that she said love wasn't shameful.
Hoon-dong tells his mother that it's true—he's about to get his girl stolen by his friend. Yeo-reum overhears all of this, leaving him even more confused about the guys Jang-mi is involved with.
Up in his office, Mom calls Ki-tae out on his ruse. Jang-mi seems ready to admit the whole truth, but Ki-tae swears up and down that Mom's got it wrong. When Mom calls Jang-mi a stalker, Ki-tae tells her not to poke at her wounds, and repeats what he said at home last night: "If it's not Joo Jang-mi, I won't marry at all!" Oddly enough now it's Jang-mi and Mom on the same side, wondering what the hell he's talking about.
He says he knows it's nuts, "But this must be what love is." He declares that if Mom disapproves, he'll spend the rest of his life as a bachelor. Jang-mi can't even get a word in edgewise, and Mom counters that if she finds out he's lying, he'll have to marry a woman she picks out.
As soon as Mom leaves, Jang-mi hits him for putting the train back on course when they worked so hard to derail it last night. But Ki-tae is dead-set on getting justification to live the rest of his life as a bachelor. Downstairs, Hoon-dong whines that if his mom doesn't help, he'll lose Jang-mi, and he knows how much his mom wants everything that Ki-tae's mom has. Yes, because daughters-in-law are just like purses.
Ki-tae asks now what the heck Jang-mi was doing at Hoon-dong's restaurant, and realizes she's still wearing the same clothes and therefore spent the night with Yeo-reum. As they drive home, he asks warily, "You didn't… did you? Did you do it? Did you, or did you not do it?" She flails at the implication and swears she fell asleep. Ki-tae: "Did you say anything about us?!" Oh, THAT. She thinks probably not, though she might've.
He buys her a new cell phone and says he installed an app so he can track her at all times, which makes him sound like the crazy stalker now. She doesn't see why she has to comply, but he insists they need it to keep tabs on the mom situation.
She hands the phone back and tells him to apologize for breaking her phone in the first place instead of trying to cover everything up with money. But just as she's about to walk away with the upper hand, he reminds her that she'll need a phone to call Yeo-reum. Damn, and you were so close to winning this argument.
Yeo-reum apologizes for putting her in a sticky situation and offers to buy her dinner. She's about to make a date for tonight when Ki-tae interrupts, insisting that she have dinner with him instead, and then says he has a hostage to make her change her mind. He turns around and we see that her mom is at his clinic, and he approaches her ominously with a syringe at the ready, ha. (And seriously, are we stopping for facial injection PPL now? That's new.)
Jang-mi begins the date pouting, seeing as how Mom was taken hostage just to get her here, while Ki-tae decides to spend the date taking couple photos to put online. She's annoyed when he dabs her lips with ice cream, but then she gets her revenge with an ice cream cone to the nose, and he gets his cute picture.
They spend the whole day like this, drinking out of the same drink, or posing with a rose, stopping to take pictures at every turn and then dropping the smitten façade as soon as the shutter clicks. But then Jang-mi stops to smell the rose that he bought her, and he notices.
They pose for a picture in the movie theater and in no time they're reaching for each other's snacks and laughing at the same things, hands grazing in the popcorn tub.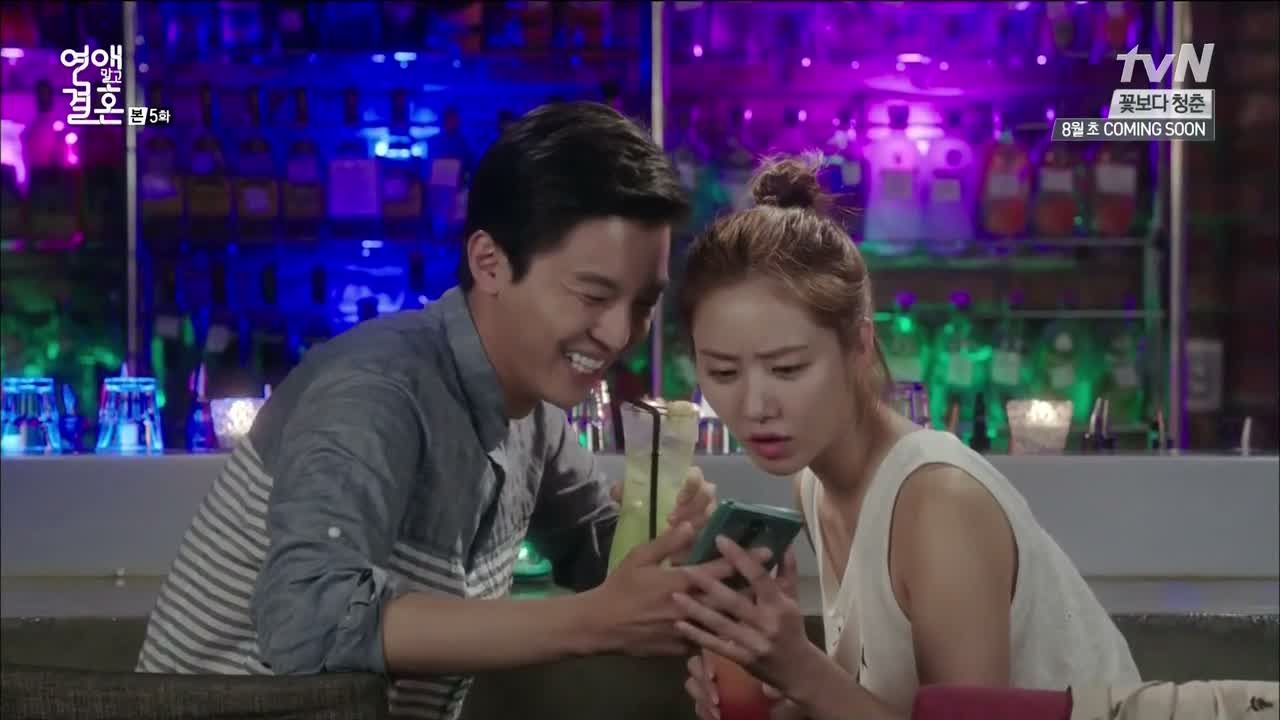 By the time they get to cocktails, they already sound like an old familiar couple: That one's weird! Take it again. You always look like that. Oh that one's good. See, you look good in that one. They don't even notice that they don't look or sound like they're acting anymore, and just giggle as they sit close and post pictures online.
Yeo-reum sees the pictures and sighs, thinking back to Jang-mi's vague words last night about her feelings for Ki-tae not being real, and wonders what she's getting herself into. He texts her to say that he'll be waiting for her.
Ki-tae walks her to her door and she thanks him for the rose, which puts a smile on his face. She finds herself swooning at the flower and has to knock herself out of the reverie, and heads out to meet Yeo-reum at the restaurant (wearing a mask, ha).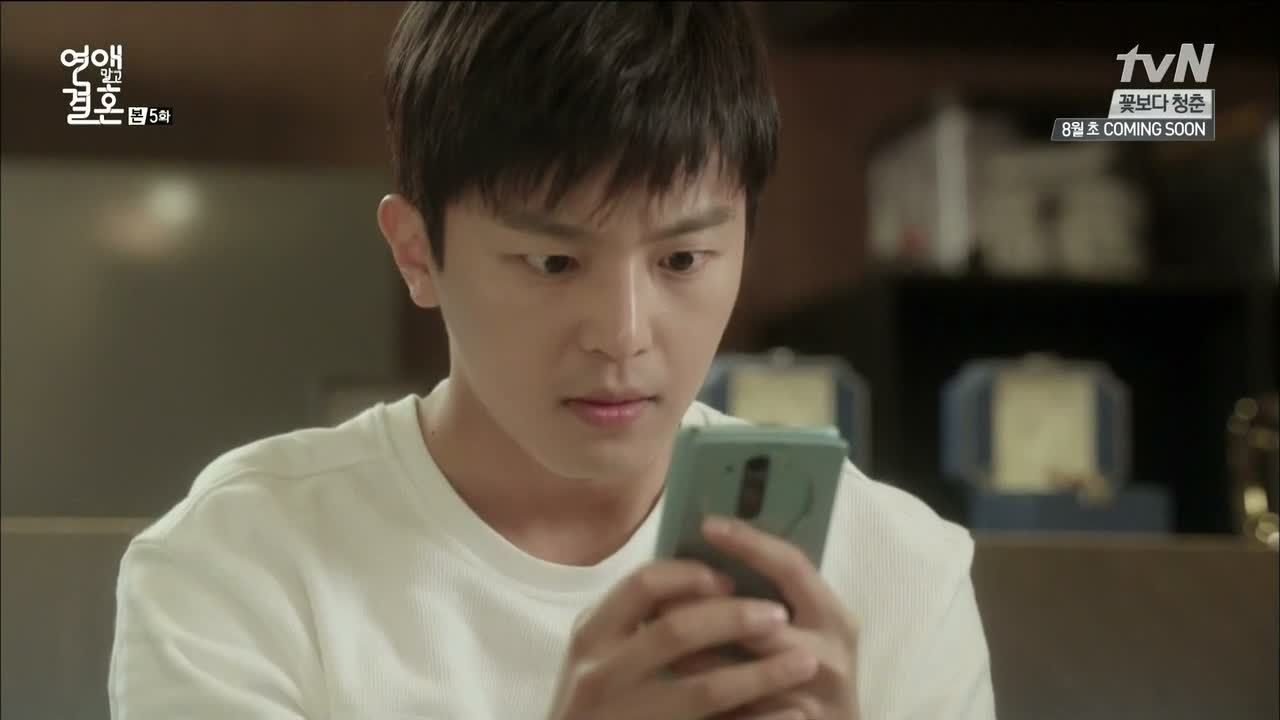 At the same time, Ki-tae lies in bed flipping through their photos, smiling at the cute ones. He catches himself and shakes the smile away, and then checks the tracking app to see where Jang-mi is. When he sees that she's at Hoon-dong's restaurant, he bolts up in bed angrily. May the jealousy shenanigans begin!
Yeo-reum admits to stalking her date photos with Ki-tae all day and grumps about it cutely. Ki-tae interrupts with a call to tell her to leave at once and not to trust Yeo-reum, and she hangs up on him.
Yeo-reum asks about the expensive new phone and wonders if she's dating Ki-tae for his money. She says it isn't like that and grouses that she much preferred her six-year-old flip phone, and that she has a hard time throwing things away.
He asks why she likes Ki-tae then if it's not his money, and she wonders why he's so inquisitive about her relationship. I'm curious too—is it purely because you're interested in Jang-mi, or are you fulfilling your nefarious mole duties to Se-ah, or both?
When she asks what kind of person he is, he answers with the vague non-answer that he likes to be mysterious. He reaches to throw away some soup he made with all the ingredients that would go bad by tomorrow, and Jang-mi stops him and insists on eating it.
She eats it heartily, and he watches her intently and starts to smile. She says she thinks she knows him a little now that she's tasted it—he doesn't like to throw things away either, and feels bad for things that get thrown out.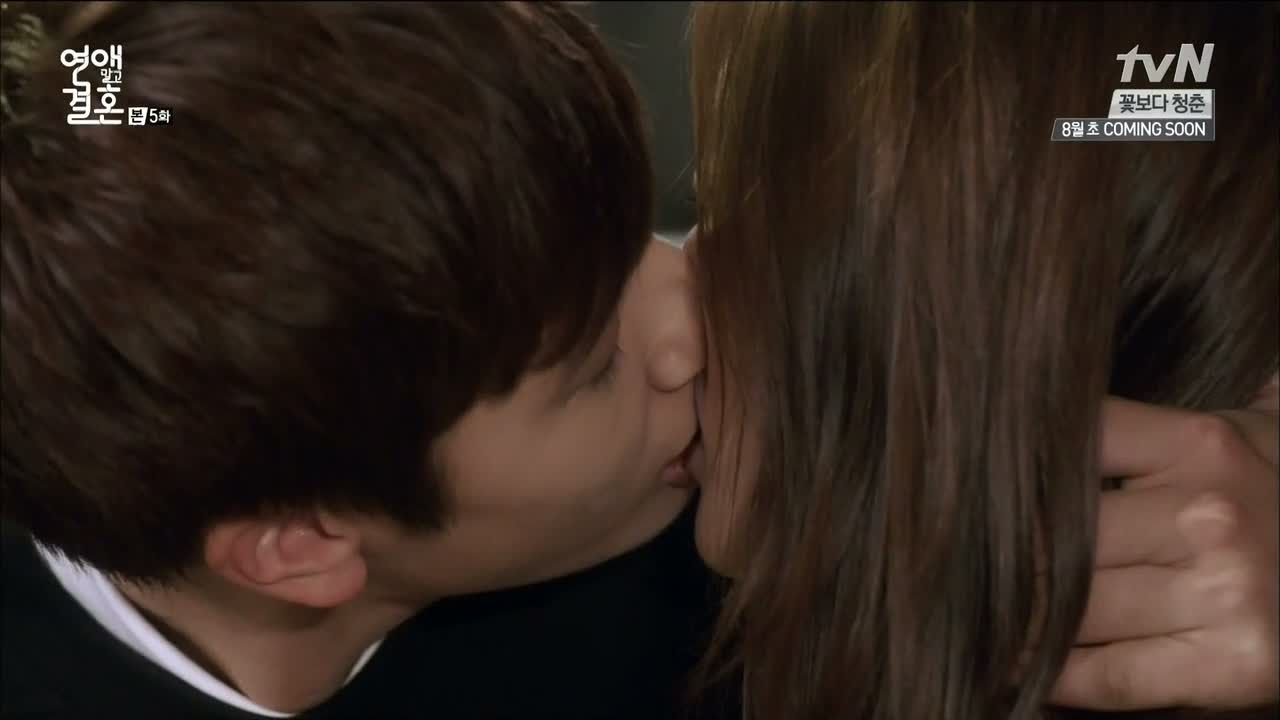 He says that's silly and he made it to be thrown away anyway, but she asks if he wasn't just throwing it out first before having it be thrown away. The observation seems to hit close to home. She says it's in the taste, and he leans in close to her soup-stained lips: "Really? Then I want to taste too."
He swoops in for a kiss that surprises her, and then pulls her close for another. Oh my.
Ki-tae runs out of his building on a tear, still wearing his pajamas and ranting about what he's going to do if he catches them. He gets outside and then looks down at his feet, and he's wearing two different shoes, LOL. He chastens himself out loud, "What're you, going to catch your cheating wife?" He sighs and suddenly rain comes pouring down, and he runs back home.
Twenty hours till the typhoon strikes.
Yeo-reum takes the soup pot out of Jang-mi's hands while they're still kissing, and they wrap their arms around each other to make out some more.
At Ki-tae's house, Dad comes home in the morning just to get a change of clothes. He asks Mom how Jang-mi found out about that thing they don't talk about, since he's been careful as usual, and worries that it's like having a ticking time bomb in the house. Mom doesn't say a word, though to me, she seems like the ticking time bomb around here.
Jang-mi bangs her head against a wall at work the next day, calling herself crazy. But then she starts giggling and tells Hyun-hee excitedly that she kissed someone last night. As soon as Hyun-hee mentions Ki-tae, Jang-mi's stomach starts acting up (Oh noes! Nearly expired ingredient soup!) and she makes a run for the bathroom. Any romance development for Jang-mi and another man is happy news for Hyun-hee though, who's got her eye on Hoon-dong and is happy to hear she's moved on.
Jang-mi gets waylaid on her way to the bathroom when Ki-tae's mother arrives to speak to her, and she sits uncomfortably just willing the conversation to go faster. Mom asks how much Ki-tae paid her to go along with this charade, and offers to pay her more. She turns on a recorder and asks her to admit that it was all an act.
Jang-mi says when she first met Ki-tae's family she was truthfully a little envious, and it was the first time she thought that families she had only seen in dramas actually existed. But the more she gets to know them, the more she realizes it's a makjang family. Ha. She tells Mom to talk it out with her son instead of doing things like this.
Jang-mi apologizes if it came out wrong, but her family's cut off communication for some time now too, so she understands and feels bad for her. Mom scoffs at being pitied, and Jang-mi ducks for cover thinking she's going to get hit again.
But Mom stops cold when Dad's mistress comes walking into the department store, and Mom instinctively runs and hides behind a purse display. Agh, I feel so terrible for her. When Jang-mi sees what's going on, she asks why Mom is the one hiding when it should be the other person, but Mom pretends not to know what she's talking about.
Mom walks out against the wind like a heroine in a melodrama and goes straight to Ki-tae's office to ask how Jang-mi knows about his father's cheating. She reminds him that he's being considered for president (of his university) soon and it could ruin everything if the truth came out.
Ki-tae scoffs at her concern for Dad, and is surprised that Mom is even bringing It up when it's not a thing they talk about. She accuses him of giving Jang-mi ammunition against her, but Ki-tae lies that he told her for his own benefit—so that he could breathe and talk to someone openly. He says that he doesn't even know how but he ends up telling Jang-mi everything.
He doesn't think it's so bad to have one person in the world he can speak to openly, and Mom warns him that that person could bring him crashing down. She swears she'll get her definitive proof that they're a lie, and storms out.
At the restaurant, Yeo-reum hovers around the head chef and begs him to try the soup he made last night, and the chef scowls after one bite and says it's bad. But then as soon as Yeo-reum walks away he has more, wondering how the waiter made a soup this good.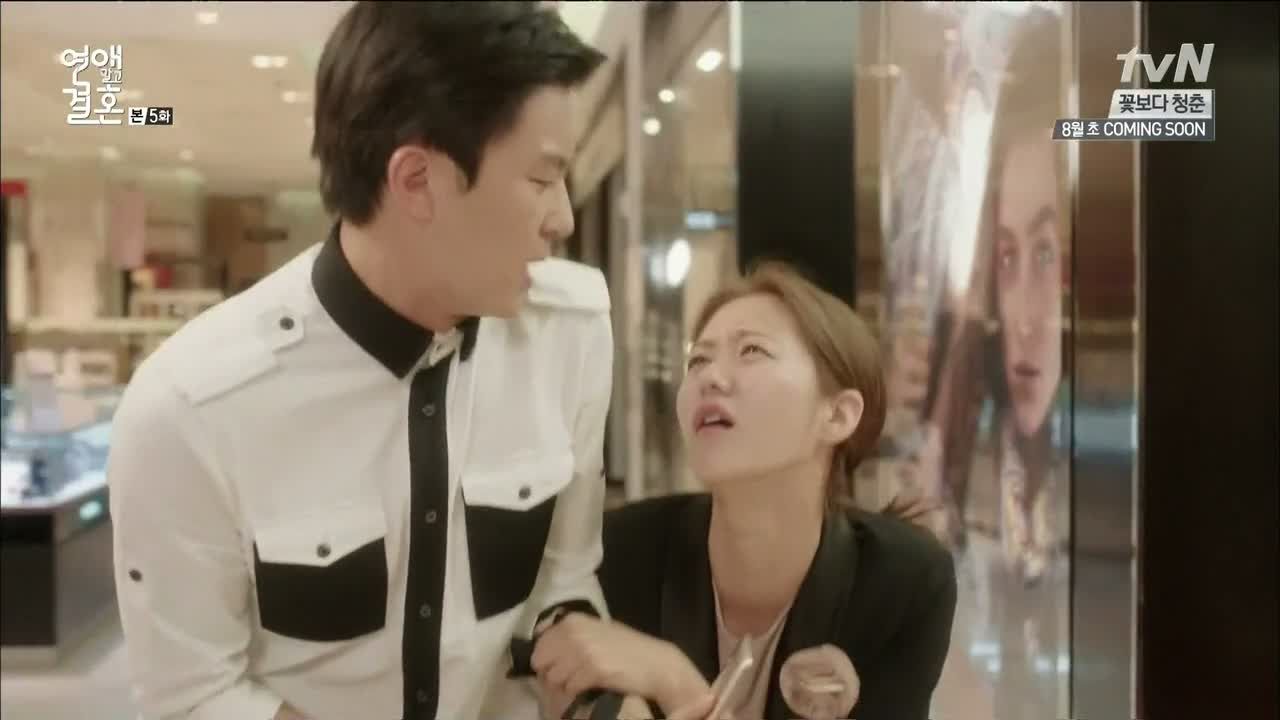 Hoon-dong's mom is still feeling the sting from the morning fiasco, and at the salon she snubs Ki-tae's mom and goes running to Se-ah, eager to be friendly with her. She invites Se-ah to their wine club meeting tonight and moves the gathering to Hoon-dong's restaurant so she'll agree to come.
Hoon-dong tells Ki-tae about the wine party and Se-ah's invitation, "To keep Jang-mi away from us." Ki-tae corrects him: "You mean keep Jang-mi away from ME." He takes off running, leaving Hoon-dong pouting that he was trying to play fair.
Jang-mi's stomachache gets worse as the day goes on, and she finally has to ask to leave work early. But Ki-tae arrives to yank her away to dinner before she can even protest. Dude, let the girl go to the bathroom.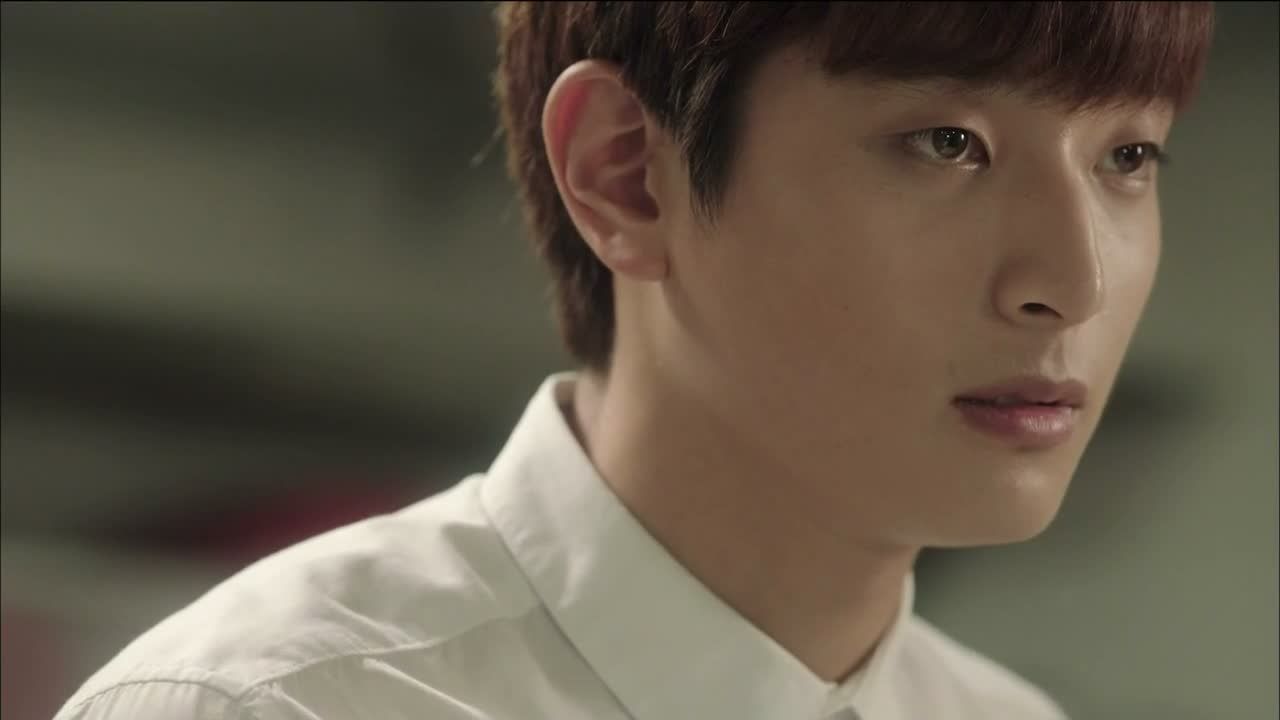 Yeo-reum is surprised to see his soup pot emptied and asks the chef if he ate it all. Judging from his rumbling stomach, he totally did, but he lies that he threw it away. Chef gets mad when he finds Jang-mi's tub of kimchi in his kitchen, and tells Yeo-reum to toss it.
Yeo-reum goes to throw the kimchi out, but then remembers Jang-mi's insightful observation about him not liking it when things get thrown away. He flashes back to his childhood, when his mother made him a kimchi pancake one night and then abandoned him while he was eating it. Damn, that's cold.
Once Jang-mi sees that dinner is at Hoon-dong's restaurant, she refuses to go inside, while Ki-tae argues that she'll go there at all odd hours of the night but won't go when he asks. She tells him to stop pestering his mother, and starts to tell him what happened at the department store today.
But Mom walks up just as she's about to say it and snaps at her for being so loose-lipped. She tells Ki-tae not to mess around with her wine club because it's important (one of the wives is married to the university's chairman of the board, who decides Dad's fate).
To Ki-tae, it's just more reason to point Jang-mi the loose cannon her way—Mom's free to officially disapprove right now if she doesn't want them to attend. Ki-tae begs Jang-mi to go in with him, and her stomach starts acting up so badly that she decides she'll at least have to go in to use the bathroom.
Two hours before the typhoon strikes.
Ki-tae introduces Jang-mi to the group as the woman he's going to marry, and Hoon-dong's mother has a field day with the gossip, pointing out that Ki-tae is sitting between his ex-girlfriend and his new girlfriend, who happens to be Hoon-dong's ex.
Hoon-dong follows Jang-mi and tries to apologize for his mom, and she just shoves his face away, desperate to get to the bathroom. But the chef beats her to the door, equally desperate to get to the one working toilet in the restaurant. Agh, there's only one working restroom? She stands outside the door crossing and uncrossing her legs, trying not to have a meltdown.
Meanwhile, because the chef is otherwise occupied and Hoon-dong is getting impatient, Yeo-reum decides to cook. He uses up the rest of Jang-mi's kimchi to make kimchi pancakes and then turns them into little pizzas.
The ladies don't really receive the fusion dish very well, and even Jang-mi is too preoccupied with her stomach troubles to speak up in defense of kimchi and cheese. Yeo-reum berates himself for trying and tosses the rest of the kimchi out, not knowing that eventually the ladies taste it and love it.
He grabs Jang-mi during her next attempt to get to the bathroom and asks a little judgmentally what she's doing barely picking at her plate just to look good in front of those ajummas when she normally stuffs her face with food. He asks if she has two faces—one for kissing him by night and the other for playing a doctor's fiancée by day.
She finally tells him the truth about her relationship with Ki-tae—that it's all an act so that he doesn't have to get married—and Se-ah rounds the corner just in time to overhear them. Yeo-reum doesn't understand why Jang-mi is involved, but she un-complicates it for him: "I like you!" The confession startles him (or niggles at his conscience?) and she says there's so much she wants to tell him.
Now that she knows what he's up to, Se-ah returns to the table and whispers to Ki-tae that he's being cute. Jang-mi tries to say her goodbyes and leave, but they insist she stay for the wine at least, so she sits back down.
The room starts to spin as her stomach grumbles more fiercely than before, and she breaks into a sweat just trying to keep it together long enough to drink a glass of wine. But they keep pushing her to eat and have another glass, so she stuffs her face as fast as she can.
Hoon-dong's mom doesn't waste the opportunity to backhandedly praise Ki-tae's mother for being so open-minded as to accept a woman with a criminal record as a daughter-in-law, and Jang-mi finally reaches the limit of her stomach pangs. She stands up, declares that she did indeed pay a fine for being a stalker, and gulps down the rest of her wine before walking out.
As she limps out of the restaurant clutching her stomach, the caption tells us it's time for the typhoon to strike. Oh noes! Is this the typhoon? The one brewing in her intestines?
Ack, her steps grow more frantic as her stomach growls with terrifying urgency, and she goes every which way looking for a bathroom. She gets as far as across the street… and then lightning strikes. OMG. She just pooped her pants. Nooooo.
She freezes like a statue, so shocked that she can't even move, and then to make matters worse, Ki-tae comes running out to check on her. LOL, this is the opening scene? Hahahaha. I'm crying.
Things look very different than they did an hour ago, and now we see that Jang-mi wasn't crying or upset—she's mortified and desperate to make him go away before finding out that she just pooped her pants in the street. He doesn't know this, of course, and apologizes sincerely for putting her through this.
She just begs him repeatedly to go away, but then the wind kicks up… wafting the scent of her accident right into Ki-tae's nose. Gack. How can something be so sad and so funny at the same time? He makes a face and steps back, stammering that it couldn't be. She screams for him not to say a word.
Now it's his turn to stand there shell-shocked, and wouldn't you know it—it's Mom who comes to Jang-mi's rescue. She puts her coat over Jang-mi's shoulders and leads her away, ordering him not to follow. Se-ah comes out and asks if this was the sort of thing Ki-tae was angling for, calling him childish.
Jang-mi comes out of Ki-tae's office wearing a change of pants, and she bows in gratitude for the rescue from Mom. Mom just says they're now even on the secrets, and asks her not to go around spreading rumors about hers.
Jang-mi: "It's like poop in your pants, isn't it? Something that exploded without your consent or will? It's scary, and shameful, and so painful that you can't even look at it or talk about it, isn't it?"
That is not where I thought this poop metaphor was going to go, but it's strangely apt. Tears pool in Mom's eyes, and Jang-mi assures her that her secret is safe. When Ki-tae comes in Jang-mi tells him that she wants to call it quits now, and says that she confessed her feelings to Yeo-reum.
Mom apologizes as she says goodbye to the wife of the board chairman, but the woman surprises her by saying that she used to think Mom was so rigid that she didn't even go to the bathroom, and expected she'd have a daughter-in-law as robotic as her. But she finds Jang-mi so personable and was pleasantly surprised to know that Mom could be so open-minded and forgiving.
Hoon-dong gets drunk and calls Hyun-hee out to meet him, slurring that he thought he could tell her everything. At the same time, Jang-mi tells Ki-tae that she thinks Yeo-reum is someone she can tell everything to. He can't believe she already told him about their relationship, and can't help getting in the jab: "What about pooping your pants? Are you going to tell him that too?" HA.
She chases after him in protest when he threatens to tell, but they stop when they spot Se-ah and Yeo-reum outside the restaurant. She says that she finally knows what Ki-tae is up to now and hands over an envelope, and Yeo-reum smiles back at her. Oh no, poor Jang-mi.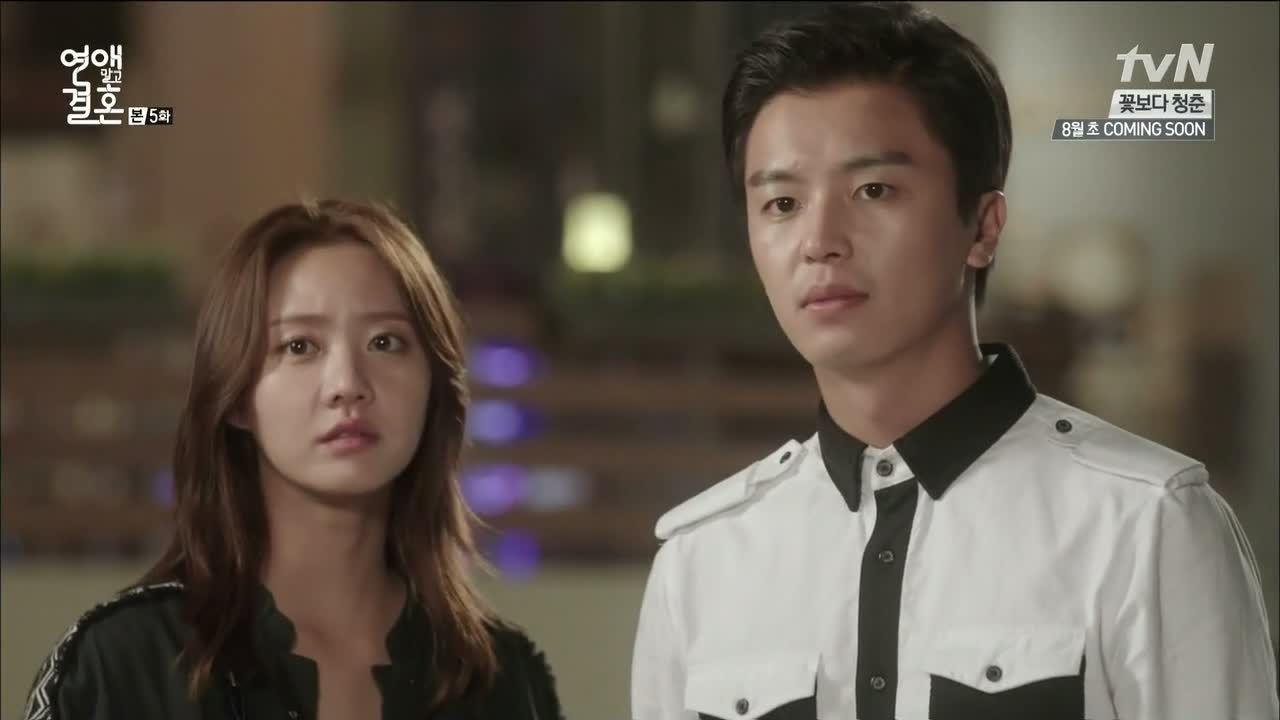 COMMENTS
This was the best use of the cold open yet, with the four previous episodes having set us up for a very straight reading of events, laying the groundwork for the surprise twist in this episode. We expect the usual flash-forward and ticking clock that's become a staple of this show, and the device could easily become a hackneyed crutch (as it is so often). But this episode builds toward the reveal so effectively, complete with signs of an actual storm brewing as we go along, only to be slammed with the most unexpected reason for a tear-filled love spat imaginable. I love how clever the reinterpretation is—the only real difference is a simple music cue that makes the scene fraught with angst in the opening, and then doubly hilarious when we get there and it's a conversation about poop.
And then to top it off, the poop incident gets used as a metaphor, which is even funnier than the fact that she pooped her pants in the first place, like the writer's sitting there shouting, See, it's not just scatological humor! There's a higher purpose, I swear! Of course the typhoon gets you the initial metaphor: you hold your business too long and keep things bottled up until it's too late, and it explodes on you, ruining things.
But then after Mom saves her (another great twist, by the way), Jang-mi also turns it into a metaphor for shame—suddenly she sees the affair from Mom's point of view as a thing you can't dare to speak of because it's so cruelly shameful even though you had no control over it in the first place. It's a fantastic moment of understanding between them, after seeming so different at the outset. Naturally a great deal of Mom's depth is owed to Kim Hae-sook's portrayal, but now we start to see why she was cast in the first place—Mom isn't just the disapproving catalyst for the contract relationship, and her own journey with Jang-mi is proving to be as interesting and important to the story as anything.
Yeo-reum confuses me, which I guess is the point of him. Both Yeo-reum and Hyun-hee seem to be younger twentysomethings who don't feel qualms about dating up for the social perks (largely money), and given that the rest (minus Jang-mi) are wealthy, older, and successful, it doesn't seem a big leap that they assume Jang-mi is just like them. But Yeo-reum is weirdly cagey and waaaay too smooth to be trusted fully, and yet, at the same time, it does seem like his feelings for Jang-mi might be genuine. The problem is that he seems like another Hoon-dong for Jang-mi—someone who wants to keep things light and easy, and no matter how much Jang-mi tries to be that cool about dating, we already know she's incapable of keeping her heart in check.
The funny thing is that the contract relationship is making her appear to have become the player, stringing three guys along like a pro. And in some ways, she is keeping them all on the hook—if you ignore that Ki-tae is fake and Hoon-dong is just a child who wants his toy back 'cause it suddenly seems desirable again—because for someone who appears to be engaged to a doctor, she manages to squeeze a lot of dates in, and even has her fake boyfriend jealous of her extracurricular activities.
This is always my favorite stage of contract relationships, where faking it till you make it turns enemies into allies, and the act of working so hard to make the world believe you're in love becomes the very thing to make you fall for each other. And it's extra satisfying that it's always Ki-tae who wants her all to himself and wants to keep the ruse going, complete with all the activities a real couple would do together. A rose is just a rose… except when your fake boyfriend gifts it to you and suddenly the damned thing makes you swoon.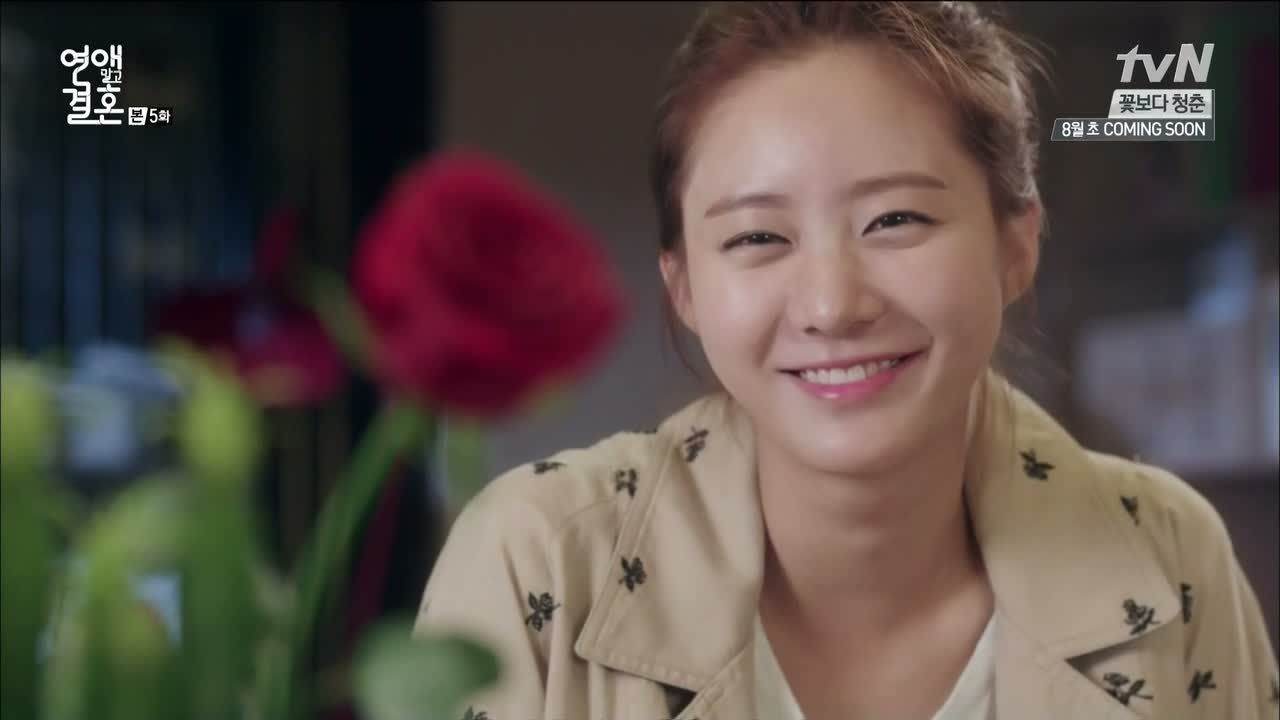 RELATED POSTS
Tags: featured, Han Groo, Marriage Not Dating, Yeon Woo-jin