Marriage Not Dating: Episodes 3-4
I love it. Marriage Not Dating is light, airy, and funny while also delivering a nice healthy dose of heart and depth. We're starting to get glimpses into characters' pasts that indicate that not everything is cuteness and romance in these people's lives, and I think the show is setting a nice balance between hilarious hijinks and real, honest heartache.

EPISODE 3: "Being happy on your own"
Jang-mi pounds on a locked door, as Ki-tae lies on the floor, pale and unconscious. She finally bursts through the door to find him unresponsive, as a knife falls to the floor.
Two days before the incident.
On the night of the bachelor auction, Ki-tae and Jang-mi's mothers meet to discuss the kids – Jang-mi's mom is talkative and animated while Ki-tae's mom is reserved and stuffy. She makes it clear to Jang-mi's mom that her son will not be marrying Jang-mi, but talk of marriage is news to Jang-mi's mother.
Jang-mi and Ki-tae arrive, and Jang-mi's mom asks if this is the restaurant owner, confusing Ki-tae with Hoon-dong. Ki-tae's mom says that no, her son is a doctor, and Ki-tae ad-libs that Jang-mi was lying about his profession to avoid parental involvement.
He hilariously lays it on thick in front of the mothers, insisting that he's the one begging Jang-mi to marry him, even getting on his knees to bow to Jang-mi's mom. He ushers his mother out and Jang-mi's mom gives a whoop of joy for her new doctor son-in-law.
She drags Jang-mi to their restaurant and texts about the engagement to Jang-mi's father, which just creates confusion as Dad freaks and Jang-mi tries to get her story straight. Finally Mom tires of texting and blurts out, "He's a doctor!" At least her parents are speaking to each other now – in fact they even shove Jang-mi aside to gossip together, ha.
Later, Jang-mi lies in bed in full swoon-mode, only she's not swooning over Ki-tae…she's remembering Yeo-reum gallantly returning her lost shoe the night before, like Cinderella's prince. She lights up when she gets a text, but drops the phone in disgust when she sees that it's from Hoon-dong.
One day before the incident.
Ki-tae's mom lets herself into his apartment and begins bagging up all of his instant food. She says she can tell he never has guests, but he insists that Jang-mi is here all the time, no really, and warns Mom to stop barging in or she might see something she doesn't want to see. Mom just wearily sighs, not believing him.
Hoon-dong texts Jang-mi repeatedly, getting no response, and perks up when he sees her riding up to his restaurant. He plays it cool, but frowns when she only asks after Yeo-reum. She finds him in the kitchen, but he's more interested in watching the chef prepare a special dish than in talking with her. Jang-mi's perplexed as he distractedly says he'll call her later, wondering what happened to the Prince Charming from the night before.
On her way out, Hoon-dong trails after her, still convinced she's here to see him. Ki-tae comes to her rescue by offering to take her to his place like they planned, *wink wink*. Jealous Hoon-dong follows them, and they're forced to keep up their act all the way to Ki-tae's apartment.
Ki-tae reluctantly lets Jang-mi come in just until Hoon-dong leaves, which is apparently a big deal as he never has visitors, not even women. She's impressed at how nice it is for a bachelor pad, and he insists that he's a bachelor by choice, not because he can't find anyone to marry him.
It's hilarious how she runs around touching all his stuff, causing Ki-tae to wig out, which just makes her do it even more to get under his skin. The last straw is when Jang-mi settles into his expensive massage chair and changes the settings, but she says she's earned the right by helping him stay a bachelor. Can't fault her logic.
They both panic when they hear Ki-tae's mom letting herself in again. Ki-tae thinks on his feet and shoves Jang-mi into his bed, then half-undresses before going out to meet Mom. He lets Mom take in his shirtlessness and Jang-mi's feet sticking out of the covers, saying that he did warn her not to come in unannounced. Mom says that she didn't see anything and leaves.
Tired of being sucked into Ki-tae's war with his mother, Jang-mi heads to her family restaurant to come clean to her parents. But they've apparently told everyone about their new plastic surgeon son-in-law because even the customers are talking about her engagement, and she doesn't have the heart to disappoint them.
Wondering when Yeo-reum will call, Jang-mi heads to Hoon-dong's restaurant to look for him, and hides when she sees Hoon-dong sitting with a woman whose face she can't see. Jang-mi tries to sneak past them into the kitchen, but Hoon-dong catches her mid-sneak. He's thrilled to see her, but when Jang-mi sees that the woman with him is Hyun-hee, her face falls and she runs. I'm not sure I like the conniving little glint in Hyun-hee's eye.
As if she doesn't feel bad enough, Jang-mi sees Yeo-reum getting out of a woman's car and hears her thank him for the fun time today. He sees Jang-mi and takes in her hurt expression, but he doesn't follow when she runs in the other direction.
Ki-tae and Se-ah go on the date that she won in the auction, where they have a nice meal by a fancy indoor pool. She makes a snide comment that she's surprised how nice this place is, since she thought his tastes these days ran more towards "rowdy and loud."
Se-ah reminds him that when they broke their engagement three years ago, they agreed that they weren't cut out for deep relationships. Ki-tae's face hardens and he cuts the date short, but she asks if she can come to his place. When he doesn't answer, she says she knows he prefers being alone and asks what it is about his house that he loves so much. That's the second time he's been asked that question, and I'm curious myself.
Jang-mi lets herself into her dark and empty house, and remembers a time when she was small and was left home alone, terrified and crying for her parents. At the same time, Ki-tae lies alone in bed, thinking about Se-ah's question of why he loves his home and remembering being a child, happy and safe in this same bed.
Someone rings his doorbell frantically, but instead of Mom as he expected, it's a drunk Jang-mi bringing ramyun. He's not in the mood for company and starts to call her a taxi, when she spots his gigantic fish tank and whines that if he won't let her make ramyun then she'll make fish stew. She starts grabbing for fish with her bare hand, calling it Nemo. Ki-tae wrestles her away from the tank, insisting that it isn't Nemo, but not before she manages to grab one fish and drop it on the floor. Shaking with fury, he cries, "Nemo!" and gets the fish back in the tank and roars at her to leave.
This scares Jang-mi so badly that she drunk-wails, so he caves and lets her make the ramyun. She rambles about Yeo-reum's confusing behavior: Why did he ask her to eat? Why did he say he'd call? In explanation, Ki-tae tosses a book to her…He's Just Not That Into You. PFFT.
Jang-mi asks why Ki-tae doesn't want to get married, and he quips that he doesn't want to get saddled with a girl like her. She asks about Se-ah, and he just says they respect each other too much to ruin it with marriage. She says he's over-thinking it, and he says she doesn't think enough…she's only just out of a relationship, and already pursuing a man who has only shown lukewarm interest. He thinks she needs to be alone a while before dating again.
They argue over which is better, closeness or solitude, until her phone rings. It's Yeo-reum finally calling, and he asks if she can come out tonight (Ki-tae in the background: "Spend some time alone!"). Jang-mi hides in the bathroom to talk, and Yeo-reum explains that what she saw was the tail-end of his charity date. Relieved, she agrees to meet him, but Ki-tae has locked her in the bathroom. HAHA.
He refuses to let her out, since a guy will never like her if she goes running whenever he wants. In their struggle over the door, Jang-mi breaks the door handle and escapes, counterattacking: How can you find someone to be with, if you spend all your time alone? She yells that she never wants to be alone, and leaves.
Yeo-reum lays out a picnic for Jang-mi, and she's touched to see the same fancy dish he was studying so intently earlier in the day. She shocks him by eating bites of it with kimchi, which he doesn't like, but he admits they're good together when she convinces him to try it. She says she's noticed he eats alone a lot, and proposes that they eat together sometimes, thinking to herself that she'll take things slow with him.
Day of the incident.
Ki-tae's mother, aunt and grandmother look over pictures that Aunt Mi-jung took of Jang-mi, and Mom wonders aloud what he's thinking by dating her (Grandma: "Maybe he's attracted to someone unlike his mom?"). Grandma says she understands why Ki-tae wants to live alone, the way they treat him. Mom asks for her help, to talk to him and find out what's going on with him lately.
Grandma calls Ki-tae to meet, but he can't talk because Jang-mi's mother is in his office. She's satisfied to see that his business looks busy, but notes his puffy eyes and tired skin. He blames the ramyun, but she assumes Jang-mi is giving him a hard time and promises to talk to her.
Ki-tae calls Jang-mi to find out why she didn't tell her parents that this is all a ruse, but she can't talk because his grandmother has come to talk to her. Grandma calls in Jang-mi's promise to cook pancakes for her so they head to Ki-tae's place, where they proceed to get sloppy drunk and adorable.
When questioned about Ki-tae, Jang-mi blurts out that he's selfish and rude, but Grandma doesn't take offense and says he needs someone honest like her. Jang-mi pouts that he always wants to be alone, and Grandma gets teary-eyed and sobs that it's all her fault. She says that she's lived too long and should just die, and then…she collapses. Right onto the pancake.
Jang-mi panics and calls Ki-tae, who rushes home just as the EMTs take Grandma out on a stretcher. Jang-mi fills him in on what happened, and he tells her to go and heads to the hospital. Luckily Grandma is fine, only heavily sleeping off all the alcohol.
Ki-tae's family finds Jang-mi pacing outside the ER entrance, where the stench of alcohol on her clues them in that she was the one drinking with Grandma. Ki-tae angrily pulls Jang-mi aside to ask what she was thinking. He says she needs to stop crossing boundaries over and over – that's how she ends up accused of stalking.
He says he's only spent time with her because he wanted to ultimately be left alone, but now he can't get rid of her. Jang-mi can only stammer that she's sorry, and Ki-tae reminds her again that he has no intentions of getting married if that's what she's thinking, adding that he hates girls like her. Hurt, Jang-mi just quietly apologizes again and leaves.
Ki-tae goes home and cleans up the mess, then relaxes in a hot bath and revels in his solitude once again. But he discovers that the bathroom door handle is still broken and he's locked in, as the captions inform us that this is the incident: Ki-Tae's Bathroom Lock-In Incident. HAHAHA. He yells and yanks at the door but it's no use, and he finally has to laugh at the irony that he's now wishing someone would show up unannounced.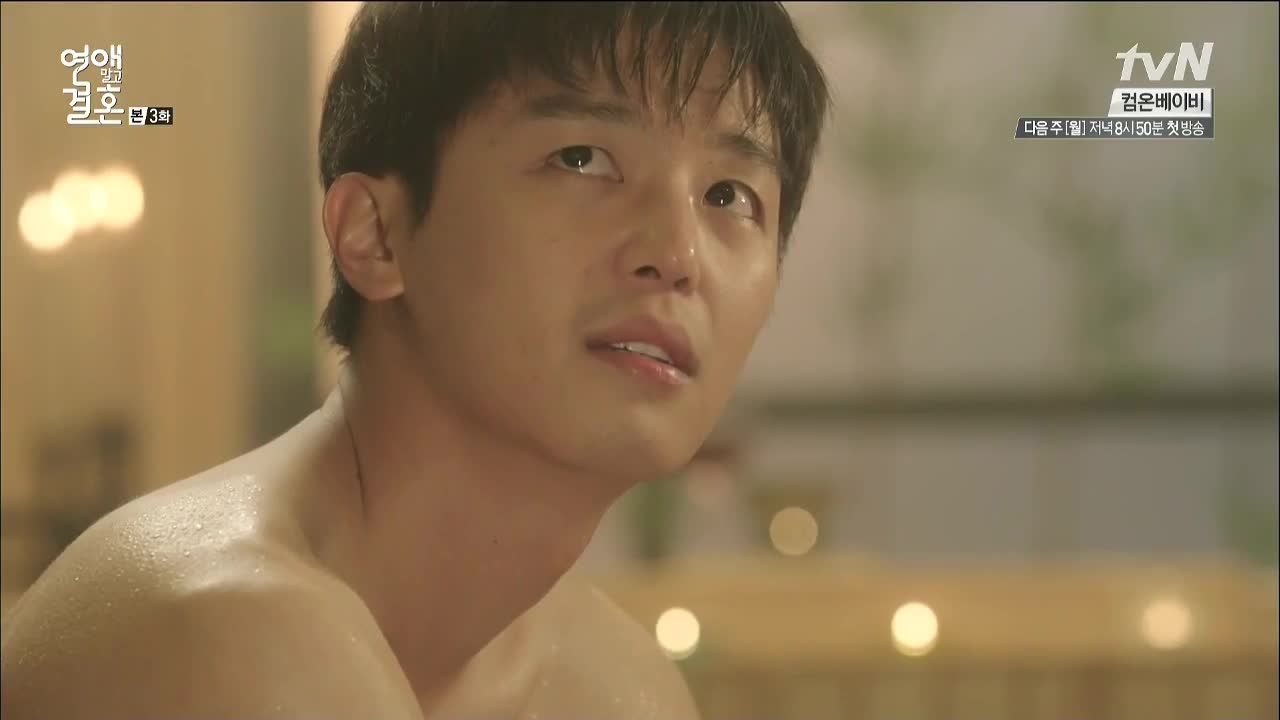 The next day Jang-mi fights the urge to go back to find out how Ki-tae's grandmother is doing, and gets worried as the day goes on and her texts to him go unanswered. Another day later, Se-ah visits Jang-mi's store, but when asked if she can reach Ki-tae, she just says that Jang-mi should accept that she's been rejected again. Ouch.
Ki-tae spends 48 hours locked in the bathroom, reading, exercising, and fighting boredom. He weakens and hallucinates his friends and family saying how tired they are of him, knowing none of them will come and rescue him. For a moment he perks up thinking of Jang-mi, but remembers their fight and loses hope. He lies on the floor and passes out, just as we saw him at the top of the episode.
At home that night, Jang-mi breaks a glass and flashes back to being home alone as a child, where she broke a glass and cut her feet badly. She starts to clean up but gets a bad feeling, and rushes over to Ki-tae's place.
There's no answer when she knocks, so Jang-mi lets herself in and creeeeps through the apartment, Ki-tae's admonishment of her boundary-crossing echoing in her head. She calls out that she's sorry, but she was worried because she once almost died alone at home when she was five, which explains her fear of being alone.
As Jang-mi talks, Ki-tae rouses just enough to feebly call for help. She grabs a knife and pries the door open, dropping it when she sees him lying half-dead on the floor. She tries to rouse him, and he uses the last of his strength to clasp her in a tight hug.

EPISODE 4: "For whom we cook pancakes"
A memorial feast is laid out in front of a photograph of a distinguished-looking older gentleman. In the background, Jang-mi beats Ki-tae with a dried fish as she screams about all the suffering he's caused her. Ki-tae falls into the memorial feast, scattering food everywhere, as a group of women try to hold Jang-mi off of him.
D minus 4…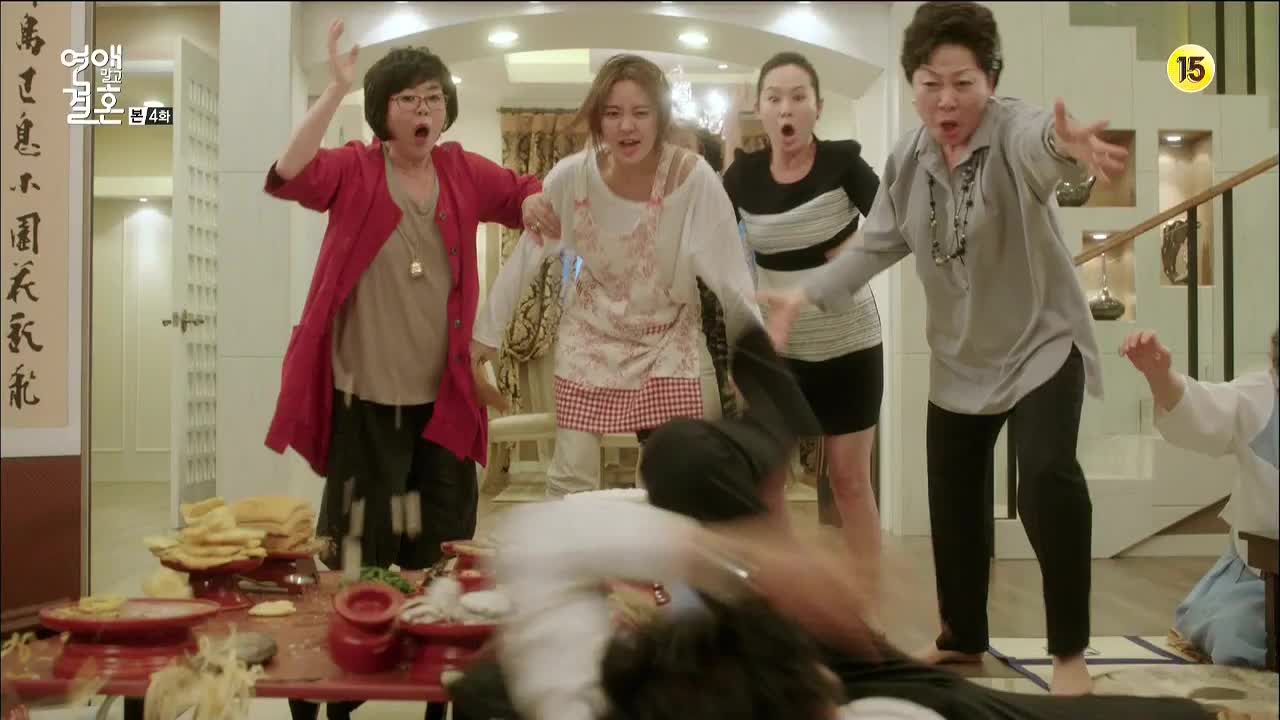 Jang-mi helps a weak and stumbling Ki-tae to his car, headed for the hospital, even hoisting him up for a piggyback when he proves too feeble to walk. They run into Se-ah, who was also worried and came to check on him, and Jang-mi explains how he was trapped in the bathroom for two days.
Ki-tae insists he's fine and doesn't need a doctor, but Jang-mi just hikes him onto her back again, ha. Se-ah drives them to the hospital, barely containing her eyerolls as Jang-mi fusses over Ki-tae in the backseat.
The doctor declares him fine, though Se-ah (who is also a doctor) advises him to stay long enough to finish his IV since he hasn't eaten in two days. Jang-mi says his family is on the way, and Ki-tae asks Se-ah to go while telling Jang-mi to stay. He's doing it because of their supposed engagement, but Se-ah is affronted to be dismissed in favor of Jang-mi.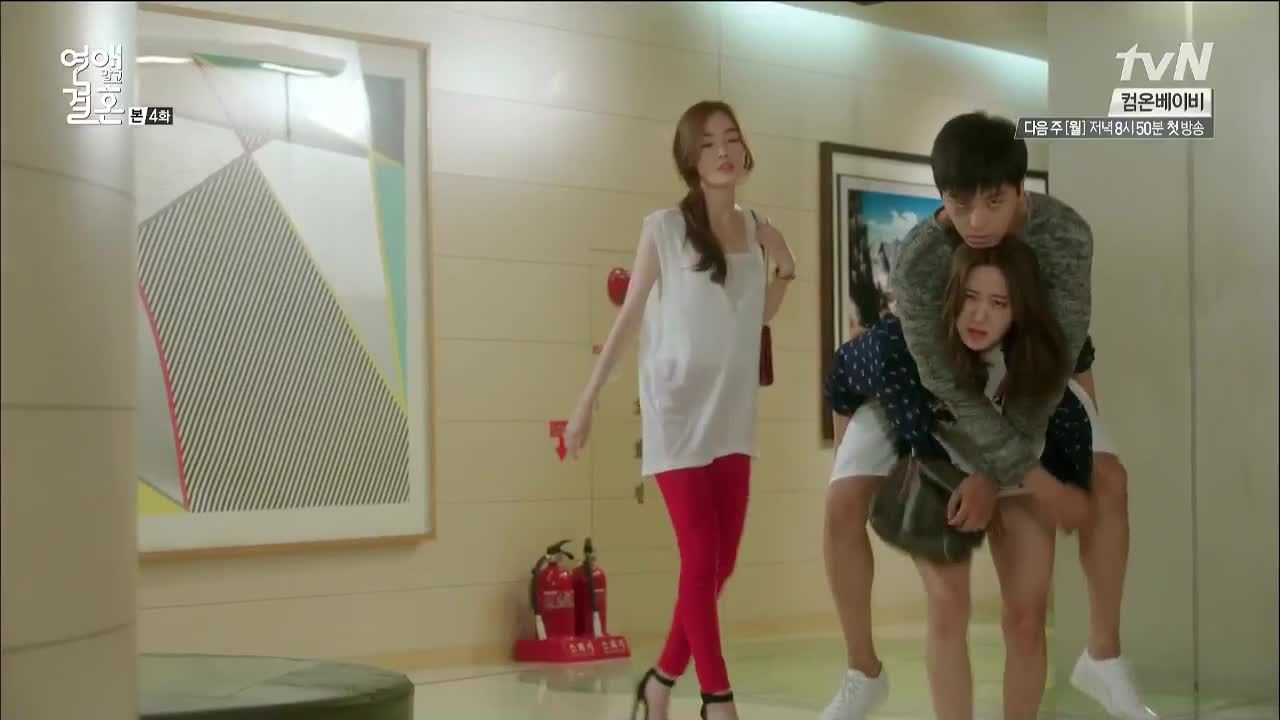 Ki-tae's mother, grandmother, and aunt arrive and pretty much blame Jang-mi for the fact that they keep having to meet at the ER. Jang-mi explains that he was locked in the bathroom and Ki-tae says she actually saved him, but only Grandma thanks her. Aunt Mi-jung still isn't buying any of this, and gives Jang-mi the universal "I'm watching you" sign as the ladies leave.
On the drive home, Grandma takes them to task for their knee-jerk blaming of Jang-mi, and tells them that she's a good girl who deserves the benefit of the doubt. Aunt Mi-jung tells Mom that they should support them, if only because opposing the marriage will push Ki-tae towards Jang-mi even harder. Grandma says they should get to know her, and I don't like how easily Mom agrees. She's got something up her sleeve…
D minus 3…
The next day Jang-mi rides her bike home, almost crashing when she sees Ki-tae's mother talking to her mother outside, thanking her for a favor. Jang-mi and her mother head to their restaurant, where Jang-mi is informed that she'll be helping Ki-tae's family with his grandfather's memorial. Jang-mi protests but Mom says she should start racking up brownie points as early as possible. In desperation, Jang-mi tells her parents the truth that she's not really marrying Ki-tae, but they think she's lying to get out of helping. Their identical glares of disbelief are a riot.
Some patrons make a rude comment to Jang-mi, and Mom kicks them out. Dad calms the upset customers by offering to comp their meal, which causes Mom to turn on him and say that he's too nice which is why Jang-mi is spoiled and has trouble finding a husband, and their short-lived truce ends. Mom pulls ready-to-go divorce papers out from under the register and prepares to sign, but Jang-mi stops her and agrees to help with the memorial.
D minus 2…
Jang-mi appeals to Ki-tae but he's no help, saying it's the least she can do since she's the one who broke the bathroom door handle in the first place. Besides, he knows his mother, and says that she invited Jang-mi because she doesn't want her as a daughter-in-law. She's planning to make things hard on Jang-mi, causing them to break up, and Mom will be able to say she tried to make her feel welcome. How impressively devious.
Jang-mi wants to end things now, but Ki-tae insists it's crucial that his mother breaks them up so that he keeps the upper hand. All Jang-mi has to do is show her very worst self on the day of the memorial, and his mother will make him call off the engagement. It should be easy…all she has to do is be herself. Hee!
Jang-mi has a date with Yeo-reum, which makes Ki-tae seethe with jealousy (though he doesn't know it yet). He follows them and when they stop for lunch, Ki-tae just plops himself down at the table with them. He tries to intimidate Yeo-reum, who stays frustratingly unaffected.
Lunch turns into a passive-aggressive standoff, as both men trade insults and ignore Jang-mi's protests. Yeo-reum gets the upper hand by boldly asking if Ki-tae and Jang-mi have slept together, figuring out that they haven't by Ki-tae's spit-take, but claiming he doesn't care either way.
Ki-tae and Jang-mi argue outside, and Ki-tae tells her to wait and date after the memorial ceremony so his mom won't catch her with another guy. Yeo-reum brings the bill out and when Ki-tae goes in to pay, Yeo-reum grabs Jang-mi's wrist and they escape. Ki-tae texts Jang-mi to be careful, that his aunt may be spying on them.
Jang-mi and Yeo-reum sit in the park, but Jang-mi is too twitchy and paranoid to enjoy herself, worried that Aunt Mi-jung is watching. Yeo-reum asks if she's really dating Ki-tae but before she can answer, a car shines its headlights on them and she runs and hides.
Jang-mi sees Ki-tae's father sitting with a woman and cringes, thinking Mom is there too, but it turns out to be a much younger woman. The wind blows the woman's scarf towards Jang-mi and Yeo-reum, and Dad comes near to retrieve it. Jang-mi grabs Yeo-reum's face to make it look like they're kissing to hide her face (he figures Why not? and puckers up, earning a smack on the mouth, ha).
Dad and the young woman look awfully cozy, trading kisses and endearments and walking arm-in-arm. Jang-mi is in shock, and cuts the date short. Left at the park, Yeo-reum sees Se-ah in her car and joins her.
Se-ah asks what his relationship is with Jang-mi, but he just muses that she must be great because everyone seems interested in her. Se-ah says that it's Ki-tae she's interested in, and that she thinks Ki-tae isn't serious about Jang-mi. Yeo-reum laughs at this…he thinks it's the other way around, that Ki-tae is interested but Jang-mi isn't. Se-ah asks Yeo-reum to bring her information on the couple and offers him an envelope, which he accepts.
D minus 1…
At work the next day, Jang-mi considers whether she should tell Ki-tae that she saw his father with a woman. She doesn't want to discuss it with Hyun-hee, who assumes she's angry that she was with Hoon-dong and says that they were only talking about her. I'm not buying the innocent act one bit.
Jang-mi doesn't believe her so Hyun-hee says to ask him herself, and suddenly Hoon-dong is there in a suit holding a bouquet of flowers. He kneels and confesses, but Jang-mi insists that she really doesn't like him anymore and no, she's not playing hard to get. She spots Ki-tae's mother approaching, and shoves Hoon-dong unceremoniously into a dressing room.
Mom takes Jang-mi shopping for food for the memorial, where Jang-mi admits that her family doesn't follow these rituals. Mom points out that in her family, the women do all the work to prepare the food. She tasks Jang-mi with peeling a massive bag of chestnuts that night, and tells her to be at their house early in the morning.
That night Jang-mi lets herself into Ki-tae's apartment and presses him into helping peel the chestnuts. She tells him that she agreed to help because she feels bad for his mother working so hard for her family, but he just quips that she's never had to live with the woman.
She starts to tell Ki-tae that she saw his father with another woman, but he cuts her off. He suddenly turns cold and harsh and snaps at her to mind her own business, and it dawns on Jang-mi that he already knows.
Jang-mi asks why he hasn't done anything about it, and tells him that he can't pretend it's not happening. He goes on the offensive and growls that she's not part of his family and she has no business interfering – their relationship ends tomorrow. Jang-mi sarcastically apologizes and storms out.
D-Day.
In the morning, Jang-mi's mother wakes her and starts to pick out a nice dress for her, but Jang-mi heads out in the ratty t-shirt and sweatpants that she slept in. Ki-tae's mother takes in her outfit, and coldly informs her that Grandma and Aunt Mi-jung won't be helping today – they've gone for a massage – and leads Jang-mi to a veritable mountain of food waiting to be prepared. This is war.
Later, Jang-mi sits outside, doing all the cooking herself. She's a mess, covered in flour and dripping sweat, absorbed in the work. She wonders why she's doing everything herself and calls Ki-tae to come help. He refuses and tells her to just burn or ruin it all; he doesn't care.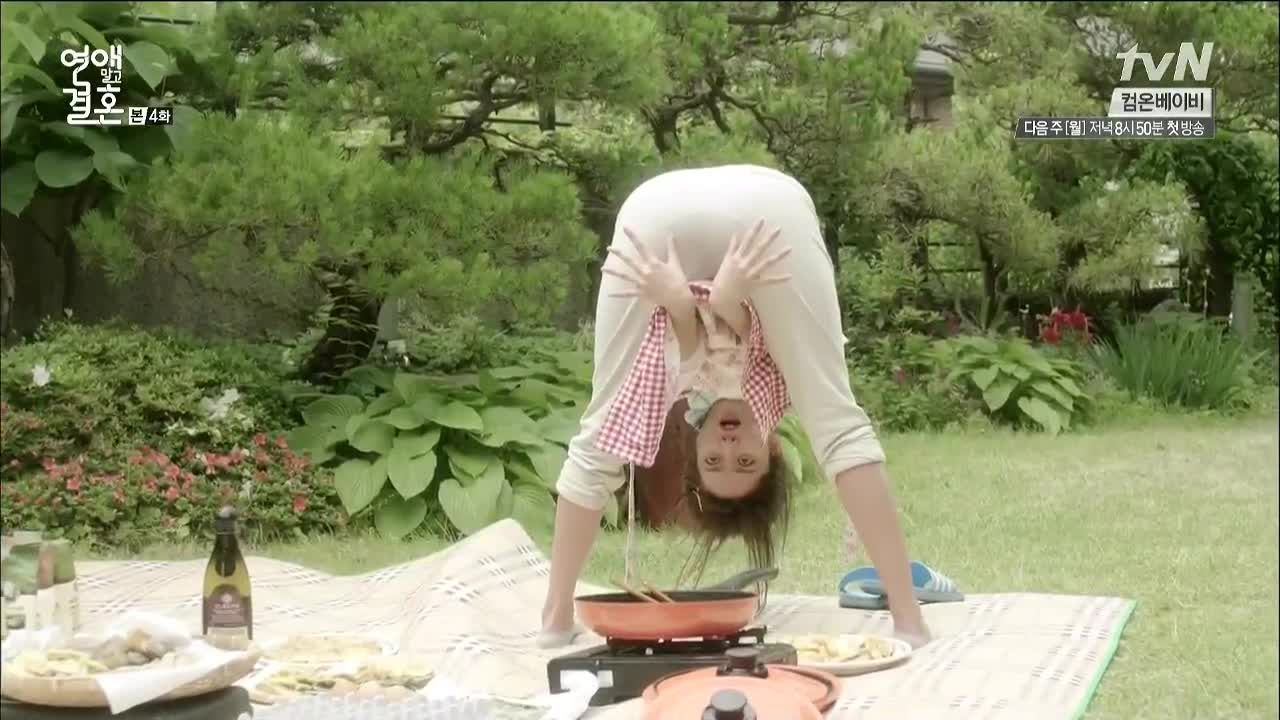 Jang-mi finally finishes some time later, and jumps up to do an athletic victory dance. She's impressively flexible, and her big finish leaves her staring upside-down and ass-first at pretty much the entire female population of Ki-tae's family. HAHAHA.
The women eat and talk while Jang-mi does the dishes alone, mumbling about the unfairness of it all. Yeo-reum calls to ask her out again, and Aunt Mi-jung comes to the kitchen just in time to hear her tell him that she'll meet him at the restaurant later.
Ki-tae arrives home to see Jang-mi on the phone and Mi-jung eavesdropping, and calls out Jang-mi's name loudly. It stops his aunt from listening in, but Jang-mi drops her phone in the sink and ruins it. Ki-tae asks why she's working so hard, since she's supposed to be sabotaging the memorial, but Jang-mi doesn't know either.
Finally everything is ready, and dinner is solemn and dignified. Ki-tae decides Jang-mi is being too quiet and asks his father to pour her some alcohol, knowing it will make her start talking and most likely say something unacceptable.
She downs a couple more shots, and the fun begins as she asks the women if they don't feel guilty for letting her do all the work. Jang-mi criticizes them for socializing while she and Mom worked, when they're the two here that aren't even related to the deceased. She's even angry with Grandma, sobbing that she thought she was nice but she let her be taken advantage of. She's not wrong, but it's a bit too far, and even Ki-tae shoots her a look that says, Too much, dial it back.
Dad tries to calm her down and she rounds on him, calling him the worst of the family. She asks what he's been doing while Mom sacrifices herself, and the looks of discomfort around the table hint that Ki-tae isn't the only one who knows of Dad's infidelities. Jang-mi starts to say that she saw him with a woman but Mom stops her, and pulls her aside.
Mom tells Jang-mi that she's already aware of everything that goes on in the family, and Jang-mi calls her a fool for putting up with it. Mom delivers a hard slap, though she's frighteningly calm through all this, and softly tells Jang-mi to keep her mouth shut.
Mom says that Jang-mi doesn't get to interfere just because she's spent some time with the family, which is almost exactly what Ki-tae said to her the night before. Jang-mi, hurt, says that she could have sworn she was family given how badly they treated her. But she cries that she's not like them, because she can't keep her feelings locked up, and turns to leave.
She overhears the women criticizing her parents, and asks Ki-tae with angry tears in her eyes if he told them about her family. Jang-mi snaps and starts to scream and hit Ki-tae. The women try to pull her off him, and they scuffle until he falls into the table covered in memorial offerings.
Jang-mi declares her work here done, and righteously stomps out of the house. Ki-tae follows her out and offers to drive her home, but she just says that she did what she was supposed to do and now it's over. She leaves him to face his family alone, and goes to meet Yeo-reum.
The women are all in a tizzy, and tell Ki-tae that it's better if he marries a different girl. He yells at them all to hush, and wraps up his plan by declaring that the only woman he will ever marry is Jang-mi – so if they oppose his marrying her, he'll just stay single forever.
Aunt Mi-jung tells Mom that she overheard Jang-mi say she was meeting someone at the restaurant, and Mom calls Hoon-dong's mother to ask if he's dating anyone. She says there was that stalker, but she doesn't remember her name…but it's enough to pique Mom's curiosity.
In the closed restaurant kitchen, Yeo-reum cooks up some pasta for Jang-mi, who does her best to kill an entire bottle of wine by herself. He asks if it was hard today at Ki-tae's house, wondering if she really wants to get married that badly. She drunkenly admits that she was there just to create a scene, but moans that it became real.
Yeo-reum misunderstands and thinks she's saying she has real feelings for Ki-tae, but she denies it. She leans in close to say that actually… she just really (really really really really) worries about him. Then she passes out. Yeo-reum smiles as he watches her sleep for a minute, then pushes the hair out of her face and sweetly says that he's worried about her.
In the morning, Ki-tae's mom heads towards the restaurant to meet Hoon-dong's mother, as does Ki-tae when his aunt tells him their plans. Meanwhile Yeo-reum and Jang-mi are asleep side-by-side in the dining room, her on a bench and him on a row of chairs.
Ki-tae tries to reach Jang-mi but remembers that her phone was ruined, and speeds up to try to get to the restaurant before his mother does. But he's not fast enough, and a hand starts to open the door as Jang-mi and Yeo-reum sleep peacefully, unaware of the impending disaster.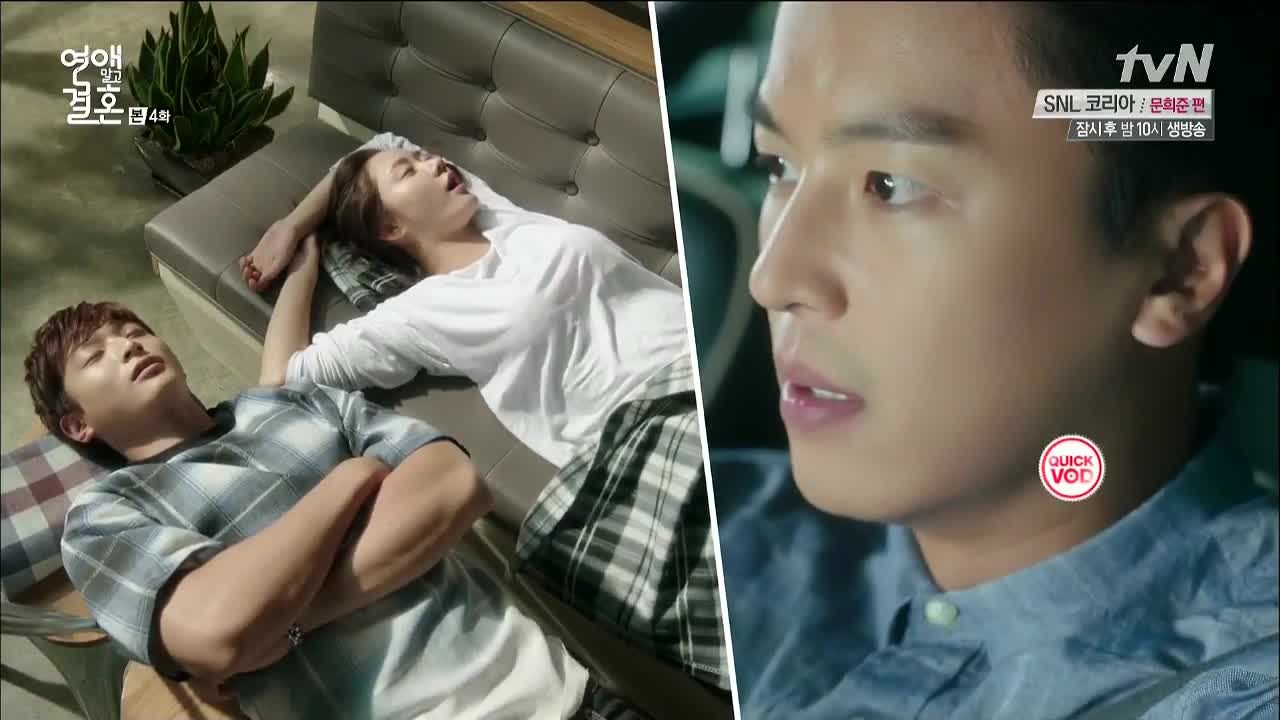 COMMENTS
Cable network tvN is on a roll, and Marriage Not Dating is the latest in a string of light, fresh, airy rom-coms with characters that just draw you in and make you fall in love. The show follows the tried-and-true formula of a dating/marriage contract between a stuffy rich boy and a plucky working-class girl, complete with attentive second lead, jealous exes, and resistant mother-in-law, but it somehow manages to make you forget that you've seen all these components before. The magic lies in the characters who may seem like standard drama stereotypes at the outset, but the more we get to know them, the more they surprise us with their depth and individuality. The show is uniquely funny, and also has a massive amount of heart, and I'm already in love.
For me, a drama is made or broken by its characters, and the characters are what this show does to perfection. All of them, from leads to secondary players, have many facets and layers that I think we're just starting to see in tiny glimpses. It's interesting to see how Ki-tae and Jang-mi are two sides of the same extreme coin – one mistaking solitude for happiness, and the other so afraid of solitude that she will be with anyone to avoid it.
I don't believe for a moment that either of them is happy the way they're living, though they've convinced themselves that they are. Ki-tae has worked so hard to set up a solitary life that he's willing to go to absurdly extreme lengths to protect it, while Jang-mi lives out a self-fulfilling prophecy over and over, trying so hard to make a connection that she pushes away the very people she wants to connect with. What's great is that they each already have the other's number, and they each hold the key to the other finding balance. When they start to realize that their way isn't working for them anymore and learn to meet in the middle, they're going to make a great team.
I'm also fascinated by Ki-tae's mother, who seems to have such a strong need for control, she's practically a robot. It's becoming apparent that she's not the typical controlling k-drama mother despite appearances – it's just that her own marriage is spiraling out of control, so she's trying to keep control of what little she can, which is her son. I actually don't think she particularly cares either way whether he gets married or comes to live at home; she just doesn't like the fact that he's out of her reach as long as he's living on his own. I'm very curious to see what her motivations are and what she'll be willing to do to get her way. I also love how it's Jang-mi who seems to understand her the most, seeing through her cold exterior to the hurt underneath, when even her family dismisses her as simply a difficult, controlling person. I have a feeling that once the two women find a way to connect, they're going to be thick as thieves.
Last but not least, I'm finding Yeo-reum to be the biggest mystery out of all the characters. He's a stark contrast to Jang-mi, who says exactly what she thinks at all times: He holds his cards so close to the vest that it's hard to tell what's going on in his head at all. Whenever I start to think he might be having feelings for Jang-mi, he does something like agree to collect information about her and Ki-tae for Se-ah… only to turn around and show flashes of jealousy by asking Jang-mi multiple times about her feelings for Ki-tae. I think that he revealed a lot when he said to Se-ah that Jang-mi must be something great since everyone is obsessed with her lately. It's as if, at this point, he's not exactly interested in her yet, but interested in finding out what makes her so interesting. I'll be watching Yeo-reum very closely (and not just for the pretty).
All in all, I think the show is playing to its strengths by letting the characters shine above all else, and I would honestly watch these people and their relationships no matter what the overarching plot happened to be. I love a show that can make me laugh, get angry, swoon with romance, and feel for someone's pain all at the same time, and this show is hitting all the right notes for me.

RELATED POSTS
Tags: featured, Han Groo, Marriage Not Dating, Yeon Woo-jin