Odds and Ends: Why do dramas do that?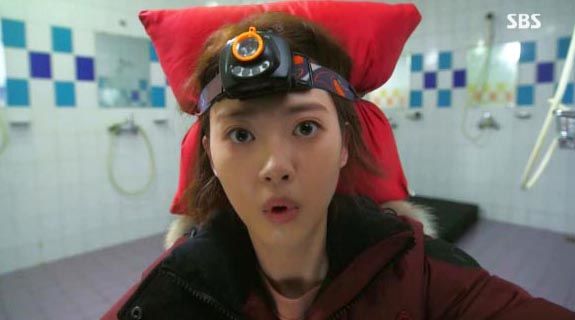 girlfriday: Guess who's gonna be at KCON this year?
javabeans: You get three guesses and the first two don't count, considering we already totally let the cat out the bag.
girlfriday: Yeah not us. I meant PUPPY!
javabeans: Oh right. Although, Seung-gi isn't on the concert list, so what's he gonna do there as featured guest if not sing?
girlfriday: Give out hugs!
javabeans: I suppose he could just be playing the part of supportive boyfriend, or are we not acknowledging certain realities for this conversation? Let's just say that I did worry for a hot second that girlfriday might not be able to control herself and do something embarrassing for all of us.
girlfriday: You might have to look into a leash of some sort, if you really want to keep that under control. So, now I know what I'll be doing at KCON this year.
javabeans: Way to leave me with all the work. Especially when we're scheduled to be on TWO panels this year instead of one. Please don't make me sit there and talk to myself for an hour. That might get odd.
girlfriday: Strangely, that might be quite entertaining for the audience.
javabeans: Only if we equip you with a puppy-cam too. You could wear it on your head like those miners do.
girlfriday: Done.
javabeans: So, do we want to talk about our panel topics or are we not allowed yet?
girlfriday: Because it's super top-secret important stuff!
javabeans: Shhh, nobody tell KCON. It's just that while we know what we want to talk about, KCON hasn't announced it yet. But since tickets are on sale now, maybe people might want to know, in case that would help make an informed decision? (Although really, "informed decision" for many people in this case might just be: "Seung-gi!")
girlfriday: What, like you need more information?
javabeans: For now, what we do know is that we've got two panels planned, one that'll be hosted by our friends at Viki, and one that'll be exclusively for Dramabeans! We're super excited about that one, and having gummimochi and HeadsNo2 there to be the moderators. So everybody, bombard them with your questions! (Not us, them!)
girlfriday: We're still fine-tuning our panel with Viki, but the Dramabeans one will be called "Why Do Dramas Do That?"
javabeans: That seems appropriate and totally not lazy of us, to just steal ideas from ourselves instead of thinking real hard of new ones.
girlfriday: But we promise to actually talk about new stuff, and not read from our book.
javabeans: Yes, we couldn't actually get away with being THAT lazy. On the upside, we do have material for our Parts 2 and 3 that aren't out yet, so we can totally still steal from ourselves AND be fresh. This is what we call a win-win situation.
girlfriday: And if you hadn't just said that, people wouldn't even know we were stealing from Past Us.
javabeans: Well it's really Past Us's fault for not finishing the book already, so it's the least they could do for us.
girlfriday: Good, as long as we've cleared up the ethics.
javabeans: So if you've got a question along the lines of "Why do dramas do that?" feel free to ask us now, and we'll see if we can work it into the panel.
girlfriday: For starters, we'll be talking about some of the latest trends and tropes to emerge from dramaland.
javabeans: So maybe less "what's with all the dramatic U-turns" and more "why do serial killers get love interests?"
girlfriday: Are ex-husbands the new prince charmings and are halbaes the new flower boys?
javabeans: Basically, if you're wondering it, we wanna hear it. 'Cause sometimes you don't know if a drama is crazy because you're missing something in the translation, or if it's crazy because it's just crazy.
girlfriday: Except Doctor Stranger. That was just crazy.
javabeans: Ack! Get thee away from me, Doctor Stranger! My ten-foot pole just went and hid from me because it didn't want anything to do with that craziness.
girlfriday: But the middle-ground cases are worth discussing, since as we know, drama logic isn't always real-world logic.
javabeans: That's very true, and sometimes those are the things that are interesting to parse—when something almost makes sense but maybe doesn't make it all the way across the street.
girlfriday: Like challenging your serial killer to a race for the metaphor, or…
javabeans: Or plain challenging him to kill you to prove that he would have killed you if you hadn't offered yourself up for the killing? You mean that?
girlfriday: Yes, that. Basically, dramaland raises a lot of these kinds of questions, and we're going to talk about them.
javabeans: We're still working out details of how the panel will work, and monitoring a simultaneous Twitter feed of questions is an option we're entertaining. But maybe the better idea is to take questions in advance from you all, rather than trying to tweet and talk at the same time. Because let's be honest, walking and chewing gum is pretty much the limit of my multitasking ability.
girlfriday: I've seen her trip and fall trying.
javabeans: WHAT HAPPENS IN VEGAS STAYS IN VEGAS.

RELATED POSTS
Tags: conversation post, Odds and Ends