Running Man: Episode 203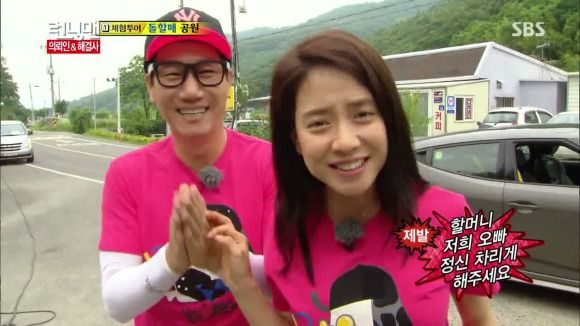 Our cast tries to recover their lost memories in an all-day tour race in this second half. Little do they know that what they've all forgotten is remembered(ish) by someone among them and that person is out for a little payback. But I guess when you're busy seeing, eating, and doing everything that this region has to offer, secrets and betrayal may not be the first thing on your mind.
EPISODE 203. Broadcast on July 6, 2014.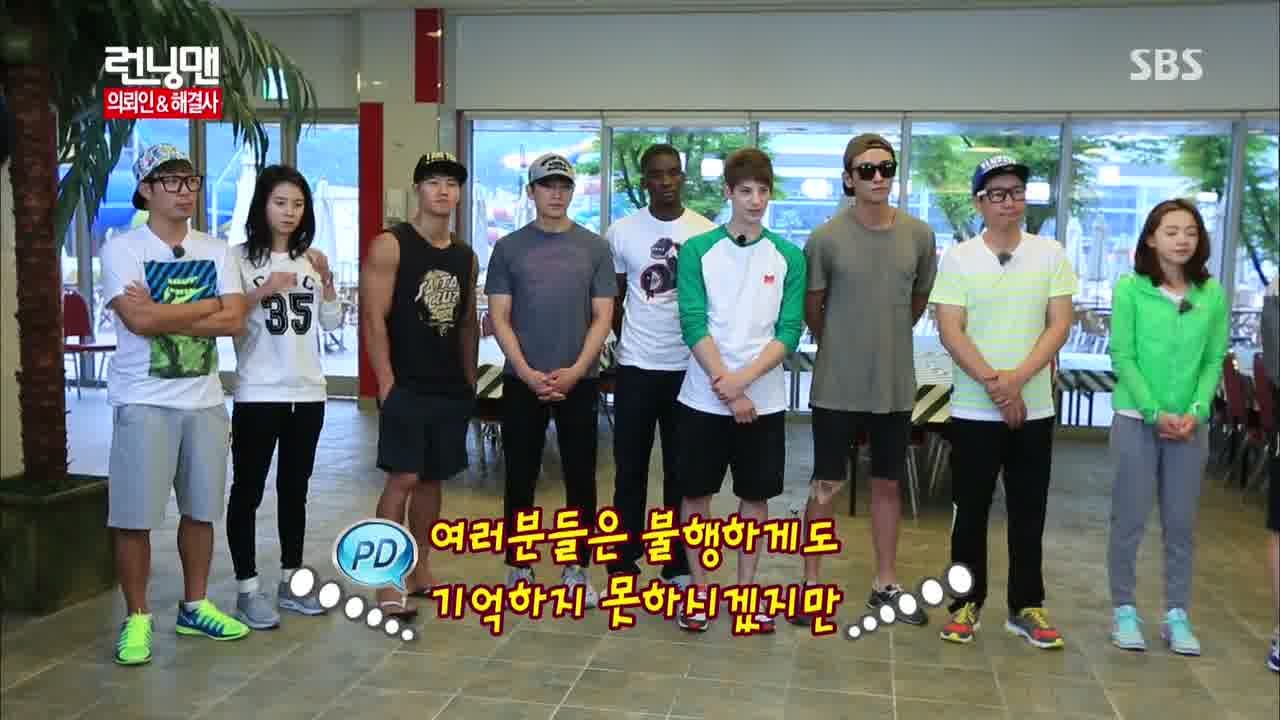 Morning breaks in Kyeongju, where our still-sleepy cast and guests are told that they'll be embarking on a one-day couple tour race. The incentive? The first four teams that arrive at the final mission location will receive prizes.
Time for some team switcharoos, since apparently last night's blueish CG rain wiped everyone's memories. I feel the staff could've announced the new teams without the recover-your-lost-memories-we-just-told-you-about pitch, but it's nice that Haha tries to play along anyway.
Some of today's pairings are more romance-y than others, though the names still crack me up. Like how Joo Ji-hoon and Jae-suk are the ulzzangs ("best face" or "good-looking") or Jong-kook and A Pink's Na-eun are the Blind Date Couple. He's going to be blushing all day today, isn't he?
And our other couples: Ji Sung and Kwang-soo (Workshop); Gary and Cha Yoo-ram (Billiards); Ji-hyo and Suk-jin (Siblings); Haha and Heo Kyung-hwan (Event); Sam Okyere and Fabien (Travel); and finally Baek Sung-hyun and A Pink's Bomi (1 Year Anniversary).
Na-eun ends up with an all-male entourage after nearly all the boys vote to head to the raspberry fields with her. Something is definitely off, though, because both Kwang-soo and Ji Sung deliberately tear off and reattach Ji-hoon and Sam's nametags. Ack, you guys are spies today, aren't you?
Luckily for them, the others are busy listening to Jae-suk teasing Jong-kook about how he'll be turning 40 (in Korean age) next year. He starts a chant that rhymes with Na-eun's name: "Kim Ma-heun [forty]!"
Sure enough, Kwang-soo and Ji Sung hang back to whisper among themselves about a mission. Rewind to the secret meeting that took place prior to today's opening at around 5:30 AM(!!). Aw, for a moment there Kwang-soo thought he'd be working alone (Caption: "As if…").
I love it when we get to see the cast's baffled reactions at the staff's inventive/unrealistic scenarios. So when both men are told that they don't remember what happened last night, Kwang-soo's all, What are you getting at? We just woke up.
It isn't long before both Kwang-soo and Ji Sung play along with the fabricated evidence given to them. At Kwang-soo's sad late-night entries about being bullied, Ji-sung pitifully asks, "Why's your life like that?" Aww.
Virtually every entry about everyone else apart from Ji Sung is revenge-filled, and Ji Sung sums up Taek PD's long-winded explanation succinctly: as soon as Kwang-soo (the client) asked his buddy Ji Sung to solve his problems, everyone lost their memories.
And then Taek PD robs Kwang-soo an opportunity to dramatically act out the after-effects of memory loss. Ha.
Like we saw earlier in the future-present, their secret mission is to fully rip off and reattach everyone's nametags before the day's end. Even though the cameras won't stop rolling today, each and every act must be captured on film. Their incentive: Succeed and arrive to the final mission early, and they'll take the winnings from the teams that arrive after them.
Citing that all those years of nametag rippin' missions have made the RM cast hypersensitive, Kwang-soo offers these wise words: "Ripping and reattaching others' nametags is like to insert your hand in their mouths and take it out." Odd words, and also, ew.
And so we return to the present, where our secretive duo hones in on their trickiest target: Jong-kook. It's a good plan, actually, since Jong-kook's usually quick on the uptake, but it doesn't stop Kwang-soo from practically sweating bullets just watching from the sidelines. One nerve-wracking minute later, Ji Sung succeeds, and Jong-kook is none the wiser.
That is, until Jong-kook catches Kwang-soo trying to go for a celebratory handshake… and just asks where they're going instead. Phew.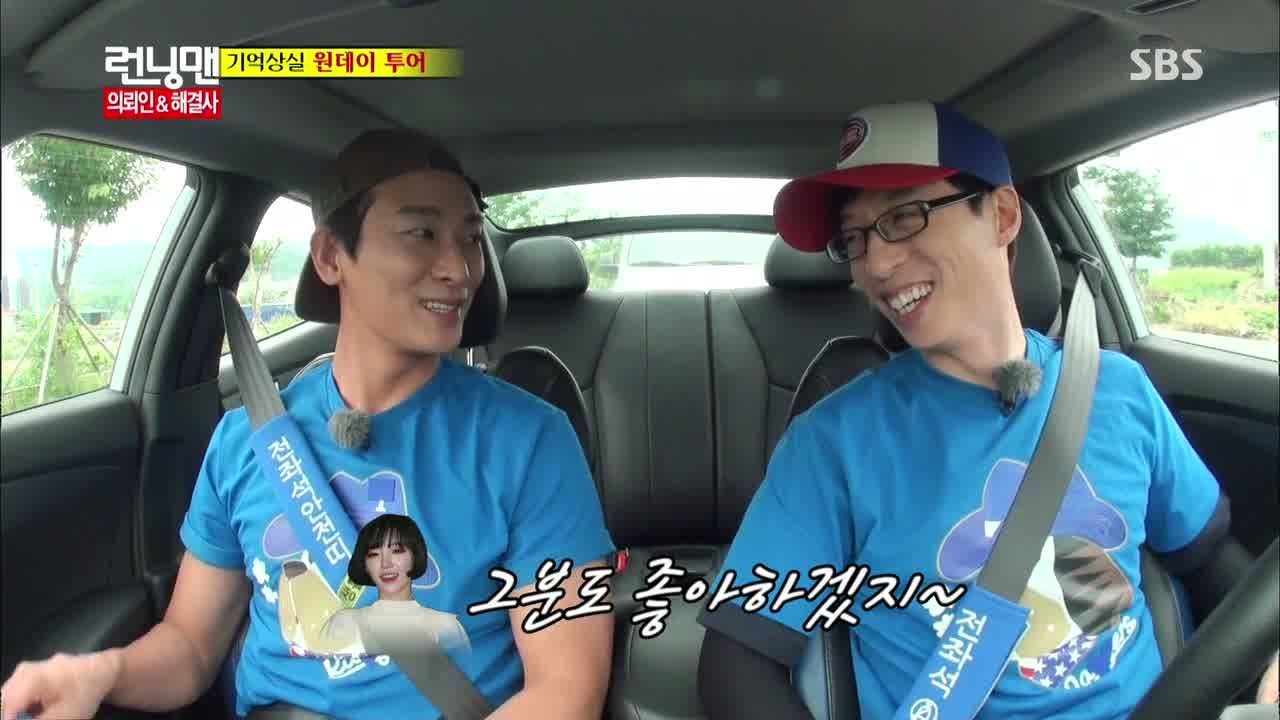 While things are super awkward between our joyous(?) one-year anniversary couple, Suk-jin and Ji-hyo are busy bickering about finances. Going along with the backstory that Suk-jin's the debt-ridden one, he keeps making these ridiculous but hilarious investment pitches to her, like ginseng tomato hybrids and how he's got a friend with a six-legged chicken.
In another car, Ji-hoon says the gold he won in last night's quiz battle will make his mother happy, to which Jae-suk replies that she isn't the only one. He's referring to Ji-hoon's ladyfriend Ga-in, of course. Ha, the "Abracadabra" track is a nice touch.
One of our stops in Yeongcheon include a silkworm center, where Jae-suk and Ji-hoon are told to make new friends. With the insects. Despite being told that they're harmless, the men are still wary. Hee. Little do they know that Kwang-soo and Ji Sung have chosen Jae-suk as their next target.
At least Ji-hoon seems pretty comfortable by the time Kwang-soo and Ji Sung join them, seeing how he teases Kwang-soo with one. When they place silkworms on Kwang-soo and Bomi to help them get over their fears, but they freeeaaaakk out while holding out their stiff arms. Then Kwang-soo screams, "What's with the purple ones?!"
It turns out the silkworms' appearances change depending on the color of the leaf, and these purple ones need to be moved from one basket to another. So while one person moves ten of them, the other will hang by the chin. Jae-suk squeals that Ji-hoon already texted his ladyfriend about his win last night: "Shut up," was Ga-in's response. Ha.
Just to make things harder, the purple silkworms are hidden on the bottom. But as soon as the whistle blows, Ji-hoon calls out from the bar: "Something's wrong!" And then Jae-suk keeps talking rather than finding the silkworms until they both give up.
Suk-jin and Ji-hyo visit a wishing rock, and the story is that if the rock feels like it weighs heavier than before you made your wish, it means your wish will come true. Ji-hyo tells Suk-jin not to pray for something foolish like his stock investments, but he says that's exactly what he's going to wish for. Lol.
He's totally serious about it, too, and I can't help but think back to the New Year fortune-telling episode and his failed business ventures. He then tries to lift it and is amazed, exclaiming: "It's really heavy! It's true!"
Gary puts the wishing rock to the test next, and gets excited that his wish for oodles of money might come true. He has Yoo-ram pray that they'll come in first place today, and then gapes when she can barely lift it afterwards. I love how we can hear the staff's chucklings as Ji-hyo prays for the same thing, lifts it… and says, "Oh, it's light." HAHAHA.
Na-eun and her all-male entourage are busy munching on raspberries, and I love how both Sam and Fabien talk like Seoulites, commenting on how they have to eat their fill here because produce is so expensive in the city. Their mission here is to find and recover the raspberries frozen inside a huge ice block.
All three teams find their respective ice blocks pretty quickly and take different approaches. Jong-kook, who takes the surgical route by cracking the block down the middle, yells at his young neighbors for their haphazard table-shaking, ice-flinging approach.
Back at Silkworm Central, Jae-suk can barely touch a silkworm, let alone pick one up while Ji-hoon strains to hold on by the second. Things look pretty good at the start when it's Ji Sung and Kwang-soo's turn, as the former plucks off the insects like it's no big deal. But it's Kwang-soo lack of endurance that ends it in a few seconds, to his teammate's bewilderment.
Our secretive duo runs into danger once more when Ji-hoon witnesses Ji Sung ripping off Sung-hyun's nametag. Uh oh. But that's when Bomi lets out a terrified yell, and everyone turns their attention towards her. Oh, phew.
Sung-hyun literally trembles on the bar while Bomi makes these grunting noises and jumping like it's a game of hot potato. Realizing this might take all day, Kwang-soo tells the staff to go and eat first. Ha.
Jae-suk and Ji-hoon switch tasks on their next turn, and there's a hint of amusement in Ji-hoon's voice when he hears Jae-suk struggling. Kwang-soo flusters when he sees that Ji-hoon's collecting silkworms pretty quickly, so he thinks fast and dumps the lot back into the basket. He gets a deserved kick from Ji-hoon for the interference, and Kwang-soo's lucky that the hyungs let him live to see another day.
As for the Wishing Rock Foursome, they're tasked to outweigh the 180kg boulder on the seesaw. At the mention of Ji-hyo's weight, Gary jokes, "Since she's 65kg…" But she's a twig!
Suk-jin and Gary try their own body weight, and when Ji-hyo's added weight finally tips the scales, the boys tease that she really did weigh enough. And so, they set off looking for random objects, and while Yoo-ram risks throwing her back trying to move these huge rocks, Ji-hyo smartly gathers things like heavy rice sacks and a hand truck. That's our Ace!
But it's Yoo-ram and Gary who succeed first, which makes them think that their wish to win might come true today. They head off to their next location: FOOD.
It turns out Jong-kook's surgical approach works against him because the two other teams finish before him. Sam and Fabien are nearly left behind to wait despite finishing early (since neither of them can drive in Korea), but persuade Haha and Kyung-hwan to travel together to the same restaurant.
None of our Silkworm teams have succeeded yet, though Ji-hoon gets pretty darn close again speedily collecting insects. Realizing that they're running out of time (to target Jae-suk), Kwang-soo hoists himself up on the bar and kisses Jae-suk. HA.
But they run into another issue when Bomi—whose nametag they haven't ripped off yet—clamps down her fear and plucks off the insects in her hands. At one point she asks her teammate how many she's collected so far, and in a shaking voice, Sung-hyun answers, "I-I-I d-d-d-o-o-n't k-k-n-o-o-w-w!" Hahahaha.
She and Sung-hyun run off with Jae-suk and Ji-hoon not far behind. Then Ji Sung takes that opportunity to act out some playful jealousy and rips off Jae-suk's nametag, saying, "Man, I just want to rip this off!" Well-played, sir.
After Kwang-soo and Ji Sung finally succeed, they strategize on how to proceed. Having made most of the eliminations (4 of 5 thus far) Ji Sung will need to be extra careful. Kwang-soo suggests that he'll give off these rather obvious signals for when to move in, which Ji Sung promptly dismisses.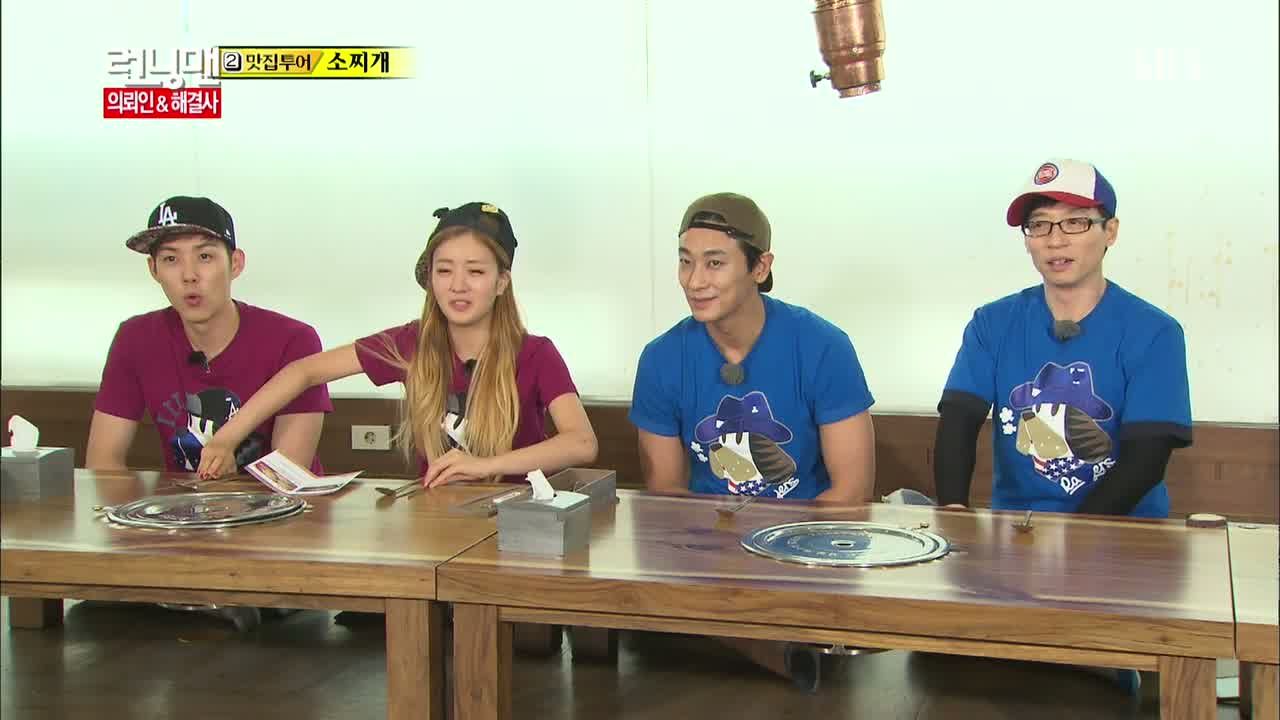 At the restaurant, the cast is told to order whatever they like, including the pricey Hanwoo beef that's well-known in this area. We know that there's no such thing as a free meal on this show, and so do they. But the PDs keep insisting, and Jae-suk comments that the staff's being too nice about it.
Still, our four teams order to their hearts' content, and Jong-kook even orders yook-hwe (raw beef). Then everyone's ushered outside to face their mission: riding a mechanical bull.
As expected their bill equates to how long they must withstand the mechanics for. So while two teams (Ji-hoon and Jae-suk, Gary and Yoo-ram) are looking at a collective 56 seconds, Jong-kook and Na-eun are stuck with a hefty bill, and get some time knocked off (67 seconds) for sharing their food.
Ji-hoon is teased for loving his leisurely old man lifestyle, but he lasts for what seems like a pretty long time by those standards. The official timer: "13 seconds." Jae-suk seems pretty confident about the mechanical bull, claiming he's ridden it plenty of times. Famous last words?
And as soon as it begins, Jae-suk gets thrown off. HAHAHAHA. Awesome.
At the other mandoo restaurant, Kwang-soo and Ji-sung dig in (aw, Kwang-soo even feeds the staff), though the latter worries that they should have some plan for when the others arrive.
They light up at Suk-jin and Ji-hyo's arrival, but Kwang-soo misses an opportunity to rip off Ji-hyo's nametag. And again, Ji Sung gets an idea and makes small talk about how there isn't a lot of nametag ripping lately, then he promptly tries it out on Ji-hyo.
Both she and Suk-jin are too happy eating to find anything amiss, and now I'm really starting to think that Ji Sung's going to complete this mission on his own because Kwang-soo's too busy sweatin'. And then all the people Kwang-soo and Ji Sung have yet to eliminate pile into the restaurant, to their delight.
This time, Kwang-soo approaches Fabien, but gets caught mid-rip. Whoops. I find it hilarious that Ji Sung's the one who uses those daringly obvious Kwang-soo thought of with him, only it's far more discreet. When they sit down for their mission, the two have a whispering yet serious conversation, as Ji Sung mentions that he thinks Fabien has caught on.
The mission here is to identify the mandoo filling, and when Kwang-soo initially has trouble, Suk-jin asks, "Is it still alive?" Ha.
The thing is that they both seem to know the answer (raspberries, yum), but getting it right at the beginning means losing the opportunity to tear off anyone else's nametag in the joint. Kwang-soo seems to realize that too, as he starts, "But hyung, if we…"
Unfortunately Ji Sung doesn't know where he's getting at, even though everything about Kwang-soo's expressions and blustering are suspicious. It isn't until Ji Sung hears that guessing correctly means leaving early, but from Haha's suspicious looks, he's certainly caught onto something.
It's even more strange because both Ji Sung and Kwang-soo try to buy more time and deliberately wrong answers. And then Haha finally asks the burning question: "Why didn't you guys try and answer correctly?" Eep!
Back at our rodeo, Na-eun lasts seven seconds and cheerily tells her teammate Jong-kook: "You need to hang on for a minute!" Both Jae-suk and Gary joke that the tiger can handle much worse ("You can use an actual bull!" "He needs to go to Texas for this!"). I'll laugh if he gets thrown off within ten seconds.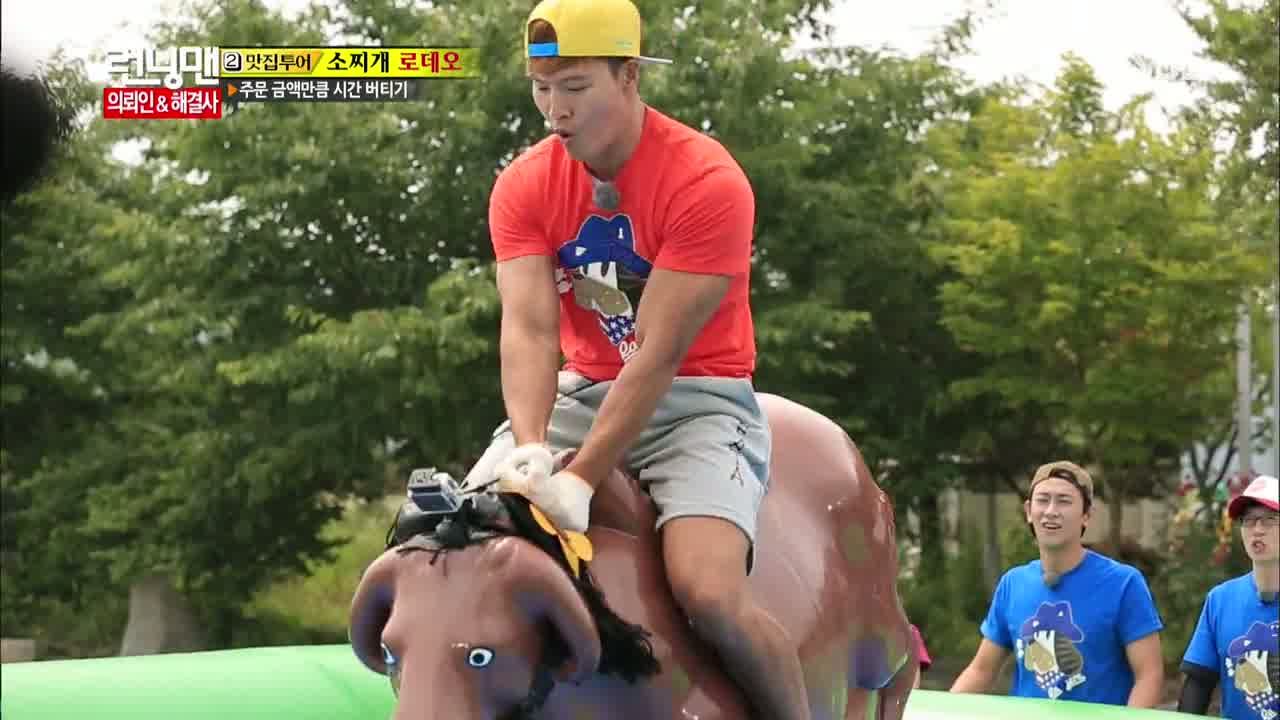 But Jong-kook gets a firm grip and withstands the thrashing to a point where I'm afraid he might break the thing. It felt like much longer, but that was 16 seconds. Impressive.
It's Jae-suk's turn again, and then this rodeo gets a lot more interesting when the seat hits his family jewels. Owww, that's gonna hurt.
Back at the mandoo joint, Suk-jin and Ji-hyo get the correct answer. Then Kwang-soo musters up the courage to casually rip off Suk-jin's name tag. Nice.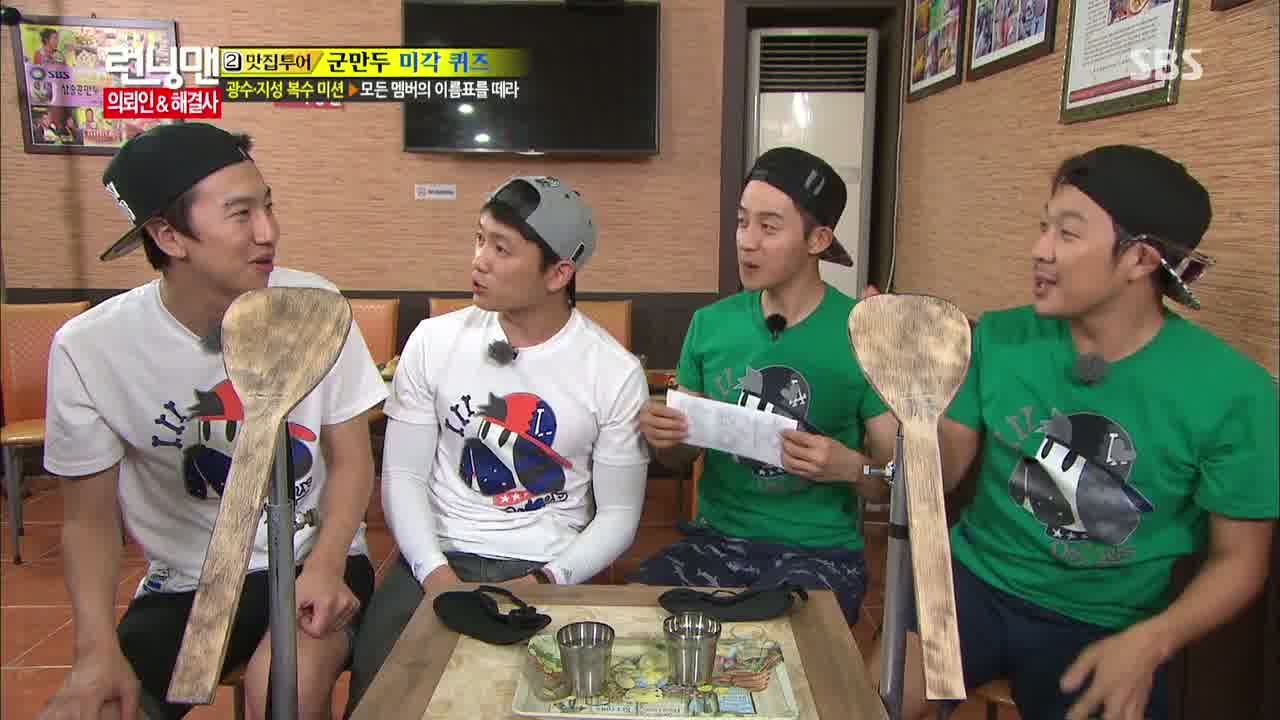 Ji Sung gets another opportunity after Haha gives away the correct answer to another team, and is too happy to notice his nametag get ripped. The two remaining teams sit down together for one more round, and after Kyung-hwan gets it right, Ji sung reaches for his back…
…and rips it right off in front of Haha's suspicious eyes. But thankfully, neither Kyung-hwan nor Haha think much of it. Just to keep everyone distracted, they turn the conversation towards the food.
At one of their third destinations at a hanok, the teams will compete in a photo zone mission, where they'll jump and their faces must appear wearing the traditional wedding headdresses. Apparently Kwang-soo already eliminated Na-eun, which means four more to go, three of whom are here and Fabien is elsewhere.
To make matters worse, they're at a further location away from the mission location. What to do? Succeed first and head over to the final mission location early or risk one of the first four spots?
Ji Sung whispers a plan to Kwang-soo, which he tries to execute right away, though he's momentarily thrown off when Ji-hyo grabs a fistful of his hair. Still, Kwang-soo manages to rip off Yoo-ram's nametag while pretending to fall over.
The first picture looks like everyone's ganging up on Kwang-soo again, but the second doesn't fare much better when Yoo-ram accidentally slams into Kwang-soo's nose. OW. And then Kwang-soo deliberately falls over again to rip off Gary's nametag.
It's sorta hilarious how Kwang-soo's tall enough to reach the bride's headdress just by getting on his tippy toes. He stands right behind Bomi to target her nametag, but then later gets made fun of because the camera captured him with a suggestive expression.
We briefly check in at the other location, which kinda looks like a slip and slide. Sam jumps a record 6 meters(!!). At the photo zone, Gary and Yoo-ram gets the closest a few rounds later, but it's still no good.
Ji Sung and Kwang-soo capture a perfect wedding picture, and worry about how to eliminate their last target: Fabrien. At the same time, two teams (Na-eun and Jong-kook, Sam and Fabien) travel together. Now it's down to whoever gets to the final location first.
But once they arrive, it isn't over yet: they must find the keys to and get in one of the four cars containing their prizes. Kwang-soo and Ji Sung have to hurry, since Sam and Fabien have already found their keys.
So with seconds to spare, Ji Sung reaches for Fabien's back and rips off his nametag. Success! That means Ji Sung and Kwang-soo gets to win all the prizes from second to fourth places, and it's sad for us to watch the other teams look so excited at the thought of winning.
Needless to say, they're confused when Ji Sung and Kwang-soo, even after the explanation about Kwang-soo's revenge(?). Gary: "Sure we know that now because you told us, but how were we to know?" Heh, because you weren't.
RELATED POSTS
Tags: featured, Haha, Ji Suk-jin, Kang Gary, Kim Jong-kook, Lee Kwang-soo, Running Man, Song Ji-hyo, Yoo Jae-suk