Running Man: Episode 204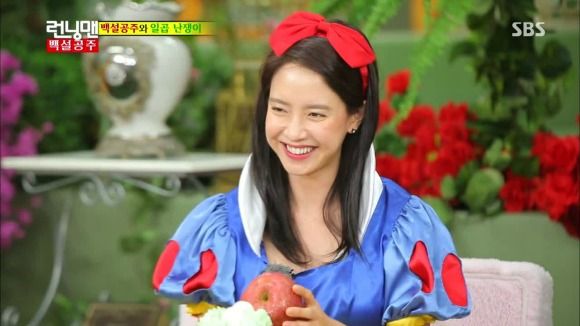 Once upon a time, there lived a beautiful princess whose skin was delicate and fair, known to be a sometimes space cadet and a lover of naps. She was surrounded by seven other mischievous dwarfs who all vied for her attention in hopes that one of them would be her one true love to awaken her from her something-like-but-not-necessarily poisoned apple-induced slumber.
This is the story of Snow White Ji-hyo and her Prince Charming, but beware—this is no ordinary fairytale.
EPISODE 204. Broadcast on July 13, 2014.
In a dark castle far away, a mysterious witch asks her magic mirror: "Mirror, mirror, on the wall, who's the fairest of them all?" "Snow White Ji-hyo," it answers.
Speaking of whom, Snow White Ji-hyo and the Seven Dwarfs (including returning guest Ryu Seung-soo, yay!) are gathered together in a peaceful little town. Seung-soo brings on the laughs right off the bat when he asks, clueless: "What's today's theme?" Says the man sitting next to Snow White.
Ji-hyo is taken aback at the thought that her former acting coach might be her Prince Charming, meaning he'd have to kiss her. Seung-soo doesn't seem to mind, though: "I think today's gonna be so much fun." Her WTF face is priceless.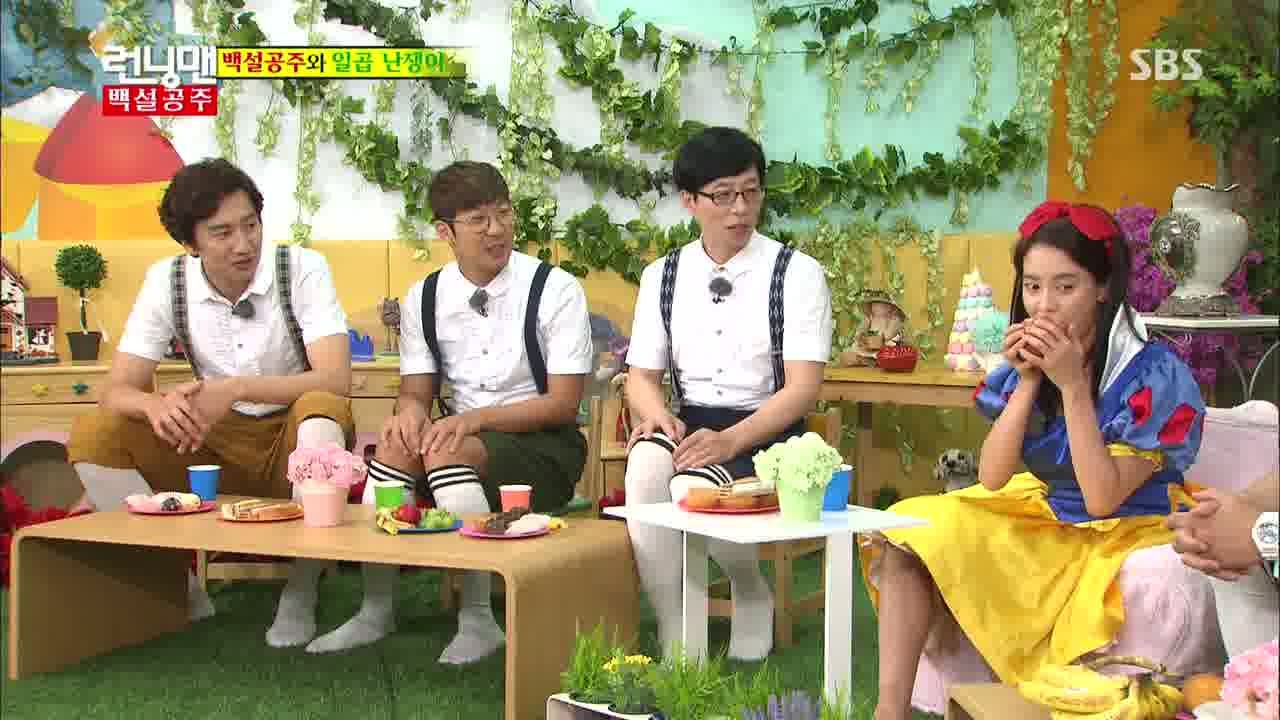 After the boys correct Snow White on her own story (like how she'll be passing out instead of dying, and that it's a fairytale, not a comic book), she prepares to take another bite of her apple when Jae-suk quips: "Why are you eating so much of that apple before you die?" LOL.
Finally, Ji-hyo bites into the poisoned fruit and passes out, only to rise again laughing when the other boys try eating some, too. In fact, she barely stays asleep for the rest of the opening while the PD introduces today's theme: The Dwarfs will be traveling to the future to gather clues about the spell the princess is under and the prince who will save her.
Guessing that Prince Charming is one of them, Haha then asks, "If we don't want to save her, couldn't we wrap up with the closing?" Ji-hyo rises to glare at him, so Haha hurriedly feeds her some more poisoned apple. HA.
Upon hearing that being unable to save Snow White means to lose her forever, the boys celebrate the idea of getting a new princess. And again Ji-hyo wakes, unable to contain her laughter. Gary: "I'm supposed to cry, aren't I?"
The boys will be time-traveling through a magic mirror, and when Kwang-soo pretends to get sucked in, Jae-suk reminds him that he's supposed to just walk into it. Whoops. One by one, the Dwarfs jump in, much to Suk-jin's embarrassment. "Can't we just go in [without the theatrics]?"
But the best thing about this opening is getting to see the other dwarfs being mischievous after they "time-travel," like how Haha trips Jae-suk up or how Jae-suk pulls at Suk-jin's suspenders. Then when Seung-soo attempts to princess carry Ji-hyo through the time portal, Jae-suk notes that his back just cracked.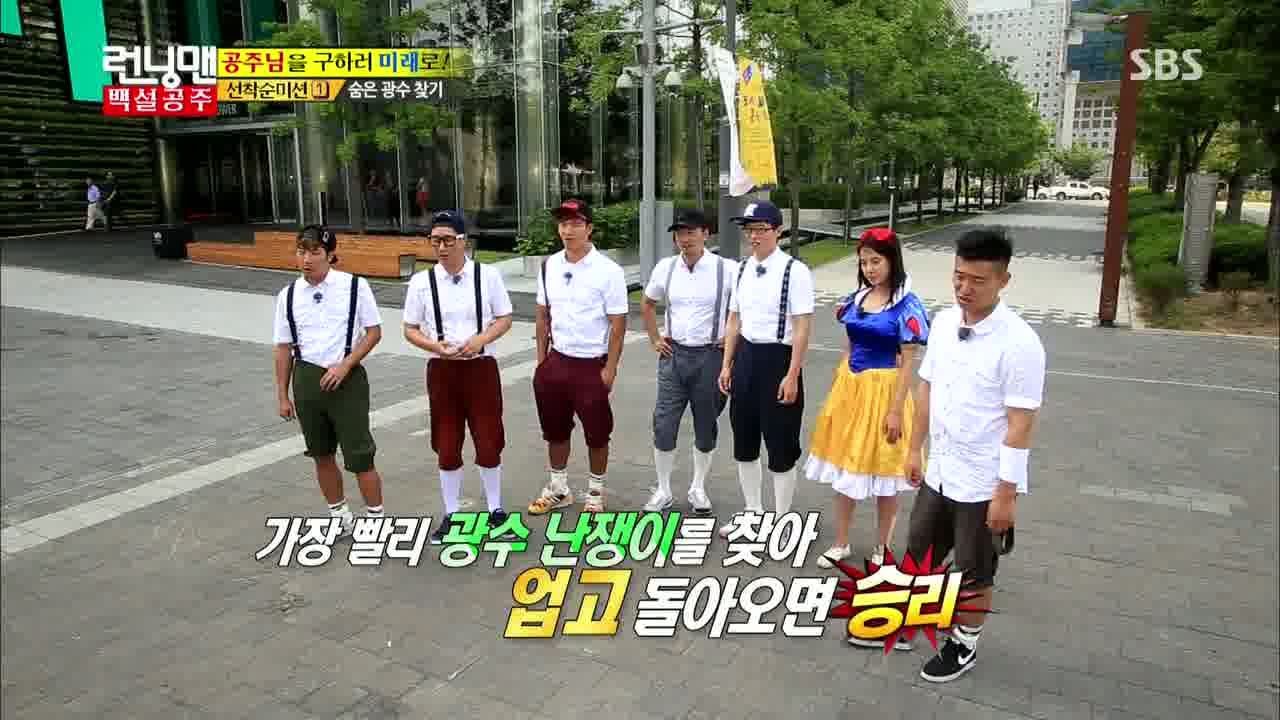 Present day Seoul. A sleepy Snow White Ji-hyo has awoken to participate in their first game which will give them their first clue about Prince Charming, who is one of them. Here, they must find Kwang-soo (in disguise) hiding somewhere in the building and carry him piggyback outside.
Since carrying him would be difficult for Ji-hyo, Gary suggests that she grab Kwang-soo by the hair and drag him back instead. Then they're off, but at one point, Jae-suk is feeling mischievous and suddenly starts running. Ha, looks like he's trying to dupe Seung-soo into thinking that he's pursuing Kwang-soo.
It works on Seung-soo, though… and everyone else who happens to spot them, only to groan when they find out that they've been tricked.
A hungry Kwang-soo is busy snacking when Suk-jin appears outside. The mat-hyung walks past, but Haha notices that one of the "women" looks suspicious. So he acts on his hunch, asking after the staff member with her head bowed.
When Jae-suk appears moments later, Haha locks him out of the room and blocks his view before he whispers, "Kwang-soo, it's clearly you." And then Kwang-soo looks up in surprise: "How could you tell?" How could you NOT, hahaha.
Haha tries to persuade him into teaming up with him, barking at him in a low voice to hurry up. Kwang-soo: "I won't leave if you bark at me like that." Haha eventually gets him to comply and follows the rules by piggybacking him downstairs.
Jae-suk and the others show up by the time they reach the entrance, however, and they all escort Kwang-soo out the door. It's basically chaos as everyone tries to get Kwang-soo to join hands with them until Jae-suk finally leaves the choice up to him: they'll all line up and he'll climb on one of their backs.
Always the conniving one, Seung-soo pulls Kwang-soo aside to whisper something, but then tries to use the opportunity to drag the tall man with him. Needless to say, it doesn't work and the others gripe over his dirty tactics. Then Gary brings over a water bottle and cries, "What's with this bottle?!"
And while the others are busy giving him a good ol' painful leg-split, Haha and Kwang-soo sneakily win the first round.
With more clues up for grabs, everyone else is sent back inside to type a phrase using only their nose and print them off from designated R-stickered computers. Technologically-challenged Jong-kook admits that he doesn't know how to print off documents, so Gary offers him a tip: "After you type with your nose, say 'Print!'"
Everyone is in such a rush that they leave most of their VJs behind ("Do we wait?" "You don't know what floor they went to, right?") and some of them end up fighting over the same computer. That's only the beginning of their frustrations as they struggle to type out each character. Big Nose Hyung:"I can't type just one because of my big nose!"
What the—Seung-soo? What are you doing back already? He claims to have lost his VJ and just stands there. There are other cameras around! Get movin'! Upstairs, Ji-hyo tries to intercept, but Jae-suk makes off with his document and hands it in.
It sounds like the VJ must be present (whether that's in the building or the starting point, I can't be sure) for a win to count, but the point is that Seung-soo's early return is pointless. Seung-soo tries to explain himself for running off alone, but then he uses gestures to mimic typing with his hands. Something smells fishy.
Sure enough, there's video evidence and a witness statement that proves Seung-soo cheated and typed with his fingers on a random computer. Did he forget that there are cameras, like, everywhere?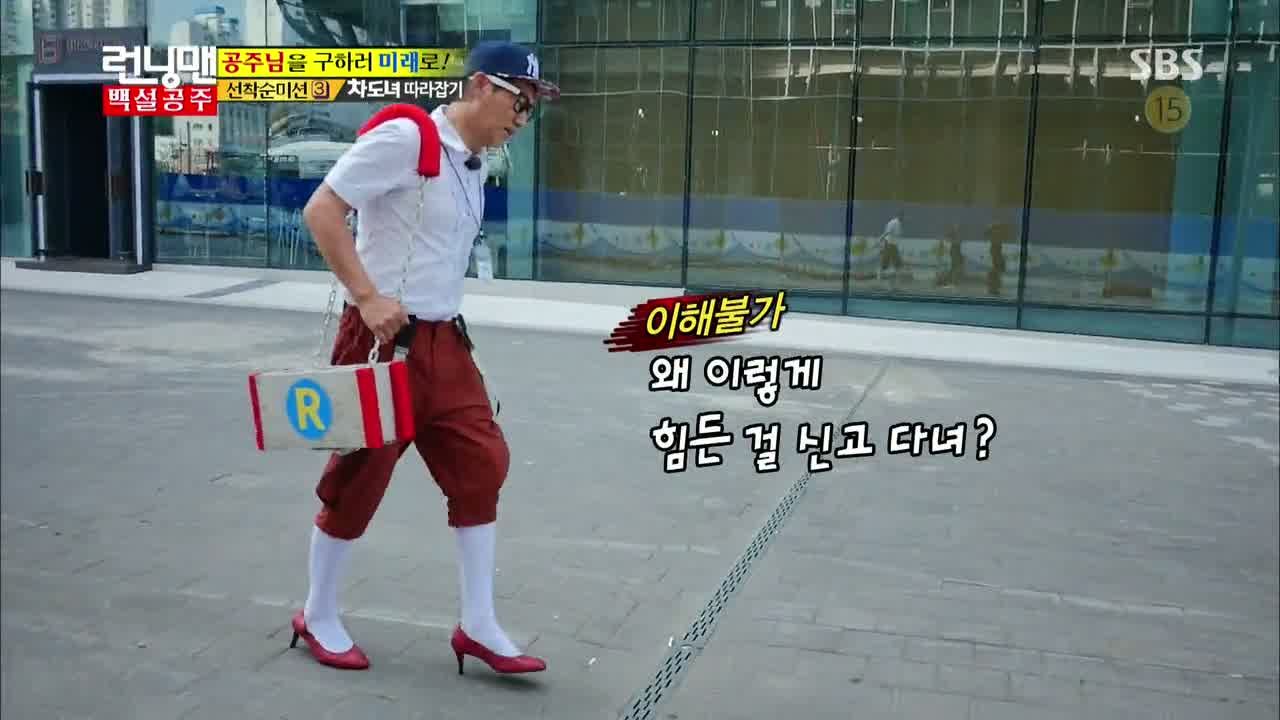 Everyone is reminded of the infamous water bottle incident, but Seung-soo laughs off the moment: "This show's amazing! Everything comes to light!"
We skip ahead to the next round as both Ji-hyo and Jong-kook come running high heels. Who will it be—the princess or the muscle man in pain?
Although Jong-kook arrives first, the others interfere to buy time (and maybe see Jong-kook suffer some more, ha). Seriously, when are we ever going to see Spartakooks in killer heels again? Is it just me or does Suk-jin look strangely comfortable in women's shoes? Then again, so does Seung-soo, who arrives just seconds before the Impala.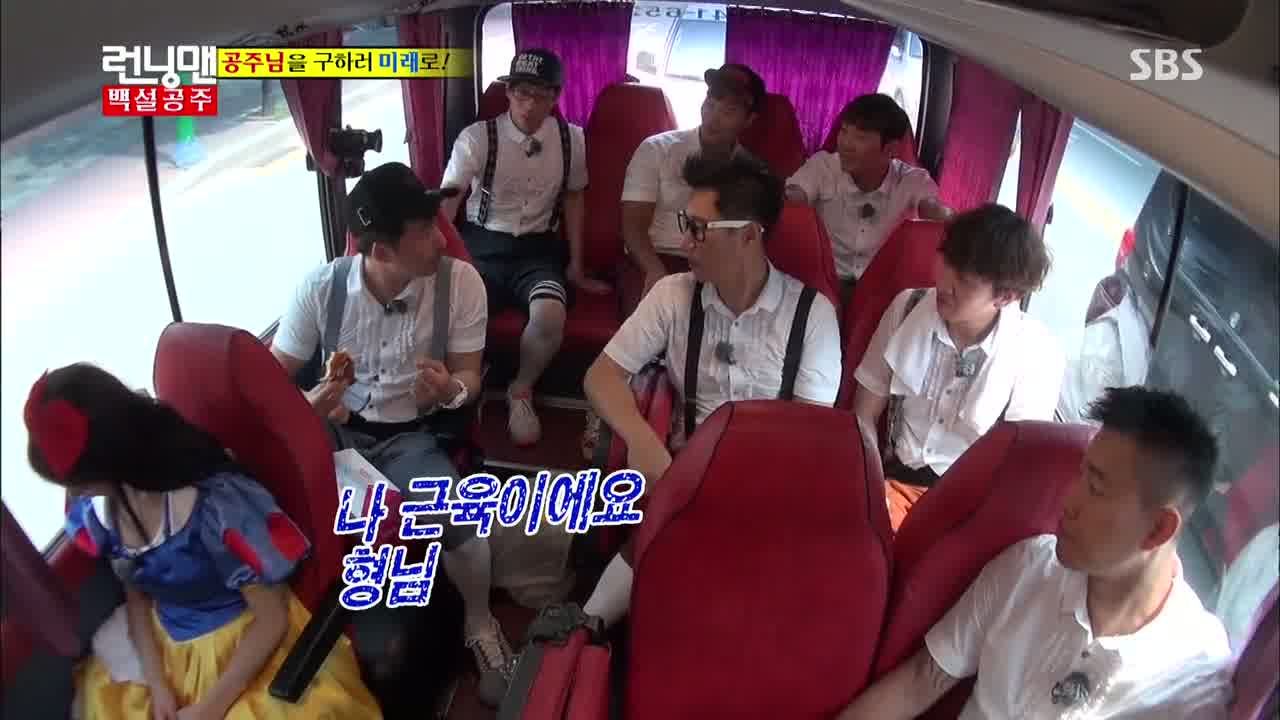 Everyone piles onto the bus after receiving their hints, and Seung-soo slips into teacher mode when he gets asked an acting question: What must one do with their hands while acting?
The only thing an actor should be thinking of is emotion, Seung-soo explains, because being conscious about your hands means one isn't focused. In fact, he was so surprised by Kwang-soo's acting… because it made him so embarrassed. Ha.
And when the others suggests Seung-soo stop snacking ("That's why you're getting so flabby,") he replies defensively, "This is all muscle!" And then he shows off his biceps.
Succeeding their next mission will mean learning the curse's location. Here, one person will be standing beneath an ever-growing water balloon in hopes that the others will pop their balloons by jumping on a pogo stick before the water-filled one bursts. They immediately suggest Kwang-soo for that honor.
A majority vote puts him there though, and Kwang-soo freeeeakkks out as soon as the whistle blows. He has good reason, too: that balloon is swelling up pretty quickly.
Kwang-soo cries out desperately as Jae-suk tries to get his bearings, but the grasshopper ends up throwing the pogo stick on the ground in exasperation. Twice.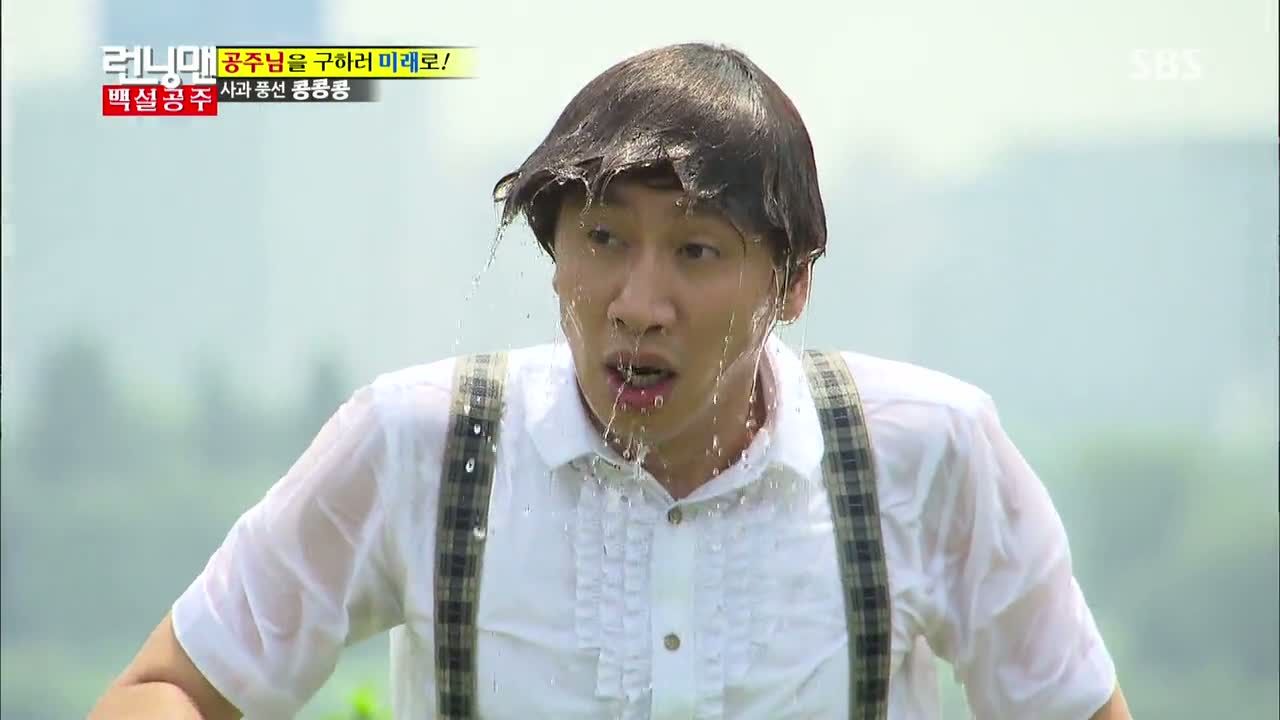 And then, Pop! HA, it really does look like Kwang-soo's wearing a hat. Realizing that Kwang-soo usually gets the short end of the stick, the cast puts the next round to a vote, though it skews back to Kwang-soo anyway.
After determining their order (and Seung-soo places himself as third), Kwang-soo just lies down, waiting for the inevitable. This next round goes much quicker, and they only have two more balloons to pop by the time the massive water balloon looks like it's about to burst.
Unfortunately, Haha can't jump high enough, and then there's another pop! I'm pretty sure we saw that water float in the air for a split-second before it landed on Kwang-soo's face.
Another not-so-secret vote puts Suk-jin under the water balloon, which swells up to such enormity that its mere inches from his head, touches it, and then finally pops, enveloping his whole body with water.
Pop, pop, pop go the balloons in swift succession in the next round, and Kwang-soo sweats as the water balloon presses on his head. There's just one more left… and Suk-jin misses. But thankfully, Suk-jin tries again and succeeds just before the water balloon bursts once more.
At the mention of the supposed curse, Jae-suk bursts, "Why do we always have to be cursed? We lead innocent lives for the rest of the week and come here and get cursed. What have we done to deserve this?!"
The Seven Dwarfs then time-travel back to the peaceful little town, but where's Snow White? Asleep, thanks to the effects of the curse. Or just Ji-hyo in the middle of her favorite activity: napping.
A message is left for the men: last Dwarf standing must bring over the prince to awaken Snow White Ji-hyo. Oh I see, so the prince is indeed one of them, but that person doesn't know it yet.
It isn't long before the boys are fighting over this fact, and Haha points out that Seung-soo already looks like he thinks he's the prince.
Let's see if we can get this straight: Using their hints from the future, the Seven Dwarfs must discover the secret to the curse before they are eliminated (by different, unknown means hidden with the gold sprinkled throughout the town). Furthermore, their loot will be handed over to the person who eliminated them; however they must be wary not to eliminate the prince or else the curse can't be lifted. Phew, that was a mouthful.
Ha, I love how Suk-jin just gives up and says he'll just collect gold, and the others jokes that they'll eliminate him after he does. Jae-suk takes a peek at his clues, wondering who this mystery prince who "speaks eloquently" might be. "Is it me?"
Hearing the other hints ("The prince is famous in neighboring countries" and "He's not very bright,") makes me wonder if it's Kwang-soo. But at least the staff puts Jong-kook's queries about himself to rest with a simple hint: "It ain't you." HA.
On the bright side, Jong-kook discovers a book containing gold and an elimination hint: Pull someone's hair to eliminate someone. Haha stumbles upon one, too, and wonders if he should try the forehead flick on himself to make sure it doesn't work on him. It's risky, but it doesn't work, thus saving him from that particular method.
Jae-suk, meanwhile, runs over to the Dwarfs' Castle and finds another elimination hint: Give someone a leg-split and make 'em scream to eliminate them. Ha, no one said these tasks would be easy! Or make much sense.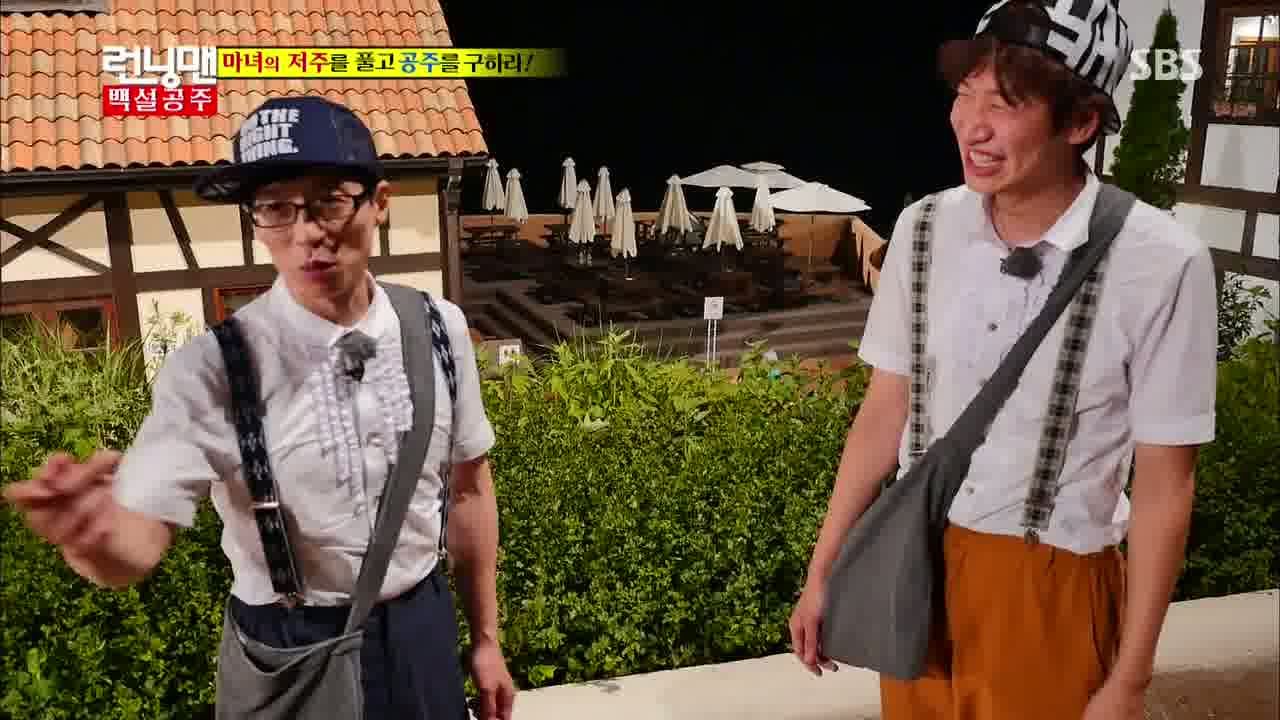 Elsewhere, Gary declares that if he were the prince, he'd take that forehead kiss one step further and kiss Ji-hyo on the lips. Said like a true Monday Boyfriend. Gary's hint informs him to draw on someone's foot to eliminate them, while Seung-soo's tells him to place a neck pillow on someone.
Seung-soo is still convinced that he might be Prince Charming, because he apparently grew up being called The Little Prince. When Jae-suk runs into Kwang-soo, he wastes no time boasting that he's the prince, claiming that the staff tipped him off earlier.
Kwang-soo isn't convinced, however, since he has the best hint about the prince. Jae-suk: "But you know I have the second-best, right?"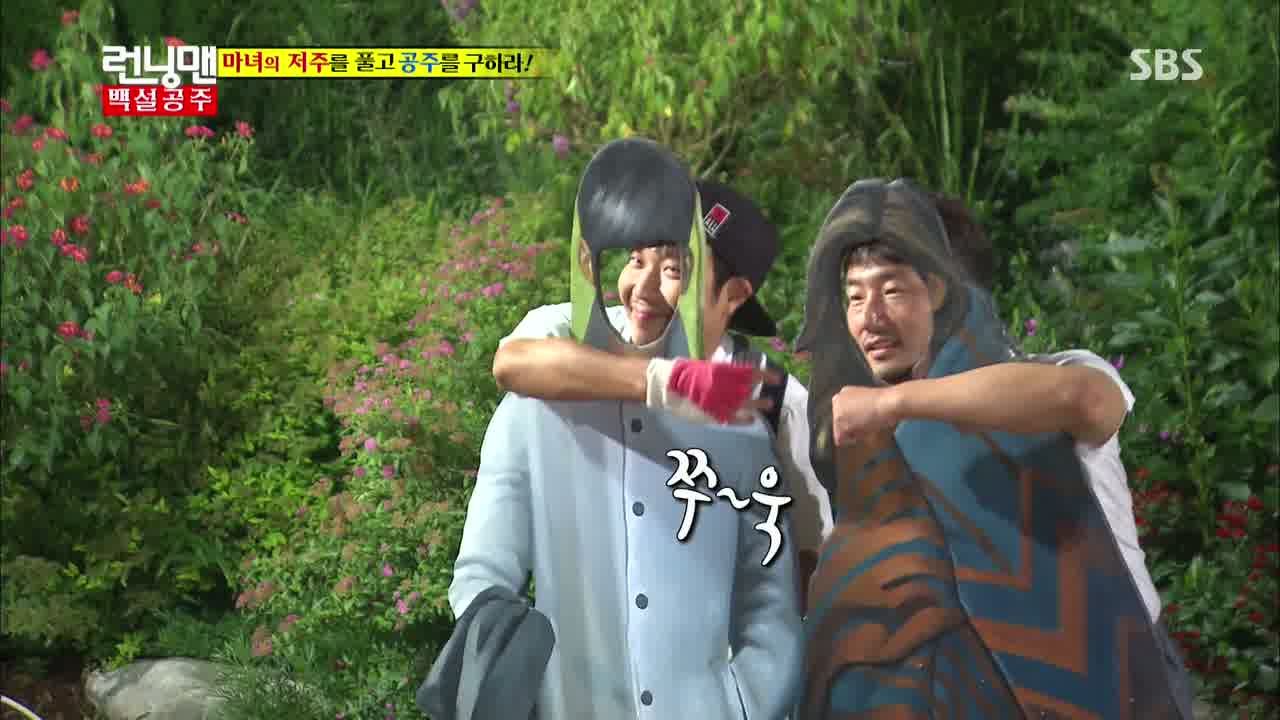 Haha and Seung-soo create an alliance and take a commemorative photo together to cement their trust in each other. Are those… cardboard cutouts of Do Min-joon and Chun Song-yi from You From Another Star?
Anyhow, it turns out that this is all an excuse for Haha to try out that forehead-flicking method on his new best bud. But Seung-soo catches on right away, and there alliance fizzles out.
The Easy Brothers, Jae-suk, and Gary decide to share their hints with each other, but they're all wary about actually showing them to one other. Suk-jin: "C'mon, we've been working together for four years!" And your point is…?
Then Kwang-soo suddenly flicks Jae-suk's head. Aha, he found the same hint Haha did earlier. He shares his "best hint" with the others, but I don't see how "the prince is a human" helps anyone. Suffice it to say, Kwang-soo gets kicked out of this sharing session.
Oddly enough, the eloquent speech and dim hint seem to tip the scales towards Gary, since Kwang-soo's supposedly not so good with the talkin'. Offended, Kwang-soo asks: "Why can't it be me?!"
I'd forgotten that both Haha and Kwang-soo won the first mission together, which means they both have half of the best hint about the prince. When they put it together, two words pop out: Human and Scent. And since Gary's newest single is "Your [Human] Scent," that means he's Prince Charming.
It seems Gary has already figured it out for himself, putting the clues together in his head. Knowing this, Kwang-soo immediately gives Gary the royal treatment, which makes him uneasy: "If I don't turn out to be the prince, you'll betray me right away." Bingo.
A little later, Haha gets caught trying to eliminate Seung-soo again, but the others join in to use Seung-soo as a test subject for each of their elimination methods. When none of them work on him, they turn to Suk-jin.
It turns out the leg-split effectively eliminates Suk-jin and writing on Jae-suk's foot eliminates him. Jae-suk complains that this whole scenario will only make the prince stronger until he finally kisses the princess and wins. Gary quips, "Don't think of it as a kiss! Think of it as treatment for the princess!"
It's hard to tell just how much time has passed with all these cutaways, but we eventually see Seung-soo trying on the neck pillow for himself. The others laugh how funny it would be if he accidentally himself that way.
They use Seung-soo's gullibility to their advantage and target him for even more elimination methods. Nothing they know of seems to work, so they move onto Haha. A little hair-pulling gets him eliminated.
With Haha out of the picture, Kwang-soo becomes their next target. He tries biting Seung-soo (which, owwww), but the neck pillow gets him eliminated. Everything about this entire elimination process feels more confusing than it should be.
The remaining three contenders left in the game are as follows: Prince Gary, Jong-kook, and Seung-soo. When Seung-soo tries to make an alliance, saying that he thinks Gary's the prince, Gary responds, "I always thought I was the prince since the beginning."
Seung-soo keeps up the small talk until he suddenly flicks Gary's forehead. And Gary actually looks and sounds genuinely annoyed at this; granted, much of the day hasn't been going in his favor.
Later on, Jong-kook keeps his distance from Gary, wondering if there's someone else still involved in this who isn't any of the three people left. Meanwhile, Seung-soo is busy searching for Snow White Ji-hyo's cottage. Seung-soo: "She can't be in sleeping in the road, right?" Ha, no she isn't.
And then suddenly, men in hooded capes seize Seung-soo, to his alarm. Another hooded person approaches and covers him. The Witch, perhaps?
Still fretting, Jong-kook mentions that Ji-hyo is nowhere to be found either. Wait a minute…
Sure enough, when we check back to where Snow White Ji-hyo should be sleeping, only an empty bed remains. Which means the Witch can only be one person: Ji-hyo.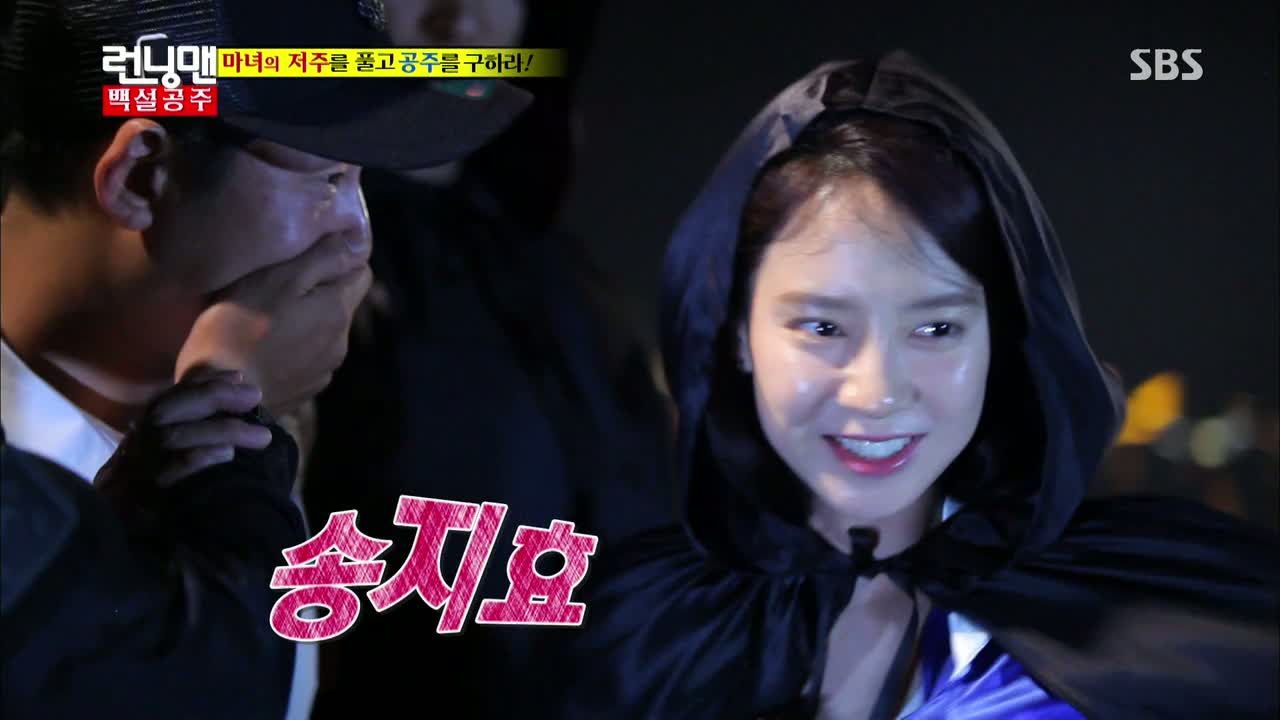 A flashback shows us that Ji-hyo was, in fact, the Witch only pretending to be Snow White. As such, the Witch had cursed this land to steal the gold from the Seven Dwarfs. So while the other Dwarfs were busy eliminating one another, the Witch rose and kept watch over how her curse wreaked havoc on this peaceful town.
After the Witch eliminates Seung-soo by her own hands, the sound of crows cawing echo once more throughout the land. Hearing it, Jong-kook realizes that something's up.
At the same time, the Witch Ji-hyo is busy planting a trap for Prince Gary, setting a crown beneath a magic mirror. Next thing we know, Gary's wearing the thing on his head, oblivious of the cursed crow's feather stuck on it.
Jong-kook is hesitant to trust anything or anyone at the moment, and notices the glove Gary's currently wearing. It was the same one Seung-soo was wearing, Jong-kook notes suspiciously.
And while Gary is busy proclaiming his innocence, more writing appears on all the magic mirrors: "Once the Dwarfs became aware of the Witch's existence, they ran to tear off her nametag." If only they'd stop arguing enough to see it!
They don't of course, and Prince Gary taps into his telepathy to find his princess. But on the way, Jong-kook realizes that they can't be the only two left in this fairytale—what about the Witch? Now you're talkin'.
Jong-kook keeps talking out loud as the pieces start coming together in his head. Spooked, Gary tells him to stop telling scary stories. But by the time they arrive at the cottage, Snow White(?) is still fast asleep.
While Jong-kook checks their surroundings, Gary leans over to kiss the princess… and then pulls back: "I feel like I'm going to be eliminated if I kiss her." Then Gary leans in again, figuring that there's nothing to lose…
…and plants a kiss on Ji-hyo's forehead. She wakes… and then bursts laughing to see Gary's face. "I'm going to fall asleep again." HA.
All three of them now awake and looking to win, the Monday Couple slowly approach Jong-kook with the belt. But what eliminates the muscle man is the forehead flick, and now only Gary and Ji-hyo remain.
Gary eats up Ji-hyo's tale that she was waiting for her prince so that they can fulfill their mission together. He isn't completely trusting, though, as he tries the forehead flick on her. She says it doesn't work on her.
Then Ji-hyo pulls the "Oppa, don't you remember how we wore couple t-shirts once?" card on Gary, which effectively wins him over. But he still tries the forehead flick again. Heh.
He does, however, piggyback her back to town. Ji-hyo follows a step behind Gary, waiting for her opportune moment to tear off his nametag. And just when Gary notices the magic mirror, Ji-hyo rips off his nametag and eliminates him.
And so, the Witch Ji-hyo is today's victor with a heavy bag of gold to show for it. When the cast is instructed to leave through the time portal, they're all too annoyed to play along anymore. Jae-suk: "I've got my car waiting for me!"
Somewhere far away, the witch once again asks her mirror: "Mirror, mirror, on the wall, who's the fairest of them all?" And this time, it answers, "You of course, dear Witch."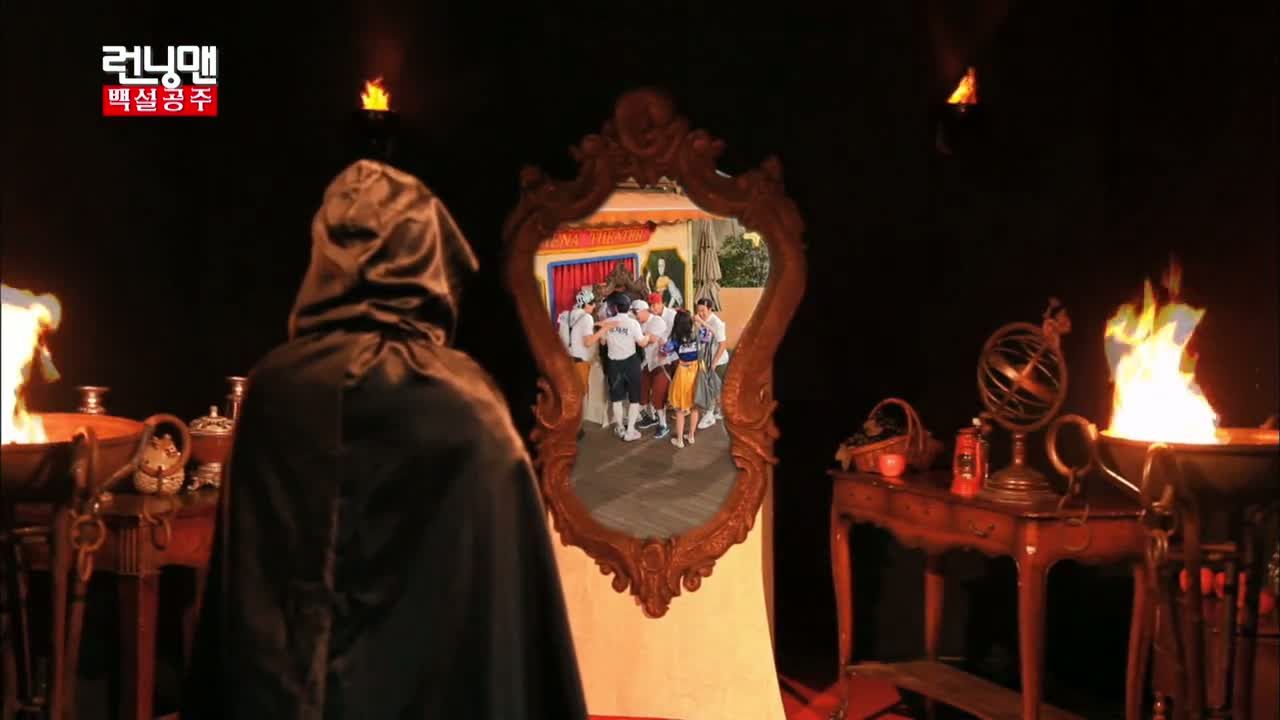 RELATED POSTS
Tags: featured, Haha, Ji Suk-jin, Kang Gary, Kim Jong-kook, Lee Kwang-soo, Running Man, Song Ji-hyo, Yoo Jae-suk