Trot Lovers: Episode 3
This episode delivers a lot of character growth as our leads each discover their personal low points, and must decide how far they're willing to sink for family and/or success. It's a necessary step for both Chun-hee and Joon-hyun so that they can bounce back and form an amazing trot comeback team, but that doesn't make it any easier to watch. That said, there's still a lot of cute and funny to enjoy, especially when little Byul and Joon-hyun are together.
EPISODE 3 RECAP
Despite an initial attack of stage fright at her audition, Chun-hee performs a pretty great rendition of "Hot Pepper," and by the end of her song all the people in the audience are standing and clapping along. When she's finished, President Jo (who snuck in during her song) smiles proudly to himself.
The first judge, Director Wang, fails her based on bad stage etiquette. Geon-woo passes her and says that while he doesn't know a lot about music, the audience's excitement got him excited, too, which seems to him the whole point. The third judge agrees that it was indeed exciting, but thinks that she was lacking in professional technique, and fails her.
Joon-hyun finds Chun-hee backstage and chastises her for turning her back to the audience. He declares that there's no more reason for them to ever see each other now that she blew the audition. The loan sharks find them and demand to know how they're going to pay back the 30 million won now. Yoo-shik notices Joon-hyun's guitar case, and wants to know how much it will sell for. They try to take it from him, and the four of them tussle over it until a man approaches and screams Chun-hee's name.
He introduces himself as President Heo of Heo Entertainment, and asks to speak to her about signing a contract. At his office, Joon-hyun insists on going to talk to Heo alone since he's the music expert, telling them to trust him. This seems like a bad idea.
In President Heo's office, Joon-hyun looks over the contract and objects to the low contract amount. Heo points out that he must know how expensive it is to train a rookie, and promises to take good care of her. Joon-hyun signs the contract and leaves.
Out in the hall, Chun-hee and the loan sharks start to worry about how long Joon-hyun is taking in there. They intercept a food delivery and discover that there's only one meal being delivered, and the lightbulb goes off. They burst into the office to find Joon-hyun gone, with only an open window as a clue.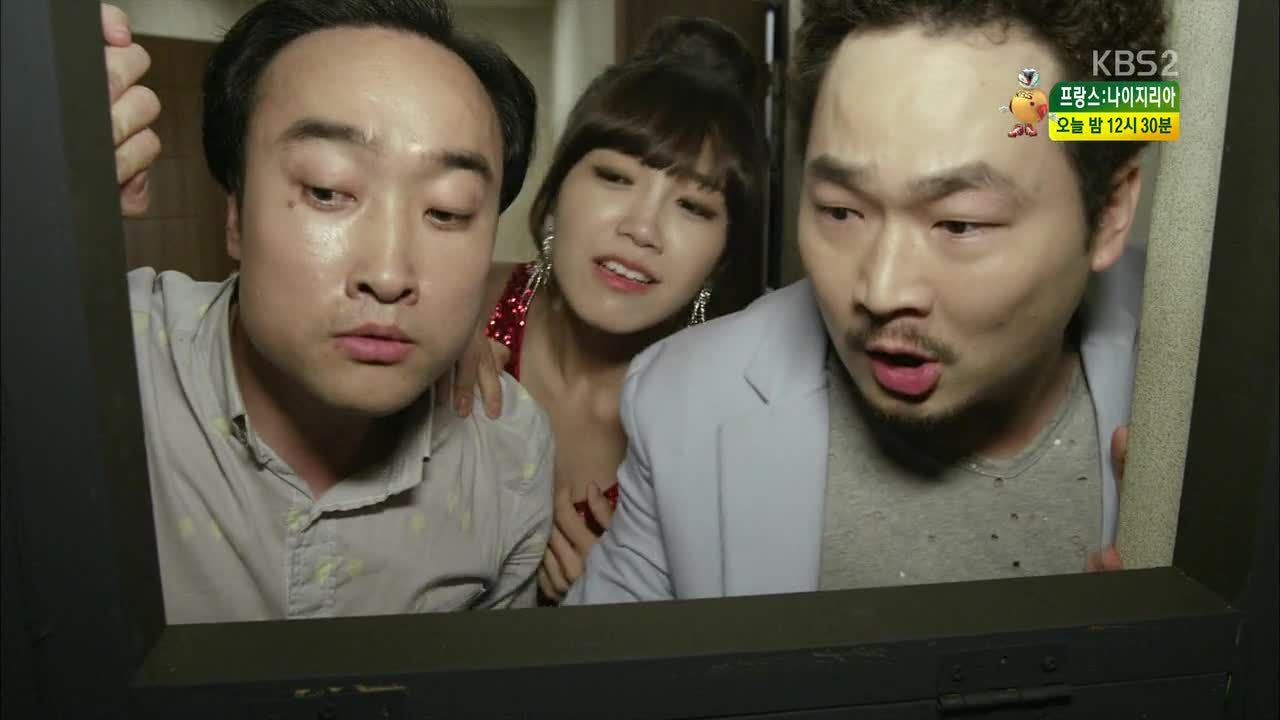 They head back into President Heo's office, who tells them that Joon-hyun is handling the contract payment and that he'll handle Chun-hee's training and schedule. They check the contract and sure enough, Joon-hyun signed Chun-hee over to this guy and took off with the 10 million won (just under $10,000).
Joon-hyun uses the money to check himself into a swanky hotel. He ignores all of Chun-hee's calls, justifying to himself that this is all due to her anyway, so she owes him for ruining his career and even getting him buried.
Chun-hee sits at home calling Joon-hyun every few seconds and vowing to kill him the moment he answers. President Heo asks her back to his office, and tells her that there's been a change of plans, and she'll be debuting today. Chun-hee's face says it all.
He dolls her up in a tiny sequined dress and pounds of makeup, and leads her to a skanky club that's practically wallpapered with embarrassing Photoshopped pictures of her. She asks incredulously if she really looks like that, and if that's why he wouldn't let her look in the mirror. HAHA.
Chun-hee insists that she can't sing with no preparation, and Heo reminds her that she has to pay back triple her contract amount if she breaks the deal. She's stuck, and is forced to agree to perform.
Geon-woo sits in his (father's) office, smiling at a video of Chun-hee's audition. When Director Wang joins him, Geon-woo shows him that the number of views on her video is high already, and she's even got a fan club. He points out the audience's reactions and Wang has the grace to admit that Geon-woo is right — there's something special about her. Geon-woo decides that he wants to bring her to Shine Star.
Geon-woo finds out where Chun-hee is and heads over there, and bursts into laughter when he sees her in all that makeup and glitter. Unfortunately, she's barely into her song before two drunk ajusshis start heckling her.
The men climb onstage, forcing Chun-hee to fend them off with her mic stand. She hits one of them, knocking him into the drums, and now Geon-woo has seen enough. He approaches the stage just in time to catch her as she falls while fleeing from Ajusshi Grabby-Hands. She's shocked to see him there, and he just gives her his enigmatic Cheshire Cat grin. Love this guy.
Later, Chun-hee and Geon-woo sit with President Heo and listen to him drone on about how much money he's put into her, both of them rolling their eyes. It's obvious Heo just sees an opportunity to get money from Geon-woo, and asks for ten times what she was paid to release her from her contract.
Geon-woo only offers the original amount, criticizing her technique and stage manners as if she's even not worth that much. He says that with her temper there will probably be trouble every night, and she's not even sexy. It's pretty smart in terms of negotiation, but Chun-hee is offended.
She yells at the men for talking about her as if she's not there, and Geon-woo dryly points out that temper of hers. He says he was only being honest, but she objects to having been sold once today already, and now they're discussing selling her again to this person.
Geon-woo deadpans that she wanted to sign with him earlier, but she declares that she'll never sign with him and storms out of the room. He calmly wishes President Heo good luck with that (he's killing me) and also leaves.
He catches her in the hall and asks her how she knows his father, wondering whether she's his new stepmother or his lost younger sister. This guy doesn't mince words.
She thinks he's making fun of her, and says she's curious about his father too. She yells that he should just ask his father himself and feints as if to hit him, and he flinches.
Chun-hee cries out her upsetting day to a photo of her mom, then goes home to a big hug from Byul. She says she wants to see her big sister sing on a stage, but settles for seeing her on television later, when Chun-hee says she's not allowed where she's singing.
While all this is happening to Chun-hee, Joon-hyun is living the high life in his fancy hotel suite. He has room service delivered and waves some bills to the waitress, and recoils when it's Chun-hee demanding her money. But it's just his conscience — she's not really there.
He blames the vision on the bad food he's been eating, and settles in to a juicy steak. But before he can take a bite, he sees a vision of Byul, staring at him with the saddest puppy-dog eyes ever. Next thing you know, he and the real Byul are sitting together, eating steak at a fancy outdoor restaurant. I think we just found Joon-hyun's Achilles' heel.
He tells Byul that he brought her here to see what real people eat, since the food she eats at home isn't real food. He hesitantly asks what Chun-hee is doing, and Byul tells him she's going to be a singer and be on TV. He takes this as affirmation that she's doing just fine without him.
Unfortunately, Byul's palate is not very refined, and she refuses to eat most of the food. He takes her to a bakery and, when she can't choose, buys her one of everything. He notices her worn-out shoes, and buys her a new pair. These two are too precious together. I hope they become total besties.
Pil-nyeo sits at a food stand, drowning her sorrows over her failed audition with soju and dukbokki. Tae-song arrives, frantic and demanding an order of dukbokki immediately, but the ajumma already sold the last bowl to Pil-nyeo. He offers the ajumma 10,000 won for it, and a very drunk and wobbly Pil-nyeo chastises him for trying to take her food. They get into a bidding war and Tae-song "wins" with a bid of 100,000 won (about $100, yikes).
He brings it back to a restaurant to Hyo-yeol, who's looking angry at having had to wait, and now it makes sense why Tae-song needed the dukbokki so badly. Hyo-yeol takes one bite and spits it out, blaming Tae-song for taking so long and losing the spicy flavor.
Hyo-yeol asks why Tae-song didn't also bring a drink, and Tae-song says he'll get one as soon as he's finished eating. This infuriates Hyo-yeol, who throws his glass of wine in Tae-song's face and tells him that he won't let these things slide just because Joon-hyun did. This guy is a nightmare.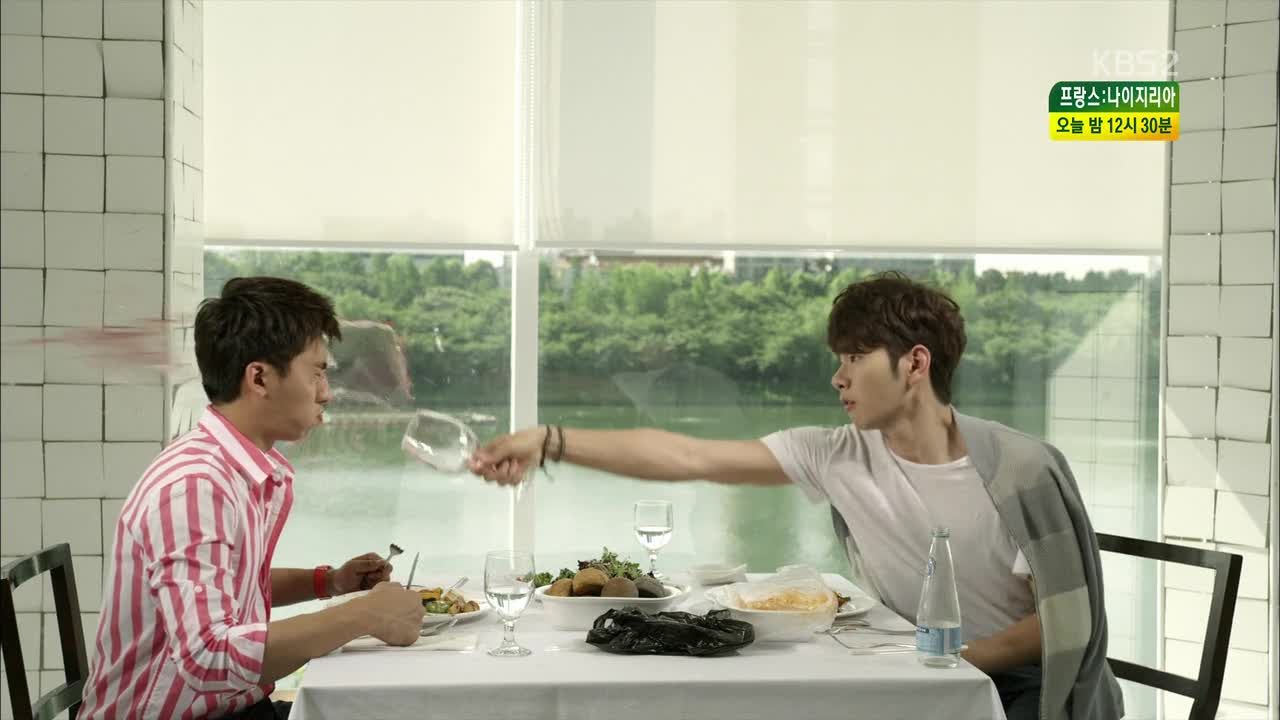 Alone again, Joon-hyun goes to a bar and watches Soo-in being interviewed on TV for winning the audition. The bartender informs him that his card doesn't work. He went through $10,000 in one day?! I'm…a little impressed.
Soo-in rehearses in the Shine Star studio, and pretends to accidentally run into Geon-woo in the hallway. He calls her out for it, and pokes more fun at her by maneuvering her into emphatically declaring how very hard she's practicing, then being all, "Oh too bad, I was going to ask you to dinner." He clearly enjoys watching her do mental gymnastics trying to keep up with his teasing.
They go to eat at a little udon place and Soo-in expresses disappointment that they aren't someplace fancier, but Geon-woo manages to charm her into enjoying herself. Their interactions are pretty cute, the way he needles her with a perfectly straight face then grins when she falls for it every time. It would be annoying if he weren't so darn cute.
Joon-hyun sits in the lobby of the hotel, wondering where he's going to get some money next. He listens to a voicemail from a drunk-sounding Tae-song, who says he's sorry for leaving Joon-hyun that way. He heads to the Midas building, his old management company, and calls Tae-song to come meet him.
He sits in his old recording studio to wait, remembering how he used to spend countless hours here, practicing and even sleeping in this room. Soon Tae-song leads Hyo-yeol into the connecting studio, and tells him that he quits as his manager and that the company has promised to make him into a singer. Of course Hyo-yeol scoffs at this, saying it will never happen, and advising Tae-song to quit while he's ahead or what happened to Joon-hyun could happen to him next.
Joon-hyun watches through the window between the rooms as Hyo-yeol points out that Tae-song is at fault for Joon-hyun's fall from grace. Tae-song denies that it was him; it was President Kim's plan from the beginning.
Hyo-yeol says that may be, but it was Tae-song who carried out the plan and leaked everything to the reporters. Tae-song denies it but it's too late; Joon-hyun has heard it all. He bursts into the room, grabs Tae-song, and demands the truth.
Joonh-yun storms into President Kim's office to accuse him of orchestrating his downfall. He declares that he's not some mass-produced idol — he's the God of Music and this will not be the end of him. Kim just laughs in his face and admits that when Joon-hyun stabbed him in the back, he vowed to take away the one thing that he lives for: music. Joon-hyun snaps and grabs President Kim, threatening to kill him.
Chun-hee finds a notice on her door alerting her that her home will soon be up for auction, and calls President Heo. She's hoping to be paid for her performance but instead he slides her a bill for 947,000 won — it's for the clothes and production costs he used for her. If she wants out of her contract, she needs to pay up. But if she wants to make some money, he has an idea, and all she has to do is sing and have fun. This is going to be bad, isn't it?
Geon-woo calls his father to tell him that Chun-hee didn't pass the audition, and…is President Jo moving into Chun-hee's building? Sure looks like he is. This time, Jo tells Geon-woo that he's in Hawaii, HAHA, and even throws a curious Byul a cheery "Aloha!"
Chun-hee goes looking for other places to live, but the best she can find is a one-room hovel. She gets a call from her coach, who found Byul alone and is taking her home. Chun-hee finds President Heo and agrees to his plan.
That night, Byul hides her new shoes when Chun-hee comes to pack up her room. Byul is worried that Dad won't be able to find them if they move, but Chun-hee promises to text him. Chun-hee finds the brand-new shoes and demands to know where Byul got them, and Byul admits it was Joon-hyun.
It infuriates Chun-hee to know that he used her money to buy Byul things, and she leaves the room before she can say something she regrets. Byul follows her to tell her that Joon-hyun is on TV, having been arrested for attacking the president of Midas.
Joon-hyun sits in jail thinking back on his recent interactions with President Kim, only now catching the malice underneath the friendly exterior. Eventually a cop lets him out, saying that President Kim dropped the charges against him. He delivers a condescending lecture and tells Joon-hyun to sign the settlement, but Joon-hyun is in a daze and doesn't respond.
Another cop is watching Chun-hee's audition video, and the first cop moves over to watch. Joon-hyun's eyes slide to the gun the policeman left on his desk, and his face hardens with resolve as he slowly reaches for it. Oh no.
Just as he's about to take the gun and end it all, he hears a voice — it's Chun-hee singing a slow version of "Hot Pepper," the lyrics describing the hardships of living. Tears fall as he hesitates for a long moment… and he picks up the pen next to the gun and signs the settlement. WHEW.
Joon-hyun leaves the police station to find the loan sharks waiting for him. They're unsurprised that he ended up here, after scamming Chun-hee and running off with her (their) money. Joon-hyun just puts his last few won into Yoo-shik's shirt pocket and says that it's all he has, and there's nothing else they can do to him to get any more money. He offers to pay double interest if they'll give him three months.
Joon-hyun marches into Geon-woo's office with renewed resolve and offers to train Chun-hee. He asks Shine Star to invest 30 million won in her, and he'll take care of the rest. He puts up his guitar case as collateral, saying that what's in it is worth even more than that amount. I have a feeling that it's not a guitar in that case.
Geon-woo apparently accepts his proposal, because next Joon-hyun visits President Heo to buy Chun-hee out of her contract. President Heo balks, admitting that it wasn't really Chun-hee that he wanted, it was Joon-hyun. He doesn't want him onstage though — he wants him to sing in his noraebang rooms.
Chun-hee, meanwhile, is singing in another room for a group of thug ajusshis and their paid dates. She sings well, but there's no life in her voice; she's just here to pay the bills. The leader of the thugs complains that he's bored, and one of his lackeys tries to liven up the room by ordering her to sing an upbeat song, slipping some bills into her cleavage. Shudder.
An employee bursts in to tell President Heo that there's a ruckus in another room, and something clicks for Joon-hyun. He runs to the room to find Chun-hee cornered by the lackey, who is now angrily demanding she sing something upbeat. Joon-hyun tries to leave with her but the thug leader asks if he's her pimp, and now it's on.
Joon-hyun smashes a beer bottle over the lackey's head (after finishing it off, ha) and grabs another one, goading the thugs to go ahead and kill him — he was planning to die today anyway. He smashes the bottle on his own head, which is kinda psycho but also badass, and the thugs go after him.
They grab him and start punching, which prompts Chun-hee to grab an ice bucket and start thumping heads, getting in a few good whacks before one of them grabs her by the hair. Joon-hyun breaks away and stands in front of her, warning the thugs not to touch her. He yells that he needs her and can't live without her — he means professionally but it comes out sounding like he's in love with her.
Just when it looks like they're in real trouble, the loan sharks burst into the room. Joon-hyun and Chun-hee make a break for it while the sharks put on their best "I'm gonna mess you up" act. How are these guys so hilarious even when being tough?
A few of the thugs chase Joon-hyun and Chun-hee, who are finally able to shake them by hiding behind a dumpster. Chun-hee doesn't even give Joon-hyun a moment to take a breath and rounds off on him, slapping and even punching him. She finishes him off with a firm knee to the groin.
Joon-hyun collects himself and tries to lead her away, saying that he'll take her to Shine Star and make her a real singer. Chun-hee refuses to trust him again since the last time he made that promise, he basically sold her. The thing that truly upsets her, though, is that he used that money to buy Byul fancy food and shoes. She accuses him of buying her sister's loyalty, and he can't even deny that it's true.
To his credit, Joon-hyun takes all this like a man, and admits that she's right. He confesses that he blamed his recent misfortunes on her, and says that he now knows he was wrong. He apologizes also for taking the money, but says that he did think she was going to be trained as a real singer.
And then he does something I never thought he'd do — he gets on his knees in front of her, right there in the filthy alley. He formally asks for her forgiveness, and tells her that she's all he has right now. He can't make any grand promises, but one thing he can do is make her a real singer. He knows he doesn't deserve it, but he begs Chun-hee for one last chance.
COMMENTS
Wow, this episode was quite an emotional roller-coaster. Our leads went through a lot just in the span of one hour! I think that those who thought the first week's episodes were a bit heavy-handed with the silliness will be happy to see the show has toned that kind of thing down, and brought in some real hardship and conflict to draw our characters together. I appreciate it, because gives us as an audience the chance to bond with the characters, when they're actual characters instead of caricatures. Personally, I enjoyed the wackiness of the first two episodes, but it's nice to see the show bringing a lot of heart and reality into the mix now that our over-arcing story is underway.
I felt so bad for Chun-hee in this episode. Her whole life she's only felt that she was good at one thing, running, and she's had that taken away from her more than once. But as soon as she discovers that she has another talent – and even better, one that offers her a connection to her lost mother – it causes more problems than it solves. Add to that her father's abandonment, and the fact that the one person who promised to support her literally sold her without her knowledge or consent, and it's no wonder she beat the stuffing out of Joon-hyun even though he had just saved her moments before.
It hurts to watch Chun-hee being treated as a commodity for sale rather than a person, through no fault of her own, and the only thing she can do to save herself and her sister is to voluntarily sell herself even lower. Unlike Joon-hyun, she truly is stuck in her situation entirely through the actions of others, and yet she's the one forced to debase herself to make sure the one person left in her life, Byul, isn't also taken from her. That's got to be the worst feeling in the world…and to add insult to injury, everyone around her is lying to her to get something out of her. It's going to take a long time for her to trust anything anyone, much less Joon-hyun, says to her.
Speaking of Joon-hyun, he really went through the wringer in this episode. From living the high life in a fancy suite and eating the best food, to literally contemplating suicide, to deciding that he needs to man up and grab onto the one thing that can possibly redeem him, he was bobbing up and down like a yo-yo. I can understand why he considered ending it all, even for a moment – his entire identity and self-worth are wrapped up in music. Music is the only thing he knows how to do, and the only reason people have ever liked him…it certainly wasn't for his warm and loving personality. He's just had the one thing he's good at, the only reason people stay around him and his one love in life, taken away. It's understandable that he would feel like he no longer has reason to live.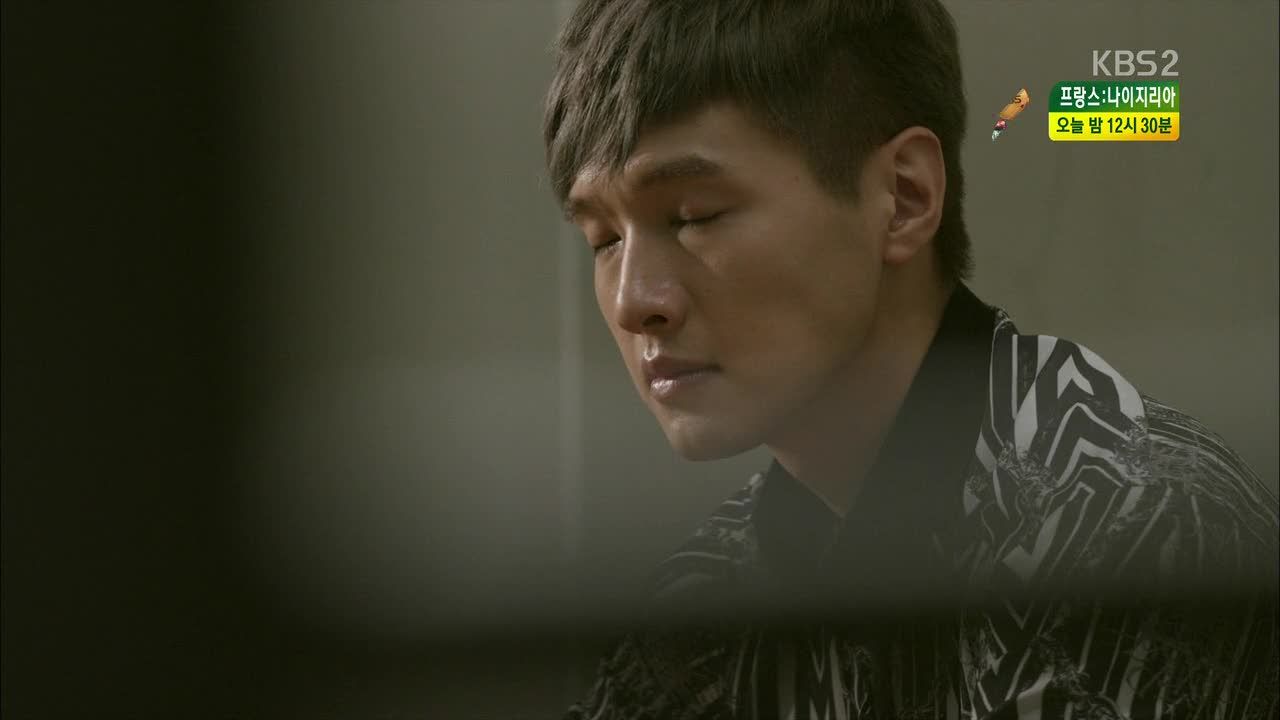 I'm impressed with his willingness to humble himself in front of Chun-hee and beg her forgiveness, especially when he seemed like the kind of guy who could never admit that everything isn't always someone else's fault. Of course that's not to say that he's made a complete personality turnaround…at the end of the day, he got on his knees because he has nobody else and no other choice. He recognized that if he wanted to have any sort of life worth living, which in his case means making music (and maybe getting a little revenge), he had to do whatever was necessary to get her to trust him again. That's great, and it's a huge step for him, and it came much sooner in the story than I expected. Credit where credit's due.
But I notice that he never looked at Chun-hee while he was making his big humble speech. He wasn't connecting with her as a person, he was merely doing what he thought would get him what he wanted…Chun-hee's agreement to let him train her. In the end, though he's doing it with a far more positive attitude now, he's just found another way to use her to get something he wants. What I'm really looking forward to is the day when he looks Chun-hee in the eye and genuinely apologizes, not because there's something in it for him, but because he truly cares about doing the right thing.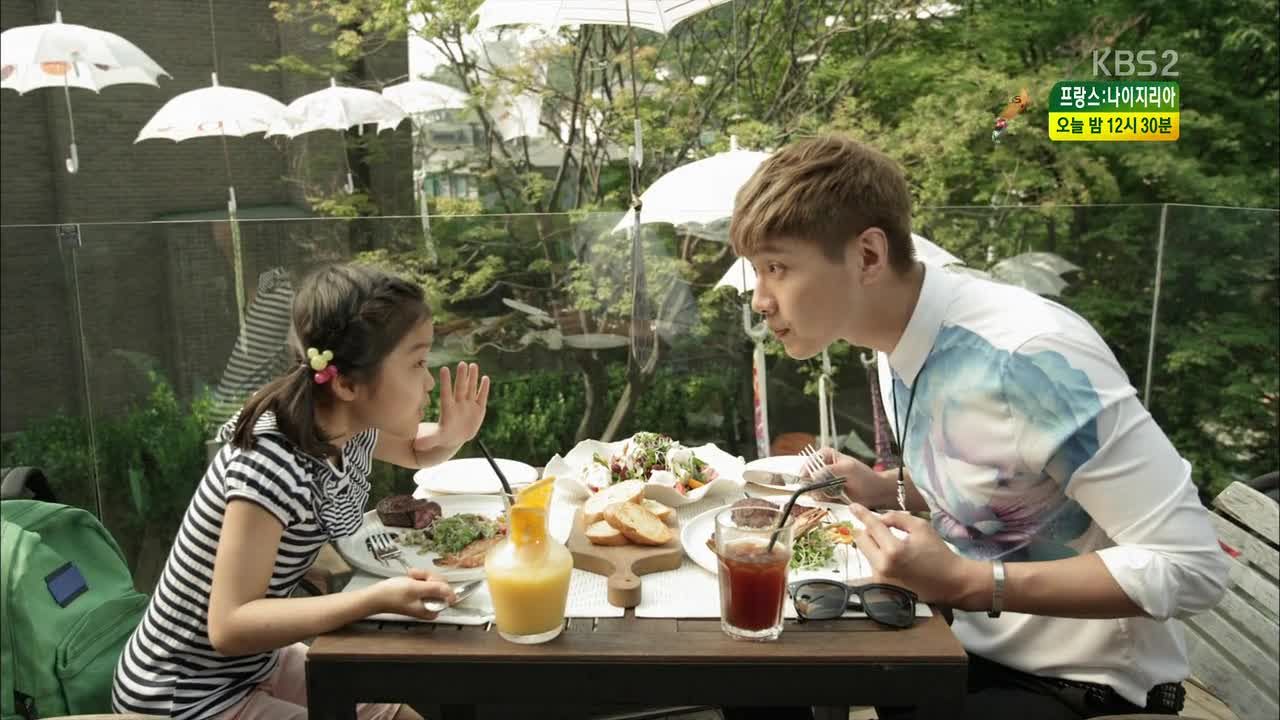 The whole episode wasn't all doom and gloom though. There were enough fun moments that the show kept the lighthearted flavor of the premiere episodes. Can we talk about how adorable Joon-hyun and Byul are together? It's so hilarious how she can cut him down to size with a few words or a skeptical glance. I loved that when he first treated her to lunch he was trying to be the all-knowing adult teaching her about the world – but by the time they were shoe-shopping he was on her level, joking around and just enjoying his new buddy.
I do think (mostly because he actually said it) that a large part of his taking care of Byul was because he was trying to even things out after taking Chun-hee's money, but I also think he genuinely wanted Byul to have a nice meal and a good pair of shoes just because. I think their scenes together were more important than they initially seem, since treating Byul to food and new shoes is the only thing Joon-hyun has done so far in this drama that didn't benefit himself, other than making him feel good. I have a feeling that tiny little Byul is going to be the key to reigning in that enormous ego Joon-hyun has been toting around, and turning him into a normal person who understands that he's no better than anyone else. And this makes me happy because seriously, I could watch these two hang out all day. Can we have a spinoff show just following Joon-hyun and Byul around doing cute buddy stuff? I would watch the heck out of that.
RELATED POSTS
Tags: featured, Ji Hyun-woo, Jung Eun-ji, Trot Lovers