Trot Lovers: Episode 5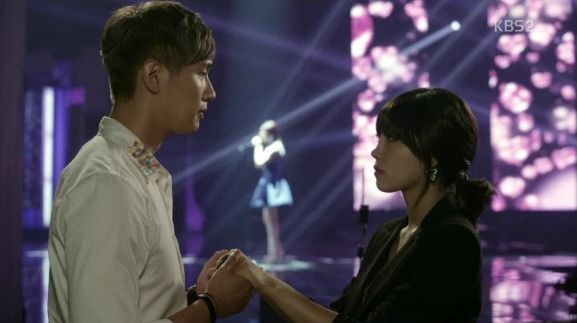 The plot gets fully underway as battle lines are drawn at Shine Star, with employees and trainees alike taking sides between Chun-hee and Soo-in. Chun-hee begins to realize that music is important to her beyond making money, and that family is not limited to those with whom you share a genetic bond. And our hero starts to actually become heroic, sacrificing his own pride for Chun-hee's career and maybe, just a little bit, for her heart.
EPISODE 5 RECAP
After their successful day singing at the market, Joon-hyun walks Chun-hee home and casually tries to sneak inside, but she reminds him that his place is the bench. He asks if she's not even thankful for what he had to do to get that last ball back, so she cheerily trills a "Thank you!" and leaves him to the elements. Ha.
She tucks Byul into bed and takes a call from President Heo reminding her to return the costume she wore at his club. She heads out, noticing that Joon-hyun isn't sleeping on the bench as she expected.
He's at Heo's club to work off his final night, but quickly hides when he realizes that his first customer is Hyo-yeol. Hilariously, Joon-hyun dons a Shrek mask to keep from being recognized -– but Hyo-yeol's friend notices that his guitar-playing is like Jang Joon-hyun's, which makes Hyo-yeol angry.
He gets up to accuse Masked Joon-hyun of playing like Jang Joon-hyun to mock him, and demands he remove the mask, even shoving money at him. Joon-hyun runs with Hyo-yeol hot on his heels, but unfortunately he trips and loses the mask.
Hyo-yeol is just delighted to see him playing in a place like this, and makes fun of him. Chun-hee arrives to return the costume, but stops when she sees Joon-hyun, who looks so shamed it's hard to watch.
It's not enough for Hyo-yeol to humiliate him with words, so he pours a beer over Joon-hyun's head. He sees Joon-hyun make a fist and taunts him to hit him, but President Heo intervenes, fawning over Hyo-yeol while chastising Joon-hyun.
Hyo-yeol leaves (but not before getting in one last insult by wiping the beer off Joon-hyun's face with his tip money), and Heo yells at Joon-hyun some more, saying that he's not forcing him to sing -– he agreed to do it to pay off Chun-hee's contract. He throws him to the floor and tells him not to come back.
Someone approaches Hyo-yeol from behind and whacks him upside the head while he's drinking. It's Chun-hee, who pretends that she thought he was someone else. He waves her off and starts to drink again, and she whacks him again, HAHA.
Hyo-yeol just barely pulls his slap, lucky for him. Chun-hee drops the cute act and snarls that he won't be famous forever, so he'd better act correctly now in preparation for that day. She warns him not to mess with Joon-hyun anymore, but he just gives her some money and tells her it's for Joon-hyun's dry cleaning.
It worries me that, right as he puts the money in her hand, an unseen observer snaps a picture.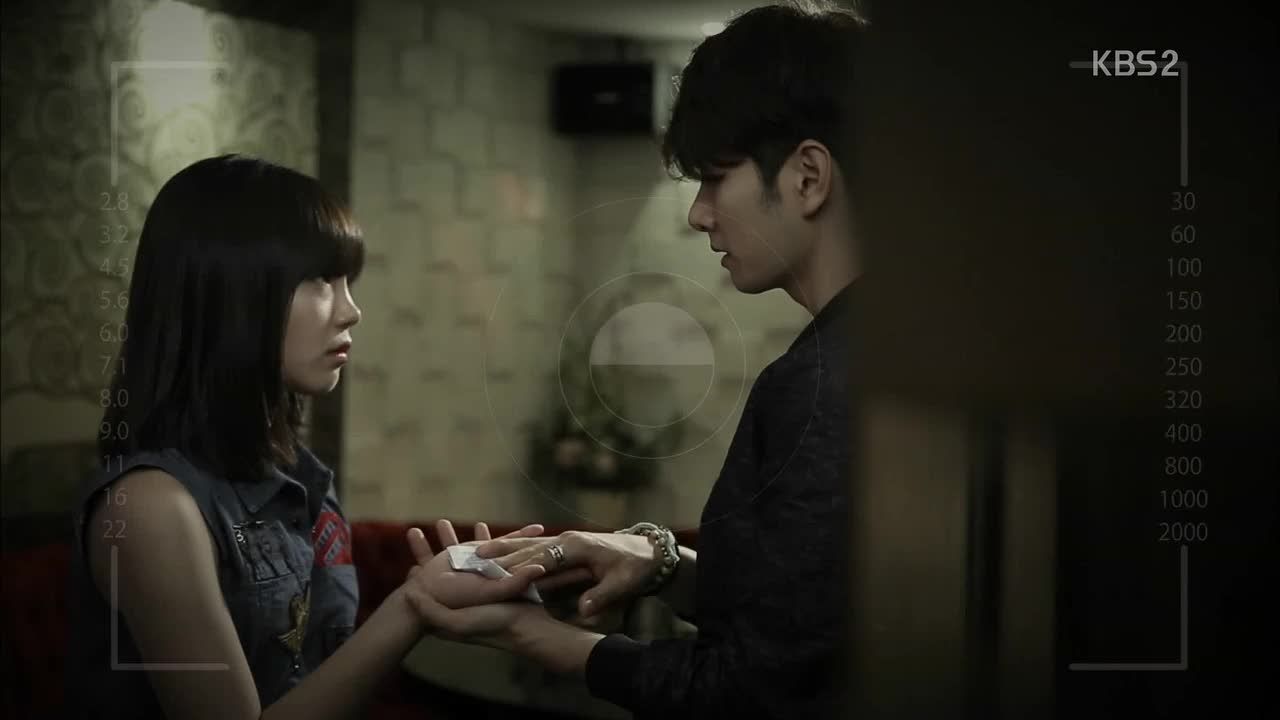 By the time Chun-hee gets home, Joon-hyun is sleeping on "his" platform, and she watches him guiltily for a moment. In the morning, Byul wakes him to invite him to breakfast. He wonders what made Chun-hee change her mind about letting him inside, but eats gratefully.
He asks where his luggage is so he can change clothes, and Chun-hee points him to her father's bedroom. Once he's in there, she tells him she doesn't owe him anything now, and it takes Joon-hyun a moment to realize that there's bedding and blankets laid out next to his things. Aw, he's so happy! He's not quite as happy about the house rules that Chun-hee lays out regarding towel, water, and toothpaste usage, but grudgingly complies.
Soo-in takes a break from practice to daydream about Geon-woo coming to her rescue during her recent interview. Pil-nyeo wishes her luck as the Shine Star representative in the upcoming "Survivor Immortal Classics" (a nod to KBS's Immortal Song). Geon-woo calls Soo-in to tell her there's a meeting at KBS for the show and tells her to meet him at his car.
They meet with the KBS station director, who expresses relief that she's such a good singer even though she's a rookie. During the meeting an assistant informs the director that another contestant had to withdraw and they're short one person.
Geon-woo puts forward Chun-hee as a substitute, showing the director and assistant her audition video and soothing their concerns about her being another rookie. The assistant starts to object, but the director overrides him and agrees to let her participate.
Director Wang expresses concern about Chun-hee's being new and competing against Soo-in, but Geon-woo just says that people from the same company should support each other. Neither Wang nor Soo-in look at all happy about this turn of events.
Later, Wang meets with a mysterious man to take possession of the photos of Chun-hee taking money from Hyo-yeol in the club. I have to admit, those photos look REALLY bad out of context.
Joon-hyun brings a portable fan to the studio to cool off Chun-hee as she practices, which is so sweet. Then he ruins it by taking it back after about five seconds and hugging it to himself, haha. Director Wang tells them that she'll be performing in the television contest, making them both grin like idiots. I love that Chun-hee's mostly excited because Byul will get to see her on TV like she wanted.
Pil-nyeo gets a call to meet with Director Wang, and he asks if she doesn't think it's unfair — she's been a trainee for ten years and never gotten a chance like this, while Chun-hee swoops in and gets all the opportunities because of her connections. She gets worked up and he suggests a plan, and that night Pil-nyeo posts a message to the Shine Star online message board.
The next day, everyone at Shine Star is talking about the pictures of Chun-hee taking money from Hyo-yeol at a nightclub, which were posted on the message boards. Chun-hee is called to the president's office to explain the photos, and she has to admit that she worked there briefly before joining Shine Star, though she insists she was only there that night to return her costume.
Director Wang goes on the attack and asserts that she must still be working there now, because the pictures look like she's accepting a tip. Geon-woo looks disappointed and tells her that if she can't explain why she was taking that money, she'll have to leave Shine Star. Of course she really has no good explanation, because telling the truth would mean exposing that Joon-hyun has been working there, but she maintains that it was absolutely not a tip.
Joon-hyun doesn't know she was there that night, and he takes her aside to ask her to explain. She doesn't want to tell him that she knows about him, so she doesn't say a word, and he assumes the worst. He yells at her to at least make excuses, but she shoots back that even if she did, he wouldn't believe her. She says that she knows he's disappointed in her, but she's disappointed in him, too.
Joon-hyun takes out his frustration on Geon-woo, angry with him for not taking Chun-hee's side. He swears that Chun-hee is honorable and would never do what she's accused of doing. Geon-woo counters that facts are important, not promises, and if she's not willing to explain then they have no other options.
Chun-hee visits her old running coach (she does have a name, Coach Bang) to ask advice for her dilemma. If she doesn't talk, she'll be kicked out of Shine Star — but if she tells the truth, someone will be hurt. Coach Bang notes that she seems to have already made up her mind and that staying silent was probably the right thing to do.
Joon-hyun next confronts Hyo-yeol, demanding to know why he gave Chun-hee money that night at the club. Hyo-yeol gets nasty (as usual) and just spouts insults about Joon-hyun and Chun-hee, assuming they're involved.
Hyo-yeol gets extra-personal and insults Chun-hee's figure, earning a long-overdue punch in the face. Joon-hyun asks again why he gave her the money and Hyo-yeol only makes a vague comment about her asking about Joon-hyun, but it's enough for him to put the pieces together.
Chun-hee goes in front of an official panel of directors at Shine Star, who give her one last chance to explain. Chun-hee stays quiet, looking miserable. But just before Geon-woo can kick her out of the company, Joon-hyun bursts in: "It was all because of me!"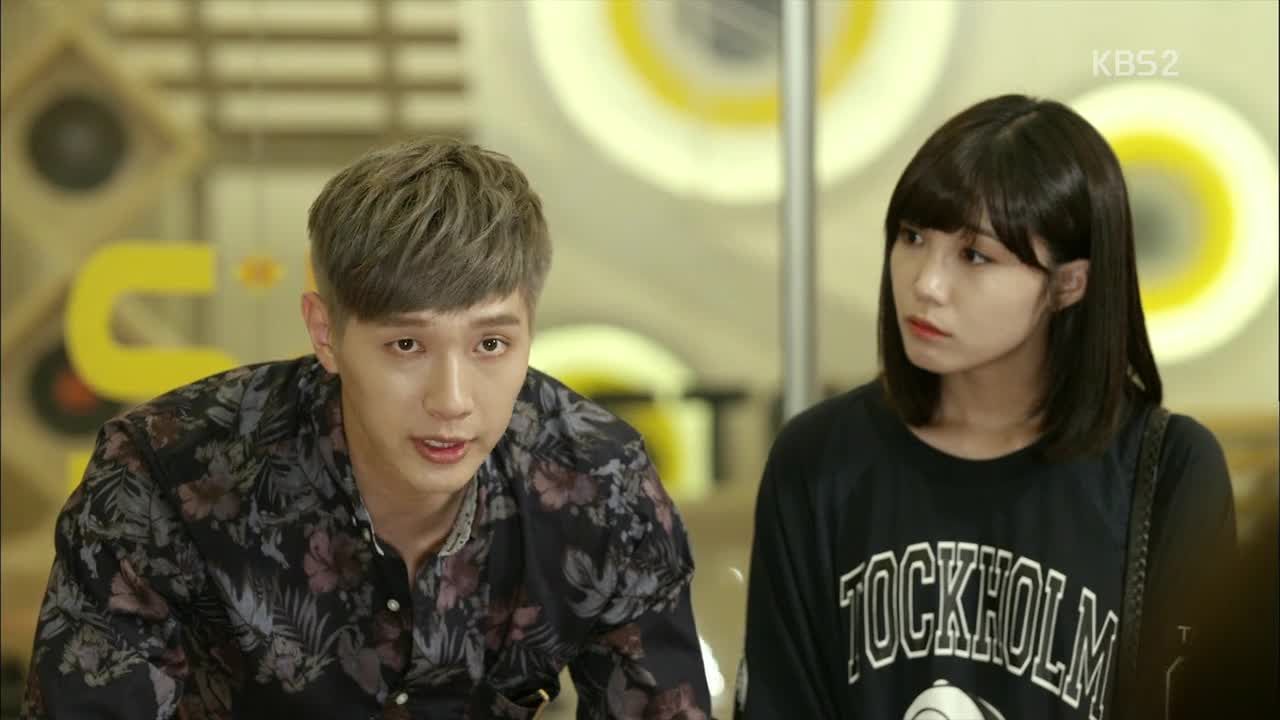 He breathlessly explains that the money from Hyo-yeol wasn't a tip, it was given to her to insult Joon-hyun for working there, and that Chun-hee was only trying to protect him. Director Wang and Soo-in's mother make insulting remarks and laugh, but Joon-hyun silently bears the embarrassment.
Pil-nyeo whines to Director Wang that she only did what he told her to do, but now she's being kicked out of the company. He says that she was the one who posted those pictures to the website, and tells her to stay quiet about his involvement and maybe later he can help her. She's not exactly a nice person, but that is cold.
On their walk home, Joon-hyun asks Chun-hee why she wanted to keep his secret about working at the club. He fusses at her for confronting Hyo-yeol, but she brushes off his concerns. He takes her by the shoulders and tells her not to do anything like that again, and to call him first. Chun-hee suddenly notices how close he is, and jokes away the awkwardness.
President Jo comes out of his apartment and hides before they can see him. He's surprised that they seem to be living together and wonders what Joon-hyun is up to.
Later that night, Chun-hee asks for help changing a lightbulb, and stands on a stool while Joon-hyun holds it steady. This brings his face awfully close to her bare legs, and his heart starts to thump as he tries to look anywhere but at the pretty legs.
Chun-hee loses her balance and falls on top of Joon-hyun, and jumps up griping at him to cover her awareness of being so close. Poor guy, he's so affected that he can only lay on the floor and wonder what's wrong with his pounding heart.
Soo-in practices for the TV show, and Geon-woo comes to pay her a compliment. She asks him why he recommended Chun-hee for the show, which makes him smile and ask if it hurts her pride. She says that she's wondered for a while why he thinks Chun-hee is special, since there are other trainees with more singing experience.
He replies that Chun-hee isn't special — she's interesting. The difference between Soo-in and Chun-hee is admiration versus being moved. Soo-in asks if that means she inspires admiration while Chun-hee touches people's hearts, but Geon-woo just smiles enigmatically: "Is that what you think?"
The contestants choose numbers to determine their performance order, and Joon-hyun mimes to Chun-hee from behind the cameras NOT to get #1 or #2. His face falls when she reveals that she's #2 — and to make things worse, Soo-in is contestant #1, which means they'll be competing against each other.
That night Chun-hee practices projecting her voice and wheedles for Joon-hyun to help her, but he gets annoyed that she never knows when to stop and heads for bed. A hand reaches out from the doorway to stop him, and it's the loan sharks! Yoo-shik asks how he can sleep while Chun-hee practices so hard as Chul-man makes himself comfortable. Aw, I've missed these guys.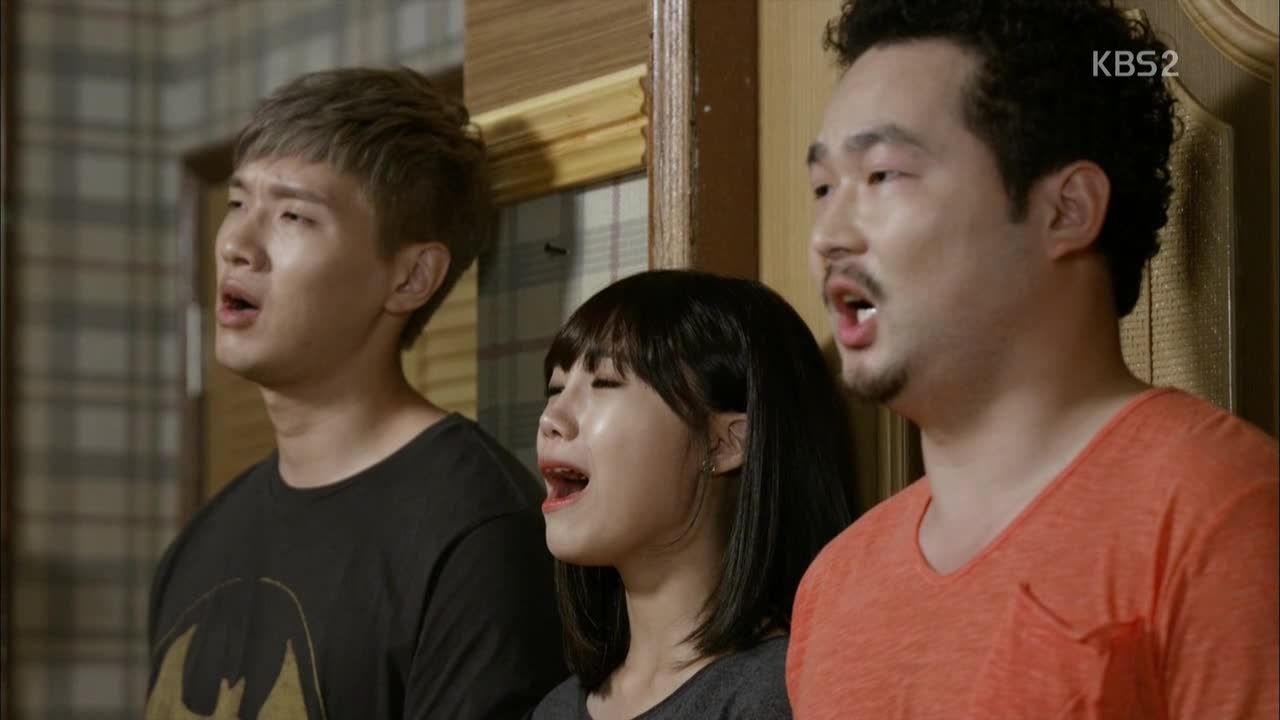 Chun-hee nervously practices while the loan sharks give singing advice, which is hysterical because they're surprisingly knowledgeable. They even make Joon-hyun practice along with Chun-hee, all of them bellowing together, "Pay your debt!"
Tae-song gets himself bodily thrown out of President Heo's office, who refuses to deal with him anymore since he failed to get plastic surgery. He sees Pil-nyeo approaching and has nowhere to go, so he just wills himself to melt through the wall — but he can't help but worry when he sees Pil-nyeo enter Heo's office.
He follows them down to the parking garage, where Heo makes grand promises to Pil-nyeo then tries to force her into his car. Pil-nyeo's warning bells go off when Heo suggests going somewhere alone, but he corners her and starts to manhandle her. Tae-song runs to pull Pil-nyeo away from Heo, accidentally locking lips with her when he pulls a bit too hard.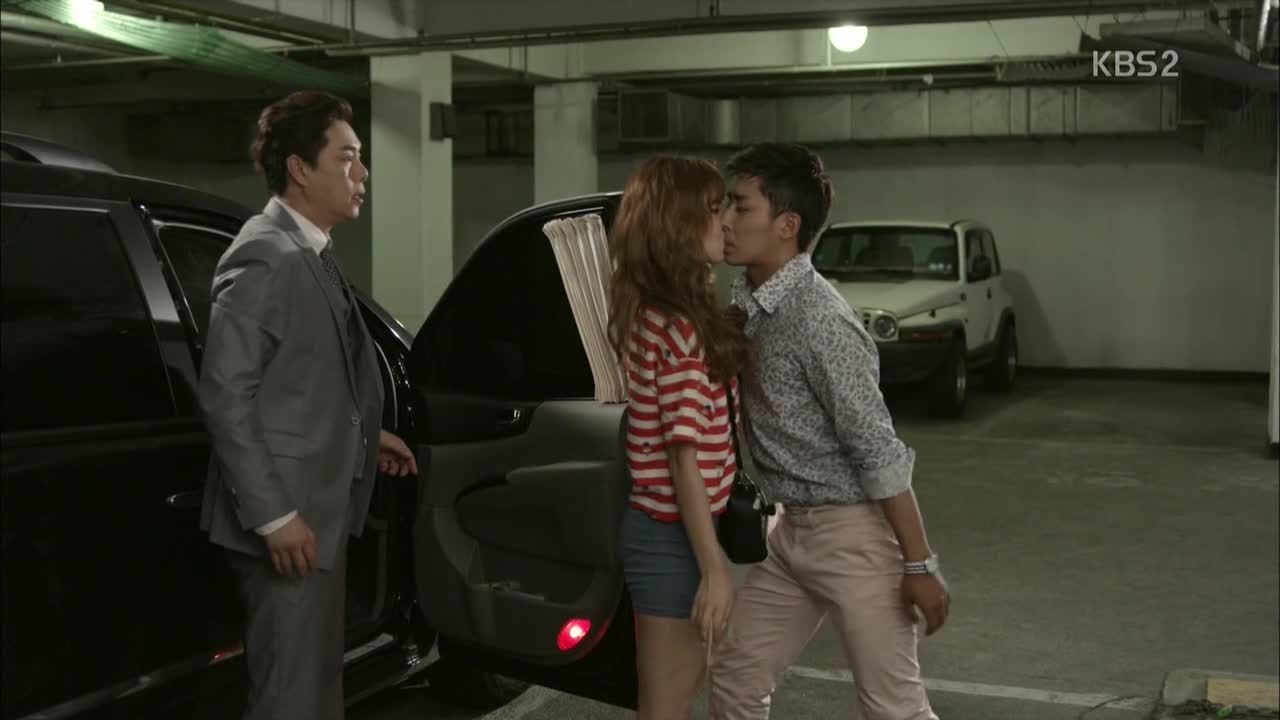 Tae-song and Pil-nyeo manage to escape the garage, and when they stop to rest, Pil-nyeo notices that Tae-song is quite a hunk of a man (in hilarious sweaty slo-mo). He's completely oblivious, and apologizes for the kiss and for holding her hand and waves her off. He doesn't know it, but the adoring look on her face says that he's stuck with her now.
At the studio, Geon-woo visits Chun-hee as she rehearses, and helps her up when she gets stuck halfway down into a split. Soo-in observes, unhappy to see their casual skinship. Later she has trouble staying on pitch when she sings, and takes medicine, remembering that her doctor told her that her vocal cords are damaged and she shouldn't sing.
Director Wang catches Soo-in with the medicine and confronts her mother, who says that he's overreacting — it's something all singers have to deal with at some point. Wang is concerned that she seems pretty sick, but Joo-hee just brushes him off.
Joon-hyun helps Chun-hee with her singing technique, and gives her the song he's chosen for her to sing on the show. She admits that she can't read sheet music and asks him to sing it for her. He warns her not to let anyone at Shine Star know that a trainee can't read music, but Wang overhears from the hallway.
On the day of the show, Chun-hee is alarmed to see that the song listed for her ("You Sent Me Away With a Smile" by Lee Eun-ha) is not the one she's practiced. Joon-hyun confronts the employee who changed her song, who says that her original song was chosen by another contestant. He claims that they notified Shine Star in time for her to practice the new song, but Joon-hyun says they never got the message.
The employee offers to give them the sheet music so she can practice but, given that Chun-hee can't read sheet music, this is pretty disastrous. However, Joon-hyun CAN read sheet music… so he sings the song slowly line by line, over and over, so that Chun-hee can learn it by ear.
Backstage, Chun-hee starts to panic, but Joon-hyun tells her that what's important isn't lyrics or pitch, but that she sings from the heart. He takes her hands and sings the song for her one last time, and even though Soo-in is onstage performing, Chun-hee closes her eyes and hears nothing but his voice.
It's a sweet moment as Joon-hyun sings for her, and his face takes on a soft expression that just gets me right in the heart. When he stops singing, she opens her eyes and looks into his for a long moment, and it's as if he's been hit by a Mack truck.
It's Chun-hee's turn to sing, and she sings well but her voice is small and tentative. Suddenly she feels a pair of hands cover hers, and this time when she opens her eyes it's not her family she sees, but Joon-hyun standing in front of her. He sings a couple of lines and smiles at her, her voice gains strength, and she knocks that song right out of the ballpark.
The audience gives her a standing ovation, and Geon-woo has a huge grin on his face while Soo-in, Joo-hee, and Director Wang all look like they sucked a lemon.
When it's time for the results, Soo-in answers a question about her hurt throat with a pretty standard answer (all she thought about was the song), and the MC asks Chun-hee how she felt going up against an experienced singer. She says she doesn't remember much about her performance, and the MC moves on to results.
But Chun-hee interrupts and asks if she can say one more thing. She has a message for her father: She doesn't know where he is, but hopes he's watching. She tears up and her voice shakes as she says that she and Byul are getting by, and begs him to please contact them.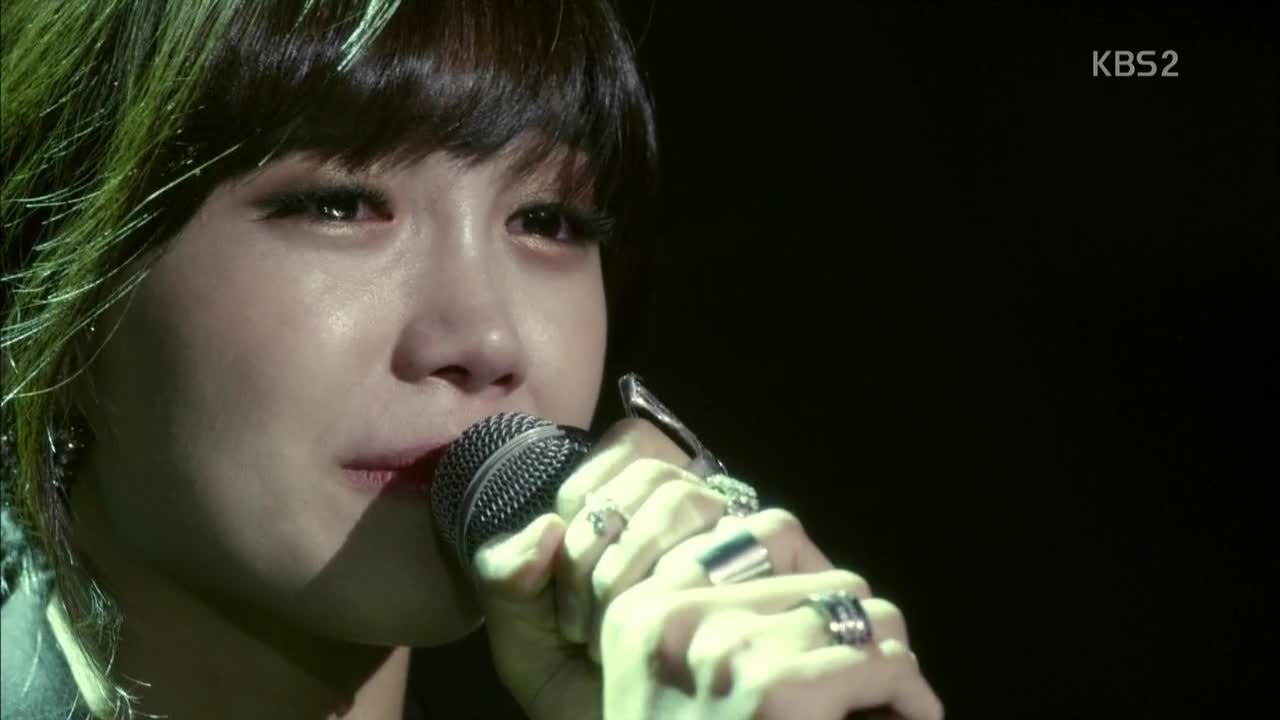 The voting results are in, and Chun-hee's studio audience votes outnumber Soo-in's by more than double. But the online results (you know, the ones that can hypothetically be manipulated by disgruntled employees and controlling stage mothers) swing the votes back in Soo-in's favor, and she's declared the winner.
Chun-hee apologizes to Joon-hyun, but he doesn't even look at her and storms off. He finds the employee who changed her song and demands to know how the online votes could be so different from the overwhelming audience votes. The employee just says that's how it is, and warns him that if he keeps behaving so aggressively, he'll ruin not only his but Chun-hee's singing career.
Director Wang drives Joo-hee back to the Shine Star building, as she thanks the KBS director on the phone for his help and offers to repay him later. I knew it. She and Wang are so smirky, I just want to smack them both.
The other contestants congratulate Soo-in on her win, but later in the bathroom she overhears a couple of them discussing Chun-hee's obvious talent. They say that it's strange that the netizen votes were so different, and that it's never happened before that netizen votes overturned audience votes.
Soo-in runs into Joon-hyun and convinces him to take her out to celebrate her win, and Chun-hee sees them get in Soo-in's car and drive off together. She's forced to walk home in the rain.
The restaurant is playing Soo-in's song, the one that Joon-hyun wrote for her, and he comments that she's pretty popular now. He tries his best to smile for her but his heart isn't in it. Soo-in boldly asks him to come back to her, and stop being Chun-hee's manager. Ugh, so manipulative.
That night, Byul can't wake Chun-hee, who's fevered and delirious. Byul calls the first person on her phone, Joon-hyun. He doesn't answer, and when Geon-woo calls her phone, Byul cries to him that her unni is sick. He rushes over there and takes them to the hospital.
Joon-hyun kindly lets Soo-in down, stating that they have different paths now. As he leaves he returns Byul's call, and races to get a taxi when he hears that Chun-hee is in the hospital. Soo-in offers him a ride and he's reluctant, but worried enough to accept.
A doctor notifies Geon-woo and Byul that Chun-hee is just overworked and exhausted, but she's awake now and they can talk to her. She thanks Geon-woo, who's surprised that he helped her again, repeating that he's not normally that kind of guy.
Byul turns tiny matchmaker as she asks Geon-woo if the president of her entertainment company is ALL he is to Chun-hee, and gets excited when Geon-woo says that's all… for now. Joon-hyun rushes into the room, Soo-in a few steps behind, just in time to see Geon-woo adjusting Chun-hee's pillow and the three of them looking very cozy.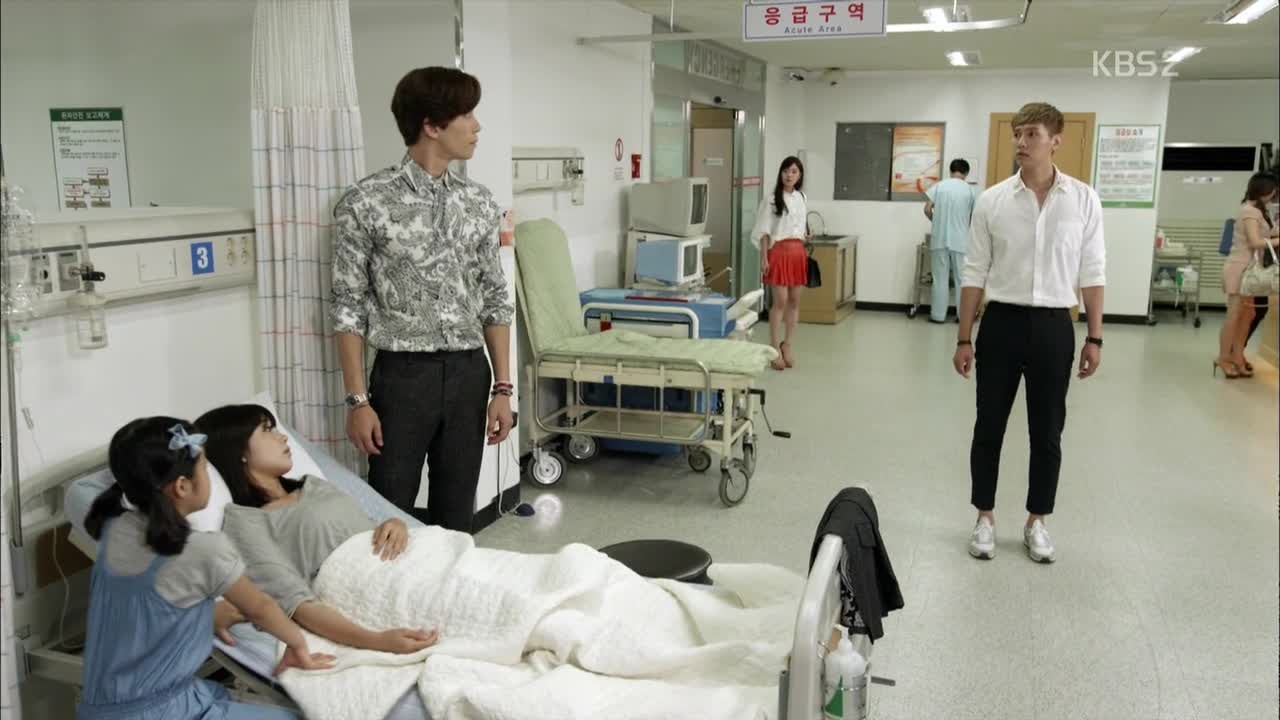 COMMENTS
I really enjoyed this episode, because a lot happened to further the story and the relationships. There was a nice balance of the cute and funny with the dramatic, and it's one of the things I think this show does well — giving us just enough of both extremes so that it doesn't weigh too heavily towards either side. I love that I find myself laughing out loud, sighing with romantic feelings, and worrying over a lead's future as a professional singer, all in one episode. The story moves along quickly enough that we get a lot of information in each episode, and all the characters get a moment in the spotlight, but yet so far I never feel like they're cramming too much into the short hour we're given.
I'm actually surprised that this is still only the fifth episode, because it feels like we know so much about the characters and the story already, which is a nice change from some dramas (not pointing any fingers!) that belabor the same plot point for episode after episode. I love that each episode carries a new professional challenge for Chun-hee and a new personal challenge for Joon-hyun, so we're never bored watching them circle around one issue or mope over a misunderstanding for weeks. Things happen, they get dealt with, and we move on to something new. Fantastic!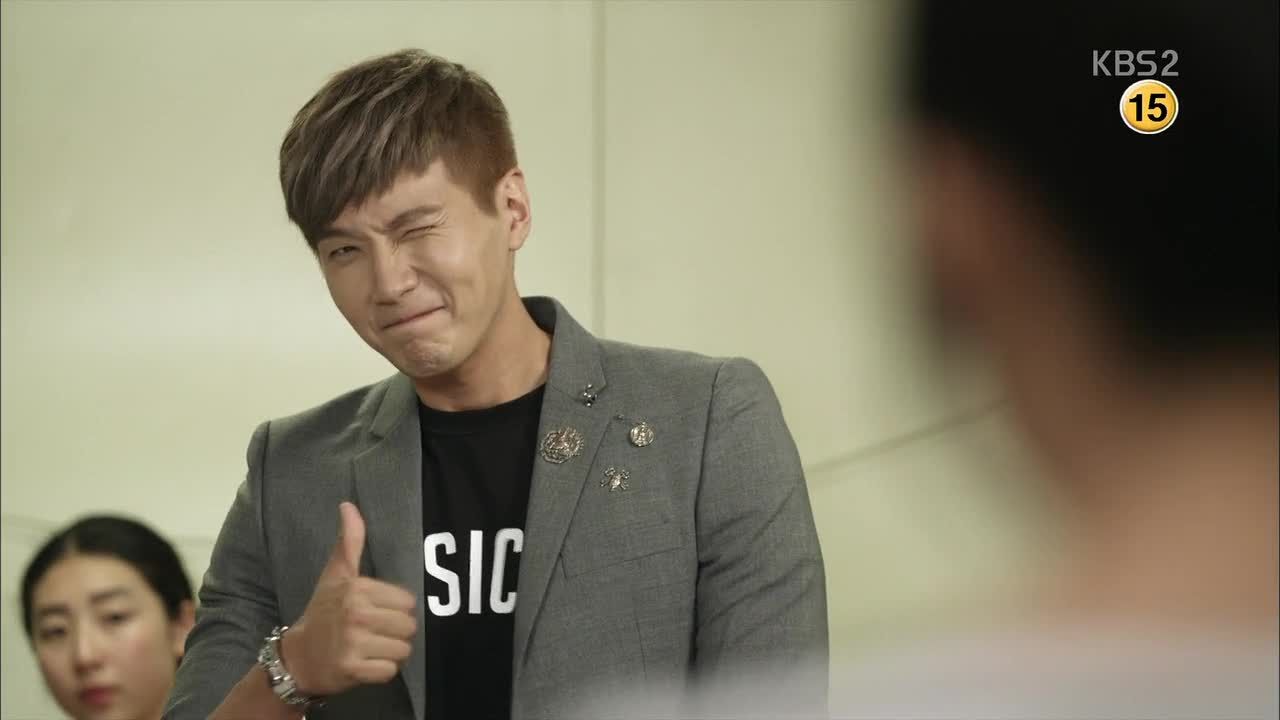 I'm finding myself more interested in the plot regarding Chun-hee's journey to becoming a singer than I originally expected to be. As a former actor, I find the behind-the-scenes of show business fascinating, and I initially kept my expectations loose since we weren't given much detail about the plot before the show aired. But I'm thrilled that we're getting a lot of story revolving around how hard it is to be a trainee and try to make a name for yourself. I suppose it appeals to me in the same way that King of Dramas did — seeing how it all works, including all the politics and maneuvering of your pet trainee to put them in the most favorable light, is something I'm finding really interesting.
That's not to say that I'm taking it literally that this is how it works in real life, but it's fun to see how the system basically works from the inside. I don't doubt that things will get more makjang as we delve further into Chun-hee's mother's death, and how her father and Joo-hee are connected, though I hope the show doesn't get bogged down by those things because I don't find them nearly as fun to watch as TV singing competitions.
Of course, I'm thrilled that the romance is starting to kick in now, and that both sides are having some feelings at the same time. There are definitely the usual cliches, like the "whoops I fell on top of you" scene or the awkward public hug at the end of Episode 4, but I find that I'm feeling the connection between Chun-hee and Joon-hyun growing more in the small moments. I'm enjoying the tiny beats of awareness between them, like when Joon-hun took Chun-hee by the shoulders to tell her to come to him when there's a problem, or when he stood up for her in front of the committee and she saw him in a new light. I'm noticing that they smile more at each other, and are getting more comfortable on a physical level too. For example, when Joon-hyun teaches Chun-hee to sing from her belly and puts his arms around her — I think the fact that neither one of them even noticed and were perfectly comfortable, is as telling as if they had jumped apart like startled cats.
I definitely see Joon-hyun falling harder and faster, given the way he couldn't take his eyes off Chun-hee when he was singing for her backstage. That was such a lovely moment, and I appreciate that it was handled with a light touch. It wasn't overly dramatic and didn't need swelling music or a choir of angels. You could see every emotion as it crossed his face: comfort for her nerves, then tenderness as she closed her eyes while he sang. But his expression when she opened her eyes and looked into his… wow. He looked shocked and surprised and terrified all at once.
I genuinely think that Ji Hyun-woo is nailing this role, and the fact that many viewers have had an initial negative reaction to his portrayal of Joon-hyun is actually proof of how well he's playing the part. He truly made us dislike this conceited, selfish, self-centered guy who thought everyone was all about him. Watching his priorities shift to someone else, and begin to care for her in the process, is fascinating. I'm fully onboard with his emotional journey, and I can't wait to see what kind of man he turns out to be once life strips away his carefully laid veneer and we get to see the soft caring man underneath.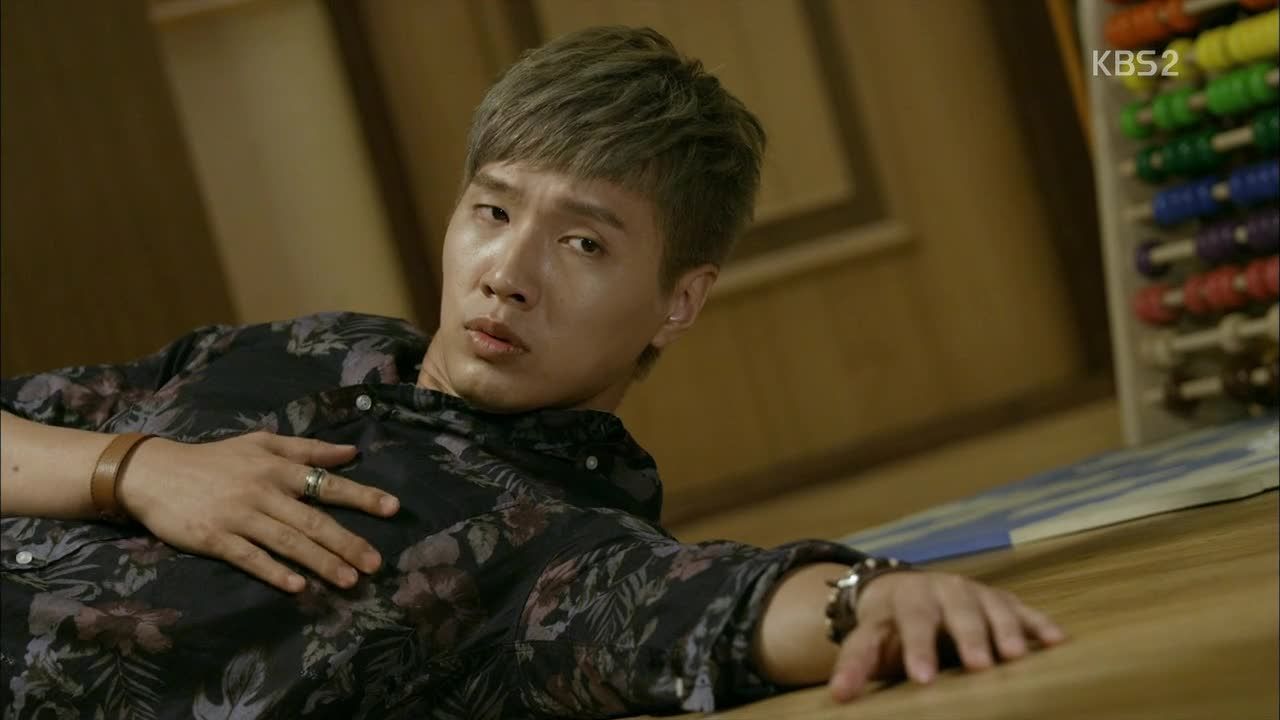 RELATED POSTS
Tags: featured, Ji Hyun-woo, Jung Eun-ji, Trot Lovers