Trot Lovers: Episode 7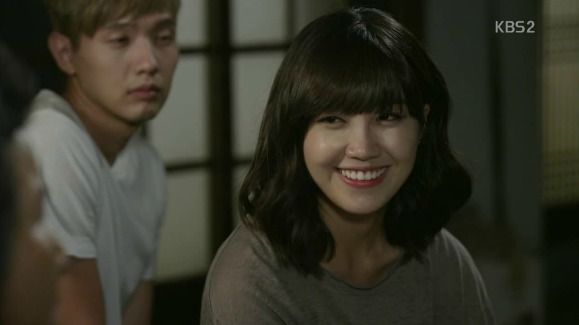 Everyone is laying their emotional cards out on the table as our love triangle gets fully underway. One of our leading men seems more than willing to admit he likes Chun-hee, while the other is still trying to figure out what feelings are actually for, and Chun-hee is in the enviable position of having to make a choice. Whatever is a girl to do?
EPISODE 7 RECAP
Chun-hee receives a text message just as she's about to go on camera, warning that if she doesn't come to the designated location immediately, she'll never see her father again. She only hesitates a moment before running out of the studio. Luckily Joon-hyun follows, catching up to her as she frantically hails a taxi. He tells her that if she doesn't do this TV appearance it's all over, but she's too terrified for her father to care.
They end up in an abandoned building, but of course there's nobody there. Chun-hee's father is, of course, perfectly safe, as he sees her album for sale at a street stand and smiles with pride.
The police are called to the abandoned building, where they correctly determine that the threat was just a prank. They promise to look into the sender of the threatening text, but that's all they can do.
Chun-hee still isn't convinced that Dad is safe, and Joon-hyun tries to calm her — but what really calms her is an unexpected call from her father. He tells her that he saw her album and her TV appearance, and how surprised he is to see her becoming a singer like her mother.
They're both overcome with emotion as Chun-hee begs him to tell her where he is, but he just promises to come home later and says that he's watching over her and Byul. He says he'll call again and hangs up. Chun-hee cries in relief that her father is okay, and Joon-hyun just grins, happy for her that she's finally been able to talk to him.
The KBC station director has a fit over Chun-hee's disappearing act, but is relieved that Soo-in was there to take her place (how very convenient). He vows to ban Chun-hee from broadcasting permanently, and Joo-hee "humbly" apologizes and takes responsibility, since she recommended Chun-hee for the show.
Soo-in isn't stupid, and on the drive home she asks her mother if she had anything to do with Chun-hee not showing up for the broadcast. Joo-hee just tells her daughter to stay quiet and feign innocence. She delivers the news of Chun-hee's banishment from broadcasting to Geon-woo and to his credit, Geon-woo looks skeptical of her version of events.
Joon-hyun and Chun-hee apologize to the director's assistant, who doesn't seem willing to cut them any slack. He mutters that Chun-hee is already arrogant after releasing her album, which infuriates Joon-hyun. He takes offense to the way the man talks about trot music and they trade loud insults until the assistant finally vows that nobody at the station will help them, and stomps off.
Later, Chun-hee sits at home in the dark, the assistant's ugly words echoing in her head. Joon-hyun natters on about the price of produce, trying to get her out of her own head, but she says dejectedly that she blew a big chance and she doesn't know what she'll do now. Adorably, he just poke-pokes her with his toe and gives her a soft "Choi Chun-hee, fighting!"
The next day they talk with Geon-woo, who admonishes them for their unprofessional behavior, and Joon-hyun argues that nobody could be expected to ignore a text like that. Geon-woo softens a bit and allows that for trot singers, stage performance is more important than television, so he'll see if he can find her some stage events.
Joo-hee and Director Kim have a meeting of the evil minds, and devise a plan to sabotage Chun-hee in regards to stage events, too. Performers begin to refuse to stand on the same stage as the girl who ran out on the live broadcast.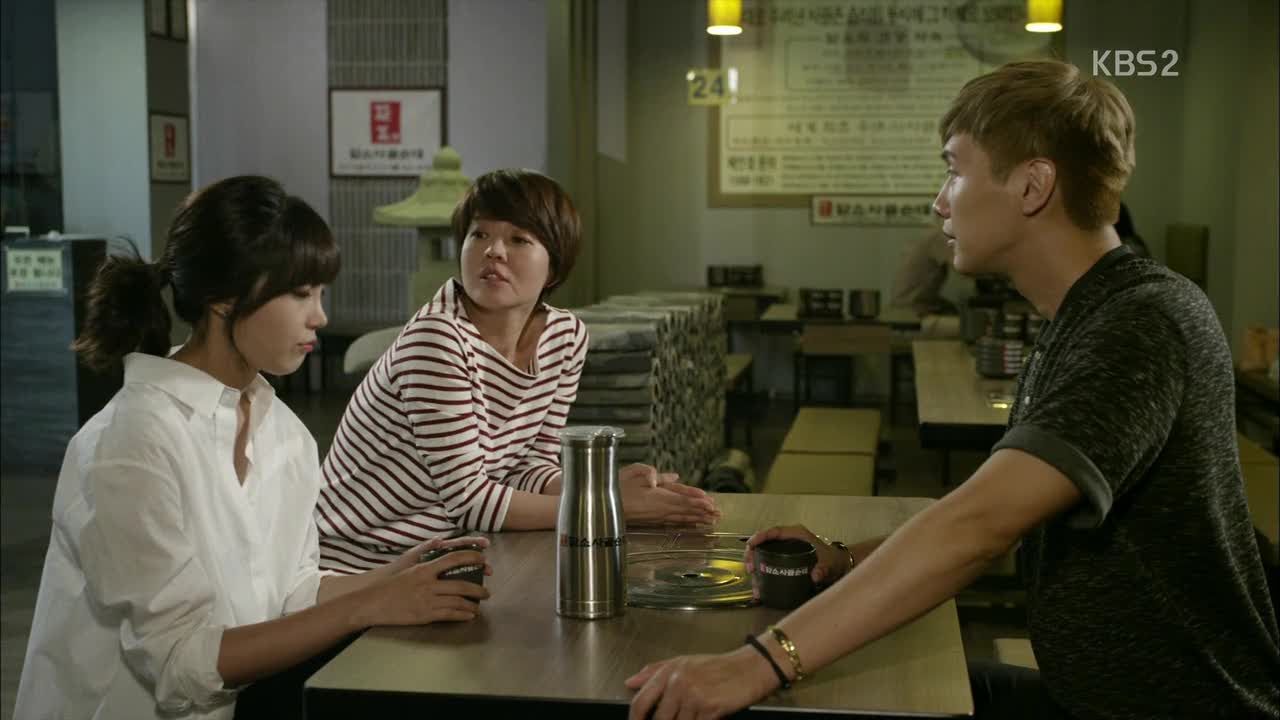 Joon-hyun and Chun-hee drink at Coach Bang's restaurant, and Coach reminds Chun-hee that she wasn't always successful at track meets either — sometimes you fail, but that's okay. Simple yet wise words.
She calls to Tae-song, who's working (hiding) in the kitchen, to bring food. Tae-song girds his loins and brings the food to the table, but Joon-hyun refuses to eat food that he's touched and starts to leave. At Coach's urging, Tae-song latches onto his leg and begs him not to leave.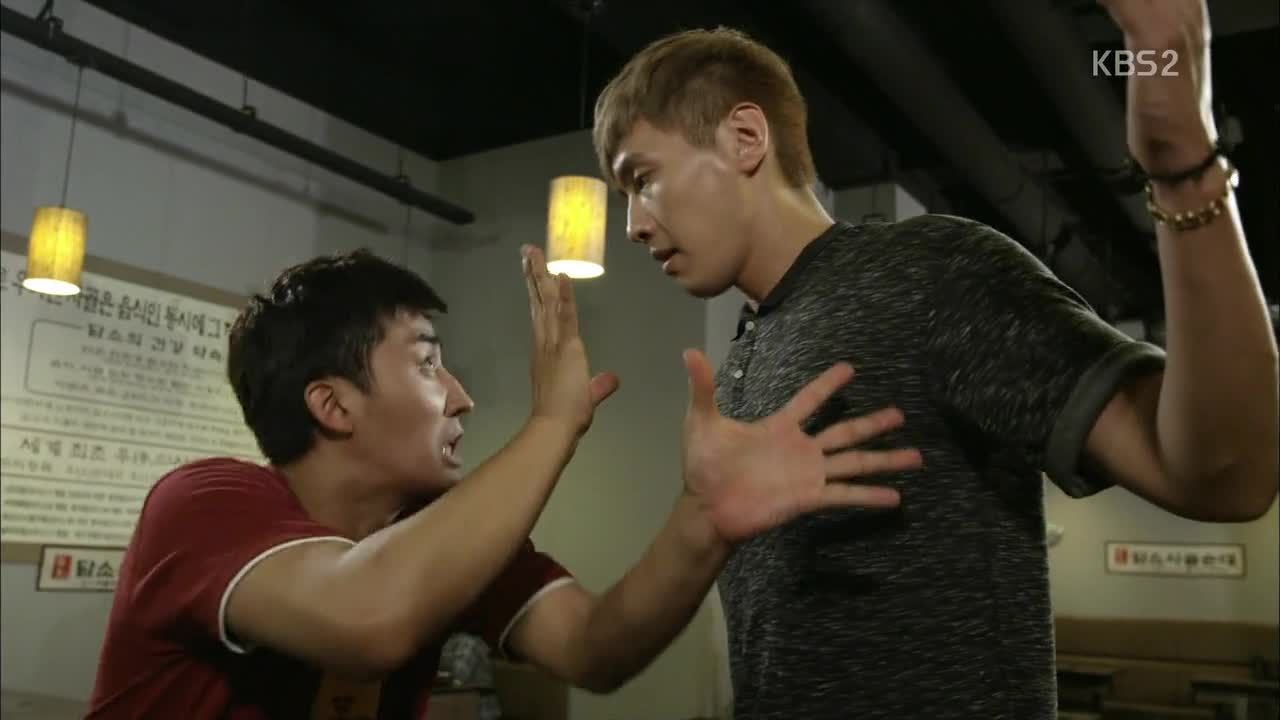 He gets brave and tells Joon-hyun to hit him until he's not angry anymore, but cowers when Joon-hyun actually raises his left hand in a fist. He holds Joon-hyun's hand, only to hear, "I'm right-handed," and catch a right hook square on the jaw.
They sit outside, where Tae-song admits that he was crazy to go along with the plan to ruin Joon-hyun. He begs forgiveness and offers to manage Chun-hee, willing to do anything to be with Joon-hyun again. Aww.
Soon Joon-hyun gets a call offering Chun-hee a broadcast, the loophole being that it's not with a major broadcasting station. The details aren't clear, only it's a cable station and they're filming tomorrow.
The loan sharks lend them a car for the trip to the filming location, and give Chun-hee some really sweet encouragement. Joon-hyun hands her the keys with a bland "I don't know how to drive." She points out that he was driving the van when they first met, but he reminds her with a bright smile that he never left the parking lot. Hee.
Soo-in gets caught mooning over her headband souvenir by her mother, but denies that she went to an amusement park. When she leaves the room, Joo-hee goes through her phone and sees the photos she took with Geon-woo, and gets a conniving glint in her eye.
Later she calls Geon-woo to invite him to a party celebrating her own debut anniversary. She confronts Soo-in about liking the president, and says that she considers him good enough for her daughter. Ugh, the ONE sort-of friendship Soo-in has, and Mom is going to ruin it, isn't she?
After driving in circles until dark, Joon-hyun and Chun-hee finally arrive at the home where they're spending the night. The house is dark and spooky, and the ajumma owner is holding a memorial for her dead husband, even talking to him as if he's still alive. She directs them to their room, saying it's the only one available and they'll have to share. Oh darn?
Joon-hyun is jumpy as a cat from the strange ajumma and her creepy house, and Chun-hee has a little fun with him, scaring him on purpose just to see him flail. She takes a bath while Joon-hyun guards the door, though I doubt he'd be much help if anything did happen given that he looks like he's about to cry.
She fusses at him for leaving the door open, and they bicker over whether she has anything to see anyway. Joon-hyun insists there's nothing to see, but tries to take a peek anyway. Cheeky boy. Suddenly the wind picks up and blows a dress off the clothesline and over his head, and he runs screaming into the bathroom, screaming again to see Chun-hee in all her bathing glory.
The ajumma offers them the food from her husband's memorial, and the ajumma gets wistful as she recalls how he never said he loved her, but she loved to hear him sing. Chun-hee offers to sing for her, and sings a gorgeous a capella rendition of "By Reason of Being a Man" by Jo Hang-jo, her strong voice telling the story of a man who hides his feelings:
Whether you live in the world smiling,
Or hiding a story they can't tell
I hold my sadnesses close and treasure them
Standing in front of you
One day, my heart will open and make a sound
Make a sound and cry
All this time spent burying things inside by reason of being a man
Those days were so long
Something in Joon-hyun's face changes as the lyrics seem to resonate with him, and he watches Chun-hee sing with a longing expression that speaks volumes.
As they lay in their room that night, Joon-hyun is quiet and thoughtful. He checks to see if Chun-hee is sleeping, and she rolls across the floor, throws a leg over him, and snuggles his face to her chest (the position she sleeps in with Byul). It's more motherly than anything else, and it's sweet how Joon-hyun closes his eyes and relaxes into the maternal comfort for a moment, before gently disentangling himself and going to sleep outside.
In the morning he complains about bug bites, and Chun-hee asks why he slept outside. He accuses her of falling asleep too easily with a man in the room, and she's all, "PFFT, you're a man?" His pride wounded, Joon-hyun stands up to prove it, bracing his arms on either side of Chun-hee's head and getting in her face. RAWR.
He inches even closer as he asks, "Then am I a girl? See, you're nervous. I'm a man, right?" He smiles and leaves, leaving Chun-hee to deal with some new, confusing emotions.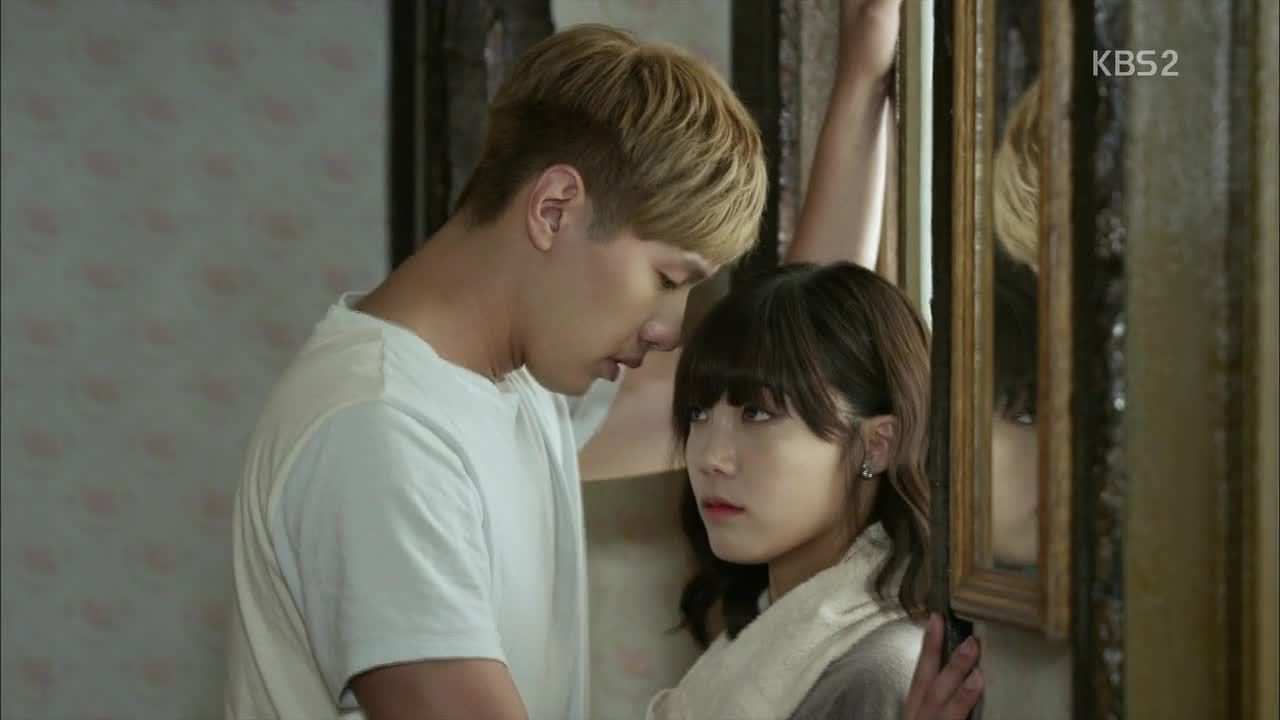 Joo-hee's debut anniversary party is underway, and it's obvious that Joo-hee is pushing Geon-woo and Soo-in together. Geon-woo looks uncomfortable but stays polite. Joo-hee talks with a sunbae of hers, the one who refused to share a stage with Chun-hee, and they gloat over how they spread the word among their performer friends to shun Chun-hee. Geon-woo overhears, and angrily leaves the party without a word.
Joon-hyun and Chun-hee arrive at the filming location, only to find that her audience will be…a herd of goats. The show wants to find out what happens to their digestion if they listen to music. Eww, they're trying to find out of the goats will poop more if they listen to music, aren't they?
Chun-hee gamely sings for the goats, and Joon-hyun gets more and more frustrated as the director shows more interested in filming the goats than her, ordering her to stop and start many times. Finally Joon-hyun complains that she's been singing for hours, and the director says they're ruining the mood.
They take a break, and Joon-hyun misdirects his anger at Chun-hee, yelling at her for letting herself be treated badly. She counters that it's still a stage and she wants to see this through. Joon-hyun goes to get water and Chun-hee sings for the goats again, but this time they rush her and she falls, cutting her arm badly.
Geon-woo arrives, and looks horrified and embarrassed to see Chun-hee standing in a paddock singing for livestock. They wrap up filming and Chun-hee smiles to see him, but Geon-woo makes a beeline for Joon-hyun and demands to know if this is what he intended when he bet his guitar on Chun-hee.
Joon-hyun agrees that the situation is terrible, but takes offense at Geon-woo's verbal attack. At least he's trying, whereas he hasn't seen Geon-woo do anything for her as president. Chun-hee apologizes to Geon-woo and Joon-hyun turns his anger on her, asking if she liked singing for goats. He says that if she's going to just do whatever she wants, then he quits as her manager and producer, and walks away. Chun-hee tries to follow him but Geon-woo holds her back, insisting on doctoring her cut arm.
It starts to rain and Joon-hyun runs back to the set, where the director tells him that Chun-hee went to the hospital. He panics, not knowing it's just a cut on her arm, and begs a ride from Soo-in who showed up in search of Geon-woo. They go to the hospital and the house where they spent the night, but she's nowhere to be found.
Meanwhile, Chun-hee and Geon-woo are stuck in the mud and stranded in the car. She proposes a game to pass the time, in which they make silly faces and the first person who laughs loses. This results in the funniest dorkface I've ever seen from Geon-woo, and Chun-hee loses (so do I *giggle*), earning a hard flick to the forehead.
They end up sleeping in the car, and get out to walk when the rain's stopped the next morning. He apologizes for calling her unprofessional, and she asks if he came all this way just to say that. It's not, and he blurts out, "I came because I missed you." Chun-hee thinks he's joking, but he says again that he really did come because he missed her.
She nervously changes the subject, and they get to the road just in time to see Joon-hyun and Soo-in, who have been looking for them all night. Chun-hee lights up like a Christmas tree to see Joon-hyun, but he stalks right past her and cold-cocks Geon-woo.
He demands to know what Geon-woo has done to Chun-hee, and throws another punch which Geon-woo blocks easily. Chun-hee is horrified and apologizes to Geon-woo, but both men are too locked in their alpha-male confrontation to notice her.
Joon-hyun says that they were unreachable all night so of course he was worried, but Geon-woo counters that what he's really worried about is the fact that he was with her. He says he's more got that she's with a manager who doesn't even notice when she's hurt. This takes the wind out of Joon-hyun's sails, and he walks away. Chun-hee apologizes again and follows him.
Joon-hyun is silent as he walks with Chun-hee behind him, demanding to know why he punched Geon-woo. He finally stops to ask why she worries so much about the president. He asks if she even cares how worried he was, his voice escalating to a yell as he asks if she even knows what he was thinking all night. He notices that she's wearing Geon-woo's coat and jealously pulls it off her, throwing it to the ground.
Chun-hee asks what's wrong with him, that he's punching Geon-woo and now destroying his clothes. He just yanks her in and kisses her, hard. She pushes him away and slaps him, then calls him crazy and runs off. To his credit, he looks like he realizes exactly how stupidly he just behaved.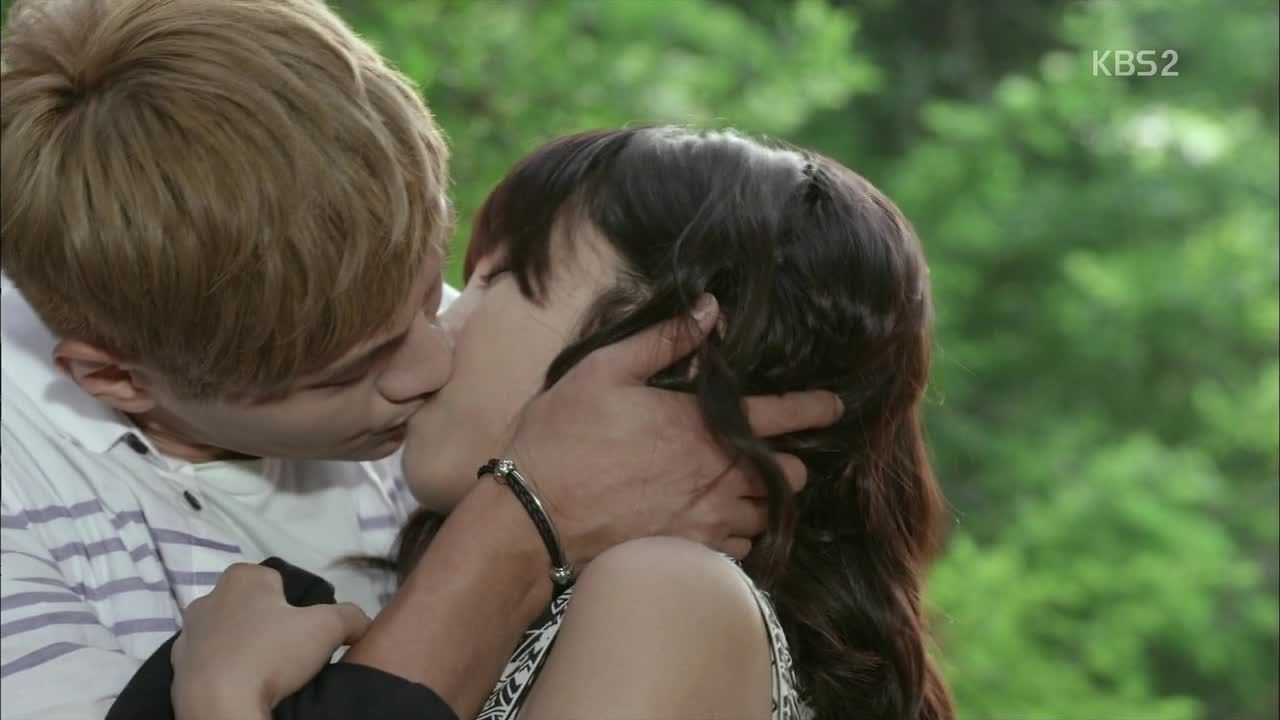 Chun-hee gets back to the ajumma's house first, who tells her that Joon-hyun was frantic all night looking for her, and now she looks like she feels bad for worrying him. He shows up and just silently walks past her to their room. Once he's alone he slaps himself a few times, telling himself to get it together.
Soo-in drives Geon-woo back to Seoul and tries to explain the "misunderstanding" at the party. She says that her mother does those things for her, but Geon-woo astutely figures that it's not a problem between her and her mother, it's between him and her mother.
Joon-hyun pretends to sleep on the ride back home, but adorably sneaks peeks at Chun-hee when she's not looking. Chun-hee can't sleep that night, replaying Geon-woo's almost-confession and Joon-hyun's kiss over and over in her head.
Joon-hyun is also restless and they run into each other in the living room, and Chun-hee says that she doesn't want things to be uncomfortable between them. He just blows off the kiss like it was no big deal, saying he's always been kind of crazy like that. Chun-hee looks a bit disappointed to think that it didn't mean anything to him — but it did mean something, and Joon-hyun feels it as he stands in his room holding his pounding heart.
Back in the studio, Chun-hee practices as Joon-hyun watches her, his heart in his eyes. He meets with President Jo to ask for his help lifting the broadcasting ban. President Jo cryptically says that when you're stuck in a corner, the only thing to do is attack head-on.
Joon-hyun embraces this with gusto and begins turning up everywhere the KBC station director happens to be. He brings him energy drinks, intercepts jjajangmyun delivery, and even shows up in the men's room with an impressed thumbs-up for the uh, "little director." PWAHAHA.
He begs over and over for the director to lift the ban against Chun-hee, and when he brings the director hot coffee and is burned when he pushes him away, he finally gets through. Later Geon-woo calls the KBC station director, but as soon as he mentions Chun-hee, the poor harassed man lets out a half-crazed wail and cries that he's already lifted the ban.
Tae-song happily sings and dances as he cleans the restaurant, and Coach Bang catches him with a rose in his teeth. She asks how long he's been able to sing so well, and tells him he should be a singer. Tae-song looks pathetically grateful for the compliment, like it's been forever since anyone was nice to him, and drops to one knee to gallantly offer Coach the mop…whoops, the rose. She accepts, and Tae-song sees her literally surrounded in sparkles, haha.
Later Tae-song chats with a friend online, both of them waxing poetic about the perfect person they've met. He doesn't know that he's actually chatting with Pil-nyeo, who's talking about him, and neither of them realizes they're sitting right across from each other in the same internet cafe.
Joon-hyun is in a fantastic mood as he goes to tell Chun-hee about the ban being lifted, but Geon-woo beats him to it by seconds. Joon-hyun's face falls but he slaps on a happy expression, only to have it fall again when Chun-hee tells him that the president got the ban lifted. He bravely smiles at her and thinks that as long as she's happy, he'll be happy. Awww.
Chun-hee's remake of "Hot Pepper" is becoming a big hit with all age groups, with copies of her album flying off the shelves. Chun-hee and Joon-hyun even pass a group of small kids singing it, which seems to tickle Joon-hyun pink.
The whole ragtag group, including Tae-song and the loan sharks, meet for dinner at Coach's restaurant to celebrate her album's success, and Chun-hee passes out gifts she got for everyone. Everyone except Joon-hyun, who looks sad to be left out.
They've all been so busy that the house is a wreck, and Joon-hyun, Chun-hee, and Byul act like a real family as they bicker over who made which mess. Joon-hyun literally kicks Byul and Chun-hee out to school and practice, and stays home to clean. I swoon.
It's impressive how the previously spoiled-rotten idol throws himself enthusiastically into the housework, doing laundry and scouring toilets, and even scrubbing the shoes he bought for Byul. When Byul comes home, he invites her to help him, and they both sing "Hot Pepper" while doing the floors. They play air guitar and dance and are super-cute together.
Geon-woo takes Chun-hee out to dinner and asks if she's thought about what he said about missing her, clearly stating that it was his confession in case she missed it. He officially asks her to date him, but she stammers that she's just got so much to do lately, with singing and taking care of Byul and her father being gone, and has no time for dating.
When he drops Chun-hee off at home, Geon-woo half-jokes that he got rejected, and asks if there's someone else she likes. She denies it, but he says it doesn't matter since hearts change so easily. He sends her up with a smile, being a good sport about the whole thing, but as he drives away he finds her phone that she left in his car.
Joon-hyun leaps at Chun-hee from where he was hiding waiting for her, and fusses at her for being late. Geon-woo rounds the corner in time to hear Joon-hyun saying that she has no manners towards the people she lives with, and they head up to the apartment together, joking and laughing.
Geon-woo is left standing outside, stunned by the realization that Chun-hee and Joon-hyun are living together.
COMMENTS
Once again, Trot Lovers delivers a lot of plot and character development within the space of one short hour, and I love it.
First of all, Geon-woo's confession…I think it's interesting how he's the one out of the two guys who steps up and makes his feelings known first. He could easily have explained his presence at the goat farm as being concerned for Chun-hee's career, but instead he just characteristically gets to the point, and admits that he missed her. Then he takes her out to make it crystal-clear that he likes her, and wants to date. I really like this character for being open and honest, and not doing the typical second lead thing of being so nice and vague with his interest that he gets friend-zoned before he even gets a chance with the girl. By declaring himself early on, he puts himself fairly into the running for her feelings, even if he has to then take a step back out of respect when she says that she's just not ready to date.
The problem with his approach is that, while he's saying all the right words, Geon-woo isn't actually doing much to show Chun-hee that he has feelings for her. I can understand her confusion when he confesses, because he's done absolutely nothing to clue her in that he feels anything other than responsibility towards her as her boss, much less made any attempt to get to know her as a person. In fact, he's made more effort in that direction towards Soo-in than towards Chun-hee. Even when he flirts, it's always with this feeling that he's possibly just pulling her leg…and while his sense of humor is quirky and endearing, the built-in ambiguity isn't doing him any favors when he starts to genuinely like her.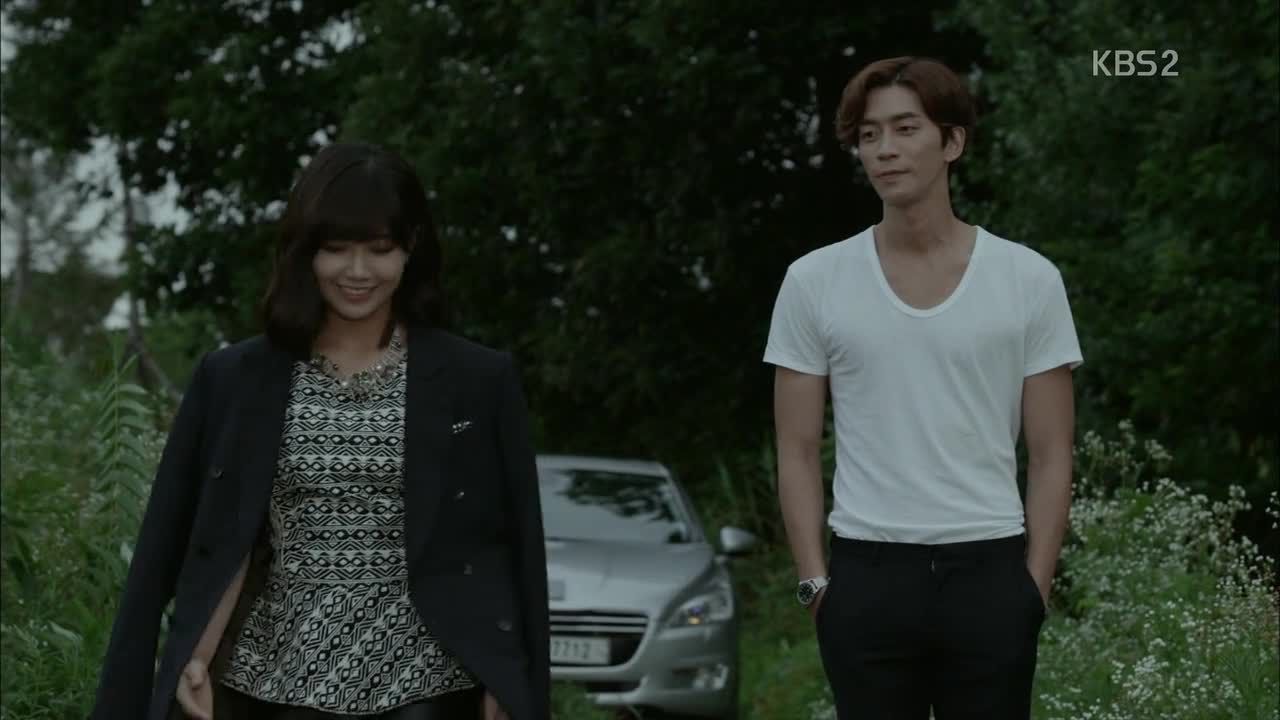 And then we have Joon-hyun on the other end of the spectrum, who is actually going to the daily effort of taking care of Chun-hee both professionally and personally. For a guy who previously wouldn't lift a finger unless there was something in it for him, he's turned a major corner and is now willing to do anything for Chun-hee, no matter how humiliating or embarrassing it is to him personally. If that's not proof that you care for someone, I don't know what is.
But the hitch is that he can't seem to admit that he's got feelings for Chun-hee. I think that having strong feelings is a new thing for him altogether, so it's understandable that he's having a difficult time even identifying his emotions to himself, much less to her. It's scary to make yourself vulnerable that way, especially when you've spent your whole life building up walls to avoid being hurt.
One of the two most telling moments about Joon-hyun's stunted emotional growth, was when Joon-hyun let his jealousy rule his actions and kissed Chun-hee. As much as I want these two to kiss and be happy together, that was so not the way to go about it. He earned that slap, because that kiss wasn't about his feelings for her — it was about jealousy and possession. I think that his actions in that moment showed that Joon-hyun has a lot of maturing to do before he can hope to have any kind of romantic relationship. he needs to stop getting angry and stomping off like a child every time things don't go his way. When he learns to stand still and use his words, then he'll have earned a real kiss.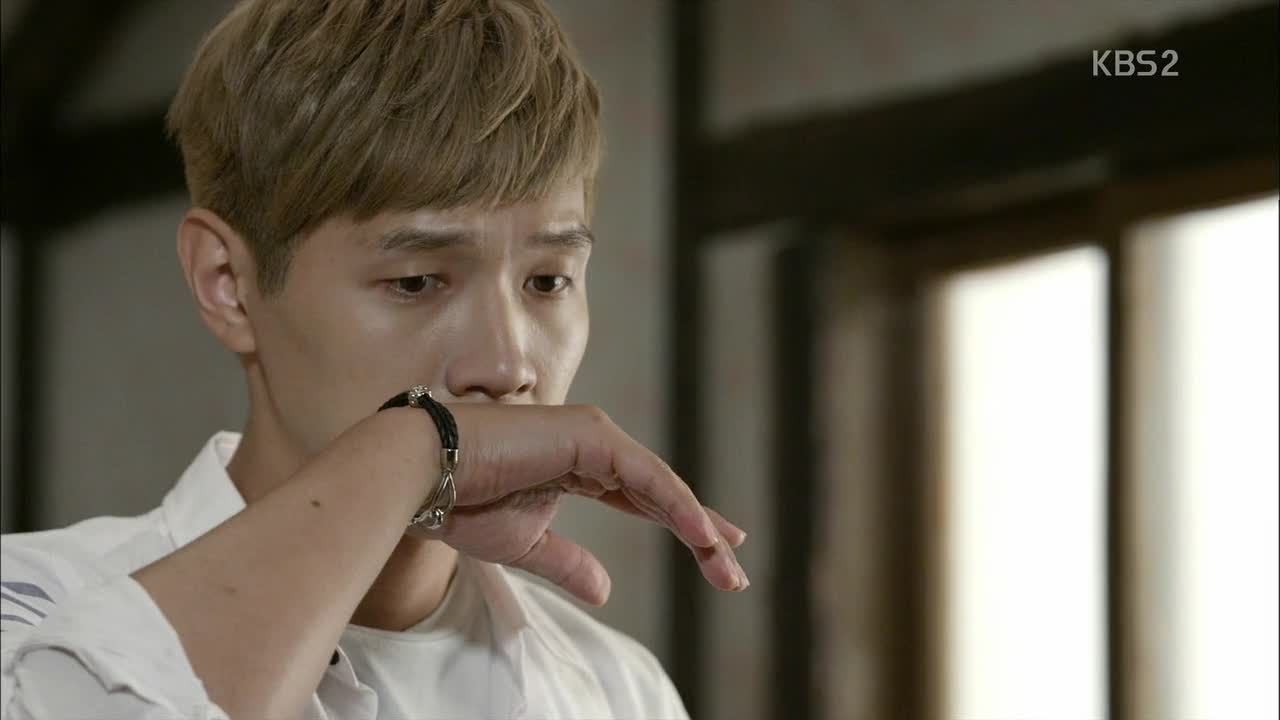 The other moment that really tugged at my heart for Joon-hyun, and the one that makes me think he even deserves a second chance, was when Chun-hee pulled him to her in her sleep. The longing on his face as she held and comforted him just broke my heart. There was nothing in his expression about attraction to her — it was totally the face of a little boy who never got much, if any, maternal affection. He's probably never had anyone, not even his mother, show him that he's worthy of love just as he is. That moment of vulnerability explained so much, and is the main reason why I'm willing to give him time to work through his maturity issues, especially since he really does seem to be making the effort — even if he does backslide nearly as often as he takes steps forward.
I also appreciate how the show is subverting another drama trope, in that Chun-hee actually has valid, understandable reasons for pushing both suitors away. She's not just being dense or wishy-washy. Any one of the things she's dealing with — father gone, young sister to raise, trying to be successful in a very difficult music business — would be enough to make any girl too busy and confused to even consider dating. Now she has one man declaring his feelings honestly and openly, and another who's living with her and kissing her and doing all the things a partner does, but denying that it means anything. No wonder she's too confused to even begin to think about what it is that she wants. On the one hand it must be terribly frustrating, but on the other hand, she really can't make a wrong decision in this case, because both guys are pretty great and genuinely care for her. I just hope she makes a decision soon, because I'm ready for some real, mutual kissing to start happening around here.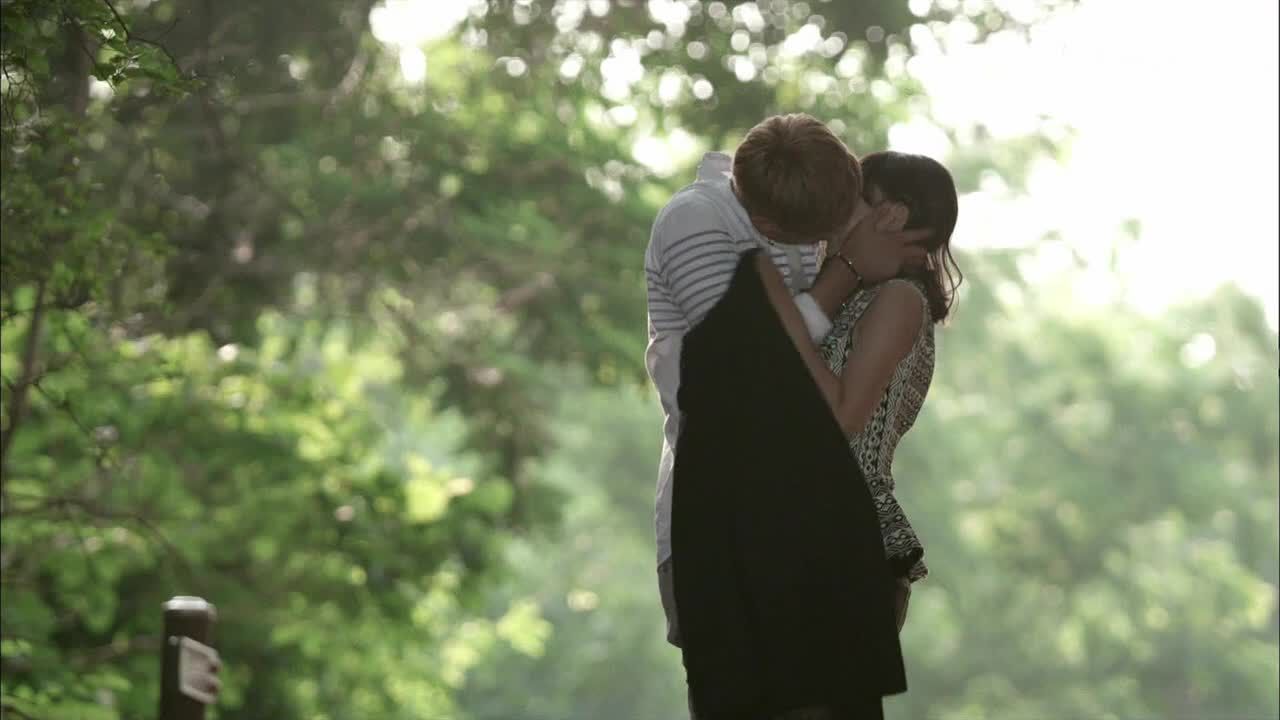 RELATED POSTS
Tags: featured, Ji Hyun-woo, Jung Eun-ji, Trot Lovers