Trot Lovers: Episode 8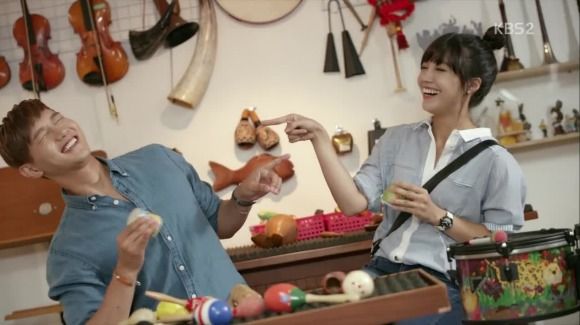 Romance is in the air as the guys step up and start to admit to themselves how they feel about Chun-hee. And possibly to her, too, although they hide behind their horses and guitars. Geon-woo at least takes a direct approach, by wining and dining, whereas Joon-hyun struggles with the realization that perhaps the best thing he can do for Chun-hee is not be around her at all. Chun-hee, however, continues to be awesome, while Soo-in proves that "a woman scorned" is serious business, and begins her second-lead spiral down as she takes on more and more of her mother's characteristics.
EPISODE 8 RECAP
When Chun-hee realizes she left her phone in Geon-woo's car, she uses another phone to call it. He's still standing outside her home, reeling from the discovery that she and Joon-hyun live together. But when he answers her phone, the happy domestic sounds of Byul and Joon-hyun calling for Chun-hee's attention can be heard in the background, and he lies that he's too far away: He'll return her phone to her tomorrow.
But at home, he sits at his desk and broods (beautifully, I might add) over her phone, remembering how much fun the two of them had when they were caught in the rain and had to spend time playing silly games in his car. He smiles, and then clutches at his heart, stunned to realize that it hurts. Pretty sure it's just metaphorical pain, since he's realizing just how much he cares about Chun-hee.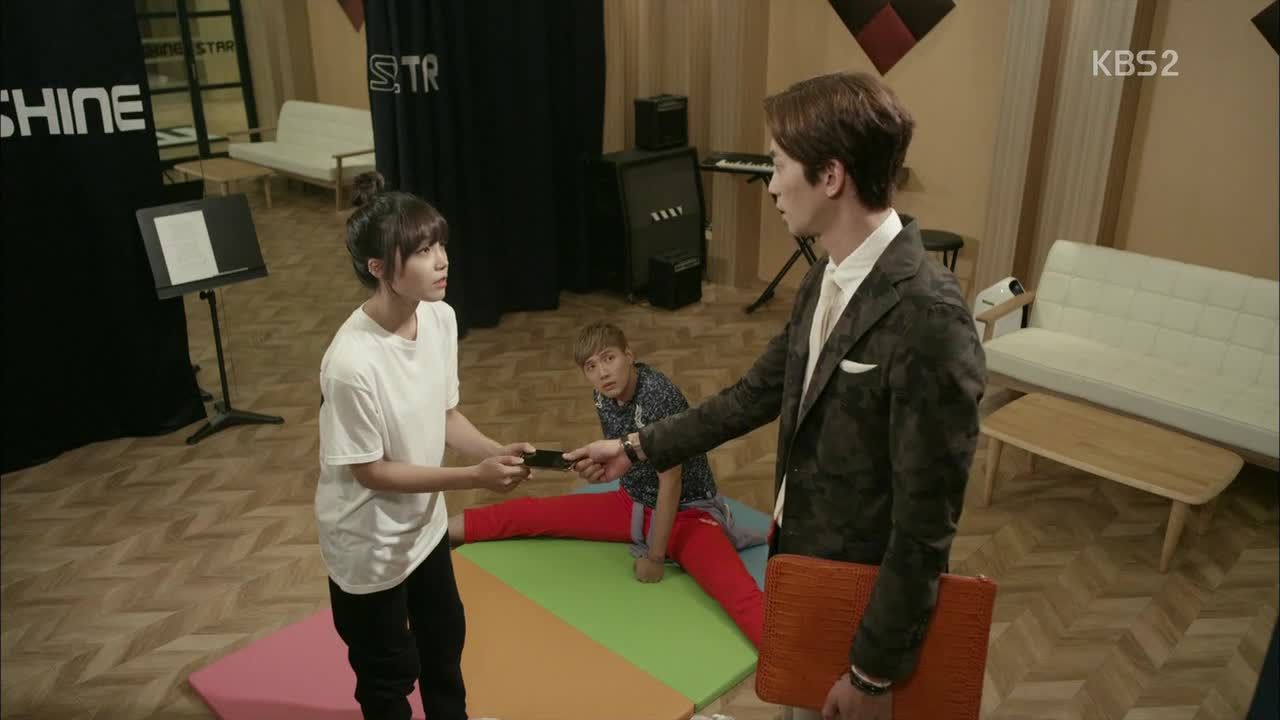 The next morning, Geon-woo makes good on his promise and returns her phone. But only on the condition that she make him a home-cooked meal at her house. Joon-hyun is surprised (and suspicious) to learn that she was with Geon-woo yesterday, and tries to convince her that she doesn't need to do anything for Geon-woo.
But Chun-hee returns home to try and frantically clean up everything, sending out a protesting Joon-hyun to fetch groceries. He lugs them back and is ready to make himself at home, but Chun-hee shoves him back out the door, demanding he keep hidden until after Geon-woo leaves.
Exiled to the platform outside, Joon-hyun complains into his ice cream as he wonders where he should kill time during dinner. But as soon as he sees Geon-woo drive up, he hilariously rolls off the platform and hides underneath it.
Joon-hyun imagines Geon-woo putting the moves on Chun-hee in another "knight in shining armor" move by protecting her from that pesky falling cabinet door. Just as he pictures them about to kiss, he screams, "No!" and charges up the stairs to the house, because Geon-woo is clearly much more dangerous than any broken kitchen cabinet.
Except all that is happening is a pleasant dinner, where Geon-woo convinces Byul to help him out in getting Chun-hee to let him have dinner with them more often. It's not like she needed much encouragement, though, since she still totally wants them to get together.
Chun-hee tries to block Joon-hyun from entering, but he brashly pretends to be surprised at the food set out, and sits himself down (between Geon-woo and Chun-hee, ha!) and starts stuffing his face. Geon-woo is not thrilled by his intrusion, but Joon-hyun is not thrilled that he's (once again) using Joon-hyun's cup, as they do a little petty tug-of-war over it. Geon-woo loses only by Chun-hee's intervention as she hands over another cup to him.
Geon-woo continues to pretend that he's unaware Joon-hyun is living there, and after dinner, he "innocently" reminds Joon-hyun that it's time to go home. Joon-hyun reluctantly follows Geon-woo out of the house (and Geon-woo's smug smile is glorious).
The two men continue their pissing match as Joon-hyun says that it isn't really proper for the president of the company to eat at the home of one of his singers. But Geon-woo says that he plans to return often for dinner because he likes eating her cooking, and besides, he didn't come as the president of Shine Star — he likes Chun-hee.
Joon-hyun returns to the house, ignoring Chun-hee as he goes into his room to wrestle with what it means that Geon-woo likes Chun-hee, and how that makes him feel. It means we've finally found ourselves in a love triangle — which President Jo literally points out, after eavesdropping on the men's conversation.
The next morning, Joon-hyun stares and stares at Chun-hee, trying to figure out what's so attractive about her: It's not her eyes, or her nose, although he admits that her smile is rather nice. He's lost in his smitten world when she notices him staring at her, so she stares right back, asking him what's wrong. He's relieved when she assumes he's just mad at her for using his and Byul's lettuce for Geon-woo's dinner.
"Hot Pepper" has been climbing the music charts, and soon Chun-hee is busy with interviews (where Joon-hyun face-palms at her simple and honest answers). She also receives a snazzy company car, which she has to drive herself since Joon-hyun can't drive.
Once he sees how sleepy she gets while driving (and because he won't let her drink coffee), he decides to secretly teach himself how to drive — and give Tae-song a heart attack at the same time, ha!
Chun-hee wraps up an advertisement shoot for an outdoor gear company, and Joon-hyun hides his wounded pride when he's told managers can wait outside during the after-shoot dinner. But this is an advertisement shoot that was originally supposed to be Soo-in's, and she's crushed when she discovers the posters picturing Chun-hee being put up around the office.
Her mother is even less pleased to discover that Chun-hee also stole Soo-in's chance to throw the first pitch at a baseball game. While Soo-in meekly stands in front of her, Yang Joo-hee furiously demands her daughter to figure out what she's going to do, because it's ridiculous that someone who's spent eight years working hard to debut could suddenly lose it all just in one day to some no-nothing trot singer.
Soo-in sits alone and dejected in the dining hall. Manager Wang shows surprising tenderness when he sits down with her, gently remarking on how hard it's been for her lately. Her voice trembling, she tells him that she was scared every time performs onstage, because she had to take sole responsibility for those three minutes. But once she's off the stage, it's even scarier because she has to endure the sense of loneliness.
Manager Wang decides to take matters into his own hands and puts in a call to someone to find out everything they can about Chun-hee, going on the rationale that if they look hard enough, they're sure to find something scandal-worthy.
Joon-hyun mopily eats his soondae soup, and Chun-hee tries to cheer him up by handing over a present — it's the same style jacket as the one she wore for the advertisement. He tries to play it cool, but as soon as Tae-song tries to snatch it away, thinking Joon-hyun doesn't want it, Joon-hyun slaps him away and clutches the jacket to his chest. Aw.
Later at home, he preens over his new jacket, and as he steps outside to test it out, he spots a suspicious person in the bushes. It's just President Jo, though, who has taken a fancy to the lettuce Byul planted.
President Jo confesses that he's moved in next door, and then asks Joon-hyun how it's going with Chun-hee. Joon-hyun reminds him of the promise that if they make it to first place on Inkigayo (she's currently at third), President Jo will release Joon-hyun's new album.
Pil-nyeo is getting ready to meet her internet cafe guy, who texted her to meet at a certain restaurant. That restaurant happens to be Coach Bang's restaurant, and as soon as Tae-song recognizes Pil-nyeo, he spins around and tries to ignore her. She's excited to find him again, asking him if he remembers her, and as he goes into the kitchen to get her order of soup, she calls the guy from the internet cafe to tell him that she's just met the person she's destined to be with, so they'll have to reschedule their date. Ha!
He's totally understanding, and tells her that of course he has to concede to destiny. But soon they realize that the person they're talking to is actually each other. While Pil-nyeo is over the moon to discover Tae-song is the same guy from the internet cafe, Tae-song looks like he's about to be sick.
The heat of summer means that Joon-hyun and Chun-hee fight over the one fan she owns, and finally they reach a compromise to all sleep in the living room so everyone can use it. Joon-hyun starts out sleeping a respectable distance away, but soon they're all cozied up together. The sound of a camera's shutter snapping makes it clear that someone now has photographic evidence that Joon-hyun is living there. Uh-oh.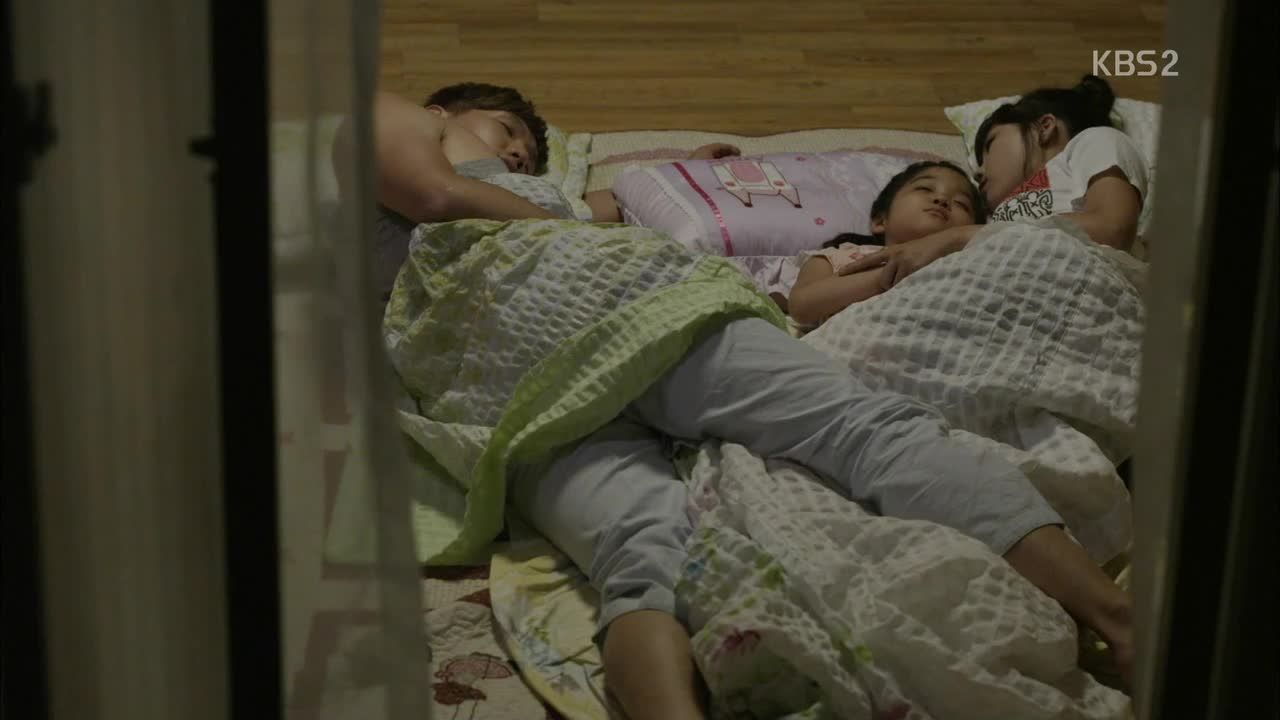 The next day, Soo-in invites Geon-woo to the opera, using the tickets that her mother acquired for the express purpose of getting the two of them together. But Geon-woo takes a raincheck and Soo-in, crestfallen, watches him walk away.
He's already made plans that day to introduce to Chun-hee to one of his dear friends. She's surprised (and nervous) by the invitation, but willingly gets into the car with him. As they're driving along, she receives a call from Joon-hyun, who is super proud at the fact that he's going to pick her up at the practice studio because it's the first time he's driven all by himself. So. Cute.
But she tells him that he doesn't need to, because she already has another appointment, and then hangs up when he asks her about it. At least she's aware Joon-hyun wouldn't take well the news that she's spending the day with Geon-woo.
It turns out that his "friend" is actually his horse, Dal-bong. She's delighted to make friends with with Dal-bong (and how adorably sad is it that Geon-woo calls the horse his "best friend"?), but a little nervous about the riding lesson Geon-woo gives her.
Soon she's riding like a champ (or at least not like a total beginner), and Geon-woo looks on in admiration. They walk back to the stables, and Geon-woo uses the horse as an excuse to express what he's really feeling: "If you patiently wait, they'll open their hearts one day." Sigh. And that's what makes you the second lead.
Chun-hee's growling stomach disrupts the mood, and he takes her to the fancy dining room that overlooks all the equestrians practicing. She eagerly dives into her steak, until he tells her that it's actually horse meat.
Utterly grossed out, she tries to discretely spit out her mouthful of food, until he finally laughs and admits he was joking. Relieved to know she's not eating Dal-bong, she's thankful when Geon-woo adds that he's asked the kitchen to send a meal with her to give to Byul. She awkwardly asks if they can add another serving, explaining that she'll want to eat at home with her sister, too — but Geon-woo is no fool, and knows it's really meant for Joon-hyun.
Soo-in eventually discovers through her mother's gossiping friends that she was stood up by Geon-woo so he could take Chun-hee horseback riding. She does not take kindly to this information.
At Shine Star, she pulls Chun-hee aside for a chat, and once they're alone in the stairwell, she rips into her, demanding if she's here to sing or to date. When a confused Chun-hee says she's here to sing, Soo-in scoffs, because it's clear that she's got Geon-woo and Joon-hyun in the palms of her hands.
If Chun-hee plans to succeed by seducing men, then she should find another agency, because Shine Star has no place for her. She tells Chun-hee to longer refer to as sunbae, because she's never had a hoobae like her, and then storms off. Raging, she rips at all the advertising posters until Joon-hyun stops her, demanding to know what's going on.
Shrieking that everything is always about Chun-hee, she warns Joon-hyun that he should take better care of his singer, because if he's not careful, there will be a scandal on his hands.
How can he not know that she's seducing the president of the company? He defends Chun-hee, saying she's not that kind of girl, but is stunned to realize that the mysterious and sudden appointment she had yesterday was to go horseback riding with Geon-woo.
It looks like there is definitely a scandal brewing with Chun-hee, though — just not centered around Geon-woo. Manager Wang has dug up some dirt on her: It's the photos from when they all slept in the living room. Yang Joo-hee sets her plan into motion, and soon a reporter comes up to Geon-woo, showing him the photos and warning what it will be like if a singer in his company is caught up in a scandal.
Geon-woo waits for Joon-hyun outside of Chun-hee's house. Neither man is in the mood to beat around the bush, so he tells Joon-hyun that he knows Joon-hyun's been living with Chun-hee, but he's ordering him to move out. Joon-hyun points out that it's not strange for a manager to live with his trainee.
But Geon-woo shows him the photos — he paid the reporter twice as much as Yang Joo-hee offered in order to keep this out of the papers. He may have managed to block the scandal this time, but it won't be the last time there will be threats of a scandal. Especially if Joon-hyun keeps living with Chun-hee.
Joon-hyun reminds him that he's CHun-hee's manager, and he doesn't care what people think. He hands the photos back and walks away, but stops in his tracks when Geon-woo reminds him that a singer's career ends with one breath of scandal: "You, Jang Joon-hyun, should know this very well." He has faith that Joon-hyun will decide to move out, because Joon-hyun likes Chun-hee, doesn't he?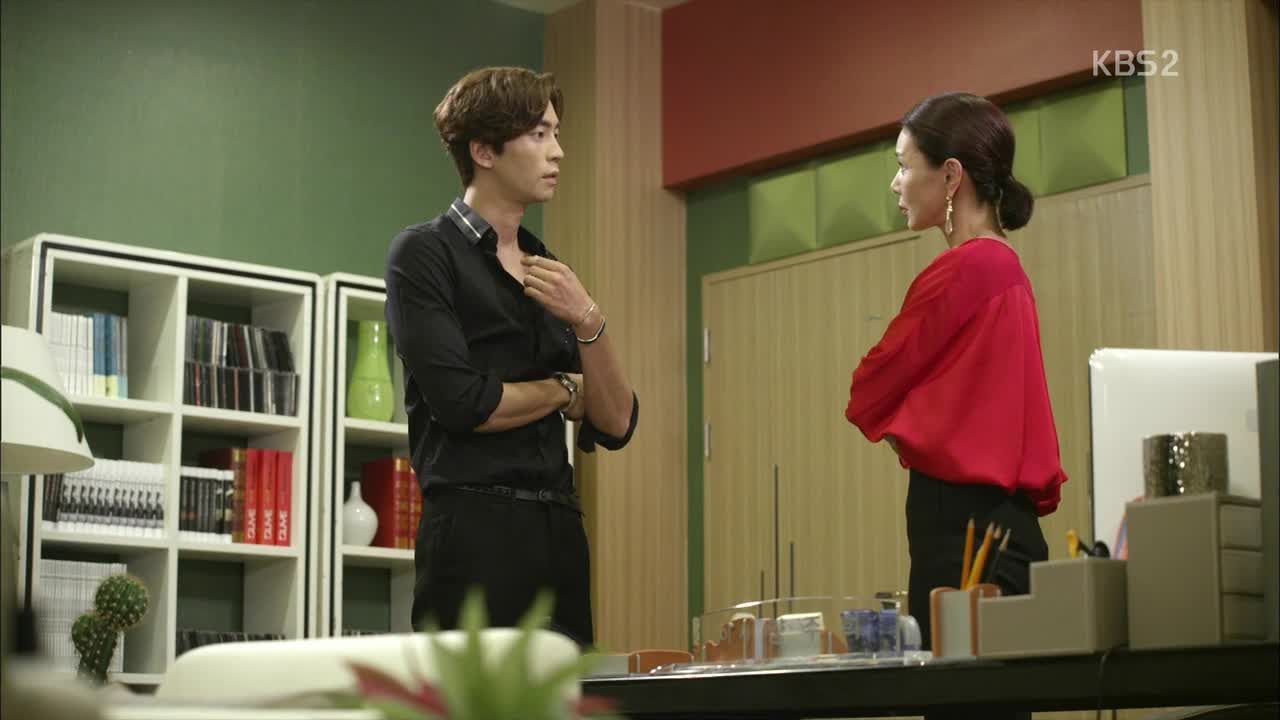 The next day, Geon-woo charges into Director Yang's office and slams the photos down on her desk. He calls her out on trying to sabotage one of their own singers, and she tries to needle him about showing preference to Chun-hee and ignoring Soo-in. But Geon-woo isn't falling for it — he explicitly tells her that he likes Chun-hee, so she had better stop trying to mess with her, because it's getting on his nerves.
Chun-hee is preparing for a music show, and as she sits nervously in the dressing room practicing, Joon-hyun rubs her shoulders. He notes that her water bottle is empty, so he rushes out to refill it. As he does, he runs into Chun-hee's father (who Joon-hyun doesn't recognize).
He asks Joon-hyun to deliver a gift to Chun-hee, saying it's "from a fan." Her father then takes a moment to listen in on his daughter practicing "Hot Pepper," and as he stands unnoticed in the corner of the doorway, his eyes fill with tears. That night, as they're going through all the gifts from her fans, Chun-hee reads the letter included with his gift (tea that her mother used to help her vocal cords). She and Byul are happy to know that their father was nearby, but Joon-hyun is kicking himself for not recognizing him earlier.
Joon-hyun later notices Chun-hee sitting in the living room, just staring at the portrait of her, Byul, and their father. As she wipes tears from her eyes, she tells Joon-hyun that she's going to work really hard, so that their family can quickly live together again. With Geon-woo's words about scandals ringing through his mind, Joon-hyun broods in his room, reminding himself of how much his own scandal affected his career.
The next day, Joon-hyun tells President Jo that he's quitting being Chun-hee's manager. President Jo is astonished, because she's so close to getting to the top of the music charts, and thus getting his album produced. But he stubbornly says he doesn't want the album, so their contract is broken.
Then he meets with the loan shark ahjussis, holding court as he tells them how to care for Chun-hee as her new managers: things like making sure she wears a scarf, and doesn't drink cold beverages, and most importantly, doesn't practice too hard, because she won't stop once she starts.
They're dumbfounded that he's leaving (and they ask if he's got some incurable disease or something, pfft). He bluffs that it's time he started to work on his own album, and Chun-hee has grown enough to no longer need his expertise. He needs to focus on his own music — after all, that's why he became her manager in the first place.
Then he takes Chun-hee out for a day of fun at a Sound Experience Museum, where they play with old and new instruments, a sound wave machine, seashells, and generally have fun with everything — and each other.
As they play around with a "telephone" type apparatus (that amusingly distorts their voices), Joon-hyun uses the cover of goofing around to tell her thank you. When she asks what for, he says: "Just… everything." Then when he says he's sorry, she asks why, and he says for "everything," again.
When they stop to pick up some fruit at the market, Chun-hee is distracted by the pretty hairpins. But Joon-hyun teases her on her taste, and so she leaves it behind.
They finally end up at a beautiful spot in the countryside, and they stop to take in the peacefulness of their surroundings. It's a special place that only he knows, and she's the first person he's brought there. She teasingly says she's honored, but he he tells her that it's the place to go when where you're sad or depressed for no reason, and you want to get comforted by someone. He reassures her that no matter where she is, she'll shine as a singer.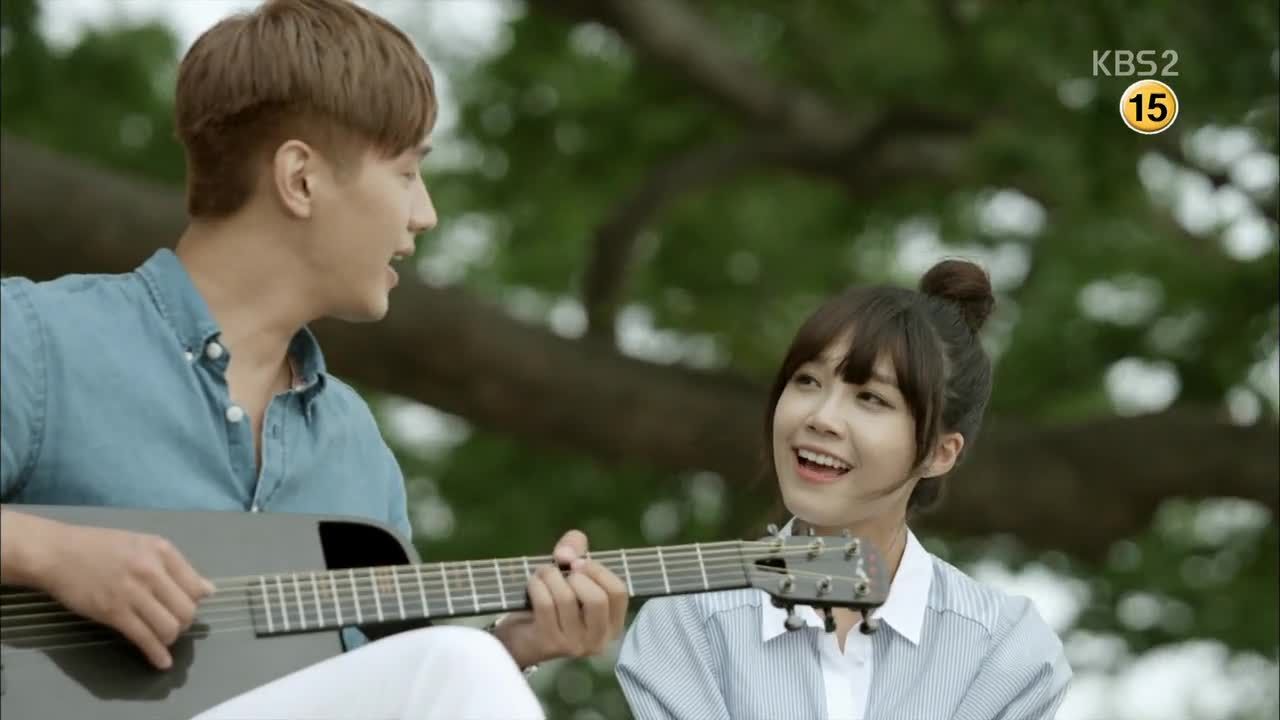 Then he pulls out the guitar and starts playing Acoustic Collabo's "You and I," and Chun-hee is delighted because she knows this song (and Joon-hyun teases her about actually knowing a song that isn't trot, ha). The two are adorable as they sing their duet, which is also extra sweet because the lyrics are all about how you like someone but don't have the courage to tell the other person, completely unaware the other person feels the same way.
After dinner (that he made for her and Byul), he tells Chun-hee that he's no longer going to be her manager. He tells her all about the contract with President Jo, and how he became her manager in the first place. But now it's time for the two of them to go their separate ways — for her to focus on her career, and for him to start working on his again.
The next morning, he sends Byul off with her lettuce report, waving a cheery goodbye as though that won't be the last time he sees her. Chun-hee's spirits are subdued as Joon-hyun escorts her to her radio interview, and even though he acts as happy and encouraging as ever, Chun-hee makes him promise he'll still be there when she's done. He promises, but he's secretly left the hairclip she eyed yesterday on her bag. Oh no, this is goodbye, isn't it?
As she begins to perform in the radio booth (Shim Soo-bong's "I Only Know Love"), Joon-hyun returns to the house and gives one last look at the happy space he had shared with Chun-hee and Byul. He chokes back his tears and resolutely leaves home.
After performing, Chun-hee rushes out of the radio studio, but Joon-hyun is nowhere to be found. As he (and his suitcase) make their way down the street, Joon-hyun stops to give one last look back.
COMMENTS
Is someone cutting up onions? Because I'm suddenly all teary-eyed.
One of my favorite things about this show has been how Joon-hyun just became a part of their family, and to see him choose to walk away from it so that Chun-hee can be reunited with her father just kills me. I know this isn't a surprising decision because we needed to see his character sacrifice something of importance in order to prove how much he cares for her, but it still hurt. (And I can't even imagine how Byul is going to take being abandoned by "that ahjussi," considering she's already been abandoned by her father.)
Even though this show has started to pick up steam on the romantic angle, I still consider the heart of it to be family. Which is why I think it was so important that Joon-hyun first be showing fighting so obstinately for his portion of that little household, even if it was just over a silly cup. Yes; it's partially because he's beginning to realize how much he likes Chun-hee and feeling jealous about Geon-woo's attention. But I still think it's because he doesn't want some outsider to invade what has become, for perhaps the first time in a long time, a true home to him.
The domestic scenes in this drama have been my favorite moments, only second to the music performances. Which is probably why I'm such a blubbering mess because I don't care who Chun-hee ultimately ends up with — I just want everyone to be able to live together forever as one big family (and yes, that includes Geon-woo and Pil-nyeo and Tae-song and, heck, even Dal-bong if we can find a house big enough to fit a horse).
I am a little surprised that we've reached this "Noble Idiot" point at the halfway mark, though. The plot, while nothing new if you've ever watched one (or ten) rom-coms before, has managed to keep up the swift pace it started out with, and I'll admit I'm slightly concerned that eventually we're going to run out of tropes as the writers zoom through their script marathon, and then collapse at the end only to somehow crawl their way to the last episode (Chun-hee could coach them on pacing, I'm sure). I suppose I'm just not ready to wallow in a lot of angst for the next few episodes, because I so enjoy all the small cute moments.
Because there's always that threat of birth secrets and cancer, if things start to stagnate — although, in this case, we still haven't addressed the fact that Soo-in's mother probably killed Chun-hee's mother, or what ties President Jo has to Chun-hee's mother and why he's so determined to see Chun-hee succeed. To be fair, I'm kind of glad we've barely touched on these, because they're not important to me or to the plot, really. But now that we've split up our leads, I'm sure there's going to be a flood of angst.
So let's brace ourselves by taking one long last look at the cute.
RELATED POSTS
Tags: featured, Ji Hyun-woo, Jung Eun-ji, Trot Lovers