Trot Lovers: Episode 9
Joon-hyun tries his best to keep his distance from Chun-hee, kidding himself that it's in her best interest… but when outside forces conspire to harm her, he just can't stop himself from worrying. As another suitor steps up to fill the gap he left behind, and enemies come out of the woodwork to sabotage Chun-hee's musical success, Joon-hyun can't keep up the uncaring act for long. Sometimes, no matter how hard you try to be the Noble Idiot, it just backfires on you.
EPISODE 9 RECAP
Chun-hee finishes her radio appearance and rushes out to find Joon-hyun, but he's not there. She runs home to an empty house, where his clothes and all of his belongings are gone. It doesn't seem to sink in, and she keeps looking for him frantically, only realizing that he's truly moved out when she sees that his toothbrush is no longer in its place next to hers and Byul's. Oh, that's so sad.
Joon-hyun stays with Tae-song, but forgets at dinnertime and sets out three spoons instead of two. Tae-song eats enthusiastically, but Joon-hyun just stares at the extra sad spoon.
Chun-hee makes dinner and Byul asks where Ahjussi is, because she wants to tell him she got a perfect score on her plant observation diary. Chun-hee says that he won't be coming back to stay with them, but doesn't want to answer any more questions. She goes to her room and finally finds the hair clip that Joon-hyun slipped onto her bag before he left, remembering how he teased her that it wasn't pretty.
Mom tells Soo-in that she had planned to take down Chun-hee by exposing her living arrangements with Joon-hyun, but Geon-woo blocked her and forced Joon-hyun to quit as her manager. This is news to Soo-in, and Mom says it's better since Joon-hyun was after Chun-hee anyway.
Joon-hyun spends the day wandering aimlessly around Tae-song's apartment, and Soo-in calls him to meet up. She asks him to write the songs for her next album, knowing he no longer has the excuse of managing Chun-hee to use to decline. She lets it slip that she knows he's been living with Chun-hee, and she frames it like helping her will keep him out of reach of a scandal, though it comes across more like a threat.
Pil-nyeo and Coach Bang have tea while they wait for Tae-song to come to work. Coach assumes that Pil-nyeo is Tae-song's girlfriend, saying that she must be why he's always smiling and laughing, and Pil-nyeo preens at this. Tae-song arrives and Coach Bang gives him a wink, meaning to encourage him with Pil-nyeo, but it only makes him even more smitten with her.
Tae-song and Pil-nyeo go shopping for makeup, which he intends as a gift for Coach, but Pil-nyeo hilariously assumes it's for her. He giggles to himself, describing his "Goddess," and Pil-nyeo thinks to herself that of course she's a goddess. Ha.
Chun-hee has coffee with the KBC director, who jokes that coffee is responsible for her broadcasting ban being lifted. He tells her how Joon-hyun stalked him relentlessly, until he finally spilled coffee on him and was convinced to lift the ban. He thinks Joon-hyun planned to get hurt to manipulate him, though he's not angry about it. Chun-hee didn't know any of this, and it's sobering to hear that Joon-hyun was even willing to be burned in order to help her career.
She finds out where to find Joon-hyun from Tae-song and waits for him, and he lets a tiny smile cross his face before forcing himself to look stern and approaching her. Aw, that just kills me. She grins brightly and asks how he could just leave like that, like it's no big deal. She fusses at him for not saying goodbye and for not calling since.
Joon-hyun's voice goes cold and he asks why he should call, and Chun-hee responds that they're friends. He corrects her — they aren't friends, they're just coworkers. Ouch.
He says that he's busy with his comeback album and tries to get Chun-hee to leave, but she tells him that she heard he got hurt for her. He denies that it had anything to do with her. He tells her not to look for him again, and shoves her into her car and slams the door.
She gets out again but he just bellows at her to go. Hurt and confused, Chun-hee drives away, and not a moment too soon as Joon-hyun's eyes fill up with tears. He hears a clicking sound, and finds the man who's been taking pictures of him and Chun-hee. He takes the memory card out of the camera and threatens to kill the man if he sees him taking pictures of them one more time.
Joon-hyun broods over the situation, and next day he approaches Soo-in and agrees to produce her album. They run into Chun-hee, and Soo-in takes the opportunity to rub it in that Joon-hyun is working for her now. She says they must feel uncomfortable, but Joon-hyun denies it with a stony glare at Chun-hee that it's not like that between professionals. I know what he's trying to do, but that's so hurtful.
Chun-hee talks with Tae-song and Coach Bang at the restaurant, telling them that Joon-hyun had told her he was working on his own album. Tae-song figures he's not over Soo-in yet, saying that Soo-in was his first love. Outside, Coach asks Chun-hee if she likes Joon-hyun, and Chun-hee's denial is so transparent, Coach ain't buying it. She says this isn't her area so she can't train her, but points out that usually other people see these things first.
Chun-hee walks home and runs into Geon-woo, who's brought groceries and wants to cook dinner for her this time. He cutely says that really it's for Byul, because Byul likes him soooo much. Cute. They make dinner together, Geon-woo treating it like surgery and barking orders for Chun-hee to hand him things like a nurse. He notices that the broken cabinet is fixed, and Byul pipes up that "our Ahjussi" fixed it, and Chun-hee sends her a stern look.
They have steak, and Byul slips up again when she mentions that Ahjussi told her steak is best when it's bleeding a little. Things get even more uncomfortable when Geon-woo pours some water into Joon-hyun's red heart cup, and Chun-hee takes it from him with the excuse that it's cracked.
Later Geon-woo sits in his car making grumpy faces at Chun-hee's front door, where President Jo finds him and scares him half to death. They sit on the bench and ask each other why they're here. Geon-woo says he had dinner with Chun-hee with the cutest mopey voice and expression, and Dad says it makes him feel refreshed to see Geon-woo miserable. Geon-woo: "Are you really my dad?" Ha.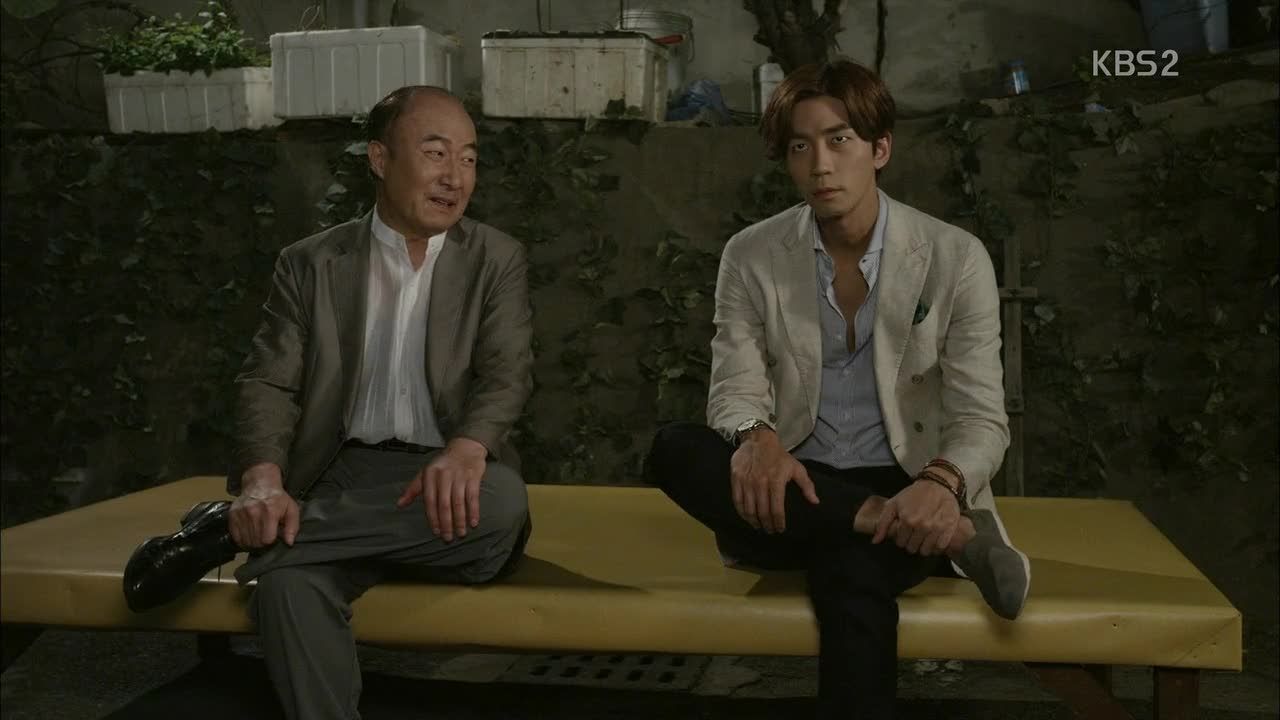 President Jo knows his son likes Chun-hee, and guesses that it must be hard since he's never had to wait for anyone before. He tells him to wait patiently, and not cling, and his chance will come. Geon-woo just collapses in frustration.
The next day, Director Wang finds Geon-woo to have him sign some papers approving Joon-hyun as Soo-in's producer. He tells Geon-woo that he thinks they need to shut down or block the Shine Star online forums. He's concerned about the rumors of Shine Star producing trot singers since Chun-hee's album is gaining popularity, and their forums are flooded with people uploading videos of themselves singing trot.
He complains that everyone thinks they're going to be "the next Choi Chun-hee" as if that's a bad thing, but an inspired look crosses Geon-woo's face. He hilariously demands a hug from Wang, and tells him to start on that project immediately. Wang says that most of the videos are pretty bad, but Geon-woo points out that they only need to find one gem among them.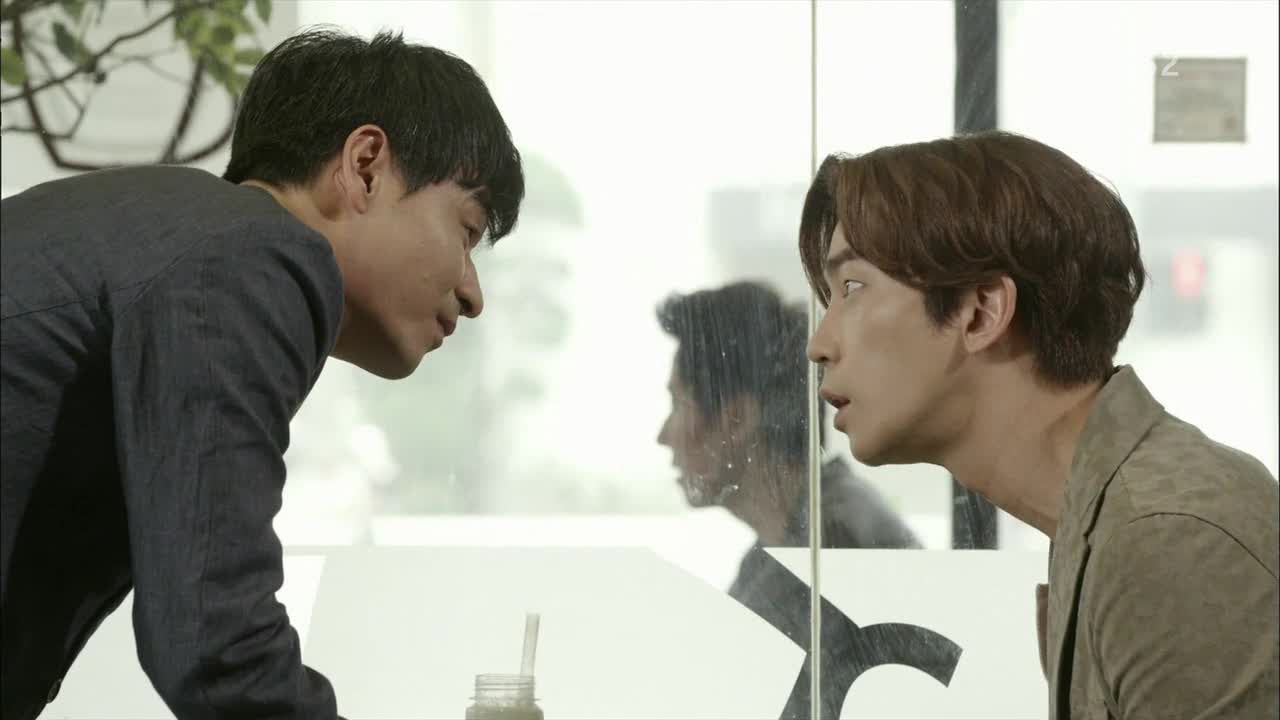 At the KBC building, Chun-hee overhears Pil-nyeo being fired by a PD for fighting with another singer. She interrupts and greets Pil-nyeo as her sunbae, which impresses the PD enough that he gives Pil-nyeo another chance. But Pil-nyeo is still angry that Chun-hee got her kicked out of Shine Star (I would argue that that was all your doing, honey) and tells her not to talk to her anymore.
Geon-woo calls Chun-hee to meet, and asks her to judge a new contest to find another trot singer for Shine Star to produce. He's all big innocent doe eyes as he says that she's their only trot singer, and the company neeeeds her. She agrees to do it, and Geon-woo looks adorably happy to have a project to work on with her.
Loan shark Chul-man goes to see Coach Bang alone, suspiciously on his very best polite behavior. He gives her a huge fancy box as a thanks for all the meals. We don't see what's inside, but Coach gasps over how expensive whatever-it-is must be and tries to decline. Yoo-shik runs in yelling about Chul-man's betrayal in coming by himself, and Chul-man quickly ushers him out of there.
Tae-song watches them through the window, looking dejected with his teeny little gift bag for Coach. He slumps away, tossing his gift to Pil-nyeo who assumes it was for her. She gushes at him, not even noticing that's he's pathetically staring at Coach.
Geon-woo takes Chun-hee to the provinces to meet a girl who is supposedly a trot prodigy, and back at Shine Star Soo-in notes that she thought there were trot auditions today but the place is deserted. Wang says that Geon-woo and Chun-hee went together to the provinces to scout, which gets Joon-hyun's attention.
Geon-woo and Chun-hee find some schoolgirls who know the girl they're looking for, and they find her singing a cappella ("Invocation" by Jang Yoon-jung). Damn, she's really good, and they know it immediately. The girl, Yoo-mi, says that she wants to sing but her father won't allow it. He's embarrassed because she has a large scar on her right cheek. They approach Yoo-mi's father but he's adamant about never allowing her to perform in front of people. Chun-hee asks if it's because of her scar, and this infuriates him and he stalks off.
Chun-hee stops him one more time and asks him to just watch her video and see how happy Yoo-mi is when she sings. He knocks the phone out of her hands and threatens to call the police if they don't leave him alone. Geon-woo reminds Chun-hee that she never gives up, praising her for trying her best.
They start to head back to Seoul but their car has been towed and it's after business hours. They head to the train station where Geon-woo says that the last train leaves in less than a minute, just to watch Chun-hee panic. Goofball.
A trio of ahjummas recognize Chun-hee and ask for her autograph, and assume Geon-woo is her boyfriend, which he thinks is just great. He asks them to keep it a secret, and everyone ignores Chun-hee's denials that they're dating. Hee.
They rest and munch on the snacks the ahjummas gave them, and Chun-hee teaches Geon-woo how to drink yogurt drinks from the bottom of the bottle. A lost little boy starts to cry for his mother, and Geon-woo hilariously freezes with fright and suggests that they run. HA, is he scared of crying children?
Chun-hee takes the boy to security, and they start to leave to catch their train but the boy latches onto Chun-hee's purse and begs her not to leave. She sings kids' songs to cheer the boy up, and Geon-woo even swoons a little at how cute she is with the kid.
The boy's mother finally arrives to claim him and Chun-hee and Geon-woo run, but they miss their train by seconds. The next train isn't until morning, but Geon-woo looks like he's pleased as punch to get to spend all night with Chun-hee.
Joon-hyun looks for Chun-hee at the restaurant, and Coach tells him what happened and that she won't be back until morning. He paces outside Chun-hee's apartment, where President Jo finds him. Joon-hyun tells him to call Geon-woo and find out where he is, but Jo isn't that concerned. Joon-hyun says that he should be worried about Chun-hee out all night with an evil guy with evil thoughts, only belatedly remembering that "evil guy" is President Jo's son. Whoops.
Joon-hyun is too worked up to apologize and just gripes that they should have taken a taxi back or something. He turns on President Jo, wondering how he raised his son, and President Jo is just all, "Yeah I know right?" Hee.
Joon-hyun waits outside Chun-hee's place all night and hides when Geon-woo delivers her safely home. He comes out once Chun-hee is inside and confronts Geon-woo — he made Joon-hyun leave Chun-hee to avoid trouble, then spent all night with her alone in the provinces. What will he do if there's a scandal? Geon-woo just casually says that he doesn't mind if there's a scandal, since he has the power to block it.
Later at Shine Star, a suspiciously friendly Soo-in asks Chun-hee to lunch, offering to treat in apology for being mean before. When they get to the restaurant, Joon-hyun is there already waiting for Soo-in, and it becomes obvious that Soo-in arranged this to hurt Chun-hee.
Joon-hyun is surprised too, but sees an opportunity to push Chun-hee away. He plays the part of the doting oppa to Soo-in, solicitously cutting her noodles and pouring her broth, and making it obvious that he already knows her preferences. His face shows that this is hard for him too, but Chun-hee is hurting too much to notice.
Just to twist the knife a little deeper, Soo-in mentions that Joon-hyun is also writing her songs. She wonders why he never wrote any for Chun-hee, and he looks Chun-hee right in the eye as he says, "I don't write songs for just anyone." Ouch. Once she's out of there, Chun-hee mutters that she guesses he's just a bad guy now, and even changes his name in her phone to "Bad Guy."
Byul loiters outside Coach's restaurant, and when Joon-hyun shows up to get the house key from Tae-song, she lights up and gives him a big hug. And awww, he looks every bit as thrilled to see her, too. He sees her holding a notice about her school's family cooking competition, but she's sad because her sister is too busy to participate.
At school the day of the competition, all of Byul's classmates and their mothers are there, while Byul sits alone. Her teacher offers to cook with her, but as she stands up sadly, an apron drops over her head from behind. It's Joon-hyun to the rescue! He announces that Byul's family is here, earning himself the adoring smile of one happy little girl.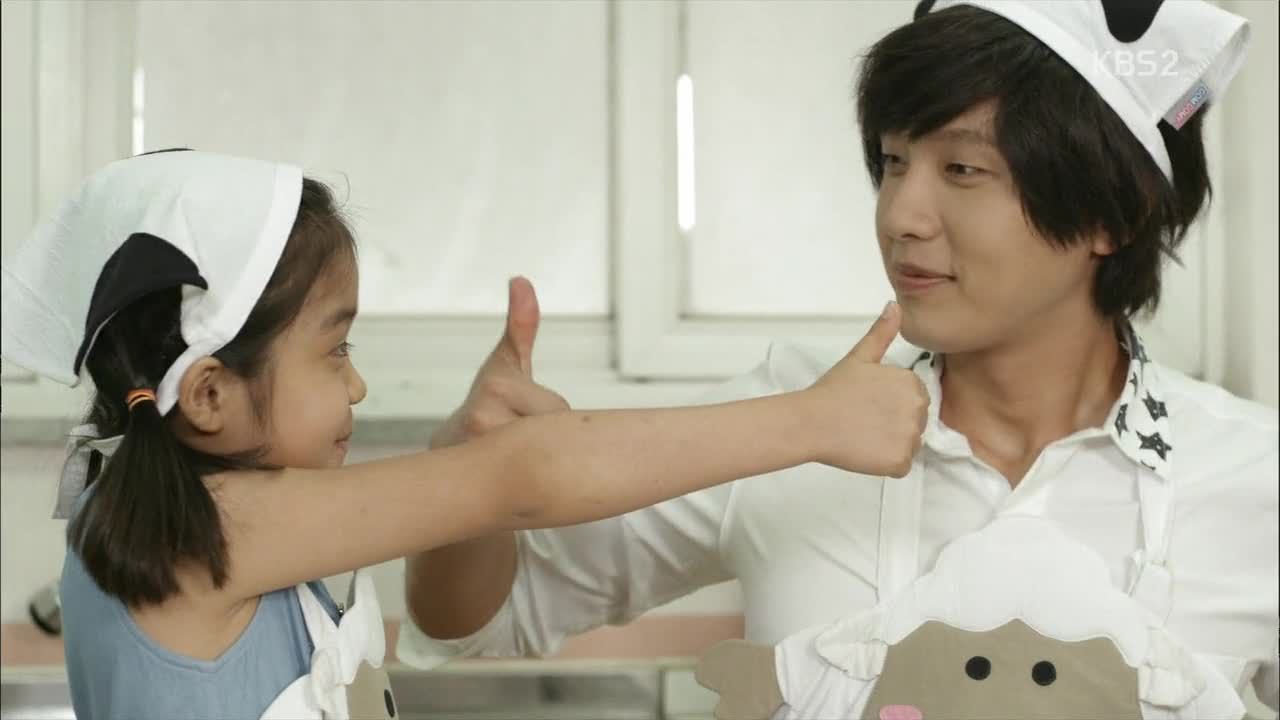 They look too precious for words in their matching sheep aprons and scarves, and whip up a delicious-looking omelette. Byul even gives Joon-hyun a "good job" pat on the butt, hee. They're declared the winners, until one sour-grapes brat accuses them of cheating since she knows that Byul doesn't have a brother, and he's not her father either. Byul insists that Joon-hyun IS family… aw, kid, you're breaking my heart.
The brat's mom sneers that if he isn't her family then they shouldn't win, and the teacher asks if he's maybe her uncle. Joon-hyun says that he's not her uncle, but he most definitely is her family, and my heart cracks a little further. The teacher says that she'll talk with the mothers and declare a winner later.
They sit outside on the steps, and it's adorable that Byul is the one cheering up Joon-hyun, saying she's just glad he came. She asks why he came, and he says again that it's because they're family, but asks her not to tell Chun-hee.
Except it doesn't stay secret for long, because Chun-hee goes through Byul's school bag that evening and finds the cooking competition flyer. She asks why Byul didn't tell her about it, but they're interrupted by a call from Byul's teacher. She lets them know that it was decided that Byul's family won fairly, so Chun-hee asks Byul who participated with her and Byul fesses up.
Chun-hee goes to the Shine Star studio and finds some sheet music for a new song written by Joon-hyun, with a note dedicating it to "MJ." She can't think of anyone at Shine Star with the initials MJ, and it's certainly not Soo-in. Joon-hyun suddenly appears and snatches the music from her, telling her angrily not to touch his things anymore.
Chun-hee apologizes and flees, just as Geon-woo enters the room. He tells Joon-hyun that it's good that he's keeping his distance, but warns him not to go too far and be hurtful. Joon-hyun reminds him to watch his own behavior because a scandal can ruin a female singer, but Geon-woo says he'll take care of it.
Soo-in overhears their conversation about scandal, and goes looking through Geon-woo's office. She finds the photos of Joon-hyun and Chun-hee sleeping snuggled up in the living room and immediately takes them to Chun-hee.
She tells Chun-hee honestly that these photos are why Joon-hyun quit being her manager and moved out of her house to protect her. Soo-in claims that she's telling her this because she doesn't want to watch Joon-hyun have a hard time anymore, but something in her expression doesn't sit right with me.
Chun-hee looks for Joon-hyun all throughout the Shine Star building, trying to call him but getting no answer. She finally finds him in a recording studio, and she sees his phone ringing while she calls — she's saved in his phone as MJ (for crazy medal girl).
Joon-hyun sings the song he wrote for "MJ", and the lyrics are reminiscent of things we know he feels for Chun-hee:
Her eyes aren't pretty, neither is her nose
How did I fall in love with you?
Did my heart melt because of your smile?
I like you as you are

When I'm in your arms,
all my hardships go away, like a lie
I miss your comforting warmth
So much that I think only of you all day

I think of only you,
Compared to anyone else in this world
you and I fit better
So I can stay by your side
Please hold onto me
Chun-hee listens to him sing, and finally gets up the courage to enter the room. When Joon-hyun sees her, there's a moment of pure vulnerability on his face, then you can see his cold facade slam back into place. Chun-hee says that she knows why he left her house, but Joon-hyun denies that he did it for her. He says he did it for himself, so that he could make his comeback without having to worry about annoying rumors.
She asks if that's really the reason, and Joon-hyun says that she's obviously misunderstood something — she's nothing to him. Worse than that, he wants to erase every memory of her. She takes the clip he gave her from her hair and asks if he can look at it and still say that, but he just scoffs at her for crying over a cheap hairpin.
He hammers his point home by saying that his time as her manager was the worst time of his life, and tells her to leave. She's frozen, so he jabs her shoulder over and over, yelling at her to get out. Finally he leaves himself, leaving Chun-hee crying alone.
Joon-hyun barely makes it to his studio before the tears start to fall, only able to utter the tiniest "I'm sorry" before he can't hold in the sobs anymore.
Back at Tae-song's place, Joon-hyun tries to distract himself by playing guitar, but has to stop often to thump his aching heart. He takes a call from Yoo-shik, who says that Chun-hee has been acting strangely and now she's disappeared. Joon-hyun yells that it was his job as her new manager to watch her.
Joon-hyun looks for Chun-hee at home and at Coach Bang's restaurant but can't find her anywhere. Suddenly he remembers the hair clip he bought for her, and he knows where she is. He drives to the Sound Experience Museum where they spent that happy day together.
Chun-hee is there, sadly doing alone all the things they did together that day, but she leaves each room just before he enters it. Defeated, Joon-hyun starts to head home, but then he remembers the special spot on the hill that he told Chun-hee was a good place to go when you're sad and want someone to comfort you.
When he gets there, Chun-hee is sitting on the stones and listening to music through earbuds. She sits with her eyes closed and sings along with the sad, lonely lyrics of "I Only Know Love." Silently, Joon-hyun stands in front of her and watches her sing.
He crouches down until their faces are level, and when she finishes her song with her eyes still closed, he leans forward and gives her a tender kiss.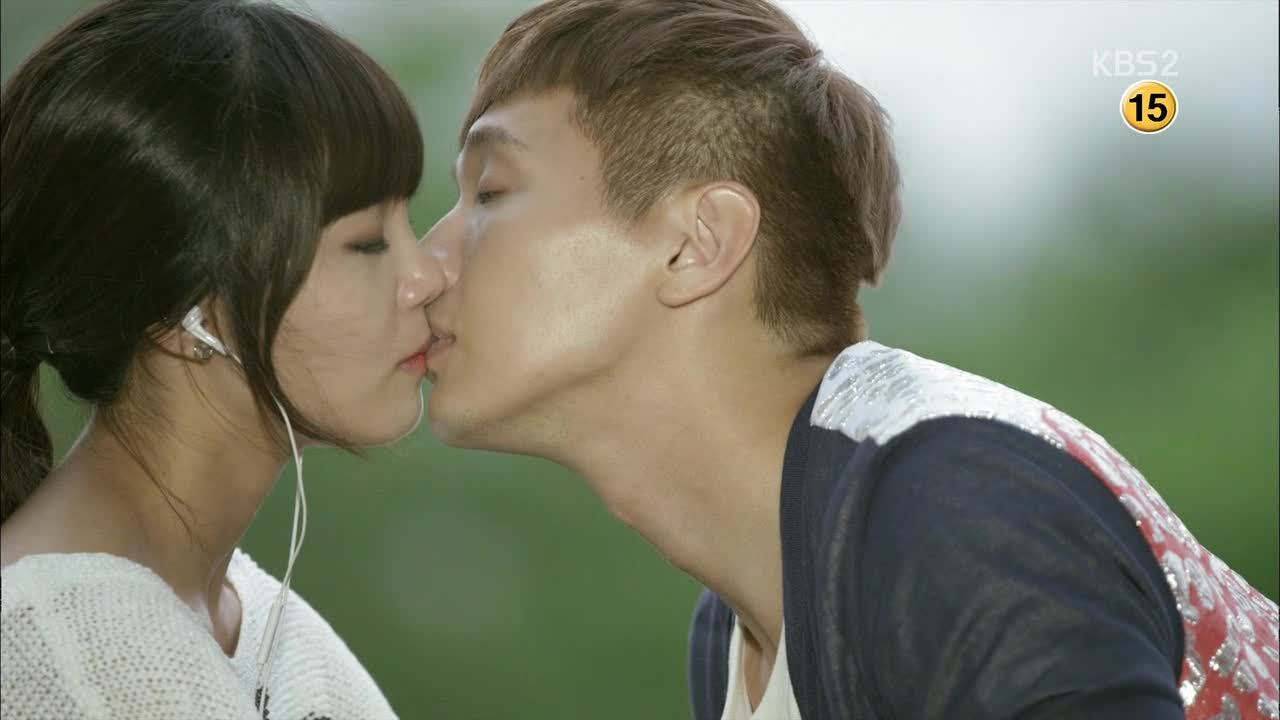 COMMENTS
Once again, I'm thankful that this show doesn't drag conflicts out to ridiculous lengths, and handles issues quickly and efficiently. Nobody really enjoys watching a Noble Idiot go against his instincts and be mean to the person he loves most, so I'm glad we got past that necessary stage and now we can move on to bigger (and cuter) things. Watching Joon-hyun deliberately hurt Chun-hee to push her away, then have to hide away to cry, was heartbreaking. I'm glad he quickly realized that it doesn't matter what he does, she knows he cares for her and she returns his feelings, and he's willing to concede defeat. And an "I'm sorry" kiss is infinitely better than an angry possessive kiss no matter how you look at it. I'm happy to see that Joon-hyun is finally realizing that Chun-hee's feelings are every bit as important as his own.
I haven't talked much about Soo-in up until now, and that's mostly because she really hasn't done that much. So far she's been a pretty static character, who's shown flashes of jealousy but mostly lets her mother and Director Wang do the hard work while she sits back and pretends innocence. But now she's taking an active role in sabotaging Chun-hee and Joon-hyun, on both a personal and a professional level, and I'm finding her simultaneously infuriating and strangely interesting.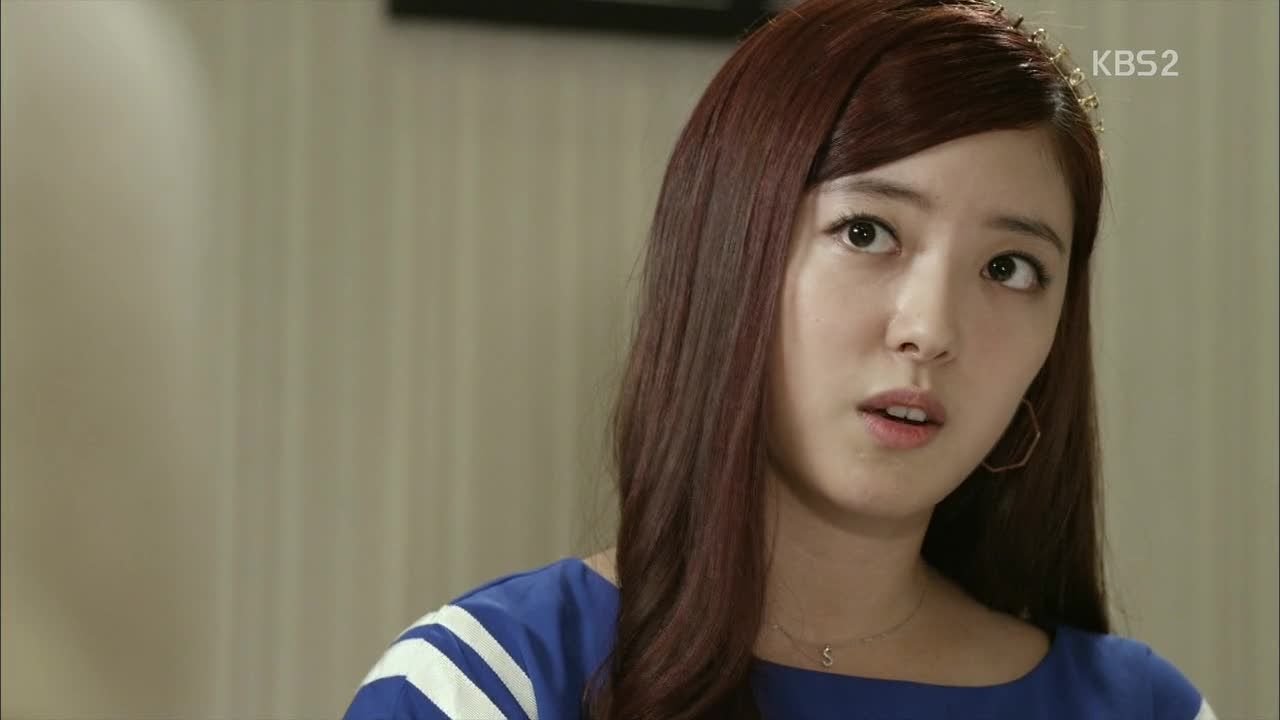 I honestly don't blame her for being upset that her hard work and talent are being overlooked in favor of Chun-hee. Show business is a ridiculously hard business to try to make a living in. It's true that you can work for years, and be wildly talented, and the smallest misstep can bring it all crashing down around you. Add in an unknown newcomer, whose talent is in an area that's been considered old-fashioned for quite some time now, and I can completely understand Soo-in's growing sense of desperation that she's about to lose it all to someone that she doesn't consider has earned success.
Soo-in has worked hard for nearly a decade, dedicated her entire life to music, and just as she's about to realize her dream, someone swoops in and steals all her thunder. That's got to be an extremely infuriating and helpless feeling, and I don't blame her for being bitter and angry. But all that aside, the correct response isn't to attack that person and try to destroy their career and personal life all in one fell swoop. It's something that always leaves me scratching my head when I see drama villains act this way – do they really think that taking away something from someone else, will mean it comes to them? Life doesn't work that way. Especially not when you become the villain of your own free will.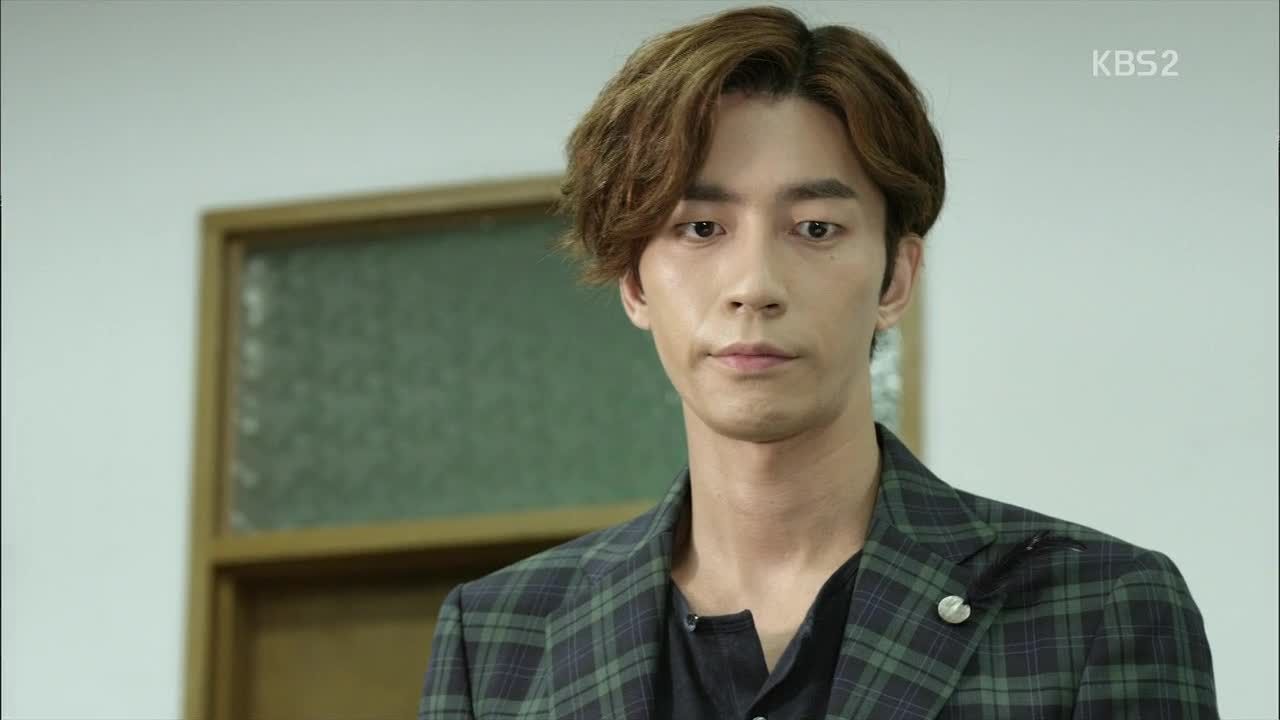 And as much as I love him, I'm starting to feel the same way about Geon-woo. I feel for the guy, because he's obviously lonely and socially awkward. He's also sweet and thoughtful and attentive to Chun-hee, and he has no bad intentions towards her either professionally or personally. But I'm not following his logic, that getting Joon-hyun out of Chun-hee's house will make her stop liking Joon-hyun and start liking Geon-woo. Again, that's just not how life works. Not to mention, if a dating scandal with her manager would be bad for Chun-hee's reputation, wouldn't a dating scandal with the president of her company be even worse?? It seems to me that dating the company president is even more fraught with peril when it comes to attracting rumors of favoritism and casting couches, than dating your manager. Especially when, at least in the favoritism arena, it's already true. Soo-in has continually been pulled from appearances and professional opportunities to put Chun-hee in her place instead, so any rumors that Geon-woo is pulling strings because he likes her are, to be frank, entirely accurate. And Geon-woo's comment that he'll just block any rumors that pop up? Yeah, he could have done that for Chun-hee and Joon-hyun too, if what he really wanted was her happiness. Besides, if it were truly that easy, there would never be any dating scandals.
I'm having a sinking feeling that though we're almost certainly about to have a period of cuteness and happiness, it's merely the calm before the storm. This show does a great job of not dwelling on any one thing for too long, and I'm sure that's going to hold true for the honeymoon phase of Chun-hee and Joon-hyun's relationship too. We still have seven episodes to go and our OTP is already together. I'm glad because that means there's lots of story left, but I'm hesitant to relax while our leads enjoy their new relationship, since having so much time left also means danger of the story going off the rails.
We're not going to be jumping any sharks, are we? Please promise me there won't be any sharks.
RELATED POSTS
Tags: featured, Ji Hyun-woo, Jung Eun-ji, Trot Lovers