You're All Surrounded: Episode 17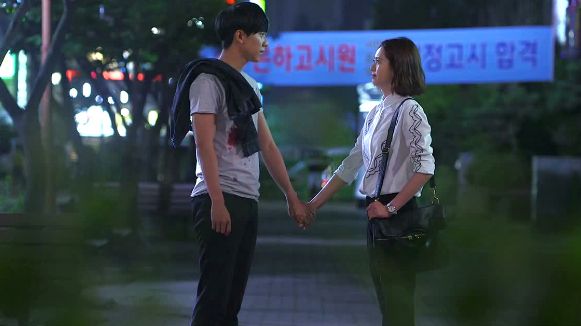 There are big revelations for our hero, but by and large it's an episode spent circling the wagons, which isn't terribly exciting since we're chomping at the bit for results, not strategizing sessions. Obviously we can't get there until our characters have caught up to the truth, but could we maybe get there an eensy bit faster? On the upside, two weeks spent with our couple actually being a couple is a pleasant distraction, so that's something.

SONG OF THE DAY
EZ Hyoung – "잠이 오질 않아" (I Can't Sleep) [ Download ]
Audio clip: Adobe Flash Player (version 9 or above) is required to play this audio clip. Download the latest version here. You also need to have JavaScript enabled in your browser.

EPISODE 17: "Uncomfortable truth"
The team waits on pins and needles by Tae-il's bedside, relieved to know that his stab wound wasn't fatal. Gook wonders where this leaves their case, and Dae-gu practically has steam coming out of his ears as he says he's going to catch Madam Yoo and make sure she spends half her remaining life rotting in prison.
Everyone lets out a collective breath of relief when Tae-il opens his eyes. He winces from the pain but smiles and reassures them that he's fine. Gook yells at Tae-il for being stupidly persistent and not just handing over the pendant when the thugs threatened him, and trying to stop them even after he was stabbed. But then he realizes he's being a nagging mom and just tells Tae-il that he did a good job. Eung-do echoes the sentiment, calling him a true detective.
But of course through it all, Tae-il is only worried about Dae-gu and feels terrible about losing the pendant. Dae-gu snaps at him not to ever talk like that again, and everyone else chimes in to take Dae-gu's side. Their concern for each other is so sweet.
As they leave the hospital, Eung-do asks Pan-seok what happened by the river—did Chief Kang show? Pan-seok just heaves this sigh that makes his shoulders droop, and Eung-do chases after him wondering what happened.
Dae-gu walks Soo-sun to her new gosiwon, and she takes his hand as she tells him not to think about anything tonight and just get a good night's sleep. He reminds her that that's actually really difficult for him, but she insists he try.
He smiles down at their hands and agrees to do his best. He turns to go, and she lingers there to watch him walk away.
In the morning, Chief Toad is on a fresh tirade, and this time he's actually got a bag full of supposedly enchanted red beans, which he ordered specially for the breaking of evil curses. O…kay?
He stands in the middle of Team 3's section of the precinct and chucks beans at them repeatedly, calling them the makjang team and chanting for the evil curse to be lifted. Well if it works to keep the plot from going makjang, I'll buy my own bag o' beans and join you.
Pan-seok asks Chief Kang who took the pendant, and she just counters that he should've handed it over to the prosecutor's office. He asks what Ji-yong would think if he knew the truth, but she's confident that Ji-yong would believe her over Pan-seok's word any day. He doesn't intend to tell anyone the truth, but warns her that if she interferes with the case in any way, he'll do everything he can to out her publicly.
Pan-seok takes over Madam Yoo stalking duties, and shows up at her gym to ask what she's doing with two identical pendants. He tells her to come down to the station voluntarily, or a warrant for her arrest will be issued.
She ignores him, so he just encourages her to work out to keep herself in shape for the long interrogation ahead: "Keep running… until you throw up."
Soo-sun presents her with the request to come in for questioning, and Madam Yoo rips it up and stalks off. Soo-sun picks up the crumpled pieces of paper and tells her not to waste hard-earned taxpayer money. "You may have hidden the pendants away in your house, but there's nowhere left for you to hide." She urges her to take this last chance to save face and walk into the station of her own accord. What, and save us the joy of watching her haughty ass dragged there in cuffs?
Dae-gu goes to meet Mom's longtime friend and colleague who's now back from her work trip. She unfortunately has no idea who Madam Yoo is, but speaks of Mom fondly and tells Dae-gu how much she was loved by all their colleagues who did volunteer work together.
She digs around for old photos from that time—27 years ago—and hands him a few of Mom with the volunteer team. He flips through them and then stops cold when he gets to one of Mom with Madam Yoo's husband, Shin Ji-il.
Mom's friend confirms that they liked each other, but one day Mom quit the hospital unexpectedly and left Seoul. Soon after, she heard about Shin Ji-il's engagement to the daughter of a wealthy family, and just assumed that was the reason Mom left Seoul.
Dae-gu sits by the river staring at the picture, thinking back to the rumors he hated when he was a kid, that his mother was a married man's mistress. Now he starts to see Mom's evasiveness whenever he asked about Dad in a new light.
He goes to see Mom and asks if she lied to him all this time, and if Dad is actually still alive. But then he decides that it doesn't matter: "I'm going to catch the people who did this to you. I'm sorry Mom… for not protecting you."
When Dae-gu joins the others in the hospital, he finds Tae-il already sitting up and flipping through mugshots. Dae-gu nags him to rest, arguing that he's been stabbed too so he knows how much it hurts. Tae-il just argues right back that he ought to know how much he wants to catch the bad guy who did the stabbing then.
Dae-gu realizes he won't be convinced, so then he just takes Tae-il's hand and slides the magical bracelet of protection that Eung-do gave him, onto his wrist. Aw. Gook jokes that Dae-gu's concern is worth getting stabbed for.
The kids stand back when a team of doctors walks in, and they're shocked when the head doctor asks Tae-il if this is his idea of rebelling against his father. Dad asks if he's going to return to the hospital, but Tae-il apologizes and says no. Dad declares that he's just like Tae-soo, and from now on they're both children he never had.
Gook can't believe Tae-il never told them he had a brother, and Dae-gu says everyone has secrets they'd rather not share. But Tae-il says he wants to tell them now. A flashback takes us to Dr. Tae-il answering a call from Mom, urging him to be on time for family dinner because his hyung is bringing home the woman he's going to marry.
Just as Tae-il arrives at the door, he hears a loud crash inside and hurries into the living room, where he finds Dad wielding a golf club in fury, and Hyung kneeling next to the man he wants to marry. Ah, so Hyung was gay.
He begs for Dad to accept them, and if he can't, they'll just live quietly somewhere away from the family. Unsurprisingly, Dad flips his lid and decides he'd rather his son die by his own hand than run off with another man.
Meanwhile Tae-il is just standing there in the background trying to process it all, and when Hyung calls out to him, he runs out of there. Hyung chases him out into the street, but Tae-il refuses to look back and weaves through oncoming traffic just to get away.
A horrible thud stops him in his tracks, and he turns around to see his hyung lying in a broken heap in the street. Ugh.
Back in the present, Tae-il tells them that he couldn't be a doctor anymore after that, and then one day he suddenly wanted to be a detective. "I thought that if I became a detective, I could be forgiven just a little by Hyung. That was his dream—to be a detective."
He puts on a cheery face, and they all make an effort to just move on as if he were talking about the weather, and Tae-il looks at his friends gratefully.
Dae-gu sits outside by himself, the question of his parentage hanging over him like a cloud. Soo-sun finds him there and he motions for her to sit next to him, and then he lies down with his head in her lap.
He teases her for having more cushion than he expected, and asks if he can take a nap here. She says yes, and tries not to breathe.
He asks what kind of man her father was, and she smiles as she describes him as a hapless, warm, funny man: "He was the best to me, and the more time passes, the more I want to see him."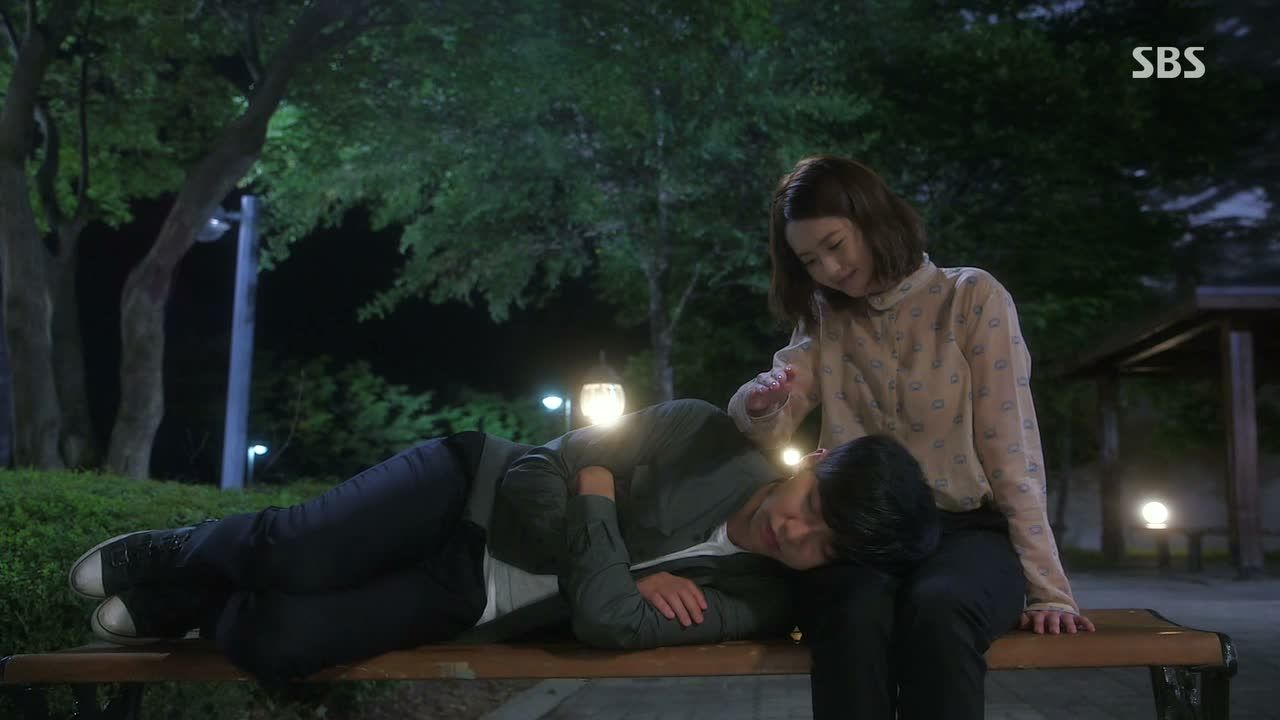 She wonders why he asked, and he says just because, and falls asleep. She notices the lamplight in his eyes, and raises her hand to shield his eyes from the light, the same way he did for her in the sunlight.
In the morning, Dae-gu goes straight to Chasung Group's offices and meets with Maybe-Dad Director Shin himself. He shows him the picture of Mom and admits he's her son. Yay for not beating about the bush.
Director Shin has never heard of the Masan murder case, and never even knew that Mom died—he looks genuinely shocked and saddened when Dae-gu tells him that part.
Dae-gu goes on to tell him that a pendant was found at the scene of Mom's murder, and that pendant belongs to his wife Madam Yoo. He asks if Director Shin can offer an explanation.
He starts to panic and makes excuses about a meeting, but asks for Dae-gu's card so that he can call him. He looks into Dae-gu's eyes, and then asks haltingly how old he is. Dae-gu: "I'm 26 this year." It doesn't seem lost on either of them—the increasing likelihood that this is his bio-dad. As they part ways, Director Shin's son Ki-jae arrives and sees them together.
Dae-gu goes to prison to visit Boots, and judging from his expression, Dae-gu must've gotten the visit approved under a false name. He shows Boots the picture of Mom with Director Shin and doesn't mince words: Did Madam Yoo kill his mother because he's Director Shin's son?
But Boots refuses to confirm his story, and sticks to his line and tells Dae-gu not to dig any deeper. "If you do this, you'll die, and I'll die."
Dae-gu asks if he really thinks that'll stop him, and demands answers. His eyes fill with angry tears as he screams, "You killed my mother, but in this god forsaken situation, I have no one else to go to for answers!" He pleads for the truth, but Boots turns away without another word.
Boots looks conflicted as he walks back to his cell, and the inmate across the hall from him watches him with an evil twinkle in his eye.
Madam Yoo drinks her guilt away, and picks an angry fight with her husband when he ignores her yet again. She asks if he doesn't even see her as a person anymore, and says he's the one who walked into this hell with his own two feet. He finally erupts and yells at her to stop, wondering how she isn't tired of it all.
At the breakfast table, Ki-jae asks Dad if he met with that detective yesterday, and Dad says they ran into each other by coincidence. Madam Yoo doesn't buy it, and worries that he's figured everything out.
We go back to 11 years ago from her point of view, when she discovered her husband's coincidental run-in with Dae-gu's mom. They greet each other awkwardly, and Mom walks away when she spots Madam Yoo rounding the corner.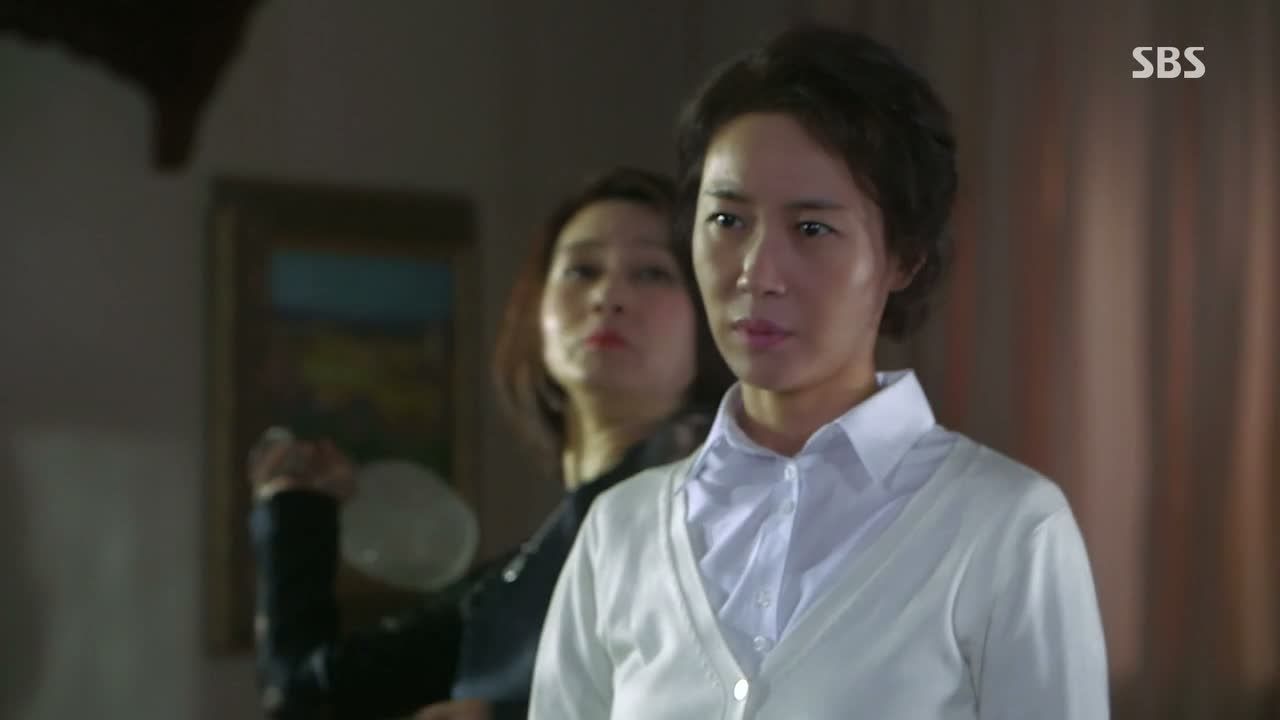 Soon afterward, Madam Yoo comes to the house to confront Mom, and scoffs bitterly to see the photo of her with Ji-yong. She can't believe she'd dare to have a child with her husband, and slaps her repeatedly. Mom says he isn't Ji-yong's father, though the statement leaves room for interpretation—we don't know whether she's being literal or just insisting that she's Ji-yong's only parent and will never ask him to be a father.
She swears that she's kept up her end of the promise they made 15 years ago—she's never made contact and doesn't ever intend to—and asks Madam Yoo to keep her promise not to come looking for her anymore. She repeats adamantly that Ji-yong isn't her husband's son and asks her to leave.
That's when Madam Yoo grabs the flower vase and whacks Mom in the head with it… twice. When she doesn't get up, Madam Yoo panics and calls her father. So Boots arrives to fix it, by wiping down the house for prints and thrashing the place so that it looks like a burglary gone wrong.
Director Shin invites Dae-gu to his office, and explains that he did volunteer work with his mother and she was warm and kind. He's sorry to hear about her murder, but says that they were simply colleagues and nothing more.
He heard that the culprit was already caught, and asks Dae-gu to stop coming here about this matter from now on. Ouch. I really hope for Dae-gu's sake that despite the odds, he isn't bio-dad.
Dae-gu goes to the river for a good scream, because what else can you do when you find out that your father is probably a spineless weasel who's going to cover up his psychotic wife's murderous tendencies?
He then marches into the precinct and announces that he's found a way to catch Madam Yoo. He tells the team they're going to go after a confession by poking at her until she digs her own grave. They wonder if it's possible, but Sa-kyung tells them that their suspect's psychology lends them an advantage—she's emotional and easily agitated, which means their chances are higher than with someone who's more rational and careful.
The team gets to work in trying to profile Madam Yoo down to every last detail, following her from spa to salon and filing away all the things that make her angry.
Tae-il sends videos of her public appearances from his hospital bed, and Pan-seok grouses when he sees Sa-kyung showing concern for Tae-il in their group chat. He tells Tae-il to rest up because he's nothing but skin and bones, and Sa-kyung snickers at his childishness.
Pan-seok goes to see Assemblyman Yoo and offers to keep his name out of it if he can get his daughter to turn herself in, otherwise he's going to prepare to lose his job in order to bring the whole house down.
Assemblyman Yoo thinks he's challenging Pan-seok by asking if he has nothing to lose, but Pan-seok surprises him by agreeing—he lost his son eleven years ago because of this case, so no, he has nothing left to lose.
It's enough to rattle Assemblyman Yoo, who blames Chief Kang for not getting a handle on her own department. She argues that it's actually his fault for not handling his own family, and that she wouldn't have done all this if she had known what it was for.
Assemblyman Yoo points out that the minute she gave him Ji-yong's location that night eleven years ago, she knew he'd be killed. It's a bitter pill to swallow, and she doesn't answer. She simply counters that there's no longer any way to protect his daughter—they have to give her up, otherwise they could all die with her.
The team practices their mode of attack for the interrogation, and Sa-kyung decides that using freshly sharpened pencils will agitate Madam Yoo most since she seems afraid of sharp objects. She coaches Dae-gu on his attitude and posture because they want to act as dismissive as possible to get a rise out of her.
Dae-gu then tells the team that he thinks he has the motive for murder, and finally tells them about his parentage. After getting that off his chest, he assures them that he's okay and Gook and Soo-sun follow him out to lift his spirits.
Pan-seok watches him go with a heavy heart, and Eung-do sighs that he often thinks Dae-gu will sink right into the ground, he's got so much to carry on his shoulders.
Madam Yoo fumes when her father tells her to comply with the police investigation after all. He tells her that the lawyer will be there the whole time and all she has to do is sit there without saying a word. But she can't believe he'd make her stoop to this when he promised he'd take care of things. Why, because people with rich daddies deserve to kill people? I honestly think she believes that.
She thinks they should've just killed Dae-gu in the first place, but he reminds her that it's too late—he's gone to her husband, so now she'll be the prime suspect if anything happens to him. Assemblyman Yoo is as self-serving as expected, and in the end he tells her to go into the police station, and they'll have to take care of Dae-gu later.
She waltzes into the precinct like it's an affront to her wealth to even breathe civil service air, and the team leaves her sitting in the interrogation room with her lawyer on purpose, just to annoy her for making her wait.
They watch from the other side of the glass, and Sa-kyung tells Dae-gu to wait longer. It takes less than five minutes of waiting for Madam Yoo to have an outburst already, and then Sa-kyung gives him the cue to go in.
He reaches for Soo-sun's hand as he passes by her, and she holds on to give it a supportive squeeze.
Dae-gu enters the room and starts off by having her remove her sunglasses, and then proceeds to fiddle with the sharpened pencils. He skips the basic questions since she's not likely to answer anyway, and says he'll just ask stuff he's most curious about.
He asks how she knows his mother, and when she doesn't answer, he reminds her that she asked him once whom he resembles. He takes out the picture of her husband with his mom and slides it across the table. "Let's see, whom do I resemble most, between them?"

COMMENTS
That's it, that's the end? Tomorrow's episode had better be more eventful, because if I had to spend an hour for them to figure out that she's afraid of friggin' pencils with nothing to show for it in the interrogation, I'm going to poke someone's eye out with a No. 2. The hour might not have felt like such a waste if Possibly Bio-Dad were even slightly useful or proactive, but he's as much of a lame duck as he's always been. I suppose expecting the man who married the psychotic lady to suddenly grow a spine is foolish, but I still expected something to come out of it other than poor Dae-gu feeling even more abandoned than he already does. Must we kick a guppy while he's down? Must we?
I really wish the villains were better in this drama, because their idiocy actually brings down the level of the team, and I find myself thinking that if they couldn't manage to get a confession out of her without the Pointy Pencil Plan, they don't really deserve to be detectives in the first place. I mean, now you have motive and an eyewitness, and you say you have nothing to lose, so why are we going about this the safe way? I'm just annoyed whenever screen time is wasted on that family, because it's all one note and nothing ever changes with them. We geddit, you think you're above the law. Now can we get back to the cute?
I did appreciate Tae-il's backstory, though I have no idea why they felt it was necessary to wait this long to give it to us. I would've preferred to get it earlier to motivate some more character development for him, since feeling responsible for his brother's death and trying to fulfill his dreams to earn forgiveness is interesting, not to mention how sad it is that his father still can't come to terms with his son's sexuality after losing him so tragically, or that he pushes Tae-il away on top of it all. That's one element of this show I really like—that there are no easy solutions when it comes to family, and that our characters find more acceptance and understanding from their friends than their blood relatives. Obviously I hope for Dae-gu's sake that he isn't related to that horrible family in any way shape or form, but even if he were, I trust that his found family of detectives will be most important.
Now that feelings have been confirmed, it's really nice to see Dae-gu and Soo-sun subtly acting like a couple and being sweetly supportive without a lot of fanfare. Of course I'm still waiting for them to be outed and embarrassed, but it's also nice to get all the little handholds and comfortable moments where they get to be there for each other when it matters. But… with three episodes left, we're going to kick it up a notch, right? We've known who the bad guys are for weeks. Let's throw the book at them and get a move on with the romance and team bonding, shall we?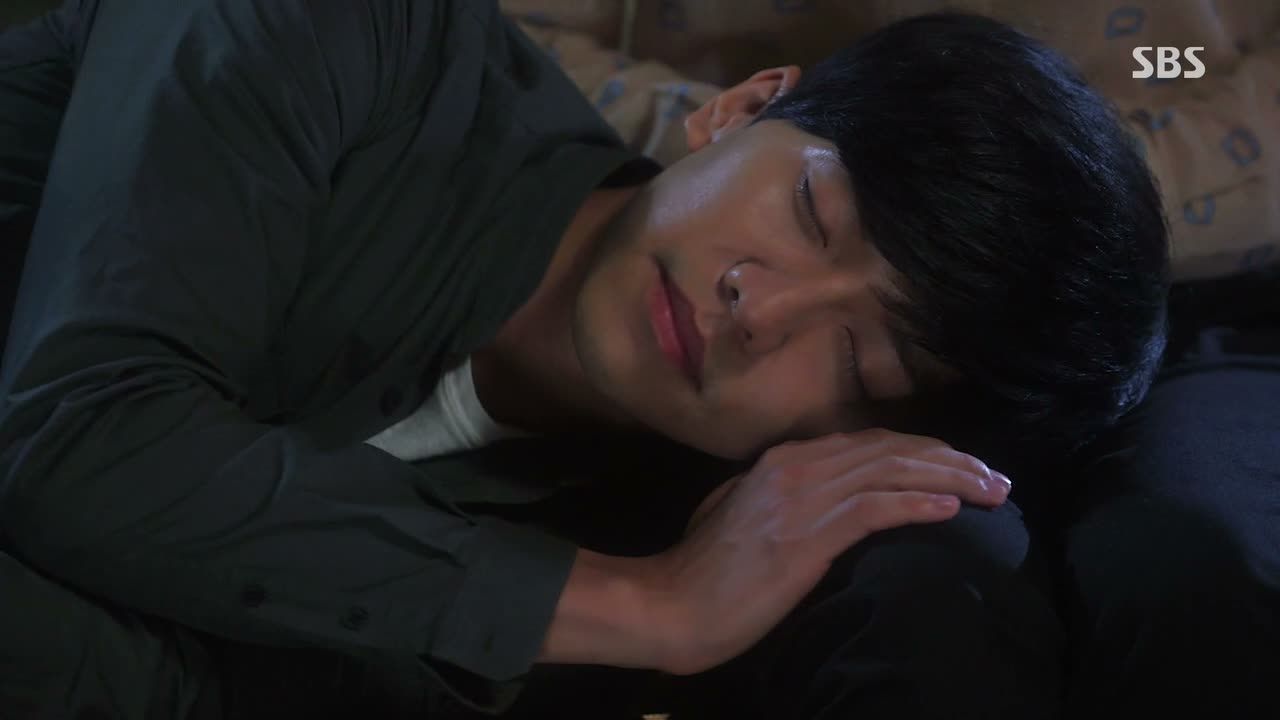 RELATED POSTS
Tags: Cha Seung-won, featured, Go Ara, Lee Seung-gi, You're All Surrounded