You're All Surrounded: Episode 18
Now that's more like it. This episode kicks it up a notch with speedy results and hefty emotional payoff, after weeks spent keeping us on ice. Our poor guppy gets hit with a tsunami of truth, and if he weren't surrounded by such good friends, I'd worry that he might drown. Painful as it is, the development and forward momentum is worth it; I finally feel like we're clipping along at a good speed and not hoarding all the payoff for the end. With two episodes left to go, I guess late is always better than never?

SONG OF THE DAY
Ahn Jae-hyun – "그게 너였다" (That Was You) for the You're All Surrounded OST
[ Download ]
Audio clip: Adobe Flash Player (version 9 or above) is required to play this audio clip. Download the latest version here. You also need to have JavaScript enabled in your browser.

EPISODE 18: "Without blood or tears"
The interrogation showdown revs up as Dae-gu slides over a picture of his mother with Madam Yoo's husband. He sits back very calmly and states that an eyewitness places her at the crime scene, and lo and behold, her husband seems to have been quite close with his mother 27 years ago… and then a year later he was born. "Is this a coincidence?"
She starts to seethe, and Dae-gu needles her some more: "You know that your son Ki-jae follows me around calling me hyung when no one told him to. Why do you think that is? Because he can feel his bloodline?" That gets a rise out of her, and she yelps.
The lawyer tries to intervene, saying that these aren't relevant questions. Dae-gu asks how he's so sure about that and suggests a blood test. He sees that it's working and leans in to ask if this is what she's so afraid of—that he'll inherit the money she and her father stained their hands with blood to make.
He plays up the greedy heir routine, chuckling at the gift his mother left him: Chasung Group. He even thanks Madam Yoo for her part in this, otherwise he'd never have known what enormous fortune he was entitled to. I love that he's being as condescending as she is; fire with fire might actually work.
She spits back that he and his mother are both beggars and exactly the same. Once she opens her mouth the lawyer shoots up from his seat and says they're leaving. This is Dae-gu's last shot to keep her from walking out the door, and he stands up to look her in the eye: "Is that why you killed her?"
He oozes with fake pity as he wonders how angry she must have been, to lose her husband's heart and then see that she might lose her fortune on top of it all. He takes out the pointy fountain pen for the climax, and makes her relive that day and how Mom didn't bow down to her threats because she already had something Madam Yoo could never steal: her husband's heart.
She screams at him to shut up and slaps the pen out of his hand. Dae-gu knows he's almost there and yells that that's what must've angered her the most—that Mom should've been kneeling, but instead she dared to look her right in the eye and challenge her. He gets right in her head and rattles off exactly what Madam Yoo must've been thinking that day: Do you know who I am? What, because you stole a man's heart, you think you, a nobody unwed mother, can challenge ME?!
She finally erupts: "Shut up! Do you want to die by my hand too?!" Yahtzee.
There's no need to prompt her anymore now that the dam has burst, and Madam Yoo calls Mom a bitch who dared to look her in the eye. Dae-gu's face twists into a horrified expression as she describes how she slammed a vase into Mom's skull and how she fell lifeless to the ground, all because she didn't know her place.
It's the confession they were angling for, but even still, the detectives on the other side of the mirror gasp when they hear it. Madam Yoo screams some more that he and his mother should know their place, but Dae-gu straightens up and lets her know that she just confessed to being the first attacker in the Masan murder case.
She comes to her senses (sort of) and trembles to realize what she's just done, and then Pan-seok comes in to announce her arrest. Soo-sun gets to do the honors and puts her in handcuffs as she reads her rights, and then she and Eung-do have to drag her out of there kicking and screaming. It's delightful.
Pan-seok looks over at Dae-gu, who falters on his feet as a tear falls.
Dae-gu walks along the street in a numb haze, and Soo-sun runs after him. She follows along on the other side of the street, just watching him with worry and concern. When they get to an intersection, she loses sight of him when a bus comes between them, and she crosses the street to go looking for him.
When she gets to the corner where she last saw him, he's there waiting for her. She starts crying the second they lock eyes, and walks over slowly, throwing her arms around him in a hug.
She holds him close, and he finally lets himself cry on her shoulder. It's a beautiful wordless scene.
Assemblyman Yoo hardly even seems ruffled that his daughter just confessed to murder, and breezes that she'll be out in no time. Her husband finally starts asking some relevant questions, like whether his wife actually offed somebody. His son Ki-jae overhears them and asks what the hell is going on—where's Mom and what'd she do this time?
Tae-il checks out of the hospital and leaves a letter for his father. In it he says that he's only been a detective for four months now, and it's a difficult job where he's constantly battling not only criminals, but his own weaknesses. He says that it hurt a lot to be stabbed, but even in that instant, he was more afraid of losing the criminal than anything.
He promises to stay alive, and says he'll be back to see him looking healthier next time, and signs it, "Your youngest son, Tae-il." Awww. Gook comes to get him with a running hug, and Tae-il gives the hospital one last look before walking out.
At home, the boys tend to Tae-il like their patient, and even Dae-gu "makes" him cereal for breakfast. They go over their murder chart, and Dae-gu says that they have to find their mystery Detective Seo if they're going to nail the person who called the shots with Boots.
He calls the ex-detective from Masan and is surprised when he answers. He goes to meet him and texts Pan-seok to let him know. The detective tells him that he already told Pan-seok everything—that the person he gave the witness statement to is Chief Kang.
Pan-seok and Eung-do slink off to the evidence room to discuss what they should do, because clearly Dae-gu will find out what they already know—that Detective Seo is Chief Kang. But Dae-gu is standing outside the door and busts in when he hears that, asking how they could suspect Chief Kang of being a traitor.
Pan-seok tries to tell him that he confirmed it already, but Dae-gu argues vehemently that he's mistaken. She's been like a mother to him for eleven years, so how could she be the one to send a killer after him?
Gah, I don't think Pan-seok can handle to break Dae-gu's heart one more time after everything he's been through. He doesn't insist that he's right or tell him about the river meeting, but just says that they have to know for sure because he suspects that Assemblyman Yoo is the mastermind.
Dae-gu suggests they go see Boots together then, so that he can prove Pan-seok wrong once and for all. They drive in angry silence, and as they wait for Boots to come out, Dae-gu tells Pan-seok to kneel in apology when they confirm that he was wrong.
A guard comes into the room instead, and they wonder if Boots rejected the visitation again. But he tells them that Jo Hyung-chul is dead—he killed himself in his cell. Crud, that other inmate across the hall totally killed him and made it look like a suicide, didn't he?
Dae-gu and Pan-seok leave the prison shell-shocked, and Dae-gu screams up at the sky, wondering what they're supposed to do now when their only way to confirm Detective Seo's identity is dead.
When they get back to the station, Soo-sun is pacing by the door waiting for them, and hands them an envelope from Boots. He must've mailed it before his death, and inside is a key and a note that it's to a locker at the train station: "It's a present, kid."
They rush to the station, and someone in a dark hoodie runs into Soo-sun on her way in. Dammit, that locker's going to be empty, isn't it? Dae-gu turns the key and opens the locker expectantly… and yup, it's empty. Dammit all.
He and Pan-seok both erupt after their second big letdown in one day. Soo-sun keeps her head and suggests they look at the security cameras, and they spot the person in the dark hoodie who opens up the locker and takes the envelope inside. She now remembers bumping into him on the way in.
Meanwhile, Sa-kyung takes Tae-il and Gook on a missing persons case she's working, and they hunt a crew of loan sharks down to a warehouse where they have her missing person held against his will.
They approach with guns drawn, and while they're getting in place, Tae-il sees one of the thugs and recognizes him as the guy who stabbed him and stole the pendant. Well that's awfully coincidental. They bust in and Tae-il gets to beat the guy up and arrest him for the entire laundry list of crimes, and Sa-kyung handily arrests the other thug without breaking a sweat.
Tae-il's stabbing is actually news to Assemblyman Yoo, who finds out the unfortunate news from his lawyer that the thugs who stabbed a cop and stole the pendant were caught and confessed to being ordered by Madam Yoo.
Dae-gu and Soo-sun are poring over the train station CCTV footage to try and find their locker interceptor, when Director Shin comes by. Dae-gu speaks to him alone, and Director Shin admits that he never imagined that his wife had done something so horrible to his mother.
He asks if Dae-gu will agree to a paternity test, and Dae-gu points out that he said he had nothing to do with his mother. Director Shin apologizes for his reaction when he came to him with the photo, but wants to make amends now.
Dae-gu makes it clear that the only interest he had in his paternity was as a motive for murder—now that Madam Yoo has confessed, his curiosity ends there. He says that their relationship ends as of this moment, and he'll never come asking about their biological relationship for as long as he lives.
Director Shin stops him and asks haltingly, "But if you're my son, then shouldn't I take responsibility?" Dae-gu leaves him with one piercingly observant question: "Are you sure it isn't to escape responsibility that you want to take that test?" He refuses the test firmly and bows before walking out. Director Shin finally sheds one tear.
Dae-gu goes to the mood-lighting stairwell to brood, and Soo-sun follows. He says he needs comfort (It's adorable that he asks for it outright now.) and she sits next to him looking very nervous. She asks him to promise not to laugh at her, because what she's about to do requires a boatload of courage. He gives his promise.
I'm fully expecting her to break into an embarrassing cheer-up song and dance or something, but then she reaches over and unbuttons his shirt. Mrwar. He gets all flustered, thinking she's about to undress him right there in the hallway without warning.
But she stops at just one button (boooo) and then reaches for a band-aid that she's put together in the shape of an X, like in a cartoon. She puts it over his heart and then blows on the ouchie like she's healing up his wound. It's really the most adorable thing.
She says that she used to fall a lot as a kid, and her dad would always put medicine and a band-aid on her scrapes and blow on them, and she'd be good as new to run out and play again. She asks if it's working, and he nods that it is.
Dae-gu: "Now let me ask you something… Aren't you embarrassed?" Hee. She hangs her head and admits that she is, and they laugh.
Pan-seok goes to the prison to claim the few belongings that Boots left behind, and the only lead is a return address from someone who sent him books. Pan-seok and Eung-do go to see the man who employed Jo Hyung-chul just briefly when he returned to the country, but he doesn't seem to know much.
They're about to leave thinking it's a dead end, when Pan-seok notices the last four digits of a car's license plate parked out front. It's 0723—the number written on the back of the photo that Boots gave him. The man says it's his car, but Boots did borrow it once briefly. Pan-seok peers inside and finds the clincher: there's a black box camera mounted inside.
Soo-sun runs into Chief Kang in the restroom at work, and the smell of her perfume is enough to trigger her memory. She smelled that exact smell in the train station when she bumped into their locker interceptor. With her spidey sense tingling, she gets a close-up of the CCTV footage, and then goes through the precinct's security footage to try and find any other distinct matches. (Random side note: Is her shirt covered in bunnies? Teehee.)
She stops at a shot of Chief Kang in the parking lot that same day, putting on the exact pair of sunglasses the person in the hoodie was wearing. It's not exactly a smoking gun, but it's enough to solidify her suspicions.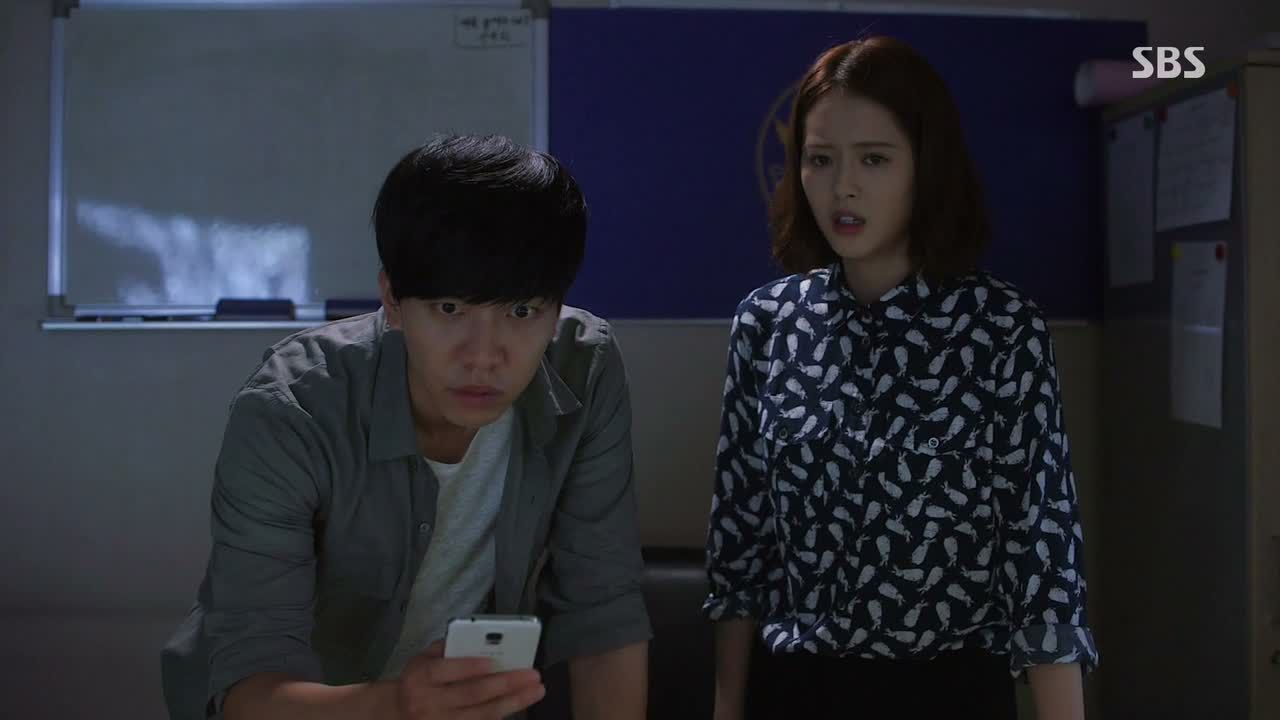 Dae-gu finds her there and at first she tries to keep him from seeing the footage, but then she shares her theory. He barks at her defensively when she tells him about the perfume smell, but then when she shows him the sunglasses, he can't ignore it.
He storms into Chief Kang's office and asks if she was the locker interceptor, and she fumbles at a denial. He insists they check right now, and asks why she'd do such a thing: "Are you really Detective Seo?"
She's so taken aback that her denials sound totally unconvincing, but she swears up and down that she isn't, and asks if he really believes Pan-seok's word over hers. So Dae-gu asks for an explanation that makes sense to him—perhaps she had a good reason for taking what was in the locker?
But she can't come up with an answer, and it dawns on him that the worst is true. He asks how she could be the one to give up his location knowing Boots was going to kill him. She screams over and over that it isn't true, but he doesn't believe her anymore.
She finally breaks down, and admits that all she was going to do at first was swipe the pendant from evidence. She starts to explain herself, but the moment she admits it's true, Dae-gu reels from the shock and a tear rolls down his face.
She cries that she never knew that that one choice would lead to eleven years of pain. But once she starts swearing that she had no choice in the matter, she really starts to look pathetic and delusional. She says that Assemblyman Yoo was so close to getting their investigative autonomy passed, and they would've lost everything had the truth about his mother's murder come out.
Dae-gu's eyes just grow wide in horror, like he's watching her turn into a monster right before his eyes. She actually says, "You're a detective now, so you understand, right?" Are you freaking kidding me? Dae-gu's voice squeaks like a little kid's: "How can you say that?"
She has the gall to say that they're just one step away from getting what they worked so hard for, and begs him to wait just a little longer, promising to take responsibility for her crimes afterward. Wow, this scene is horrifying, in a really good way.
As the truth sinks in, Dae-gu asks why she became his benefactor—was it to use him? He realizes that was her motive all along, and though she ekes out another denial, he can see the truth written on her face. She cries that over time she really came to like him and wanted to protect him, and her feelings were sincere.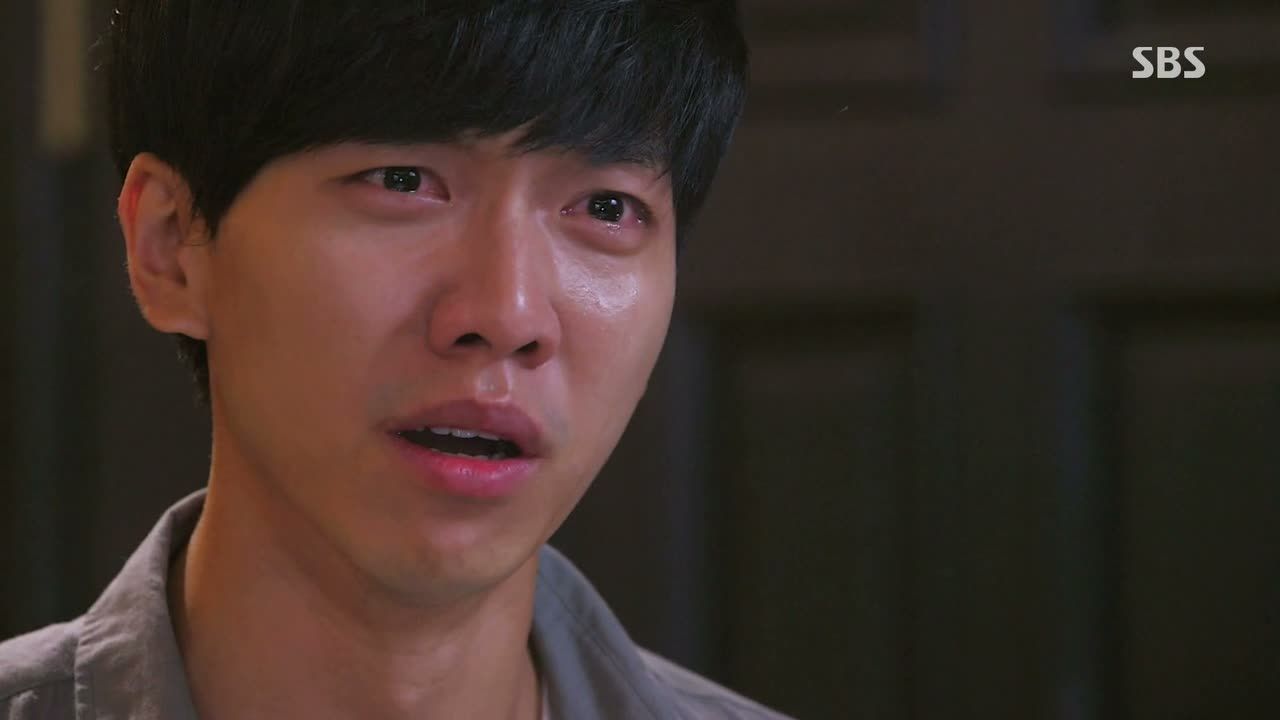 He spills more tears as he asks how he's supposed to believe that now. She begs him to believe her on just this one thing, her voice shaking as she swears that it's true.
Dae-gu: "For the past eleven years, you've been like a mother to me. You should've just said it wasn't you. Why didn't you just deny it till the end?! Then at least I could've believed you." Oof, how sad that he would've preferred to keep trusting her and be lied to. He walks out, past Soo-sun who was standing outside the door the whole time.
Assemblyman Yoo gives his son-in-law a document to sign, and says this is the only way. Director Shin looks shocked at whatever it is he's being asked to sign, and Assemblyman Yoo says that he's going to have to take responsibility since all of this was his fault to begin with. Or… maybe it was her fault? And you wonder why your daughter thinks it's okay to murder people.
Dae-gu goes outside for some fresh air to try and keep his head from exploding, and Tae-il and Gook come up to Soo-sun to ask what's going on. She says Dae-gu's recovering from the shock of finding the locker perp.
But before she can tell them any more, Ki-jae storms up to Dae-gu and asks if he's really his hyung. He scoffs at himself for running around calling him hyung not knowing that it was actually true, and demands answers. Dae-gu sighs in exasperation and tells him to leave, but when he walks away, Ki-jae yanks him by the hair.
The team runs over to break them up, and Dae-gu grabs Ki-jae by the collar angrily. But he calms down and says it isn't his fault for being born with a mother like that, and tells him not to come around anymore. Ki-jae stomps away like a kid, sniffing that he wasn't ever going to come back anyway. Aw, you have terrible parents, but I like you. Once he walks away, Ki-jae unclenches his fist to reveal a handful of Dae-gu's hair. Oh. He carefully puts it into a bag, which I guess means we'll find out who bio-dad is whether Dae-gu wants to know or not.
Madam Yoo gets released on bail, but is surprised not to be greeted with a car at the ready. Instead an ambulance pulls up, and orderlies start to drag her away. Dude, is she being committed? She screams in protest, but the man in charge shows her the form that both her father and husband signed to have her committed to the asylum. Karmically, this makes me happy, though it had better not get her off on some insanity plea.
Chief Kang storms into Assemblyman Yoo's office on a tear, brandishing the latest headline that it isn't time yet for the police department to gain investigative authority and that he isn't going to back the bill as promised. She tells him that they still have two days to get the bill passed, and says that if he isn't going to keep his word she'll have to make him.
She alerts him to the fact that Boots left Dae-gu some intriguing information, and that it's in her possession now. She admits that she misread Assemblyman Yoo, and what she learned makes her wants to cut out her own tongue for trusting him. She tells him that if he doesn't do as she says, she'll make sure that they all die together. As soon as she leaves, he calls someone to proceed with the plan.
Dae-gu and Soo-sun watch as she returns to her car, having followed her there. Soo-sun wonders if she already passed along Boots' evidence, but Dae-gu knows she wouldn't just hand over something that important. They stay on her tail, and then things get eerily quiet as they cross an intersection.
BOOM! Out of nowhere, a goddamn Truck of Doom comes careening into the driver's side of Chief Kang's car, pitching it off the road upside-down in a crumpled heap. Dae-gu and Soo-sun run over to find Chief Kang thrown from the car and lying in a pool of blood.
Dae-gu cradles her in his arms, and she coughs up a scary amount of blood as she says, "I'm sorry, Ji-yong-ah." He pleads with her not to die like this, but she just uses her last breath to tell him that the recorder is in her room, and then passes.
He hugs her close and breaks down in sobs, wailing for her not to die.

COMMENTS
Seriously, could there BE more terrible things to happen to one person? I suppose this is the downside of being a drama hero, but Dae-gu is starting to feel like bad mojo—anyone who ever loves him ends up dying a horrible death. As if watching your mother die as a teenager isn't bad enough, he gets abandoned by his bio-dad, and then betrayed by his surrogate mother, only to watch her die too before he can even come to grips with everything. Even Boots, who I know is a killer who tried to kill Dae-gu repeatedly, had a strange affection for the kid that felt genuine despite it all. And I know he wasn't long for this world once he was captured, but even his death made me feel sorry for Dae-gu.
His confrontation with Chief Kang was the highlight of the episode and the strongest moment by both actors in the series thus far. The mounting suspicion was palpably tense, and in another situation (if we didn't already know she was guilty, for instance) I might've actually been scared for her. There was a nice simmering terror to the whole thing on both sides, increasing by degrees every time she confessed something new and he realized that he'd never known her true face at all.
She actually started to sound like a madwoman, because she was that desperate for her personal justifications to hold up—if her for-the-greater-good ends justify the means, then she could find redemption in the end. The hope that she could wash her guilt away someday was the only thing keeping her going all these years, but it rightfully sounds like ridiculous crazy talk in front of the kid who lost his mother and nearly died trying to find the truth.
It seems poetic that the one person she needs to justify herself to would never understand her in a million years. Everything about her character is so tragically circular that way, from becoming the very corrupt system she vowed to purge, to breaking Dae-gu's heart when all she wanted to do was protect him. That was the saddest part, because good intentions are meaningless when you're shredding someone's trust in you. I really appreciated her character from start to finish, because she was principled despite being deeply, deeply flawed, and she made the central conflict less of a caricature of villainy. She's someone who wanted all the right things and made all the wrong choices to get them, and lost herself along the way.
Without Soo-sun by his side, I would've expected Dae-gu to go catatonic halfway through the episode, but she's always there, and she always seems to give him exactly the kind of support he needs. I loved that she spent the entire episode waiting in the wings like his moving shadow, ready to give a hug or cry alongside him, and seeing all of his pain. That alone changes everything for him, because he can't pretend to be fine when she sees right through him, and it's great to see him just ask for comfort now instead of acting like he's tough.
The band-aid over his heart was the cutest thing; the metaphor made literal works so well because that's what Soo-sun does day by day—she heals his heart. But it also works on a simpler level too, in that so much of sharing your pain or being comforted is simply having someone else acknowledge that you're in pain. There's no magical thing she ever says or does to make Dae-gu feel better, but she's there to see that he's hurt. That band-aid got to me because it felt like a simple acknowledgment: You're hurting, and I see it. It just felt so true and childlike, because when you're a kid you don't wear a band-aid to hide your injuries; you do it to show that you have one.

RELATED POSTS
Tags: Cha Seung-won, featured, Go Ara, Lee Seung-gi, You're All Surrounded