Discovery of Romance: Episode 4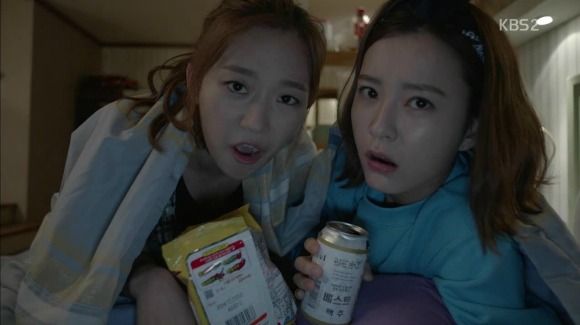 There's not a whole lot of plot development in this episode, though the rivalry between Tae-ha and Ha-jin begins in earnest. Even though Tae-ha claims to be disinterested in Yeo-reum, his actions are a different story – and as Ha-jin says, guys only need a minute to size each other up. Ha-jin's got his eye on this man who seems to be running into Yeo-reum a bit too often for his comfort, and it's only a matter of time before he's pushed too far to keep his suspicions to himself.
EPISODE 4 RECAP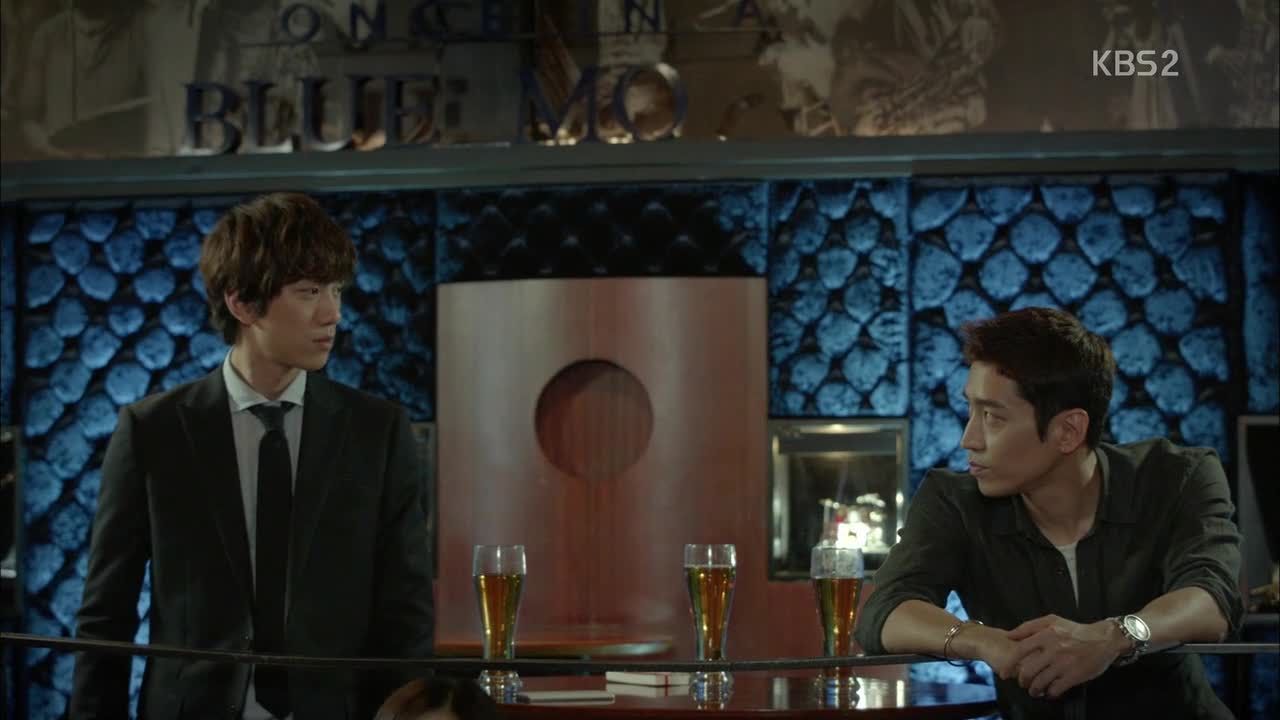 As Yeo-reum sings her song onstage, Ha-jin and Tae-ha stare at each other, each man sizing up his competition. The song finishes and the guys shake hands and comment on how often they see each other lately. Sol makes introductions, and Ha-jin keeps it to himself that he knows this is the man that Yeo-reum spent the night with.
He asks Tae-ha how he and Yeo-reum ended up working together, and Tae-ha gives a professional answer without revealing their personal relationship. Yeo-reum drags Sol to the bathroom to fuss at her for inviting Ha-jin, and Sol assures her that she made Tae-ha promise not to mention they used to date.
The guys exchange business cards and stand there awkwardly, and Ha-jin thinks how women can become instant friends but men need to size each other up first. Tae-ha asks if Ha-jin plays pool and suggests a game. You know, for fun.
Both men try to fool the other by saying they haven't played in a while, but the game gets intense pretty quickly. Soon they're talking smack and "accidentally" body-checking each other, as both of them admit to being competitive. Ha-jin gets a boost of confidence when both girls cheer for him, and he wins handily when Tae-ha flubs a few shots. Ha-jin says they should have laid a bet on the game, and Tae-ha challenges him to another game next week.
Yeo-reum's mother arrives at her workplace to find Producer Bae there using her shower, and she throws out his nasty shoes. She tells Gi-eun to buy him a new pair, which is kind of sweet despite her grumpiness about it.
At the bar, Yeo-reum offers herself and Ha-jin to wait until Tae-ha's designated driver arrives, and he glowers when he notices the couple ring she wears. Haha, I love the western-shootout background music as the guys send each other bland I'm totally not jealous of you at all glares.
Ha-jin drives Yeo-reum and a drunk Sol home, and demands to know how Yeo-reum ended up in a business partnership with Tae-ha. She's reluctant to explain and he says he'll let it go if she doesn't, but warns her against letting him come up with explanations on his own.
She still won't talk, so Ha-jin angrily pulls over and reminds her that she slept over at Tae-ha's house. She hotly denies that anything happened, and Ha-jin says he can accept all the coincidences of them meeting at the hotel, switching phones, and her falling asleep at his place – but asking him to accept that their working together is another coincidence is too much. Yeo-reum apologizes for not telling him, but says that she's innocent, and her proof is that they invited Ha-jin out with them tonight. If she were guilty, wouldn't she try to hide?
Tae-ha takes care of his bunny and complains to her that Yeo-reum hasn't changed, falling head over heels whenever she meets someone new. He asks the bunny (whom he's named Han Yeo-reum, cute) if all girls are like that. If Bunny Yeo-reum knows, she's not talking.
Ha-jin is still complaining about Tae-ha when he drops Yeo-reum at home, saying he was much too intense for a friendly game of billiards. Yeo-reum assures him that Tae-ha is just like that – he's arrogant and hates losing. Ha-jin grumpily asks for a kiss, but Yeo-reum says he should kiss her since he suspected her for nothing, and he adorably sulks that he always loses.
Ha-jin starts to drive off but Sol pops up out of the backseat, scaring him (and me!) half to death. She assures him that everything Yeo-reum said was true and goes inside, and he leaves feeling a bit more reassured. Tae-ha texts Yeo-reum to complain that she spoke to him formally in front of her boyfriend, and she asks him to speak formally too next time, since Ha-jin is feeling insecure.
Producer Bae is upset about his missing shoes, because they were the last thing his deceased wife bought for him. Awww. Mom asks if he liked his wife that much when she was always accusing him of cheating, and he says earnestly that she's the only woman he's ever loved. WHAP, script to the face. Mom reminds Producer Bae that he did cheat on his wife… ten years ago, with her. Oh, interesting.
Sol tells Joon-ho that Ha-jin knows more about Tae-ha than they hoped, but he still doesn't know that he and Yeo-reum dated for five years. Joon-ho warns the girls not to let him know since men can't be cool about their girls' exes, and can be really childish when confronted with a girl's romantic past.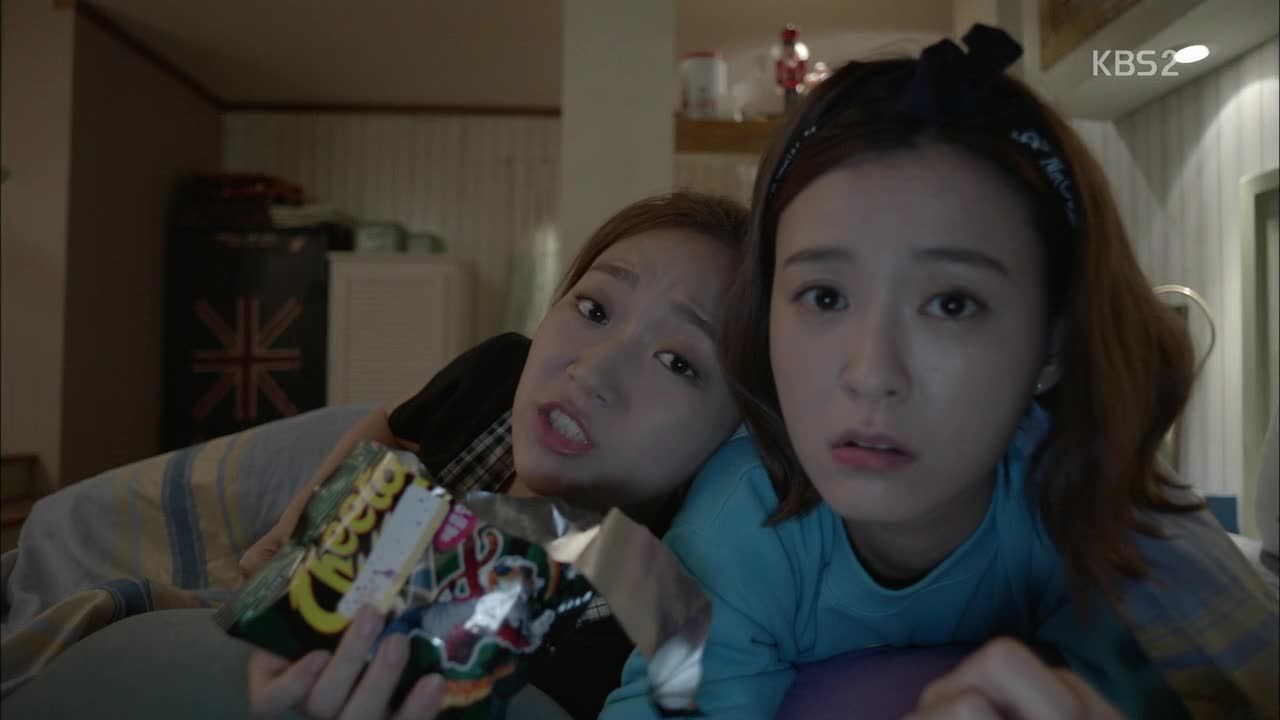 The girls do some "research" by watching movies (of course) and even foreign ones, and they conclude that all over the world, men are nuts. Sol asks if Yeo-reum thinks Ha-jin is different, and Yeo-reum imagines him freaking out and throwing a hissy fit when he finds out that she dated Tae-ha for five long years and slept with him.
At the clinic, Ha-jin brings Joon-ho to the roof to apologize to him for kicking him in the shin, then kicks him in the shin. HA. He throws out the name Kang Tae-ha and notes that Joon-ho knows it well. He demands the info on Tae-ha, but he knows Joon-ho is lying when he says Tae-ha is just working with the ladies and there's nothing more to it.
Sol hasn't given up on Eun-kyu and drunk-texts him to hang out as friends, but she's not happy when he agrees to her suggestion. Joon-ho grabs her phone and, like the good oppa he is, calls the jerk to ream him for playing with Sol's feelings. He hands the phone back to Sol and says, "That's what you should tell him." Haha, why am I not surprised he didn't actually call him?
Tae-ha and Yoon inspect a construction site, and Tae-ha asks if Yoon plays billiards and whether he knows an instructor. He wants to take lessons for a week… oh, that's cute. And hilarious.
The ladies arrive at Tae-ha's workplace for their presentation, and Sol is impressed with the size and success of the company. Tae-ha tries to throw wrenches into their design plans, but they manage to field his questions deftly, impressing everyone but Tae-ha who says they need to work on the plans some more. They plan a marathon work session, and Sol voluntells Yeo-reum to work it while she mans the shop.
Unused to the long hours, Yeo-reum keeps nodding off during the work marathon and Tae-ha is ruthless about keeping her awake. She finally falls asleep for good on the work table, and he covers her with his jacket and smiles at her ability to fall asleep anywhere.
Sol gets drunk (again) at their restaurant hangout, and a friend of the owner (the cab driver who caught his daughter outside a motel) objects to Joon-ho trying to take her home, assuming he's going to take advantage of her. He hits Joon-ho over the head repeatedly, telling him to treat her right if he wants to date her. Joon-ho finally wrangles Sol home and into bed, and it seems to hit him right in the feelings when she whispers, "Oppa, thank you. There's no one but you."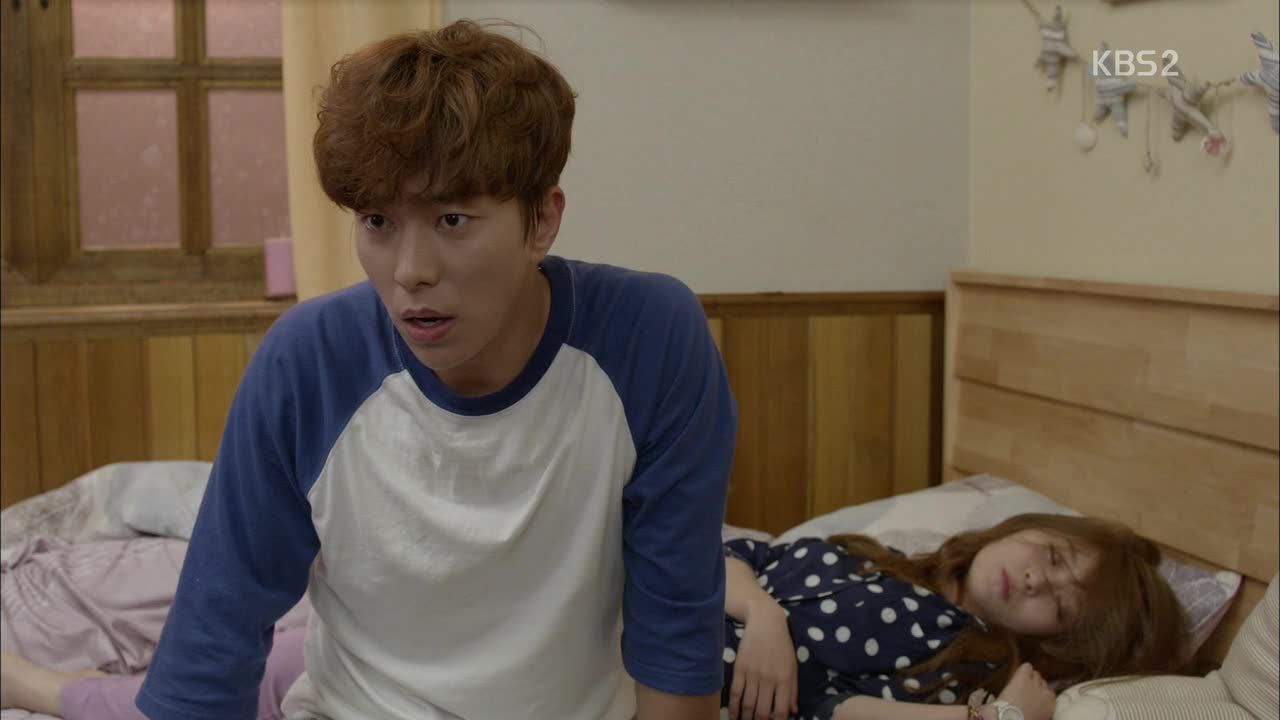 Joon-ho wanders into another of Ah-rim's jobs and thinks back to their childhood after her accident, when he'd held her hand as she got her stitches out. The nice doctor comments on how brave she is, and she says that when she's with her brother she never cries (as pointed out in the previous recap comments, it's still unclear whether they're blood-siblings or not, but for now I'm going with the relationship they claim which is brother and sister).
The doctor says she'll have a big scar, but Ha-jin declares that he'll become a doctor and fix it for her. Adult Ha-jin trails after Ah-rim, and she certainly seems to be a happy person as she skips and sings her way home that night.
Producer Bae attends a support meeting for people who have been hurt by their partners (haha, his nametag says "ghost husband") and tells them all how his dead wife follows him around nagging so much that he can't sleep. A woman whose tag identifies her as part of a "silent couple" says she envies him because at least his wife talks to him.
The morning after the marathon work session Tae-ha brings in PPL smoothies, and a rumpled Yeo-reum demands to know how he can work long hours and still be awake. He says he sleeps when he sees his girlfriend (remembering sleeping on the train with her). She says that's why he got dumped, but he says he's never been dumped. He reminds her how she begged him to come back after breaking up with him.
Ha-jin visits Ah-rim at work again, and this time she sees and recognizes him. He claims to be there to buy a bike but just buys the first thing she shows him. He asks her if she plans to get her scar fixed but she says that she can't, since there's someone who might recognize her by it. He wouldn't know her face, but he would know that scar. Ha-jin looks shocked for a moment, then gives her his card and offers to fix it for free whenever she's ready.
Yeo-reum rides the weird bike around Ha-jin's apartment and falls, causing him to cluck over her like a mother hen. She takes advantage and claims that eeeeverything hurts, but her lips are fine… Ha-jin obliges but tells her she can't stay the night, since he's playing hard to get.
Tae-ha shows up for his billiards lesson and whines to Yoon that it's a woman instructor (cameo by billiards player Cha Yoo-ram), but she makes some great shots and impresses him. She gives him some good pointers but when he goes in for a high-five, she totally leaves him hanging. LOL.
Yeo-reum brings Tae-ha the final plans, but he says nothing is final, causing her to complain about his controlling work habits. They sign the contract and she invites him to eat, and they head to the mall where Tae-ha holds Yeo-reum's hand to avoid losing her in the crowd (though he accuses her of getting split up from him on purpose to have an excuse to hold hands).
Ha-jin and his mother are shopping at the same mall, and Ha-jin spots Tae-ha and Yeo-reum on the escalator still holding hands. He sends his mother home and chases after them.
When they get to the restaurant, Yeo-reum asks for her hand back, but Tae-ha holds it up like he did on the island and says they're like that two-in-one tree again. Ha-jin watches them eat and calls Yeo-reum to ask where she is, but her honest answer that she's eating with Tae-ha seems to reassure him somewhat that she's not hiding anything. He still seems jealous but he can't exactly do anything about it now.
Tae-ha asks Yeo-reum if her boyfriend has any faults like cheating, gambling, or bad breath, but she says he's pretty much perfect. She asks why he's curious and he states that he has to know his enemy if he wants to win. At pool… or whatever.
Tae-ha and Yeo-reum shop for wood, and they argue over whether to get the domestic wood or reclaimed. Yeo-reum says the customer won't know the difference, but Tae-ha insists it's still important to provide the best. Yeo-reum asks for a ride to Ha-jin's office and to stop for ice cream on the way.
Later as he leaves work, Ha-jin is surprised when Ah-rim finds him to show him a picture of a boy with a cleft lip, and ask him to treat the boy for free instead of her. He easily agrees, and she runs with it by asking him to treat another boy. He keeps agreeing and she keeps thinking of more people who need free plastic surgery to correct injuries and birth defects. She's so sweetly earnest, and he laughs as he tells her to bring everyone and he'll fix them all for free.
Overcome, Ah-rim grabs Ha-jin in a big hug, which is right when Tae-ha drives up with Yeo-reum. He guns the motor so she doesn't see her boyfriend hugging another girl, but just drives around the block since he has no explanation for his behavior. When they get back, Ha-jin and Ah-rim are gone and Yeo-reum gets out to go find Ha-jin.
Ha-jin takes Ah-rim for ice cream and buys some for each of her friends who need surgery. Tae-ha passes and sees Ha-jin now having ice cream with the girl he was hugging, and jumps to the wrong conclusion. Later, at home, Ah-rim looks at a photo of herself as a child with her orphanage friends, and makes a call to one of the nuns. Aw, were all of her "friends" in need of surgery from the orphanage?
Ha-jin's nurse tells Yeo-reum he went home, which confuses her since his car is still downstairs and he's not answering his phone. She leaves to find Tae-ha waiting for her again, and they sit in the park and eat the ice cream she bought (and now I'm jonesing for ice cream, thanks Show).
Yeo-reum asks Tae-ha how he knew Ha-jin had gone home, and he deliberately gives her vague answers. He asks why she's dating that jerk since she should be sick of bad guys after dating him, but she insists Ha-jin is a good man. She gets mad when he brings up Ha-jin's blind date and confiscates Tae-ha's ice cream spoon, and he predicts that later she'll be crying since the innocent-looking guys are the worst ones.
Tae-ha says at least he didn't cheat on her, but Yeo-reum says that she knows he used to go clubbing when he claimed to be asleep. She gives his spoon back but warns him not to speak badly of her boyfriend again, and Tae-ha throws a hilarious ice-cream tantrum and refuses to eat any more.
The next day he goes for a last-minute billiards lesson and makes plans to meet Ha-jin that night for their challenge game. Ha-jin tells Yeo-reum that tonight is the night, promising to win, and she says she'll be there to cheer him on.
When the guys meet, Tae-ha goes first, and Ha-jin clocks that he seems to have improved. When it's Ha-jin's turn, Tae-ha rattles him by commenting on the size of his practice, saying that he saw it when he dropped Yeo-reum off. Ha-jin grouchily mutters that they're just full of coincidences.
Tae-ha says that was work, not a coincidence – the coincidence was that he saw Ha-jin with a girl. He tells Ha-jin that he should end things with that girl… or even better, end things with Yeo-reum. Ha-jin flatly asks if Tae-ha likes Yeo-reum, and we switch to interview style where Tae-ha insists he doesn't like her and has no intention of getting back with her; he just doesn't like that Ha-jin is seeing other women. But back at the billiards game, Tae-ha says to Ha-jin, "Why? I'm not allowed to like her?"
Now Ha-jin tells us from his interview that he doesn't mind losing, but he won't tolerate being provoked. He stares at Tae-ha from across the billiards table, then drops his cue and leaps over the table to kick Tae-ha square in the chest. Whoa, I did not see that coming.
Ha-jin stands on the billiards table and Tae-ha sweeps the leg, then jumps on him and starts pummeling him. They roll off the table and throw punches, and Yeo-reum arrives in time to see Tae-ha get Ha-jin on the floor and kick him in the stomach. He gets ready to punch Ha-jin one more time but Yeo-reum cracks a cue across his back, and the three of them freeze.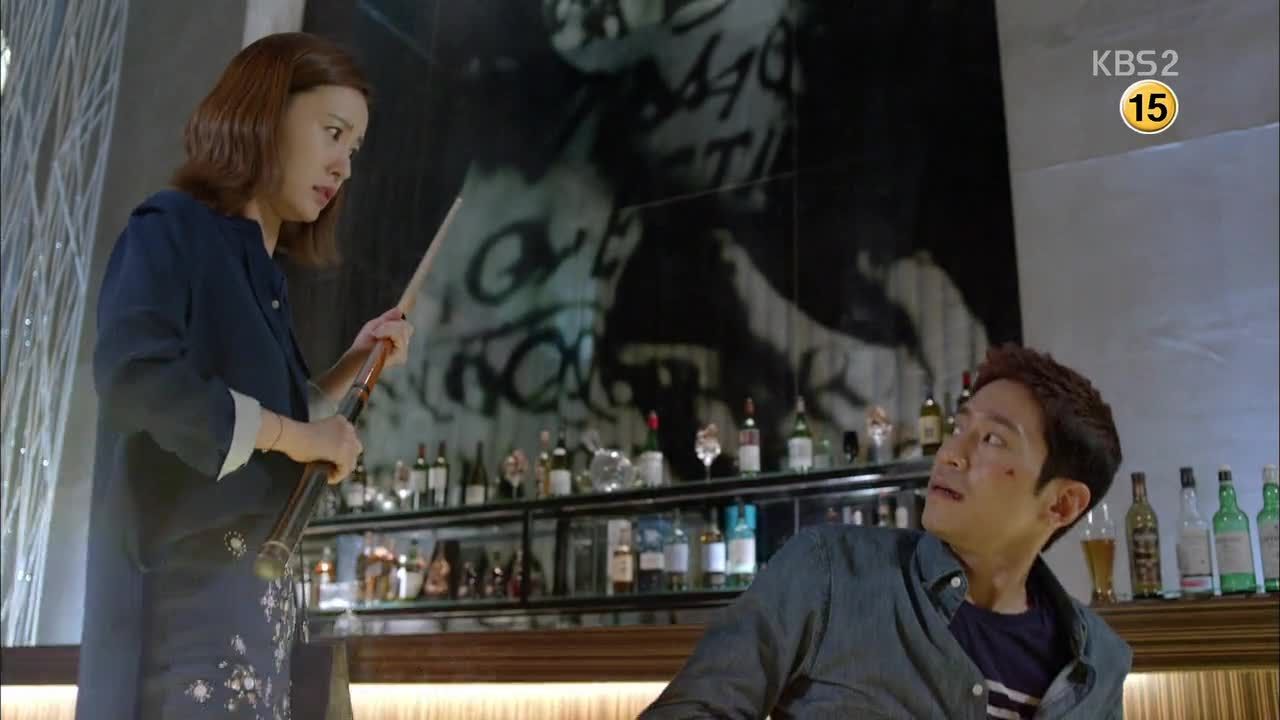 COMMENTS
So this was an interesting episode in which not much plot development happened, other than Ha-jin finally approaching Ah-rim instead of just following her around. I know there's been quite a bit of discussion in the comments over their actual relationship, but it's really hard to tell since the show is being deliberately vague at this point over whether they're blood relations or simply consider themselves siblings because they lived in the same orphanage.
It's true they have different family names in the present, but that could be for any number of reasons, not least of which it seems like Ha-jin was eventually adopted. Since his first name is different now too (the nuns called him Jin-soo as a child), it's likely he also took the family name of his new family. So until the show tells us exactly what their relationship is, I'm calling them brother and sister since that's the relationship they identified with as children. If it's proven later that they're not actually related, I'll formally retract my assumption!
Speaking of Ah-rim, I find myself wishing she got more screen time since I find her character appealing. She's sweet and generous, and seems willing to put others before herself. I hope she gets to do more within the story soon, because I think she can add a lot to the plot and to Ha-jin's character development. I do actually hope she's not his biological sister, since I think she'd make a cute second-lead-to-the-second-lead.
Mostly this episode doled out crumbs of information that I'm sure will lead to more later, such as the fact that Yeo-reum's mother once had an affair with Producer Bae. I confess that I'm a bit confused at the focus on Mom and Bae, because it feels like the story wants us to anticipate… something, I just don't know what. My only complaint about Discovery of Romance so far is that it's giving us this information in such tiny snippets that it's not enough to make me genuinely interested; I'm just sort of wondering why I should care. I know, we're only four episodes in, but most of the characters feel so full of life that it seems like we've known them a lot longer. So the stingy bits of scenes we're given about some of the side characters seem jarring and out of place.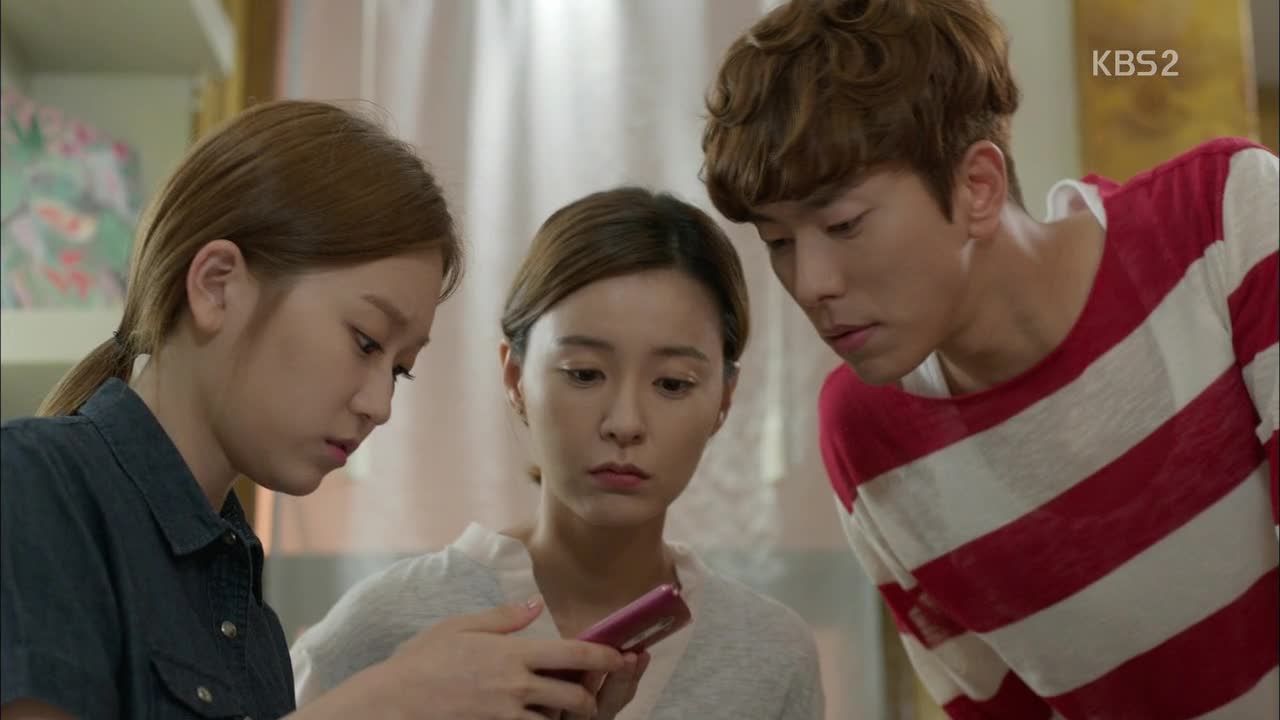 I'm definitely interested in how Joon-ho is possibly realizing he may feel something more for Sol than just as an oppa, but again it feels like this development is flawed in its presentation. Every time Sol pines for her ex I just roll my eyes, because seriously, two years without kissing (much less sex) and you didn't once think that maybe he didn't like you as more than a friend? I'd rather see Sol stop getting drunk and texting the ex and start tempting Joon-ho, because knowing these actors, that would be comedy gold right there. I know I'm being impatient but come on, you've had these brilliant comedians for four episodes and you've barely used them, Show! Get it together!
But truly, I do love this show so far and these are just nitpicky things I bring up for lack of any plot to discuss for this episode. I do love the developing rivalry between Ha-jin and Tae-ha, and I can't wait until Ha-jin knows the whole story of Tae-ha and Yeo-reum so the jealous antics can truly begin. The tense billiards games and fistfights are a great start, and if they're this contentious this early on, I can't wait to see where events take them.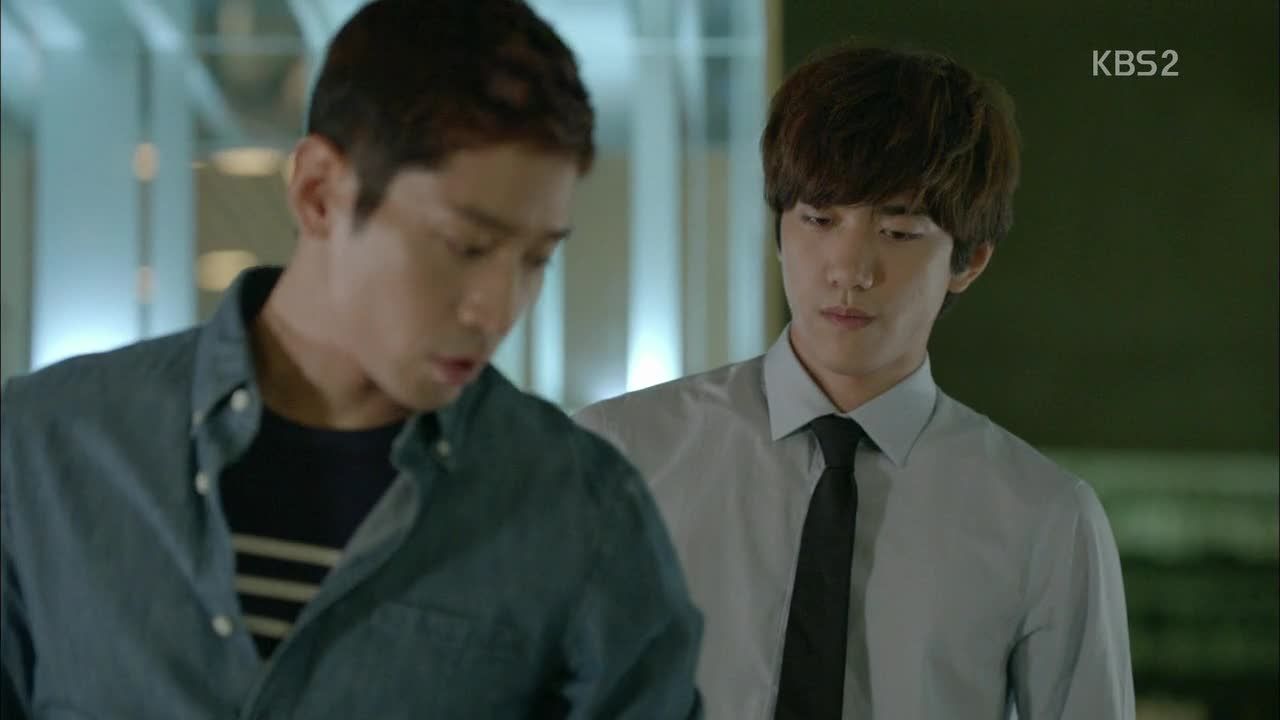 RELATED POSTS
Tags: Discovery of Romance, Eric, featured, Jung Yumi, Sung Joon