Fated To Love You: Episode 18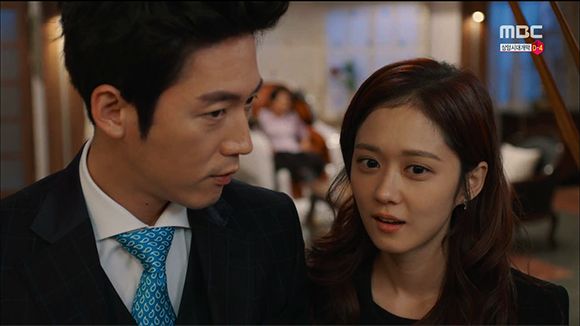 Our most fated of couples finally climbs to the peak of their mountain of misunderstandings to see that the view isn't quite as bleak as they thought it'd be. The future may still be just as uncertain, but now that neither Gun or Mi-young have to weather it miserable and alone, even borrowed time can be enough to give you cavities.
SONG OF THE DAY
Taeyang – "눈, 코, 입 (Eyes, Nose, Lips)" [ Download ]
Audio clip: Adobe Flash Player (version 9 or above) is required to play this audio clip. Download the latest version here. You also need to have JavaScript enabled in your browser.

EPISODE 18 RECAP
Grandma Wang is beside herself as she sees the headlines declaring Gun's genetic illness while the media prepares for a press conference. Mi-young has to field a mob of reporters outside the Lee Manor door as she desperately hails down a taxi to get to the conference, and Gun.
She makes it there only after Gun admits to the press that the rumors about him having the disease are all true, so as a result, he will be respectfully resigning as CEO of Jangin Chemicals. Whaaaat.
"Lee Gun!" Mi-young calls from the doorway. The press recognize her and surround her, but she doesn't seem to notice when her eyes are solely on Gun: "I found out about everything. The reason why you lied to me, and why you pushed me away so viciously."
Gun looks stricken, though he desperately tries to hide it as he addresses her as "Ellie Kim" and asks what she thinks she's doing. "Look me in the eyes when you lie to me," she continues, regardless of their every action being recorded. "Tell me that you didn't miss me at all for the past three years, and that I meant nothing to you. Tell me."
Instead of fessing up, Gun reacts angrily as he orders Manager Tak to take her away—but Mi-young won't back down on this one. "Tell me. If you're confident that you can live without me, I really will let you go."
A moment of silence passes before Gun, who looks like he's in physical pain from the emotional restraint he's using, finally admits that he lied before giving his reasoning: "If you're having a hard time or if you're in pain, I'll be in pain too. That's why I lied."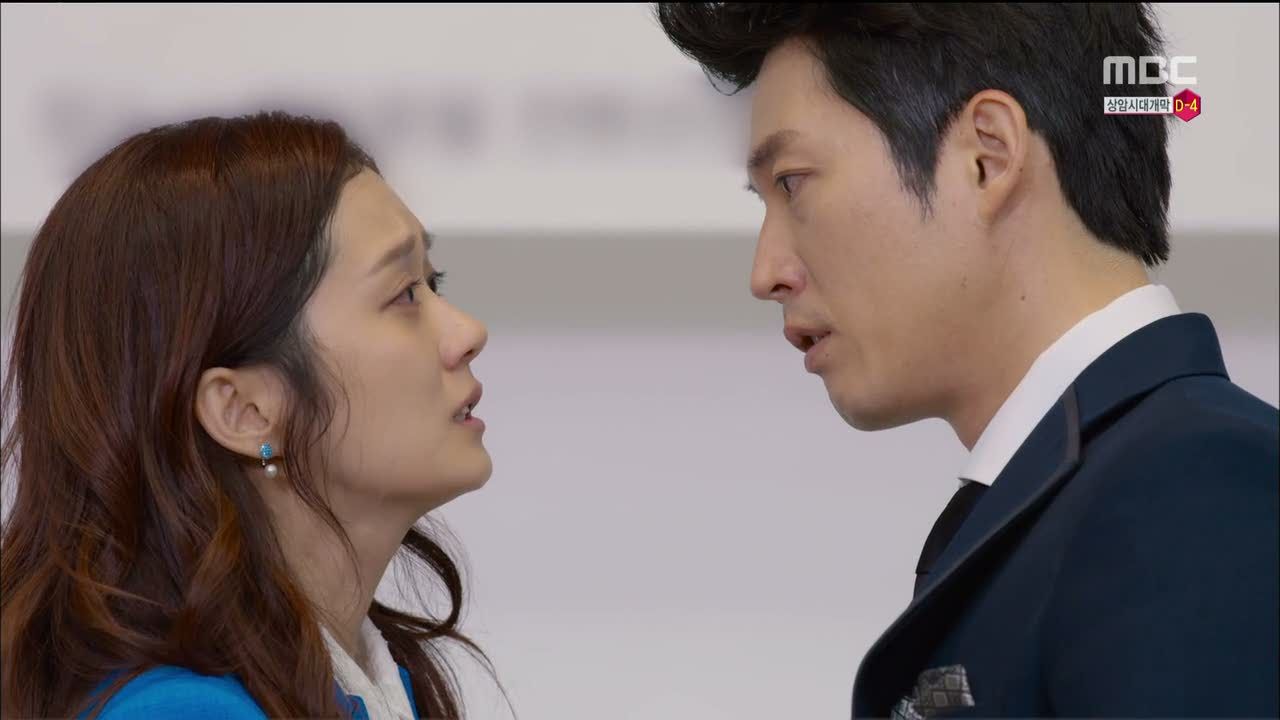 Mi-young asks if he's a fool, which definitely startles him. Then she steps up onto the stage with him to confront him face to face as she asks why he's worrying in advance about the hard times she might face for a disease that hasn't yet taken hold of him.
"Why do we have to be sad, in despair, and crying in advance? We can cry when it actually happens," Mi-young says with tears in her eyes. THANK YOU. Thank you. Gah, I still wish Gun would've realized this on his own though.
Gun tells her that nothing has changed now that she knows everything, especially his disease. A tear falls down his cheek as he adds, almost in a whisper, "I don't have the right to love you."
Mi-young steps forward until she can touch his coat, her eyes constantly searching for a connection. She is not going to let him continue to do this. "Why do you need a right to love?" she asks. He finally catches her gaze as she stresses that it's okay—even with a ticking time bomb inside him, there's no reason for them to worry for what hasn't happened yet.
"No matter what happens," Mi-young adds tearfully, "I won't let you be alone, even when you're hurt. I love you." In an unexpected move, it's her who leans forward to kiss him amidst gasps and the clicks of dozens of cameras. Gun stands stock still even with tears streaming down his cheeks. (I'm not crying… it's just been raining on my face.)
An incredibly tense moment passes, enough to make us worry that Gun is still going to stick to his guns and refuse her for her own good. But as he searches her eyes, and she his, he pulls her in for an emotional, gut-wrenchingly meaningful kiss. They wrap their arms around each other like they're the only two people in the world.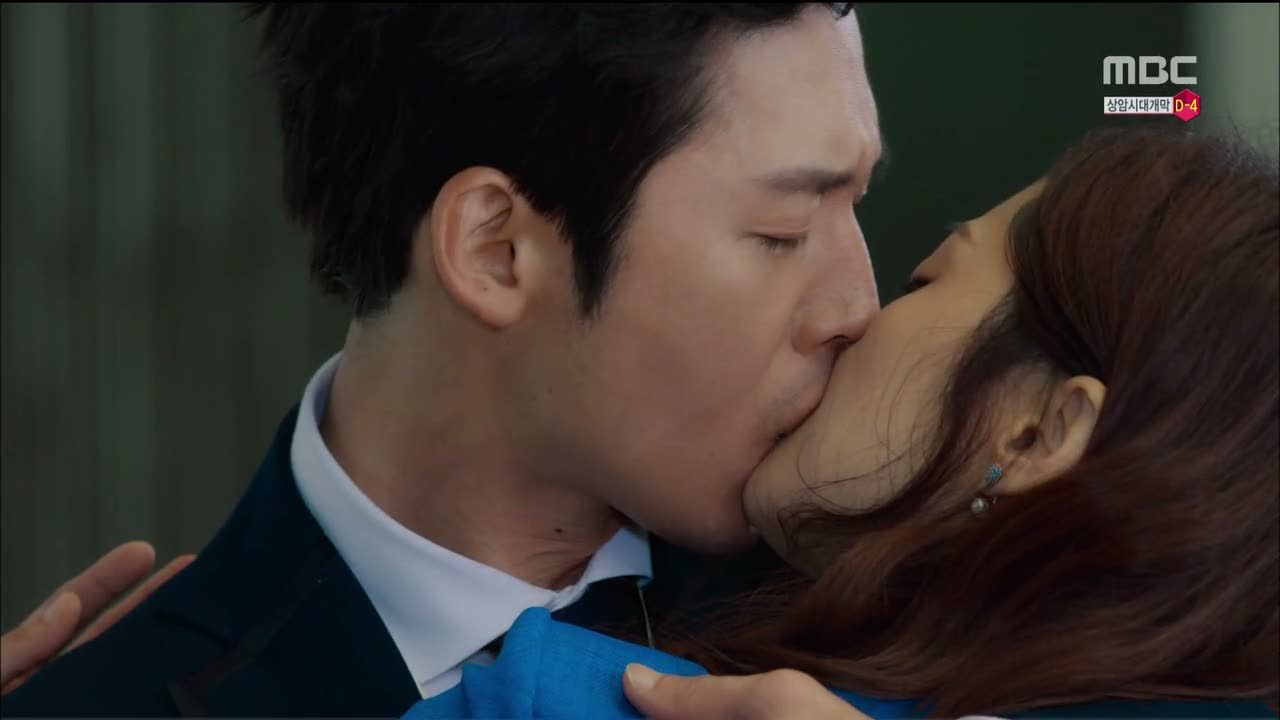 After the conference, they retreat to a hotel room with the same suite number (2006) as it was on their first night together. While Gun is still wowed about the courage it took her to confront him in front of everyone, Mi-young stays on task to ask him why he acted so coldly toward her when he pushed her away.
Even if Gun's tone turns defensively harsher, he's finally being completely honest with her as he tells her that his genetic disease isn't a joke—there's a chance he could forget her, or become paralyzed. With a ticking time bomb like that inside him, how could he ask her to stay with him?
"Why? It doesn't matter to me. If there was a ticking time bomb attached to me, would you just abandon me and run away?" Gun jumps to his feet at the absurdity of her accusation as he instantly claims he'd cut any color wires to help (not the red one! Or is it the blue one?), and if that didn't work, he'd embrace her so that they'd die together in the explosion.
Mi-young's face softens when a lightbulb moment comes over Gun as he realizes he just spoke in defense of her position. "See? You would do that too. Why are you telling me I can't? Do you think I can just abandon you?" She sits right in front of him so she can take his hands.
"There's no use now. Even if you push me away, I'm not going to budge even one step." Gun looks up into her eyes wonderingly as he asks how he could ever be greedy when it comes to someone like her, as though he's too undeserving. Mi-young just smiles softly as she tells him that there's nothing wrong with being greedy.
While Mom looks troubled as she processes the kiss seen 'round the world, Mi-young and Gun share an idyllic and happy meal at the hotel. Gun can't shake the feeling that he's dreaming, and to prove he isn't, Mi-young ushers him closer for an almost-kiss, only to grab a fistful of his cheek in a hard pinch.
Gun asks if this is her revenge, to which she declares that it's punishment for the three years she was miserable because of him. It's still playful with a hint of truth, and when Mi-young releases him, he literally turns the other cheek for her to exact vengeance on should she want to.
Then the air gets a little awkward when Gun remembers that they're alone… in a hotel room. He comes right out with it and asks if they're going to sleep in the room, only to be floored when Mi-young matter-of-factly says, "We should." She reasons that it would be a waste of money not to.
He's all but jumping for joy at the thought of sleeping with his snail, and tries a few different approaches that get him nowhere as Mi-young continues to focus on her food. Haha.
Next, we find them lying in bed fully-clothed with a space between them that Gun openly finds lamentable. He keeps trying to inch his way closer to her (which is hilarious), but it also helps to get them into a teasing conversation about what comes next. In Gun's English vernacular, could they do that thing they just did in front of all those people? Y'know, k-i-double-s?
He asks her flat out if they could kiss again, and she happily turns toward him on the bed as an open invitation. Victorious opera music plays as Gun leans in to kiss her… only for the phone to interrupt them. Gun curses his rotten luck, but tells Mi-young to stay right where she is by using his adorkably bad English again: "Stop the beat!" I'll laugh so hard if he learned that line from his rapping days.
Manager Tak has bad news and good news when he calls Gun: The bad is that Grandma Wang collapsed, but she willed herself to be strong for Gun. Plus, because of his romantic moment at the press conference and a surge in public opinion, the company won't accept his letter of resignation because he's irreplaceable.
After Manager Tak cheers Gun on when it comes to Mi-young (since he's always been for them), Gun uses acrobatics to get back to the bedroom where he expects to find Mi-young waiting…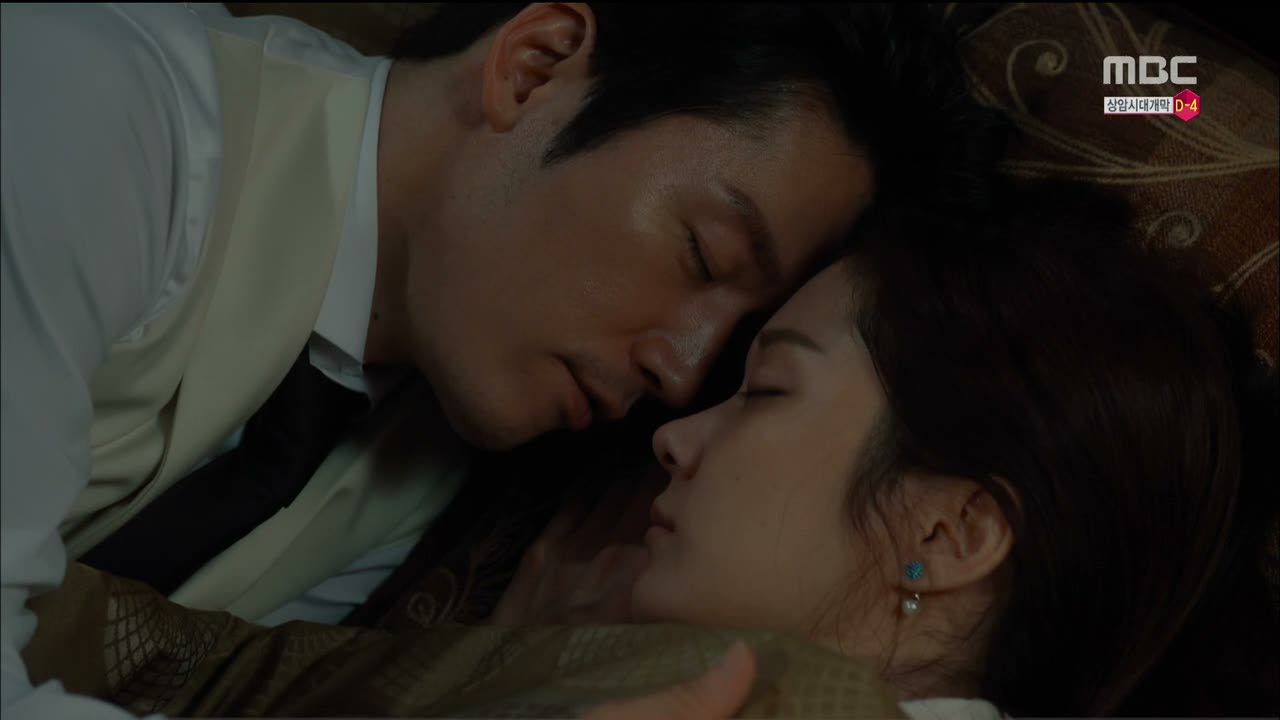 …But she's fallen asleep. Hah. Gun tries poking her lightly with no response before he sighs, resigned but still happy just to be there with her. He even tenderly tucks her in like he still can't believe he's not dreaming as he wonders how his snail found such courage with her tiny frame.
He cuddles closer so that their faces are only inches apart as he settles in for the night to sleep, his face a picture of contentment. I want to bask in this happy glow, but I'm deathly afraid the show has too much time on its hands still.
The next day, Mi-young tries to convince Grandma Wang to give her blessing to her and Gun. Grandma is reluctant for the same reason Gun was, because she worries for Mi-young now that she'll be going into the marriage with the painful knowledge that his disease could recur in the future.
Mi-young reassures Grandma Wang with a smile that she's prepared for anything that could come their way, as long as she's by Gun's side. Grandma softens at her display of loyalty, but says that before she can get her consent, she should get her mother's first.
The board members debate whether to keep Gun on as CEO knowing that his disease could recur in the future, and though there's the small and unexplainable minority who've been wanting him out for a long time, the majority rules in his favor. Even Yong agrees.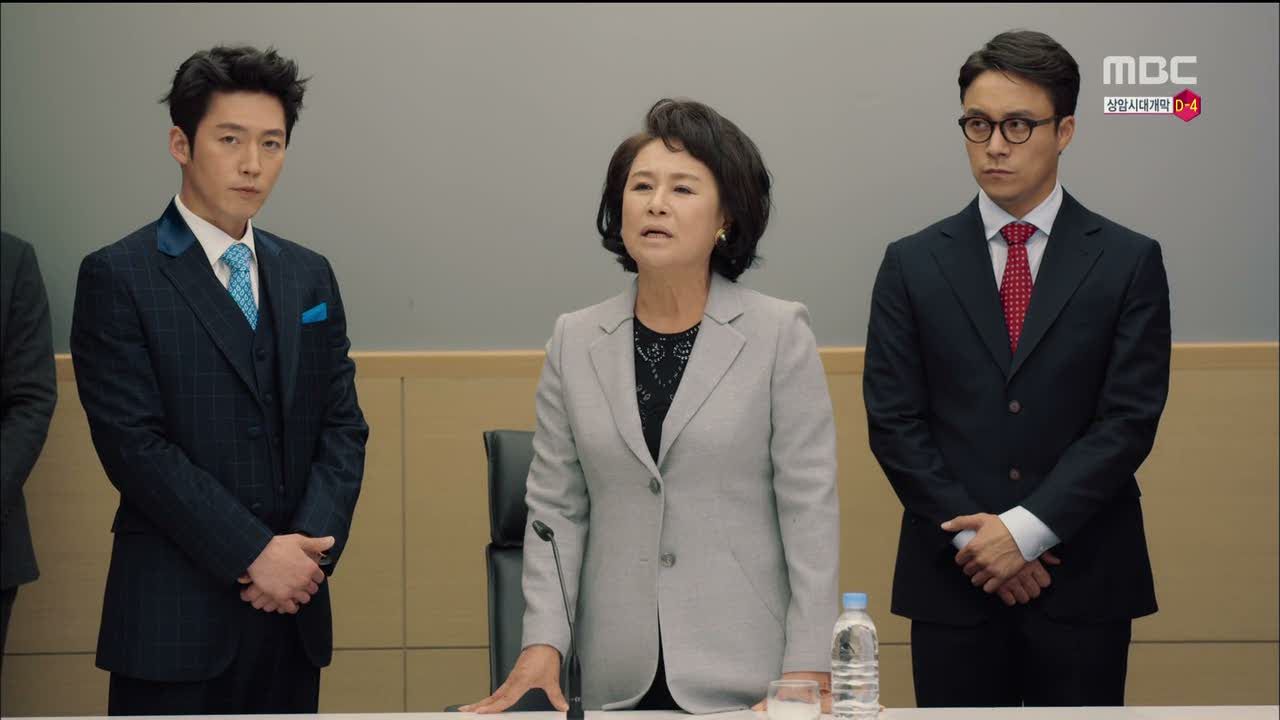 Gun and Manager Tak crash the meeting to discuss his resignation personally. But to everyone's surprise, he's not there to contest it, he's there to reinforce the fact that he will resign as the CEO of Jangin Chemicals… for three months. Or as Gun calls it, a vacation.
This incenses the minority against him, who then ask who will run the company during the three months he'll be livin' it up. Gun is more than happy to acquiesce, as he makes a grand gesture to the doorway as his replacement walks through.
…And it's Grandma Wang. A-mazing. Needless to say, Gun wins this round. Vacation time it is!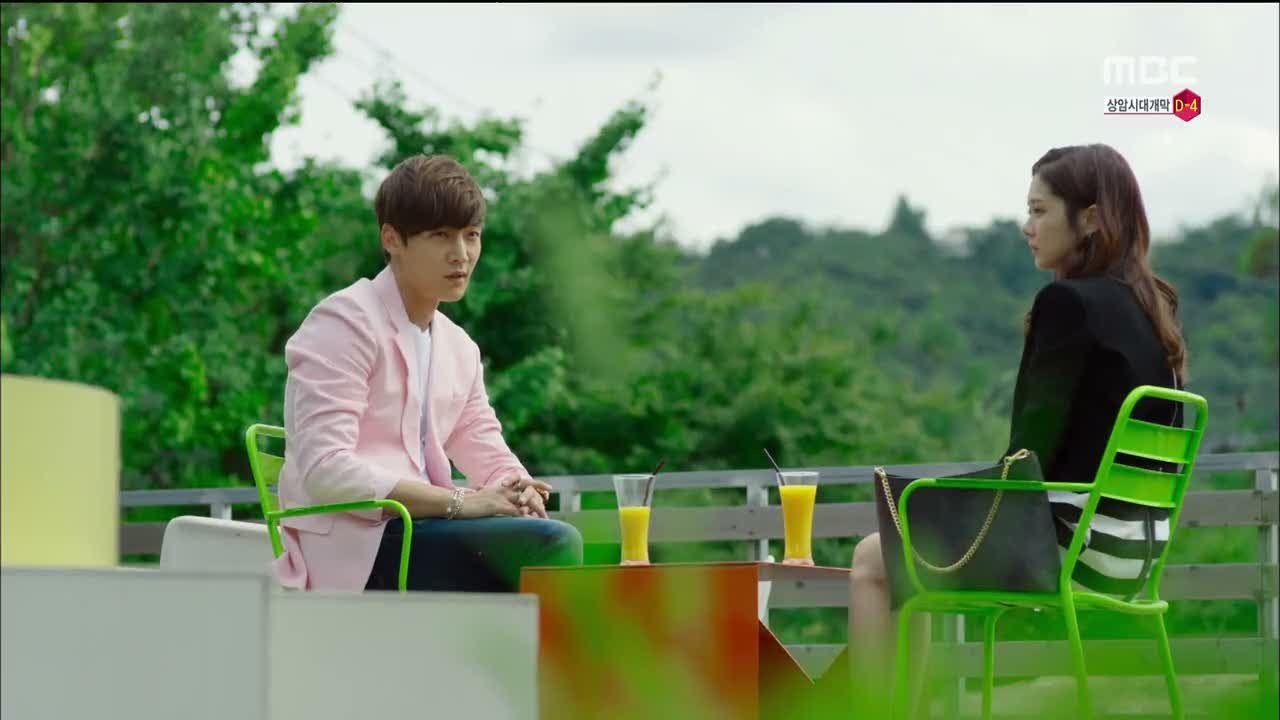 Daniel and Mi-young visit at the cafe he used to own, and even though he must know that there's no good news coming his way, he still keeps a friendly and open air. Mi-young begins quietly, but firmly: "Thank you, Daniel. If it wasn't for you, I would've left without knowing the truth."
There's nothing else for Daniel to do but laugh good-naturedly, as he admits that he was pretty cool when he did that life-changing U-turn for her. Aw, he has to be hiding his hurt feelings, especially when Mi-young haltingly tells him that she won't be able to stay by his side. "I'm really… really…"
"Sorry?" Daniel finishes, just to make things easier for her. It's so sad that he's trying to cheer her up, enough to even joke around with her and make light of what really is a heavy situation.
At least Daniel admits the folly of every second lead, and why he couldn't compete against Gun: he's too nice. (Sad, but true.) He doesn't want to say goodbye to her forever, but asks her for a little time to come to terms with his feelings.
Alone, Daniel flashes back to all his fond memories with Mi-young, from their first meeting in the confessional to his proposal. "I really wanted us to be a family," he sighs. "But it's not happening the way I wanted. No matter how earnest you are, I guess it'll never work out if it's not meant to be."
Yong mistakes his usual forgetfulness for an early onset of his family's genetic disease and freaks out about it to Mama Yong, who basically says, Yeah, about that… I have something to tell you. Ohhh snap. Is he not even Gun's half-brother?
Gun and Mi-young arrive home just as Yong runs out of the house crying, so Mama Yong takes the opportunity to sit Gun down for a talk. She actually apologizes to him for her part in his mother's misery, and passes across a keepsake book that looks like it belonged to his father along with another apology for not treating him the way she should have.
Mi-young finds Yong crying on a park bench, but her use of the term "Young Master" has him blubbering that she shouldn't call him that anymore. "Sister-in-law," he still calls her, "I… am not a son of the Lee Clan."
He cries that he doesn't know what to do—he likes Gun and Grandma Wang, especially since Grandma started accepting him and Gun stopped ignoring him. More than that, Mi-young has been like a real sister to him.
But he confirms what his mother just told him, only for Mi-young to pat him comfortingly as she reassures him that he'll always be a "young master" to her, no matter what. He hugs her with relief and cries on her shoulder. Aww, Yong.
Gun reads over the diary that Mama Yong gave him, which was his father's way of keeping track of his disease. Like his son, he was so determined to keep the truth of his illness from Gun's mother and him that he wouldn't tell his wife where he was going or why.
In a surprising reveal, Gun finds out that Mama Yong was just his father's caretaker during his sicker times, and that he never gave her his heart but wanted to give her a home for her to raise her son. "Even though Yong was not my son," his father wrote, "At least once, I wanted to give him the love that he didn't receive from the father he never met." (*sniff*)
Then he addresses a part specifically to his son, Gun: "Gun… My son, Gun… I will miss you." Gun looks up when Mi-young enters his man cave with tears in his eyes, and he pulls her into an embrace as he says, "Thank you. I might regret it, but I won't go. For staying with me until the end… thank you."
"I should be the one thanking you for accepting my feelings," Mi-young replies. Gun shakes his head as he adds that he doesn't want to be away from her for even a second. His uncertainty for the future is palpable as he tells her that he wants them to stay together for a looong time, like he's so afraid that they won't even get the chance.
Gun takes Mi-young to get Grandma Wang's blessing on their reunion, but Grandma is firm in her refusal to give permission until they get Mi-young's mother's blessing first. So as long as they can get Mom, they've got Grandma.
Buuuut, as they're leaving, Grandma says something about how kids these days are so different—back in her day, if two people were in love they'd just run away from home. Hah, is this her way of nudging them to elope?
While Mi-young's sisters remain torn on the Gun issue, Mi-young talks it out with Mom, who seems apprehensive about Gun. Mi-young argues not just for Gun, but for herself, as she explains how she didn't understand his situation before and hated him for it.
Now that things have changed, Mi-young tells her that she really wants to be with Gun for the long haul now: "Just this once, I want to live the way I want." It's with tears in her eyes that Mom firmly says she can't approve of them—she likes Gun too, and she wants them to be happy, but she can't stand the idea that he might leave her someday.
Mom adds that she knows how much Gun and Mi-young love each other, and how it's all well and good now for them to feel sure that they can't live without each other. But things could change in the future, and that's what worries her.
Gun laughs as he flips through the selfies he took while Mi-young was asleep before Yong hands him his resignation letter. He also says that he and his mother will be moving to the country soon, but Gun instead scolds him for trying to weasel out of his work obligations.
He reiterates that he's the one leaving the house, which means that Yong and his mother should stay with Grandma Wang. Yong cries with gratitude as he calls Gun by his work title, only for Gun to fire back that he should be calling him the familial hyungnim instead.
In his quest to show his gratitude through a hug, Yong gets frozen by Gun's magical powers. Even while under ice, Yong channels his magical fire powers. I never get this recurring bit, but I love the camp factor too much to complain.
Se-ra finds Daniel piss drunk in their apartment building, and though she knows he drank to soothe his broken heart, he continues to deny it… before he falls into the open elevator.
So Se-ra has to drag him, however grudgingly, all the way into his apartment. After giving his unconscious self some applicable advice for the both of them, Se-ra's eyes trail to the pictures on his nightstand. The one with him and his sister as children gets a visceral reaction from her. Does she recognize it?
Since he's got three months of free time now, Gun hangs out in Mi-young's studio just pretending to read a book—when in reality he can't keep his eyes off her. Mi-young totally calls him out on it, even pointing out that his book has been upside down for an hour now. Hah.
Mi-young is worried about how they'll convince Mom, but Gun eases her worries by promising her that he'll do whatever it takes to get Mom to agree. Mi-young promises to do her part to help, too.
Gun tickles her out of the way so he can see her work in progress, which turns out to be a drawing of him sitting with his book. They naturally get closer, and the mood changes (to the tune of Blink's Kiss Me) as Gun leans in for a kiss…
…Only to be caught red-handed by Manager Tak. He's so happy to call Mi-young "Madam" again and makes snail hands at her when she says she's missed him. Aw.
Manager Tak has brought vacation brochures with him so Gun and Mi-young can go on an exotic vacation together (since they're currently banned from Grandma Wang's house pending Mom's permission), but since it's just the close proximity Gun wants, Mi-young says she's got the perfect place for them.
Cut to: Her once-apartment, still occupied by once-roommate Ji-yeon. Gun tries to act excited even though this was not the place he envisioned, and he gets an elbow to the ribs whenever he slips up in front of her roomie.
However, Ji-yeon won't be staying with them, since she made an agreement with Grandma Wang for Gun to live in her house while she lives in Lee Manor. Needless to say, Mama Yong is NOT happy about this arrangement.
Gun and Mi-young are in full-on honeymoon phase as they clean the little apartment and make it their own, with Gun using every opportunity he can to try and get physically closer to Mi-young. Even cuter still, Gun uses a robot vacuum to deliver the two mandarin ducks they received for their wedding to Mi-young. (Major props to the PPL integration on that one.)
That night, Mi-young smiles through happy tears as she reminisces over the lucky chip Gun gave her after their night in Macau. When Gun asks what's wrong, Mi-young shows him the chip before she adds how she still can't believe he's by her side again.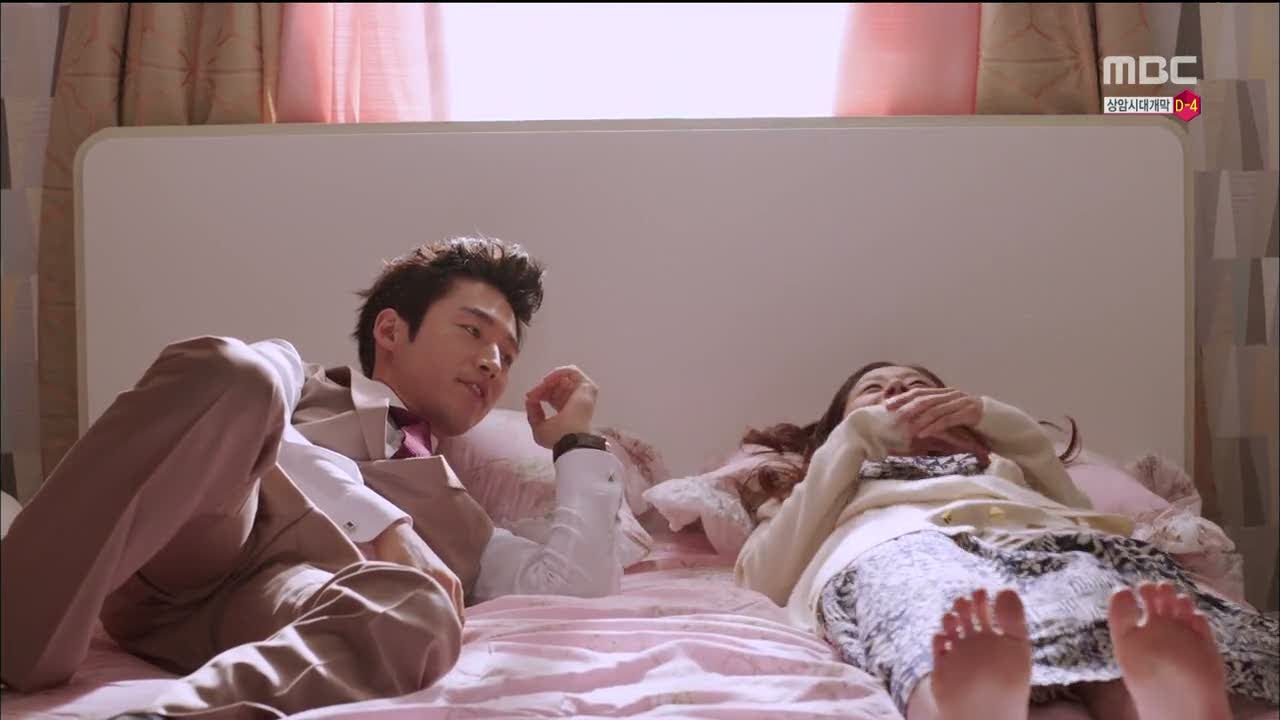 Gun sighs that since he can't believe it either, he keeps looking over his shoulder to make sure she's really there. "But you can't disappear from my life this time. You need to stay put right beside me, just like this chip."
Mi-young smiles as Gun leans in, "Just like you said, I'll be just like this chip." Their lips are just a hair's breath away as Gun reiterates, "You have to stay by my side forever, just like this chip. Got it?"
Then he finally gets that long-awaited kiss, without interruption this time, before the camera pans to the two mandarin ducks.

COMMENTS
I'm so proud of Mi-young for confronting Gun and for putting an end to the self-perpetuating state of misery he was so ready to keep inflicting on both of them. Granted, I had kind of hoped that Gun would've come to this realization on his own so that he would be the one to fix what he broke between them, but I'm also willing to accept that he could've gone forever without telling her the truth if he could.
So in that sense, Mi-young was the only person capable of making Gun understand that there's happiness to be had in the here and now, regardless of how uncertain the future may be. Even if I wish he had given her the chance to make a decision regarding their future that wasn't based on misinformation in the first place (but that would've been too easy), she was finally given everything she needed to decide exactly where she wanted to be—and that place was right by his side, come what may.
Mama Yong's moment of reconciliation felt a bit sudden but no less unwelcome, since she really wasn't that great as an antagonist anyway. It was actually really nice how her side of the story was finally revealed, even if it doesn't quite explain why she chose such a dark path to walk for so many years. Did she give up her ambitions because she finally felt bad for Gun? I'm not quite sure if I buy the reasoning, but I'll buy the result, since it was a little daunting to watch Gun go through his father's diary only to realize that noble idiocy is part and parcel with their family's genetic disease.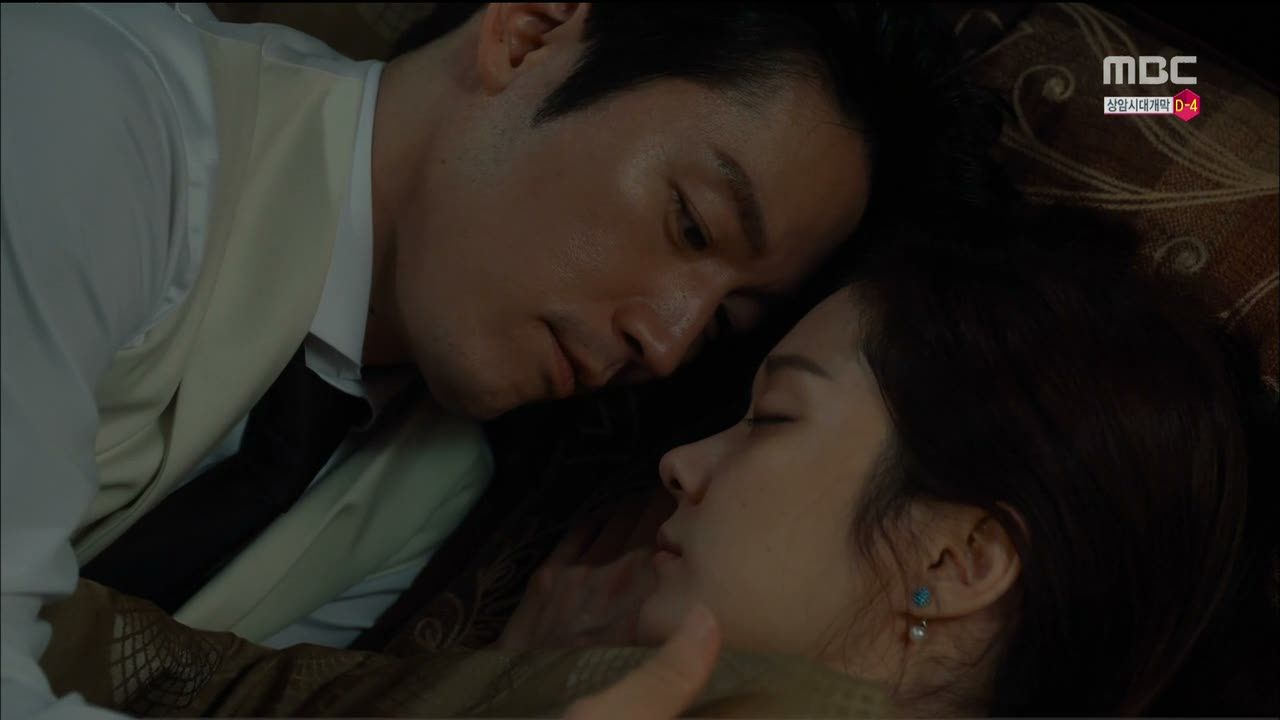 Strangely, it was really his father's diary that gave Gun's almost identical mindset a little more legitimacy, since he and his father both had nothing but the best intentions for those they loved. It's incredibly tragic to think that Gun's mother might've gone forever without ever knowing that her husband truly loved her and wasn't cheating on her, which makes me that much more grateful that Mi-young doesn't have to endure the pain of not ever knowing why the man she loved tried so hard to keep her away.
It brings an end to Daniel's romantic involvement of course, which I'd argue isn't that huge of a loss since his cause was hopeless from the start. At least he was cool enough to admit it, not just enough to respect Mi-young's decision but to help her come to it. He gave her the truth that Gun refused to, and bowed out like a champion after a hard-fought battle. Unlike other second leads who've had their stories end once the love line does, I'm glad that he has a chance for the family he's always wanted with Se-ra. Even if she can be a bit of a pill sometimes, maybe being a sister suits her better than being a girlfriend. Or a person.
With how much emphasis is being put on how potentially horrific the future may be with Gun's disease, it does make me nervous that this most recent hurdle isn't the last our couple may have to face. Is it too much to hope that the universe isn't so cruel? These two have gone through an unwanted marriage, the loss of their unborn child, and now three years of misunderstandings and hurt feelings—they deserve to make up for lost time with the blissful happiness they're enjoying now. You better stop hurting them, do you hear me, Fated? There are a lot of us and only one of you, so, just keep that in mind next week.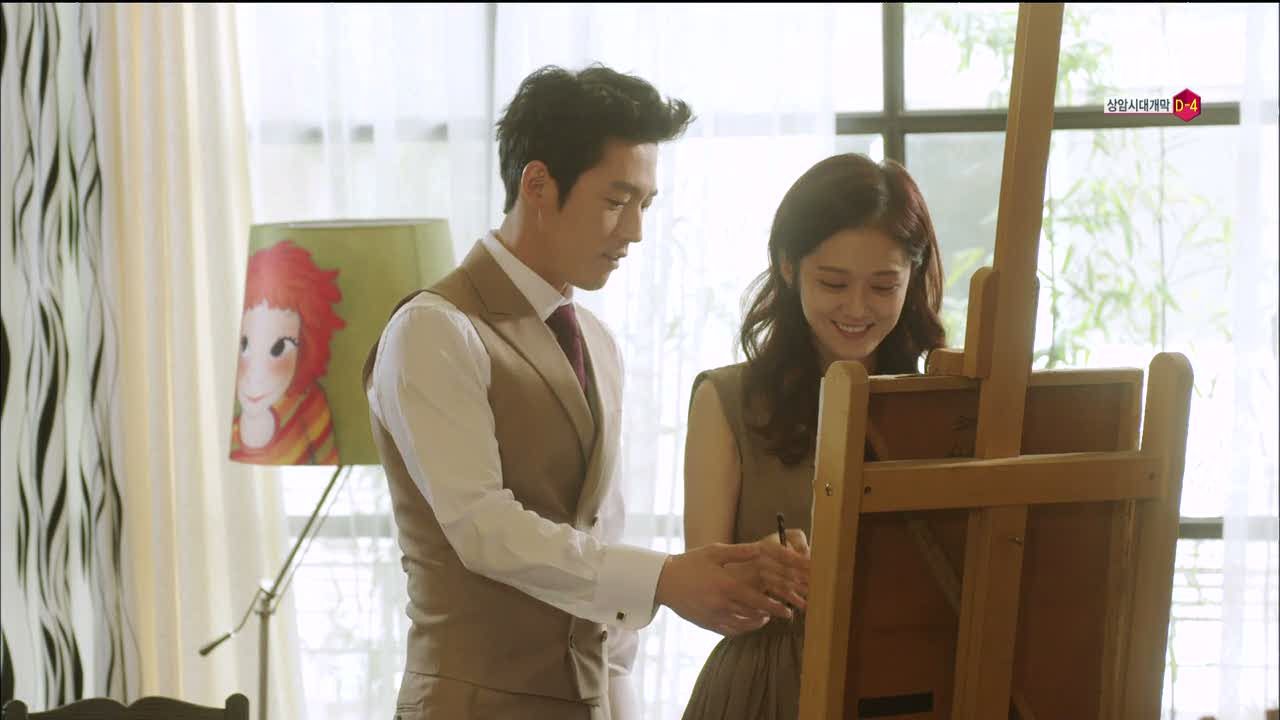 RELATED POSTS
Tags: Choi Jin-hyuk, Fated To Love You, featured, Jang Hyuk, Jang Nara