It's Okay, It's Love: Episode 6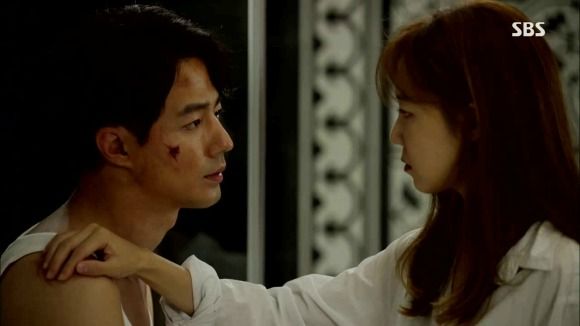 Sometimes the hardest things for some are the easiest for others, like disclosing heavily-guarded secrets or formulating words to describe one's feelings in the moment. Still, there's more to fear than words when there are both corporal and non-corporal threats running around prepared to attack our hero at any moment. Because a bathroom lock may not be enough to keep all of them out, if at all.
On our ratings table, Joseon Gunman still held the lead with 12.2%, Fated To Love You pulled up with 10.3%, and It's Okay, It's Love rounded out the pack with a solid 10.0%.
SONG OF THE DAY
Lasse Lindh – "Hold On To Love" [ Download ]
Audio clip: Adobe Flash Player (version 9 or above) is required to play this audio clip. Download the latest version here. You also need to have JavaScript enabled in your browser.
EPISODE 6 RECAP
Jae-yeol goes in for a kiss, followed by another. Hae-soo reciprocates, then snaps out of the heated moment. She slaps him, and then breathes slowly to tamp down her belated anxiety symptoms.
He takes a beat before suggesting that they buy new outfits to get out of these wet ones. She refuses, saying they can keep wearing what they have on. "Do they call this bipolar disorder?" Jae-yeol asks, perplexed by her reaction.
While Jae-bum checks in on a mysterious favor he put in before his early release, Sunbae Jo balks at the claims that Jae-bum is a good person when his criminal files state otherwise. When Tae-yong tries to justify Jae-bum's actions, he's told to explain the picture of a beaten and bruised Jae-yeol at sixteen, then. Yeah, you can't really argue with that, but also—should you be sharing legal records so freely, doc?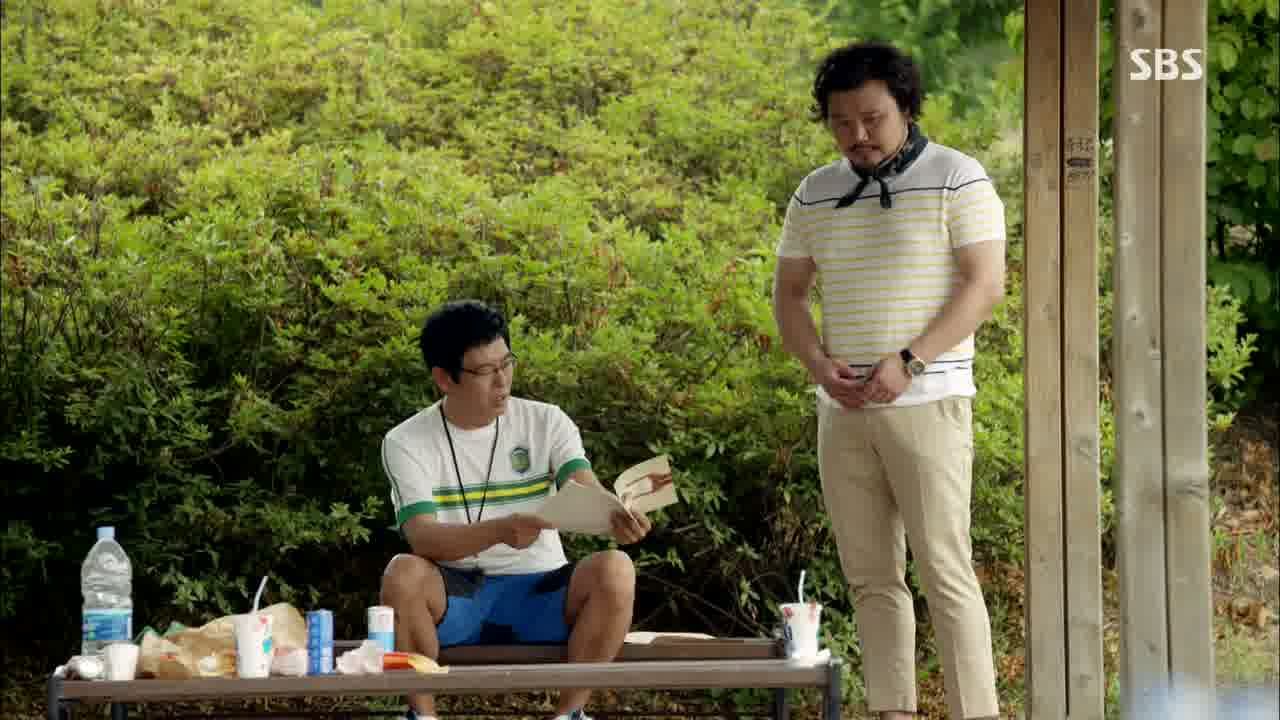 Sunbae Jo challenges him to think about how bad the situation must have been if their mother had to call the police. Furthermore, these records note that Jae-bum was the one who killed their stepfather and trying to blame it on his brother.
People like Jae-bum don't feel guilty towards their wrongdoings like the rest of society, so the best treatment in those cases is for them to remain behind bars. Tae-yong acknowledges that Jae-bum is still throwing murderous threats against Jae-yeol, but neither can he give up on the family who believes in Jae-bum.
Jae-yeol buys new threads for himself and Hae-soo, who promises to pay him back. "I don't take money from a woman I've kissed," Jae-yeol replies. She's particularly sensitive about calling it a kiss at all when it was one-sided.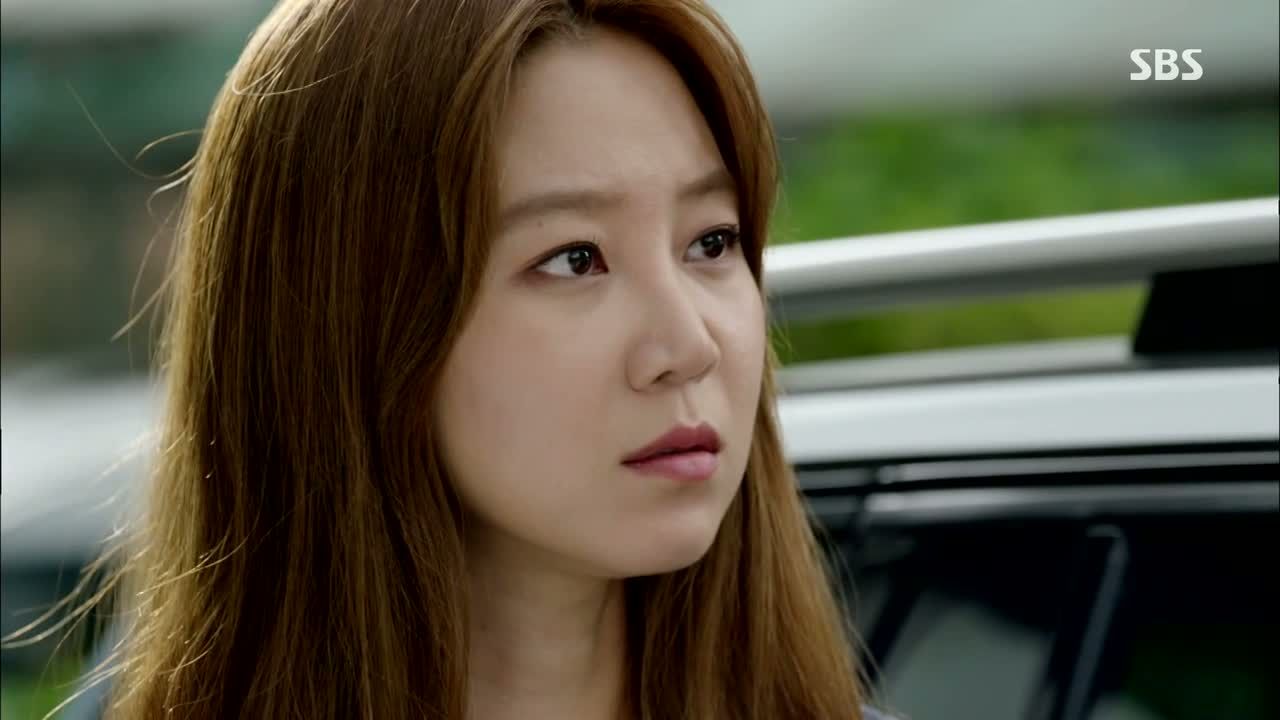 He doesn't let her off the hook for that, telling her outright that he can understand if this is a reaction to her anxiety issues. Anyone would have been flustered if someone suddenly kissed them, she argues. And he kissed her twice.
"You didn't hate it the second time. Like me," Jae-yeol counters. He isn't interested in her thoughts about it, but how she felt about their kiss. "I hated it. I'll say it again, but I hate you," she firmly answers. "Someone who flirts with just anyone…"
"Not anyone, but someone I feel something for," he interrupts. "Not just because, but with sincerity in that moment. I kissed you because I like you, not because I was just flirting."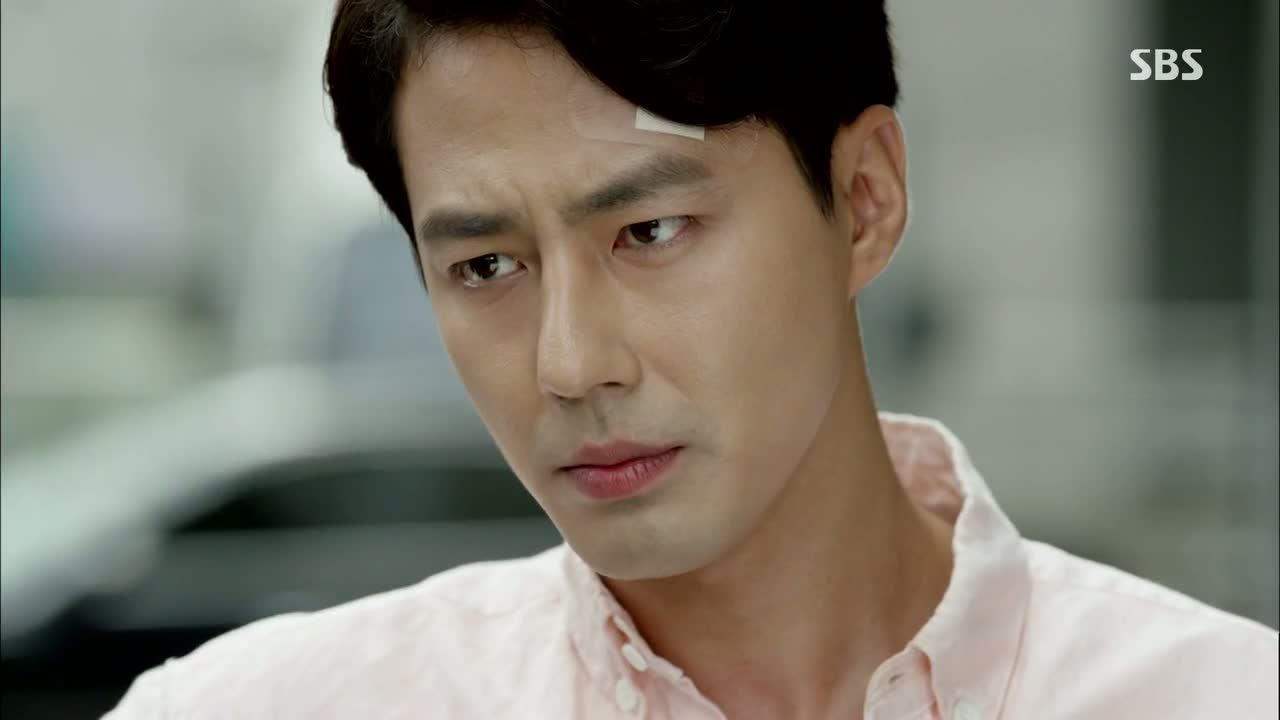 Hae-soo betrays a small smile, but then barks at him to come clean—they were both in a good mood and in the middle of nature. He was acting on impulse, wasn't he? Jae-yeol doesn't deny it.
He doesn't see what's so absurd about it either—does she like men who strategize and calculate those sorts of things? When she says they should put an end to this argument, he catches her off-guard again. "Let's date," he says. "Should I give you time to think about it?"
She declines, so he drops the subject too. And then tells her to sit up front when she tries to climb in the backseat. She warns him not to make a pass at her like he did in the water, but he assures her that it won't happen again.
Despite Soo-kwang's protests that he won't do So-nyeo's bidding anymore, he trails behind her anyway, though he emphasizes that he isn't heading to her place because he at all likes her. I… still don't get what the deal is between these two. Is Soo-kwang's interest purely friendly oppa to dongsaeng or something more? But then, Soo-kwang—she's a minor.
Things are still prickly between Jae-yeol and Hae-soo at home that evening. Sunbae Jo asks if they fought again, and whereas Jae-yeol dismisses the question, Hae-soo freely explains that Jae-yeol kissed her and was slapped for it today.
As per usual, Jae-yeol tells it like it is and confirms that it happened, acknowledging that she was fine in that moment, though she isn't now. She calls him an embodiment of impulse, which prompts him to ask if she didn't feel what he did.
"You really didn't feel it?" he repeats. But Hae-soo shakes her head, saying somewhat unconvincingly that her answer will always be no. Jae-yeol walks out of this argument first, leaving her fuming in his wake.
Sunbae Jo knows that something's up, so he loudly bangs on Hye-soo's door so that they can talk. When Jae-yeol comes out of his room to complain about the noise, Sunbae Jo takes Hae-soo's side and yells at him.
Hae-soo invites him inside, and Sunbae Jo gets right to the point: "You felt something with Jae-yeol, didn't you?"
He doesn't let Hae-soo rely on her defense mechanisms and tells her to face him. When she does, his voice softens to ask what she wants to protect by making the one person who has actual feelings for her feel like a sexual harasser. Her sexual phobia that she's tried her whole life to get rid of?
He's asking as her doctor and supervisor—did Hae-soo think of her mom when she kissed Jae-yeol? He demands an answer, and Hae-soo answers, "No, I didn't."
Sunbae Jo remarks that it's the first time ever since she tried kissing at all with her ex-boyfriend. He continues: "How did you feel? Did you hate it or not?"
Hae-soo bites her lip and answers vaguely: "I didn't not like it." Sunbae Jo wants a direct answer, and Hae-soo looks emotional as she answers honestly: "I liked it." But Hae-soo says she doesn't understand these feelings and why she has them for a player like Jae-yeol. Sunbae Jo leaves her to sort out her feelings.
Soo-kwang admits that he nearly cried while listening to Hae-soo's confession through the door. He envies Hae-soo for the small progressive steps she's made, and longs to overcome his condition too one day. How great would it be if he didn't have an episode while being physically intimate with a girl?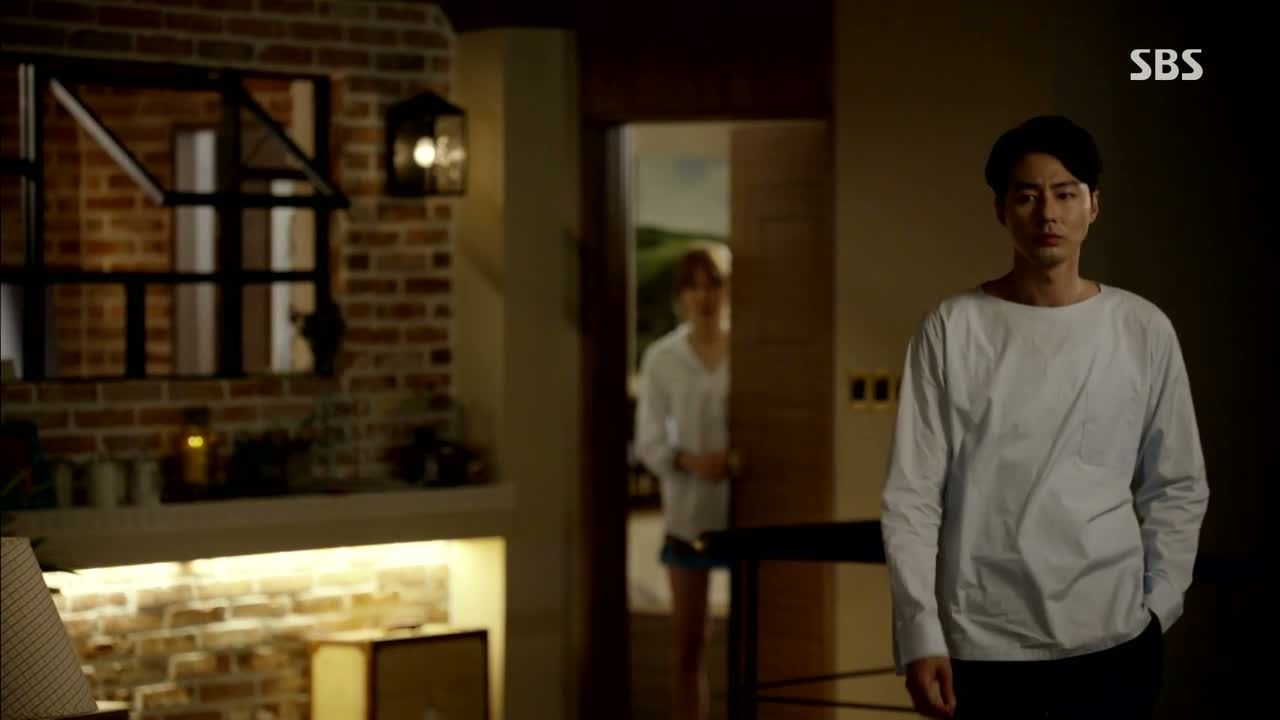 While Jae-yeol thinks of Hae-soo that night, her alarm to light the candle goes off. She comes out and discover that he's already there, the candle lit. He says the alarm was a nuisance, but aw, that's nice of you.
Sunbae Jo explains the depth of Hae-soo's sexual phobia to Jae-yeol the next morning. Her prickliness is a defense mechanism, not because she doesn't like him. The reason why he's telling Jae-yeol all this is because Jae-yeol should quit now if he isn't sincere about Hae-soo.
Speaking of whom, Hae-soo catches the tail-end of that conversation, and snatches the glass of water out of Jae-yeol's hand. She plays it cool, admitting that she did feel something yesterday, but that was a fleeting moment. He can understand that 'cause he's a player, right?
He surprises her though by saying that if she has any inkling to continue things with him, she can either knock on his door or call his phone and let it ring three times. If she doesn't like him, she can just do nothing. He takes that glass back for another sip before returning it to her. How cheeky.
Apparently Sunbae Jo hasn't gone into the house yet because he shouts to Hae-soo that her temper's a bigger issue than her anxiety. How ironic of her to tell her patients to find their will when she has to do the same for her issues.
Those words still stick with Hae-soo while she and her team deliberate on whether it's safe to discharge the patient with the now re-attached arm. She says there isn't much they can do if the patient has no will or volition. After Doctor Lee dismisses the others, she notes that man is an orphan and his story is similar to Hae-soo's father.
She then asks if Hae-soo is going to attend her divorce anniversary party, because yeah, that exists. It's great how Hae-soo's like, "Can't you guys celebrate that on your own?"
Jae-yeol is all for seeing his hyung if it's what will make his mother happy. He tells Mama Ok-ja that money is no object when it comes to throwing Jae-bum a lavish party (hopefully sans forks and sharp objects this time), then gets called away to a meeting.
Sunbae Jo calls Tae-yong to bring Jae-bum into his office, so that they can meet in person and decide whether he should be reunited with his family or not.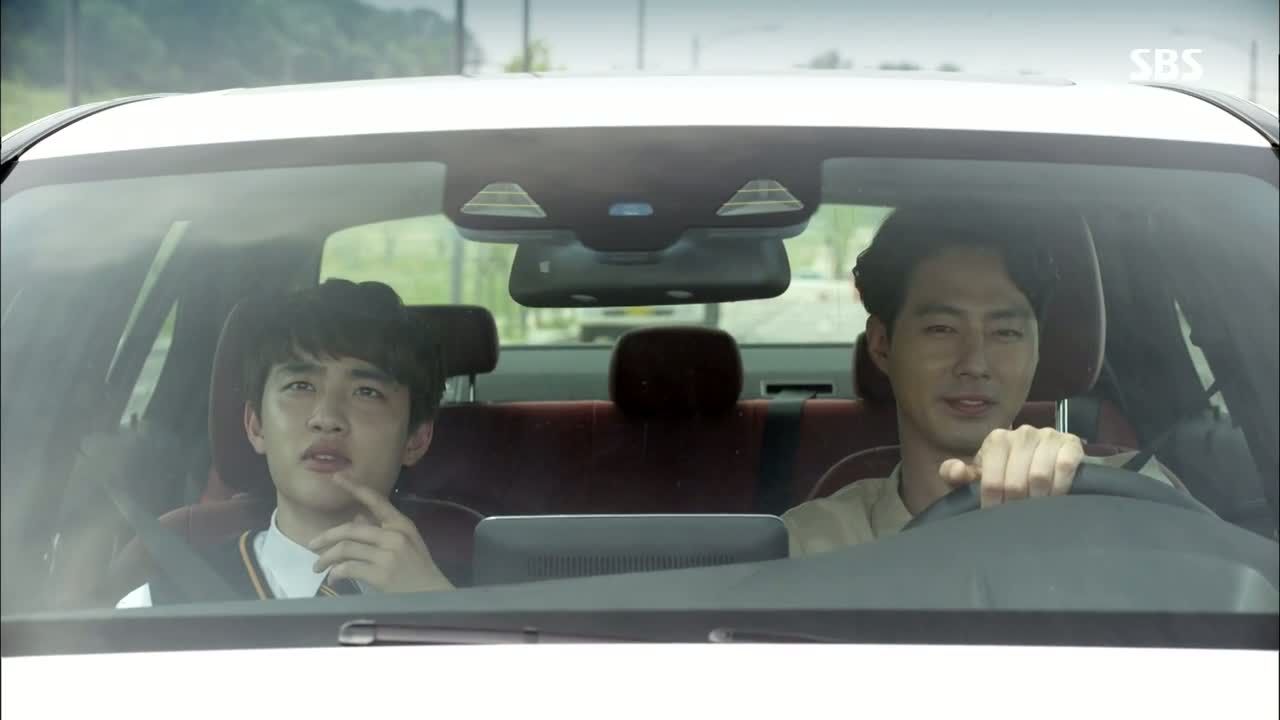 Jae-yeol and Kang-woo discuss each other's love lives in the car. Kang-woo suggests that Jae-yeol pursue someone else than that pretty noona who's playing hard-to-get with him. But Jae-yeol says that Hae-soo has got a lot of charm about her, and Kang-woo finishes, "Like that feeling like she's taken over your soul?"
Kang-woo says he plans to concentrate on his writing, but still goes to see his crush Hyun-joo by her window. Jae-yeol asks if he isn't going to treat that crooked finger of his, but Kang-woo insists that it's fine.
All of a sudden, a group of cars come charging from the opposite direction, forcing Jae-yeol to swerve past to avoid them. Apparently this is a common occurrence, and Jae-yeol tells Kang-woo not to ride his bike on this road lest he get into an accident.
They pull up to Kang-woo's place, a shabby-looking countryside abode. One that almost looks familiar, I'd say. Jae-yeol looks curiously at it, too.
They bid each other good luck and goodbye, but then they both hear screams in the distance. It's Kang-woo's father, beating his wife outside and dragging her by the hair along the road. Kang-soo gets kicked away when he tries to intervene.
That's when Jae-yeol rushes over and starts pelting Kang-woo's abusive father that quickly turns into a brawl. Jae-yeol unknowingly drops his phone in the grass. Seeing the woman get beaten triggers a brief flashback to when teenage Jae-bum was being kicked by their stepfather and young Jae-yeol had grabbed the knife on the table.
He snaps back to reality (er, his visual reality) just in time to see Kang-woo pick up a rock as a weapon. Jae-yeol hollers at his rage-filled face and shakes him vigorously. "Pull yourself together, Han Kang-woo!"
Jae-yeol punches Kang-woo and tells him to take his mother and run. Kang-woo drops the rock in his hand and leads his mother away, sobbing. Jae-yeol stays behind with the abusive father; he gets kicked down at first, triggering another memory: Mama Ok-ja using her body as a shield against his stepfather's blows.
As that fades away, Jae-yeol gains the upper hand in the fight, punching and kicking the man down on the ground. Unbeknownst to him, this entire scuffle is recorded by a nearby. Oh man, I hope we get to see that footage.
When Hae-soo tells her housemates to call Jae-yeol home for dinner, they teasingly tell her to call him instead and let the phone ring three times. Ha. Although Hae-soo initially laughs at how Soo-kwang has adopted Jae-yeol's fashion, she says she likes him far better than that player.
Soo-kwang knows that Hae-soo's exaggerating since she belongs to Jae-yeol, words she finds insulting. Hae-soo protests that she's worked so hard to preserve her purity to just give it away to a guy like Jae-yeol, and Sunbae Jo calls her out on that—she can take that virtuous purity into the afterlife for all he cares.
A battered-looking Jae-yeol deals with a pair of confused officers at the police station, arguing with conviction that the address isn't an abandoned building but is the home with an abusive father.
So when Jae-yeol comes home late that night, Hae-soo spots his disheveled and bruised appearance. She bangs on his door until he finally opens it, and he says that their signal was for three knocks. "What does seven or eight knocks mean?"
Hae-soo fetches the first-aid kit and finds Jae-yeol in his bathroom. She takes a look around before sitting him down. He insists that he's fine, but she says he shouldn't have been caught looking injured by a doctor. As she treats his wounds, she asks what happened, and Jae-yeol says he couldn't stand by while the kid he knows, Kang-woo, was being beaten by his father.
She asks why he got himself involved in someone else's family matters. He replies that's what other people said when his stepfather beat his family. No one ever got involved, and in the end, the whole world became witness to his family's ruckus.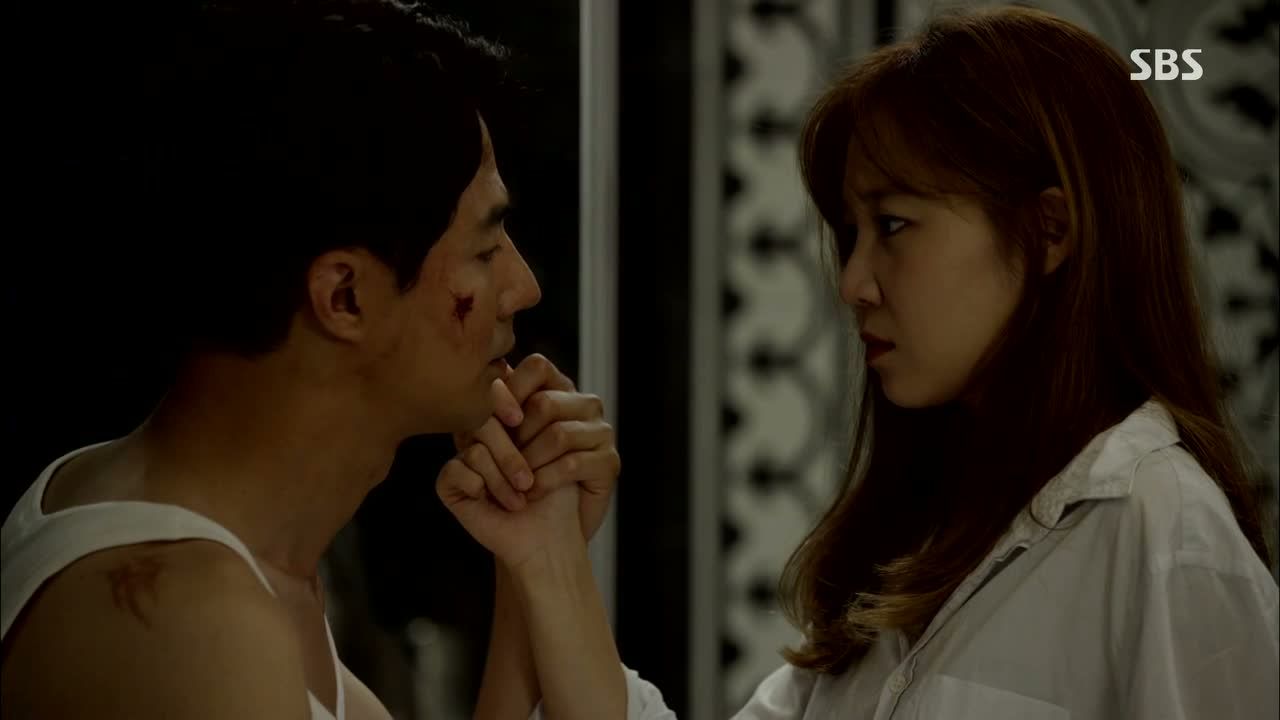 He tells her that this is the first time he's ever had a girl in his bathroom and isn't used to sharing his past like this. But it feels comfortable and there's nothing to hide.
Hae-soo asks after the scar on Jae-yeol's shoulder, but he shares something else instead: "After you saw me sleeping in the bathroom, the feelings I felt for you in the water were serious, even though they may have seemed impulsive."
As she checks the cuts on his face, he takes her hand with his. A long, charged silence passes between them, and then Hae-soo pulls out of his grip. Then Jae-yeol pulls back the shower curtains to reveal his sleeping quarters: his bathtub.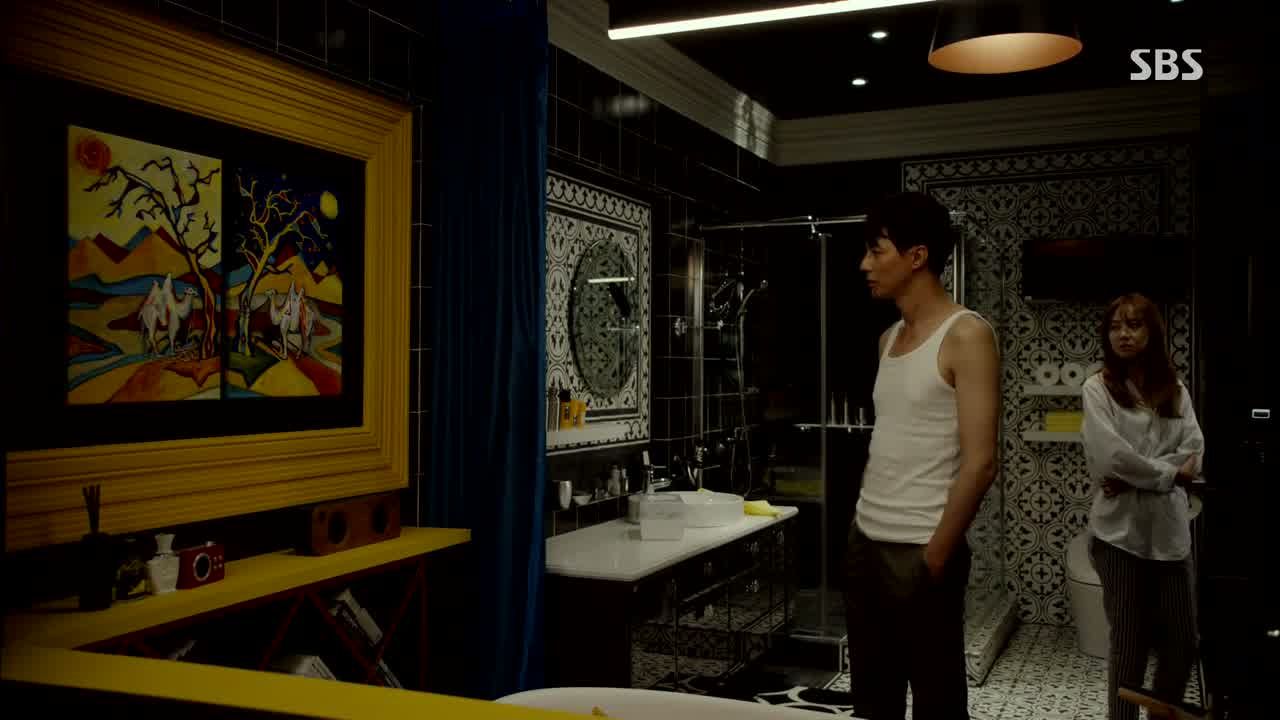 Hae-soo silently takes everything in, then bids him goodnight. But Jae-yeol elaborates on the pair of camel paintings: "Nomadic people in the desert tie up their camels to trees at night like this. But as you can see they untie them in the morning. But the camels don't run away, because they remember being tied up to the tree in the night… just like how we remember the pains from our own pasts. That means the pain and trauma from our pasts… are what keeps us pulled down. I have my bathroom… and you have your anxiety."
What an incredibly vulnerable moment for Jae-yeol to share with anyone, let alone Hae-soo. He climbs into his bathtub after Hae-soo leaves and draws his knees to himself before laying down.
Just outside the bathroom, Hae-soo takes a minute to let everything sink in and lays down to sleep in her own bed, thinking of Jae-yeol.
It's the day of the divorce anniversary party, which Sunbae Jo explains gives him a reason to see his ex-wife, who doesn't have any friends. Jae-yeol unexpectedly hits a sore spot when he asks Soo-kwang about So-nyeo. He does, however, get Soo-kwang to smile again when he compliments him on his new look. Ha.
Aw, their divorce anniversary picnic actually looks pretty fun, that is until Doctor Lee has to fork over money for losing at a game. She storms off early, upset, with Sunbae Jo not far behind. In an attempt to lighten the mood, Jae-yeol offers to take Hae-soo's disabled father for a walk.
Hae-soo wonders why her family is speaking to Jae-yeol in banmal, to which she's told that he asked them too. She worries that Mom's drinking too much, but Mom stubbornly refuses.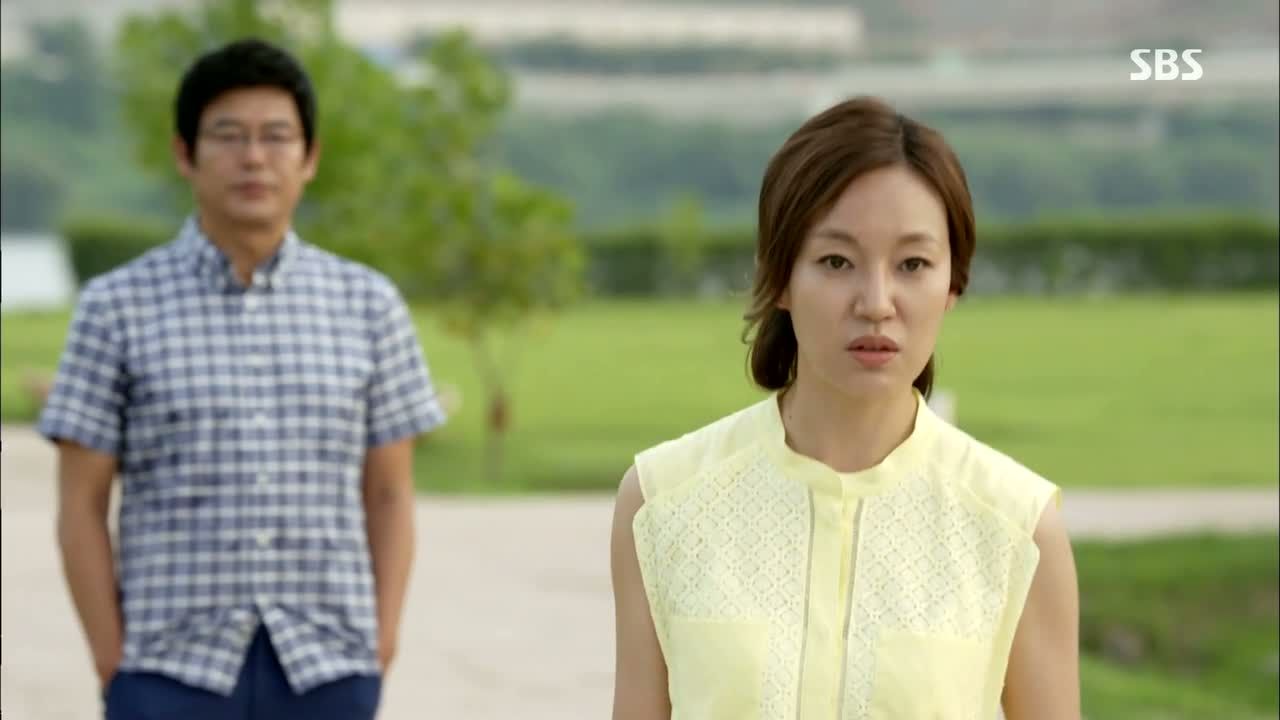 When Sunbae Jo catches up to his ex-wife, she asks if he really hates the idea of meeting up alone that he'd go ahead and invite the whole neighborhood. He asks if she's upset that Hae-soo's mother joined them and says that Hae-soo's father is always cooped up at the restaurant.
He misses the point entirely that Doctor Lee simply wants a separate day and time to spend with him, though he asks haltingly if they've got anything to say to one another. She turns on her heel when he asks her what the problem is, and mutters half to herself: "I've still got residual feelings for you, that's what."
While Jae-yeol is a sweetheart to Hae-soo's family, Mom scooches over to ask Hae-soo if she really doesn't have any feelings for Jae-yeol. This isn't a topic Hae-soo wants to talk about, her irritation exacerbated by seeing her mother's tipsy state.
So when Hae-soo raises her voice and stalks off, Mom yells in her drunken state about how her daughter's always annoyed with her when she's lived a hard-knock life herself taking care of her husband. Hae-soo's unni interrupts their mother's rant with the disclosure that they both know of Mom's affair with Ajusshi Kim.
At home, Hae-soo asks if Jae-yeol enjoyed their family spectacle today. He says that's nothing—seeing a big, happy family is what annoys him. He once dated a nice girl from a wealthy family, but he later found her boring because she was always so happy and optimistic. A person needs to experience the bitter and sweet points of life to grow as a person and make a relationship interesting, he notes.
As they drink together, Hae-soo confesses that she'd probably have feelings for him if he weren't a player. He's got plenty to offer with a great sense of humor, capable, and not bad to look at either. "And there's something about you," she adds.
He's too risky of a gamble to be boyfriend material at her age, to which Jae-yeol counters, "Try saying that after you date me. You'll be surprised by how enigmatic I am if you date me."
Hae-soo spits up her beer at that, and Jae-yeol leaves her with some music he's been listening to recently. It's cute how she grooves to the beat, imitating his dance moves.
While Hae-soo administers the sodium amytal aka truth serum to the patient with an imaginary baby, we see Jae-bum meeting up with someone to retrieve an unknown object. He tells Tae-yong to head off without him and asks where Jae-yeol is. Oh no.
Hae-soo starts the drug-induced therapy with her patient, who discloses that her husband was passed out drunk in the bedroom while their baby was crying in pain. She blames her husband for not knowing that their child was dying, and herself for being an awful mother.
We see Sunbae Jo break into the truth serum stash for his session with Jae-bum, who's eager to get his hands on it. I honestly can't believe Sunbae Jo would even place a syringe within arm's reach of a man who stabbed his own brother, but he makes a quick save when he nearly slips up.
But then he makes the mistake of leaving Jae-bum alone while he goes out to grab coffee for him. I… I… I have no words. Jae-bum runs past him, repeating Jae-yeol's location over and over.
As the psychiatrists debrief about how their patient and her husband will move on, Hae-soo says she's sure that their love will help them overcome this tragedy. She smiles, reminded of how those words align with Jae-yeol's comments of how love gives people strength to prevail over misfortune.
Doctor Lee surprises Hae-soo by asking her to dinner, only for the latter to decline because she might have plans (with Jae-yeol, hopefully). Doctor Lee contemplates whether to call Sunbae Jo or not, but decides against it.
After Jae-yeol wraps up his radio show, he notices the missed call from Hae-soo. He wonders if it rang twice or three times. Hae-soo calls again moments later, though, and he waits. One… Two… Three.
And then Hae-soo hangs up on the other end. He receives a text from Hae-soo confirming that she let it ring three times and that she's on her way home right now. Jae-yeol can barely contain his elated reaction, then rushes out to meet her.
Noting the heavy traffic, Jae-yeol hurriedly climbs into a cab just as Jae-bum pulls up and follows behind in his own taxi.
Meanwhile, Hae-soo waits for him at the bus stop in their neighborhood. Jae-yeol gets off and waves at her from across the street to try and get her attention, to no avail. But then Jae-bum attacks him from behind, catches him, and sticks him in the neck with the syringe. Aaacccckkkk.
As Jae-yeol's eyes roll backwards, Hae-soo looks around just as a car passes…

COMMENTS
On top of the world in one minute, and his entire world spinning in the next. Once I saw Jae-bum be released from prison, I knew that Jae-yeol wouldn't stand a chance in surviving a single day before being attacked by his volatile brother, whose fixation over the truth serum was often frightening because I had no doubt that he'd go to any lengths to get his hands on some.
All thanks to Sunbae Jo of course, who inception'd the idea into his client's head. And while this show will likely never receive a gold star in professional competency like so many of its fellow medical drama predecessors, I'd at least hoped that Okay would remain competent enough so that I could maybe understand the screw-ups. But what we saw in this hour was an act of stupidity by leaving the convicted felon alone in an office surrounded by sharp objects and possibly the very thing he desired within arm's reach. So I understood that someone had to slip up in order for Jae-bum to drive the dramatic conflict forward, but I couldn't divorce that need with Sunbae Jo's incompetent blunder that endangers someone else's life. Even if I could understand that Sunbae Jo would want to administer the drug on Jae-bum to find out the true culprit in the stepfather's death, there are so many other actions surrounding his decision that negates that opinion. Then again he's also Hae-soo's first-love-housemate-doctor-supervisor, because that relationship isn't complicated at it is.
At this point, I can't trust either Jae-yeol or Jae-bum's memories on that fateful night their stepfather died, because we're being given morsels of information to deliberately keep us in the dark. So while I'm curiously intrigued by what Jae-yeol might say due to the drug's effects (that is, under the assumption that Jae-bum had successfully managed to run off with a truth serum-filled syringe. I'm cautious only because we never explicitly saw it happen), I also feel that it'll be too early for us to know the truth just yet.
In that vein, I'm now more concerned about Jae-yeol, because now Kang-woo isn't the only person he can imagine in his head. I'm talking about Kang-woo's parents and the abusive father in particular. What's so frightening is that we saw Jae-yeol engage in a fight with the man, but that camera suggests that all is not what it seems. It opens the possibility that Jae-yeol inflicts self-harm, which would be Fight Club-esque, and that CCTV footage is the only objective evidence of that event. It makes me uneasy over what else his brain can do now, because we saw that he imagined the face of Kang-woo's crush on another woman, and it very well could be that these new people are also figments of his imagination.
Moving from his mind to his heart, however, I really did enjoy Jae-yeol's moment of vulnerability and how he unveiled his most secret place to Hae-soo. His blunt frankness and his ability to act on his impulses when it comes to his feelings is a nice foil for Hae-soo, who ruminates over everything before making her first step. He challenges her to stop thinking and speak her emotions out loud and perhaps understands better than anyone around her how the past can continue to plague the present. Because she has her anxiety, and he has his bathtub. But maybe they won't need to protect those things for much longer 'cause they'll be busy protecting each other.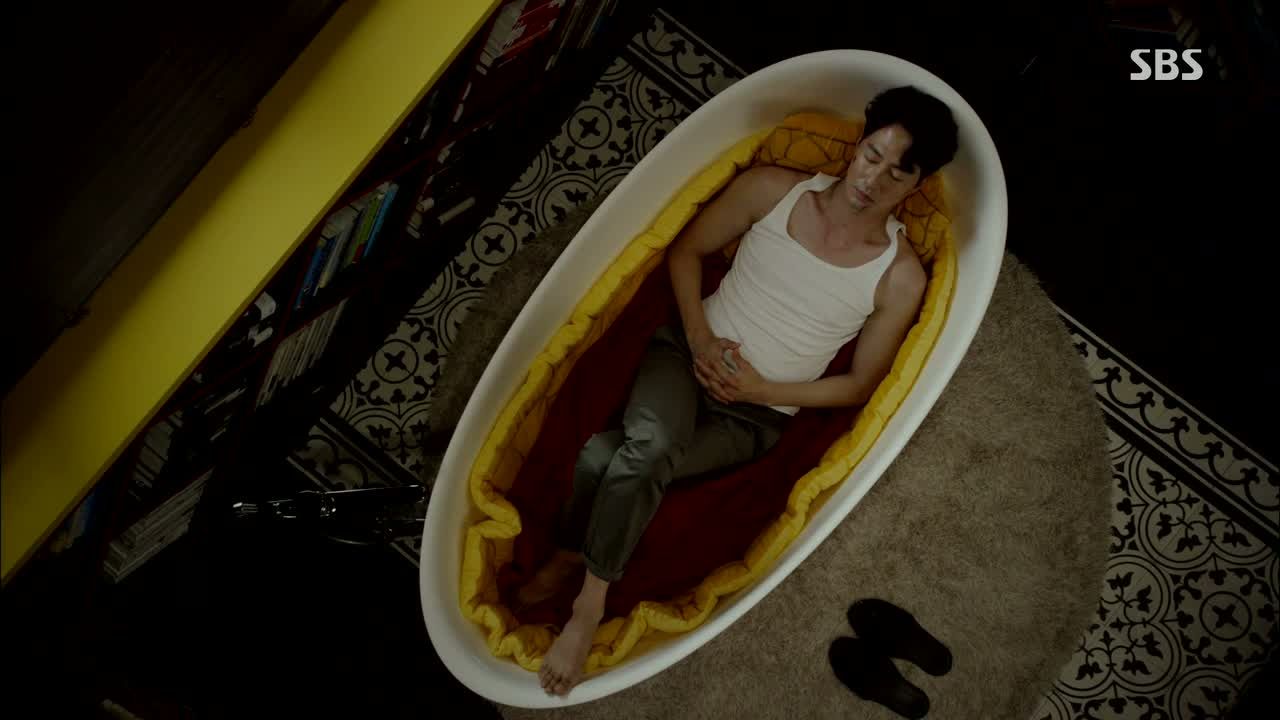 RELATED POSTS
Tags: featured, Gong Hyo-jin, It's Okay It's Love, Jo In-sung