Joseon Gunman: Episode 13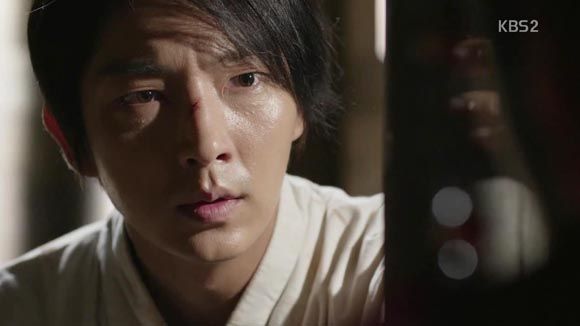 Today thrusts us onto a political roller coaster, with our characters upping their smarts game and going in for the tactical kill, only to realize that being an evil political mastermind is a lot harder than it looks. There's a reason each drama only has one of those!
Also, it looks like Joseon Gunman is up for an extension—it's reportedly going to add an extra two episodes to end with 22, rather than 20, episodes. A rep with the production company stated that there's plenty of story left for our hero to become a hero to the people, and had initially considered four additional episodes before deciding on two. But I wonder if it has more to do with the recent news of Gunman's sweeping popularity in China. I'll try to be happy about it, rather than disappointed, since I just generally dislike extensions. In any case: More revenge, more action, more guns!
SONG OF THE DAY
Ivy – "내 맘을 아나요" from the Joseon Gunman OST [ Download ]
Audio clip: Adobe Flash Player (version 9 or above) is required to play this audio clip. Download the latest version here. You also need to have JavaScript enabled in your browser.

EPISODE 13 RECAP
Let's relive the big emotional turning point, shall we?
Yoon-kang breaks and goes after Soo-in, and they sob in each other's arms. He says, "I'm sorry—it was a lie, all of it. I missed you. I missed you so much I couldn't bear it." And then he finally takes a decisive stand, saying, "Don't go. I won't let you go. Stay with me—only with me."
Soo-in nods, and then he kisses her. Ah, it's a nice way to begin an episode.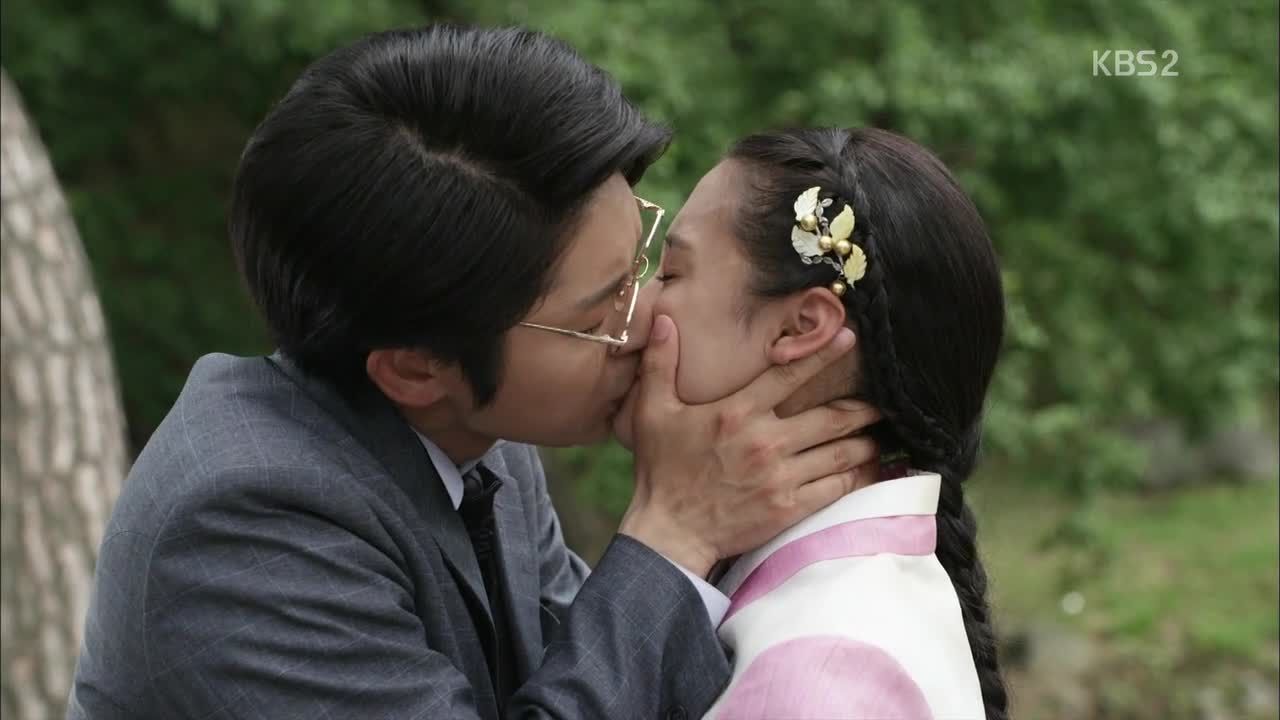 Now that Choi Won-shin has essentially bought back Minister Kim's position, the minister is pleased to be out of exile and also impressed with Choi's maneuverings. Looks like this new alliance is well on its way to forming.
Hye-won is pleased to receive the message that Hanjo would like to see her. But when her father asks about it, she hides her reaction and excuses herself, still chilly towards him after having discovered his secret life as an assassin.
Yoon-kang walks Soo-in back home and promises that it'll all be over soon—and when it is, he'll be able to stand before her openly as Yoon-kang, not Hanjo. She asks him to stay safe, and he promises.
Time for another transformation, and he dons his gunman gear to head out that night to Choi Won-shin's home. Ah, he must have requested a meeting with Hye-won to draw her away, because he waits until she leaves before making his move. Sang-chu provides the distraction by shooting a gun from a rooftop, and when the guards head off in his direction, Yoon-kang slips inside to confront Choi Won-shin at gunpoint.
But assassin Sung-gil is ready with his own weapon, and forces Yoon-kang to toss his away. Choi tells Yoon-kang that he was always too rash, rushing headlong into traps: "That is your limitation as a gunman." Sadly, he's right about that.
So now Choi picks up his old rifle, telling Yoon-kang that he killed his father with it: "I'll end you with it too." As he takes aim, Yoon-kang takes stock of the situation quickly, then acts before Choi has a chance to fire. Yes, Yoon-kang is totally rash when he's planning his missions, but at least he's fast-thinking once things go awry.
Yoon-kang knocks Sung-gil's gun away and tussles with him hand-to-hand, then runs off. They engage once more in the courtyard, which ends with Yoon-kang shooting him (nonfatally) before escaping again, at which point Choi Won-shin takes over the pursuit. Yoon-kang literally lands on top of him from above and sends him reeling from a blow to the head. Yoon-kang looms over him and trains his gun on Choi, at which point he reveals his face, demanding an apology for his father.
Choi says he hadn't wanted to kill his father, but had no choice: "I lived as their slave my entire life." He even tells him of his daughter being raped and beaten, and how he had to do it for her.
This is, unsurprisingly, not persuasive to Yoon-kang, who says scathingly that these are excuses and that Choi acted for his own ambitions. He charges Choi with all that he's inflicted on his family—killing his father, selling off Yeon-ha, and leaving Yoon-kang to live inside a hell, from which he lived only for this moment. "This is the end of you," he growls.
Choi closes his eyes and awaits the shot. And then, Hye-won's voice cries out and she rushes in to shield her father.
When he warns that he'll shoot her too, she challenges him to do it—to kill her father, he can kill her first. She says that it was all for her, and that her life was enabled by her father's gun, and therefore Hye-won is also guilty in the wrongs committed against Yoon-kang. "Shoot me," she says. "I will pay the price of my crime."
He struggles with this, but musters his resolve and agrees to do it, if that's what she wishes. He readies the shot, and now Choi shoves himself in front of his daughter, begging for her life. He squeezes his eyes shut and holds Hye-won close as they await their punishment, and Yoon-kang nearly blows a fuse wrestling with himself.
He can't do it. He ties Choi Won-shin up and orders him to turn himself in to the authorities and confess his crimes, and then he'll die.
That's when Sang-chu runs in with the police officers in tow, and they take over. Choi is presented as the criminal operating under Lord Kim's directive, and when Yoon-kang orders him to tell the full truth, Choi dully agrees. Officer Moon pauses to reassure Yoon-kang that all will be set to rights in the morning, and off they go.
Hye-won looks quite lost, but she thanks Yoon-kang earnestly for sparing her father's life.
As the officers arrive at the station, they run into a high court official, who inquires as to the situation. He lets them pass, but he and Choi exchange a meaningful look that does not bode well for our good guys.
The next day, Yoon-kang returns to the dock where he was once shot, thinking of his father's wrongful death. With the end now in sight (…or is it), he tells his father to rest in peace now.
This is where Soo-in finds him, relieved to see him safe and sound. As she did three years ago, she rushes into his arms, and they embrace there on the dock.
But as suspected, Choi changes his tune with the light of day. Now he says blankly that all of Yoon-kang's accusations are false, and that he's not the gunman, and that he knows no Lord Kim, and that any confession extracted from him was under duress and therefore meaningless. Officer Moon fumes, knowing this is an act, but he can't prove that he's lying. Furthermore, he finds the high court officers at his door demanding to take over the case from the police, and they take custody of Choi.
Minister Kim has been busy pulling strings, and since the high court is under the Sugu faction's thumb, Choi is in safer hands there. Lord Kim muses that he ought to have gotten rid of Choi earlier, before he became a complication, but for now decides to first free him from trouble.
Lord Kim is shocked to hear of Yoon-kang's identity as the meddler, and orders him to be dealt with immediately.
Soo-in can't believe that Hye-won's father was the criminal, after all the time she'd spent around him. Yoon-kang says that he couldn't bring himself to kill the man in front of his daughter, because it felt too much like he would be perpetrating the same injustice he'd suffered. He's still torn over that decision, but Soo-in takes his hand comfortingly and assures him that he did the right thing. Furthermore, they would have no proof clearing his father's name if he hadn't let Choi live.
Soo-in looks out at the water and muses that she'd cried so much, sitting here alone, "But now I am not alone. I am with you." She entreats him to only look ahead now, at the happy days to come. Gack, I'm certainly not one to rain on their parade, but I just want to yell at them not to be too happy yet…
But they can't know that, so they retrieve Yeon-ha from the temple and bring her back home, and the whole way there Yeon-ha marvels that it's like a dream she doesn't want to wake from.
Hye-won is waiting at the gate when they arrive, and she apologizes to Yoon-kang on behalf of her father. She is deeply stricken, but Yoon-kang tells her firmly that she has no reason to apologize—but even so, this is not something that can be solved by an apology. He turns her away.
Hanjo's merchant family welcomes Yeon-ha into their midst happily (and oh my, Kanemaru's speaking Korean now! I hope that takes us interesting places soon). But it's a short-lived cheer, because officials sent from the high court arrive to arrest Yoon-kang for the murder of two ministers. Yoon-kang is confused that his name hasn't been cleared yet, but as he's being dragged away he tells his ladies not to worry, and that he will return soon.
He encounters Choi Won-shin on the way, who has the gall to smirk and say that you should always take opportunities when you have them. Wow, that's douchey; he may as well be saying neener neener. Okay, sympathy over.
The matter is put before the king, who is now caught between the two warring factions. Minister Kim accuses Yoon-kang of killing ministers, while the king's faction argues that the true criminal is Choi Won-shin. Both sides insist that there's no evidence supporting the accusations.
Gojong declares that the investigation will unearth the truth, but since the high court under Minister Kim has demonstrated nothing other than brutal torture, he appoints one of his officials to take over. It's a blow to Minister Kim, but on the other hand, the official, Min Yeong-ik, had been bribed by Choi to secure Minister Kim's reinstatement, so for right now I can't tell whose side he benefits.
Hye-won visits her father in prison and asks what has changed, since he had decided to confess. Choi tells her, "I have committed no crime. Why do you say I should beg forgiveness?" She threatens to reveal the truth for him if he doesn't, to which he says that she would be putting her own father to death.
Officer Moon visits Yoon-kang in his cell and apprises him of the case: There's no evidence against him for those murders, and his gun has not been found. As there's no way to prove that he is Yoon-kang, he is to insist he is Hanjo. But Yoon-kang worries that going that route would only get Soo-in and Yeon-ha dragged in; he needs to prove the truth of the other side's misdeeds. He'll start with the officer who directed Sohn Taek-soo to make the false charge, and the man who forged Park Jin-han's letter.
Officer Moon has a hunch about the forger's identity, a man named Jo Dal-soo. Yoon-kang says he'll make that man confess, once he's brought in.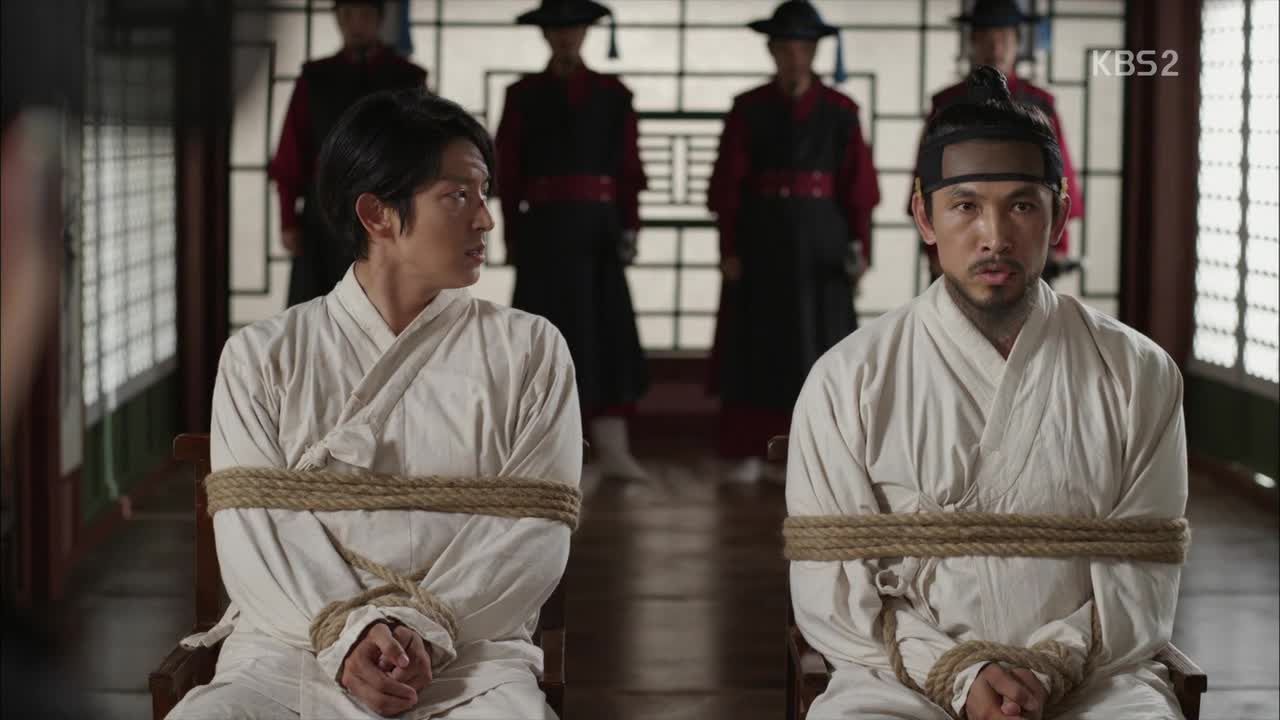 Yoon-kang and Choi Won-shin are brought before Min Yeong-ik for interrogation, which is a much more civilized affair this time around. He admits readily to being Park Yoon-kang, and accuses Choi of killing his father and shooting him three years ago. Furthermore, Choi confessed this all to him last night.
Choi, on the other hand, baldly lies and denies everything, saying he has no idea what Yoon-kang is talking about. But his smugness fades when Min Yeong-ik informs him that his daughter admitted to overhearing the confession last night. He argues that the girl knows nothing, and that she overheard his forced confession at gunpoint. He growls a warning to Min not to drag his daughter into this… and then says very meaningfully that if she were to be involved, he might say some unexpected things. It's a direct threat to reveal the bribe Min took from him, and Min understands it as such.
Ho-kyung suggests to his superior that they call in Hye-won as a witness, saying that she's not so tender-hearted as to be unable to handle this situation. As the only witness, she would provide valuable testimony. Choi Won-shin fumes and panics, trying to argue against it, but Min Yeong-ik orders it done.
All through this, Yoon-kang clocks the exchange and seems to catch wind of something strange. He doesn't know what it is, but he certainly looks suspicious. Yes, be suspicious!
Soo-in pleads with Hye-won to reveal what she knows. Hye-won counters, "And what of my father? Are you asking me to kill my father?" Soo-in replies that it was because of her father's deeds that Yoon-kang acted, and presses her to help.
Ho-kyung sees Yoon-kang in prison to confirm that Soo-in now knows the truth of his identity. He's upset at the thought of her being made to relive more of the pain she has already suffered, especially since Yoon-kang can do nothing while stuck here in prison. Yoon-kang vows to set things aright, and Ho-kyung says he hopes for that much, if only for Soo-in's sake.
That official accused of ordering the forgery is arrested, as is the forger Jo Dal-soo. Neither conspirator seems particularly inclined to speak, but Yoon-kang concocts a plan to elicit their confessions. He sends a message to Min Yeong-ik, who's handling the interrogations.
So both suspects are told (separately) that the other guy confessed to everything and implicated them in it. Then the bait is dangled: If they confess, they will not be punished. We see this unfolding just the way Yoon-kang predicts, down to the way the officer refuses the deal. That prompts their powerful backers to exert pressure to release the two prisoners… and Yoon-kang instructs that they be released. The moment they're set free, their bosses will have them killed—and the police will rescue them.
This is exactly what happens, and it proves to the suspects that the baddies are not going to protect them. They have no reason to keep quiet and protect them.
Yoon-kang is allowed a visit to Choi Won-shin's cell, and tells him he'll give him a last chance to reveal the truth tomorrow. Choi laughs in his face, but Yoon-kang encourages him to think of his daughter. He argues that Hye-won will take her father's side—but when the truth eventually does come out, she will face punishment too. "If you truly are acting for your daughter's benefit," Yoon-kang says, "bear the burden on your own."
Ah, I like this. It finally feels like Yoon-kang is calming down and strategizing, and it has the bad guys sweating. Minister Kim visits Choi next and says that things aren't looking great for them, and that even if Choi is released, Lord Kim will surely have him killed. However, Minister Kim says he's different—"I won't abandon you, through the end." He offers to put his brains to the figuring out this task, and Choi tips him off about the money he sent Min's way—that makes him a weak link.
The next day, Yoon-kang and Choi Won-shin are brought back for more testimony and interrogation. Yoon-kang warns Choi that the truth will come out soon, only to have Choi return, "The victor's words become the truth. You'll learn that."
Yoon-kang testifies with the full truth, down to Lord Kim Jwa-young being the mastermind and Choi Won-shin confessing this all to him previously. Choi naturally denies this, and then Hye-won is admitted as witness.
Everyone holds their breaths in anticipation to hear how she will answer. She chooses her father, saying that the accusations are all false, and that all he did was beg for his life. It was Yoon-kang who wielded a gun and made threats, she states. Asked why he threatened them, she answers that she doesn't know because he has never shown his true self to her, having presented himself as Hanjo.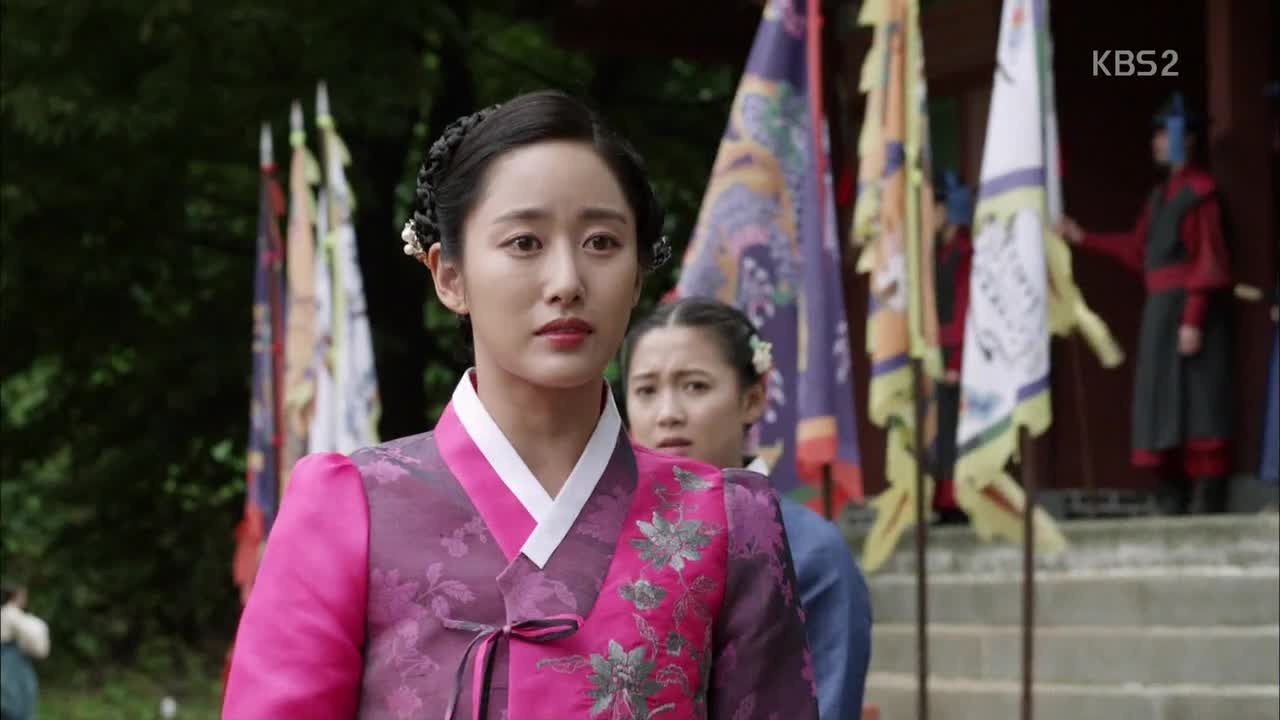 Hye-won leaves the court and finds Soo-in waiting anxiously outside. "I'm sorry," she says. "Now Yoon-kang has become someone that neither of us can have."
Next, Yoon-kang argues that his father's crime was fabricated, and presents the two witnesses. The forger confesses, and names Choi Won-shin as the man who gave him the order. The officer is next, and he hesitates longer before giving his testimony—contradicting what was just said.
Our good guys look stunned, while Min Yeong-ik hangs his head and thinks back to the previous night, when Minister Kim had sought him out. And when he had been threatened with his own bribe-taking, he had caved. He'd allowed Minister Kim to meet with the witness in advance, thus giving him ample opportunity to sway him back to his side.
This throws the court into confusion, with the forger protesting that he's telling the truth, and the officer declaring that he's just a scammer who's not to be trusted. Gojong orders both witnesses held and interrogated under torture, as one of the two is lying.
But Minister Kim protests with crafty logic, saying that Park Jin-han was already found guilty of a capital crime, and to deny it now would be tantamount to him denying past truths. Gojong insists that he's simply looking for the truth, but Minister Kim argues that he was sent into exile for the exact thing that the king now proposes to do. It's quite a neat way to force the king to close the case now, once and for all.
Yoon-kang begs the king not to close the case, needing to clear his father's name, knowing that ending things here would make that impossible. He insists, "Your Highness, my father died fighting for you. He fell while doing nothing other than acting out of loyalty to you! I beg you, please do not abandon him. Please reveal the truth!"
Gojong is caught between what he knows to be right and the pressure he's under. He looks to his side, all silent, who seem to be saying that he must cede to Minister Kim's entreaties.
Gojong rises and declares feebly that he will close the case, and declares Choi Won-shin innocent from lack of evidence. And Park Yoon-kang, still technically a capital criminal himself (for being a traitor's son), is ordered executed.

COMMENTS
Gulp. Out of the frying pan and into the fire, is it?
This is the scenario I always have to remind myself of in sageuk dramas when I want the hero to strike his enemies faster, because premature attacks can backfire pretty epically. I so wanted Yoon-kang to do more revengin' instead of talking about doing it, but going in with guns blazing only to find yourself a few bullets short only puts your own neck on the line.
So this is a huge blow for Yoon-kang, since he finally stepped it up and calmed his impatient nature to think things out and orchestrate something resembling a strategy, only to find that he still falls short. I suppose I can find a silver lining in that he's learning to think more like his enemies—I want him to listen to Choi's gloating little digs every time he fails, because learning from the taunts could actually strengthen him—but it's cold comfort when the only thing that lining is good for is keeping him warm while he's being beheaded. And it's such a nice head, too.
I'll admit that I found the actual, step-by-step execution of the plot today a bit mechanical, but overall it did the job and the effect is powerful enough that I'm overlooking my disappointment that the political maneuvering and outmaneuvering wasn't more clever. (Okay, I'm still disappointed—I just want this show to be a teeny bit more brilliant. I know, like it's hard to be genius! It's just that I enjoy the effect of the plot much more than the actual mechanism of the plot.)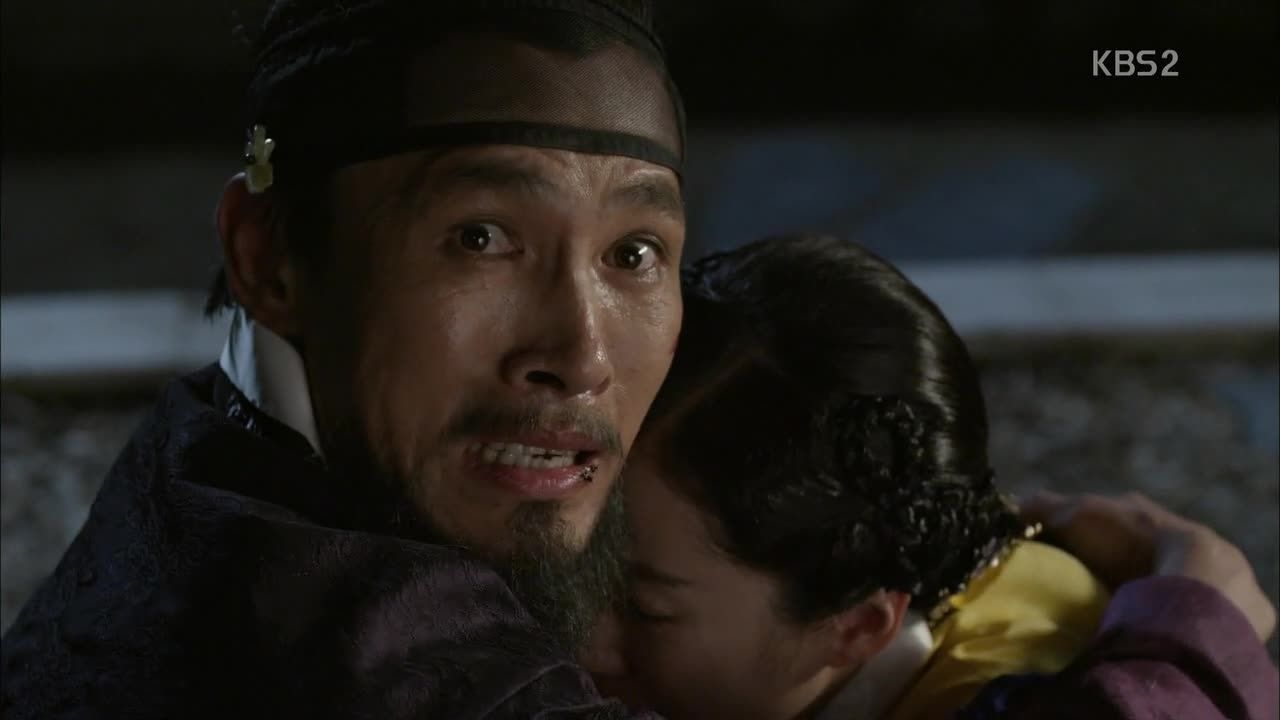 Choi Won-shin's trajectory continues to be one of the grounding elements of this show, which includes his bond with Hye-won, which is tested and ultimately reinforced. I'm a big fan of stories that challenge characters, pushing them beyond what they even know about themselves, to reveal the truth that's buried underneath. I'm not surprised that Hye-won chose her father, but getting her to that point was nicely handled—I respect that she is a strong-minded woman with a clear sense of justice, but who is ultimately human and pushed by love and protectiveness more than anything.
Their love for each other was never a question for me, but I did wonder how much the relationship would suffer after Hye-won's eyes were opened to the nature of Choi's actions. I appreciate that she shared the responsibility for her father's guilt—not in that she bears any blame for his actions, but in recognizing that she was his motivation. Even so, it was equally gratifying to have Yoon-kang tell her to knock that off, because his grudge isn't with her.
Court intrigue—both in the royal court sense and the trial law sense—is never my favorite part of a sageuk, although it does crop up with regularity in these dramas since all roads to tend to lead to treason, don't they? It's both the reason I do enjoy sageuk dramas and the reason I find many of them to feel repetitive—because in a sageuk, it's the highest level of narrative tension you can wring, and thus the conflict doesn't get any bigger than that. It's bigger than going to prison, or catching an ordinary criminal; it's a way to take murder and conspiracy and elevate it to its highest emotional point—like dialing up your amp to 11, say—so when handled well, you really do feel the gravitas shifting and deepening.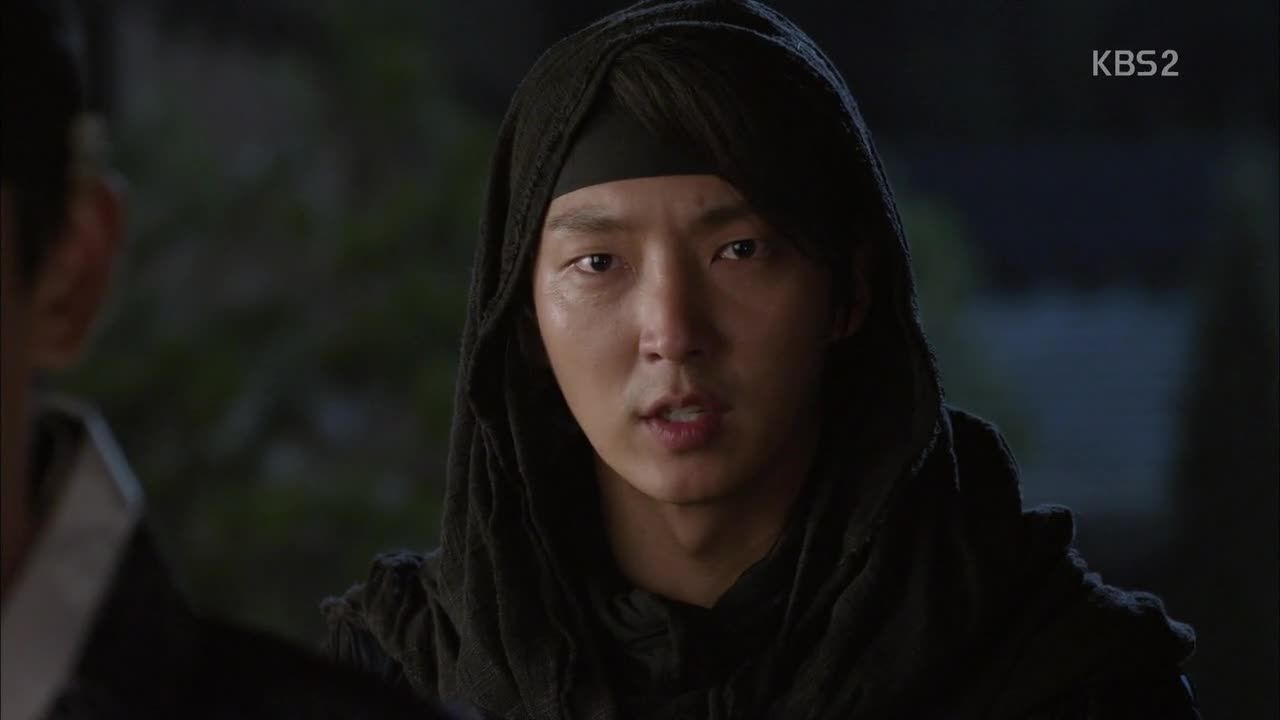 It's also why I see now why we were allowed to have the lovers reunite so early, because I was wondering why you'd give up on that conflict even though I love that we resolved the identity question. When your new problem is saving your neck and family honor and fighting back against an entire corrupt council of the country's most powerful officials, well, we no longer need the romantic angst and can throw the kid a bone.
So now Yoon-kang's condemned to death, and all the people with any sort of power to pull for him are drawing back to protect themselves. The king has his hands tied, and so do the rest of the Kaehwa faction, but truth be told they're all choosing to let him go because it's not worth it to them to fight for him. Let this one slide, and maybe the Sugu baddies will back off, they seem to be thinking. I'm interested in what they did with Min Yeong-ik, whom I've never known how to regard, given his status in actual history and his portrayal in this drama as an enlightened, sympathetic man. But there's the problem with stepping even a toe across the line of your principles, because then you give up your right to stand on any of them. Now he's a Sugu pawn, even though his character seems to be relatively decent.
So now I find myself hoping against hope that Ho-kyung will finally get his moment in the spotlight, because I still have faith in his moral fiber. Granted, he has almost no power to do anything, but if ever I had faith that a person would try his utmost anyway, it's with Ho-kyung. Will you do it, scholar man? Will you be a hero too? Yes □ No □
RELATED POSTS
Tags: featured, Joseon Gunman, Lee Jun-ki, Nam Sang-mi