Joseon Gunman: Episode 16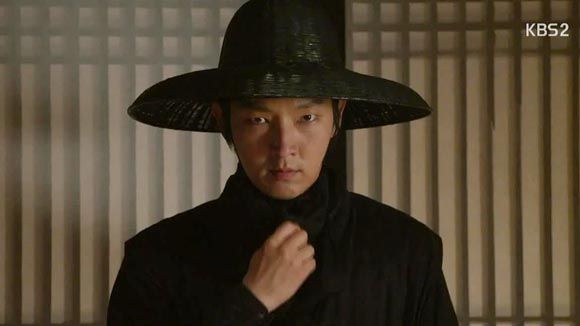 You know, just because you decide to become a hero doesn't mean you automatically become one. That's something that'll be challenging our guy as he ups his game in working for a higher goal, while finding himself stymied by the baddies. 'Cause sure, maybe killing a bad guy won't change the world, but at least it would be satisfying for a hot minute, whereas waiting for laws to work and uphold justice is a much tougher game to play. But I guess that's why it ain't easy being a hero—it's not all flying high kicks and well-placed bullets. Though those certainly help.
SONG OF THE DAY
Jo Jang-hyuk – "무한지애" from the Joseon Gunman OST [ Download ]
Audio clip: Adobe Flash Player (version 9 or above) is required to play this audio clip. Download the latest version here. You also need to have JavaScript enabled in your browser.

EPISODE 16 RECAP
Hye-won pulls her gun on Soo-in, saying that since Yoon-kang stole the most precious person to her, she'll now steal the most precious person to him. I actually believe she would pull the trigger, and Soo-in braces for the end, but Yoon-kang reacts quickly to shoot the pistol out of her hand. It's a risky move, but it works in defusing the situation with both assailants now disarmed.
Yoon-kang turns his gun to Hye-won, who just tells him to shoot. Instead, Yoon-kang lowers his weapon and tells her to leave, because he understands the pain of having your father taken away. But this is a one-time reprieve, and he warns that the next time he won't let her go. "Forget it now," he advises. "It's too late. Nothing can be turned back now."
As they walk back, Soo-in sighs in dismay over Hye-won's change and wishes for a quick end to everybody's turmoil. Yoon-kang tells her that the end is in sight, and that he's keeping tabs on Lord Kim. She's encouraged to hear him say that he plans to deal with him via the law rather than with the gun, since his vigilante brand of justice puts him in such danger.
Choi Won-shin awakens in Lord Kim's home, and while I believe he's grateful to have been rescued, he is not ignorant of his indebtedness to Kim. And just when he'd been so close to extricating himself! Lord Kim offers magnanimously to forget all their past conflicts and to make Choi the most dominant merchant of Joseon—in exchange for one thing, which he doesn't name just yet. He also tells Choi to forget about joining forces with Minister Kim, which alarms Choi a little; he hadn't realized Lord Kim had been aware of his maneuverings.
Lord Kim grants his permission to Choi to inform his daughter that he is alive. And not a moment too soon, as Hye-won has lost all hope and is ready to end her own life with her pistol. Sung-gil just barely manages to wrest the gun out of her hands while she exclaims that she has nothing left to live for, and then Choi appears.
Sternly, he takes the gun and reminds a stunned Hye-won that people like them have nothing but their lives. Even if he had died, she should live on and have all the things her poor mother never had a chance to have. "Do not do anything so foolish again," he says. "You cannot die this way. Our lives are not to be lost so easily."
Choi explains how he was rescued by Lord Kim, and tells her to keep his return a secret. When she asks what he'll do about Yoon-kang, he answers, "I'll kill him. No matter what."
Next, Choi Won-shin visits Minister Kim, who is greatly relieved to see him alive and well. He lies to Minister Kim about recovering in a hideout and seeking him first and not having seen Lord Kim yet, which indicates that he has decided to obey Lord Kim's dictate—he's pretending that their secret alliance is still going, but working for the other guy. And yet, Choi is genuinely shocked when Minister Kim tells him what Lord Kim is planning—to replace the king. That's big stuff, and Minister Kim tells him they are to both play along and outwardly follow Lord Kim—but to prepare for his plan to fail. And when that happens, it'll be their moment, and they mustn't hesitate, as their lives are on the line.
It's a fascinating opportunity for Choi to play both sides of the coin, because as of this moment I don't actually know if he's being a double agent or a triple agent. Where is his loyalty?
Dressed in his ridiculous Chaplin getup again, Yoon-kang impersonates Yamamoto and takes another meeting with Lord Kim. They discuss the deal wherein Yamamoto would be given exclusive mining rights and Lord Kim would reap a hefty portion of his profits, but really it's an excuse for Yoon-kang to look around and get the lay of the land, as well as noting who comes and goes.
Lord Kim asks for more time to think it over, and Yoon-kang agrees. He's on his way out when Minister Kim arrives, and turns his face away quickly to avoid being recognized. The minister catches enough of a glimpse to want a closer look, but for now Lord Kim insists on heading inside, buying Yoon-kang a little more time in this ruse.
The surveillance provides valuable clues, as Yoon-kang reports to Officer Moon, and after realizing which parties are often visiting Lord Kim (various heads of state and military leaders), they deduce that Lord Kim may be plotting an armed coup. Yoon-kang decides to go on a recon mission tomorrow, as there will be an important meeting held at Lord Kim's estate. Officer Moon offers himself as backup.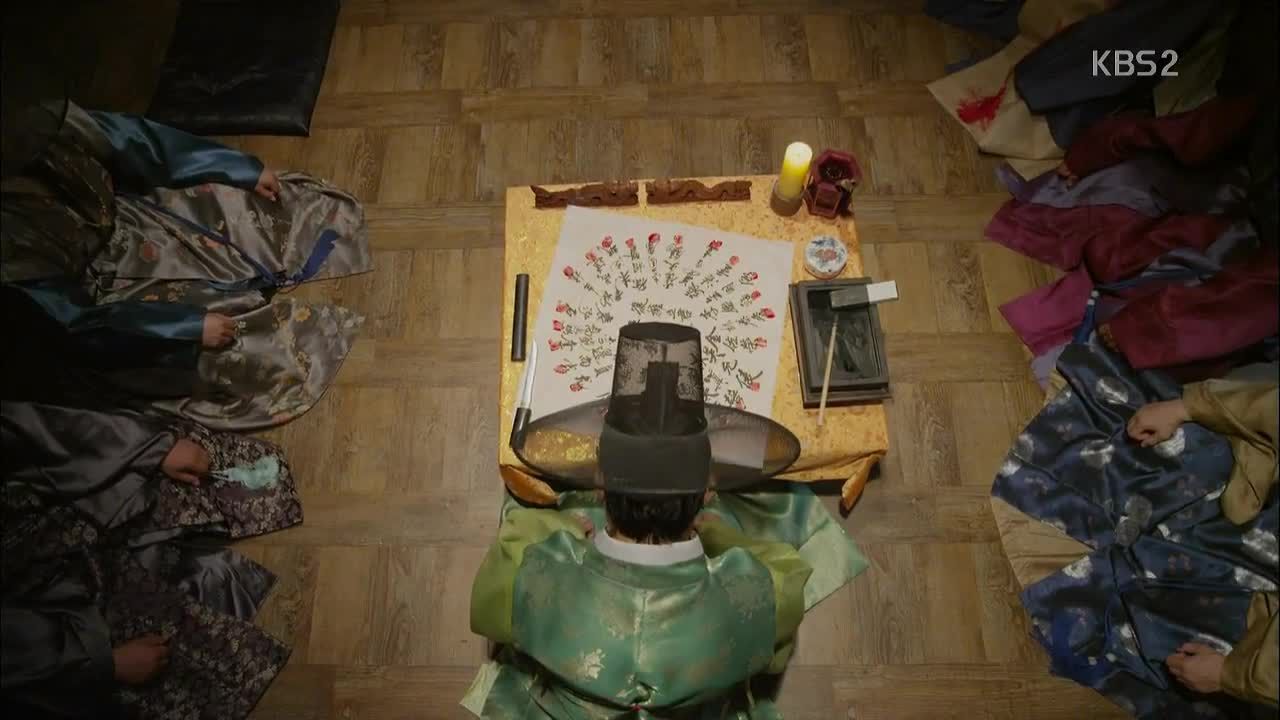 In the Suhogye inner circle, Lord Kim prepares a document calling for the replacement of the king for the sake of a better Joseon, and each of his followers adds his name and thumbprint of blood. And hidden behind the screen is Yoon-kang, taking this all in.
The meeting adjourns and the Suhogye members exit, leaving Lord Kim with his damning document. That's when Yoon-kang steps forward, holding his gun to Kim's head. He takes the document, tucking it away (thankfully) seconds before guards burst into the room with swords drawn.
Lord Kim goes along with Yoon-kang's demands, leading him outside, where even more guards join in and attempt to take him down. Yoon-kang shoots one and knocks aside another, and Lord Kim does a little quaking in his boots as he orders them to attack. Yoon-kang fights his way through them and heads for the exit, and for the briefest second he locks eyes with Choi Won-shin.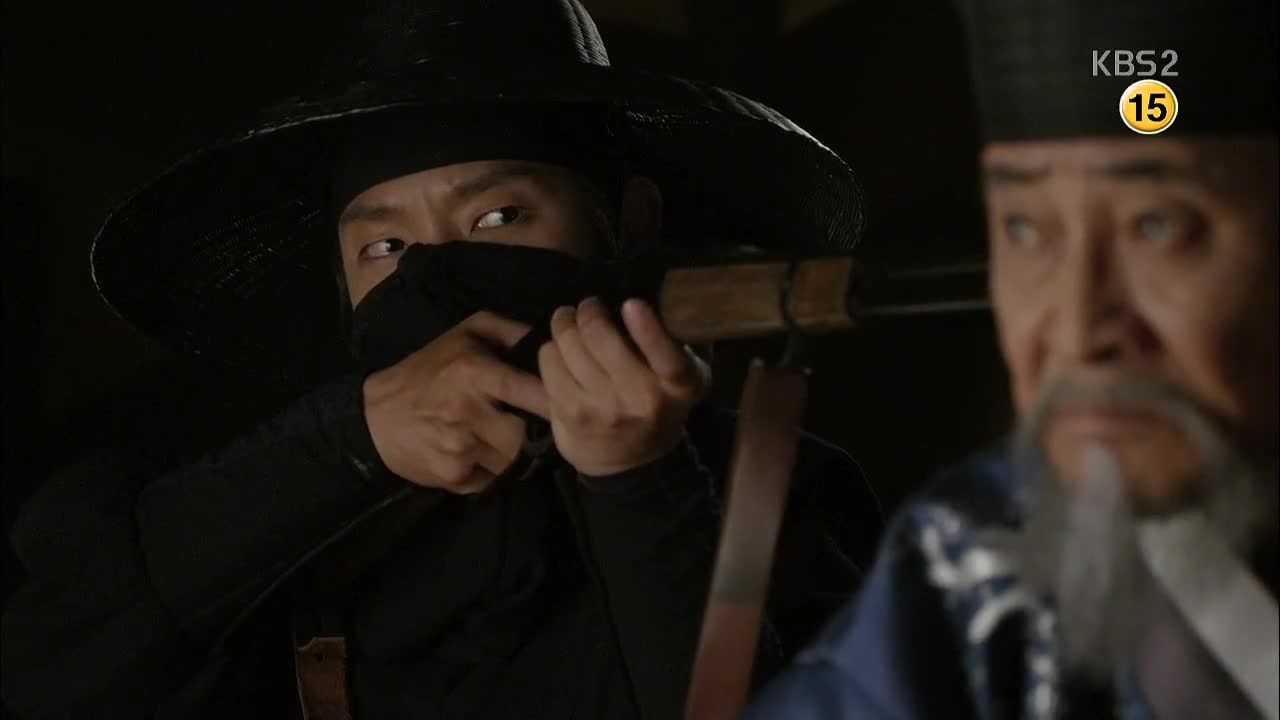 Thanks to Officer Moon's backup, Yoon-kang has a getaway horse waiting for him and the two men ride off safely.
Lord Kim frantically orders his men to move out, since he's royally screwed with that document on the loose. Yoon-kang delivers it straight to the king, who is grateful and ready to act swiftly. He orders Officer Moon to arrest everyone involved and have them tried at high court, and Yoon-kang is moved to hear that his father's dishonored name will finally be set to rights (…in six more episodes).
Gojong informs his advisers of his plans to take down those members of Suhogye… only to hear that armed rebels are already on their way to the palace. If the king is overthrown militarily, the crime of conspiring to take him down becomes moot, since his opposition will have assumed power. Unfortunately, he is, as ever, a little too late to be effective.
The rebels storm the palace and send the court into a screaming terror. Yoon-kang catches a glimpse of Soo-in, who is about to be cut down by one of the rebels, and leaps into the fray in time to take down her attackers and grab her to safety. He urges her to escape immediately, but hearing that this is an insurrection, Soo-in insists on informing the queen. She can't run away while leaving the queen to die.
They arrive at the queen's residence just as she is being escorted to safety, with Ho-kyung commanding her guards. Yoon-kang argues that escorting her with her full royal retinue will only make her an easy target, and insists on taking a different approach. Soo-in thinks of a plan to get her out of the palace, and queen agrees to it.
So Yoon-kang leads a small party across the palace grounds, and when the rebels insist on stopping the queen's conveyance, they find Soo-in inside instead. It's royalty they want, so they continue on their search and allow the entourage to continue, failing to notice that the queen is disguised as a court lady.
Interpreter Jung is picked out as a target of the rebels' ire, and they surround him and charge him with manipulating the king to assume control of that new military bureau as a power grab for himself. There is somebody who wants his life, the leader says.
Interpreter Jung guesses that person is Lord Kim, and gives these soldiers a message to take back to him: "There is nothing you can stop with cruel violence. Even if you enact this coup and take the lives of all the Kaehwa scholars, His Majesty will never submit to you." More scholars will rise up to protect the king, he says, and thus their revolt is meaningless.
His words stir their anger, but he doesn't back down an inch. He vows to stay faithful to the king through the end, then awaits his death. It comes quickly, and he is struck down by the rebel leader.
The queen makes it safely outside the palace, at which point she changes places with Soo-in for the remainder of her journey.
Interestingly, Lord Kim pays a visit to Heungseon Daewongun—aka Gojong's father, who had served as regent for the first decade of Gojong's tenure as king. Hm, so is he actively involved in a plot against his son? Lord Kim strikes a deal with him to spare the king's life, though he fully intends to take the queen's. He calls it a necessary move to quell the public's ire—the ire he has so skillfully built and manipulated to justify his own actions.
Next Lord Kim gives Choi Won-shin the order to locate the runaway queen and assassinate her. He reminds Choi of all he stands to gain once he has accomplished that—he'll be Joseon's king of commerce.
Hye-won is by now fully on her father's side, which includes supporting his assassin's activities, and aids in hunting down the queen's whereabouts. Her concerns aren't over the morality of his actions anymore, but over whether his gamble is too risky in teaming up with Lord Kim. He answers that he has a backup alliance in place to use in case this first one fails him: "Whether it succeeds or fails, ultimately your father wins." He tells Hye-won to speak with Minister Kim and follow his instructions, and heads out on his mission.
Gojong falls to his knees upon seeing the corpse of Interpreter Jung, feeling a terrible blow to lose one so faithful. When his father arrives at court, regarding Gojong with sympathy, the mood is heavy and desolate.
Choi Won-shin collects enough eyewitness accounts of the queen's entourage through the countryside to narrow down her likely destination of Yeoju, and heads in that direction. The party hasn't yet made it there, pausing to rest for the night at an abandoned house in the mountains.
Yoon-kang remains on guard duty, and Soo-in reminisces on that long-ago night that they'd hidden in a similar house, running away from the gunman. She admits that she's still scared now, but much less so than before because he's with her, noting that he's always protected her.
Yoon-kang is more concerned about Soo-in, asking why she always charges into dangerous situations rather than away. She could have escaped the palace first, but went back instead—does she consider the king and queen more important than her own life?
Soo-in nods, though her answer isn't perhaps the one he was expecting: The king and queen must remain safe in order for Yoon-kang's name to be cleared. He needs the king to uncover Lord Kim's conspiracy, and therefore Soo-in will do everything to keep them safe.
It isn't until morning that Choi Won-shin tracks them down to the house and sees the signs of their stay there, but he's moving fast and catching up. Only a short while later, his gunman come upon the queen's entourage and open fire, necessitating an escape on foot while Yoon-kang holds them off with gunfire.
Choi Won-shin clocks the ladies' escape and cuts them off, giving Soo-in a chance to step aside to spare her life. But Soo-in refuses, of course, and he's not too torn up about taking her out first. He prepares his shot… just as Ho-kyung and his troop arrive to intervene, having caught up to take over her escort. They're armed with the newest guns as well, and form a barrier in front of the queen while Choi makes his getaway. But first, he recognizes Ho-kyung as Minister Kim's son and files away this information.
Ho-kyung scans through the terrain with his gun ready, while Yoon-kyung does the same, and end up briefly in each other's sights before recognizing each other in relief. Is it too much to ask for a hug here? I swear the emotion calls for it!
Instead of hugs, they exchange information and express relief to find each other safe. With the gunmen deflected for now, the entourage manages to make it all the way to the queen's family home in Yeosu, which the queen assures is safe.
The queen asks Soo-in a favor in conveying a letter to the king to apprise him of her circumstances. Soo-in readily agrees, but Yoon-kang balks—it's too dangerous to make the trip all the way back to the palace, after having just gone through all this to escape it. Soo-in
insists that it will be a short and necessary trip to the palace and back, and upon seeing her determination, Yoon-kang offers himself for the task instead. Furthermore, he has unfinished business in the city and must return anyway—that's where Lord Kim is.
So Yoon-kang entrusts the women's safety to Ho-kyung and rides back to the capital… just as Choi Won-shin leads his assassins to the Yeoju residence. Ack! What we really need is an army of Yoon-kangs everywhere. What, like that's hard?
Yoon-kang makes it back to the city, where he learns that everyone believes the queen to have died, with her father-in-law the Daewongun already in mourning. He asks Jung-hoon to deliver the queen's letter to the palace, and I cannot be the only one tensing up at the thought of Jung-hoon being tasked with anything that crucial. The guy is all good intentions, but not so much on the follow-through.
Gojong is a nervous wreck at the lack of confirmation of the queen's state, and also fraught with frustration over having all his hard-won advancements being so easily overthrown in the span of a day. "What have I done all this for?" he laments.
Thankfully, the letter makes its way to the king, providing a beacon of hope. For now.
Choi Won-shin prepares to make his move, gathering information about the queen's guards and readying himself for attack.
At the palace, Gojong deliberates over the two conflicting arguments presented to him by two of his advisors. Min Yeong-ik takes the more conservative stance, advising that they appeal to China to lend them military strength to suppress the rebellion, citing that as the only way for them to prevail. Kaehwa faithful Kim Ok-kyun, however, argues that they would be courting their own demise if they were to involve China, which might help them in the short term but would never allow Joseon to be free of that obligation.
A court lady eavesdrops outside the king's chamber and reports this to Minister Kim, who takes it to Hye-won. Although Gojong has yet to decide, Minister Kim understands that in the end, to save the queen, it's quite likely that Gojong will opt to ask for Chinese assistance. And that is good for Minister Kim and the Chois, because it will mark the coup as a failure, and down goes Lord Kim. He instructs Hye-won to send a message to her father: Stop what he's doing for Lord Kim and return to the city.
In Yeoju, Soo-in and Ho-kyung regain a bit of their old warmth as they talk. She apologizes for her reaction to finding out about his father, both because of who his father is and because she'd felt he'd lied to her. But she realized the pain he'd endured by being abandoned by his father and being forced to send him into exile, and she invites him to move back with her family.
And then, their conversation is cut short by the arrival of intruders, who face them with guns drawn. Ho-kyung stands up to them, but it's one against four, and there's no way he could hold them off.
Back in the city, Yoon-kang infiltrates Lord Kim's estate and walks right into his chamber, revealing his face and his identity. He informs him of the signed petition being in the king's hands, but Lord Kim isn't worried. Yoon-kang declares that even if that isn't enough to punish Kim under the law, he can kill him now, and draws his gun.
But first, he has a question he needs answered: "Why did you kill my father? Why did you fabricate his death as treason?"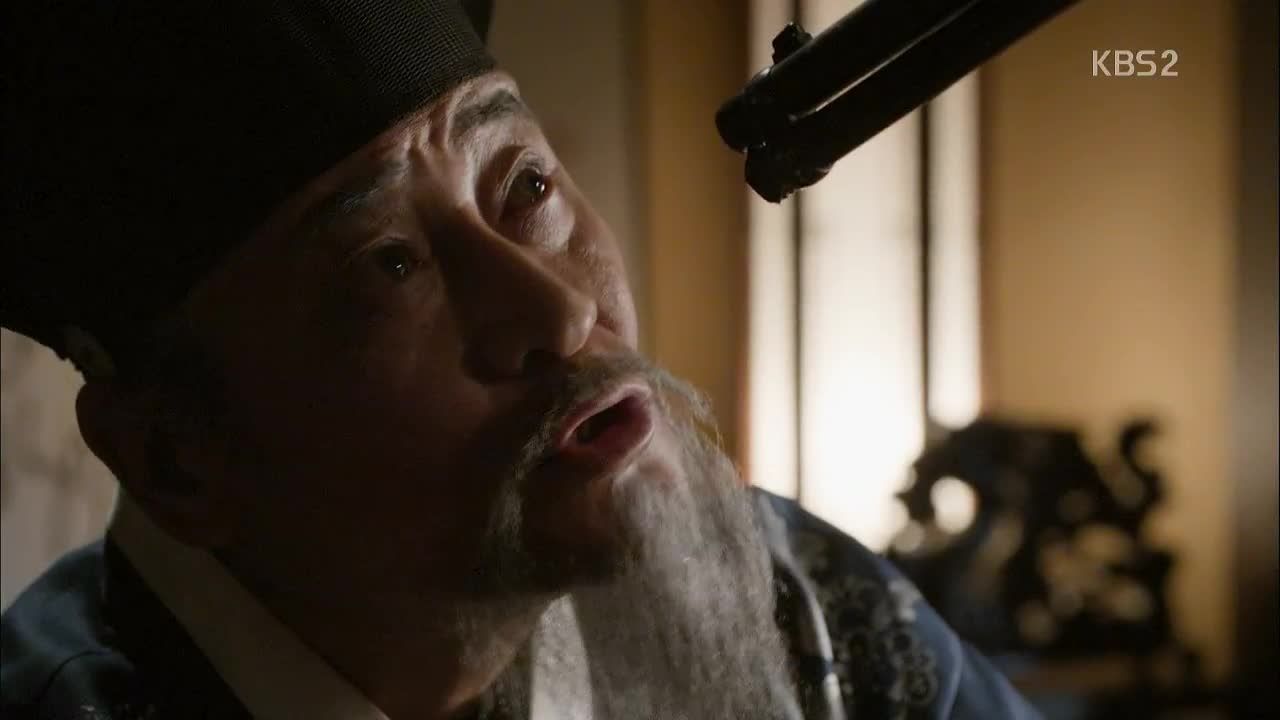 Lord Kim replies, "For the safety of this country. If nobody is sacrificed, order cannot be preserved."
Yoon-kang scoffs, "Order? What is this order you speak of? Lining your pockets? Filling the bowls of the wealthy aristocracy?"
Betraying little fear or remorse, Lord Kim says, "I am sorry. Forgive me. If you let me live now, I will restore your father's name."
Is that a flicker of hesitation on Yoon-kang's face? But he says, "I will not forgive any more. I will not be abused by the likes of you. Now I will deliver judgment upon you. I will put and end to you and your Suhogye!"
He cocks his gun. Lord Kim flinches. The episode ends.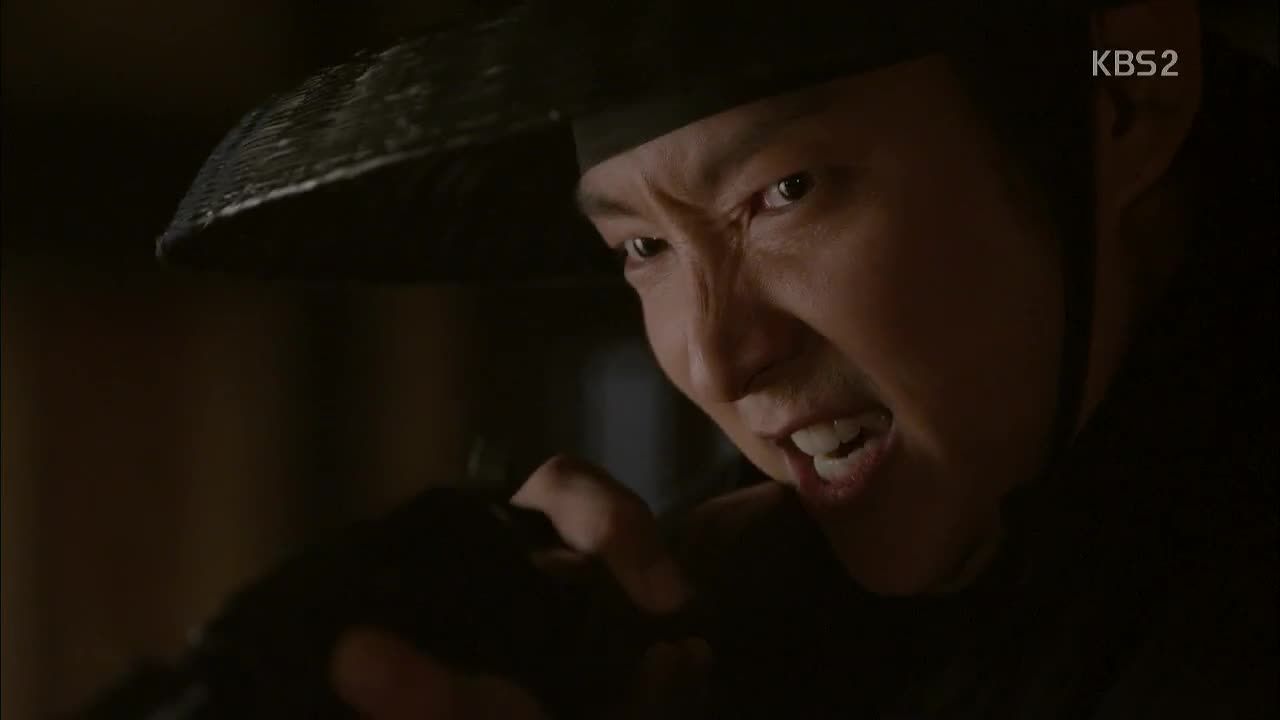 COMMENTS
The story takes a philosophical turn, which is evident in the final scene but also runs through the rest of the episode in various threads. It's interesting that our hero is actually the slowest on the uptake in this regard, because he's still struggling with the question of his personal fight versus the one at large, while many of those around him (Soo-in, Ho-kyung, Officer Moon) are farther along on that path in serving a greater good. I don't think this detracts from his character, and to the contrary it seems fitting, because you want to be on this journey alongside Yoon-kang.
Ho-kyung, for all his wonderful qualities, would make the must annoying hero ever because he's just too perfect, and where's the fun in seeing a perfect, principled hero who always does The Right Thing? Now, I say this with love because I am quite endeared to Ho-kyung as a character and appreciate the pathos of the acting performance. I just mean that he'd be all wrong for this hero's tale, and there's a reason we're rooting for the other guy despite the fact that half the time I'm also yelling at him to be smarter (or get better disguises. C'mon, who can take that Yamamoto getup seriously?).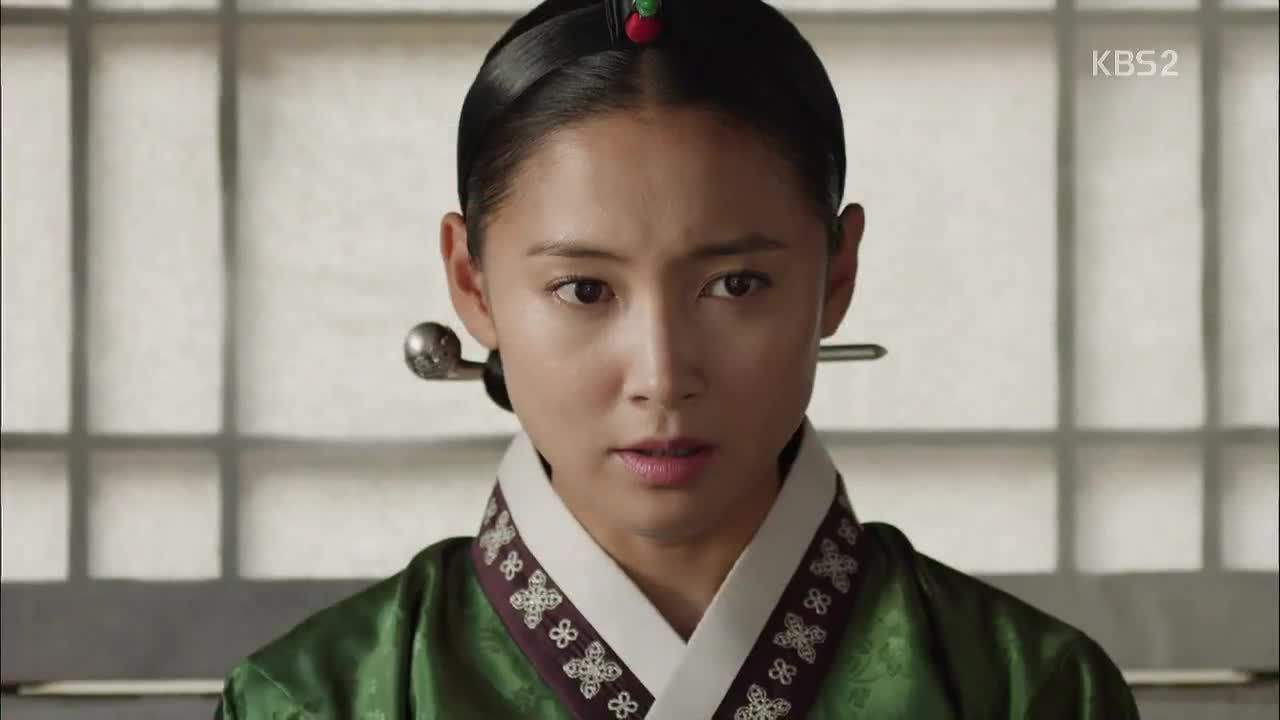 I will still contend that the Choi father-daughter duo are perhaps a more skillful rendering of that idealism-pragmatism dichotomy, although Hye-won's shift to her father's side has made them the poster children for defensive self-interest. I say that not as a criticism—in fact, I respect them for figuring out the way to survive and realizing that in their positions, they cannot afford to be idealists. Morality is a luxury in their position, since survival rarely abides a moral code. That dovetails nicely with their profession, since business operates in much the same way, and that parallelism is a nice touch.
But it's because Yoon-kang is as impulsive as he is that I think it works to have him surrounded by idealists like Soo-in—idealists who, on their own, could be just as irritating if not for the fact that they balance nicely with the hotheaded vigilantes of the world. I do wish Soo-in showed a little more complexity since she's just so good at this point, a carbon copy of her father, but at least her principles have a positive effect by steering our hero along on his path. He's still such an emotional livewire that I think he'll be struggling to contain his passionate gut response at every step of the way—that's not something you just unlearn because you decide to become a hero—and her steadfastness will prove to be an asset for him. It's just, you know, it would be nice if she had more spark. Not that he needs anybody to supply him with more spark—he's so fiery all on his own. But isn't that why we love him?
RELATED POSTS
Tags: featured, Joseon Gunman, Lee Jun-ki, Nam Sang-mi