Joseon Gunman: Episode 18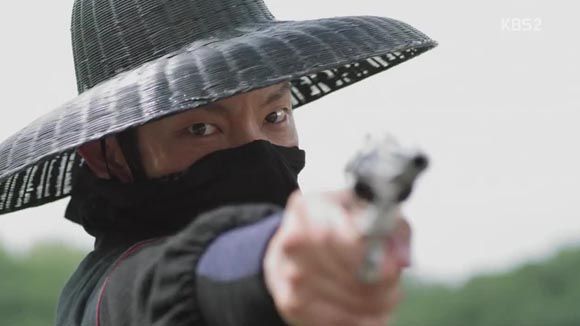 The game of one-upsmanship intensifies with both sides gaining some and losing some. And while Choi Won-shin has the bounce-back of a rubberized demonic energizer bunny, it's pretty satisfying to watch him deal with multiple setbacks at the hands of our hero. The tension is ratcheting up with every encounter, and you can certainly feel the growing hate in the air every time they clash—I'm pretty sure Choi is gonna give himself a rage-stroke any day now, which would have been sad had it happened to the old Choi Won-shin who was bound by powers greater than himself and struggling to keep his head above water. But this new Choi Won-shin is the one wielding the power, and the corruption of his character makes for a villain who's readily hateable (and sometimes laughable, albeit unintentionally). Well, all the easier to root for our good guy.
SONG OF THE DAY
Jung Joon-young, Younha – "달리 함께" [ Download ]
Audio clip: Adobe Flash Player (version 9 or above) is required to play this audio clip. Download the latest version here. You also need to have JavaScript enabled in your browser.

EPISODE 18 RECAP
Yoon-kang outmaneuvers Choi Won-shin and steals the mining deal out from under him. He enjoys the moment, but there's too much work to be done to revel in this minor victory.
Choi Won-shin, on the other hand, returns home in a rage and literally flips a table. He's ready to go out there and kill Yoon-kang, but Hye-won stops him, reminding him firmly that they have more important work to accomplish. He barely manages to get a hold of his temper, knowing she's right—only to receive yet more bad news: The materials they need (silk thread, leather) have been bought up by the others and are now unavailable. Flip goes another table. If Choi were the Hulk he'd be bouncing all around the countryside by now.
He storms into Yoon-kang's office and points his gun at him, warning him not think he's safe because of the king's instructions. Yoon-kang doesn't even flinch and challenges him to shoot already, goading him with the reminder that all it takes is for him to give up everything he's worked for thus far. "You've come this far on your one talent as a shooter," Yoon-kang adds. "I'd like to see you come crashing down because of one bad shot."
Choi shakes with fury, but slams his gun down. Yoon-kang tells him to wait and see, because he'll make sure to continue tormenting him.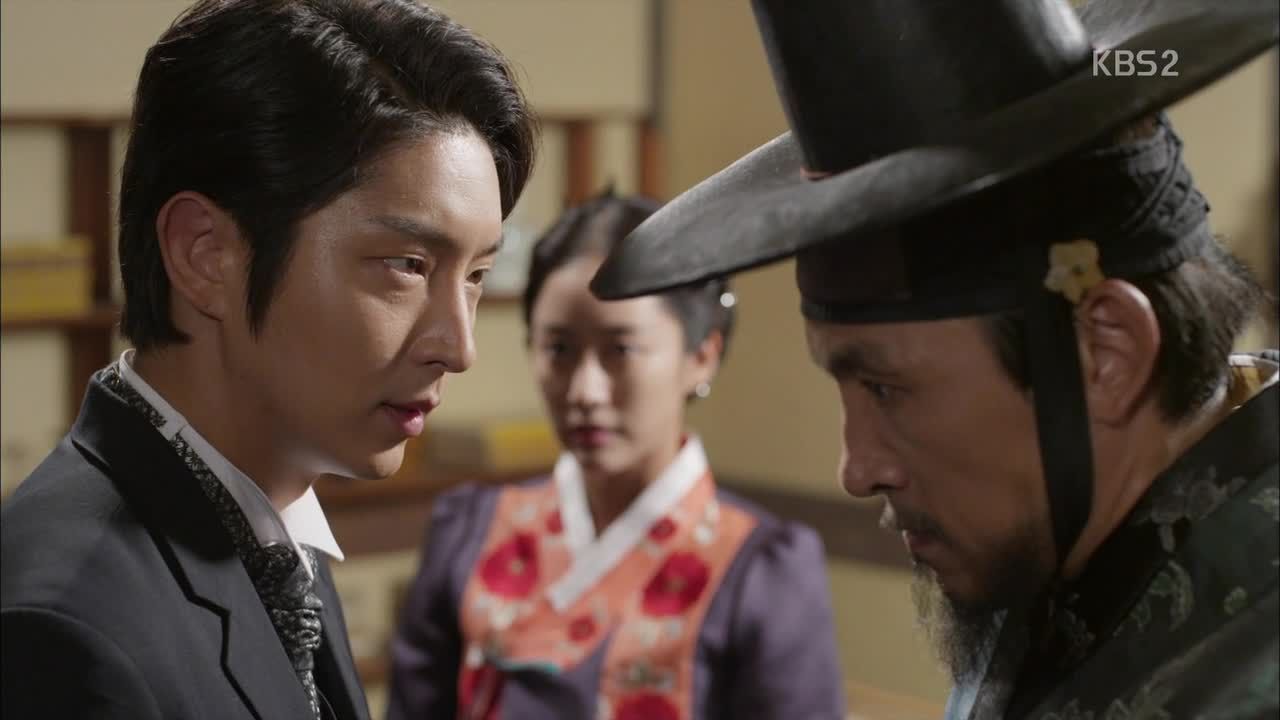 Ho-kyung moves back into his father's home, and I find it actually a bit sweet that Minister Kim welcomes him warmly (especially considering how terrible he was to Ho-kyung at first). Choi Won-shin bursts into the room in a tizzy, and Ho-kyung is affronted at the disrespectful entry, particularly since he doesn't know of their secret alliance. His father asks him to step aside, though, and takes the meeting with Choi.
He's displeased to hear of Yoon-kang's interference, but also displeased that Choi has allowed himself to get caught up in this mess. Choi is starting to fray a bit at the seams, though, and insists that Minister Kim pull his strings to speed up the establishment of the bureau of merchant administration, so that he can fight back. This deal with Yamamoto is everything to him, and he must prevail.
The easily swayed king considers this argument, but the Kaehwa officials protest, saying that the merchants already hold too much power. Gojong refrains from making a decision, so the Kaehwa officials put their heads together to prevent Minister Kim and his cronies from building up their power even further.
The scholars deduce that the king is no longer heeding their words, and furthermore, the queen's own formidable family (the Mins) seem to be moving in Minister Kim's direction. "The enlightenment we envision has gone farther away," a leader says. This calls for drastic action, and Kim Ok-kyun supposes, "That method is the only one left to us now."
Having lost one contact in the uprising, they are also in need of someone to replace her. Kim Ok-kyun has just the person in mind and seeks out Soo-in, asking if she still wishes to carry out her father's dreams of bringing their nation into the modern age. She's unsure of how helpful she can be, but he assures her that it's something only she could do: become a court lady. Someone who can watch the king and queen closely and supply them with information.
Soo-in is reluctant, saying that she's never considered this kind of work, but he asks her to think it over, calling it crucial to their mission. Soo-in shares the news with Yoon-kang, saying that she feels it's too much for her. He agrees, calling it dangerous, and is glad she wants to turn it down.
She asks about his mining project, and looks worried when he says he'd do whatever it takes to make it succeed. He assures her that he won't do anything dangerous, however, saying that he's realized that Choi Won-shin is more afraid of money than guns: "I mean to use that against him."
Despite what she said, Soo-in mulls over the proposal that night, torn between her desire for an ordinary life with Yoon-kang and the pull to continue her father's work. "Watching the young master live such a dangerous and busy life is so difficult," she worries. "It makes me uneasy and heartsick. If only we could live common lives like other people, gazing at each other daily, eating meals together, having children who resemble us, laughing and crying. Can we not just live like that?"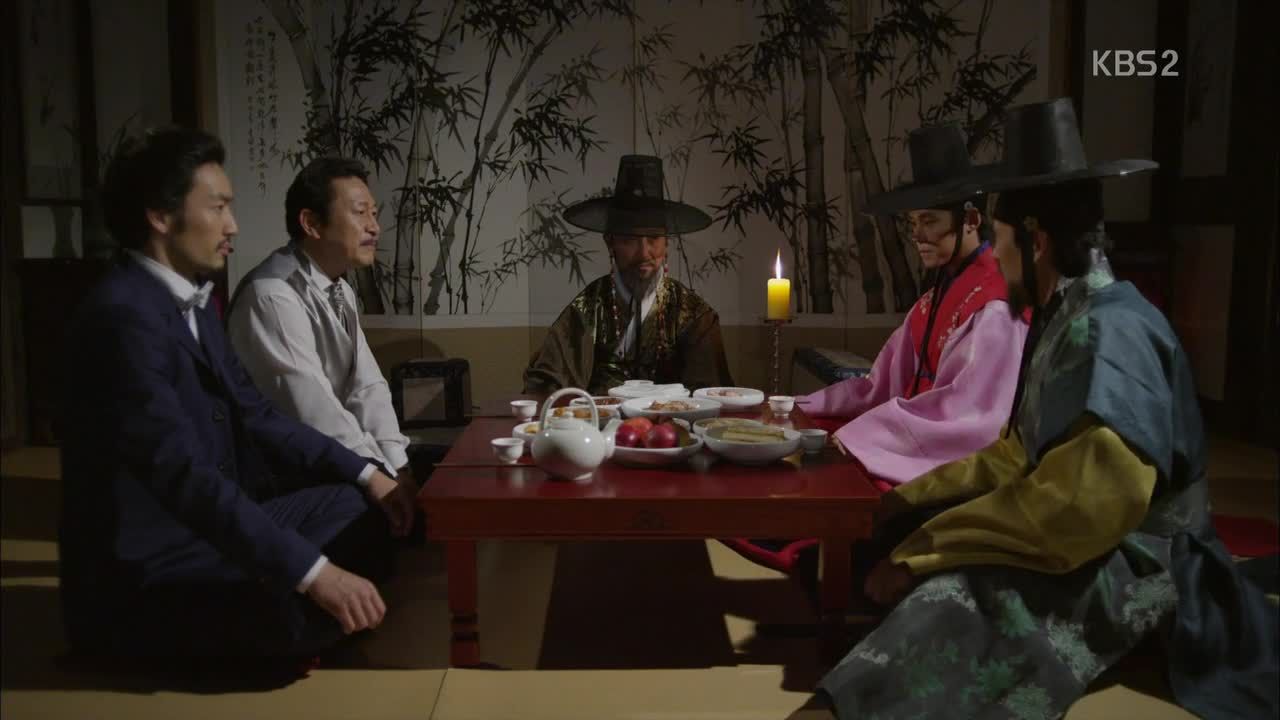 That evening, Minister Kim takes Ho-kyung with him as he facilitates a meeting between Yamamoto and Choi Won-shin. (Ho-kyung and Choi are already acquainted, of course, but this is the first official encounter with him as the minister's son.) Choi uses this meeting to sway Yamamoto to his side, assuring him of his imminent position heading the bureau of merchant administration.
Hye-won asks Ho-kyung whether Soo-in knows that he has reconciled with his father. He bristles at the question, but she says she can understand his position, having experienced it herself—and when you find yourself backed into a corner, "the only thing you can depend on is family."
Ho-kyung reports this secretly to Kim Ok-kyun, deducing that Choi's money is being funneled into the government, bribing politicians to act in his interests. Kim Ok-kyun expresses sympathy for putting Ho-kyung in a difficult position, but Ho-kyung says that it's okay. (Though clearly he's struggling with it personally.)
He runs into Yoon-kang on his way out, surprised to learn that he's acquainted with Kim Ok-kyun. Yoon-kang explains being rescued by Kim Ok-kyun, then meets with him to ask him not to press Soo-in into joining this line of work. He offers himself for anything and everything, but describes her as more dear to him than his own life, and goes as far as to say that putting in Soo-in in danger would make him cut ties with Kim Ok-kyun.
To his relief, Kim Ok-kyun accepts this readily enough, though I'm not convinced he's letting it go.
Minister Kim sits Ho-kyung down to inform him of his intentions for his future—namely, he wants to recommend Ho-kyung to take a military command position. Ho-kyung is uneasy about accepting such a high position, but his father just tells him he's up for the task.
Choi Won-shin and Hye-won are puzzled when nobody turns up to their meeting, only to hear that the merchants received a better offer and decided to take it—with Yoon-kang. He's been outmaneuvered yet again, and seethes. Table flip!
Ho-kyung hasn't told Soo-in of his situation with his father, but she finds out anyway when she happens to be in the city when the minister's procession passes through—with Ho-kyung part of his entourage.
The queen calls in the Chois to thank them for saving her life, asking them to continue in their service to her family. She treats them warmly, and listens to his request to push the king into speeding along the establishment of the merchant bureau, since he is waffling. She agrees to put in a word, and is pleased to accept the "small gift" of gratitude Choi leaves with her. It's an incredibly extravagant set of accessories, which she is exceedingly happy with.
And then, Soo-in arrives to speak with the queen, and she sizes up the situation with one look at the Chois. The queen is pleased to hear of their close friendship, and Soo-in can only look at them aghast as they claim her as "just like a daughter" and "just like a sister." She bites her tongue until they're dismissed from the queen's audience, at which point they trade barbs. Soo-in challenges, "What are you so afraid of? That [your father] is the gunman? Or that you pulled a gun on me and tried to kill me?"
Hye-won is rattled and hisses at her to shut up. Soo-in holds firm, and declares that the day will come when their hypocrisy is exposed, and her father punished for his crimes. "The truth always comes to light," she says.
Soo-in shares this with Yoon-kang that night, and wonders whether the queen is ignorant of Choi Won-shin's misdeeds. Yoon-kang says that it's more likely that she knows but is turning a blind eye because she needs them. "The king and queen are the same," he says bitterly, upset at the idea that his father sacrificed himself for people like that, and her father as well.
Yoon-kang continues to steal business out from under Choi's nose, but Hye-won drops by to tell him that those days are numbered, now that the merchant administration bureau is up and running—going forward, everyone will have to conduct their business through them. Right away, authorities descend upon Yoon-kang's business to exert the bureau's power to shut down anyone acting without its permission. Choi Won-shin joins them to gloat, and now it's Yoon-kang's turn to fume.
Out in his yard, Yoon-kang comes upon a young boy stealing rice from his kitchens, and the boy runs in fear. Yoon-kang recognizes him as that orphaned child from the mine and chases, telling him it's okay, but the child runs into the path of a horseman and gets knocked down. He rushes him to a doctor and pleads with him to save his life.
Officer Jung-hoon isn't surprised to hear the story, because theft is on the rise in the city. It's an inevitable development in the wake of Choi Won-shin taking over the entire rice supply, raising its prices to exorbitant levels, which has also caused prices of barley and other foods to shoot up. Basically, Choi Won-shin is now the devil, single-handedly starving the people with his avarice.
Yoon-kang opens up his rice stores to distribute to the poor, but that soon runs out and the situation is far from resolving. He vows to do something about it, and crashes a party between Choi and Yamamoto. But the encounter is futile, since Yamamoto is immune to his reminder that this is not how they do business in Osaka, and merely retorts that a businessman's primary goal is to turn a profit. He also throws Yoon-kang's words back into his face, reminding him that he's Park Yoon-kang now (having refused to return to his Hanjo identity), and thus has no place talking to him like this.
With his hands tied, Yoon-kang goes to Kim Ok-kyun and appeals to him to use politics—create a law that'll reverse this situation before everyone starves to death.
Kim Ok-kyun presents this idea to the king, asking for him to put a ban on exporting grains while their people are in crisis. Minister Kim argues that the government has no place interfering with commerce, to which Kim Ok-kyun replies that there are unscrupulous rich folks exploiting these misfortunes to turn a personal profit—could Minister Kim be one of them? Minister Kim can't make much of an argument, and the king instructs his advisers to look into the situation.
Kim Ok-kyun spots Soo-in at court, and pulls her aside to ask about his proposal. She regretfully declines, and he accepts it readily, saying he doesn't want to pressure her. As she heads off, her face falls to see Ho-kyung walking in step with his father, and he freezes to see her standing there. Stricken, he has no defense when she says accusingly, "I thought it wasn't true. I thought I'd seen wrong. But have you joined the minister's side?" She'd thought he was of a mind with her father's purpose, but he can't set her straight without compromising himself and only asks that she have faith in him.
But Soo-in hears his words as excuses, and says bitterly that she would at least try to understand if he said that his decision was motivated by blood ties. She adds that she doesn't want to see him anymore, leaving him heartbroken.
In the city, Sang-chu gets busy spreading the word that rice will be given away tonight at a certain warehouse. That's where Gunman Yoon-kang arrives to take down a few guards, sending the rest scattering in fear, before he shoots the locks off the doors and opens up the rice stores. When the citizens arrive on the scene, it's a free-for-all as they raid Choi Won-shin's warehouse and take away his rice in a frenzy of joy.
Next, he commandeers a ship carrying rice for export, and forces the vessel back to port, where it is distributed to more hungry people. This move concerns Kanemaru, who chides Yoon-kang for messing with Yamamoto's merchandise, but Yoon-kang states that the rice came from Joseon, and that it was being traded unfairly.
Kanemaru notes wryly that Yoon-kang never changes, but means it as a compliment—it's why he likes him. In fact, he says that he's always envied Yoon-kang's determination, and cautions him to be careful. Yamamoto isn't one who'll take this lying down.
By now, Robin Hood Yoon-kang has picked up a nickname, the Black Gunman of the Full Moon, and his story spreads among the populace. Soo-in's maid is all starry eyes for the hero, but every exploit just worries Soo-in more, since she has a pretty good idea who Black Gunman is.
She asks him about it point-blank the next day in the marketplace, as they hear the bookseller give another rousing rendition of the Black Gunman's adventures. She asks if it was more of his revenge plan, and Yoon-kang admits that it started that way, but that his feelings have been changing. Now he feels not only his own anger, but is moved with compassion for the other victims of Choi's perfidy: "When I fired blindly for revenge's sake, my heart felt empty. But now, for some reason, it feels full."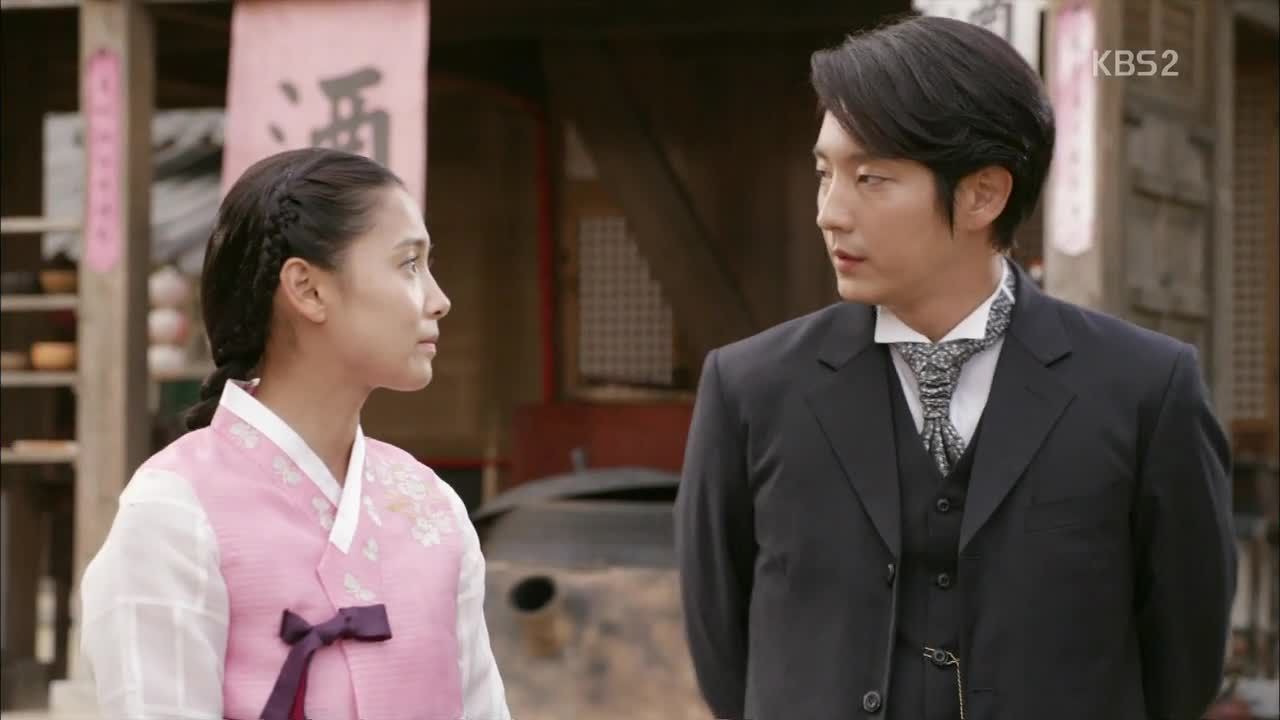 Yamamoto comes looking for an explanation from Yoon-kang, and Kanemaru warns him to deny the charges, no matter what. When asked, Yoon-kang merely states that he has heard the stories, but when Yamamoto asks him to capture the bandit for him, he refuses. No Joseon citizen would agree to it, he tells Yamamoto, because they all agree that the Black Gunman is doing the right thing.
That's confirmation enough for Yamamoto, who informs Choi that he'll be taking care of Yoon-kang soon. Kanemaru is present at this meeting, and it dawns on him that three of the boss's usual bodyguards are missing tonight. Something pings in his brain, and he takes off running.
His hunch is right, because Yoon-kang and Soo-in are ambushed by three men at gunpoint. They tie up Sang-chu and Je-mi and shove her with them, then lead Yoon-kang away with guns pointed at his head, no doubt to dispose of him quietly.
As they direct Yoon-kang toward the front gate, it suddenly flings open—bang! The first attacker goes down—it's Kanemaru, here to save the day. Yoon-kang reacts fast and fights hand-to-hand with the men holding him at gunpoint, seizes a dropped pistol, and shoots them down. It's over in seconds, and he hardly even breaks a sweat.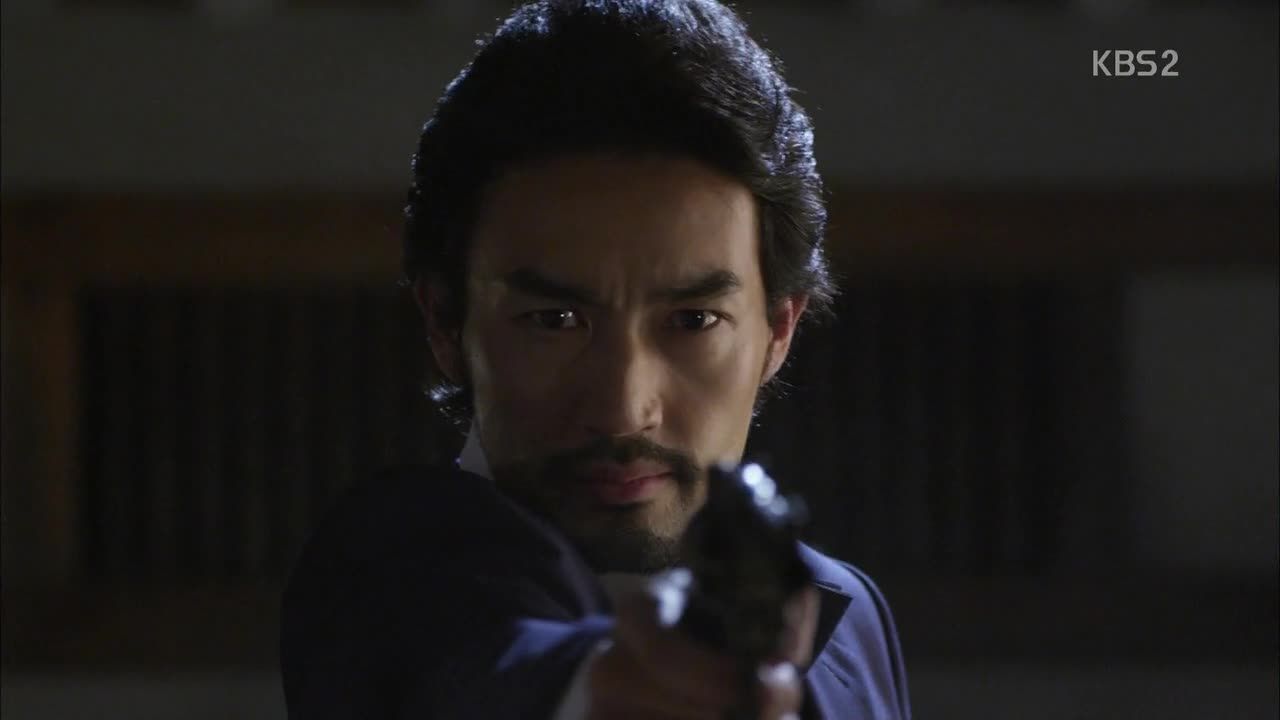 Yoon-kang thanks Kanemaru and says wryly that he also lacks loyalty, seeing him betray Yamamoto like this. Kanemaru replies, "The one who betrayed is Yamamoto."
Ah, there's a story here, because we flash back to that Kyoto incident they've alluded to so many times. We're one year ago, and Yamamoto finds himself is under attack—he and his men duck behind furniture as shots ring out around them. Kanemaru holds them off with his gun, but runs out of bullets as more intruders advance.
Kanemaru uses his body to shield Yamamoto, and it looks like they're seconds away from meeting their ends. But then a body flies through the paper wall and takes down the attackers swiftly—Yoon-kang.
Now, Yoon-kang asks what Kanemaru means to do, since his actions tonight have made a return to Japan all but impossible. Good thing he's got some friendly bros here, and Yoon-kang gives him a pat on the shoulder. But Kanemaru catches sight of a new threat when Yamamoto's bodyguard arrives at the gate and raises his gun. With only a split-second to act, he throws himself in front of Yoon-kang, taking the bullet meant for him.
Yoon-kang shoots the bodyguard, but it's too late for Kanemaru, who's struggling to hang on. He assures Yoon-kang that it's okay, and that he's joining his parents now. "We'll meet again… one day…" he says, and dies.
Assuming that Yoon-kang has been appropriately disposed of, Yamamoto sighs that losing Hanjo is a shame, since he was quite useful. Choi Won-shin assures him that he was an obstacle, and that this was the right choice.
Which is, of course, when they receive word that Yoon-kang is outside. He's come with dead bodies, which have been lined up in the yard, and addresses Yamamoto: "Go. Take your men and leave for Japan."
To Choi Won-shin, he says that to kill him, he'll have to step in himself, putting all he has on the line.

COMMENTS
Aw, it's the death of a bromance. Sniffle. Or is dying for your bro just more confirmation of the bromance, which can only be killed with a knife in the back or maybe the theft of a girlfriend? In any case, there's a reason I always get nervous when formerly minor side characters finally get their moment to shine, and start shining too much. A little bit of spotlight is usually innocuous, but the full-blown hero treatment? Dooooom.
I do wish we'd seen more of Kanemaru before he got this one chance to break through, just because I really like Otani Ryohei (ah, Soulmate love) and wanted him to get more to do. I had a feeling he'd become important at some point—I just wanted him to be important for longer. But this drama does tend to go from plot point to plot point, so I can see how it wasn't ready to utilize him until suddenly it was, and then he was gone. Just think of all the missed bromantic opportunities! Sigh, at least he got to go out with a bang. (…too soon?)
I was pleased to hear Yoon-kang address openly the change in his motivation, because maybe now we'll charge ahead toward the people's hero storyline, which I'm finding more engaging at this point than the vendetta. I won't say that it's inherently more compelling, but we've gotten to see his revenge mission go for weeks now, and a burst of fresh air is just what we need.
This episode was fairly evenly balanced between Yoon-kang's revenge and hero storylines, and I felt a noticeable difference when they shifted—namely, I perked up when he got to fight for someone else, because at this point we've seen pretty much the gamut of what he can do fighting for himself. So it's more interesting to explore the new ground, make him work for people in the abstract sense—people he doesn't know personally, whose injustices are institutional and long-running.
To express some disappointment, I don't really think this show is doing such a spiffy job in the execution of those heroic missions, which feel pretty pat—injustice is brought to light, Yoon-kang goes out in the night, injustice is fixed, Choi flips a table. I've seen a number of these stories in dramaland (Iljimae, Hong Gil-dong, Chil-woo) and the challenge is to find a new way to tell an age-old tale, and I think Joseon Gunman kinda skipped that lesson because most of its problems, while relevant and nicely worked into the main plot, aren't all that creative.
Maybe the show felt that the drama had so many other elements in play that it was okay to take the rote approach in this area, but really, a good drama should never slack off ever. C'mon, you've got two more weeks left—up your game and make it count! You can do it! Honestly, the show has got all the tools it needs to make that happen (it's not like it's fundamentally flawed in some big way and would require a complete overhaul to become what I want it to be); all it needs to do is try a little harder. I know, it's hard and the hours are long and everyone's tired. But being excellent isn't meant to be easy, otherwise nobody would ever suck. And we all know that that's not the case.
RELATED POSTS
Tags: featured, Joseon Gunman, Lee Jun-ki, Nam Sang-mi