Joseon Gunman: Episode 20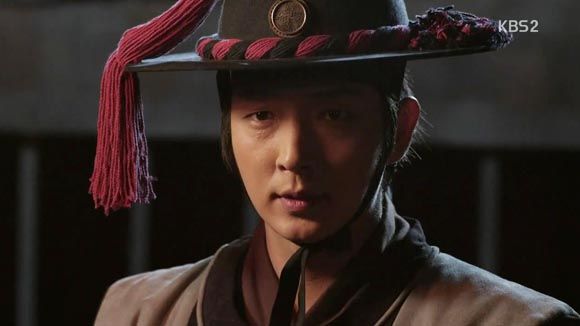 It's showtime. The plot picks up and as both sides amp up their strategizing, with spies and counterspies deployed in the game to win the upper hand and outmaneuver the opposition. Both teams make some important strides and face obstacles, but ultimately this episode acts as the launching pad for the big event: military coup.
…of course, we'll still have to wait till next wait to see how it plays out, because why would the drama play that hand before finale week? Well, I mean that waiting is necessary in the sense that we don't know what how the drama will portray the events. The rest of us can refer to our history books to find out how things actually went down.
SONG OF THE DAY
Kim Yeon-woo – "해독제" (Antidote) [ Download ]
Audio clip: Adobe Flash Player (version 9 or above) is required to play this audio clip. Download the latest version here. You also need to have JavaScript enabled in your browser.

EPISODE 20 RECAP
Soo-in makes her tearful departure with Yoon-kang, to enter service at the palace.
There are multiple reasons that becoming a court lady is seen by Soo-in's loved ones as a terrible thing. Her mother doesn't want to lose another family member to the terrible vicissitudes of court life, certainly, but more importantly, a court lady is giving her loyalty to the king. She may be chosen to be the king's consort and can marry him, but not anyone else; outside relationships were forbidden and punishable by law. (Granted, there were exceptions and court ladies could sometimes retire from service, but that required the king's permission.) Thus Soo-in is giving up much more than temporary freedom; she could find herself bound for life.
It also makes this feel much more like betrayal when Yoon-kang charges straight to Teacher Kim Ok-kyun and confirms that he'd pressed Soo-in to make the decision. Yoon-kang reminds him that he'd told him Soo-in was more dear to him than his own life, and asks bleakly, "How could you do this? Why did you steal Soo-in from me? Why did you take away my last hope?!"
Kim Ok-kyun says that it was Soo-in's choice, and that she did it for Yoon-kang's sake—she sacrificed herself in the hopes that Yoon-kang's name could be cleared and stop living as a fugitive. Yoon-kang is furious and hears these as excuses, but Kim Ok-kyun tells him there's one way to get Soo-in back: "You must succeed in this task."
Poor Yoon-kang, who rages futilely. Here's a case where the ends seem justified, but the means? Well, they're just as manipulative as the bad guys. Does that make it just as bad, or does the noble goal mitigate how they're using Yoon-kang for their ends?
The young slave boy from the mines (who stole food from Yoon-kang's house) approaches Yoon-kang, having heard that he rushed him to the doctor last time after he was knocked out by the horse. He's been hiding here in this abandoned house because he's a runaway, and has already guessed that Yoon-kang is the (in)famous Black Gunman of the Full Moon. He asks if Yoon-kang is also here because he has nowhere to go, and Yoon-kang sighs that it's true.
The boy encourages him to be strong, because he's the Black Gunman: "There are lots of people like me—you have to save them, like you saved me."
Soo-in enters the palace, and Ho-kyung watches her with sad eyes. (To be fair, when are they not sad?)
Meanwhile, Jung-hoon has decided to become a palace guard after all, following Officer Moon into service. He declines the offer to join the corps being trained with guns, because he doesn't like them—swords are way cooler. I'm pretty sure Officer Moon wants to smack him. Jung-hoon assumes that guard life will be easy and that they're not facing any uprisings, but when Officer Moon says that it's their duty to face those sudden threats, he tries to back out, only to be told there are no take-backs on palace service.
That's when Jung-hoon also sees Soo-in among the court lady ranks. There's no time to talk, though, and he is left utterly confused.
Yoon-kang must be staying somewhere outside the Gwangju military outpost, because when Choi Won-shin's man returns from his recon trip, he reports that there was no sign of Yoon-kang there. He gave it a thorough search, and nothing seemed suspicious. Choi finds this puzzling, but Hye-won figures it's not something to worry about, since he is a fugitive. Choi counters that Yoon-kang isn't one to lie low: "As long as he's alive, he will be attempting something." He calls their fate one that must end with one of their deaths.
Yoon-kang takes the little boy for a walk in the woods, and the boy says he's glad to have Yoon-kang with him: "I was feeling helpless. I didn't know if I could spend my life on the run." Yoon-kang asks what he'd like to do if he didn't have to run, and the boy replies that he wants to go to school and learn to read. "But I should wake up from that dream," he adds. "When would that day ever come? I'll just be happy to eat well." It's another reminder of the good he might be able to do, and it moves him.
Hand in hand, they walk to the outpost, where Kim Ok-kyun receives Yoon-kang with relief, having feared they'd lost him. Yoon-kang states that he'll join them for Soo-in's sake, and make sure they succeed.
With that, they begin strategy sessions. The Kaehwa leaders don't intend to go so far as to overthrow the king (or abandon monarchy), since the people aren't ready to go that far. They will not harm the king, but they'll strike a deal wherein they help the king protect his throne, and in exchange he gives them his power. They will, on the other hand, go after all the corrupt politicians and punish them appropriately. Then they'll set up a new government—one where slaves are freed and equality is struck for all classes.
To do this, they need to build up their forces, which are growing but still insufficient. Kim Ok-kyun is pleased with the deal he has struck with the Japanese ambassador… but Yoon-kang protests. They mustn't borrow Japan's power to establish their nation, because that'll make them beholden to Japan afterward—it's what happened with Joseon's relationship with Qing. Rather than using Japan, he says, they must use the power of their own people.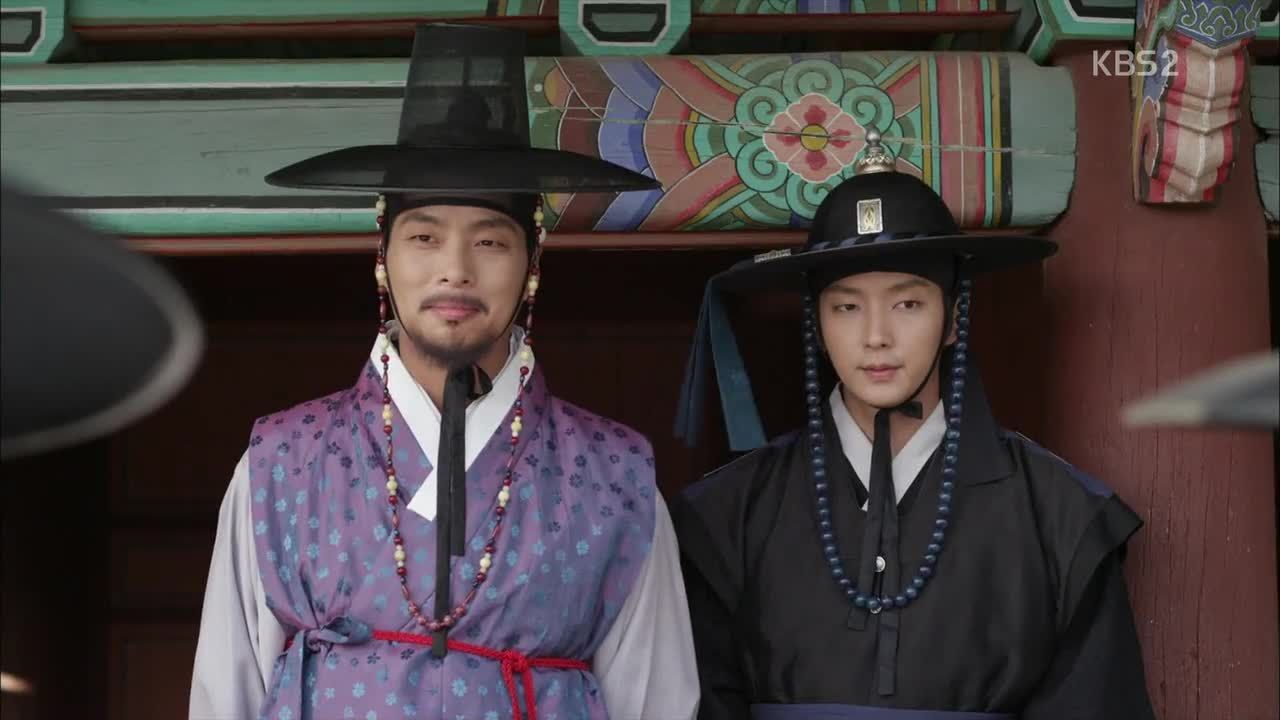 Kim Ok-kyun agrees with the argument, but says that the people are too burdened trying to survive to worry about bigger concerns. Yoon-kang entreats him to work at it nonetheless, talking to the people and finding a line of understanding between them.
The Kaehwa side has their eye on the conflict overseas that is occupying more and more of Qing's attention—their battle with France over Vietnam—which will provide an opportune time for them to launch their coup. If they time it right, Qing will be so distracted they won't be able to send aid to the Joseon royals, and thus what is an optimistic prospect for the Kaehwa leaders is a matter of concern for the queen and her Min kinfolk. Soo-in keeps her ears open as the queen discusses this, and writes a secret message to pass along to an intermediary.
Soo-in runs into Choi Won-shin in the palace, who pulls her aside to do some work, preventing her from passing the message along. She goes along to avoid rousing suspicion, but nervously keeps a close hand over the message tucked in her sleeve—and that gesture catches Choi's sharp eye. He asks about her motives for becoming a court lady, not buying her explanation, and warns her about not doing anything reckless. "I know that whatever you do is for Park Yoon-kang's sake," he says. "Don't do anything stupid. I'll be watching you."
Hye-won can't believe Soo-in would give herself up to be a court lady—she must be working some kind of scheme. Choi agrees, and hopes that the queen won't speak too loosely in front of her. And then they receive word that a scout spotted Yoon-kang at the outpost, dressed in military uniform, teaching the soldiers. That is alarming news.
Soo-in's message does, eventually, make its way to the Kaehwa headquarters. It alerts them to Qing's plan to withdraw half their troops in two weeks, so now they get to planning. The coup will involve arson and moving the king to a more strategic location (which are historically accurate details, though in this drama most of the strategy is attributed to Yoon-kang).
Just then, they find themselves cornered in their places with Choi Won-shin at the door, and Yoon-kang has no place to hide. They've only got seconds to react before Choi enters the room, and while Yoon-kang is out of sight, Choi notices the three teacups on the table. He asks for permission to search the room for the escapee, and Yoon-kang tenses behind the screen, his gun readied.
Choi is pretty certain he's got Yoon-kang pegged, but Park Young-hyo balks at the imposition—suggesting that he's harboring a criminal is an insult in itself. As he is related to the royal family, Choi's treading on thin political ice here, and he's forced to withdraw.
Kim Ok-kyun thanks Soo-in for the valuable information, and she asks about their problem of moving the king out of his palace. They haven't been able to land on a good answer, and so she proposes one: Set off an explosion and move the king on the pretext of getting him to a safer place. She agrees to handle it herself.
Ho-kyung is enlisted to smuggle explosives into the palace, bit by bit, in preparation for the event. He crosses paths with the Chois on his way to the drop-off point, and when Hye-won follows him to have a word, she sees him behaving rather suspiciously. He tucks an envelope in the corner of a wall, then runs into Soo-in.
Ooh. They're the two messengers on the same secret task, but they don't know it and thus both lie about why they're here. And Hye-won witnesses the exchange—they don't say anything explicitly damning, but neither does it add up.
Thus Hye-won meets with the queen and warns her against trusting Soo-in, explaining that she would do anything to protect her sweetheart. Upon hearing Yoon-kang's name the queen understands the potential conflict at play, and Hye-won encourages the queen to test Soo-in to suss out her motives.
Yoon-kang makes his way to the palace and finds Jung-hoon, who (against his better judgment) is talked into disguising Yoon-kang in a guard's uniform. This allows him the chance to scope out the palace layout, despite the dangers of being recognized. Very valid dangers, since they run right into Gojong's path—and Gojong steps closer for a better look at his face.
A timely interruption by several ministers spares Yoon-kang the scrutiny, and he breathes a sigh of relief to be passed by.
Choi Won-shin takes his suspicions to the queen's faction, letting her know of the movements at the military outpost, such as Yoon-kang's presence there and the intensive training being undertaken. It's alarming to hear that Kim Ok-kyun—currently the minister of personnel—is part of this activity, and they deduce that a rebellion is on the horizon. But they realize that it's too early to take this to the king, since he places a lot of trust in both Kim Ok-kyun and Park Young-hyo.
As they confer, Soo-in takes up her post outside the queen's chamber, just in time to hear their plans to transfer Park Young-hyo from that post—preserving his status but removing him from military command—and thereby also removing Yoon-kang's cover there. Soo-in doesn't notice that the head court lady has her eye on her and follows her out afterward as she seeks out the message drop-off location.
Before she gets there, a hand darts out and pulls her into the shadows: Yoon-kang. She's overcome with emotion when she recognizes him, and he first checks to see that she has been unharmed and well. He explains that he has joined in the mission, apologizing for realizing her motives too late. He vows to succeed and bring her back to him, and never leave her to be alone again.
For a bit of happy news, Je-mi tells Sang-chu she's pregnant, and he's giddy at the thought of becoming a father and suggests marrying right away. She's got other concerns, though, such as the thought of bringing a life into the world only to make it a slave—any child born to a slave is automatically a slave.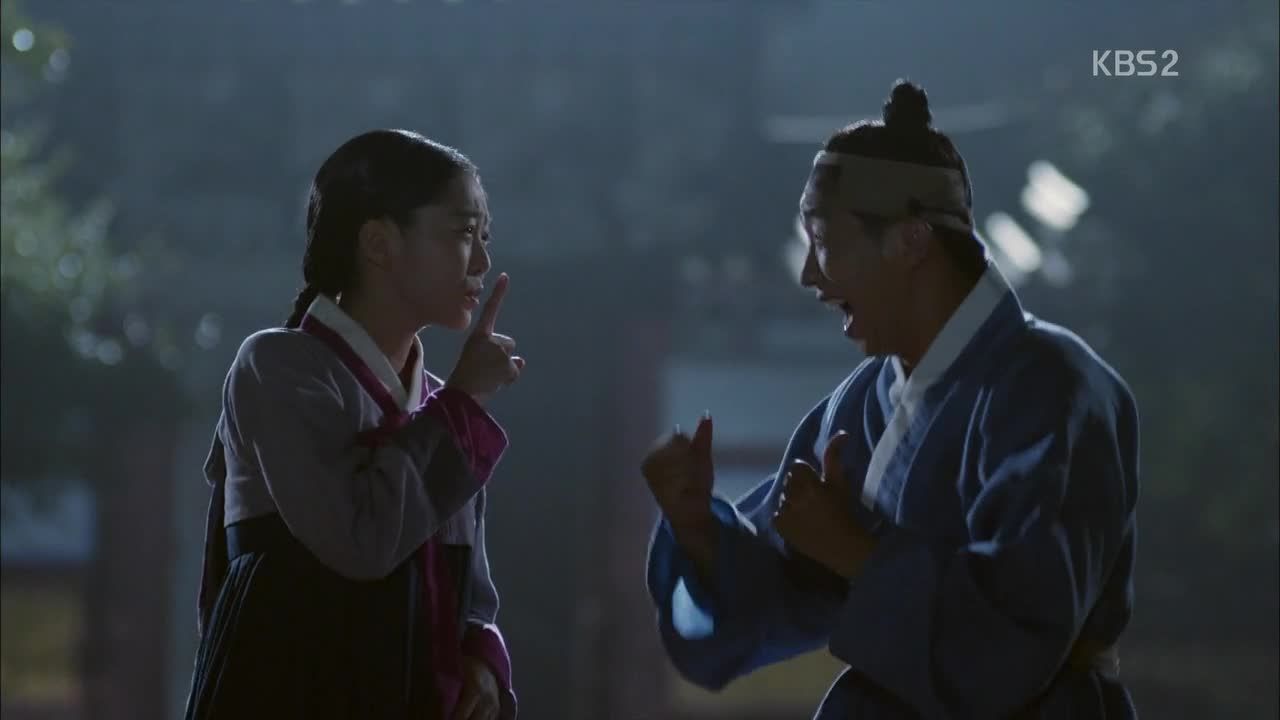 Yoon-kang takes Soo-in's information to his leaders, warning them that the opposition has cottoned on to their rebellion plans—they'll be sure to launch their counterattack right away. Sure enough, the next day the queen's cronies propose to the king to transfer Park Young-hyo away from that outpost, and what's more, to transfer command of all the soldiers he had been training.
Minister Kim makes a smooth argument that has the king nodding, and the opposition faction readily overrides Kim Ok-kyun's protests. For what it's worth, I hope Kim is just putting on a show of being outraged, because he did have advance notice…
So for now, the queen's cronies crow that they've outmaneuvered the Kaehwa side, with plans to take them down one by one. Minister Kim has plans for those soldiers' relocation, saying that he has just the "trustworthy man" to put in charge.
Those are the same words used by Park Young-hyo—he's planted someone trustworthy among the soldiers. Is it Ho-kyung? Tell me it's Ho-kyung. Please oh please, can't Ho-kyung finally get a worthy plotline in this drama?
Aha, it IS Ho-kyung! He assumes command over the troops, and in the meanwhile, the Kaehwa side moves up their plans. Yoon-kang argues that they're rushing into this, but the leaders counter that waiting too long makes them sitting ducks. It's time to strike.
The problem is, they'd been waiting for an opportune time to attack when all the corrupt ministers were present for some event or another, and if they push up the coup date, they'd have to storm the palace in a frontal attack. Some of the hotheaded members bluster that they'll do that then, but Yoon-kang argues level-headedly (who ever thought we'd see the day when he wasn't the hothead?) that they mustn't sacrifice their troops foolishly. Racking his brains for a smarter solution, he suggests making use of a gathering outside the palace, and thus a new plan is born.
They decide to strike a banquet being thrown to commemorate the opening of the postal office, where they'll strike down the statesmen, at which point they'll move on to the palace. They'll move the king and queen to a different location, and then they'll have their revolution.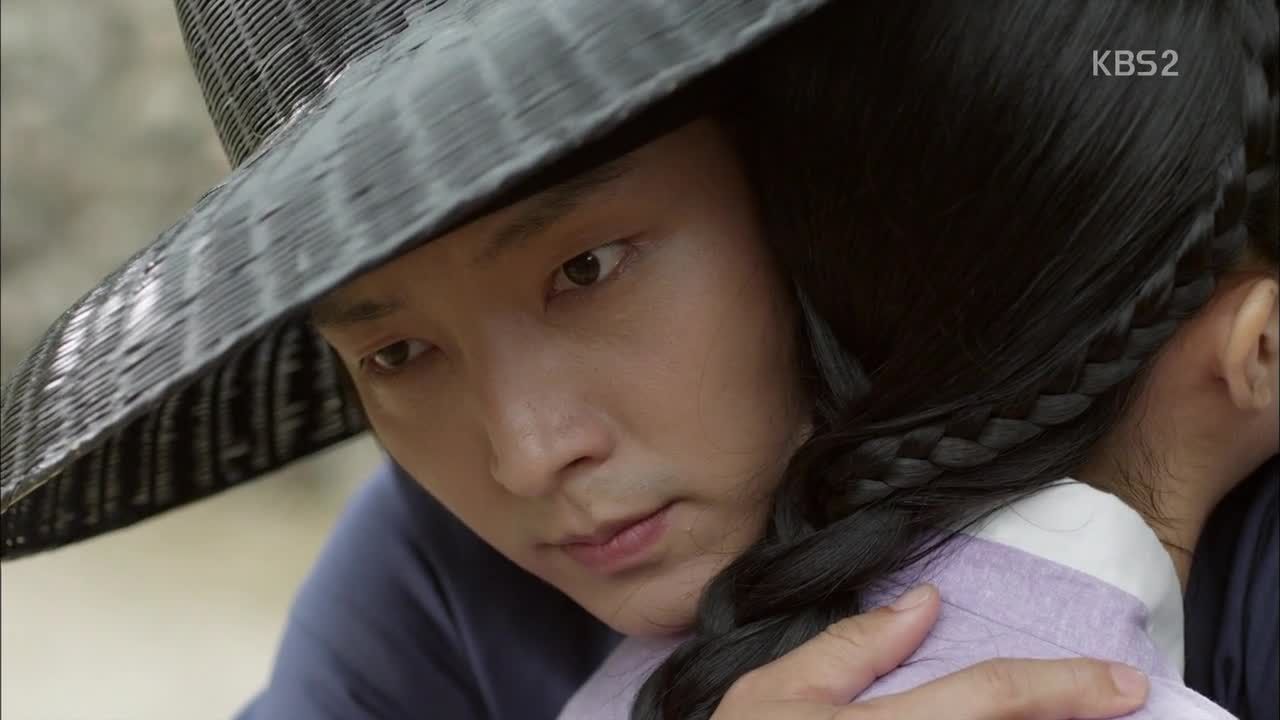 Yoon-kang sees his friends and family for the potentially last time, though he keeps his intentions from his sister, not wanting to worry her. He says his goodbyes to Sang-chu, then heads off to prepare, with only three days left.
But unbeknownst to him, the leaders have additional plans in the works—they've secured the Japanese ambassador's cooperation in providing troops, despite Yoon-kang's rationale for avoiding that scenario. Guh. This cannot end well.
The night before the coup, Soo-in feigns sleep when a fellow court lady comes by—and when Soo-in doesn't stir, the lady snoops through her belongings. She finds nothing suspicious, and leaves empty-handed.
Soo-in quietly rises and peers outside, where she sees the court lady reporting that she found nothing—to Hye-won, who gave her the order. Soo-in checks her secret hiding spot behind her drawer, relieved to find her stash untouched.
Not knowing of the rebels' change in plans, Choi Won-shin is pleased to receive an invitation to the banquet, which will be attended by high-ranking officials and foreign diplomats. It's a sign of his upward mobility, and Hye-won is proud that he's earned the king's trust.
Minister Kim is nursing a minor cold, and Ho-kyung tries to persuade his father to skip tomorrow's banquet. But Minister Kim insists that he can't miss such an important event, and Ho-kyung doesn't press. He doesn't yet know the plans to attack the event, so the next day when he receives the message to prepare the troops to strike, he realizes his father is in the line of fire. He puts his subordinate in charge and hurries off.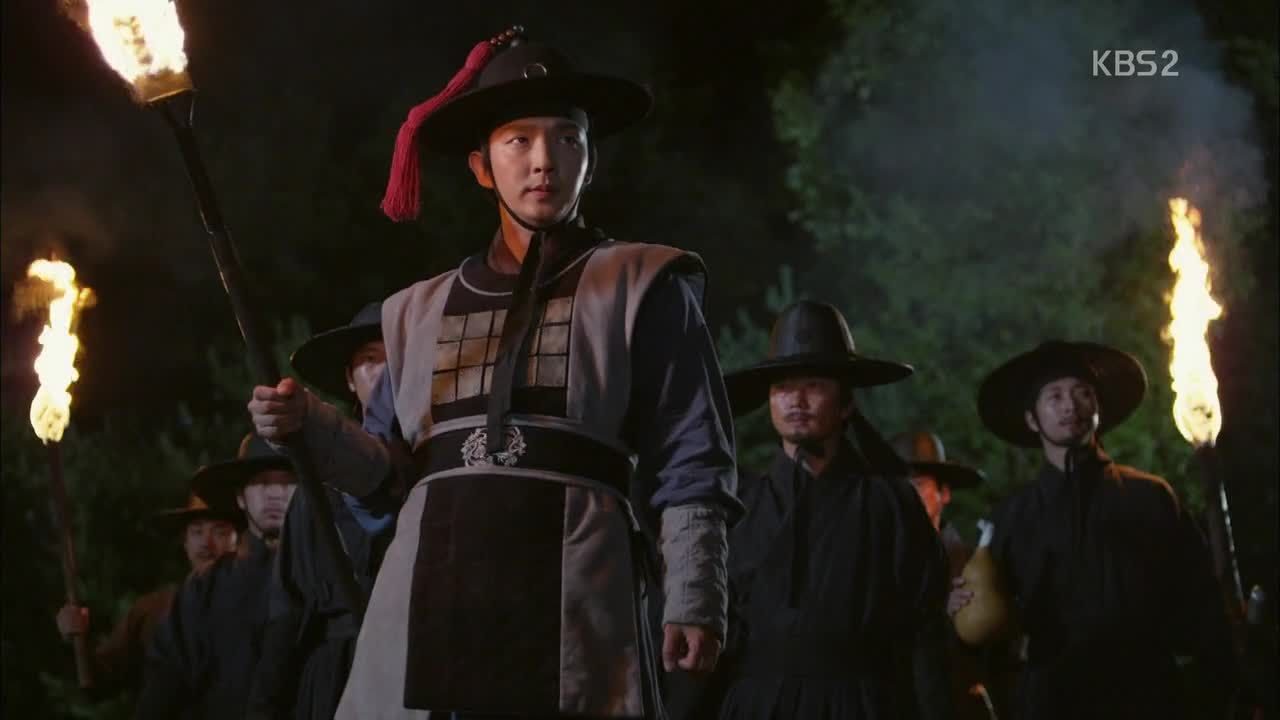 By evening, the banquet is well underway, and our leaders keep a close eye on the proceedings, awaiting their moment. Yoon-kang leads his troops there, and they begin by spraying liquid around the building. Yoon-kang sets the fire.
Ho-kyung arrives as the ceremony is under way, and Kim Ok-kyun is alarmed to see him here (as he is supposed to be leading troops). And then, the party receives word of the fire, and our leaders take this as their cue to leave.
Soo-in arrives outside the building (with her explosives in hand) just as mayhem is breaking out. Yoon-kang puts down his torch and leads his army on.

COMMENTS
This episode felt pretty ripped-from-the-historical-headlines, in that it's building up to a well-known historical coup and thus plays on people and events that are somewhat familiar to the public. Think of a show set in the year prior to the Civil War, or French Revolution; even if you don't know the finer details, there is present an extra layer of anticipation as you start recognizing the buildup and what it's headed toward.
(Spoiler alert?) (Does that count for history?) So there's the knowledge hanging in the air that this revolt will not succeed, which adds a layer of pathos to the proceedings as you watch these characters (particularly our central pair) hang their hopes, their loves, and their entire futures on this plan that will fail. I do think this is a drama that can be watched completely without knowledge of historical facts—and any good drama really should be, because the fictional narrative should carry you through regardless—but knowing in this case does enrich the experience. Even if that enrichment just makes me feel really sad, and perhaps also cynical, because I want to yell at the characters to save themselves and run.
And there's an argument for using that meta knowledge purposely as a way to add a layer of meaning to your story, because you can't help knowing what you know, and that almost certainly clouds your reaction. Centering a story around a British soldier during the American Revolution, for instance, brings with it certain baggage that we can't quite lose. In an entirely fictional scenario we'd be able to keep a sense of hope, but in this case I'm just racking my brains trying to figure out how Soo-in will extricate herself from court life, how Yoon-kang will survive and/or reclaim his honor, how we can have any sort of happy ending (that hope burns bright!) given this impossible context. Especially since it's uncertain whether three of our main characters will be able to escape without being made traitors.
That isn't to say that a happy ending isn't possible without a change in the whole fabric of society, which was always an exceedingly idealistic goal at best. It's just that it requires a certain amount of compromise, and for me, that's where the suspense lies. Not who lives or dies, but how they come around to resolving their agendas, vendettas, and inner conflicts. You could argue that Yoon-kang could walk away right this minute and run with Soo-in, and they could live a quiet, anonymous, long life somewhere hidden away—and I believe they could even be happy, as Soo-in keeps saying. But getting to that point of acceptance requires a deep shift within Yoon-kang, and the logic of how he'll arrive at that point—of leaving behind his revenge or need to punish every evildoer—is, in my view, the drama's last big question left to answer. One more week!
RELATED POSTS
Tags: featured, Joseon Gunman, Lee Jun-ki, Nam Sang-mi