Marriage Not Dating: Episode 10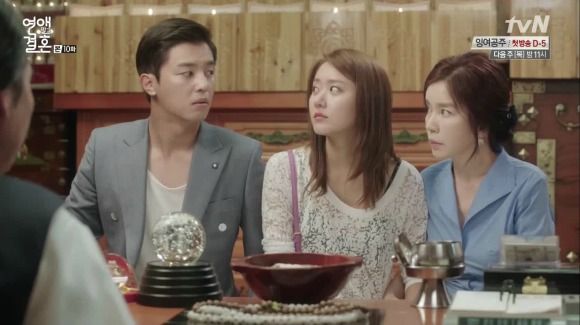 The line between what's real and what's pretend continues to blur, as Jang-mi and Ki-tae start to realize that they may have genuine feelings for each other…but the problem is that everyone else is beginning to notice as well. It's one thing to be willing to go to great lengths to get what you want, but when others start being hurt and the innocent white lie turns into a giant uncontrollable monster, maybe it's time to re-evaluate if what you want is really worth it.

EPISODE 10: "The thing you should keep hidden until the very last moment"
Ki-tae, his grandmother, and his aunt sit in the living room looking nervous as Jang-mi and Mom have an epic stare-down. Jang-mi asks Mom, "Does this really have special meaning for you, Mother?" Mom swears that it (whatever "it" is) is very special and should be treated as precious. Suddenly Jang-mi grabs a huge rock, raises it over her head, and smashes it down onto the table as Ki-tae's entire family looks on in horror.
A few days earlier, we rejoin Ki-tae and Jang-mi mid-kiss. Jang-mi looks startled when Ki-tae swoops in, but soon her eyes flutter closed.
Having gone for help, Yeo-reum finds Hoon-dong drunk and alone in his room and tries to wake him, and Hoon-dong suddenly sits up and grabs Yeo-reum for a long passionate kiss. HAHA. Yeo-reum manages to flail his way out of it, and carries Hoon-dong outside to dunk him in a barrel of freezing water.
Yeo-reum fills Hoon-dong in regarding Hyun-hee's disappearance on the way back to the stuck car, but Hoon-dong is slow to understand why Hyun-hee is at a temple and why he should care. Yeo-reum gets to the car in time to witness the kiss, and can only stand stunned until Hoon-dong's loud voice causes Ki-tae and Jang-mi to jump apart. It's pretty obvious to everyone that Yeo-reum saw the kiss, though nobody says a word about it.
Hoon-dong finds Hyun-hee praying at the temple, and starts a weak apology. Hyun-hee says that this "gift" may be unexpected, but it's still precious, and offers Hoon-dong one chance to bail if he wants. Shockingly, Hoon-dong instead hugs Hyun-hee and cries that he's sorry for her, that it had to be someone like him.
Hyun-hee sobs that she's scared, and Hoon-dong promises to take care of her, and I actually believe that his tears are genuine. But Hoon-dong is still Hoon-dong, and their embrace changes tone quickly and he starts to take their clothes off. At least until they're busted by a monk.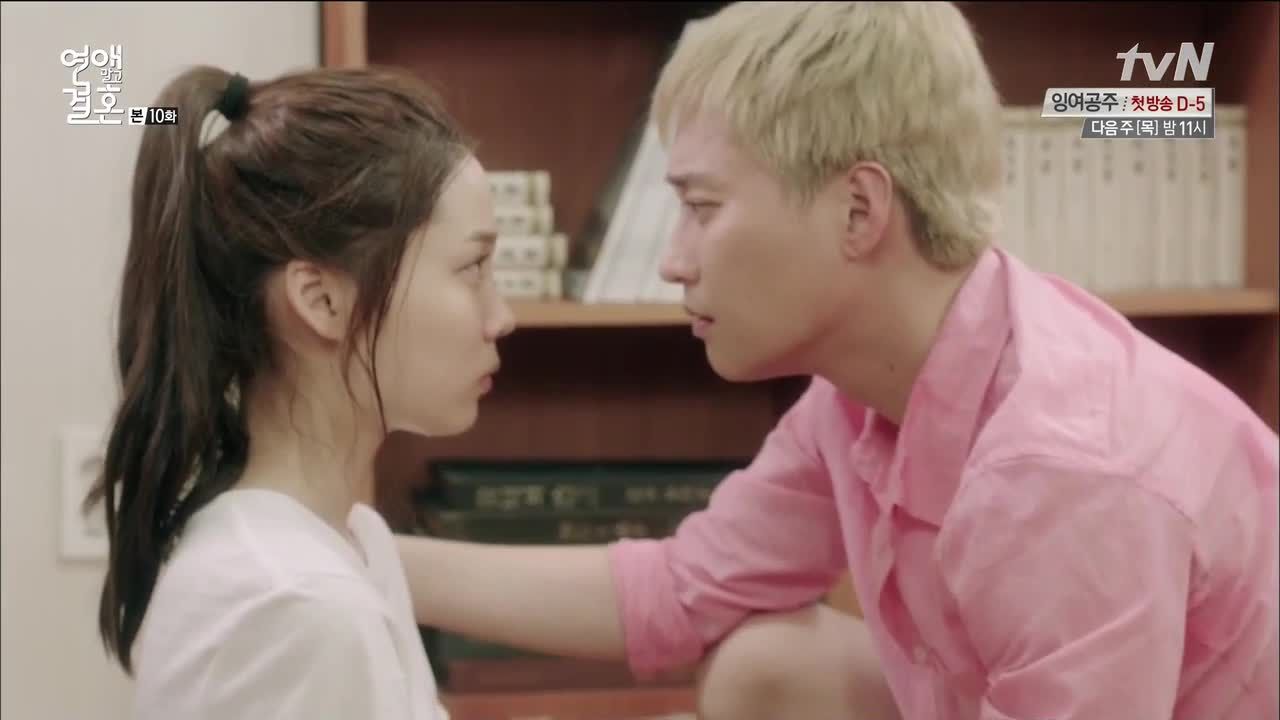 Back at work, Jang-mi and Hyun-hee can't help but be distracted, and their manager takes them to task. Hyun-hee is all smiles as she tells Jang-mi that she'll be quitting soon to get married, and Hoon-dong will be speaking to his mother soon. But Jang-mi has met Hoon-dong's mother and knows it won't be that easy.
Cut to: Hoon-dong on the street outside his house in only his socks and tiger boxers. HAHAHA. Poor Hoon-dong, I don't think those half-assed martial arts moves are fooling any of the passers-by.
Hoon-dong's mom beelines for the department store to confront Hyun-hee, who innocently greets her. Jang-mi rushes over to shield her friend and takes the brunt of Mom's anger, who calls her a stalker and accuses Hyun-hee of trapping her son on purpose. The scene draws a crowd, and Hyun-hee and Hoon-dong's mother both leave. The manager warns Jang-mi not to bring personal issues to work again or there will be consequences.
Hoon-dong's and Ki-tae's mothers discuss the situation. Hoon-dong's mother is furious that Jang-mi lost out with her son then went after his friend, then sicced her friend on her baby boy. Well, I guess it does sound bad if you say it like that. Ki-tae's mother advises her to do what she's doing – aggressively plan the wedding, and the girl's true motivations will come out.
Hoon-dong happily tells Hyun-hee that his family wants to meet her parents to talk about their wedding, but Hyun-hee says her parents are on a cruise for a few months and aren't available. She says she's always been independent and her parents would probably want her to do this on her own, but combined with her shifty expression, this makes me feel this is just more lies from her.
Jang-mi, who's been sitting with them, gets up to leave but comes face-to-face with Ki-tae walking into the restaurant. He looks thrilled to see her, but she reels in horror and runs back to the table. Ki-tae joins them and she pops back up and flees, telling Yeo-reum she'll wait outside for him to finish his shift.
Ki-tae follows her to say that if she keeps acting like this, she may as well announce the kiss. She grabs his face and manhandles him off the street, while Hoon-dong and Hyun-hee comment that they spend a lot of time together alone at Ki-tae's house, and have been acting strange lately. Yeo-reum tells them that he lives at Ki-tae's house now too and that he and Ki-tae snuggle at night. Aaaand now Hoon-dong thinks Ki-tae is gay.
Jang-mi drags Ki-tae all the way to his office, and he complains that she won't let him talk. She says it's that mouth that's the problem, and Ki-tae is all, "Why, does your heart flutter when you see my lips?" Hee. Jang-mi admits that she's been avoiding him because she can't pretend nothing happened.
She flat-out asks Ki-tae if he likes her, and his giant grin is precious. But Jang-mi assumes he's laughing at her and relaxes that he hasn't really gotten serious about her. She rattles on about how she was nervous that the lines had blurred, but she's relieved to know it all really was an act, and anyway she has Yeo-reum, and and and… she's completely missing the fact that Ki-tae has gone very quiet. He finally reminds her that she's the one who crossed all the lines he drew.
Jang-mi asks why Ki-tae kissed her, and he bluffs that it was to shut her up because she was talking too much. He accuses her of liking it too much, she calls him a bad kisser (oh honey, we all saw it and NOPE), and they both agree that of course it meant nothing at all, nope not even a little bit, uh-uh.
Jang-mi's grand flouncing exit is ruined when Yeo-reum is on the other side of the door and scares ten years off her life. She asks how he knew she was here, and he leans in close to whisper that he knows everything she does, no matter where she is. They leave while Ki-tae fixates on the "bad kisser" comment, making thoughtful kissy faces to himself. Cute cute.
Ki-tae's mom meets with Jang-mi's mom and non-apologizes by saying she's sorry that Jang-mi got upset, but she supposes she took her words in the wrong way. Then she does the same thing to Jang-mi's mom, saying that she understands that she was upset to see Ki-tae with his ex-fiancee but it's just that they're still so close. She says that she hopes that her son will make Jang-mi happy but gosh, he tried so hard the first time and failed, and she just doesn't see him trying that hard this time around. Pretty sure she just invented a whole new level of passive-aggression.
Jang-mi's mom wonders to herself how this got all twisted, and tells Ki-tae's mom that she should have helped with the wedding plans more, vowing to do her part from here on out. She takes on duties in spite of Ki-tae's mom's protests, realizing internally that she's still being manipulated but not quite sure how to retaliate.
Jang-mi and Yeo-reum go for a walk, and when a cyclist comes too close, Yeo-reum grabs Jang-mi's waist and pulls her in close. Uncomfortable, she tries to pull away but he doesn't let her, saying he wants to kiss her. He leans in but her phone rings, and she shoves him away to freak out that someone is calling her, OMG, what strange timing!
It's Ki-tae, and Yeo-reum snatches the phone to tell him that Jang-mi is too flustered to talk because she's concentrating on him. He refuses to let Ki-tae talk to Jang-mi, so Ki-tae tells Yeo-reum that her mom is choosing a wedding date.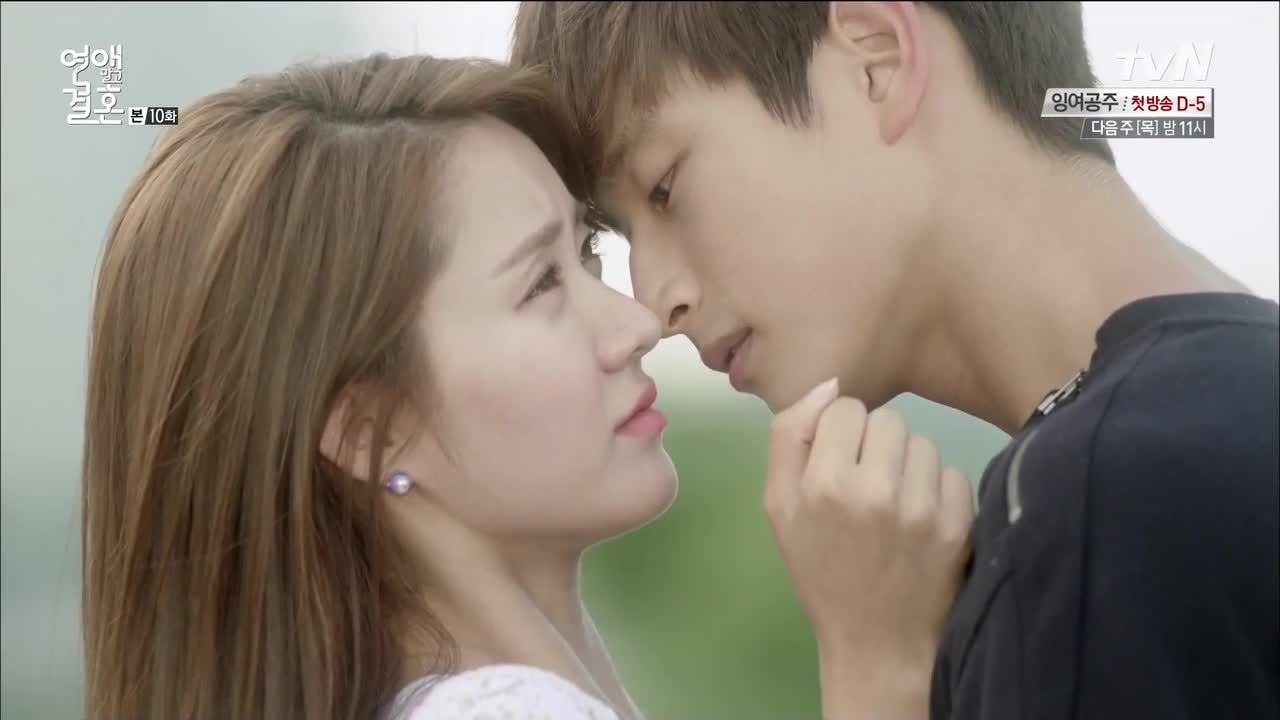 Mom drags Ki-tae to a fortuneteller, who says that Ki-tae doesn't have much luck and that people avoid him, ha. Jang-mi bursts in, and the fortuneteller immediately says that luck follows her, and suddenly Ki-tae looks more interested.
The fortuneteller says that he'll regret it if he loses Jang-mi, and people will tell him how stupid he is, especially since she has probably even saved his life once already. Then he starts to go on about how sexually compatible they are, and Ki-tae's face is priceless as he agrees that of course the sex is incredible, earning a jab from Jang-mi. Dude, her mom is right there.
The fortuneteller suddenly turns angry, and yells that if they aren't going to do this marriage right, they shouldn't do it at all. Jang-mi and Ki-tae look nervous but luckily, Mom thinks he's talking about how she wasn't helping plan anything, and vows to do things right from now on. Whew.
On their way out, Jang-mi fusses that she thought Mom was against the marriage, but Ki-tae is all smiles as he fawns over Mom. He offers to take her to eat but since she's heard "that thing" between them is so great, she says she'll leave them alone, and she saunters off saucily as Ki-tae blows her kisses. Love it.
Ki-tae and Jang-mi walk home, and she says that she's tired of this and wants to end it. She whines that because of him she's lying to everyone, and even the fortuneteller told them to end it – but now Ki-tae says the guy was a charlatan.
In an echo of the scene with Yeo-reum, a biker gets too close, but now it's Jang-mi who grabs Ki-tae and pulls him close, and this time they're both affected by the contact. Jang-mi shoves away and says that these kinds of things keep happening when he's around, and Ki-tae asks for some time to end everything.
The moms go shopping, and Ki-tae's mother manipulates Jang-mi's mother into buying the expensive wedding gifts a second time since Jang-mi returned them. She stunned to hear that Ki-tae's mom is also expecting her to provide a dowry and more wedding gifts, but she's locked into agreeing or risk looking bad again.
She runs home and gives her husband her best aegyo to get his attention (Dad: "I'll talk when it sounds like talking!" HAHA) and Dad is horrified to hear everything that Ki-tae's mother expects. He offers to get a loan with the house as collateral, but Mom says she already applied for one and they also need one on the restaurant. When he correctly guesses that she's already done that too, he chases her out of the restaurant.
Later Jang-mi finds Mom getting deliberately drunk and gripes at her for putting the house and restaurant up for collateral, but Mom just says she doesn't want her to feel ashamed in front of Ki-tae's mom. She shows Jang-mi an old article she found, where Ki-tae's father gave his mother a huge pink diamond ring, and she had said she would someday give the ring to her daughter-in-law.
Jang-mi's mother says that Jang-mi will be receiving that ring and that she doesn't want her to live like her mother. Jang-mi thought her parents married for love, but Mom cries and says love isn't everything, and that marrying Ki-tae will give her daughter everything she couldn't. Awww, Mom. *sniffle*
Jang-mi angrily confronts Ki-tae with the article, saying that because of that ring, her parents have gotten loans on everything and that she can't keep doing this. But Ki-tae's face noticeably hardens when he sees the photos, and it's obvious he's not listening.
Finally Ki-tae says in a hollow voice, "Ask her for the ring." If his mother doesn't give it to her, it will show that she's against the marriage. He tells Jang-mi to actually say that to his mother when she asks. Jang-mi objects, because what if she does give her the ring, but Ki-tae is adamant that she won't. Jang-mi agrees, since it would be a clean way out of the fake engagement.
So Jang-mi calls Ki-tae's mother and boldly asks for the pink diamond ring, saying that she knows that it will mean her acceptance into the Gong family. For once Ki-tae's mom is rendered speechless, and insists on discussing it in person that weekend. Jang-mi is relieved that this is almost over, but Ki-tae's expression is very worrying.
Jang-mi and Hyun-hee go out, and Jang-mi drunkenly complains that she doesn't understand what's happening with this whole ring deal since she's not really getting married. She doesn't know why she feels upset, but Hyun-hee does – it's because she's started to like Ki-tae for real. The more Jang-mi insists it's not like that, the more Hyun-hee just smiles knowingly, and tells her that she's probably upset because it's about to be over and she won't have reason to see Ki-tae again. Jang-mi blurts out that she's got Yeo-reum, and anyway she only kissed Ki-tae that one ti…whoops.
Hoon-dong and Ki-tae drink and have pretty much the exact same conversation – except Hoon-dong thinks Ki-tae is in love with Yeo-reum. Hoon-dong takes offense that Ki-tae thought he wouldn't notice, then adorably asks how he can help. Ki-tae says just to act like he knows nothing, which prompts Hoon-dong to ask if it's one-sided, on top of everything else.
Ki-tae staggers home to find Jang-mi asleep on his couch, and he watches her sleep for a moment. He gently touches her hair, which wakes her, and she sleepily asks him, "Why isn't it me? The ring. Why can't I receive it?"
Jang-mi asks Ki-tae why, when her mother is willing to give everything for them, can't she receive one small ring from his mother? She thinks that she doesn't see her as worthy of such a valuable thing, but he says that's not the reason. He's reluctant to explain, but Jang-mi demands to know.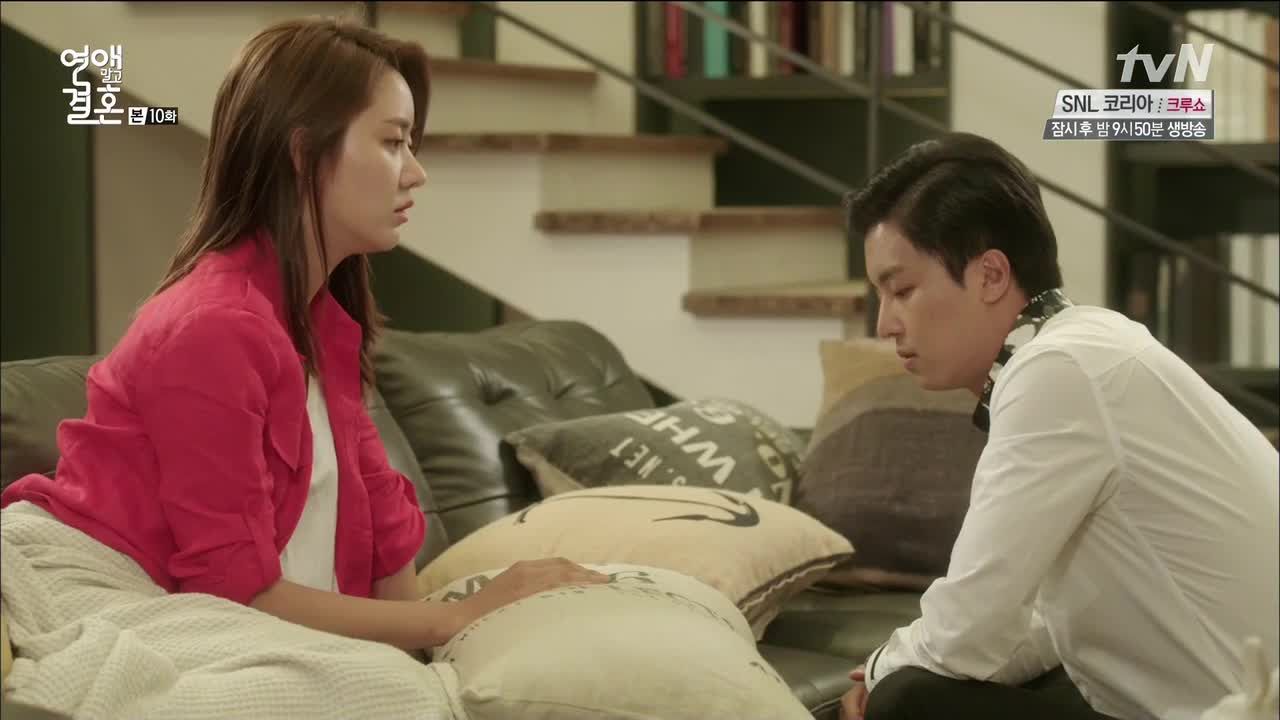 She's wondered why his mother is so against their getting married and she thinks this may be the key. She asks with tears in her eyes if it's money, or her family, or if it's just her. But that's not the problem, and Ki-tae answers sadly, "That ring…isn't my mother's ring."
Three years ago, Ki-tae and Se-ah had gone to a jeweler's to shop for their wedding rings, and ran into his father buying the pink diamond ring. Se-ah sees the ring and assumes it's a wedding renewal ring for Ki-tae's mother, but Ki-tae notices his father acting cagey and evasive. He rushes out, dropping the card on his way, and Ki-tae sees that it was addressed to "J."
Later Ki-tae's family gathers for the article photo shoot, and Se-ah makes the mistake of mentioning the ring in front of everyone, putting Dad in an awkward position. Ki-tae takes his father aside, gives him the card, and tells him that he knows "J" isn't his mother. He starts to get upset, but his mother finds them and tells him to hide his facial expression and voice, or everyone will find out. Ki-tae is devastated to know that his father is a cheater and his mother knew.
Back in the present, Jang-mi wonders how his mother could wear that ring that she knew was for another woman, for all the world to see, but Ki-tae says that's why – because everyone can see. Tears roll down his face as he gasps that they can't let anyone see their real feelings.
Jang-mi seems to suddenly understand Ki-tae so much more, and she gently takes his hand and tells him that he can show her his real feelings, since she's not real. They stand in that moment, neither speaking, and neither of them notices that Se-ah and Yeo-reum have walked in.
Se-ah breaks the silence and Jang-mi drops Ki-tae's hand, and Se-ah leaves while Yeo-reum stays with a hurt look on his face. He says that she shouldn't have let him find out (about her feelings for Ki-tae) – she should have known how hard he was trying not to know.
That weekend Jang-mi and Ki-tae drive to his family's home to talk to his mother about the ring, the atmosphere in the car strained and silent. Jang-mi thinks to herself that this is for the best, that it's dangerous to keep this up, but wonders why she feels unsettled. When they arrive, Ki-tae says that since this is the last time, she has his permission to make the biggest scene she can. She says she will, for their sake and also for Yeo-reum's sake, which gives Ki-tae pause before he ushers her inside.
Ki-tae, Jang-mi, Aunt Mi-jung, and Grandma all sit in uncomfortable silence while Mom casually cleans a trio of large ornamental stones. Grandma asks if Jang-mi is really here for the pink diamond, which Jang-mi confirms, and Mom blandly says that she finds her request quite bold. Jang-mi says she's asking for it so she that can feel secure that she's truly welcome in the family. Mom asks why she thinks the ring will do that, and Ki-tae speaks up – he gives Mom a loaded glare as he says that it's because the ring is so special to her.
Of course, Mom can't give her the ring, because right now Dad and his mistress are together and we see that the mistress is wearing the pink diamond ring. It's a slam-dunk for Jang-mi and Ki-tae, since if Mom can't give her the ring, they have proof she disapproves, and they can call the fake engagement off.
When Mom hesitates, Jang-mi starts to say that it's obvious she doesn't accept her, but Mom suddenly slides a ring box across the table to her. Everyone looks shocked, not knowing how Mom got the pink diamond. Jang-mi asks if the ring truly has special meaning for her, and Mom says that it is and asks her to treat it as precious.
Jang-mi takes the ring and sets it on the table, then suddenly grabs one of the stone ornaments and raises it over her head. Before anyone can react, she smashes it down onto the ring. Everyone gasps in shock, but when Jang-mi lifts the stone, we see that the pink diamond is dust – it was a fake.
Jang-mi states that she knows now what Ki-tae's mother thinks of her, and she understands that she's been rejected. But she takes this last chance to ask her to let go of Ki-tae, and not to force a marriage on him that he doesn't want just because it looks good to others.
Mom asks Ki-tae what his intention was to have Jang-mi ask for the ring, for the first time showing some emotion as her voice starts to shake. Jang-mi says that they just wanted to hear her honest feelings, since her real marriage is so different from what's shown in the magazines.
Mom tells Jang-mi to shut up, that she doesn't know anything about it. Jang-mi bravely says that she knows Mom is very hurt, and has been having a hard time, and doesn't want Ki-tae to be stuck in the same loveless marriage she's had. Her voice gets high and strained as she says she understands that Mom wants Ki-tae to be happy, but that she needs to be happy first, and not just look happy.
Mom tries to hold her carefully neutral expression, but her iron control slips and tears start to fall. Grandma tries to interrupt but Jang-mi has one more thing to say. "The person who made Ki-tae so alone is you, Mother."
Jang-mi leaves and Ki-tae follows her. Mom gets up without a word and goes to her room, and for the first time in probably many years, gives in to her emotions and cries great, wracking sobs of pain.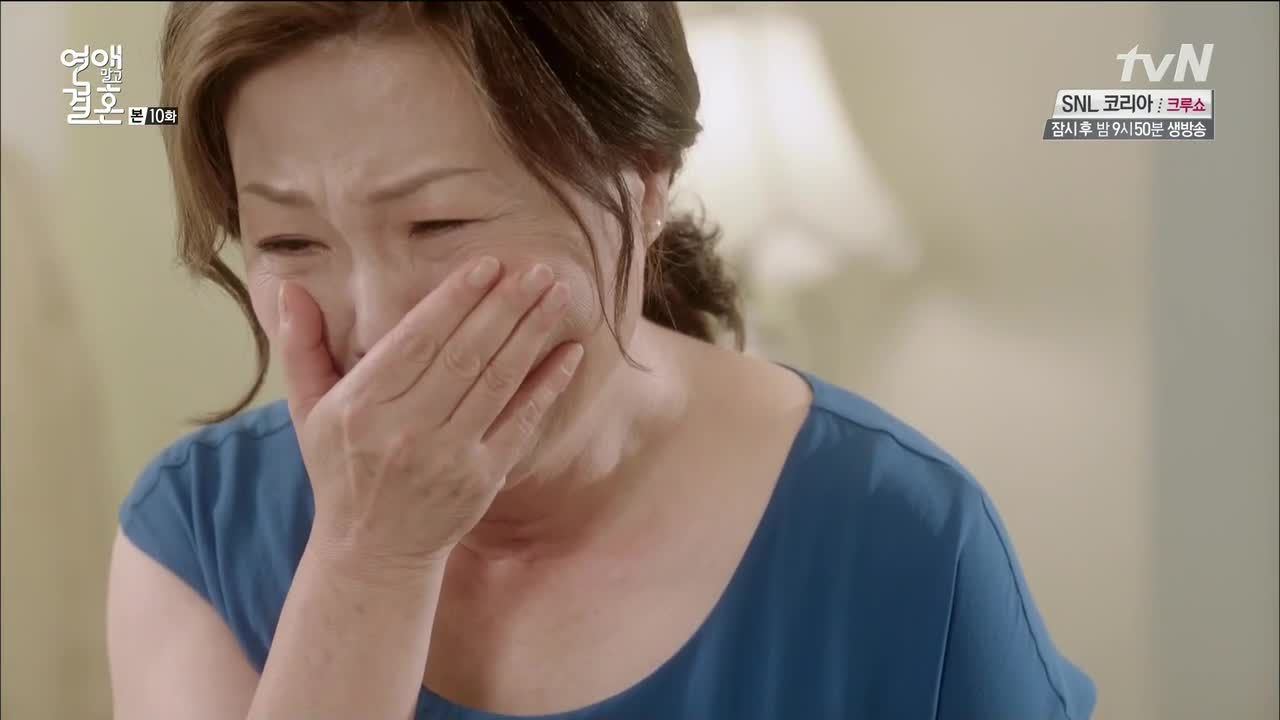 Jang-mi cries outside, but when Ki-tae finds her she slaps on a happy expression and asks how her final performance went. When he doesn't answer, she says he should say he's grateful, but he thinks to himself that if he does, it could be the last time he talks to her. Jang-mi says that this was the last time, and holds out her hand for him to shake.
Ki-tae silently takes her hand, then pulls her in for a hug. She pats his back and tells him that he should start showing his emotions, "Although I won't be beside you." Ki-tae finally, finally admits to himself that he wants to stay by her side, even if he can't say it out loud. Crying even as she tries to sound brave, Jang-mi says, "Finally our roller coaster wedding scam is at an end."
Ki-tae still can't speak, but only holds her tighter for a long moment, until a voice from behind them gasps, "What did you say?!" They both turn to see Grandma standing there, having just heard Jang-mi admit that their engagement was fake the whole time.
COMMENTS
I have to say, I'm firmly in the "this show just gets better and better" camp, and this episode is no exception. We've finally gotten to the point where real feelings can't be hidden or ignored any longer, and at the same time we're learning why Ki-tae and his family are so afraid of showing their real feelings, and I could just eat it up with a spoon.
I'm especially enjoying the way the show is giving us more information about Ki-tae's parents, and their actions and reactions. The reasons behind their behavior are so real and accessible – it's a situation that can (and does) happen to anyone, and the different ways they choose to protect themselves and their feelings are very understandable. Often I have trouble when shows introduce things like birth secrets and backstories where someone's mom killed someone's dad or whatever. That stuff is certainly shocking and makes for interesting television, but that kind of thing just doesn't happen to normal people; so in a way, when a drama brings in plot points that I can't relate to in a real-life way, even while I enjoy the story for being shocking and dramatic, it creates a barrier between the characters and myself as a viewer. They become less "people" and more "characters in a drama," so I lose some of my connection to the characters and I'm just not as emotionally invested.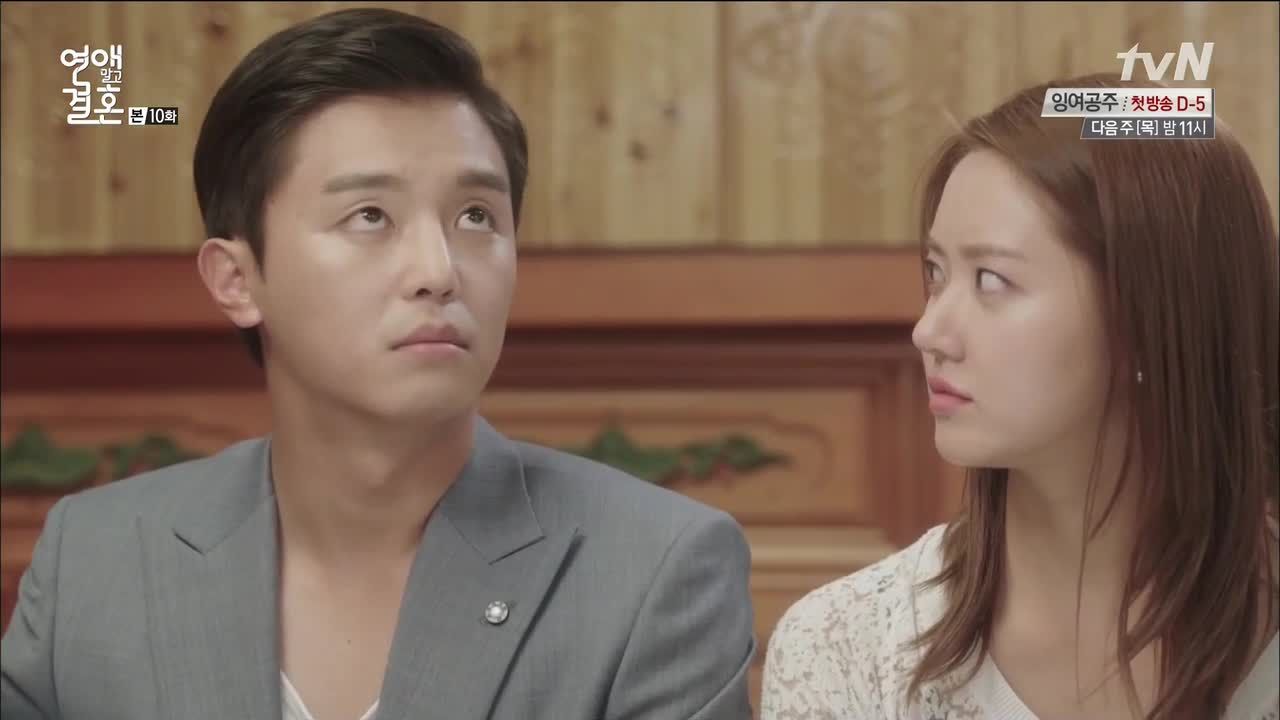 But a husband who cheats and a wife that focuses so much energy on showing the world a perfect family, to the point that her own children even become emotionally stunted…now that's something I can see happening to normal people, and it actually draws me IN to the characters and makes me care about what happens to them. Last week in my recap I devoted a large portion of my comments to complaining that Ki-tae's mother was losing my sympathy. While we saw some vulnerability in her at the beginning of the show (through Jang-mi's eyes), she had recently lost that relatability as the wife whose husband was stepping out on her and was just trying to keep it together, and becoming the two-dimensional drama mother-in-law who tries to break up the leads for no reason other than the girl being of lower class.
But in this episode, we got to see exactly why she objects to Jang-mi; it has nothing to do with Jang-mi, and everything to do with her fear that her son will end up alone or in a loveless marriage. With her strong reservations that the engagement happened so quickly, she was thrown into panic that her son would make a rash decision and marry without real love, and I can see why Mom defaulted to Se-ah, who does still care for Ki-tae. What Mom fails to understand is that it's not only important that Ki-tae marries a woman who loves him, but that he also loves the woman he marries.
I can also see how this situation has made Ki-tae how he is, because he discovered his father's infidelity right about the time he and Se-ah were gearing up to get married. That had to throw him for a loop and make him view marriage with suspicion, so that when she crossed that line and disregarded his wishes, it became about so much more than the house – it became, "Can I trust this woman with my heart?" Someone who violates your boundaries before you even get married, is someone who very likely can't be trusted to have your marriage's best interests at heart, especially when that person just flat-out says that they will have no compunctions with using information about your family to get her way once you're married. It's no surprise that Ki-tae just bailed on marriage altogether.
So now we know, for the most part, what makes Jang-mi and Ki-tae the way they are, why one is so afraid of being alone and the other is terrified of commitment. But we've also reached the point at which they finally admit to themselves that there's something more than obligation and friendship going on between them. Now we get to watch them try to find their way to each other, which is always my favorite part of any drama. I'll admit I'm surprised that it will probably be Ki-tae to reach out first, since he's the first to admit to himself that he wants to stay by Jang-mi's side while she's still thinking that her relationship with Yeo-reum is her primary concern. Jang-mi is such a caring, loving person, so I was expecting that she would realize her feelings first and have to get grumpy Ki-tae to come out of his shell. I'm doubly interested that that expectation has been turned on its ear, and dying to see how the show makes this happen, since it never does things in a way that we expect.
Given how clumsy and adorable Ki-tae can be when he's trying to be charming, I think we'd best brace ourselves for a whole lot of cute headed our way. Our leads still have a lot of emotional ground to cover too, because there are still holes in their backstories that I'm sure are important. And I'm loving how the show continues to only dole out crucial information to us as viewers as the characters learn it, as I mentioned in a previous recap. We only know what the characters know, and we learn it just as they learn it (such as hearing the story of the ring as Ki-tae tells it to Jang-mi, so we find out at the same time and in the same way as Jang-mi does), and it makes those reveals so delicious because it's not just us learning these things, it's the characters too. It's such a great subtle way to draw the viewers into the story, to have us experience things the same way the characters do.
Keep it coming Show. I've got my spoon ready and I'm hungry!

RELATED POSTS
Tags: featured, Han Groo, Marriage Not Dating, Yeon Woo-jin