Marriage Not Dating: Episode 13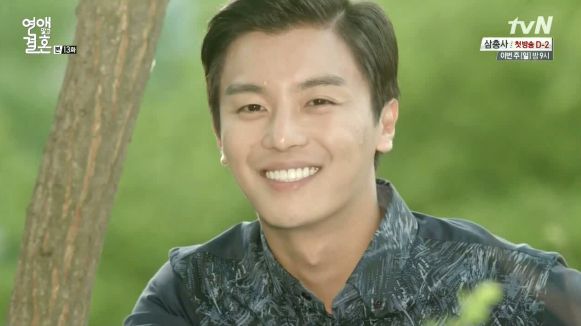 The problem with filling your day with trying to forget the person you love… is that you spend all day thinking about the person you love. It's an episode spent in denial, but in the cute way where everyone runs around doing adorable things for each other in secret. I don't see why you couldn't just take credit for your good deed and be rewarded with kisses, but I guess that takes the nobility out of it? Whatever.

SONG OF THE DAY
Kim Na-young – "바라고 바라고" (Yearn and Yearn) [ Download ]
Audio clip: Adobe Flash Player (version 9 or above) is required to play this audio clip. Download the latest version here. You also need to have JavaScript enabled in your browser.

EPISODE 13: "Don't lean and don't expect"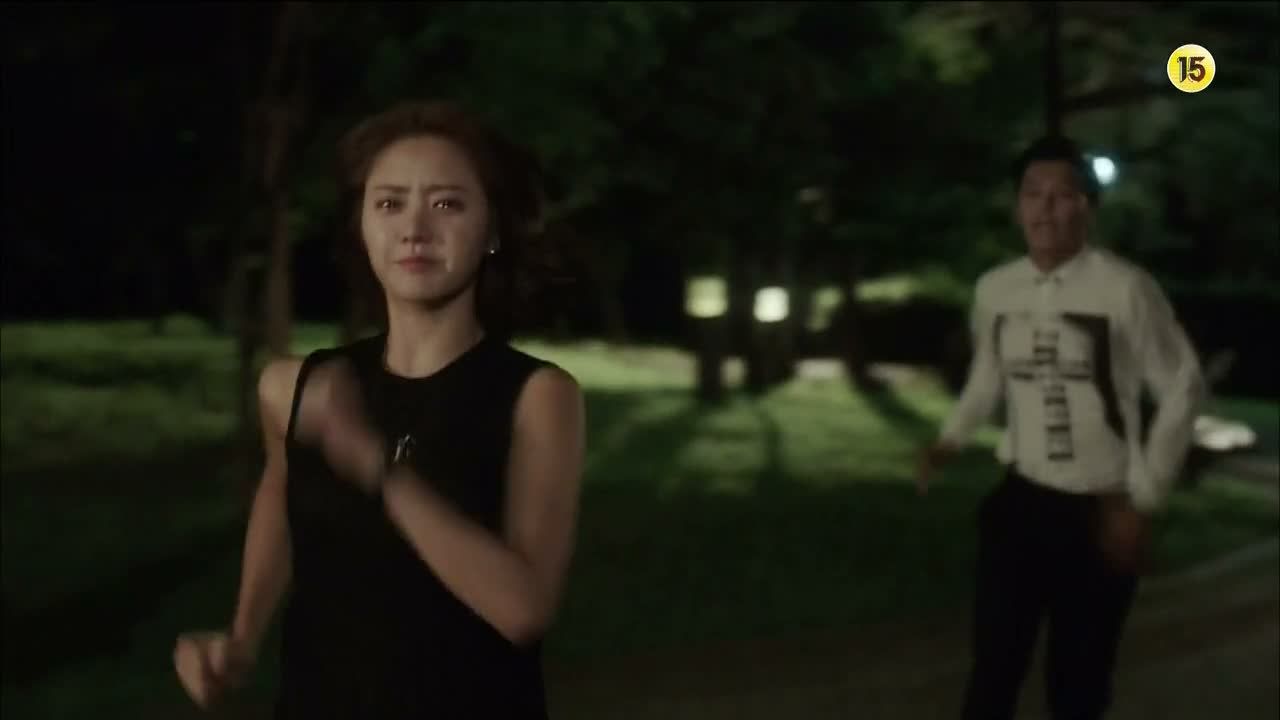 As the Sandglass OST plays for maximum dramatic effect, Jang-mi and Ki-tae fight violently—they scream at the top of their lungs and shove each other around. Jang-mi starts to cower in fear and takes off in a run, and Ki-tae chases after her to yank her back and yell at her some more.
I hate the fake-out cold opens (ones where the actual footage is a lie, not just the interpretation), but in this case, I hope this was an exaggerated one.
Rewind to Hoon-dong and Hyun-hee's wedding day: The couple takes off to a round of cheers, and Ki-tae scans the wedding party still looking for Jang-mi. She doesn't answer his calls because she threw her phone in the river, and she runs around trying to find him, wishing she hadn't been so rash. She starts to cry thinking she's too late.
Yeo-reum is the first to find her, and he thinks back to the other night when Jang-mi presented him with an envelope of money. She tells him to repay Ki-tae's loan with it, which he refuses to do. She's shocked to discover that he's covered in patches and realizes he's been doing manual labor at a construction site to make ends meet, and insists he take the money.
She apologizes for dreaming an impossible dream and hurting everyone around her, including Yeo-reum. He chases after her to give the money back, and they pass it back and forth a zillion times, arguing about who's better off: "At least I have youth!" "Fine, yes, I'm your noona. Listen to your noona." "Noona, do you have that much money?"
He tests her by threatening to rip the envelope in half, and she cries that it's her severance. She tells him she has her own future to worry about, and leaves him standing in the street holding the envelope.
Back in the present he finds her standing in a daze, and she finally comes to and says that she tried to send someone off coolly this time, but ended up making another mess. Yeo-reum says that if she clapped for someone else's happiness, it's time for the two of them to find their own happiness too.
He takes her to a rundown coffee shop and says that he's renovating it. She can be the manager and he'll be the chef—he'll accept the money if it's an investment in his new restaurant. She's naturally skeptical that he can ever make enough to open a restaurant, but he swears he has another investor who agreed to back him after tasting ten different dishes he cooked.
She worries he's being conned and asks what on earth he's trusting to make this happen. He answers simply, "You." He says that she was the person who made him dream in the first place. But she says she's done with dreaming, and congratulates him on finding his dream.
As she walks along on her own, she says to herself, "I think I know now why people are cool in love… Not leaning on anyone, not expecting anything… It's not because you want to be alone, but because life has to be lived on your own. Now that I've woken up from my dream, I see reality in front of me."
She focuses on herself for maybe the first time ever, with a brand new haircut, a new cell phone, and a newfound determination to start over. She takes her resume all over town and meets rejection after rejection from other boutiques and department stores.
Ki-tae's bad mood at being ignored by Jang-mi spills over into his work, and when a plastic surgery addict comes in for a consultation, he gives up trying to explain why she shouldn't get surgery the polite way and tells her to go see a shrink instead to get her brain nipped and tucked. Ha. She threatens to shut him down with her power-blogger prowess, and he throws her out to go try.
When he heads down to the restaurant for lunch, Hoon-dong is back from his honeymoon with a new look courtesy of his new wife, and mutters under his breath that he's been too busy living under her thumb to even call.
Hyun-hee sits down with Ki-tae and notes bitterly that he seems fine after leaving Jang-mi in that state, and he counters that Jang-mi is the one ignoring him. He thinks she changed her number and quit her job to avoid him, but Hyun-hee corrects him—she was fired because of his mall-brawling mother, and her parents are getting a divorce.
He's shocked to hear what's going on with her, and Hyun-hee takes away the lunch Hoon-dong brings him, saying that he doesn't deserve it.
At Jang-mi's house, Mom finally comes home and says she wants to call off the divorce, but this time Dad packs up (in the suitcase she just brought back) and walks out the door. Jang-mi sighs that they ought to be soulmates, they're so alike, and wonders if the thing they fought about her whole life—money—will be the thing to tear them apart in the end.
Jang-mi finally tells Mom about being fired and goes to run the chicken shop on her own. It mostly consists of standing in front of the fryer swatting at flies, and she reaches for a bottle of soju. She has a momentary dilemma about whether she should stop drinking, and that's when Ki-tae happens to walk in.
She thinks she's imagining him at first, but he's really there. He says he heard about her job and her parents, and wants to help compensate because he feels responsible. Augh. You would try to take care of it with money. Tell her you love her, you fool!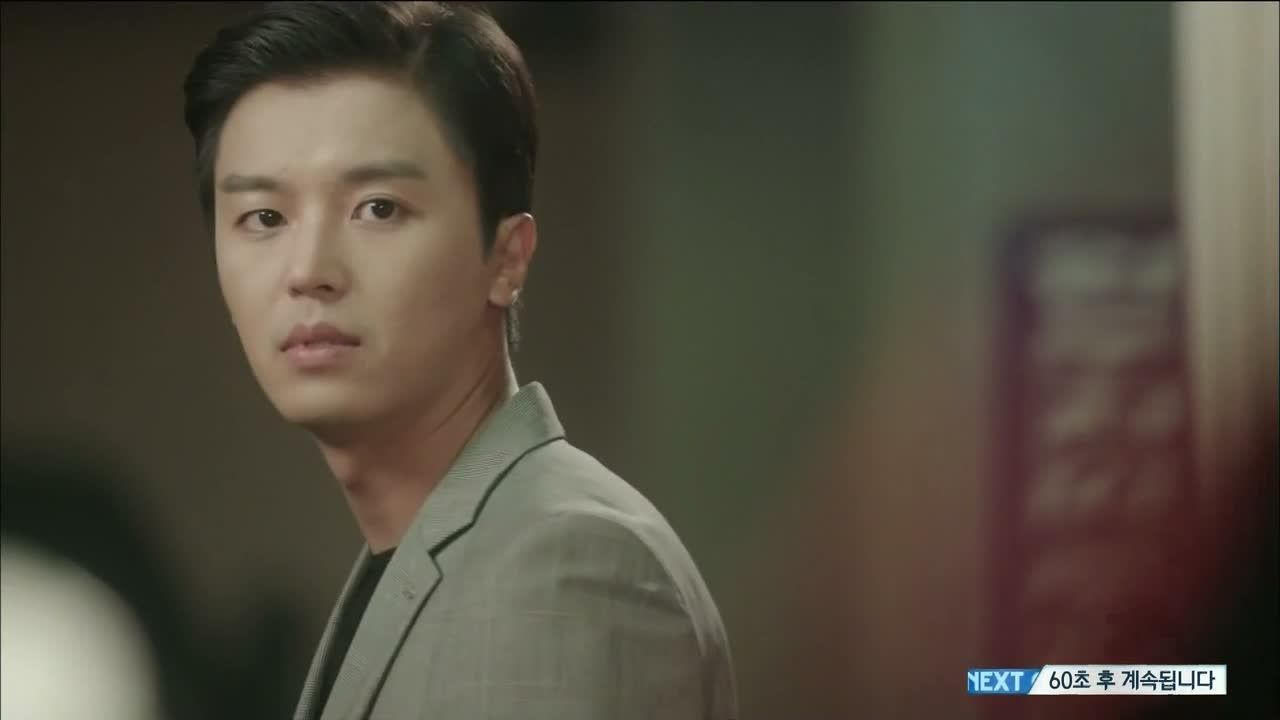 Of course she just gets defensive and angry that he's trying to throw money at her like he's cleaning up some mess from his past, and spits back that she just escaped him and finally found her real life, so he should go. He gets up dejectedly to leave, and lingers to watch her just a little longer.
It turns out the power-blogger has some reach, and she leaves nasty comments about Ki-tae being arrogant, ignorant about women's feelings, and a bastard who lives his life alone (all of which he admits is mostly true, ha).
The rumors spread, and soon his clinic has no patients. Aunt wonders if the family should step in, but Mom says he wants to live his own life and refuses to intervene.
Ki-tae doesn't seem at all worried though, because he's obsessed with another matter entirely: stalking Jang-mi. He sits outside her chicken shop watching her swat at flies, with the most ridiculously smitten expression on his face.
He calls the shop and plugs his nose to disguise his voice, and fumbles to stay anonymous as he orders ten chickens for delivery to a nearby park. She packs them up happily and a man on a bench claims to have ordered the chickens. She counts her money cheerily before riding away, and Ki-tae pokes his head out from behind a tree, pleased with himself.
He then stuffs himself with chicken at home, and then the next day he calls again with the same order. The same accomplice pays for the chicken in the park, and hands Jang-mi a drink: "He said for you to drink this… I mean, you should drink this!"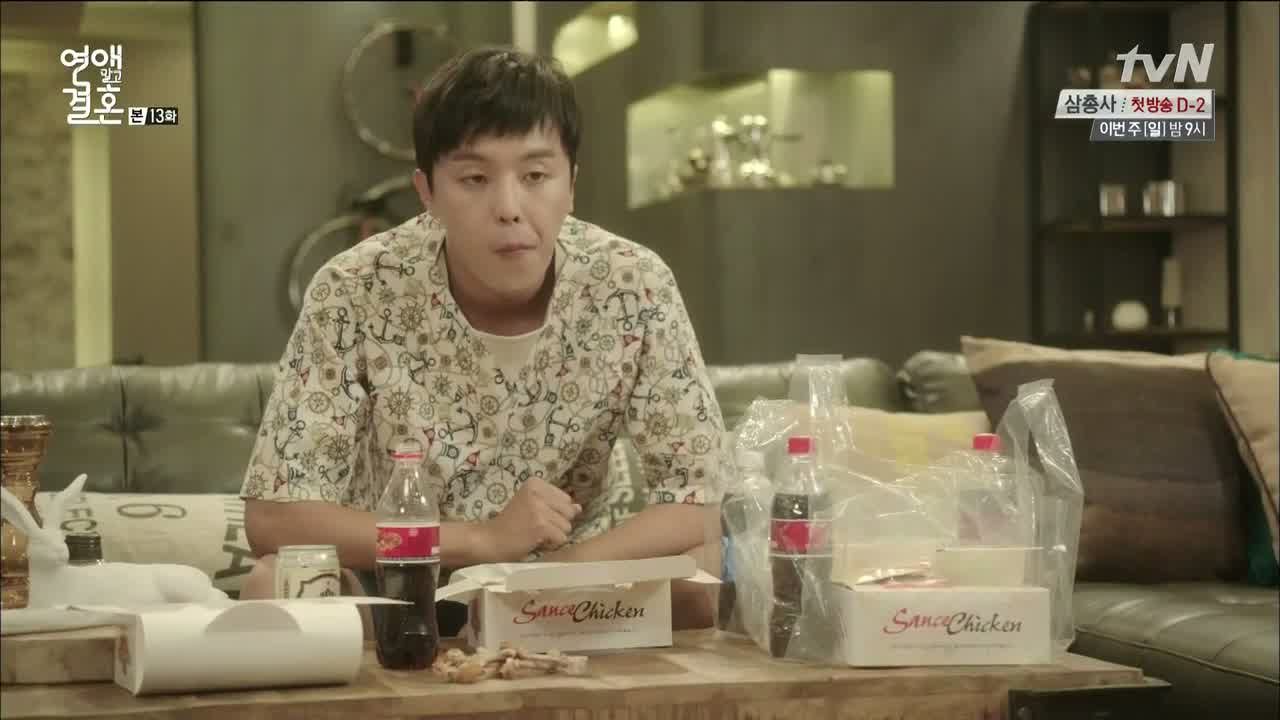 Ki-tae then runs around town delivering the chicken to everyone he knows, because who in his right mind could eat ten chickens every day. (To Hoon-dong: "You have to eat it all! Even the bones!")
As Grandma and Aunt eat their chicken, Grandma's keen eye picks up on the shop belonging to Jang-mi's family, and chuckles at Ki-tae's roundabout way of staying in Jang-mi's life. Mom overhears them but doesn't say anything.
Mom has such a tight rein on Dad that he can't even go for a walk longer than fifteen minutes, so he asks what it is she wants from him. Mom: "A divorce. There's no way you or I will ever escape this house with anything but a divorce." Thank ye, she finally said it!
Hyun-hee continues to play Cupid and tells Jang-mi about Ki-tae's clinic being in danger of closing its doors. Jang-mi meets Yeo-reum for a drink and savors the shot of soju immensely, sighing that she was trying to quit drinking so that she could focus on finding herself.
He wonders why she's going through such existential hoops, but she says that in the past she only lived for other people and never herself. She doesn't want to lean on anyone else anymore, because the more you lean [ki-dae], the more you expect [ki-dae].
Yeo-reum argues that life is more fun when you let yourself expect things, and that she was better when she cared and always went overboard. He piques her interest when he asks if they ought to help Ki-tae without him knowing.
Ki-tae just continues to laze around at home stuffing himself full of chicken, and admires the cute chicken belly he's developed. The doorbell rings and he lights up thinking it's Jang-mi, and then runs around frantically to clean up the evidence of his chicken binge before answering the door.
His face falls when he opens it to see Se-ah, and he doesn't seem to take much interest in her plan for how to sue the blogger and get his practice back on track. She asks how long he's just going to sit there, but he says he's never been more at peace—he always thought he had to keep going to be better, more perfect, just more.
He says that doing nothing has been freeing, and that he's finally learned to let go. Se-ah sees through him and asks—about Jang-mi without saying that they've switched topics—if he's not just scared that he'll try to hold on and lose her anyway, because he'll be embarrassed at the rejection if he tries. Se-ah says there's nothing left for her to be embarrassed about and plans to pursue this blogger on her own.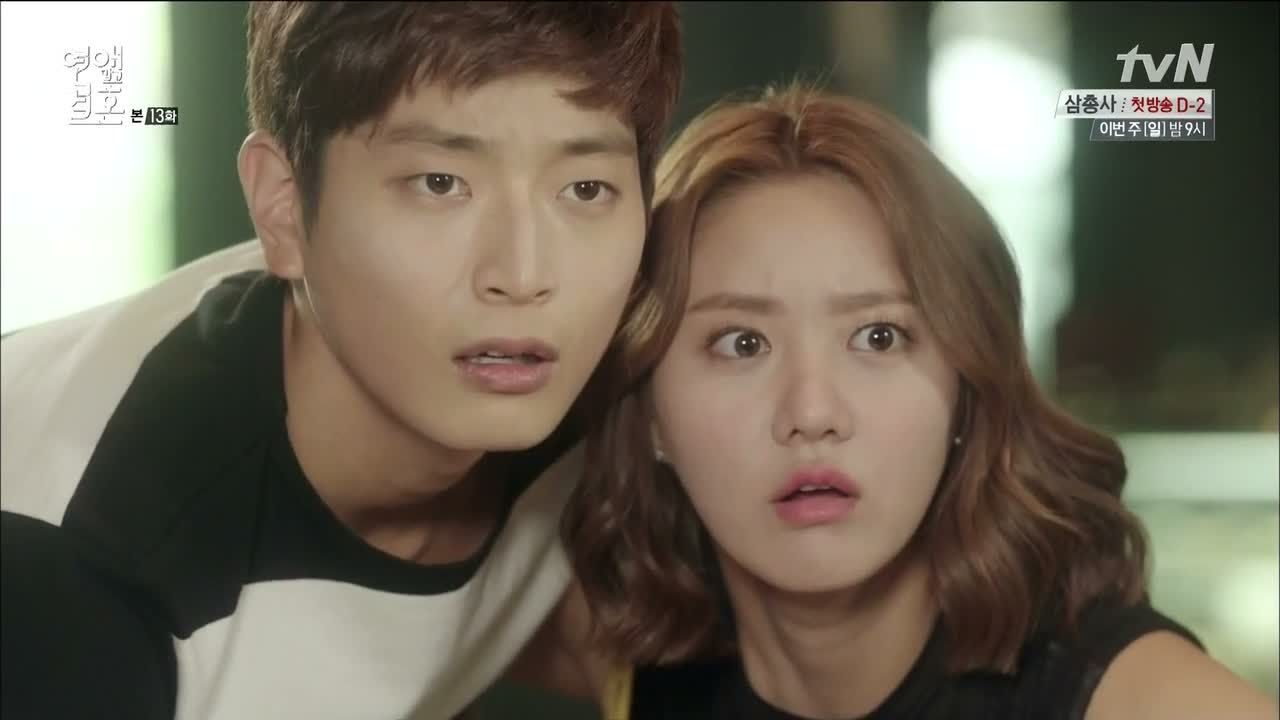 Jang-mi and Yeo-reum wait at a coffee shop to do the same, and Jang-mi worries that his entire plan seems to be to charm the blogger into recanting. She says she feels bad about bringing him into this, but he sets her straight: "You're not the only one who likes Ki-tae hyung! I like him a LOT too!" That's so cute.
He says if she's really sorry she should go into business with him, and swears he doesn't have ulterior motives about them. He falters a little when she prods and he says he might, but he quickly takes it back.
Just as they're about to give up, the blogger appears, but they're suprised when Se-ah walks up to her first. She says that Ki-tae is going to sue her, and passes over an envelope of money for her mental suffering. Jang-mi sighs to see that she's not needed after all.
Se-ah tells the blogger that she's a plastic surgeon as well, and she can see why Ki-tae refused to treat her. She says she's sorry for her face that it met such an unfortunate owner. Yeeeeeouch. I know you're trying to help, but this is not helping.
The blogger complains that pretty girls don't understand, but Se-ah says she's a product of plastic surgery too—the difference is that she loves herself, while the blogger is obviously fixing her face because no one loves her and she's trying to become someone else.
The blogger reaches up to strike her, and Se-ah grabs her wrist and asks if she should go online and call her a plastic surgery addict monster. The blogger throws a cup of coffee in Se-ah's face and storms out, ready to go to war.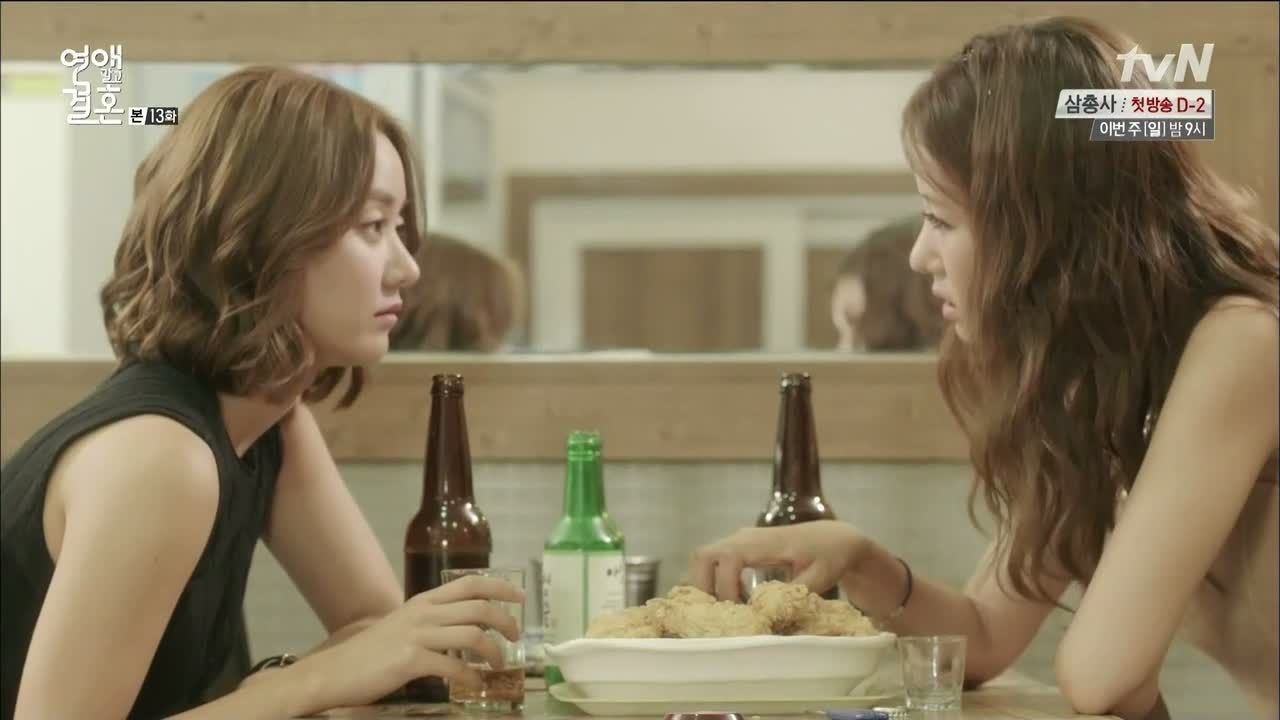 Jang-mi and Yeo-reum run over to make sure Se-ah is okay, and she tells them to stop the blogger from getting away. Jang-mi goes after her and manages to overtake the car on a bike, and is shocked to find her sobbing at the wheel. Jang-mi hands her a tissue and asks if she wants to grab a drink.
They relocate to the chicken shop, where Jang-mi listens to her story and takes her side. She says Ki-tae was wrong—he could've just said she looks pretty the way she is, but the Ki-tae she knows always chooses the most hurtful thing to say at all times.
The blogger nods in agreement and then in turn comforts Jang-mi when she realizes that she's in love with that bastard. It's pretty adorable, and the blogger slurs between drinks, "I get along better with you than that pretty bitch." Ha.
Meanwhile, Ki-tae's mom hears that he's stopped coming to work altogether, and only stops in to drop off chicken every day. She remembers Grandma's comment about him being hung up on Jang-mi and heads over to see her at the chicken shop.
But of course she arrives just in time to see her drinking with the blogger and cheering that Ki-tae got what he deserved. Oh noes, now she thinks Jang-mi was in on it! Jang-mi stops cold when she sees Mom standing in the doorway and runs out after her to try and explain.
Mom doesn't let her get a word in edgewise, and says that she came here to apologize for her part in everything, and to ask her to help Ki-tae move on. She says that she had high expectations for Jang-mi, which is why her disappointment was so big as well. She accuses Jang-mi of plotting revenge, and wonders if what she wanted all this time was money.
Jang-mi watches her go and remembers all the times everyone around her assumed she was marrying Ki-tae for money. "That's how it is. That's all people see when they look at me next to Gong Ki-tae."
Mom comes by Ki-tae's apartment to find him knee-deep in chicken again (seriously, I worry for your arteries) and tells him to get over it because he's been fooled by Jang-mi too. She says that she saw Jang-mi plotting with that blogger with her own eyes, and Ki-tae suddenly bolts to attention.
Jang-mi and Yeo-reum haul the drunk blogger into her car and Yeo-reum drives her home. He asks Jang-mi one more time about going into business together, and she asks rather blankly if it'll make her lots of money, then agrees to do it.
Ki-tae arrives at the chicken shop but finds a sign posted saying that they'll be closed temporarily. Meanwhile Jang-mi brings one last order of chicken to the park in hopes of finding the man who's been ordering ten a day. She gives him the chicken and says it's to thank him before they close the shop for a while, and the man finally tells her the truth about Ki-tae's secret chicken orders.
She sits in the park trying to process what's been going on when Ki-tae calls and demands to know where she is. He storms up angrily wanting to know if what his mother said was true, and she asks if he'd believe her anyway. She quotes what everyone's always told her—that when a poor woman has her sights set on a wealthy man, there's always an ulterior motive.
He remembers now saying the same thing to Jang-mi about Hoon-dong before she doused his face in juice, and how she cried that for her it was love. This time, he points out that she was the one who pushed him away toward someone else, and chides her for continuing to interfere in his life enough to be misunderstood by his mother. Aw, he's taking her side.
He reminds her of all that she's suffered already: "Isn't that enough for you? How much more will you get hurt because of me?! How much more will you cry because of me?!" He asks why she's making a fool of him on top of everything, and asks how much longer he has to watch the woman he likes being treated this way.
He realizes he just blurted out his feelings, and follows it up with, "I like you, you frustrating woman!" Jang-mi's been spilling tears this whole time, but at that she starts to back away from him and takes off running. I know I can't be the only one screaming at her to go back for her purse.
He chases her down and she says that she doesn't want to be by his side—she doesn't like the person she is when she's with him. She feels ashamed of herself for the first time ever, and he argues that she's not the only one—he's never once been unsure about himself, but she shakes him and he doubts who he is because of her.
Ki-tae: "But I still want to be with you." Jang-mi says in a tiny I-don't-mean-what-I'm-saying voice: "But we can't. We're over." Ki-tae: "The fake us is over. From now on, let's do it for real." Eeeeeee!
He takes a step forward to wrap her up in a hug, and they each break out in the sweetest smiles of relief. He wipes away her tears and leans in for a kiss, and I love the way they both pull each other just a little closer as they kiss.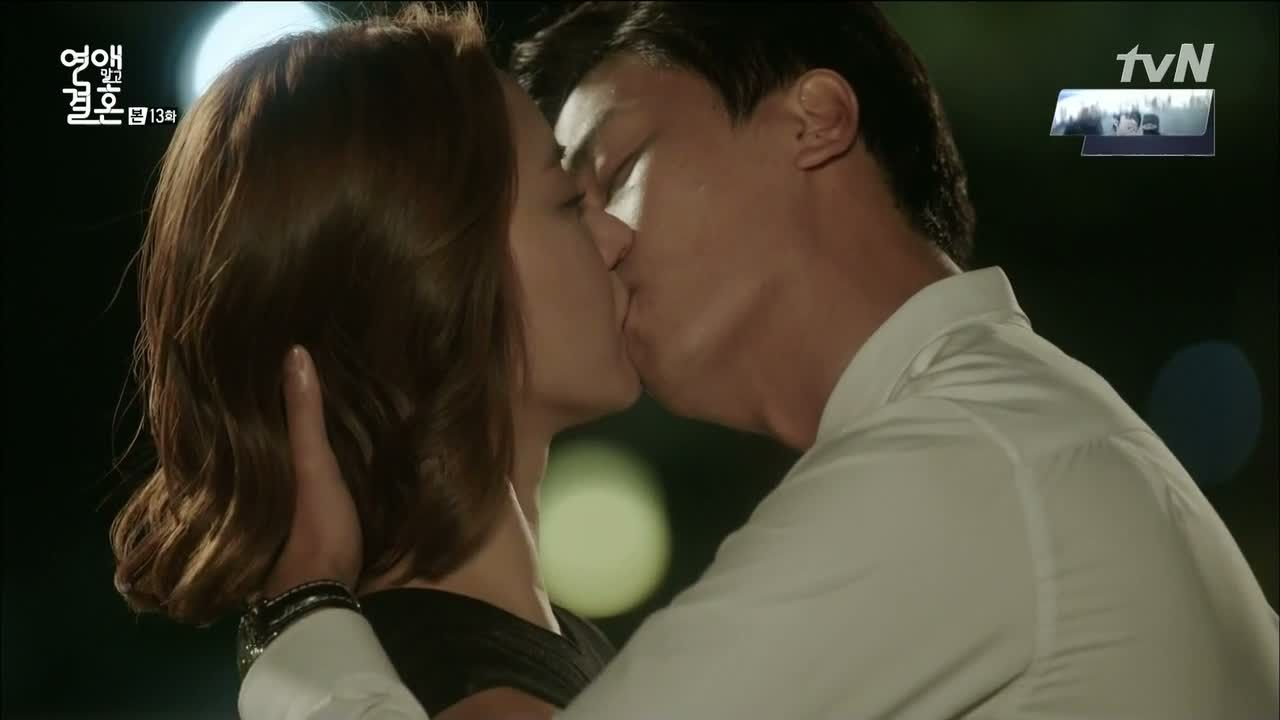 They walk up to his apartment afterwards, and Ki-tae adorably fidgets trying to hold her hand but punking out every time they get close. He pouts that she didn't even come by once, when before she'd come over all the time no matter how much he protested.
She smiles a little at that, pleased that he seemed to be waiting for her. She admits that she did come to his door once but turned back, and he lights up and successfully holds her hand.
They walk into his apartment, and she gasps to see the evidence of Ki-tae's rock-bottom—there's chicken everywhere, the place is a mess, and she takes a whiff and realizes he hasn't even showered. She tells him to hurry up and shower right now, and his mind instantly goes to a naughty place.
He's beside himself when she leads him to the bathroom and kisses him on both cheeks, and when she tells him to wash every nook and cranny well, he blushes and tears his clothes off to take the world's fastest shower.
Hahahaha, we actually watch him reach down to wash every nook and cranny! I'm dying.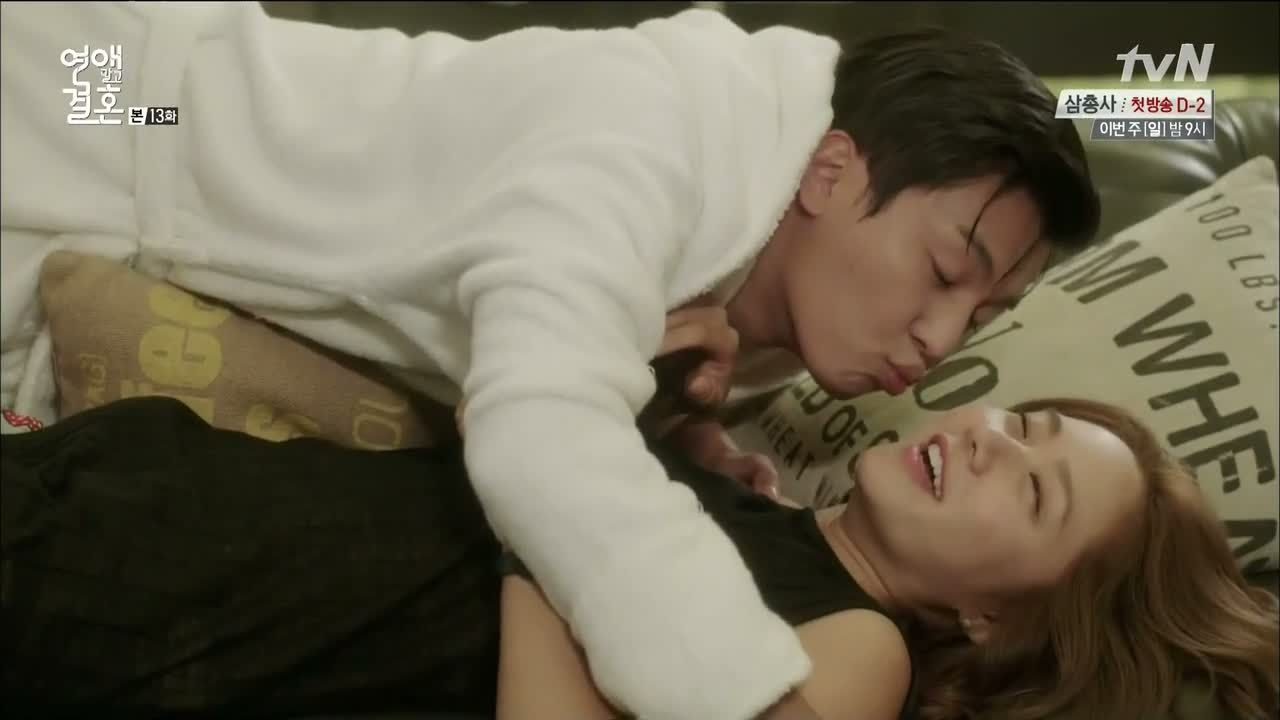 He spends forever trying to figure out how to do his hair, and comes out with this overly moussed 'do. She thinks he's trying to leave the house and says he won't be going anywhere because they'll be at it all night long, and he just mouths, ALL NIGHT with stars in his eyes.
She tells him to hurry up and get a move on, so he throws her onto the couch and lands on top of her with puckered lips. But sadly, sexy times is not what she had on the agenda (Why? Why was it not?) and she puts a vacuum in his hand and tells him to start cleaning.
He pouts at first, but they manage to find their own way of incorporating skinship into the cleaning routine, and piggyback each other around the apartment as they make the place good as new.
Once they're done, Ki-tae asks suggestively if they can rest now, and Jang-mi agrees to wine. He jumps up to open a bottle, and she says she wants to say something before they get started.
She hems and haws, until he pops the cork open, and she finally comes out with it. She asks if they can keep things cool between them: "Let's just date… and not marry." Omo. Ki-tae stares back at her, thunderstruck.

COMMENTS
Well that's the last thing we ever expected to come out of Jang-mi's mouth. It's entertaining to watch them essentially become each other though, because it's evidence of how much they've influenced one another, for better or worse. Ki-tae has become a clingy stalking ex who can't let Jang-mi suffer, and goes out of his way to meddle in her affairs to his own arterial detriment. And Jang-mi is striving to become a self-preserving independent person who doesn't have to lean on anyone and can be cool in love.
I don't mind that she's trying to put up boundaries, since it'd be foolish of her to jump back in blindly with all the heartache that she's already suffered, not to mention how traumatized both families are from the broken engagement. That may be reason enough to keep marriage talk at bay for a good long while, though of course Ki-tae won't see it that way since he's finally figured out what his heart wants.
It's a nice reversal, especially because Ki-tae only has himself to blame when it comes to Jang-mi's new philosophy on love. He told her she had to be alone to figure out who she is, and that she'd have to stop leaning on others to stand on her own, so that's exactly what she's doing. I really like the leaning/expectation pun in this episode, because it's a causal relationship—you start to lean on someone and trust them, and your expectations inevitably grow. But anyone who's loved knows that that's a massive source of heartbreak, because the more you expect, the more you're handing over control over your happiness, and the bigger the potential disappointments. Her somewhat hopeless attempt to keep her expectations from growing feels so real to me, and I like that she's struggling with this instead of rushing in all over again like she would've in the past.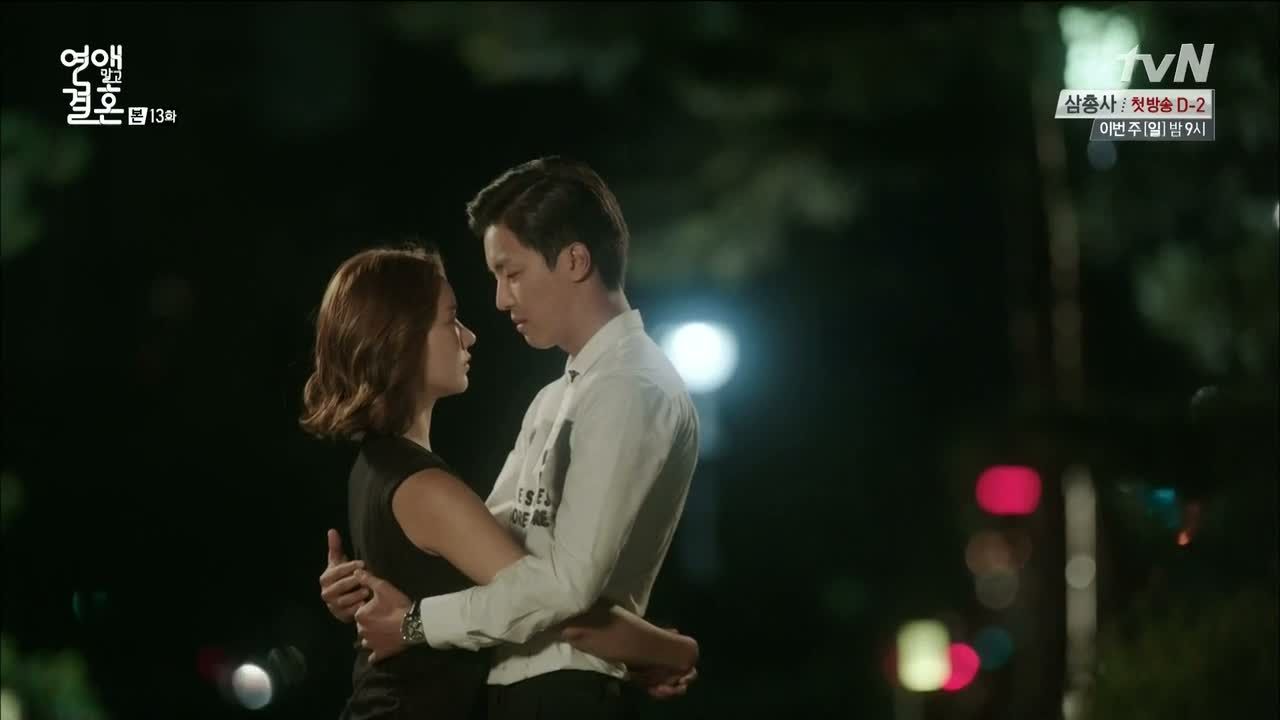 As always with this drama, they extend these relationship dynamics beyond romance, which I really love, and we find that Mom feels the same kind of heartbreak and disappointment in loving and losing Jang-mi as a daughter-in-law. And for once Jang-mi finds herself on the receiving end of all these expectations too—if she lets Ki-tae get too close, he'll end up hurt, and so will his family. I can see why she thinks dating with no strings attached will keep them both safe from getting hurt, though we know they're too far gone to actually do that.
The fun will be in watching them try to play things cool, while Ki-tae—of all people, the guru of fishpond maintenance—tries to convince her that he's worth betting everything on. How the tables have turned, and how happy I am that they have. It's almost enough to forgive the show for meddling second leads running amok for weeks… almost. Though today, I have to give it to the show for the best narrative use of chicken PPL I've ever seen. It's not just chicken—it's love!

RELATED POSTS
Tags: featured, Han Groo, Marriage Not Dating, Yeon Woo-jin