Marriage Not Dating: Episode 14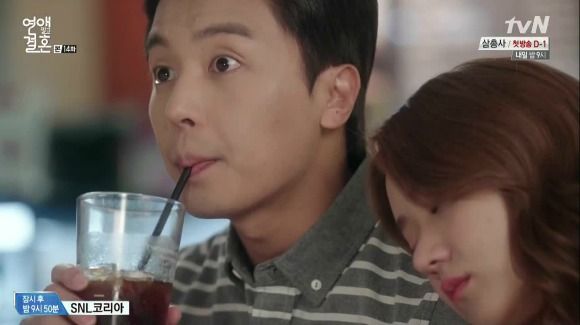 It's an episode full of frustration for poor Ki-tae, both emotionally and physically, as he learns about life as the boyfriend of a successful entrepreneur. He and Jang-mi both learn a little about how important it is to communicate honestly, and I can only say thank goodness, it's about time. Because when your girlfriend's ex is giving you relationship advice, you're probably doing it wrong.
EPISODE 14: "Sorry for not being cool / Thanks for not being cool"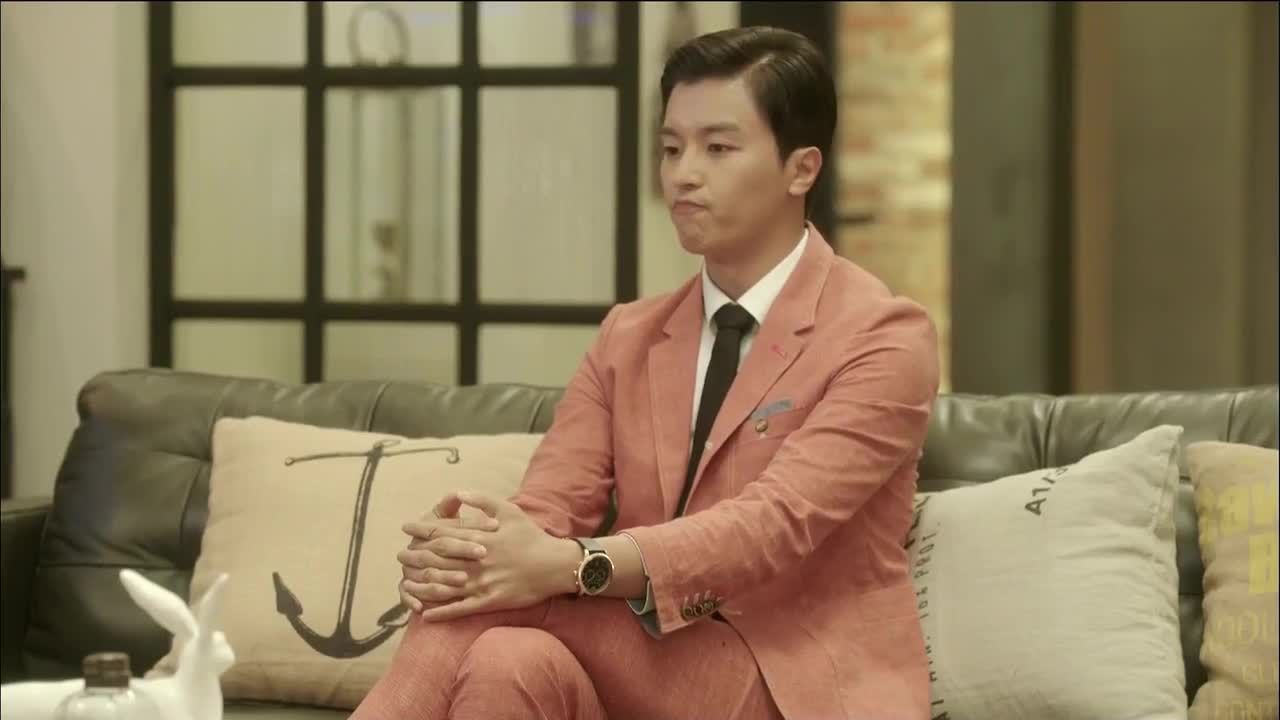 Ki-tae is interviewed in his home, where he discusses his love of his house. He says he was once alone here as a child and this is why he loves to be alone here now. The doorbell rings and he tries to ignore it, but the ringing gets increasingly frantic, and Ki-tae explains that there's this girl who recently began intruding and ruining the peace of the house. His tone of voice and facial expressions betray annoyance and frustration as he says that since that girl came, he's uncomfortable when he's home alone. The ringing turns to pounding as Ki-tae adds, almost angrily, that now he wants to be with that girl.
We rejoin Ki-tae and Jang-mi just as he opens the bottle of wine, and Jang-mi suggests that they date casually, without marriage in mind. Ki-tae asks what we're all wondering: "Who are you?" HA. Jang-mi says that she's serious, because in the past if she wanted someone she just went for him and it always ruined things.
Ki-tae starts to argue that that was with Hoon-dong, but Jang-mi interrupts and says she doesn't want to ruin things with him, which deflates his frustration. She suggests they keep things secret from their parents, at least until she gets a job and his clinic is back in business. She wants to look better in front of his mother next time, so she won't think she's only after Ki-tae's money.
Jang-mi says that this time she wants to be a proud daughter and a good wife to him, and Ki-tae grins. But he pokes fun by telling her she's jumping the gun – he never said he wanted to marry her. Dude, you earned that snarl. An annoyed Jang-mi gulps her wine and starts to leave, but Ki-tae offers to take her home. She declines and gives him a quick smooch, which buys her time to leave while he stands there all twitterpated.
The next day, Ki-tae literally dances into work, where the nurses tell him that the blogger deleted all her negative comments. Not even the news that there are no patients on the schedule yet can get him down, and he boogies off to his office.
Hyun-hee runs Hoon-dong ragged with her ever-changing demands, and his mother criticizes him for becoming a slave to his wife. She turns on Hyun-hee next, to take her to task for taking up the best restaurant table for studying, and calls them both immature. She refuses to support them anymore and demands rent on the restaurant.
Yeo-reum leads Jang-mi into his newly-completed restaurant/bar, and she sits him down to tell him she's dating Ki-tae. He breezily says that he just wants her as a business partner, and she relaxes and asks him if he thinks Ki-tae will be okay with them working together. She asks him for advice on how to be in a cool relationship, but his advice is to end it. Since Ki-tae likes her, Yeo-reum doubts he can be cool about it.
Yeo-reum's mystery investor arrives, and Jang-mi is surprised to see that it's Hyun-hee. She says it's a secret from Hoon-dong for now, and that she used her own savings to invest. She explains that she's doing this because she wants her own money, not just her in-laws' money.
Jang-mi suggests they do this without her, and Yeo-reum tells Hyun-hee that her boyfriend might not like it. Hyun-hee correctly guesses the new boyfriend is Ki-tae, and agrees that they shouldn't tell him since once he knows, Hoon-dong will know too.
The bar's sign is delivered, and Jang-mi is surprised to see they've named the place "Ju Jang-mi" (How punny – ju as in liquor like soju). Hyun-hee says they planned all along for her to be involved, and Jang-mi is touched but grumps that it's a tacky name for a bar.
Ki-tae's mom gives him an envelope for Jang-mi, and says that since the blogger's comments have been deleted, they should give Jang-mi what she wants (money). Ki-tae argues that his mother misunderstood and Jang-mi was helping him, prompting Grandma to hopefully ask if they're seeing each other. Ki-tae denies it, but says that he's begging her not to go. He tells Mom that he was so mean that Jang-mi needed a shoulder to cry on, and that's why she was hugging Yeo-reum. It's cute how Grandma and Aunt Mi-jung stick up for Jang-mi.
Ki-tae accidentally interrupts his father in the middle of a call to his mistress, and Dad invites him over for a drink. Dad's clearly already had a few, but he notes that even though Mom told Ki-tae to do whatever he wants, she's managing to pull him back in.
Dad says he understands Ki-tae falling for a girl like Jang-mi, because he must have felt suffocated. He says that he found the perfect solution – keep marriage and love separate. Marriage is stability, and love is excitement. He tells Ki-tae that he should marry Se-ah, and date Jang-mi. Gross, Dad.
Ki-tae tries to hold in his anger as he tells Dad that he used to try to understand him, wondering why Mom wouldn't let him go knowing he had a lover, but now he knows it's Dad who wouldn't let go. Dad says that his responsibilities burdened him, and he knows that's why Ki-tae wants to live alone, to avoid those burdens. Ki-tae agrees that he's selfish like his father, but that he's never felt so ashamed about it until now. He warns Dad never again to put Jang-mi on the same level as that woman, and leaves.
Ki-tae arrives home to find that Jang-mi has laid out mountains of food, and she tells him they're the bar's menu items and asks him to try everything. He declares the food delicious and Jang-mi relaxes, since he's so fussy that if he likes it, anyone will like it. Hee.
She drops the bomb that the bar's cook is Yeo-reum, but assures Ki-tae that they're totally fine working together, no feelings whatsoever. She says that they're in a cool relationship anyway, but Ki-tae protests that he didn't know "cool" meant this. Jang-mi says that she's okay with him being friends with Se-ah, so he should be okay with her working with Yeo-reum, and he can't argue with her logic.
Jang-mi says that she considered not going into business with Yeo-reum since she and Ki-tae are dating, but she really needs the job since she doesn't want to look like a gold-digger. She says she won't do it if he doesn't want her to, but Ki-tae remembers his mother sliding that envelope of money at him, and his father's disgusting suggestion, and reluctantly tells Jang-mi to do it.
The next day Ki-tae slumps into Hoon-dong's restaurant, and Hoon-dong asks him why the sudden change of mood. Ki-tae asks why someone would only be casual around him but not anyone else, and Hoon-dong correctly guesses that this is about a girl. He says that before the girl tries to get away, Ki-tae needs to make sure everyone knows she's his.
"Ju Jang-mi" has its grand opening, and one of their first customers is Jang-mi and Hyun-hee's old manager from the department store, who actually looks super cute in street clothes. Their next customer is Hoon-dong's chef, and Hyun-hee makes him promise not to tell Hoon-dong. Yeo-reum and Jang-mi play matchmaker by sitting Chef across from Manager, and they both seem to find the other attractive. Cute.
Hoon-dong and Ki-tae show up to see the new bar, and Hoon-dong's eyes bug out to realize Jang-mi is the girl Ki-tae's been talking about. Yeo-reum comes out to say hello, followed by Hyun-hee, and her secret is out. Hoon-dong stomps off followed by Hyun-hee, leaving the other three to go inside.
Ki-tae tries to act like the cool boyfriend and smiles whenever Jang-mi looks his way, but he's jealous to see how much fun Jang-mi and Yeo-reum have working together. Yeo-reum sees through him though, so Ki-tae saunters over to assure him that he's totally fine with them working together, no problem at all, no sirree bob. Yeah, that's not at all transparent.
Se-ah shows up next, and Jang-mi blinks when Ki-tae says he invited her since she works in the area and can bring in customers. It's Jang-mi's turn to be totally fine with them being friends, and she goes overboard serving Se-ah. Her uncontrollable nervous laughter makes me so embarrassed for her.
Ki-tae drives Jang-mi home that night, both of them silent and awkward. Jang-mi thinks to herself that they talk less now that they're in a relationship than when it was make-believe, and she brazenly suggests they go to Ki-tae's place. He's startled, but his thoughts go to the Naughty Place again and he guns the motor. Ha.
As soon as they get there, Jang-mi retires to the restroom, leaving Ki-tae to hover outside the door as he grins in anticipation. Jang-mi calls through the door for a toothbrush and he pops in to get one, then in his eagerness he offers her use of his skin cleansing device, of all things. Weirdo.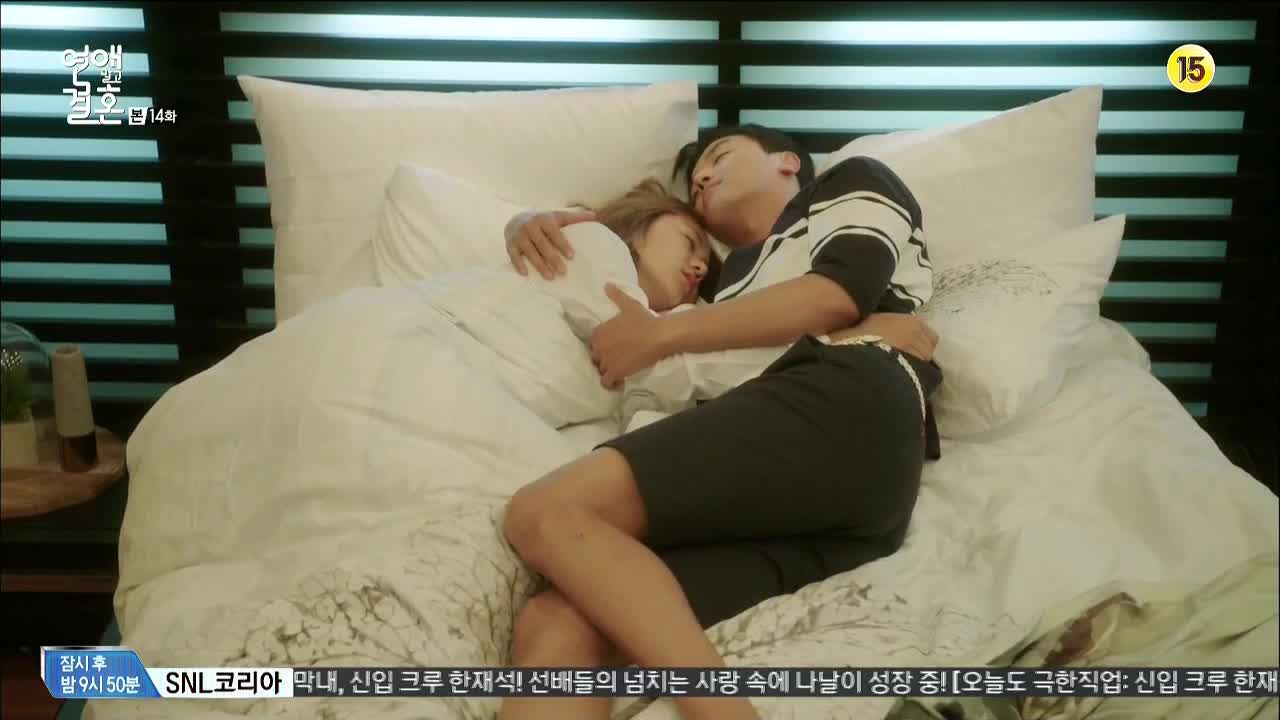 After her shower, Jang-mi climbs in bed and Ki-tae offers to massage her tired legs. It's not a bad seduction plan, only he's so good at it that she falls asleep on him. He tells her sleeping face that this is a little too cool, but he lets her sleep and settles for snuggles, letting it go since she's so cute.
But Ki-tae is in for more frustration than he bargained for, as they go on a series of dates and Jang-mi falls asleep on him every time. They cuddle on a bench in the park and he asks how the bar is doing. She says it's really busy, and he says the clinic is doing well, too. As he boasts how great he is, she falls asleep on him again. Ouch, his poor ego.
The bar is bustling, and the two shut-out loverboys watch forlornly through the window as their ladies give everyone attention but them. It's adorable how they get in a fight over whether Jang-mi should be doing all the heavy lifting for Hyun-hee. Ki-tae argues that Jang-mi isn't that strong, while Hoon-dong just assumes he hasn't been hit by her yet.
Apparently Ki-tae was lying about the clinic, and he spins in his chair in boredom, lighting up at a knock on his door but wilting when it's only Se-ah. They go to lunch and she invites him to work with her, sweetening the offer by saying they're planning to bring in 3D technology (a new way to show patients how they will look after the surgery is complete). She assures him she's only interested in him as a doctor.
Hoon-dong (who observed the whole conversation) takes this information right to Jang-mi, letting her know that Ki-tae's clinic isn't bouncing back like he said. She claims to be fine with Ki-tae working with Se-ah, though her voice is a little too shrill to be believable.
Jang-mi calls Ki-tae but he says he's waaay too busy to talk, and Yeo-reum says she looks depressed. She wants to be understanding, like Ki-tae is being about her working with Yeo-reum, but she's disappointed he didn't tell her that work was still bad. Yeo-reum tells her honestly that she's being dumb, and to just go talk to Ki-tae, but Jang-mi just goes back to work.
Aunt Mi-jung the Spy has changed loyalties and is now working for Grandma, and reports that she found where Jang-mi's working. She starts to tell who she's working with when Mom interrupts and scares them to pieces.
Mom heads right to the bar and immediately clocks that Yeo-reum works there, but doesn't say a word. Jang-mi brings her makgulli and kimchi pancakes, which Mom declares delicious. She surprises everyone by apologizing for misunderstanding Jang-mi, but warns her to stay away from Ki-tae if she isn't sincere about him.
Jang-mi tells her she has nothing to worry about, that she doesn't want to hurt him and that she's got a life she's happy about thanks to Mom and Ki-tae. Mom doesn't look appeased though, as she watches Jang-mi work and gulps makgulli, worried for her son.
Jang-mi heads to Ki-tae's place after work to find him neck-deep in research, but she doesn't ask about his clinic for fear of hurting his pride. She hangs out while he works, but not even her creative calisthenics can get his attention. She finally goes to bed alone, without telling him about his mother's visit to the bar, and admits to herself that it's hard to be confident about their relationship.
The next day, Ki-tae and Se-ah go to the bar to put their heads together about work, while Jang-mi glares at them and hovers, trying to hear what they're talking about. Se-ah greets a colleague who's there to talk to them about the 3D technology (Oh hey, it's Julien Kang!), and they all speak in English, leaving Jang-mi feeling left out. She thinks again how she and Ki-tae talk less now that they're dating.
Yeo-reum takes matters into his own hands and visits Ki-tae, paying back his loan while he's there. He tells Ki-tae that Jang-mi is working hard not to hurt him, and accuses him of not doing enough to make her feel secure. Who knew Yeo-reum would ever lecture someone on how to be the kind of guy a girl can depend on?
He tells Ki-tae that Jang-mi wants to be with him, but says he doesn't act like he wants to be with her. Ki-tae asks why he has to listen to this, and Yeo-reum says it's because he likes Ki-tae too. Awww. Though he does make sure Ki-tae knows he doesn't mean he likes him like that.
Jang-mi's dad sits alone and contemplates his wedding ring, which won't come off no matter how hard he tries. He writes a postcard to Jang-mi's mom, and later she receives a whole handful of them. HAHAHA, they all just have one word on them: "Dummy," "Moron," and "Mutt." That is just so awesomely immature.
Mom shows them to Jang-mi then tears them up, and it gets even funnier when Jang-mi remembers that her parents met as pen pals. She says that at least Dad is writing to her, and she should write him back. She asks when they stopped talking and Mom doesn't remember…she says it just happened. She says that love is over when you close your mouths, and Jang-mi has a sudden epiphany. Good girl.
She rushes off to Ki-tae's place, as he's dressing in a spiffy suit and remembering Yeo-reum's words that he hasn't been a man Jang-mi can rely on. She calls to tell him she's on her way, but he panics and says she can't come now. He's cagey about why, just saying he's got something important.
Jang-mi shows up anyway and pounds on his door, yelling for him to open up, and finally just unlocks the door herself. But he's right there and won't let her in, saying he doesn't want her to see…something. She complains that she's been honest about working with Yeo-reum and demands to know why he's not being honest with her.
Jang-mi calms down enough to notice a pair of sexy red heels in his entryway, and Ki-tae just says he's got a visitor and can't talk now. She's even more suspicious when she notices he's dressed up, and shoves her way past him, only to find she's barged into the middle of a magazine interview. Whoops.
Jang-mi asks why Ki-tae didn't tell her about this, but he's embarrassed to be using his pretty face to sell his clinic, hee. They both relax and tease each other ("So you're a pretty boy?" "Of course, didn't you know?"), and the interviewer asks if this is Ki-tae's girlfriend.
Jang-mi denies it but Ki-tae throws his arm around her and says that she is. Jang-mi says it's not good for his image and asks what if his mom sees, and asks the interviewer not to print that. They continue where they left off with Ki-tae saying that a girl has been making him uncomfortable, and everyone looks tense until the interviewer tells Jang-mi that he really wants to be with her.
Ki-tae and Jang-mi talk later, and Jang-mi finally voices her worry that they were more comfortable when their relationship was fake. Ki-tae jokes that it's too late to show him her good side – he already knows her bad and embarrassing traits, so she should just be comfortable. She asks why he didn't tell her about the clinic not doing well, and he admits that he wants to look good in front of her too.
Ki-tae admits (with the cutest puppy-dog eyes) the thing that's been bothering him the most – that he wants Jang-mi to rely on him and not Yeo-reum. She says that on the contrary, she gains energy to work so hard from all the sleep she gets by leaning on him, and Ki-tae fairly twinkles with happiness to hear it.
Jang-mi says she understands his friendship with Se-ah but honestly confesses that she doesn't really want him working with her. Ki-tae tells her that he's been working and studying hard so that he can keep his clinic, and that Se-ah only helped him make business contacts.
Much more relaxed now, the two of them joke together, and Jang-mi proposes that they drop the whole "cool relationship" thing since being open is much better. Ki-tae agrees but makes a request – it's okay for her to sleep comfortably next to him, but he doesn't want to only sleep anymore. RAWR. He asks Jang-mi to be with him tonight without sleeping, and they both giggle when she agrees. So cute.
By morning they're snuggling in bed together, as someone lets themselves in (has Ki-tae still not learned to change his code??). Jang-mi staggers out clad only in Ki-tae's shirt, looking like a woman who's been well and truly tumbled. She gasps to see Ki-tae's mother there, as her own clothing strewn about the room tells Mom exactly what happened last night.
COMMENTS
Well first of all, I have to give a giant HOORAY! The secret that Ki-tae and Jang-mi are dating for real is finally out for all to see. It's a shame (though hilarious) that it was Jang-mi's hot pink panties that ultimately told the tale, but at least now everyone knows the truth. I'm glad that Ki-tae's mom wasn't kept in the dark for long, because I do think that deep down she wants Jang-mi to be the girl she thought she was. We all know that she is, and that Jang-mi and Mom have the potential to be great allies in Ki-tae's messed-up family, but I want them to know it too.
I liked seeing the reversal in these last two episodes, how it's now Jang-mi who's successful career-wise and Ki-tae who is struggling. I think it gave them both a bit of perspective into the other, to see things from the opposite point of view and to understand how things can change in an instant. And it's to their credit that they used the reversal to try to understand each other more, instead of becoming petty and bitter about it.
I'm honestly not sure how I feel about the show's suddenly using Yeo-reum and Se-ah as forces of good rather than conflict. Their sudden change from near-villains trying to break up Ki-tae and Jang-mi, to Se-ah actually helping Ki-tae in business and Yeo-reum giving him relationship advice, is more than a bit strange. Unless I missed something, neither of them had to face any consequence of their previous actions or seemed to really have any reason to have changes of heart, other than that it serves the plot because someone was needed to do those things. It's really the only weakness I can find in an otherwise solid story, and I find it very jarring that they just went from Bad Guys to Good Guys with no logical transition whatsoever.
But back to the positive, because there's so much positive – I'm glad that Jang-mi and Ki-tae learned that honesty is important in a real relationship, because I was starting to get pretty frustrated. Jang-mi was right that they talked more, and were more honest, when their relationship was fake. I wanted to yell at her when Yeo-reum told her to just go talk to Ki-tae already, but she didn't. I get why, because being in a relationship is scary, and being honest about your fears and insecurities makes you vulnerable. Showing someone your true self opens you up to rejection. But I loved their discussion about it, and how they both admitted it, because non-communication between leads is such a staple of dramas and I rarely see the characters actually sit down and actually talk about it.
And like Ki-tae said, he already knows Jang-mi's bad and embarrassing sides. In fact it's probably what allowed them to fall for each other in the first place, because not having to worry about keeping the relationship (since it wasn't real) gave them both the freedom to be themselves. So by seeing each other as they truly were, instead of the facade a person usually presents when in a new relationship, they were able to truly fall in love with the real person they were seeing. It's a foundation most couples don't get, that chance to see the other's true self right from the start, which is what makes me love this couple so much and think they have a chance to stay together. They know exactly who they fell for, without anyone being on their best behavior. And I love that when they started dating and they tried to present that "Best Me" side of themselves, they were both uncomfortable with how fake it felt. These two are gonna make it.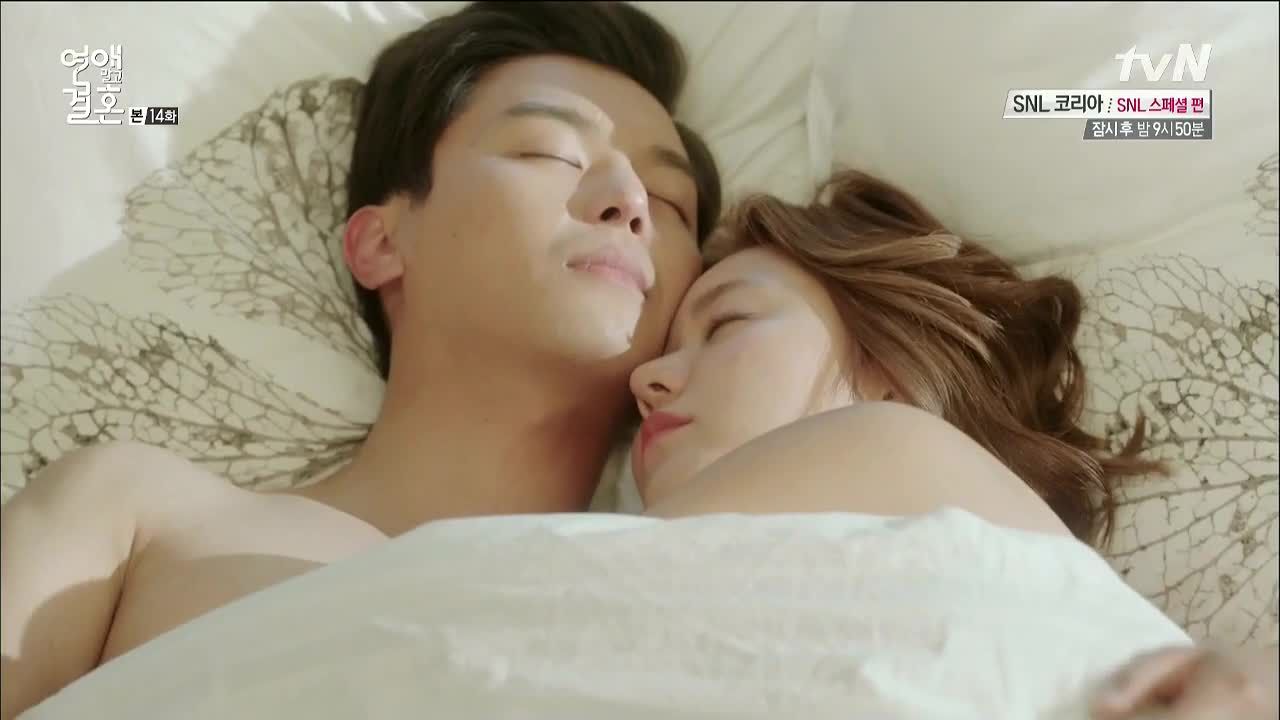 RELATED POSTS
Tags: featured, Han Groo, Marriage Not Dating, Yeon Woo-jin