Marriage Not Dating: Episode 15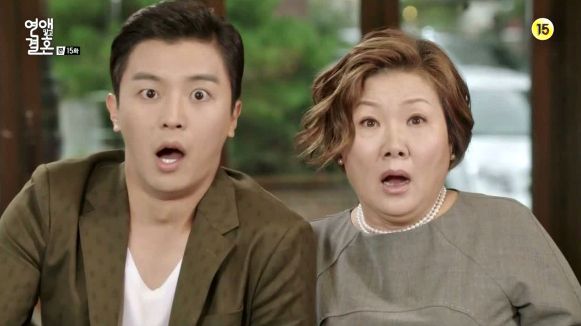 As it always is with this couple, whether fake or real, the greatest obstacle they face is family. Ki-tae thinks confrontation can be avoided, but Jang-mi has learned a thing or two about relationships, and knows that there is no difference between marriage and dating when it comes to Mom. The root of the problem is that no matter what label they put on it, they're already in a love triangle as old as time: between a woman, a man, and his mother.

SONG OF THE DAY
Eddy Kim – "밀당의 고수" (Master of Push and Pull) [ Download ]
Audio clip: Adobe Flash Player (version 9 or above) is required to play this audio clip. Download the latest version here. You also need to have JavaScript enabled in your browser.

EPISODE 15: "Two women who love one man"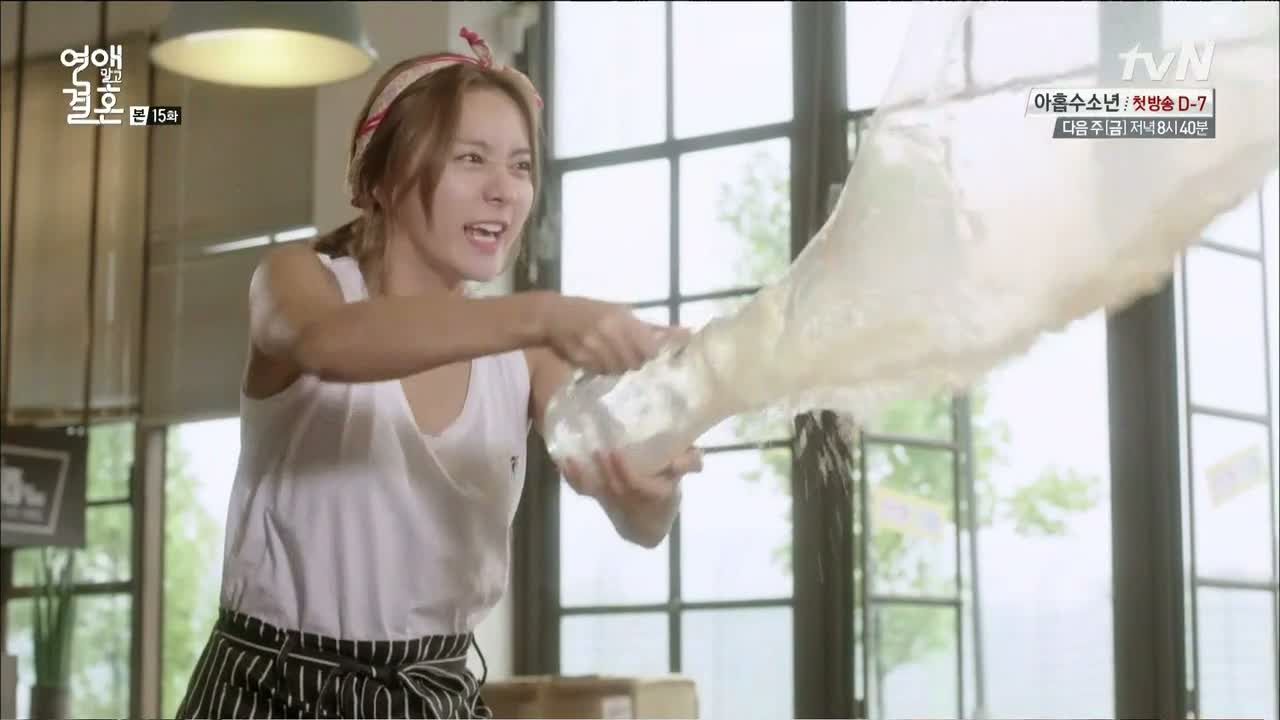 As we revisit all of Jang-mi's emotional, violent, embarrassing outbursts with beer, dried fish, and other sundry goods in hand, she narrates that she really did not want to be that girl in front of "that person" anymore.
But as she's saying it, she approaches Ki-tae and his mother ominously with a pitcher full of makgulli. They shrink back in terror and scream "Noooooooooo!" in slow motion, but she throws the makgulli right at them, and then laughs maniacally.
Rewind to the morning after the sleepover, when Jang-mi comes rustling out of the bedroom in nothing but a T-shirt to find Ki-tae's mom standing in the living room in shock, surrounded by underwear strewn about—undeniable evidence that this was not an innocent playdate.
To make matters worse, Ki-tae comes out only half-dressed in a robe. Mom just spins on her heels and walks out without a word. As soon as she goes, they scramble to put some clothes back on, nearly trading underpants in the process.
They race out to catch Mom before she gets in the car, and she points out how many unbelievable incidents she's had to swallow since she met Jang-mi: Ki-tae bringing her home as his fiancée to wreak havoc, finally accepting her only to find that it was all a lie, and now seeing them together after promising not to hurt each other again.
Mom asks how she's supposed to accept this, asking incredulously if they really mean to try and marry after the epic fiasco between their families. But Ki-tae jumps in to say that they aren't going to be married—they're only going to date. Hearing it come out of Ki-tae's mouth like that seems to shake Jang-mi, and Mom scoffs even harder, if that's possible.
Later at the bar, Jang-mi confesses that she didn't like hearing Ki-tae tell Mom that, even though it was really her idea not to marry him. Hyun-hee guesses that she does want to marry, while Yeo-reum thinks it's more about being accepted by Mom as Ki-tae's equal.
Hyun-hee calls that a pipedream and asks how two women who love one man can ever get along. Did she just sum up all mothers and daughters-in-law in one pithy statement? I'm sure it's more complicated, but that sounds about right.
Ki-tae goes home to calmly explain to Mom that he's sincere about Jang-mi and this isn't some attempt to rebel. Mom doesn't believe that Jang-mi is sincere about him though, and accuses her of working with Yeo-reum because she plans to live her life like Ki-tae's father—love and needs met in two separate people. Ouch.
Ki-tae defends her, but Mom isn't convinced. Jang-mi calls on his way out, concerned that they ought to go see Mom and explain things, but he just tells her not to worry about it.
Back in the house, Grandma thinks all of this is a good sign that Ki-tae is maturing, but Mom says the kids don't plan to get married. Grandma catches on that what Mom is really upset about is that Jang-mi didn't come with Ki-tae, and suggests a plan to find out what Jang-mi's true feelings are. Mom seems intrigued.
Over at Jang-mi's house, her mother continues to get one-word postcards from Dad and sighs. She still thinks Jang-mi is frying chicken all day, and finally hears that she opened a restaurant with her friends. Mom laments that she spent her entire life to get away from selling alcohol, and Jang-mi's doing it voluntarily.
She argues that there's nothing wrong with selling liquor at a restaurant and doesn't see what's so bad about people having a drink after a long day, but Mom only sees her own unhappiness, and tells Jang-mi that she can be their witness in court that her marriage was a failure.
Jang-mi is distracted all day at work, and the team sighs that business has slowed severely after their grand opening. Yeo-reum says it's because their kimchi pancakes aren't up to snuff, and asks Jang-mi where that kimchi came from that first time he made them back at Hoon-dong's place. She cringes—that's Ki-tae's mom's kimchi.
Just then, Ki-tae's aunt comes running in to tell Jang-mi that Grandma has collapsed, and she's delirious and demanding Jang-mi's pancakes. Pfft, that is the worst lie ever. Yeo-reum calls Ki-tae to tell him as much, and reports that Jang-mi fell for it and ran off crying. Ha, of course she did.
Grandma watches with one eye open as Jang-mi wails adorably, crying that she didn't mean to put her through all of this and that she really likes Ki-tae now. They all smile, and Mom tells her she can stop crying because Grandma's faking it. Grandma says she's just getting revenge for being tricked by their fake engagement, which is pretty awesome.
Jang-mi ends up making pancakes per Grandma's request, and coaxes Mom to join them. She says she has something important to say knowing that it's overstepping, and Mom calmly waits for her to ask for another chance… except she asks for Mom to sell her kimchi instead. Hahaha.
Mom seethes and asks if Jang-mi really expects her to give up her kimchi so she can take it to that other man. Jang-mi says she knows how much she hurt Ki-tae's family, which is why she's being careful. Mom bites back that her idea of careful seems to be dating instead of marrying and seeing two men at once.
Jang-mi admits that the reason she's running the bar with Yeo-reum in the first place is to be acknowledged by Mom—so that she sees that she's good at something, and is someone worthy of Ki-tae. That seems to land sincerely and Mom looks up at her.
But then Ki-tae ruins the moment by barging in and getting all defensive on Jang-mi's behalf, and pulls her out of there before they can finish the conversation. He asks how she could fall for such a dumb lie and come back here, after everything she's suffered in this house. He's totally overreacting, but she sees that he's worried about her.
She wants to go back inside and earn Mom's understanding, but Ki-tae shouts that she'll never ever understand, and he doesn't need it anyway. Jang-mi wonders why he's so dead-set on not even trying, and later when she talks to Yeo-reum about it, they agree that Ki-tae must be terrified of seeking his mother's acceptance and not getting it.
Yeo-reum asks if he's causing problems for her and Ki-tae's mom, but she insists a little too much that that isn't the case.
Ki-tae talks to Hoon-dong about their dating-not-marriage arrangement, and Hoon-dong scoffs that he's dumb—of course Jang-mi wants to get married. He figures it's just a matter of time before Ki-tae joins his world: "I welcome you to the world's most vicious love triangle." To drive the point home, Hoon-dong's mother barges in and starts nitpicking Hyun-hee for not being here, when she's the one who told her to stay home.
Jang-mi closes up the bar alone, and Ki-tae comes to pick her up. They share ddukbokki at his place, which is just an excuse for spicy kisses, and then brush each other's teeth before bed.
She gets him to massage her legs again and starts to say something haltingly, and he interrupts to say that she should let him say this stuff first. He brings up marriage and says that since he broached the topic, she can say honestly if she wants to get married.
She laughs and says that she does want to get married… eventually. But she doesn't think now is the time. She says she's been burned by marriage a lot and wants to be careful until she's absolutely sure.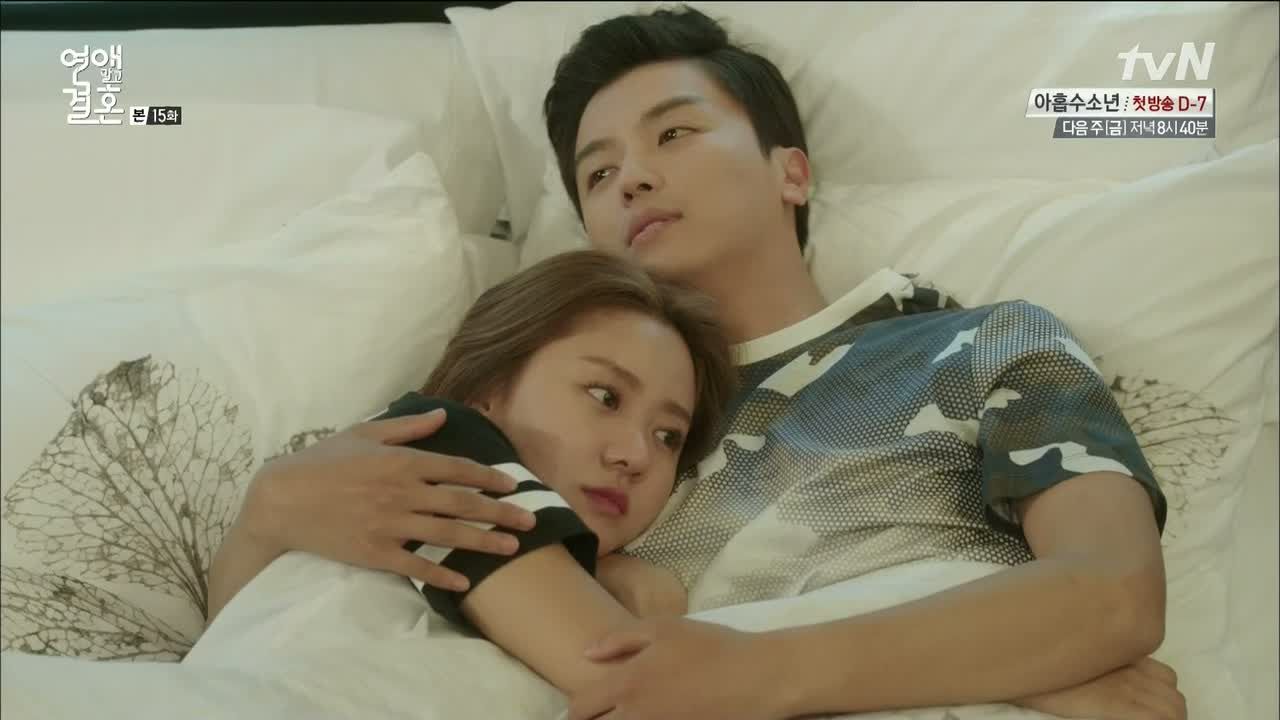 He asks why she's so concerned about Mom then, and she says it's because she's important to Ki-tae. She wants to try her best instead of just sitting by and doing nothing, clearly trying to nudge him to do the same. But Ki-tae just shuts down the conversation about Mom and holds her close, declaring that he's content like this, just the two of them.
She asks herself why those words that would've sounded so sweet to her before, now have a bitter sting. She wonders if it's really possible to find happiness on their own, just the two of them.
Ki-tae's dad comes running home with the good news that he's made it past the first round of the selection committee to be named president of his university, and he has the gall to ask Mom to wine and dine the wife of the chairman of the board.
Mom does her part and takes the chairman's wife to Ki-tae's clinic and then to Jang-mi's restaurant. Ki-tae freaks out thinking Mom's planning something devious, but she's taken care to call Jang-mi ahead of time and doesn't really seem to have an ulterior motive in play.
Jang-mi does a fantastic job of being a gracious hostess, and thanks the chairman's wife for being the first person who ever tried their kimchi pancake pizza at the wine club meeting and giving them the inspiration for their new venture. And when she says that it doesn't taste quite the same, Jang-mi credits Mom's kimchi as the secret ingredient that's missing.
She does such a great job that Ki-tae gives her a thumbs-up and a wink, and even Mom seems pleased.
Just as I'm starting to think things are going TOO well, Dad rounds the corner with his mistress on his arm, and she leads him to this great new restaurant she's heard so much about… Oh. Crap.
Sure enough, they walk right into Jang-mi's place and everyone freezes. I especially like the look of terror on the mistress's face when she sees Jang-mi. Dad knows no shame, and baldly lies that Ki-tae called him here (Ki-tae: "No I didn't.") and that the woman on his arm is his sister. Wow, just wow.
He sits down and directs his "sister" to join them, and even the mistress is appalled. Jang-mi watches all of this unfold with makgulli in her hand, and starts to coax herself to calm down as we catch up to the opening scene.
She tries but can't help herself, and her lips curl into a snarl as she just pitches the entire carafe right at Dad's face. It's so goddamn satisfying. Everyone gasps in horror and Jang-mi cackles insincerely that she tripped and fell… but then she snaps out of the reverie and we see that she was just fantasizing about it. Boo.
Still, she thinks it's a decent plan of action and approaches the table ready to douse Dad in liquor. But Mom beats her to it and spills a bottle of water all over Dad's pants, and casually tells his "sister" to help him home. It's no makgulli shower, but I like that he looks like he peed his pants.
The chairman's wife asks if that was the woman that Mom fought with at the department store, and Mom admits as much but covers for Dad till the end—she says that it's her fault because she tends to be controlling and difficult to live with, and that her husband's "sister" took his side in an argument and they fought.
Ki-tae watches his mother dejectedly and follows her home for a confrontation. He asks what she's doing all this for—being the perfect wife, the perfect daughter-in-law, the perfect mother. He thinks she does it so that no one can say anything bad about her, but that in reality she's just shutting the world out. He brings Mom to tears, and thankfully Grandma interrupts to throw Ki-tae out.
Aunt shows Grandma the magazine interview that Ki-tae did and when she reads the part about why he loves being in that apartment (his best memories are of being there alone as a child), she decides to go pay him a visit.
Grandma asks if he really doesn't remember, and sets his memory straight—he was there with Mom, when she first learned that Dad was a cheating bastard and left the house intending to divorce him. But Grandma barged in and dragged Ki-tae away from her, refusing to let her take the family's sole heir.
Ki-tae realizes now that Mom has suffered and stayed in that marriage because of him—because she couldn't give up her son. Grandma says she's not trying to make him feel guilty, but he needs to know that his happiest days weren't alone, but with his mother. He wonders why he remembers it differently, and she says that though he might not see her in his memories, his mother was always beside him, like air.
Mom sits at home alone, when Jang-mi shows up with drinks knowing that Mom needs one right about now. She doesn't turn Jang-mi away and even smiles, grateful for the gesture. It's the cutest thing.
They proceed to get sloshed on makgulli, and Jang-mi muses that Mom must still love Dad to cover for him like that. Mom scoffs that it isn't love; she's protecting her family because family is all that she has. It's what she spent her whole life to preserve, so without it, her life amounts to nothing.
Jang-mi listens sympathetically and says that all she has is Ki-tae, which is why she needed to do well with her restaurant, so that she didn't end up someone who leaned on him for everything. She says that she wants to see Ki-tae for a long, long time and Mom seems to finally understand.
What she doesn't get is why Jang-mi tries so hard with her—more than is necessary—for them to understand each other. Jang-mi thinks about it and says with a smile, "Because you and I love one man." Awwww.
Mom tells her to go before they get even drunker, and then casually tosses out a figure for how much her kimchi will cost them. Jang-mi chases her around the house trying to negotiate her down with aegyo, and then calls Hyun-hee on her way home to say that she scored Mom's kimchi after all.
Ki-tae sits alone in his dark apartment letting Grandma's words sink in, and finally picks up the phone to call Mom. She tells him that she had a drink with Jang-mi, and says with mock sympathy that Jang-mi suffers from the same illness that she has—living and dying by others' approval.
He laughs that they really are similar, and it worries him. He used to like Jang-mi thinking she was Mom's complete opposite, but it turns out they're more alike than he ever knew. He gets serious and starts to say something, and she waits patiently for him to say what's on his mind. But he just bursts into tears and can't get past, "Mother…"
But he doesn't need to say the words for her to know, and she just listens to him sobbing into the phone with tears in her eyes.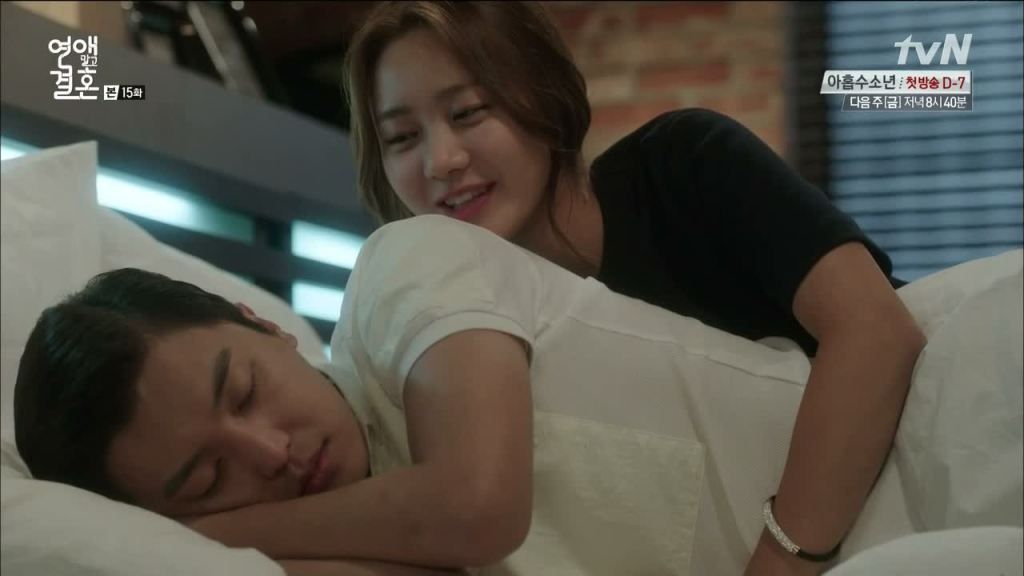 By the time Jang-mi comes over to Ki-tae's house, he's asleep in bed, and she crawls in beside him and whispers about how his mother approved of her today and how proud and happy she is.
She wraps her arms around Ki-tae and falls asleep, and he opens his eyes, only now remembering the way he fell asleep in his mother's arms the same way as a child. Jang-mi narrates that being with someone is accepting the path that they've walked up until now, and all of the relationships that come with it.
Jang-mi's mom gets another set of postcards from Dad, this time asking if she's eaten and if she isn't sick. She wells up with tears and chides him for taking so long to ask, while Dad eats alone and wonders why she can't reply just once.
Ki-tae comes out of his clinic all dressed up in a suit with a bouquet of roses at the ready, and Hoon-dong sighs that he's digging his own grave. But Ki-tae says he heard bells and skips off to do the deed, and Hoon-dong ends up cheering him on in the end.
Ki-tae gets down on one knee and presents the flowers… to Jang-mi's mother. She eyes him skeptically and asks what he's apologizing for at this point since it's all over, and he admits that it's not over and he wants to get her approval to keep seeing Jang-mi.
He puts the flowers in her hand and looks up with his best puppy eyes, and pwahahaha, he does this… wiggle. Twice. It's indescribably embarrassing-cute.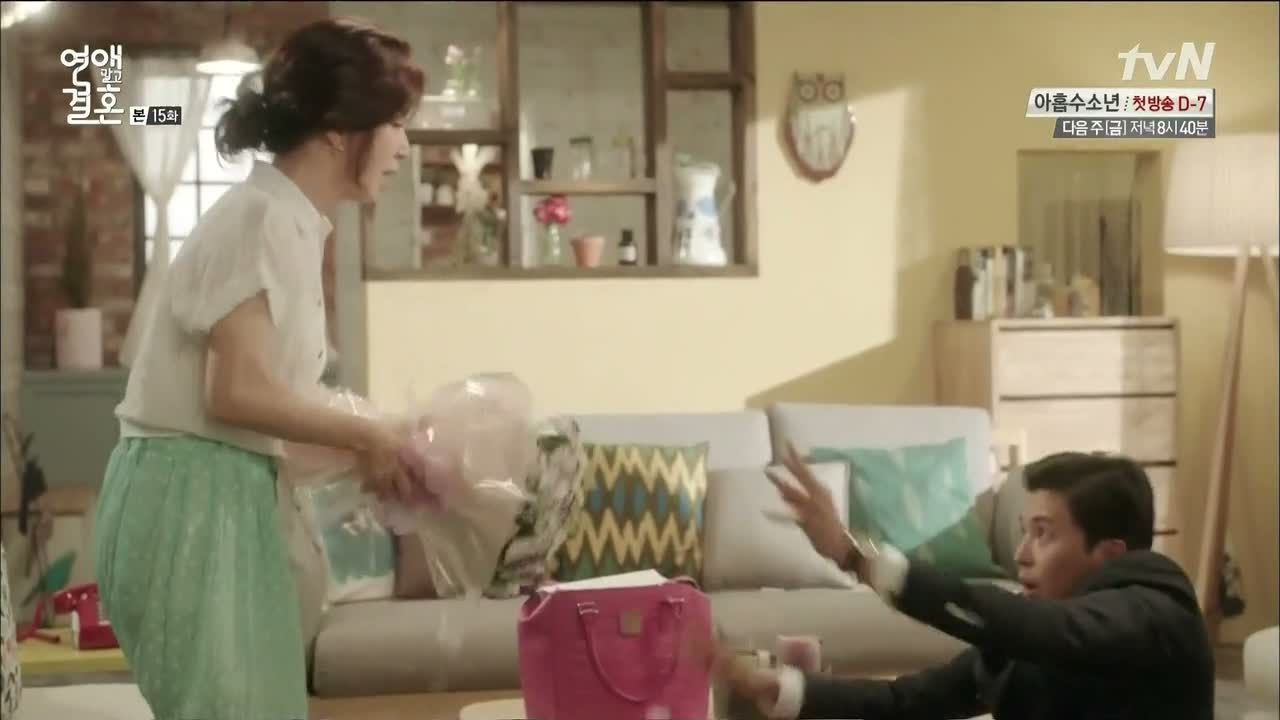 But Mom isn't about to forgive him with a pout-wiggle or two, and beats him over the head with the flowers until the entire living room is covered in rose petals. He scrambles around the room, and in the chaos, he sees a note from the hospital that says she's been diagnosed with breast cancer. Ack.
Mom snatches it out of his hand, and he asks, "Does Jang-mi know?" Meanwhile, Jang-mi runs around on cloud nine after getting their first kimchi delivery, totally in the dark about what's going on with her family.

COMMENTS
I really enjoy that this drama spends so much of its time on family, so that it's the extended love story between two households. It takes up a weekend family drama theme but tells it in much more economical ways (for starters, in 16 episodes instead of 50) and still hits all the poignant emotional beats between parents and children. It's a wonder that a show that does so well with side family characters did such a poor job with side romantic characters, because Mom never gets reduced to a plot device or becomes irrationally hateful even though that's a drama's go-to conflict crutch.
It says something that earning Mom's love is just as satisfying as confirming their feelings for each other, because we know from going through it the first time that their happily ever after isn't sealed with a kiss or a proposal. Jang-mi's relationship with Mom feels genuinely earned over time with each encounter, until we get to the point when Jang-mi no longer needs to stick up for Mom because she's changed her, and Mom can spill her own pitcher all over Dad.
I liked Mom's assessment that they suffer from the same approval-seeking illness. Mom lives to be acknowledged for her sacrifice for her family, and Jang-mi is the only one who sees that clearly; Jang-mi lives to be acknowledged for who she is without Ki-tae so that she's seen as his equal, and Mom will be the harshest critic in that regard, making hers the only approval worth its salt. It's no wonder that they regard each other as so important, even if the relationship is aggravating.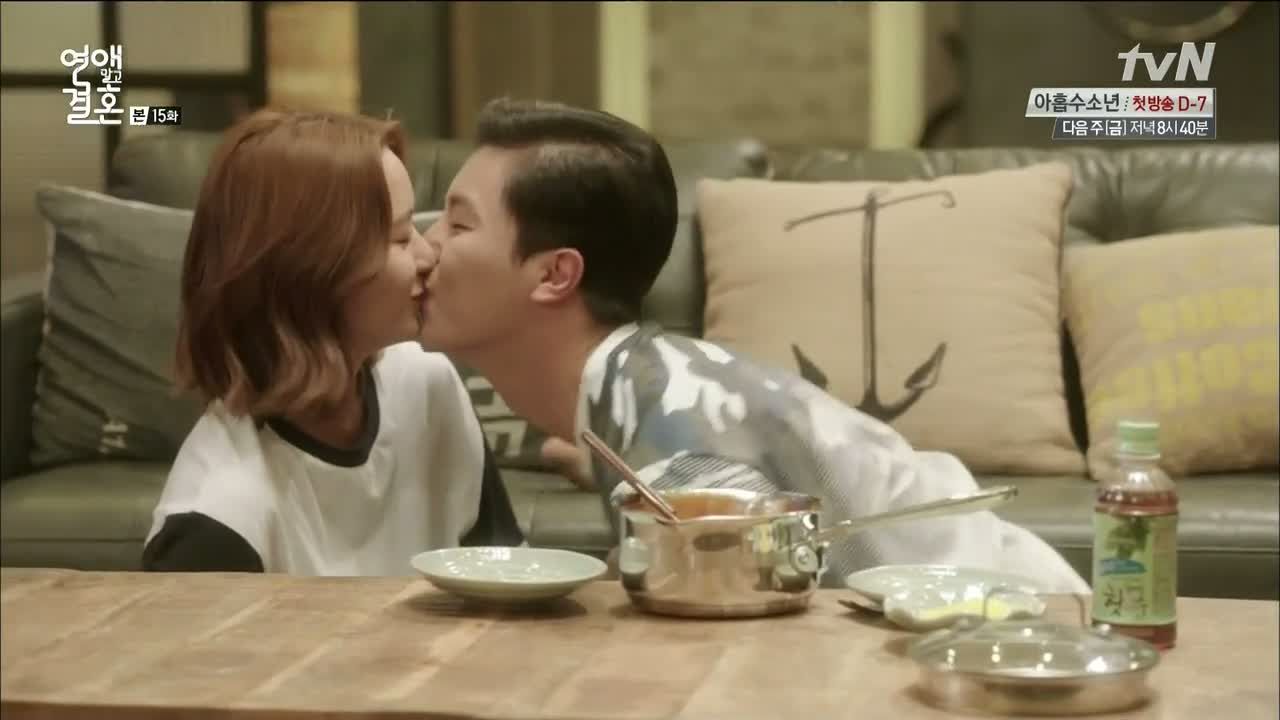 What makes Jang-mi and Ki-tae so great is that each has deep-seated issues with his or her own parents, and by now we've come full circle so that they're at each other's homes fixing the other's problems. Every time Ki-tae and his mother clash it seems like they'll never get past that chasm between them, but Jang-mi bridges the gap by just accepting them both as they are, and loving them earnestly.
I like that Ki-tae doesn't change overnight and that maybe that phone call will be as much as they ever say about the past to one another, but his relationship with Mom feels healed the moment he understands her and tries to see things from her perspective. He went from being completely self-centered (Mom doesn't understand ME!) to realizing that he was the one who needed to put himself in her shoes. Maybe he didn't know it then how much Mom loved him, but he knows now how much Jang-mi loves him, and he's not going to make the same mistake twice.
And now of course it's Ki-tae's turn to step up and heal some of Jang-mi's scars and put her family back together. Perhaps when you're this involved in each other's lives, there's no difference between marrying without dating and dating without marrying—you're just in the thick of it, together, for better or worse.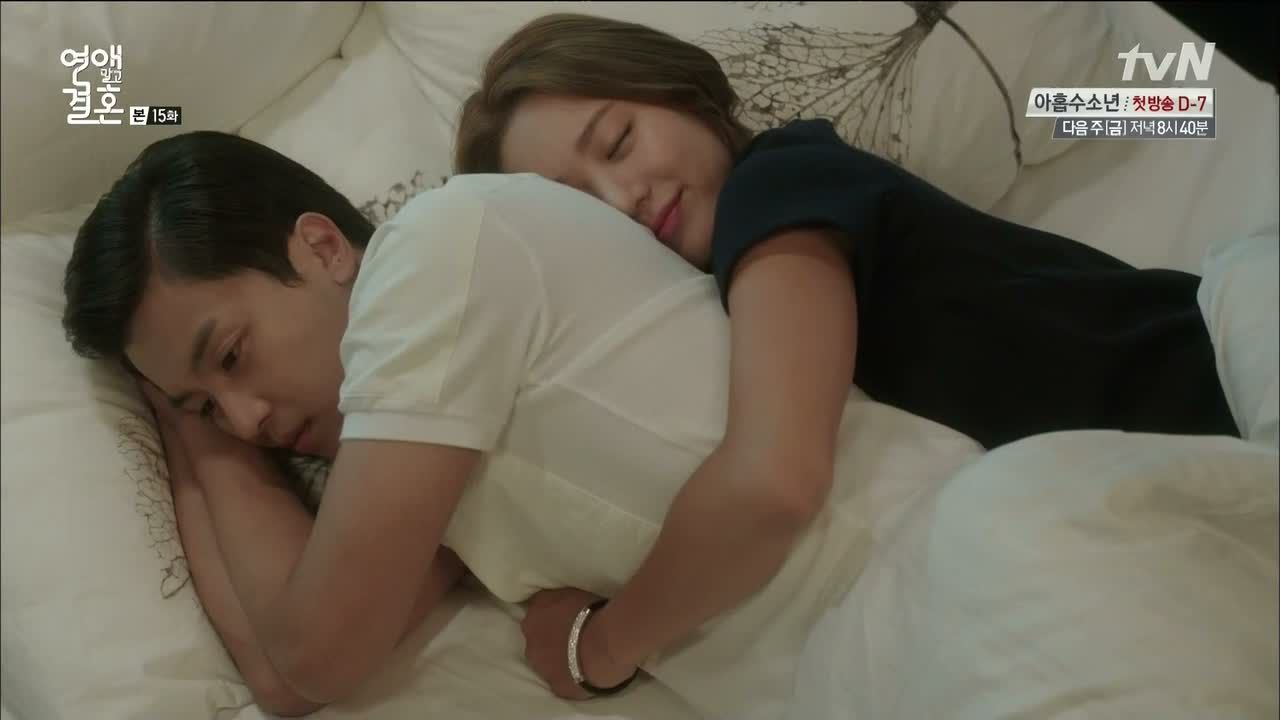 RELATED POSTS
Tags: featured, Han Groo, Marriage Not Dating, Yeon Woo-jin