Marriage Not Dating: Episode 9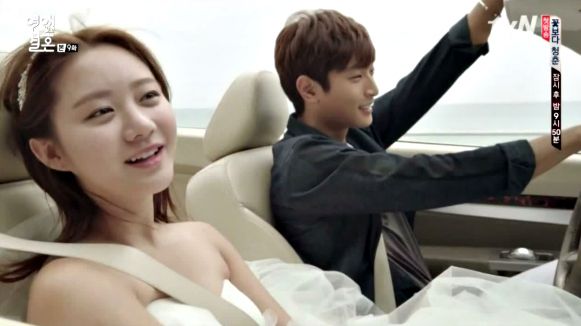 One overnight trip sends everyone's relationship status into turmoil, which shouldn't really be a surprise given how many ulterior motives are floating around in this love hexagon. I'd say the true miracle is that they even last 24 hours without coming to blows. You'll be amazed at how many shirts come off and how many kisses are stolen before anyone starts to wonder what the heck is real and what isn't. Perhaps when you get so good at fake love, you stop being able to recognize the real deal.

SONG OF THE DAY
Sohn Ho-young & Danny Ahn (god) – "하루만" (Just One Day) for the Marriage Not Dating OST [ Download ]
Audio clip: Adobe Flash Player (version 9 or above) is required to play this audio clip. Download the latest version here. You also need to have JavaScript enabled in your browser.

EPISODE 9: "One night in a faraway place"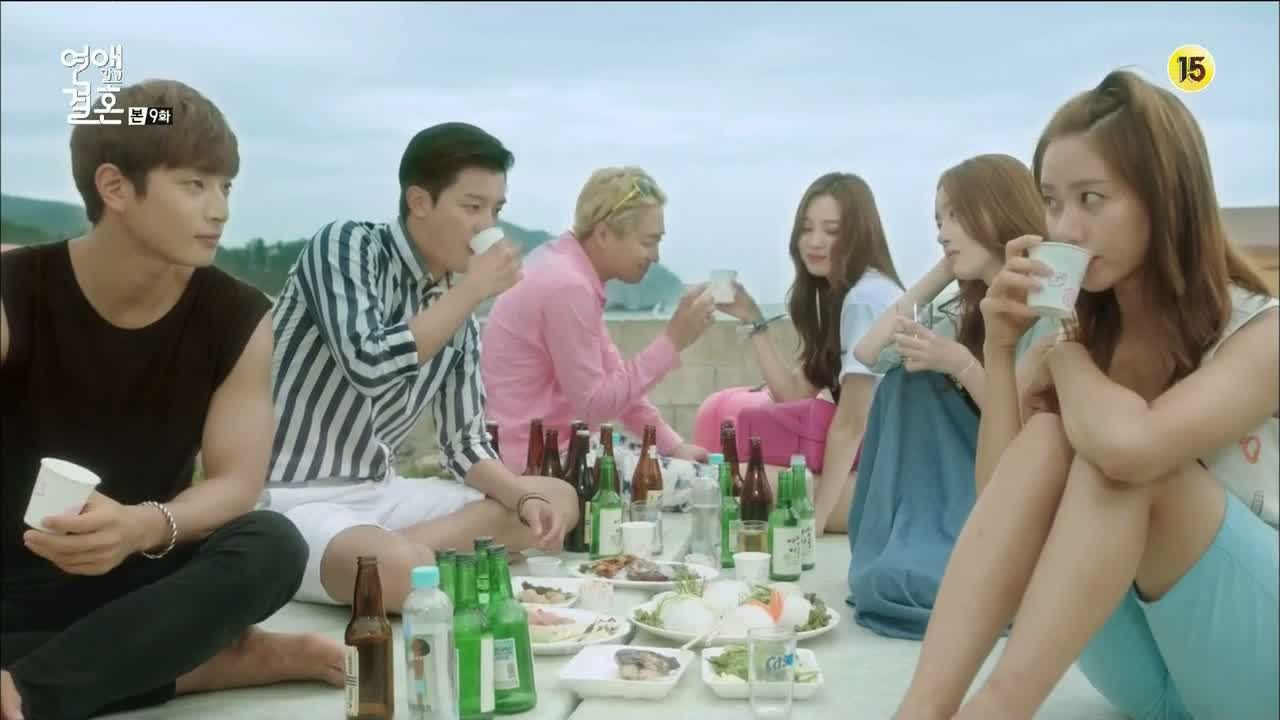 Some crazy person thought it was a good idea to gather our main cast in a remote location and hand them drinks: They each take turns downing a shot and look back and forth expectantly.
Jang-mi narrates: "The six of us will spend the night in a faraway place. When the day is over, all six of us will have kissed someone. Through that kiss, some will confirm their love, and some will be hurt."
She ends her foreshadowing voiceover by saying that it's a common occurrence on a summer vacation, aka Han Yeo-reum's vacation.
Rewind to Jang-mi the runaway bride, as she escapes the bridal shopping day from hell and leaves Ki-tae standing in the street calling her name. Jang-mi's mom gives Se-ah the once-over and asks suspiciously who she is, and Ki-tae's mom has no qualms about calling her his ex-fiancée.
Jang-mi's mom huffs that she gets now why her daughter was so reluctant to agree to this wedding, and says she'll have to rethink things too. Ki-tae's mom looks pretty satisfied with the outcome.
Jang-mi ignores Ki-tae's calls and finally asks Yeo-reum where they're going. He just tells her they're going far away, since they promised to run away together. Ki-tae keeps calling Jang-mi frantically, and Se-ah comments meekly that she really did want to help this time. She asks if this isn't an engagement that's supposed to be broken anyway, and adds that Ki-tae seems uncharacteristically serious.
He drives in silence to Hoon-dong's restaurant and tells her to take a cab home. He runs up the steps and demands to know where Jang-mi is, because he saw her getting into Hoon-dong's car. But when Hoon-dong says he sent Yeo-reum to get his car washed, Ki-tae's face hardens.
Hoon-dong chases after him flailing, "Did he kidnap her?!" He calls Yeo-reum, who tells him that they're going to the beach. Ki-tae asks for Jang-mi, and she finally answers to say that she's sorry, but she doesn't want to be found right now. She says that if his mother calls her name one more time she doesn't know what horrible thing she might do, and that she's scaring herself right now.
Ki-tae jumps in the car to go after her, and Hoon-dong hops in too, using his stolen car as an excuse to come along. Se-ah joins them, having overheard everything, and insists that she's been wanting to go to the beach.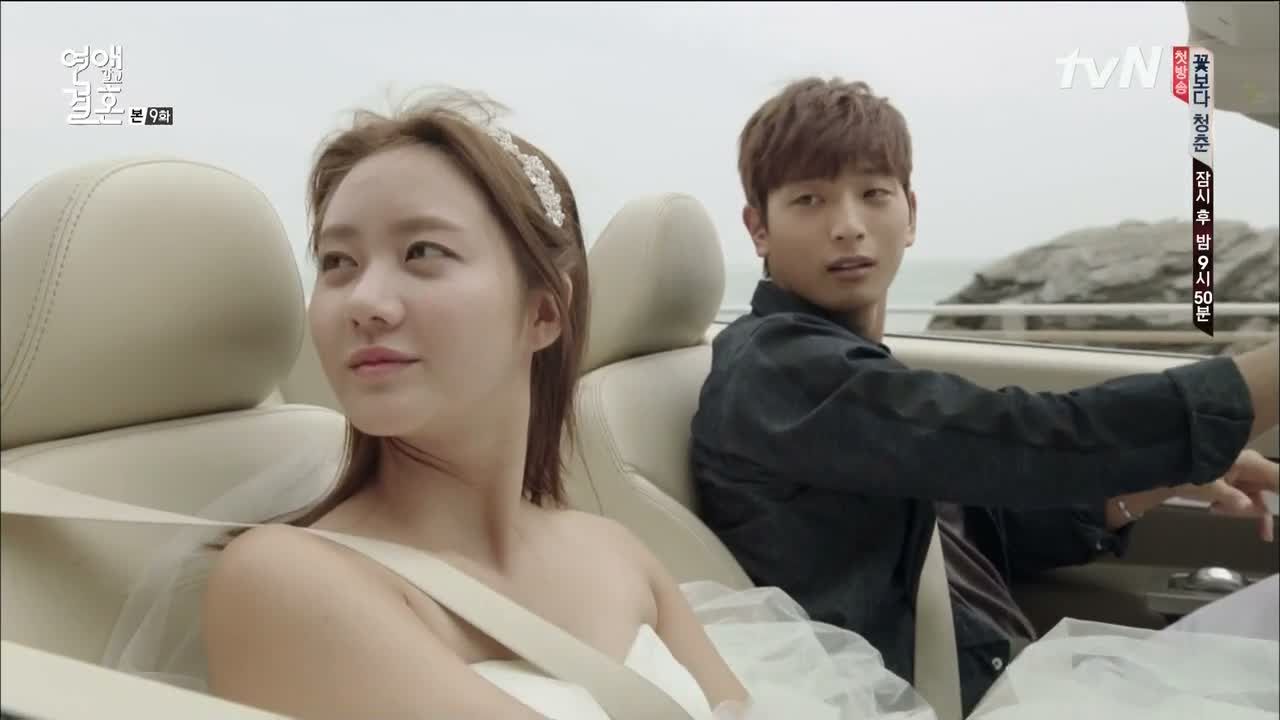 Yeo-reum drives Jang-mi to the ocean with the top down, like a picture-perfect honeymoon getaway right out of movie. But she couldn't be farther from the happy bride if she tried, and spends the ride lost in her funk. It's only when her veil comes flying off in the wind that she suddenly feels the weight lifted, and begins to smile.
They sit on the beach, and Jang-mi confesses that she doesn't really know what happened—just that she didn't like seeing her mother in that position, trying so hard to please someone else and not even realizing that she's being belittled in the process.
Yeo-reum chides her for getting wrapped up with real emotions in the fake marriage all over again, and Jang-mi agrees with a smile. She gets up and says they should go back and return the expensive dress, and Yeo-reum assures her that Ki-tae has lots of money and he'll pay for it.
Ki-tae calls out on cue: "It's MY money!" Jang-mi gapes, and then Hoon-dong and Se-ah show up beside him. She realizes that he must've traced her phone again and starts racing toward the ocean, determined to be rid of her godforsaken traceable smartphone.
But of course she trips and falls in her giant dress, ha, and all three boys race to her side. All we see is legs and arms buried under a mountain of tulle, and the boys shouting, "Flip her! Flip her over!" Lol.
While Jang-mi cleans up at a guesthouse, Hoon-dong smacks Yeo-reum upside the head for running off with his bestie's girl. Aw, that's adorable. Yeo-reum runs to Ki-tae for a rescue, insisting that Hoon-dong should be told the truth. But Ki-tae just enjoys the petty retribution and says he deserves it, leaving Hoon-dong to chase him around the yard.
Jang-mi changes into some giant ajumma flower pants, and momentarily recalls the look on Ki-tae's face when he first saw her in the wedding dress. This time he scans her up and down and calls it a perfect look for her, and she scowls. She asks why he came, and he asks why he wouldn't, when the woman he's going to marry runs off with another man.
She complains that even if it's a fake wedding, he still left her all alone to do everything and deal with both moms. He says he knows, and that's why he came. He apologizes sincerely for the hard time she's had because of him, and for not being there with her. That's cute.
She seems appeased at that, but then Se-ah interrupts to tell her that her mom found out about his past relationship with Se-ah, putting their engagement back on the rocks. Se-ah says that's the reason Ki-tae came all the way down here, and Jang-mi grouses for believing that he was actually sorry. Urg, he IS sorry! Don't believe her!
Se-ah tries to lighten the mood (and skip right past his explanation) by inviting Jang-mi to go tanning with her, but Jang-mi insists she's going home. Ki-tae points out that she has no car and no money, so Jang-mi reluctantly lets herself get dragged to the beach with Se-ah.
Ki-tae trails after them with a look of warning at Yeo-reum, and Hoon-dong follows it up with a hilarious three-part mime act: I'm watching you. Make one false move, and you're dead.
Jang-mi sits out on the beach grumpily, still in her flower pants. Se-ah swears she's on their side and only wants one tiny gift from Ki-tae, who's holding out on her. Jang-mi tries to find some common ground with Se-ah, and says she must've had a hard time prepping a wedding with Ki-tae, and understands why it fell through.
But Se-ah just counters that she didn't have a hard time at all, and Jang-mi points out that she doesn't really seem to know how to make friends. Among other things. Ki-tae plops down on the other chair beside Jang-mi and takes off his shirt, and Jang-mi stares back and forth from Ki-tae to Se-ah, wondering what the hell she's doing stuck in between them.
She tells Ki-tae to stop being cheap and just give Se-ah the present she wants, and he just clears his throat uncomfortably. Things take a swing back in Jang-mi's direction when Yeo-reum joins them and takes his shirt off… and well, there really is no need to explain the reaction it induces, is there?
Ki-tae looks over at Jang-mi going googly-eyed and stares down at his chest self-consciously, and suddenly reaches for his shirt complaining that it's cold. Hee. Se-ah doesn't miss a beat and asks Ki-tae to help her with her tanning oil, and Jang-mi watches with a hairy eyeball as Ki-tae rubs oil on Se-ah's back right in front her.
Jang-mi kicks up her half-exposed leg (from her ajumma pants being hiked up, no less) and demands that Yeo-reum put oil on her too. Hahaha.
Yeo-reum suggests they go elsewhere for some private time, and Ki-tae gets all pouty-faced, shouting after them and going ignored. Thankfully Hoon-dong shows up to be a mood-killer and forces everyone to play together where he can keep an eye on them.
So Yeo-reum picks Jang-mi up and tosses her in the ocean, and even Hoon-dong joins in on the fun. Ki-tae watches jealously, wishing he could play but warring with his desire to look above it all. He mutters that they're so childish… and then runs in after them. Eventually Yeo-reum tosses Se-ah in too, and they have fun splashing around.
Back in the city, Hyun-hee comes out of the drugstore with a long face (uh-oh) and calls Jang-mi needing to talk. It sounds like she really needs a friend today, so Jang-mi asks if she wants to come to where she is.
At the same time, Ki-tae's mom tells the rest of the family that the engagement is off, and tattles on Dad's wish for Ki-tae to marry Se-ah for her father's connections. Grandma yells at him for being selfish, so Dad swears the kids' happiness comes first, and Mom just look at him skeptically.
Mom says that Jang-mi ran off with someone else, perhaps the person she wants to be with more than Ki-tae. But Aunt bursts her bubble with the latest picture sent from Ki-tae just moments ago, of Jang-mi and Ki-tae looking happy and snuggly on the beach. Ki-tae makes sure to send them to Jang-mi's parents as well, and Mom instantly cheers up to see that they're together.
Jang-mi recoils when she sees the group drinking, determined not to go home without having some fun. She asks if she's the strange one for thinking it's weird that they're all drinking together. (Dude, you're not the only one—it's weird!) But they just sit her down and insist that fun will be had.
Se-ah suggests a dangerous game of Truth (or Drink), and when the spinny bottle lands on Ki-tae, Yeo-reum asks how far he went with Se-ah when they were dating. Ki-tae drinks. When it lands on Yeo-reum next, Ki-tae asks how many women have cried over him. He starts to count, then sees the cloud over Jang-mi's face, and chooses to drink.
On Se-ah's turn, Hoon-dong asks if she's ever once let a man into her heart (technically he says "chest"). She says that Ki-tae's touch remains on her chest, and enjoys the round of reactions before clarifying that her breast implants are Ki-tae's handiwork.
Nobody wants to ask Hoon-dong anything, poor guy, and so when it's Ki-tae's turn again, Yeo-reum asks if he really likes Jang-mi. Everyone waits with bated breath, and he stuns them all with a simple, "Yes." Omo.
Jang-mi's heart starts to race, and she jumps up in protest that he can't lie in the Truth Game. She points the bottle at herself and says she'll tell the truth: her engagement to Ki-tae is all a big show. Hoon-dong fiiiiinally learns the truth and pitches a fit that he's been made a fool of, when he was struggling with his feelings thinking his best friend had stolen his girl.
He whines that they all knew and he was left out of the loop, and Hyun-hee arrives, saying that she didn't know either. She looks at Jang-mi with hurt eyes, having come all the way here because she thinks of her as a friend, and Jang-mi swears she meant to tell her.
Hoon-dong ushers her over and hands her a drink to toast amongst the friends who were left out of the big secret, and Hyun-hee notably doesn't drink.
Now that the cat's out of the bag, Yeo-reum happily sidles up to Jang-mi openly. He takes her away for some alone time, and Ki-tae watches them go with a long face. Out by the lighthouse, Yeo-reum suggests that they spend the rest of the trip on their own. As soon as he says it though, Ki-tae's voice rings out, calling out for Jang-mi.
They hide to get away from him, and end up eavesdropping when Se-ah comes looking for Ki-tae and asks why he's so obsessed with finding Jang-mi. She tells him that she got a room for the night, and she's done trying to threaten or trick him—this time she'll just ask. He asks if she's serious about this, and she says that she really wants a child.
Jang-mi finally understands what she meant by "present" earlier, and Yeo-reum has to cover her mouth from yelping out loud. Se-ah grabs Ki-tae for a kiss, and Jang-mi averts her eyes, wondering to herself why she feels this way.
She's so flustered that she trips and falls, and Ki-tae breaks free from Se-ah to run after her. Ki-tae tells her she needs stitches, and balks when Yeo-reum piggybacks her. They go to a nearby clinic, where a woman recognizes Ki-tae and Se-ah as the doctors who came here a few years back to perform facial reconstruction surgeries for children who were born with deformities.
Her daughter was one of the patients, and she thanks them for changing her child's life. She watches Ki-tae and Se-ah stitch up Jang-mi's leg together and heaps compliments on them for being such a lovely couple, and asks if they have kids yet. Se-ah lets her believe they're married and says they're trying, which doesn't go lost on Jang-mi.
Meanwhile, Se-ah explains to Jang-mi that she doesn't see the need to trap herself in a traditional version of family in order to raise a child and be happy. Jang-mi says she can follow her line of thinking, but frankly doesn't understand her. Se-ah knows that other people think she's just selfish, but she thinks that maybe the only person who can understand her is Ki-tae, and Jang-mi acknowledges that they're similar.
Ki-tae and Yeo-reum skip past the metaphorical dick-waving and just go to the bathroom together. Why waste words when a trip to the urinal will do?
When the boys return, Se-ah asks Ki-tae to get his car, which he runs to get when he realizes the alternative is Yeo-reum piggybacking Jang-mi all the way back again. Once he's gone, Se-ah offers to give them some alone time, which leaves Yeo-reum smiling and Jang-mi a little conflicted.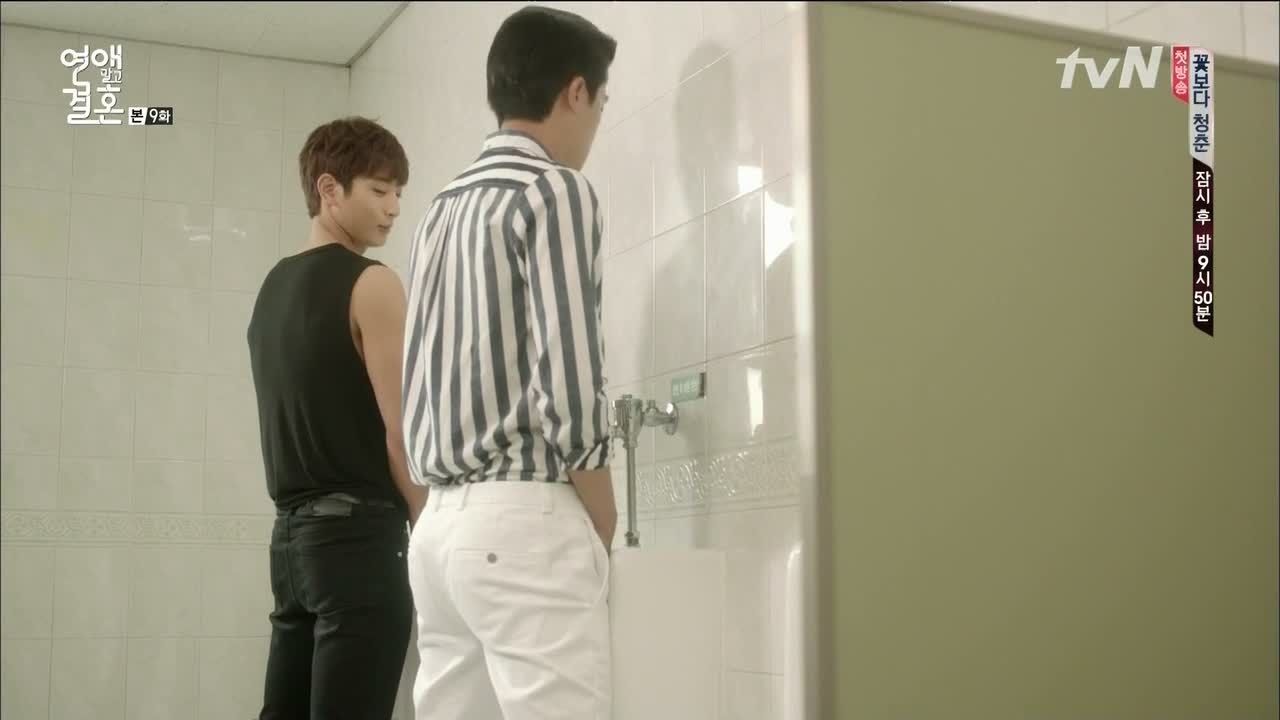 Back at the guesthouse, Hyun-hee helps a drunk Hoon-dong back to the room and tries to have a conversation with him. You picked now of all times? He sighs that it's always the same talk—Oppa, what are we? Oppa, what am I to you?–and waves her off dismissively, passing out on the floor.
When Ki-tae returns with the car, Se-ah is there alone. Jang-mi and Yeo-reum look around her expensive hotel suite, and Jang-mi freezes when Ki-tae calls. Se-ah tries to tell him that they want to be alone, and asks again why he's so bent out of shape over Jang-mi.
He attempts to gloss over it like he's just concerned because Jang-mi is so hapless and needs to be looked after, but all it takes is one glance at his tracking app (that shows she's at a hotel) for him to flip out.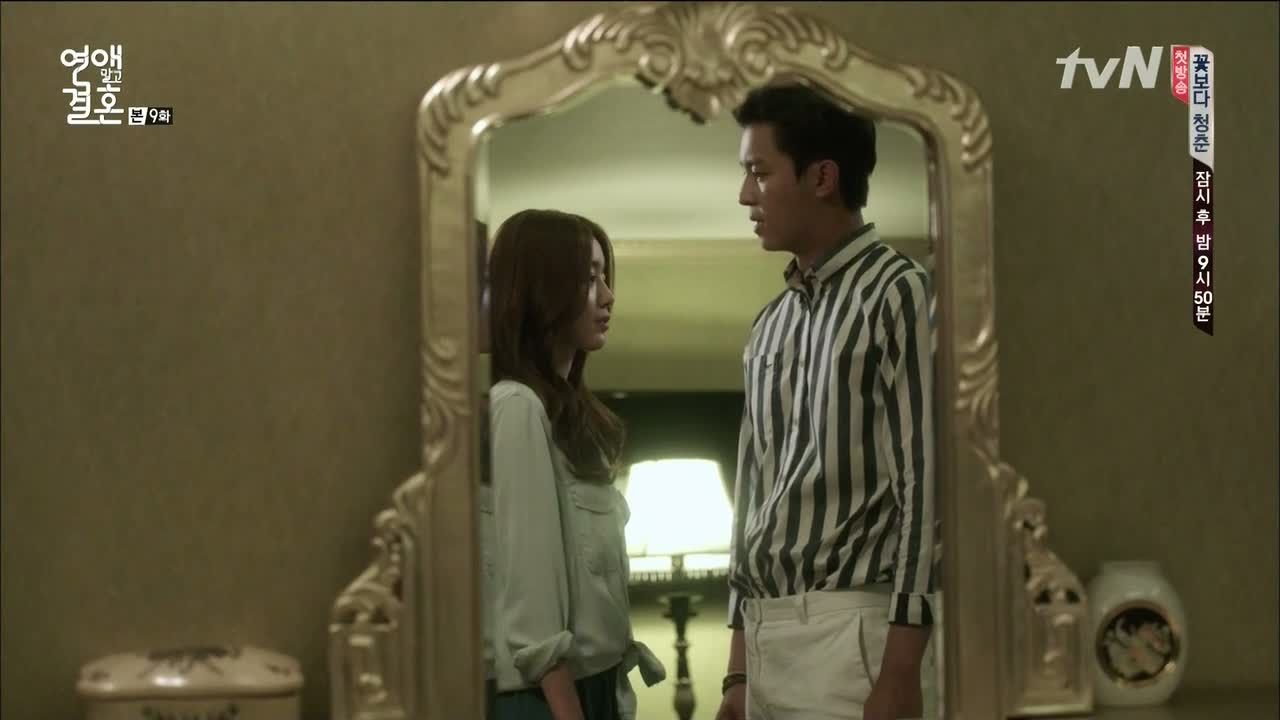 He goes tearing into the suite looking for her, but no one's there. He hears her phone ringing from the bedroom and goes in, but all he finds is Jang-mi's phone sitting on the bed. That's when Se-ah comes in behind him and closes the door. Ki-tae's jaw drops in shock and disbelief and asks if this was her plan all along.
What? Okay seriously, WHAT THE HELL IS WRONG WITH YOU?
Jang-mi and Yeo-reum are out on a boat, and she wonders if they did the right thing. How can you even ask that? She sighs that Ki-tae seems like a different person when he's with Se-ah, and wonders which is the real Gong Ki-tae.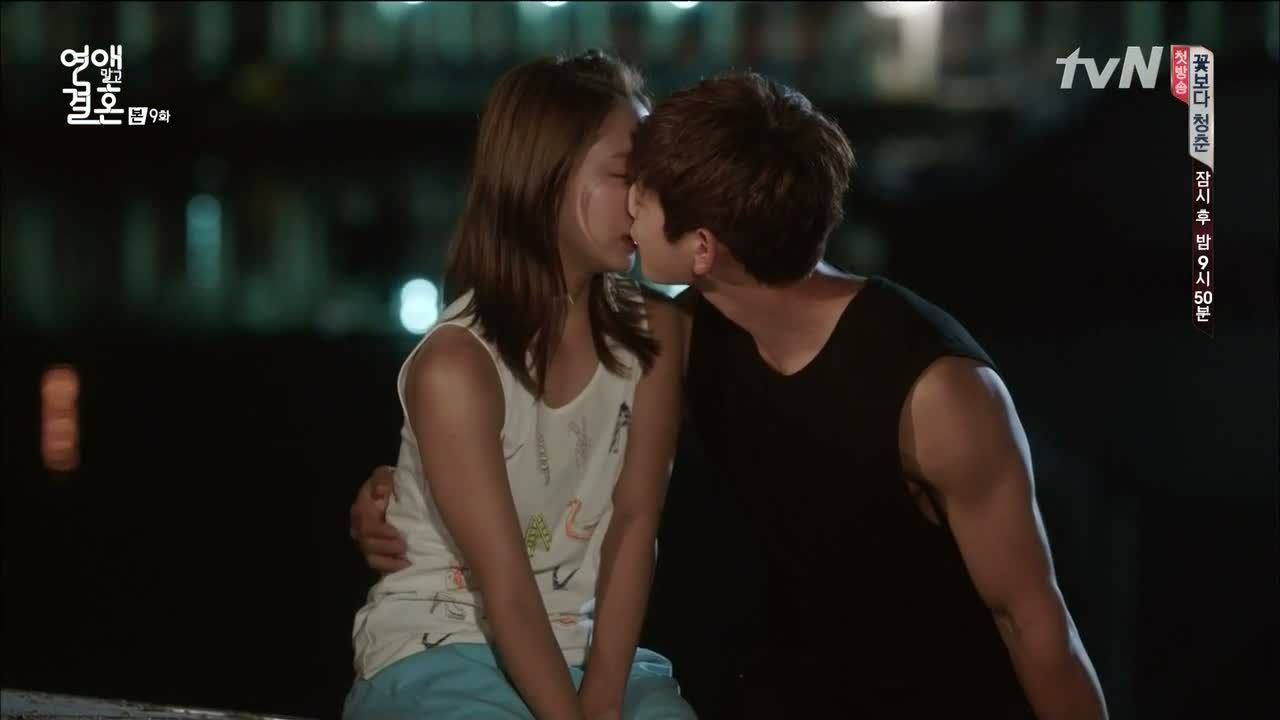 Yeo-reum asks what's real for her, and Jang-mi answers hesitantly, "You?" He leans in to kiss her.
Ki-tae asks why Se-ah is going to such lengths and argues that if she wants a baby, it could be with anyone—why him? She calls him dumb and asks if he really doesn't know why it has to be him.
As Yeo-reum kisses Jang-mi, he reaches around her waist to draw her closer, but she actually jumps back at his touch. Ruh-roh. Well that's telling.
She even surprises herself, and then quickly makes the excuse that she's worried about leaving Hyun-hee alone with Hoon-dong. He lets her off the hook and they agree to go back.
Jang-mi sits there for a moment, reeling as it dawns on her that Ki-tae's Truth Game confession and his kiss with Se-ah are getting to her.
Se-ah wraps her arms around Ki-tae's neck and comes close for a kiss, but Jang-mi's phone starts to ring with a call from Hyun-hee. She sighs as her calls go unanswered, and gingerly takes out the pregnancy test in her bag.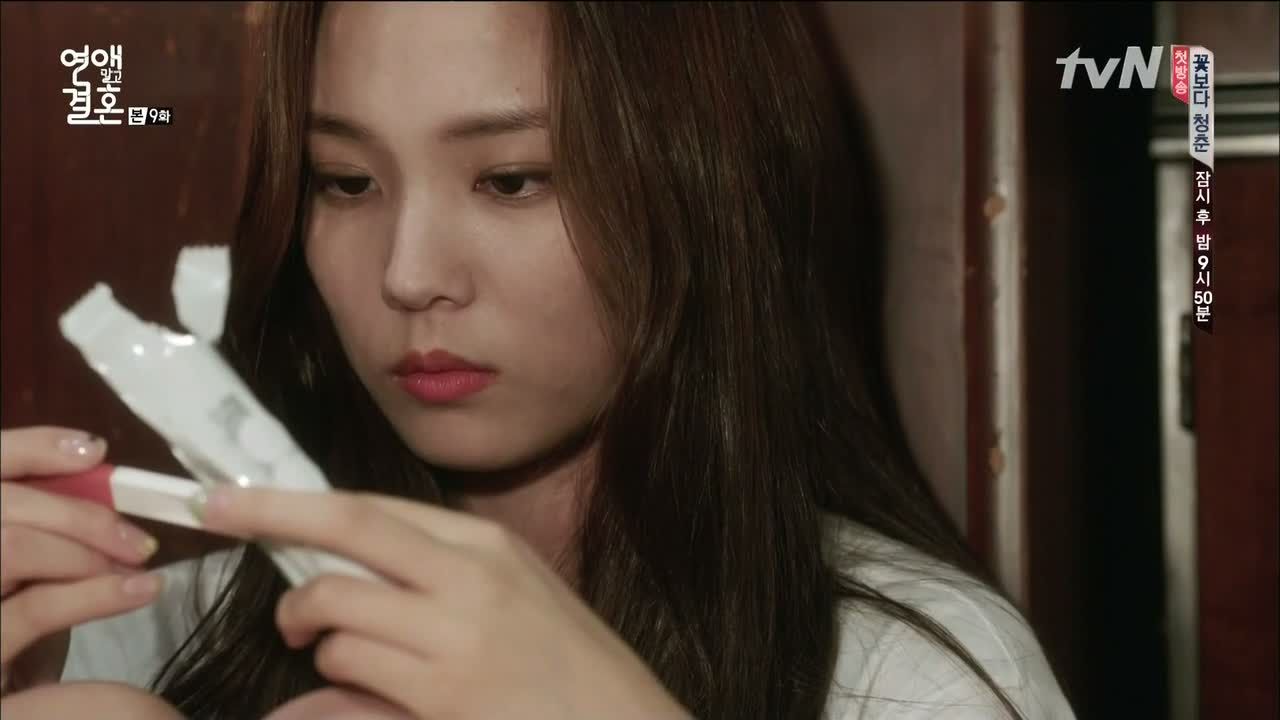 Back in the hotel room, Se-ah turns off Jang-mi's phone and starts to unbutton her shirt. She gets two buttons down before Ki-tae finally puts his hand over hers to stop her. It took you long enough.
Se-ah trembles at the rejection and asks, "Is it because of Joo Jang-mi?" He doesn't answer, but gives her arm a sympathetic squeeze before walking out. Once he's gone, her hands shake as she tries to re-button her shirt, and she bursts into tears.
Jang-mi and Yeo-reum arrive back at the guesthouse but Hyun-hee is nowhere to be found. Jang-mi discovers the pregnancy test that Hyun-hee threw away in the bathroom, and realizes this is what she needed to talk about.
Ki-tae arrives outside and he and Yeo-reum exchange barbs about their lack of stamina, when Jang-mi runs out still holding the pregnancy test and worrying about Hyun-hee. Ki-tae notices the test and guesses right away that Hoon-dong screwed up royally, and remembers that Hyun-hee called Jang-mi's phone.
She checks the messages and finds a text from her saying that she doesn't know where she belongs—she has nowhere to go and feels like she's in everyone's way. She ends with "I'm sorry," and "Don't look for me…"
It sounds dire, and Jang-mi panics even more when she tries calling and they find Hyun-hee's phone sitting there in the yard. Yeo-reum and Jang-mi go running out to see if they can find her.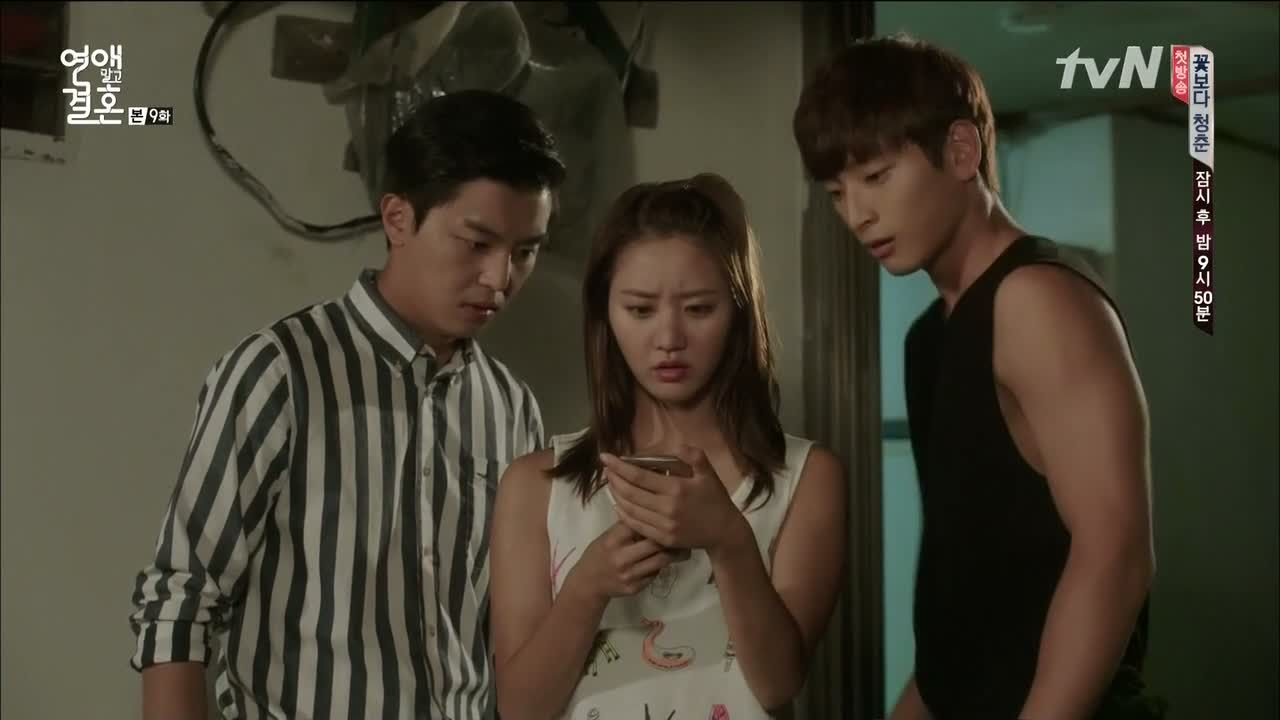 Ki-tae checks Hyun-hee's phone and is surprised to find it unlocked. A quick search of the last calls includes a nearby temple, and he smirks to realize she left the breadcrumbs there to be found.
He pulls up to Jang-mi and Yeo-reum like a know-it-all and says he used his brain while they were running around aimlessly, and he knows where Hyun-hee is. Getting there in the windy mountain roads turns out to be quite a challenge for the brainiac though, and he gets them lost and stuck in the mud.
Jang-mi and Yeo-reum get out to try pushing the car and only get splattered in mud in the process, and Ki-tae ends up calling a tow truck. He looks over at Yeo-reum jealously as he tends to Jang-mi and brushes the mud off of her, and then sends Yeo-reum back to the guesthouse to fetch Hoon-dong.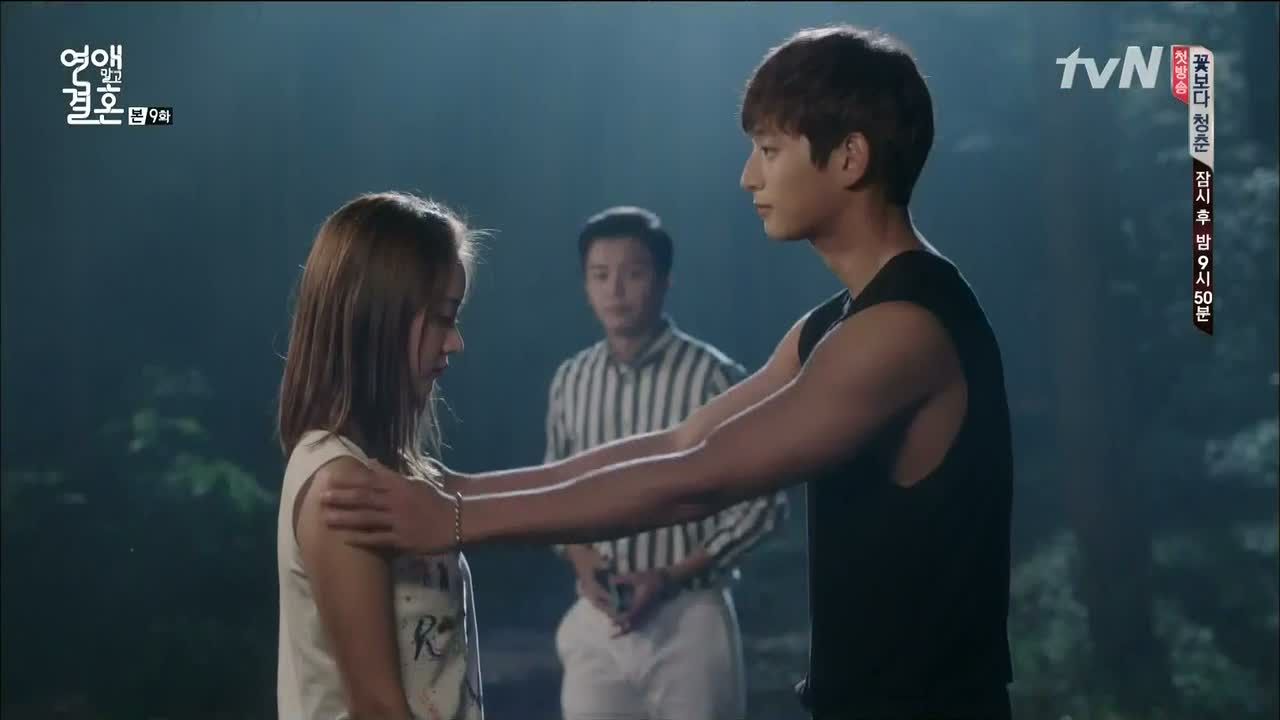 It's a totally obvious ploy but he argues that Hyun-hee isn't waiting for them, so Yeo-reum heads back down on foot, stopping to glance back nervously at Jang-mi and Ki-tae together.
Ki-tae tries repeatedly to sit next to Jang-mi, but every time he sidles up to her, she scootches away again. He tries to check on her wound but she's still mad and blames him for all of this. He argues that she's the one who left her phone behind, and mutters that she must've wanted to sleep with Yeo-reum badly.
Jang-mi scoffs bitterly and shouts that he's right—she wanted to sleep with a man so badly that she left her friend all alone. She cries that if something happens to Hyun-hee, she'll never forgive herself.
She sighs that Hyun-hee was right about her being so wrapped up in her wedding that she didn't have time for her friend, and wonders what the hell she was doing when it wasn't even a real wedding.
She says she got too wrapped up emotionally in things that weren't real, at the expense of real life. She confesses that she's all spun around now—she lost Hyun-hee because of him, and even when she was with Yeo-reum, she thought of him.
He listens to her intently, eyes fixed on her the whole time. She cries, "What are you? You're fake, but because of you, I'm losing everything that's real. This is all because of you!"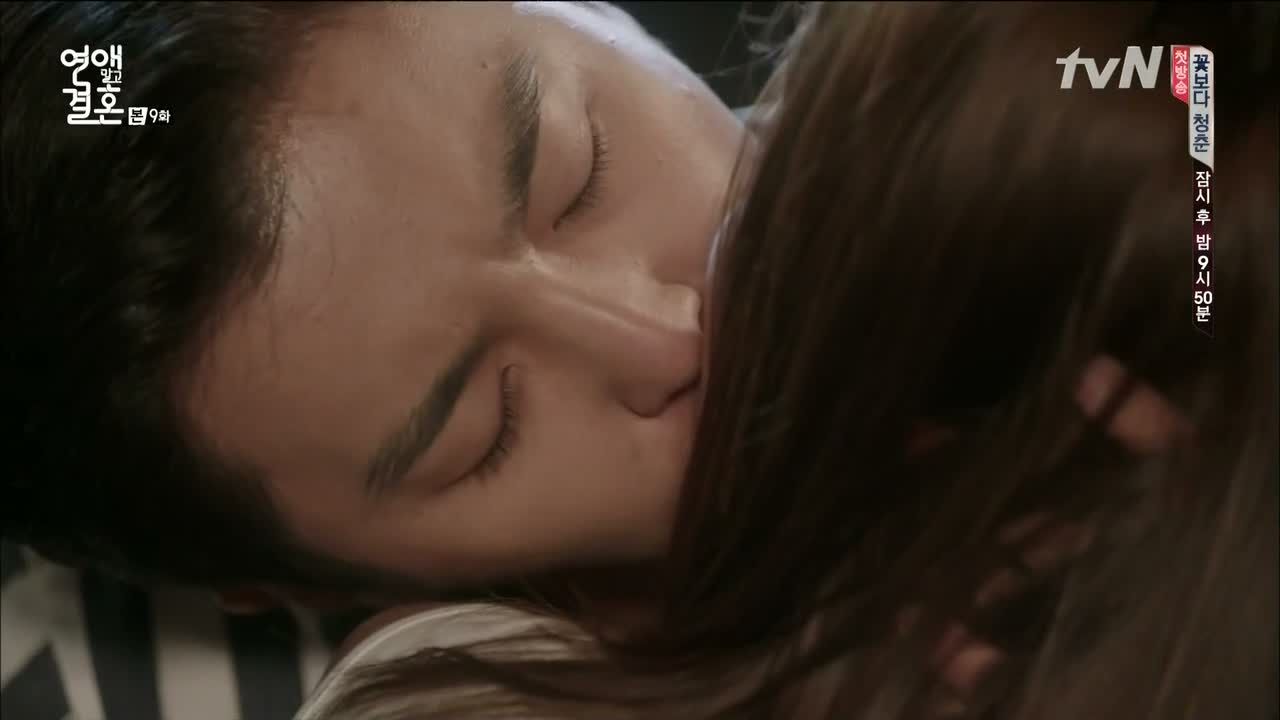 Once she turns to face him, he pulls her close for a kiss. Her eyes start to close, as she kisses him back.
And in the distance, Yeo-reum returns to find them lip-locked.
Jang-mi narrates in voiceover: "Have we come too far? If we go back, will it be like nothing happened? Can we go back?"

COMMENTS
Phew, that was an ordeal of a vacation, but at least it gave us the result we've been waiting for. Real feelings are finally taking over, and Ki-tae is at last doing something about how he feels instead of just letting himself get bulldozed by Mom or Se-ah. Frankly I think it too long to get us here, not because of timing, but because of the increasingly ridiculous attempts to prolong the ruse. The more they started to pile up, the less I believed these could be real people.
The last episode really chapped my hide when both the leads just let themselves get railroaded into wedding plans as if they had no choice. I mean, who lets their parents formally meet their fake fiancé's real parents for an actual engagement? I get that the contract relationship is the premise of the show, but you don't actually have to cling to it like it's your only story device if it's no longer realistic to prolong it, as if two people can't possibly remain linked if Mom stops acting like the Wedding Terminator. Since when did Jang-mi stop speaking her mind? And does Se-ah actually need to be written like she walked out of a makjang and got wedged into this drama, just to drive the conflict? She's driving me bonkers, and now by association (and lack of definitive pushing away), Ki-tae is driving me bonkers for letting her stick around.
Don't get me wrong—I enjoy a good round of jealousy games more than most. It's just, do they have to involve scheming and conniving and manipulating unsuspecting ex-boyfriends into accidentally-but-not-accidentally giving you babies? I mean, what dimension have we stepped into? It's just a shame because early on, this show managed to feel refreshingly different precisely because it didn't rely on overused dramatic tropes, and found funny twists to keep us on our toes. Jang-mi always turned the classic Candy moment on its head by being surprisingly strong, and always speaking up for herself and what she wanted.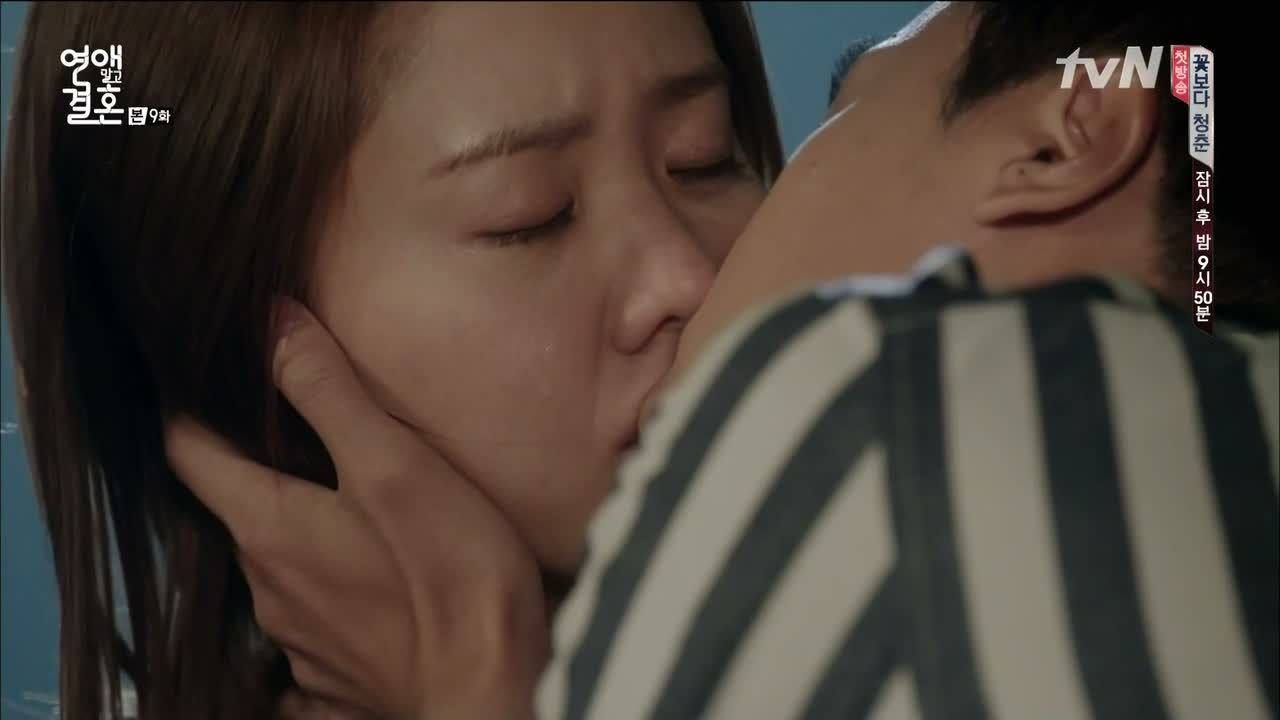 But in the last few episodes, she's becoming the doormat and letting Mom, Se-ah, Ki-tae, and even Yeo-reum make decisions for her, and then feeling deflated at the outcome. I get that part of it might be because she doesn't know what she wants right now, and she's confused about her feelings for Ki-tae. And maybe if Se-ah weren't trying to manipulate her way into Ki-tae's bed I'd have more patience for the confused angsty portion of the drama. But I don't, because Se-ah is a crazy person, and nobody seems to be calling her out for it in the drama. I don't see why she can't just be an ex that Ki-tae has lingering feelings for, without the lies and the entrapment. That would make her a much more believable and compelling threat to the romance than this.
I really don't want to spend any more episodes mad at Ki-tae or frustrated with Jang-mi, so I hope we've kissed that section of the drama goodbye. Now that they're finally on the same page about the blurred line between what's fake and what's real, we can get to the more interesting conflicts, like what the hell they do about the fake wedding between their real families when their feelings are no longer fake. Are they really just getting swept along emotionally in playing pretend, or does it not matter once you feel the feelings? If this kiss is the point of no return, then I'm all the more excited for what's to come, because it's about time for Jang-mi and Ki-tae to wonder whether they might've been fooling themselves more than anyone else all along.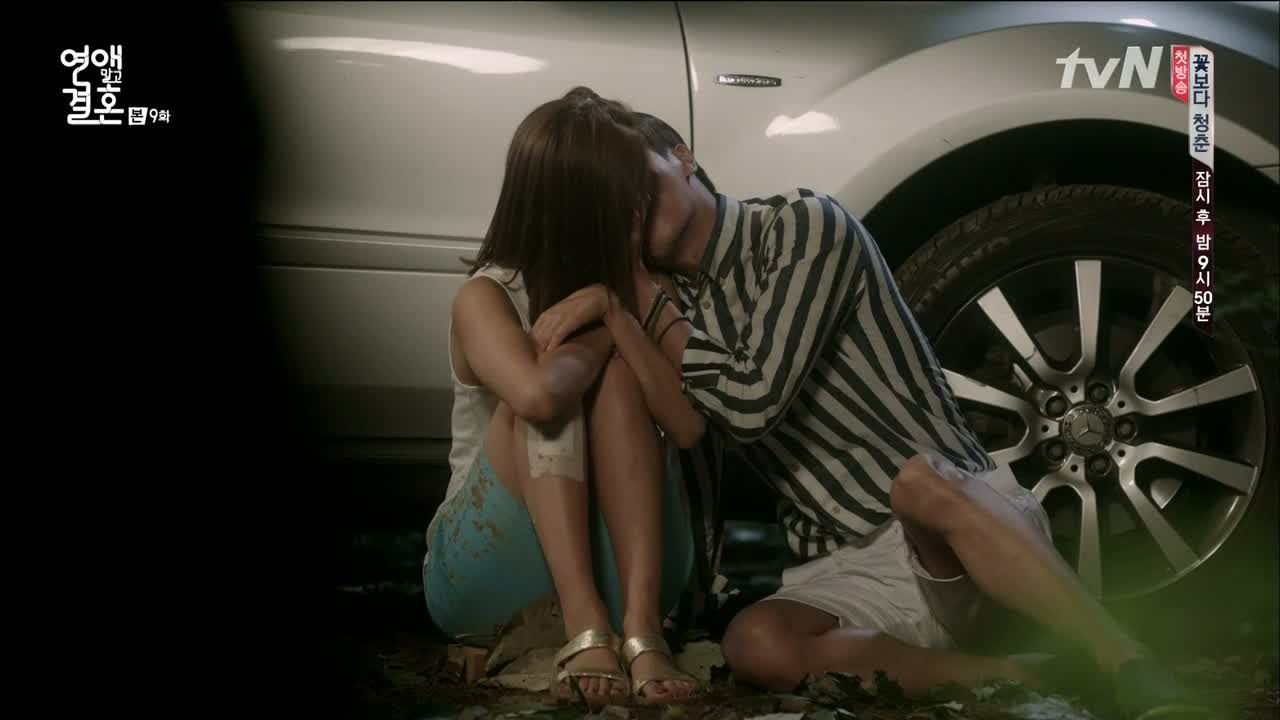 RELATED POSTS
Tags: featured, Han Groo, Marriage Not Dating, Yeon Woo-jin