My Secret Hotel: Episode 1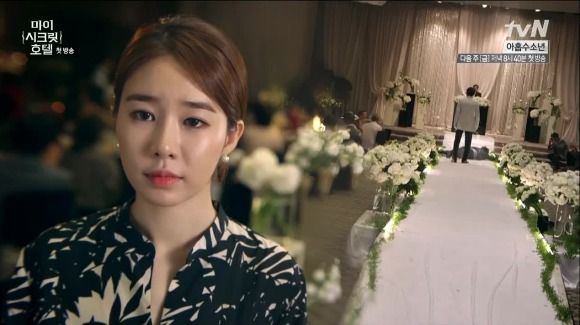 tvN kicks off their "killing romance" with My Secret Hotel, and there's definitely plenty of secrets to go around for everyone: dead bodies falling from the sky; past lovers making unexpected appearances; assistant managers who continually go missing; and, of course, "what happens in Vegas, stays in Vegas." What's not a secret are the delightful characters that populate The Secret Hotel in what promises to be another cute'n'quirky tvN rom-com.
EPISODE 1 RECAP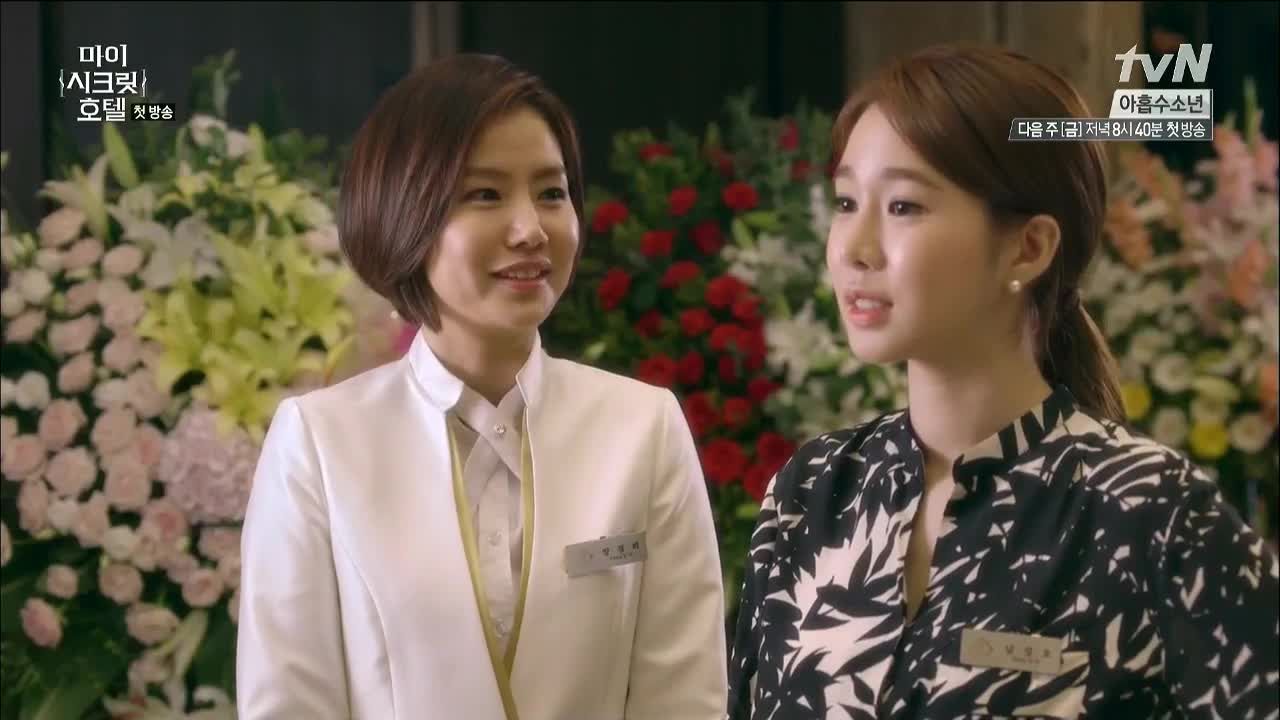 Wedding coordinator NAM SANG-HYO (Yoo Inna) strides confidently through The Secret Hotel, the picture of competence as she checks in with the executive chef, checks the hall and its thousand guests, and ensures that everything — flowers, orchestra, microphones — is as it should be.
Everything but the ice sculpture, which is broken and melting beyond recognition in the corner of the stairwell. Sang-hyo demands to know where Assistant Manager Hwang is since he's responsible for the ice sculpture, but he's nowhere to be found.
Sang-hyo's troubles keep coming when an irate wedding guest blames the hotel for her wallet going missing. But it's all in a day's work as she smooth-talks the guest with a promise they'll look into it after the wedding, putting out that fire efficiently.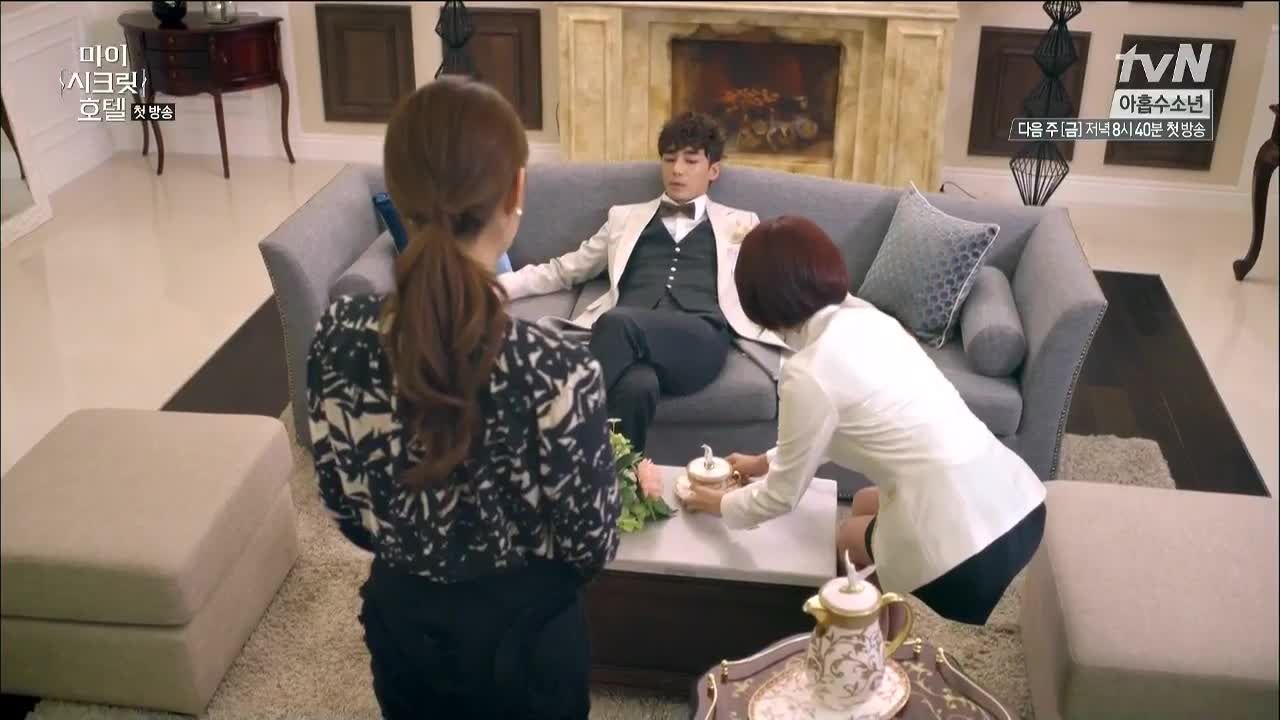 It's too soon to pat herself on the back, though, because another hotel employee runs up to report another problem, this time with the groom.
He's sprawled out like a diva on the waiting room sofa when Sang-hyo arrives with chamomile tea to calm him. But GU HAE-YOUNG (Jin Yi-han) doesn't have a problem with nerves — he's just dealing with the hangover from last night's drinking binge.
After Sang-hyo politely asks if there's any other problem, Hae-young snidely asks her how there could be, since every detail has been carefully planned — and by her, no less. She reassures him that she did her best, and the charged moment between them stretches until they're interrupted by the arrival of the other coordinator, Yang Kyung-hee, who says it's time for the groom to take his place.
As Hae-young makes his way down the aisle, he gives one last lingering look at Sang-hyo, who pointedly ignores him. But as soon as he walks past her, she sighs and thinks to herself that it's finally over: "Goodbye, Gu Hae-young." She turns around and they're back-to-back, walking in opposite directions: she towards the exit, he towards his bride.
Except neither of them reaches their destination. Drops of blood have been pooling on the skylight above the hall, and one finally makes its way down, right in front of Hae-young. It makes his stop in his tracks, and a good thing, too, because immediately following is a body, crashing down to land at his feet.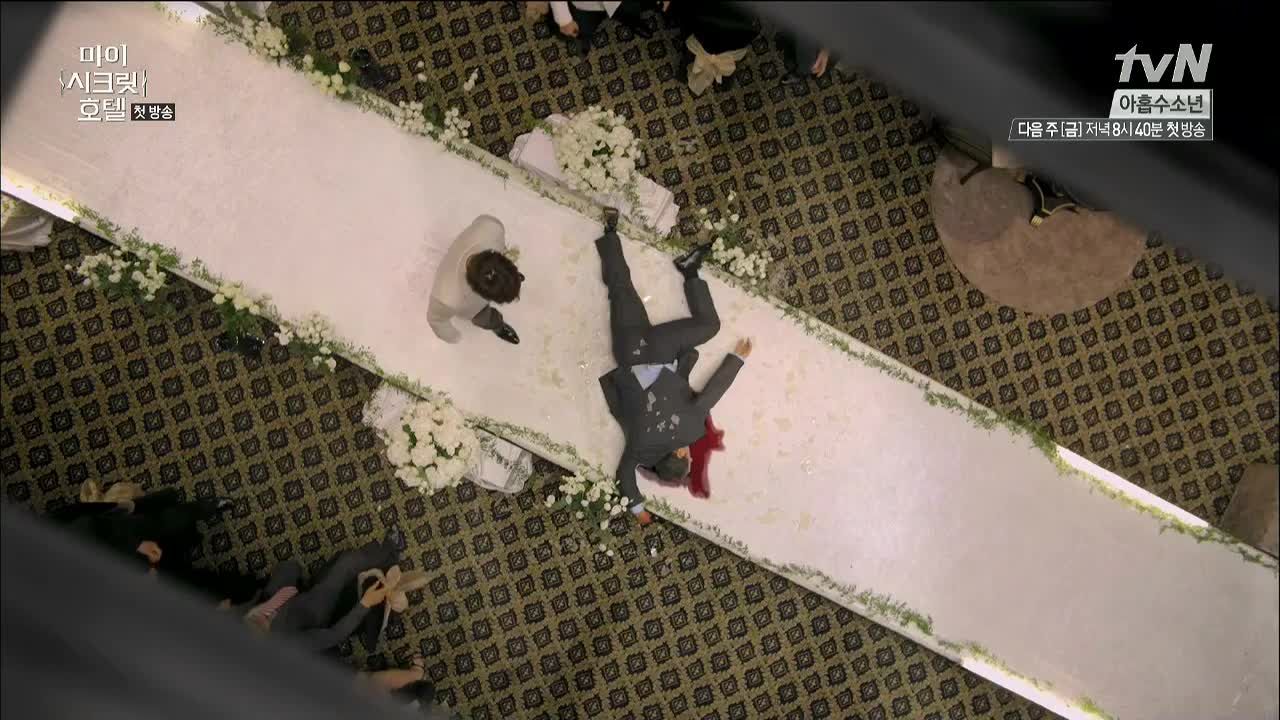 Sang-hyo turns around and pushes her way past all the shocked wedding guests who are screaming and running for the door. She arrives by Hae-young's side and stands in horror at the sight of the dead body.
Time-jump!
Two weeks before the incident, Sang-hyo is in a staff meeting, where The Secret Hotel's general manager LEE MOO-YANG (Choi Jung-woo) and managing director JO SUNG-GYUM (Namgoong Min) are in a heated argument about the financial status of the hotel.
GM Lee insists it's just low-season and that's why there are so many empty rooms, but Sung-gyum says that they need to start being proactive to make the hotel the popular destination it used to be.
Except there's currently a rumor going around that, ever since Sang-hyo became the wedding planning manager, couples who get married at that hotel get divorced within three months. It turns out the rumor is based on a phone survey Sang-hyo did with the guests who had previously married there in the past year, which revealed that 27% of the couples did, indeed, divorce — but it was supposed to be an internal document for the PR team's eyes only, and Sang-hyo swears it was destroyed right away.
Even so, those details were somehow leaked and published in a news article just that morning. Sung-gyum warns her that he'll be watching her closely to see how she cleans up this PR mess.
Meanwhile, Hae-young is in the middle of his own staff meeting at his architectural firm. Or to be more accurate, he's in the middle of playing a game on his phone while he occasionally shoots down his staff's building designs, declaring them fit more for a toilet or dog house.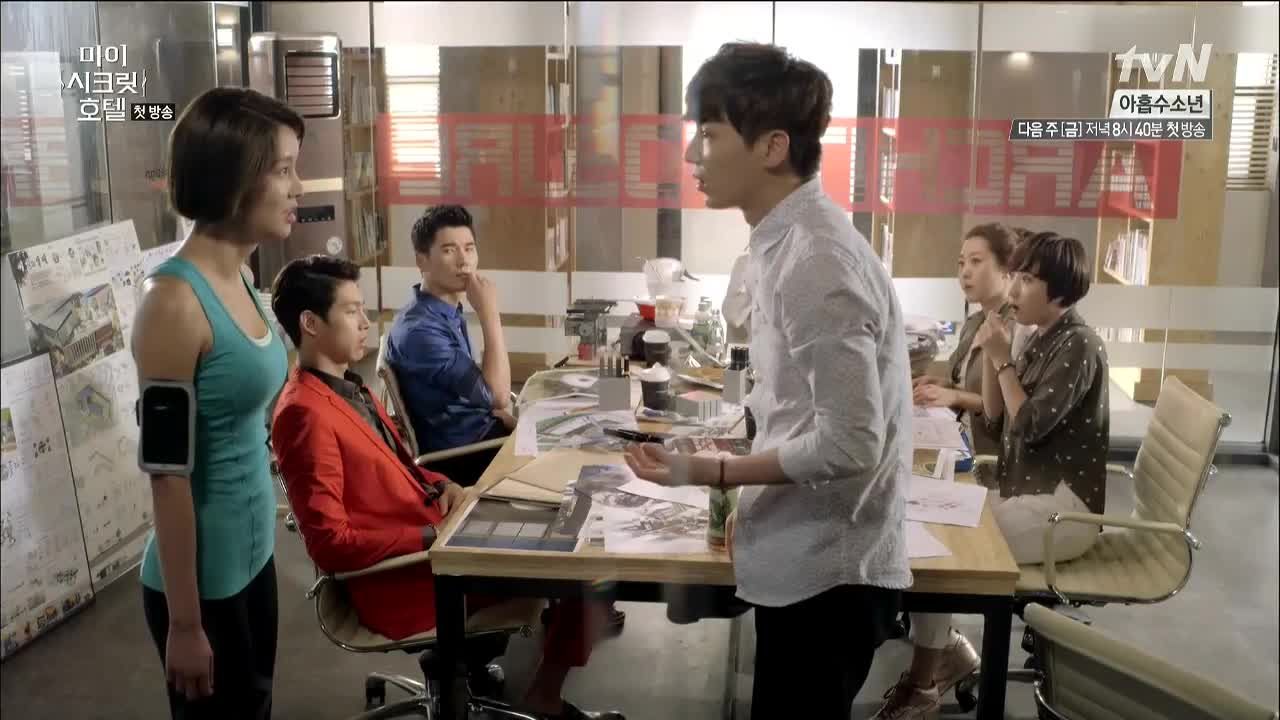 A sudden arrival interrupts the meeting; JOO JUNG-EUN (Hwang So-hee) storms in, calling Hae-young a bastard as she waves his wedding invitation in his face. He casually brushes her off but does a literal spit-take when she says that he needs to take responsibility for "wronging" her.
His staff is shooed out but tries to eavesdrop, assuming Jung-eun is going to reveal that she's pregnant — but instead she demands Hae-young take responsibility for her eight-year-long unrequited love. Pffft. She insists that it's all his fault that she fell for his handsome looks and knee-melting smooth voice. He agrees that he's guilty of that and dismisses her with a nonchalant, "So sue me."
When she brings up "that Las Vegas girl" he once loved, he's suddenly flustered and kicking her out of the office. After she's gone, he wonders how that past love would react to the news he's getting married, smiling to himself as he remembers how "Las Vegas" looked like a rabbit when she was surprised.
Sang-hyo is busy inspecting CCTV footage to determine when a wedding guest's wallet had been stolen, bemoaning the fact that there have been so many thefts recently. She's called in to meet with Sung-gyum, who surprises her by referring to her as one of "his people" (instead of considering her to be one of GM Lee's people) before asking her thoughts about the leaked PR document.
She believes someone is maliciously targeting the hotel, an idea he promises to take under consideration. After Sung-gyum dismisses her, she nervously waits a moment before sharing her concern that his combative relationship with the GM is making the hotel employees anxious. He tells her to tell him more about it over dinner, and she does her best to cover up her flustered reaction to his invitation.
Back at the Wedding Coordinating Department, Kyung-hee reveals that they've had another cancellation thanks to the rumor about the divorce curse. Sang-hyo's pretty sure she knows who leaked that document — and speak of the devil, that person arrives. It's PR manager YEO EUN-JOO (Lee Young-eun), who feigns shock that Sang-hyo would think she's responsible for such a thing.
She's looking for some celebrity couples that have gotten married there so she can write a positive spin on the hotel's wedding department, but Sang-hyo thinks they should focus on upcoming weddings instead. Kyung-hee suggests the daughter of a cosmetics tycoon who's set to marry in two weeks — she comes from a rich family, and her soon-to-be husband went to Harvard, so he's part of the elite. Eun-joo agrees, provided the groom (whom no one has seen yet) is handsome enough.
Eun-joo waits outside the elevators, making up excuses to linger until she sees Sung-gyum down the hall. Then she scrambles to pretend that they just "happened" to run into each other. As they ride down together, she coyly asks him out to dinner, but he tells her he already made plans.
Those plans happen to be waiting for him in the lobby, and Sang-hyo smirks at Eun-joo's dumbfounded expression when she realizes Sung-gyum is having dinner with Sang-hyo. Both ladies are determined to stake their claim on the handsome managing director, but it looks like Sang-hyo's one step ahead, because the front desk staff immediately switch their bets from Eun-joo to Sang-hyo.
Over dinner, Sung-gyum asks about Sang-hyo's past, making it obvious he's studied her personnel file. Lightly glossing over the fact she was married previously, he points out that she worked her way up from waitress to manager of a Las Vegas hotel. He's curious why someone who reached the role of general manager would suddenly come to Korea to work in a lesser position — was there some trouble?
Sang-hyo reassures him she just wanted a new challenge and felt a calling to return to her homeland, having been adopted by an American couple. But she spins the interrogation back around on him — she heard that he had been given an offer to work for another hotel. Why did he chose The Secret Hotel instead?
He admits there's a special reason, but distracts her by complimenting the food, saying that Eun-joo thought it was delicious, too. He's thinking of hiring the chef to work for the hotel, and wanted to verify the chef's talents. Oh, did Sang-hyo think this was a date? She laughs and says "Of course not," but the way she viciously cuts up her steak shows that she's not thrilled to discover this was simply a work outing.
The next day, she charges into GM Lee's office, demanding that he fire Assistant Manager Hwang Dong-bae. He's always late and absent without notice, neglecting his responsibilities to the wedding planning department. But the general manager refuses to fire him, and instead tells her he'll to move Assistant Manager Hwang to another department.
As promised, Eun-joo and Sang-hyo meet with JUNG SOO-AH (Ha Yeon-joo), the bride-to-be that they're hoping will garner good PR for them. She reassures the two hotel managers that of course her fiancé is handsome — and they can find out for themselves when he walks through the door. Surprise, surprise; it's none other than Hae-young.
Both he and Sang-hyo are astonished to see each other, although she quickly overcomes her shock, plastering on a bright smile and greeting him with a professional hand-shake. But when both are home alone in their respective apartments, they grumble at the sudden reappearance of each other in their lives. Hae-young, in particular, is especially put out that he didn't get to see Sang-hyo's surprised "bunny face."
The next morning, he tries to convince his fiancée to change the wedding venue, but she has her heart set on marrying at The Secret Hotel. Sang-hyo had assumed that the couple would be switching venues (because if Hae-young had any conscience, that's what he should do), so when she finds out that Soo-ah and Hae-young will be sticking with their original wedding plans, she digs up his contact information.
They meet at a coffee shop where she hands him a list of available wedding venues, asking him to find somewhere else to get married. But he instead muses over the fact this is the first time they've seen each other in seven years. Sang-hyo can't believe that he won't agree to change venues, and instead prefers have her manage his wedding — but he shrugs and says it's not like anyone knows he and Sang-hyo were once married.
She tries to hide her emotions as Hae-young laughingly recalls that their wedding was a mess — they had just walked into any old place and, bam! Married! But when he adds that their married life was even more of a disaster, it's too much for her and she says he's gone too far. A tear trickles down her cheek as she excuses herself and leaves. Hae-young ponders to himself: "Did I really go too far?"
Sang-hyo drinks alone at the bar, Hae-young's words ringing in her ears. Sung-gyum arrives, surprised to see her there. He joins her at the bar, mentioning that he'd been there previously with Eun-joo, which leads Sang-hyo to ask if he's purposefully being vague and playing the two women off each other.
But he sidesteps the question, and she goes back to brooding over how much she hates weddings. Sung-gyum teases her that this must just be a spinster's hysteria (always the planner; never the bride), but when he sees Sang-hyo turn away with tears in her eyes, he realizes there's something more serious.
A dolled-up Eun-joo arrives at the bar and greets the director expectantly — only to discover he called her out not for a drink, but so she could him take care of a passed-out drunk Sang-hyo. Ha!
It takes the strength of the both of them to carry Sang-hyo back to the hotel, where Sung-gyum tries to keep her upright while Eun-joo rushes to get a room ready. A very drunk Sang-hyo tries to convince Sung-gyum that's she's perfectly sober. Her boss finds it hard to take her seriously, though, when she does some silly little dance moves and then slurs: "Managing Director, will you marry me?"
She's determined to marry as soon as possible, muttering she should be "first." When Eun-joo tries to drag her away, Sang-hyo sits down on the floor in protest, refusing to budge until Sung-gyum answers her marriage proposal. He can't help but smile at her ridiculously cute drunken antics and, to the utter shock of Eun-joo (and the nosy front desk staff that have been watching), agrees to marry her.
In the morning, Sang-hyo wakes up bewildered in her hotel room, suffering from a painful hangover. With only vague memories about what happened the night before, she makes her way to her office, where she's greeted by hotel staff who applaud her marriage proposal. As the memories slowly return, she practically dies of mortification, banging her head miserably against the wall.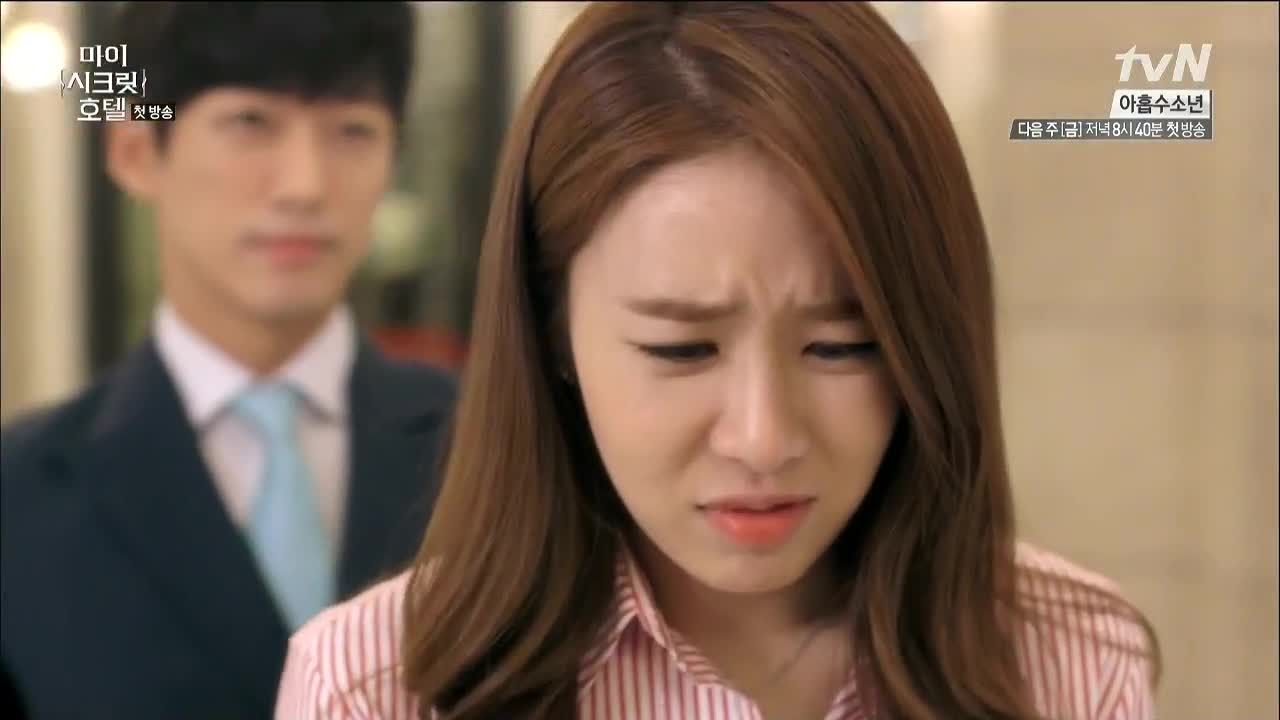 When she spots Sung-gyum in the hallway, she tries to hurry the other way. But too late — he already saw her. They step outside for a private chat and he asks if she's able to work today, since, y'know, she had so much to drink last night. She reassures him she's okay, and then sliiiiiiides all the way to the far corner of the bench when he sits down next to her. He asks if she remembers proposing to him, but she feigns innocence, pretending she can't remember anything.
When he asks if she also doesn't remember kissing him, Sang-hyo blurts out that she just asked him to marry her — she never kissed him! But he's caught her in her lie, and asks if they should could married ASAP, like she originally begged.
She bows in formal apology, promising it will never happen again. Sung-gyum sighs and says it's a pity — he thought she had really meant to marry him. But he forgives her, anyway (and she still seems unsure as to how much he's joking). After he leaves, she cringes in embarrassment until she remembers who was responsible for her drunkenness: "Gu Hae-young, this is all your fault!"
Sang-hyo arrives at the Wedding Coordination Department, surprised to see the constantly absent Assistant Manager Hwang at his desk. She warns him that the workplace isn't a playground, but he's not worried. Even if he's not around much, he's still aware of the rumors about her marriage proposal to the managing director. The ice pick he'd been cleaning gets awfully close to her throat as he tells her that he plans on getting to know the managing director much better now.
She tells him to put the ice pick away, and he laughs. Oh, and by the way: Gu Hae-young called to say he's canceling the wedding. Sang-hyo tries to hide her ecstatic reaction, pretending instead to be worried for the couple when Assistant Manager Hwang points out that it's bad news for a couple to cancel a wedding. He adds that the groom will stop by later to fill out the paperwork.
Later, Assistant Manger Hwang is busy working on an ice sculpture when he's interrupted by General Manager Lee warning him to be careful about Sang-hyo. Assistant Manager Hwang mockingly asks if it's because she demanded he be fired again, adding that if she finds out who he and GM Lee truly are, she might think otherwise. He lets out a maniacal laugh as he brandishes the ice sculpture drill in GM Lee's face. Creepy.
The hotel staff is all abuzz about Sang-hyo's proposal to the managing director, gossiping that since Hae-young and Soo-ah cancelled their wedding, Sang-hyo and Sung-gyum can use that date instead.
But Hae-young overhears the women, and is all steely-eyed determination when he enters Sang-hyo's office. She's delighted to hand over the cancellation form (practically attacking Kyung-hee when she politely suggests that the groom reconsider), but he's stuck thinking about the idea of Sang-hyo getting remarried.
Making his decision, Hae-young rips up the cancellation form. The wedding will continue as planned, much to Sang-hyo's dismay.
COMMENTS
What a cute first episode! I'm still not sure what a "killing romance" is yet, but I definitely am enjoying the bubbly charm of Sang-hyo as she manages the chaos of the Wedding Coordination Department of The Secret Hotel.
In fact, I think I like everyone in this drama — including the minor characters that I'm probably supposed to hate, like Eun-joo and Soo-ah. So far everyone is serving their purpose and they're all delightful. As a life-long fan of whodunnits, I'm definitely curious about the murder mystery — it seems pretty obvious that GM Lee and Assistant Manager Hwang are somehow involved with the dead body from the first few minutes of the episode (and part of me is speculating that the dead body is Assistant Manager Hwang himself, because GM Lee seems like a pretty shady character).
But I've also got my eye on Jung-eun. Did anyone else see how she smirked and calmly left the wedding hall when all the other guests were in a panic, or was it just me? She's definitely on the "suspect" list, not the least because of her long unrequited love for Hae-young (and I think I'll even make a bet that she's a reason why Hae-young and Sang-hyo originally broke up, since she's apparently been in love with for eight years, and the last time the ex-couple saw each other was seven years ago).
Speaking of Hae-young — I think I'm supposed to not like him because he's a bit of an arrogant diva who is more determined to find a petty way to get back at Sang-hyo (who, let's not forget, he currently believes to be engaged to be married to Sung-gyum). But I don't. I mean, I don't not like him. Maybe it's just my love of Jin Yi-han (helllooooo, Empress Ki Tal-tal feels!), but I think he's actually a really fun character, and he and Yoo In-na have such a fun chemistry that I do believe their characters must have had a wild, spontaneous, and completely unforgettable relationship back then. It's pretty obvious she's the "Las Vegas" girl — so I'm assuming they had a whirlwind romance and a quick wedding in Vegas. But I'm definitely looking forward to their backstory to be revealed.
I'm still a little iffy on Sung-gyum, though. Perhaps it's because his character reminds me so much of his character in I Need Romance 3 — both are the sort-of-sweet, sort-of-hardass type of boss who seems charmed by the leading lady, who clearly has a thing for him. But I haaaaaated his character in I Need Romance 3, so it's a bit of a struggle for me not to assume he's somehow going to completely break Sang-hyo's heart. Even forgetting my bizarre post-drama hang-up, Sung-gyum clearly has a secret, one that I'm assuming is tied to his combative interest with General Manager Lee. I get the feeling Sung-gyum is on a secret mission to keep an eye on the hotel and the finances, but who knows why yet. Other than obviously something shady is going on there.
On the flip-side of my weird actor's-previous-roles hang-up, I'm absolutely adoring Yoo In-na. I've never really been a fan of her work, and I wasn't sure if she would completely win me over this time. But I've been proven wrong! I love her as Sang-hyo and can't think of anyone else I'd rather have playing the role. She's utterly charming, both when she's making silly faces and eking out a tear or two. While I'm totally sure which gentleman I'm rooting for to win (or win back) her heart, I do know that I'm looking forward to watching her confidently steal theirs — and maybe solve a few crimes while she's at it.
Because this show is going to be about the mystery, too, right? Or will I have to get drunk and selfishly beg for more than just a fun and frothy rom-com?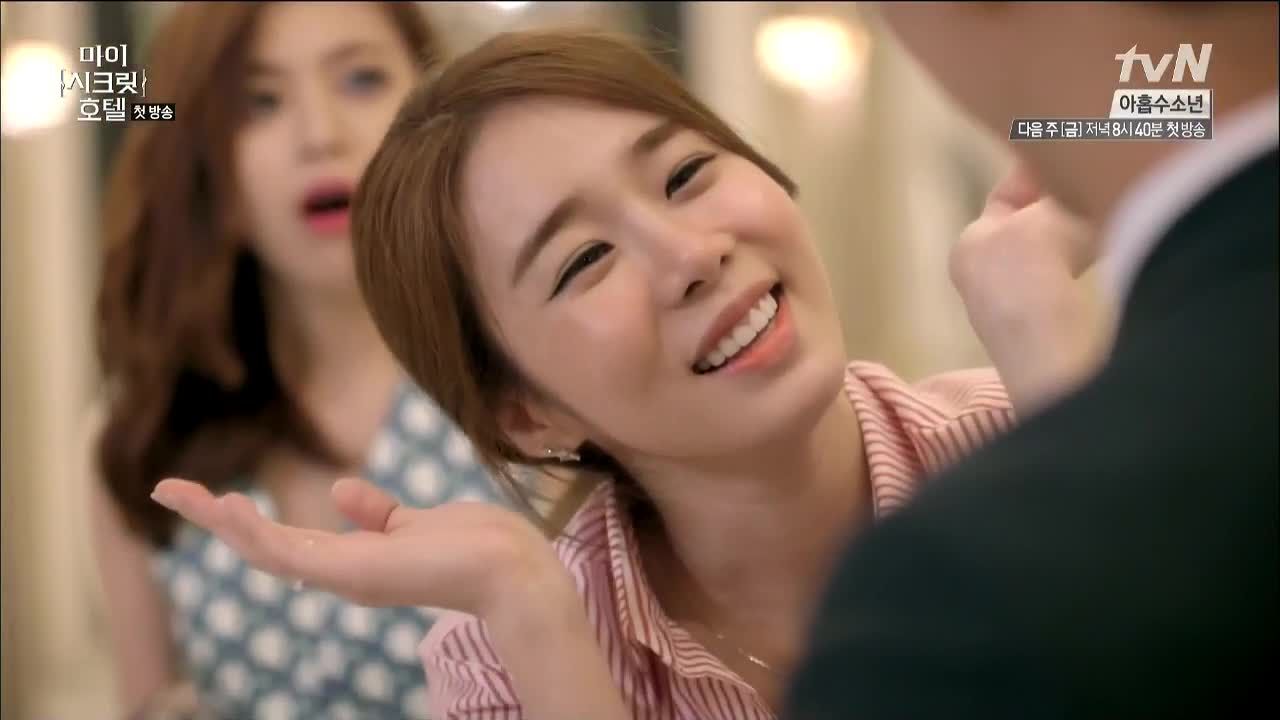 RELATED POSTS
Tags: featured, first episodes, Jin Yi-han, My Secret Hotel, Namgoong Min, Yoo Inna