Odds and Ends: Concept conception
javabeans: So I'll be flying down to see you again this weekend, which is weird to say because when this post goes up I will have already done it. Which we've mentioned before, I'm sure. It's like time travel, but without any of the fun parts.
girlfriday: And also without any of the earth-shattering time-space paradoxes and brain-fetus-inducing aftereffects. Wormhole travel has its price, as we know.
javabeans: I didn't previously think this way, but ever since Hallyu has gotten so big, now every time I go to the airport I feel pressure to have a "look," like all the celebs with their "airport fashion" mini-photo shoots. You know, something other than rolled-out-of-bed hair and almost-missed-the-flight pajamas.
girlfriday: Yes, I used to scoff at airport fashion, but now that I fly a lot, it's actually a thing you think about. So what's your concept this time?
javabeans: You mean, other than the it's-too-early-in-the-morning-for-this-shit ensemble I usually throw together? I might have to pull a repeat.
girlfriday: *GASP* You can't repeat a concept! That's against the rules of… conceptdom!
javabeans: I remember when I first started hearing that word bandied about in dramas (it's really come into vogue in the past decade), I thought it was so strange ("What do you mean, you have a fashion concept for your character?"), but now it totally sounds normal.
girlfriday: This is what dramas do to us. Who knew I'd use "concept" as a word in my regular life?
javabeans: I totally understand what it means for an actor to think about a character's background and personality beyond what's given in a script, but concepts are sometimes very shallowly conceived, making them pretty silly. I remember watching a behind-the-scenes interview for My Girl, and Park Shi-yeon was shivering while waiting for her scene, saying that she was cold but her "concept" was bare legs and no stockings. Which… huh?
girlfriday: Oh, I laughed out loud when I read an interview where Lee Min-ki said he really wanted his gangster character's concept in For the Emperor to be different from the typical thug, so he got a perm. What.
javabeans: I'm pretty sure he also said that eyeliner was his concept in Shut Up: Flower Boy Band, but in that case he was totally right. You can't argue with Byung-hee's guyliner.
girlfriday: And now you can't watch a drama where a leading lady doesn't have a very specific concept for her character from beginning to end.
javabeans: Oh, totally. And it's not like they pick general concepts like "sweet and frilly"—they mean specific things like petticoats and headbands, like Kim Tae-hee in My Princess.
girlfriday: Like Han Ga-in and her dressy shorts in Bad Guy, or Uhm Jung-hwa and her pencil skirts and boxy tops in Witch's Romance.
javabeans: I suppose concepts are another tool in the narrative-shortcut department, where you make use of the visual opportunity to get across character. Which I think is pretty smart for an actor to do, in terms of getting into a character's mind and thinking about them in a deeper way.
girlfriday: Not to mention a bonanza for product placement opportunities, if your actor is a spokesperson for your brand and can make your latest trend seem cool.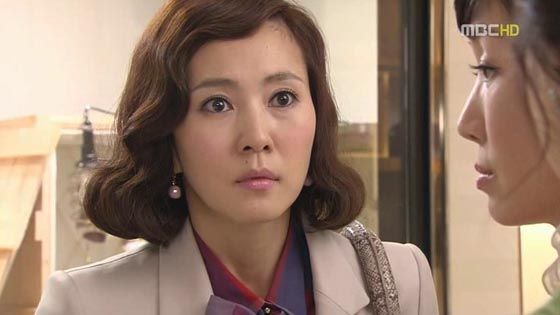 javabeans: It's just that many times, I think actors only do the superficial thing and put together a "look" rather than a full character analysis.
girlfriday: And also because I don't know about you, but in my real life, I don't wear ONE concept every day. It's actually stranger to watch a character always wearing the one style no matter what.
javabeans: Yes. I'm thinking of Kim Nam-joo in Queen of Housewives, for instance, where she had that really distinctive hairstyle (huge waves, blunt cut), topped off with frosty pink lipstick, and it was kept up for practically every scene. I actually think that a lot of times, concepts aren't really flattering, either, they're just an easy way to signal that this is A Character.
girlfriday: It cracks me up when everyone in the drama gets a concept makeover at exactly the same time, roughly halfway through.
javabeans: I always think, "Oh did you get a two-for-one deal with the hairdresser, where they cut everyone's hair on set on the same day?" Because in real life, how weird would it be if everyone you knew got their hair cut at the same time?
girlfriday: Some dramas try to motivate it by timing the makeovers with time jumps, but most shows just have new looks for absolutely no reason. My favorite concept meta joke lately was in Marriage Not Dating, where Han Groo got chastised by her mother for going to her (fake) in-laws' house dressed in pajamas and an apron, and she shouted, "This is my concept — daughter-in-law who works like a cow!"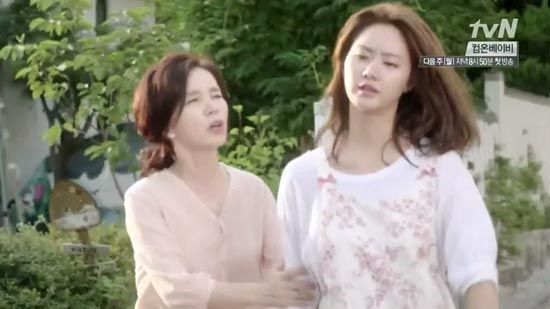 javabeans: That was hilarious because it was totally poking fun at concepts as a "thing." Concepts needn't always be clothing or style related (see: Go Ara's Pepero obsession in Answer Me, 1994), but those are the most obvious ones. Oh, aside from hair, like Jang Geun-seok in everything ever.
girlfriday: Well Jang Geun-seok's hair is more like a character with its own ego than a concept. Guys tend to do little quirky things like specific things in blazer pockets, ascots, lack of socks, stuff like that. I guess pink pants is a concept?
javabeans: Yep. Exactly. Totally a directorial concept. There's no other reason.
girlfriday: You mean no other excuse. So what was YOUR excuse for wearing pink pants the last time you flew into town?
javabeans: Hey! Maybe Lee Min-ho WAS my concept.
girlfriday: Okay, then I'll look forward to your next concept.
javabeans: I can be the daughter-in-law who works like a cow!
girlfriday: Well then I can be the chauffeur who refuses to let you in the car.
javabeans: Quick, someone get me a concept!

RELATED POSTS
Tags: conversation post, Odds and Ends