Running Man: Episode 207
It's hard to believe that our beloved Big Nose Hyung has only won twice in the past four years, but today he's got some extra help from a few close(ish) friends to hopefully score another win. With muddy fields, playground games, and running giraffes afoot, it certainly won't be easy, but will they be able to come together to pull off something miraculous anyway?
EPISODE 207. Broadcast on August 3, 2014.
On another blistering hot day, our cast gathers together for the opening—minus one: Haha cries, "Suk-jin isn't here and I didn't realize!" Aww, apparently no one did either.
MC Yoo is tasked with the mat-hyung's introduction, and boy is it looooooooooonnnnngggg. Then it's time to meet Suk-jin & Friends, including: MCs Nam Hee-suk, Park Soo-hong, Kim Jae-dong, Super Junior's Kim Hee-chul, and actress Lee So-yeon. Ha, they even prepared their own cheesy cheer.
From the way the rest of the cast exchange warm hugs and greetings with the guests, one might think that they're closer friends with today's guests than Suk-jin is. "I'm the one who called them over here!"
As such, Suk-jin explains each of his longstanding friendships with our guests to everyone, though Hee-suk notes how Suk-jin called him for the first time in four years. Apparently Hee-chul had dropped the hint to Jae-suk that he isn't on jTBC's talk show Sseol Jeon anymore, and saves face by saying how it's such an honor to appear in such an excellent show. He wouldn't be the first nor will be the last who wants to be part of the Running Man family.
And while Suk-jin clearly recalls that Hee-chul appeared on the KBS variety show "Heroine 6" prior to Super Junior's debut, his memory is hazy with So-yeon (she was part of the cast, ha).
Our guests are here to help Suk-jin secure his third victory in this show. Each team starts off with six gold bars, then Suk-jin picks up a big advantage applicable to all of today's games if his team wins: double the gold. Niiiccce.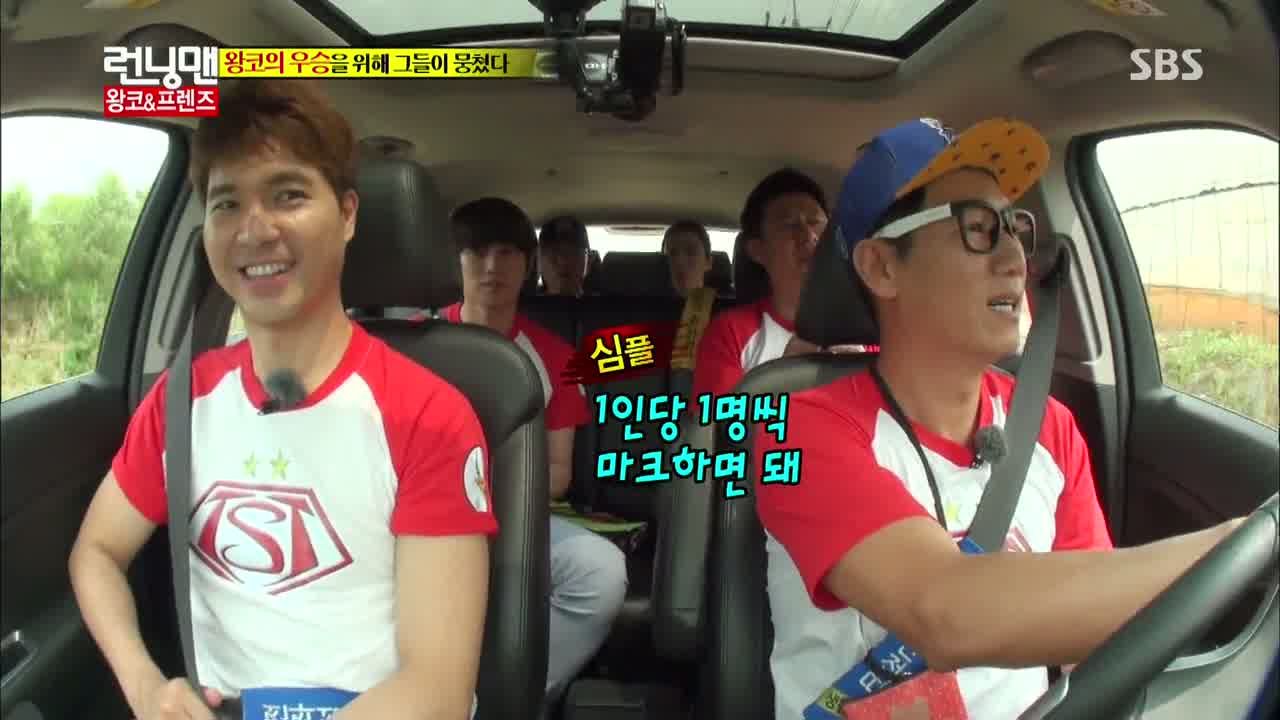 Curious, Soo-hong asks if they can check whose name on those fans was a dud. It's his. LOL.
How cute—the logo on Suk-jin & Friends' t-shirts says "JSJ" for Ji Suk-jin. In the car, Team RM agrees that they must win to put an end to any possible Suk-jin-centered episodes in the future. Jong-kook: "Those thoughts of raising Suk-jin's spirits… let's not have them." Jae-suk: "We have to finish them off so that [Suk-jin] doesn't form another team."
Our cast hilariously sounds like muddy field connoisseurs when they generally agree that this one "isn't that bad." That's more than can be said for either Hee-suk or Soo-hong, as this is the first time the hosts are getting down and dirty for variety. Jae-suk even says that Hee-suk sent him a text after seeing him in a muddy field: "Did you have to resort to that?"
In this warm-up relay race, the men will twirl the ladies around them once without dropping them. Haha: "Even if we tried to drop her, Ji-hyo won't fall. She'll whip around herself."
Both women crawl around the guys at first; that just can't be an efficient way of completing this task, but it gets the job done. But then Hee-suk does the smart thing by letting momentum do the work for him and whips So-yeon around.
It's impressive to say the least, and also effective—Team Suk-jin is already down to their final competitor Jae-dong while the Monday Couple falls over and over again. Unsurprisingly, Suk-jin & Friends win it and score their first gold bar.
Then it's time for the first game, where team members must find numbered rings in the muddied waters and toss them to their teammates. The first team who gets a bingo on their board wins the round. I foresee lots of stealing and interfered tosses in the near future. HEE.
Nobody's afraid of getting dirty and digging through the water, and Jong-kook is the first one to toss one over… but Haha fails to catch it, and it ends up in Suk-jin & Friends' hands. It cracks me up that So-yeon's the first one to take Kwang-soo down whenever he finds a ring, and she isn't afraid of taking on Jong-kook, either.
A little later, Soo-hong plops down in the water, exhausted: "Let's do this in a studio!" Jae-suk looks like he's having the time of his life, and Jae-dong exclaims, "No matter how hard we work, it looks like we're just having fun!"
Jae-dong finds a ring caught on his foot moments later—it's 9, the number both teams need to win. He tosses… but it misses, and Jong-kook takes off with it and Team RM wins the first round.
It turns out that So-yeon is a former track athlete, which explains her dogged athleticism. Both teams get a ring on the board pretty quickly, and Gary takes Suk-jin down to wrestle another ring away. He steals another one from Suk-jin a minute later, only that one flies up into the air.
Both teams need one more ring to win now, and both Hee-chul and Ji-hyo find one within seconds of one another. But then Haha intercepts Hee-chul's toss, giving Ji-hyo enough time to toss the final ring to her teammates. With that, Team RM wins the game and three more gold bars.
Ha, I love that the trash talk is literally about playing dirty; Team RM calls for some fair play or "I'll show you what playing dirty really looks like," Haha warns.
Clean and dry on the bus, Suk-jin asks Soo-hong if he thinks their team can win today. Jae-suk argues that of course not—you can't beat four years of teamwork. Soo-hong bets his filming appearance fee and oddly, his phone number if their team loses.
They play Ideal Type World Cup with So-yeon, and when she choose Jae-suk over Jae-dong, the latter cries peevishly, "Why do you have guests if you're going to do this?!" Curiously, So-yeon eliminates Jong-kook out of the running, and ultimately picks Jae-suk.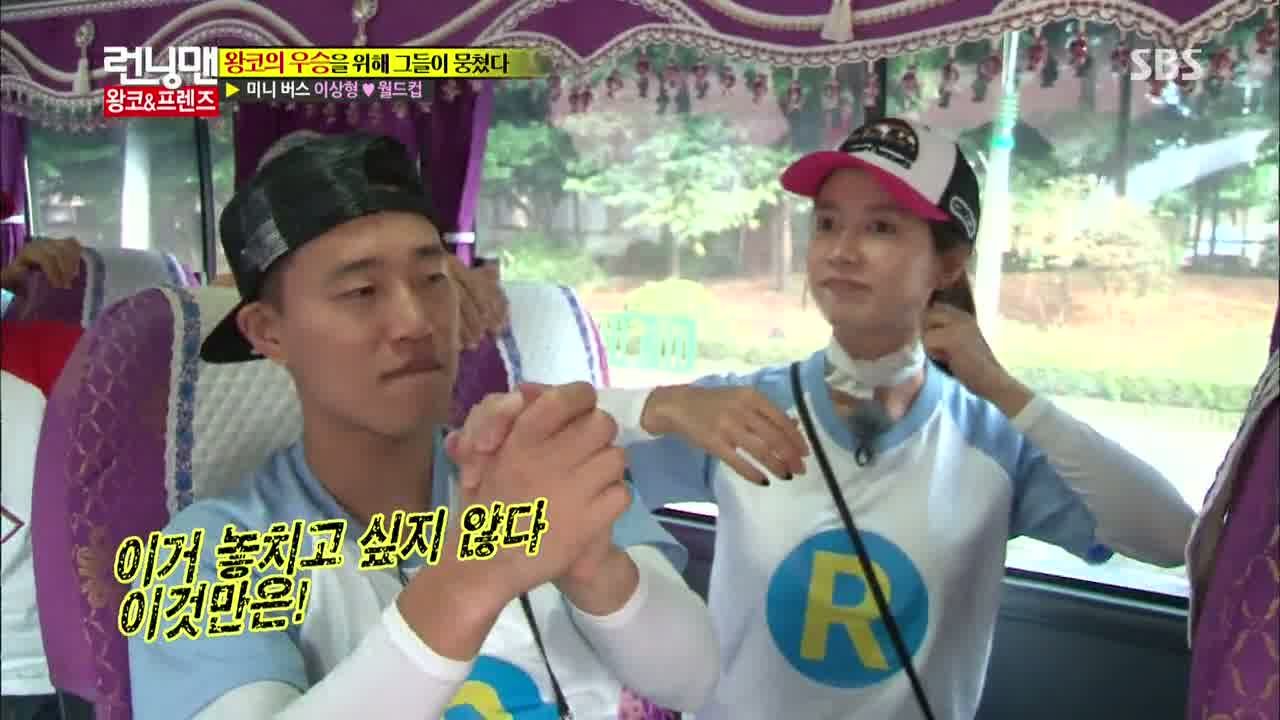 Jae-suk's the only one elated at this win, so he immediately saves the mood by putting Ji-hyo up to the same game. Jae-suk pits himself against Gary in the first round, and it's no contest—Gary advances.
Haha is just as happy when he gets picked over Soo-hong, and the latter shows off his shorts for everyone to see, claiming that he's got pretty legs, exclaiming: "Married men can't wear these!" Jae-dong quips: "My noona's got a pair just like those."
Soo-hong is still upset when they arrive at their next destination. When the others tell him that his shorts are just too short, he rolls them further up his leg, threatening, "I'll wear 'em like this!" Ackk, please don't.
He goes tit-for-tat against Jae-suk, who says that Soo-hong always ignored him when he was popular way back when. Jae-suk (to Hee-suk): "You saw that, right, hyung?" Hee-suk: "I did!"
Here at the playground, the teams must collectively climb up and slide down a slide… 100 times. What. Hardly anyone can believe what they're hearing, then point out Soo-hong's shorts—what's he going to do? Soo-hong: "Can't we make it 'embarrassed' slide?" and adds some coyness for good measure.
Whichever team that completes the task the fastest will win, and whereas Gary complains that the crew is really testing their physical stamina today, gym rat Jong-kook sees it as another opportunity to exercise.
Everyone quickly realizes that task is deceivingly strenuous, judging from how Gary looks plenty exhausted despite his speediness. He's completely spent after the seventeenth slide. Haha's small stature proves to be an advantage, though Jae-dong claims that the exhaustion will kick in after the fifth slide.
Sure enough, Haha looks exhausted by that point, so Jae-dong starts feeding him lines: "You can stop now. What's the point?" Hahaha.
As expected, Kwang-soo's tall height works against him in tackling the teensy kiddy slide. At one point, Suk-jin & Friends drag him over just so So-yeon can ask, "Wanna go out for coffee sometime?" It effectively distracts him, but then Haha grabs onto Kwang-soo's hair to keep his head in the game.
Just when Kwang-soo starts getting sluggish again, he gets a second wind when he'd told that he's probably a famous-enough celebrity to date now. He sends So-yeon a heart sign with his hands. Hahaha.
Jae-suk brings up the count to 80, then leaves the rest to Jong-kook. And while Spartakooks climbs up and down the slide with ease, Jae-dong remarks that it's Jong-kook's dream to be paid to exercise one day. That… might actually be true.
When Soo-hong and Jae-suk crowd the slide on account of their bickering, Jong-kook slaps each of them in turn. He then pushes them both out of the way when they crowd him again. Ha.
But even the athletic powerhouse is fatigued by the final slide, so Suk-jin & Friends suggest they throw in the towel.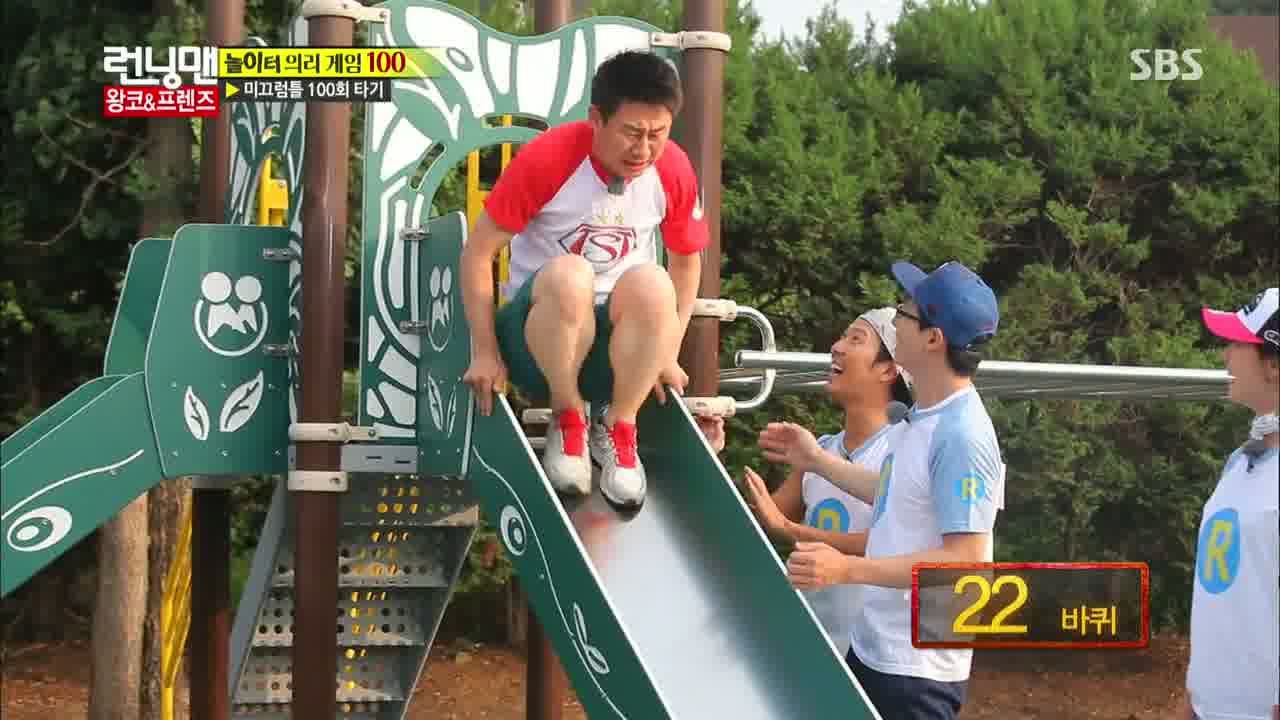 When Hee-chul's worries are met with opposition, he announces to complete the total 100 sets, and goes as far to joke that he used to compete in slides in school.
Hee-chul keeps talking despite the exhaustion, though, saying just how fun and dignifying it is to climb up and slide down this slide. Hee-suk takes over after the twentieth slide, and although he starts off strong, he starts to slow down after just a few sets.
After six slides, Hee-suk passes his turn to Suk-jin, who gets six in himself before pushing So-yeon ahead. Suk-jin & Friends are down to three more competitors with at least sixty more slides to go. So-yeon: "How many do I have to do?" "50!"
It looks like Suk-jin & Friends are in luck because So-yeon used to be long-distance runner.
That may have been in high school, but her endurance is still there, as she puts in twenty more sets for her team.
Just when she's about to wind down, Jae-dong jokes, "D'you wanna run it once more or d'you wanna go out with me." She runs.
It's eventually down to Jae-dong at the eighty sets mark, who throws his glasses away for the final few sets. Before the staff can announce the results, Hee-suk asks that they fiddle with the results so that Suk-jin can win.
Suk-jin & Friends can hardly believe that they'd been climbing up and down a slide for 15:23 minutes, and Jae-dong threatens the crew to air every minute of it (to show the viewers just how difficult it was) or else he'll sue. Hee-suk: "Can't you edit my portion out?"
Still, Team RM manages to beat them with 15:12. Hee-suk holds out Jae-dong's broken glasses frame and asks, "Can you give us 11 seconds for this?" He then shifts the blame on the crew, citing that they're broken "Because we did what you told us to do."
If all of these playground games have something to do with the number 100, I don't know if anyone's going to make it to the end of the day. Jae-dong: "I'll just go to the nearby optical shop! I just won't see is all!"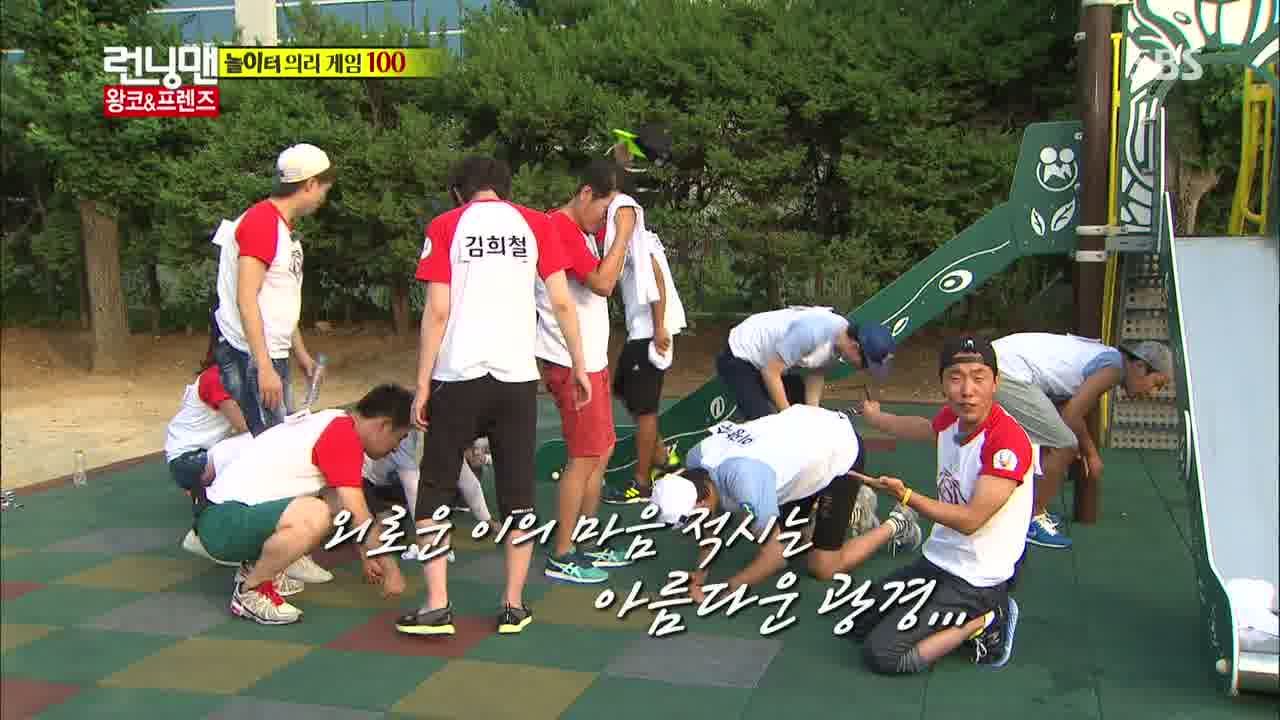 Aw, everyone searches for the missing screw in Jae-dong's glasses together. Seeing this, Jae-dong honestly admits that he's moved. "Take a look at these celebrities doing this." Only the group wraps up their search moments later. "That'll do! Moving on!"
For their second playground game, the teams must collectively pick up 100 gonggi (think of jacks), though these look more like rocks. If both teams succeed, then the fastest team will be declared the winner; likewise if both teams fail (i.e., there are still stones left over), whichever team picked up the most gonggi will win.
Coach Kookie wastes no time to start nagging Jae-suk about how he should distribute the rocks, and Soo-hong chirps in, "How does it feel to be scolded by your dongsaeng!"
Jae-suk starts his team off and gets into a comfortable position, though it blocks Soo-hong from the cameras. Ha. Despite Jong-kook's nagging, Jae-suk starts getting into a groove, but then drops one.
Suk-jin & Friends get particularly sensitive whenever Team RM drops a stone, like when Haha accidently moves an adjacent stone at the start. That leaves Kwang-soo to pick up nearly 30 stones on his own, but he slips up short of their goal.
When Team RM points out the small stone mountain, Hee-suk pleads that they have to do something to make sure Suk-jin wins today. Still, the Team RM gets a little revenge of their own by building their own little mound.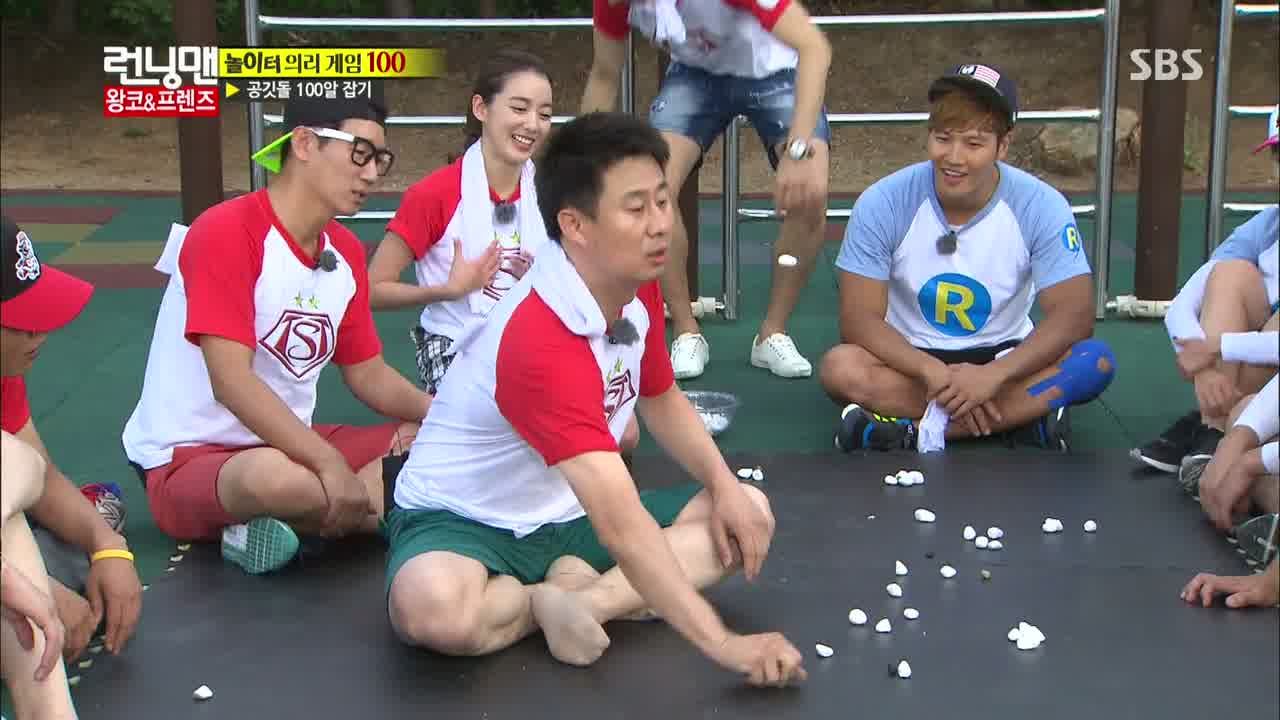 Hee-chul starts his team off, but slips up on his very first try. Soo-hong picks up the slack, and Suk-jin's feeling pretty confident by his turn. When he says they can win, though, Jae-dong remarks, "…then you shouldn't have invited us." Lol.
Jae-dong tries to gain some sympathy points from his broken glasses when he nearly slips up, but it doesn't matter since he slips up moments later. So it's down to Hee-suk, who admits that he wants to go for the variety moment. As in, mess up for the laughs.
His teammates immediately disagree, and then Soo-hong starts barking orders at Hee-suk in banmal. Is Soo-hong the hyung? He is. (Soo-hong's a 1970-er whereas Hee-suk's a year younger.) Still, Hee-suk comes out on top, picking up just enough stones to win it for his team.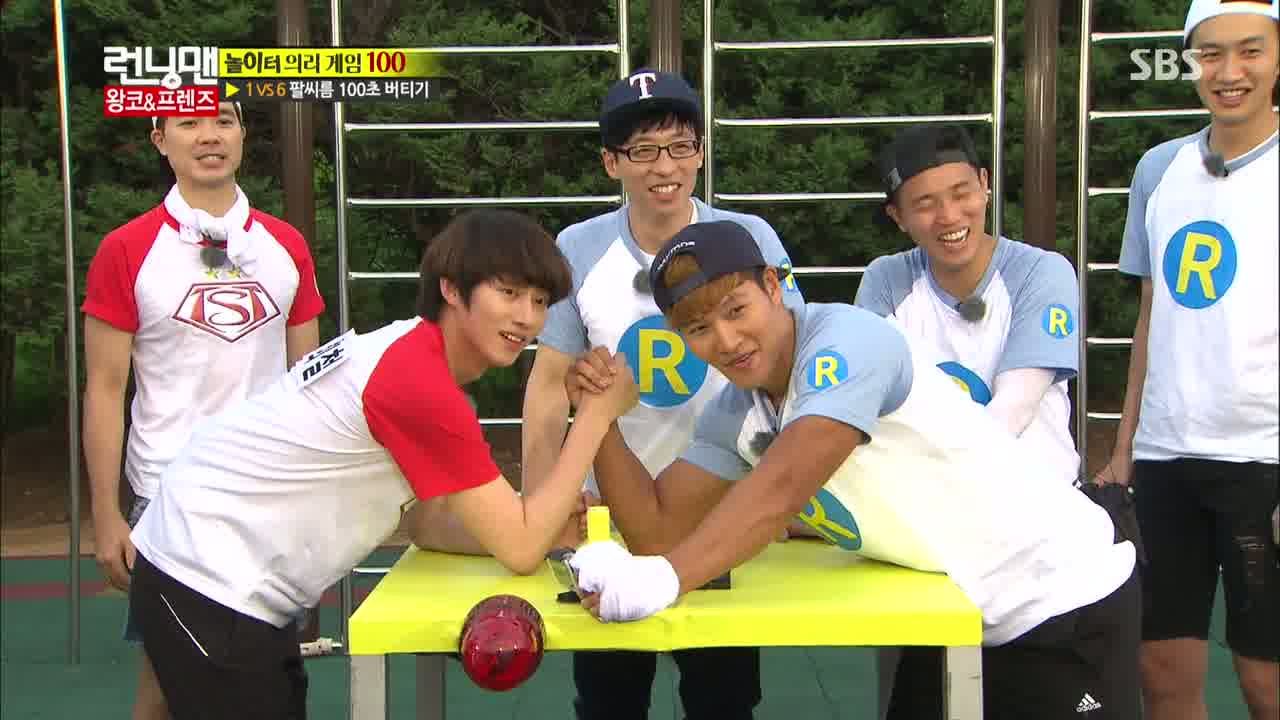 The score's now tied 1:1 prior to their third playground game, where each team must endure 100 seconds in a relay arm-wrestling game against the other team. Why do I think that Team RM is going to choose Jong-kook?
That's exactly what Team RM does, despite Suk-jin & Friends' protests. As expected, Jong-kook takes down three men easily. Maybe too easily because the staff announces the record time of four seconds, amused. Suk-jin cries, "I thought you were going to make sure I'd win today!"
Poor Hee-chul barely lasts a second, and Jong-kook slams his hand on the button repeatedly. Clack, clack, clack. Haha: "I thought I was listening to castanets!"
When Jae-dong steps up, Jae-suk introduces him as the gym's deungshin. Ha. Although he clarifies it as someone's who has great back (deung) muscles, the other meaning (fool) is still implied. Especially when Jae-suk teasingly chants the word repeatedly.
Jae-dong looks like he could be a dark horse… but then Jong-kook overtakes him pretty easily. Clack, clack, clack. And though it was his hand that was hit, Jae-dong points to his heart: "It hurts here." HA.
With the rest of her teammates out of the running, So-yeon has to withstand at least 94 seconds on her own. But if I know Jong-kook, it's that we can count on his weakness towards woman.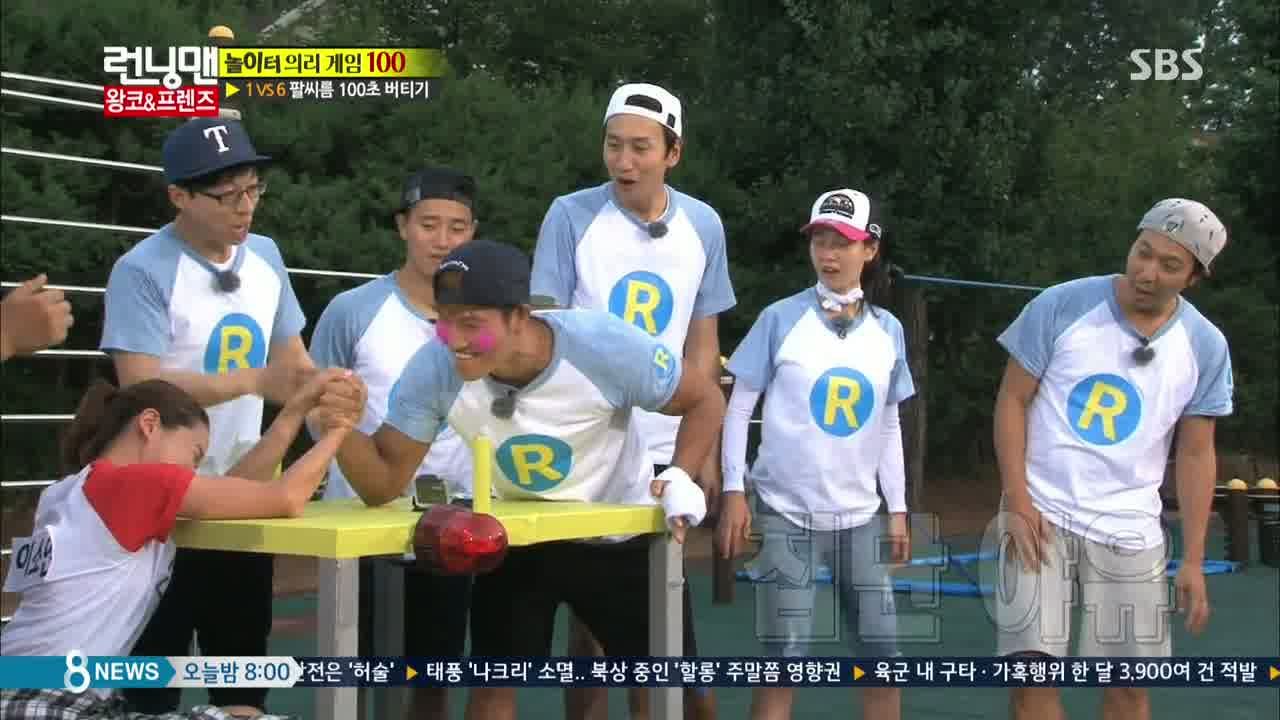 This time is no different when So-yeon starts letting out piteous cries, and Jong-kook can barely bring himself to overtake her. Annoyed, his teammates start yelling at him, and Haha shouts, "Are you going to date her?!"
Suk-jin & Friends place 42 seconds on the board, which has Suk-jin wondering if he'll actually win today. Soo-hong: "We're going to lose anyway, so how do you guys want to win? Give us some ideas!"
So Team RM wins the playground games and picks up two more gold bars. Current gold count: Team RM: 11, Suk-jin & Friends: 8.
Ha, these animals masks look awfully familiar. I love how all of the RM cast members choose their respective animal likenesses, like how Suk-jin chooses the impala, Kwang-soo picks up the giraffe, and Jong-kook decides on the tiger.
Basically, it's animal dodgeball where the goal is to eliminate the "king" animal of the opposing team. The team who wins two out of three rounds wins. Kwang-soo: "Are masks fair game [for elimination], too?" Answer: Yes. Jae-suk: "We better not choose the giraffe as king!"
Not that Team RM has a choice since Suk-jin & Friends choose Kwang-soo as king anyway. And at Soo-hong's pleading, Team RM chooses him as king.
Hee-suk gets a prime opportunity to eliminate Jong-kook not too long after the whistle blows. He misses, however, and then Jae-dong hones in on Kwang-soo's mask. It hits him smack in the head.
The kings remain the same for the second round, and this time Kwang-soo stays down. One by one, Hee-suk and Hee-chul break down the wall around Kwang-soo, until only Jong-kook remains to protect him.
There's some near-misses from both teams, and then the ball rolls past Kwang-soo into Hee-chul's hands. He hits Kwang-soo on target for the win—Suk-jin & Friends pick up six gold bars (thanks to that double gold advantage).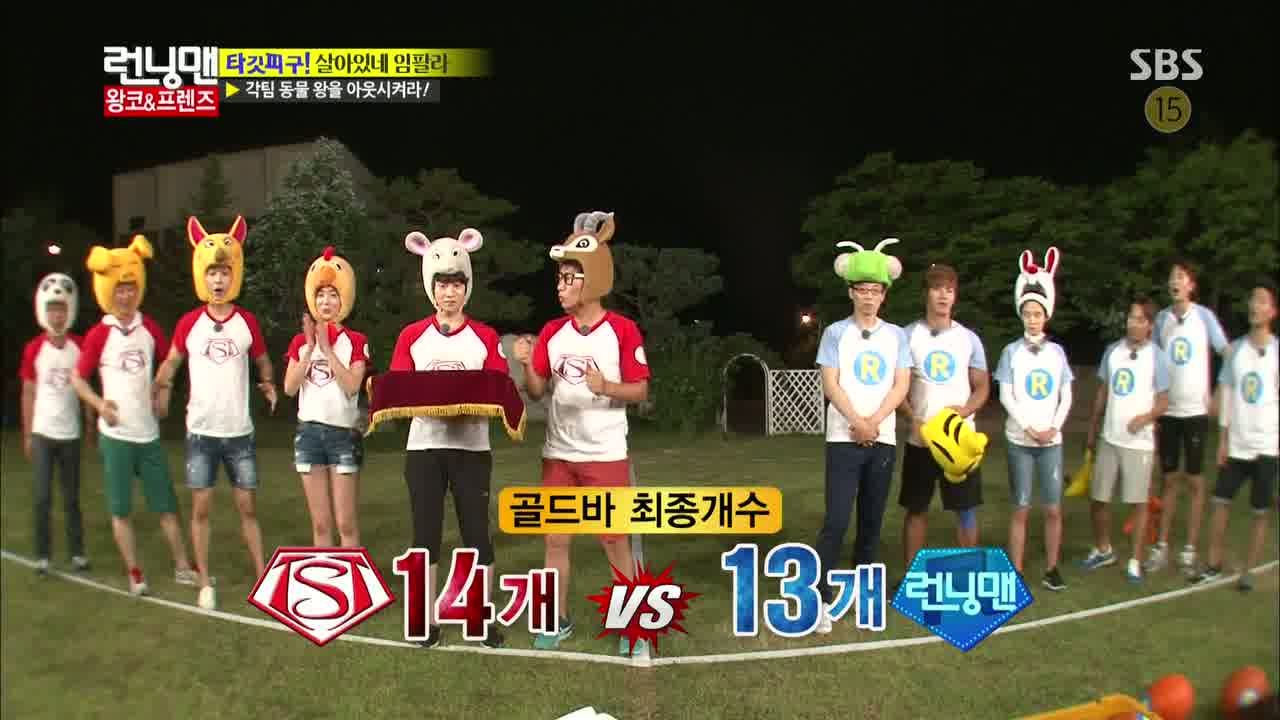 Suk-jin & Friends are declared the winners with their total of 14 gold bars compared to Team RM's 13 gold bars. What's even more astounding is that only the winning team can participate in the final mission. Jae-suk: "But we only lost once!"
A group of burly men arrive to take our victors away, who are then separated into various rooms. This final mission will test the team's telepathy: Will they all choose gold or money? Choose the same answer and everyone wins, and one differing answer means they go home empty-handed.
Hilariously, Jae-dong mentions that Soo-hong would need cash to hit the clubs. "He can't go in with gold." Hee-suk claims to be clairvoyant and predicts: "Two people will answer differently."
Looks like Team RM hasn't gone home yet, and they light up to hear that they've still got a chance to win gold. They try the telepathy test out on themselves, but then Jong-kook and Gary answer differently. Guess it doesn't work on them, either. Ha.
Suk-jin & Friends are led to the platform one by one, and it looks like their punishment is worse than just going home empty-handed—they'll be in for a little drop. Once everyone arrives, Jo PD explains that they'll win double their winnings (28 gold bars in all) if they all provide the same answer.
Again, if even one person answers differently, their 14 gold bars are handed over to Team RM. They start with Suk-jin, who's written "Gold." Will the others have written the same?
But so has Soo-hong, to their team's relief. Jae-dong has written the same, and now it's Hee-chul's turn: Gold.
Scaredy cat Hee-suk can barely stand, let alone reveal his answer. Would he be one of the two people who answers differently? It's a long, unnerving minute before Hee-suk musters up the courage to show his answer: Money.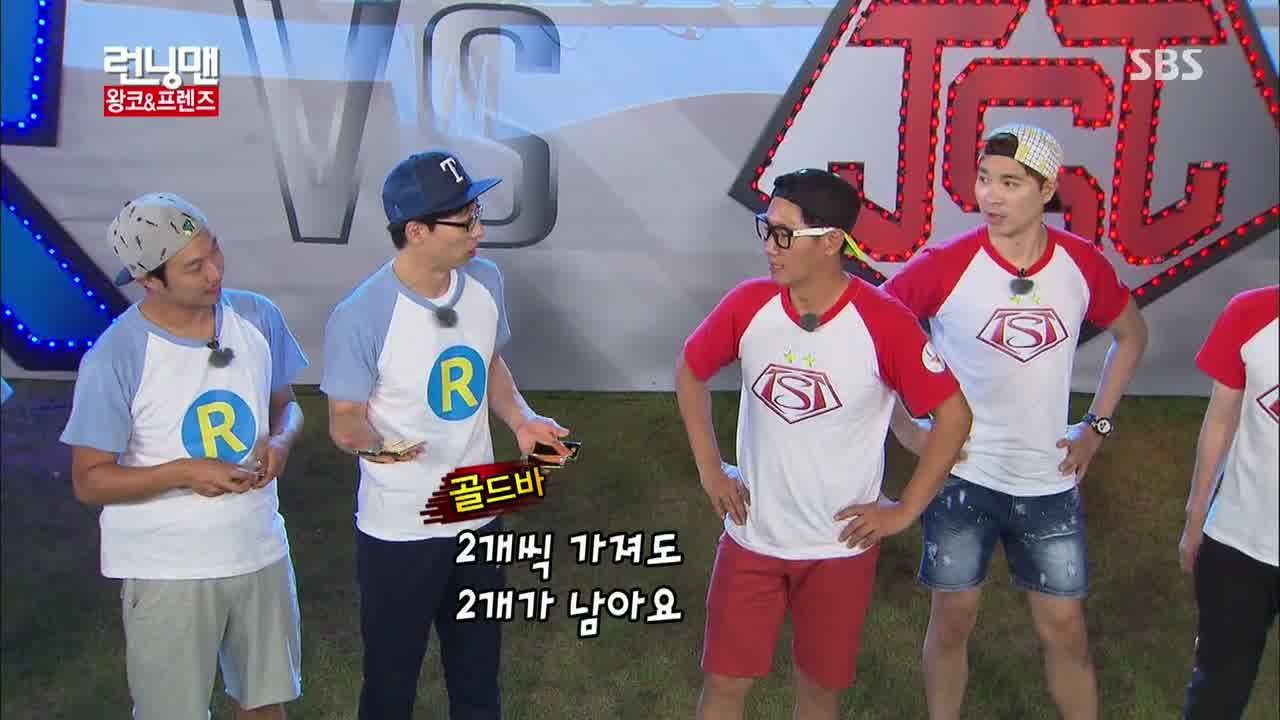 Down they go, where the team immediately scolds Hee-suk. Soo-hong: "We spent the entire day hunting for gold! Why'd you write money?!" As for So-yeon, she had also written down "Money." Wait, does this mean that Hee-suk's clairvoyant after all?
Even though Team RM grabs the gold, they concede the (gold-less) win to Suk-jin, giving him one more victory in his belt. Furthermore, they hand over two gold bars for Suk-jin & Friends "to share," though Suk-jin asks if he can take them for himself. Gold > Friends, then?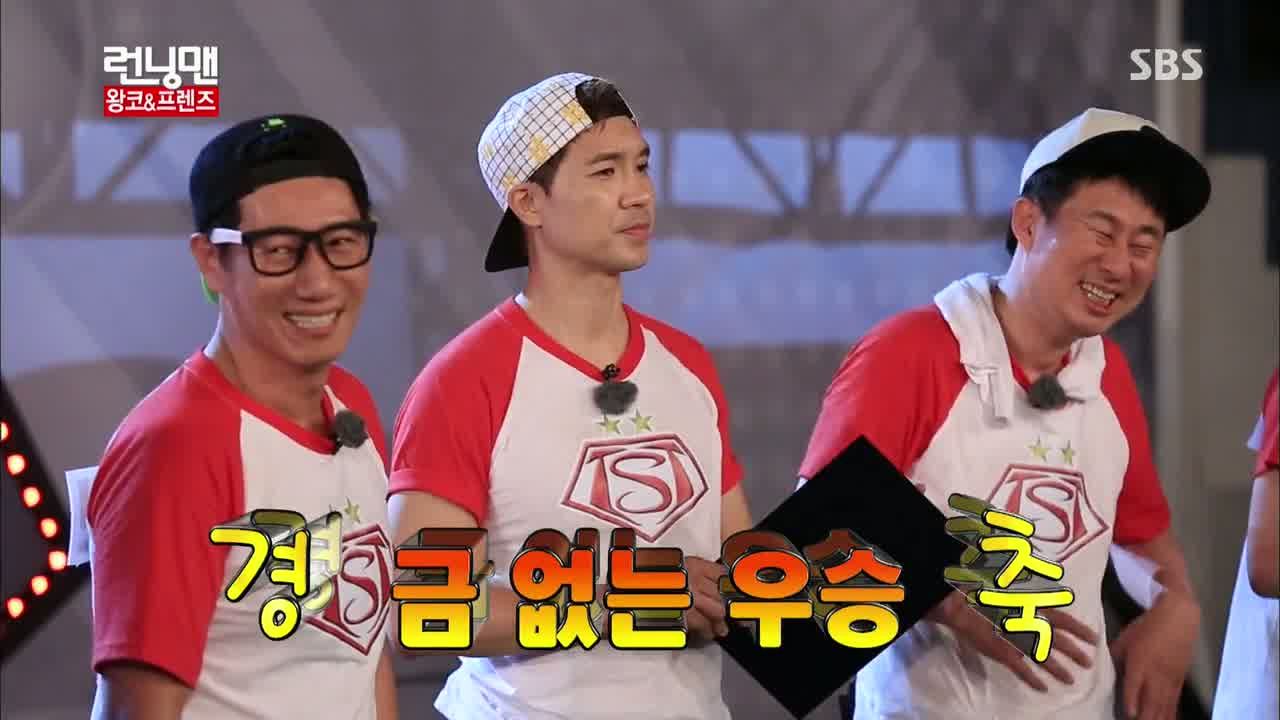 RELATED POSTS
Tags: featured, Haha, Ji Suk-jin, Kang Gary, Kim Jong-kook, Lee Kwang-soo, Running Man, Song Ji-hyo, Yoo Jae-suk