Secret Door reveals its king and romantic killer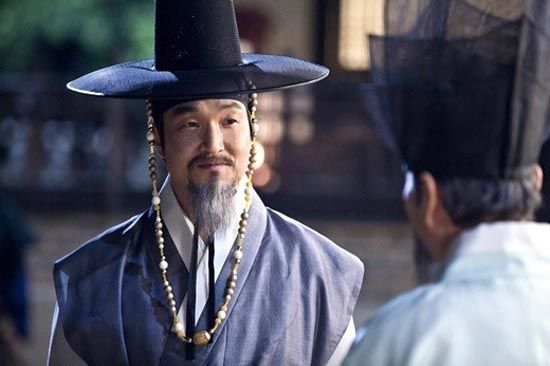 I am pretty pumped up about SBS's upcoming historical drama Secret Door, half because that the cast is amazing, and half because it's a gruesomely fascinating slice of history rife with pathos and emotion—and a heckuva mystery, as nobody has the definitive explanation for what caused Crown Prince Sado (played here by Lee Je-hoon) to become so dangerously violent and what prompted his father, King Yeongjo (Han Seok-kyu), to order him to step into his own death by spending eight days locked inside a rice chest.
This is a story that grabs you right from the one-sentence logline, then gets progressively more compelling the more you read about it. I've been reading the Memoirs of Lady Hyegyong, the first-person account of the life of Sado's wife, and it's riveting stuff; I recommend the book to anyone who wants to know more. (You can get it on Amazon.)
In this set of stills, first we have Han Seok-kyu as the forceful, exacting king whom his son is desperate to please. Sado (born Lee Sun) is the idealistic opposite of his father, dreaming of a world where all people are equal while Yeongjo works toward protecting his power. This puts them into constant tension, adding to the already conflicted father-son dynamic.
Then in the stills below that, we have Kim Min-jong playing a "king of the night" character, aka a legendary swordsman, who also has a hidden innocent side as a reader of romance novels. (Really!) Although truth be told, Romantic Oppa being a fan of romance is hardly a shocker to me; it'll be more fun to see him being the badass killer.
Kim Min-jong's character meets the prince's acquaintance while hunting down the truth in a tragic case, and they'll gradually become rather close. That also goes for the character played by Kim Yoo-jung, who is the only one who knows of Kim Min-jong's secret love of romance stories, and together they'll get entangled in "gripping events." It's a vague description, but then again, the history is pretty famous so we already know the major points. And yes, I agree that they're gripping.
Maybe I'm just on a sageuk bender these days, or maybe it's the mystique of Prince Sado, or maybe it's Lee Je-hoon (and Han Seok-kyu and Park Eun-bin), or maybe this drama is just a smorgasbord of things that get me excited. In any case, I'm crossing my fingers and toes that the drama does justice to the complexity of the real events, and that it won't make me sad for getting my hopes so far up.
Secret Door is written by Yoon Seon-joo, who wrote sageuk dramas Immortal Lee Soon-shin, Hwang Jini, and The Great King Sejong; directing is PD Kim Hyung-shik of Sign, Ghost, and Suspicious Housekeeper. The drama will follow Temptation and premieres on September 22.
RELATED POSTS
Tags: Han Seok-kyu, Kim Min-jong, Secret Door