Solid ensemble gathered for heartwarming family movie Jang-soo Company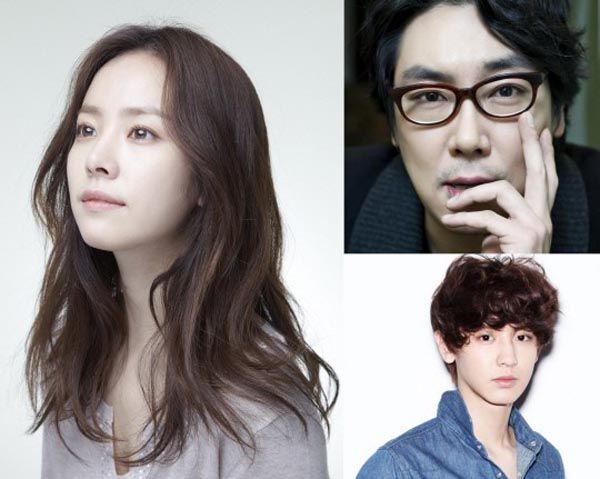 Han Ji-min, Jo Jin-woong, Chanyeol
Hitmaking film director Kang Je-kyu (Shiri, Taegukgi) has lined up a pretty robust cast for his next movie, which is titled (for now) Jang-soo Company, which sounds like a heartwarming multigenerational relationship drama that revolves around the redevelopment of a small neighborhood store, Jang-soo Mart, into the titular Jang-soo Company.
To fill in those multiple generations, we have Park Geun-hyung (Grandpas Over Flowers, Empire of Gold) leading the pack as the stubborn grumpy old man at the center of the story, who kicks off the plot once he meets the flower-shop lady Yoon Yeo-jung (Noonas Over Flowers, Wonderful Season), who spurs a "big transformation" in him. Aww, cute.
In the younger generation we've got Jo Jin-woong (currently enjoying a nice wave of attention from hit projects Roaring Currents and A Hard Day) playing Jang-soo, the owner of that small mart, while Han Ji-min (King's Wrath) plays Yoon Yeo-jung's daughter who can't quite handle her mother dating that new gramps. Hwang Woo-seul-hye (Feel-Good Day) plays a woman with a crush on Jang-soo, and Moon Ga-young (King's Family, where she played the youngest daughter) will play Jang-soo's daughter. EXO idol Chanyeol makes his big-screen debut playing Moon Ga-young's boyfriend.
According to director Kang, "As I watched Grandpas Over Flowers, I thought of why we felt such fun and freshness from watching them, and why we applauded for them. And it was because they really live like that. We also felt the fun of seeing our preconceived notions of them come crumbling down. I think this film will offer much chance for that kind of reflection."
Aw, I love that Grandpas Over Flowers put decades-long veterans back into the spotlight as main characters rather than mere dads and grandpas at the sides of stories, since they rarely get to be featured as the stars. All in all, it sounds like a sweet, funny family movie featuring a solid ensemble of appealing actors, and I hope the project makes the most of their myriad talents. The film will begin filming at the end of August.

Park Geun-hyung, Yoon Yeo-jung, Hwang Woo-seul-hye, Moon Ga-young
Via E Daily
RELATED POSTS
Tags: Han Ji-min, Hwang Woo-seul-hye, Jo Jin-woong, Park Geun-hyung, Yoon Yeo-jung