Three Musketeers: Episode 2
The setup is complete, and now we begin the journey of initiating Dal-hyang into the group of musketeers, mostly by throwing him off the deep end and figuring he'll work it out. This episode delivers more action and wry humor, and also shines a light (albeit a tiny, brief one) into the characters' backgrounds, giving us the smallest glimpse of how they came to be where they are now. While it's fun to see how the guys got to be friends, these hints are particularly intriguing with regard to our ladies, making me impatient to find out the rest. I'm pretty sure this show isn't just gonna give it away, though, so we can expect a gradual reveal over the course of the show. I wanna know NOW, but I suppose a little at a time is better than nothing.
SONG OF THE DAY
One More Time – "시간을 거슬러" (Back in time) [ Download ]
Audio clip: Adobe Flash Player (version 9 or above) is required to play this audio clip. Download the latest version here. You also need to have JavaScript enabled in your browser.

EPISODE 2: "Three Musketeers"
The crown princess, Yoon-seo, anxiously awaits news of the civil service examination. The results are not what she was hoping for: Park Dal-hyang caused a commotion, set a horse rampaging, caused statesmen to be injured, and even resulted in marring the king's face with a cut across the cheek. Eep.
Yoon-seo asks anxiously after the prince's safety, and is visibly relieved to hear that Sohyeon was unharmed. She asks after Dal-hyang next, and learns that because his error was so serious, discussions are now underway as to whether to cancel his passing of the exam. (This last test was to determine final honors, but all the participants at this point had been cleared to enter public service.)
King Injo hears his council's arguments regarding Dal-hyang's status, with some reasoning that he is untrustworthy to send into battle and should be cut. The king agrees, but Sohyeon reminds them how Dal-hyang excelled at the earlier test, and that it would be overkill to rescind his results. He also makes a political argument for keeping him (in that there's always criticism of the exam for shutting out applicants from the outer provinces, and keeping Dal-hyang would counter that), and Injo is sputtery and indecisive enough that he is swayed by his son's persuasive words.
Dal-hyang awaits word of his fate, sitting glumly amongst the wreckage at the test site. He thinks with chagrin to Sohyeon's "deal," wherein he'd coerced Dal-hyang into taking the exam while holding his love letter hostage. Finally, the king's decision is delivered: Dal-hyang will be given special pardon for today's mistake and allowed into service… in last place. He won't be given a title or pay for now, but it's welcome news otherwise, and Dal-hyang accepts gratefully. He's confused to hear that he owes his gratitude to Prince Sohyeon, however, who spoke up in his defense.
That night, a letter is delivered to Dal-hyang's lodgings. The landlord is, amusingly, much more polite to Dal-hyang now that he's a civil servant and respectfully calls him sir, and I do enjoy that Dal-hyang points out plainly that the guy's speech has changed. Dal-hyang finds a letter from the Three Musketeers, narrated in Seung-po's voice, which congratulates him on passing and offers an apology for contributing to knocking him out of taking first place. He now gives their real names and asks Dal-hyang to meet the next night.
And then, he has an unexpected visitor. An older court lady approaches first, and then a young woman steps forward and reveals her face—Yoon-seo. Dal-hyang shoots to his feet, startled to see her here, and invites her in. Yoon-seo warily keeps her distance, however, saying that she heard he was still waiting for her and couldn't ignore that. With frustration (or guilt), she asks how he could be so naive (to keep waiting), and he replies simply that that's the kind of person he's always been.
The exchange is charged with emotion, though both the princess and Dal-hyang keep theirs tightly under wraps. Yoon-seo apologizes for not keeping their promise, saying that it wasn't her choice to enter into the princess selection process (when eligible brides for the prince were scouted). Although it clearly pains him to hear that she burned the letter, he tells her that she did the right thing.
She insists that he must forget her now, and he readily agrees. Aw. I'm not sure how I feel about the princess yet, but her longing is plain to see and they clearly still share the same feelings; it's just that there's nothing they can do but accept their lot.
Yoon-seo leaves, and Dal-hyang watches her go. He holds on to his stoic facade as he writes his parents a letter about his good news, adding that he won't be marrying Yoon-seo after all—there are so many beautiful women in the capital that his feelings have changed. It's bittersweet to hear his voice narrate what should be happy tidings, only to sound nearly sarcastic as he says, "I am so overjoyed I do not think I can sleep a wink tonight. Today was truly the best day."
Time to introduce a few more characters. In the northern county of Uiju (modern-day North Korea), a Manchu general, Ingguldai (Kim Sung-min), receives a messenger with suspicion. The lead messenger is a mysterious-looking woman (who we'll later learn is named MI-RYUNG, played by Yoo In-young) who is passing along a message from Joseon politician (and future prime minister) Kim Ja-jeom. However, she makes clear that she is not his subordinate.
At a gibang (where the fusion gugak K-pop song of the day is Hyuna's "Red"), fun-loving Seung-po indulges in some gambling while the more somber maknae, Min-seo, waits upstairs. Dal-hyang arrives to meet them as requested, and cuts to the chase: He doesn't want their congratulations or a drink, he just wants an explanation for the other night and why they lied about their identities.
Min-seo tells him that they'd slipped out of the palace secretly that night, and it couldn't be known that the crown prince was wandering the city at night. Then they helped Dal-hyang because he'd appealed to them, and figured that was the end of that—until they found the letter, which they then had to investigate further.
Dal-hyang's jaw drops when Min-seo tells him that Seung-po is the son of an illustrious general, and we see in flashbacks to childhood that it's through this connection that Seung-po and Sohyeon grew up together, having been schooled and trained alongside each other. That explains their brother-like camaraderie, from the friendly gibes to the annoying needling, and how Seung-po gets away with talking to the prince as cheekily as he does.
Next, Min-seo reveals his own background, which has Dal-hyang gaping again: He was raised a young monk, and trained in martial arts because the head monk excelled at them. Thus when the first Manchu invasion occurred (nine years prior, in 1627), he followed the monk into war, where his duty was to protect the crown prince. When the war ended, young Sohyeon sought him out at the temple, and that's how he came to be his bodyguard.
A drunk Seung-po joins them and announces them friends now, chattering freely about how it was all his idea to pull the prank with the letter, thinking it might stir some jealousy in the prince regarding his wife, only to find that the prince became more interested in Dal-hyang instead. Dal-hyang reads between the lines and asks why the prince and princess have a distant relationship, and Seung-po realizes that might be a bit too personal and changes the subject.
So he shares a story about himself, and we see in flashback how he'd cried all through his wedding (to be fair, he was a child). His bride wasn't exactly known for her looks, and he adds that as their twelve-year marriage continues, his wife gets uglier and uglier. Which is why he prefers to hang out with his buddies instead, he laughs.
Sohyeon is busily poring over maps that night when the princess drops by unannounced. He is polite but distant with Yoon-seo, who musters the nerve to ask why he had shown her the letter she'd given Dal-hyang, and why he went out of his way to advocate for Dal-hyang passing the exam.
Sohyeon smiles pleasantly and says that he isn't suspicious of her and merely appreciates Dal-hyang's skills, and when she protests that that's an unnatural reaction, he says, "I am not such a small person as that."
Yoon-seo bursts out that his lack of anger indicates a complete lack of interest. Sohyeon chuckles and suggests an alternative: He could have Dal-hyang thrown in prison and the princess stripped of her crown if she wants a more "natural" reaction, in which case she should return the letter so he can use it as evidence.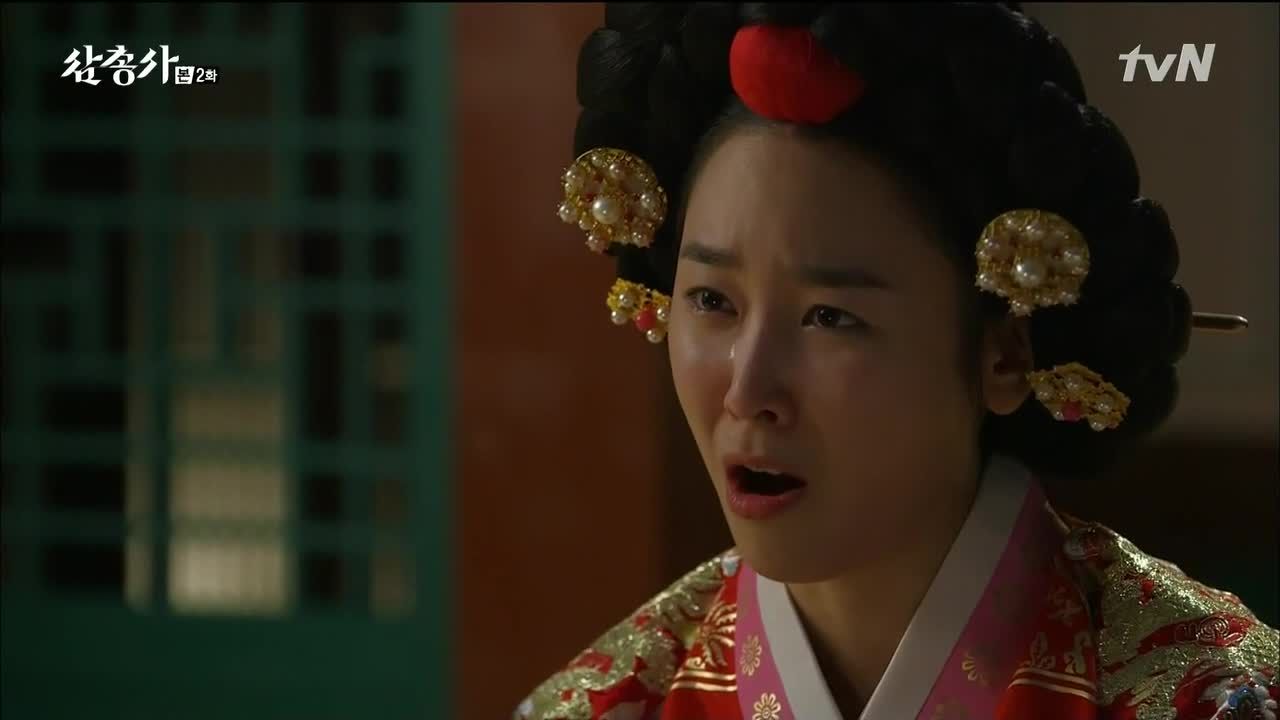 His smiling face only frustrates her further, and she exclaims that she's sick of his jokes that skirt the truth, and finally strikes a nerve when she cries that she knows he wanted that other girl selected for his wife, but that it wasn't her fault she was made princess.
In a flashback, we see a young Yoon-seo wondering why she is to be made the prince's bride when a minister's daughter had already been selected. But that daughter suddenly died—she hanged herself in her home. Yoon-seo cries to herself, saying futilely that she's already promised to someone.
Crying indignant tears, now Yoon-seo says that it's not her fault that girl had died, and that she's tried her best to make the most of this marriage that neither wanted. Sohyeon tells her that she's got it wrong, and that he's never treated her coldly, and while he's sorry if she felt that way, he thinks she's being rather sensitive about things. Omg. I may love him, but I kind of want to slap him right now.
Yoon-seo collects herself and says (rather sarcastically) that she's the one acting immaturely, and he just shoots her that shit-eating grin and says yes, that's exactly right. She excuses herself, and his smile stays on his face just until she's out the door. Once in her private quarters, she breaks down into sobs.
But that story about the dead girl must be true enough, because it's the same story that Seung-po tells Dal-hyang. Nobody understands why she killed herself, particularly since she and the prince were happily in love.
An arrival piques their curiosity, as they see Kim Ja-jeom heading to one of the private rooms. He's not supposed to be in Joseon, so his mere presence strikes them as suspicious. We see that he's taking a meeting with several noblemen, and he's here to inform his cronies of what's going on with the Manchu envoys, with whom he has met in secret while stationed up north.
Seung-po eavesdrops outside the door as Kim Ja-jeom explains that the king of Later Jin has demanded a change in status for Joseon, which had previously been a "brotherly" one, as in a younger brother to an older one. Now the Manchus intend to establish themselves as Qing and claim suzerainty over Joseon (a vassal/tribute state). This is heavy stuff, almost certainly a lead-up to war, and Kim Ja-jeom states that he has gathered these men in order to figure out how to use this information before even King Injo gets wind of it.
Outside, Dal-hyang is left alone while the two musketeers confer, and while he doesn't understand what's going on, he clocks the mood and sees that something serious is afoot. Min-seo asks for Dal-hyang's help in acting as lookout for Seung-po, since he'll have to report this to the prince. He passes him a sword under the table and makes his exit, while Dal-hyang takes stock of his surroundings while acting drunk to cover up his loitering.
Min-seo takes this information to Sohyeon, who understands its importance but doesn't want to take it to the king without evidence, because Injo is prone to overreaction and could make things worse. He decides that finding out what Kim Ja-jeom is up to is the priority, and heads out immediately.
King Injo, meanwhile, stews in a nightmare that night, wherein he finds himself wandering the woods alone and begs for help. He comes upon a small army of Manchu invaders, led by General Ingguldai, who raises his bow and arrow and shoots him in the heart. Injo jolts awake with a strangled cry and realizes it was only a dream, but can't shake his uneasiness about what the Manchu envoys will be coming to demand next. He blubbers about being left to die alone without anyone to help, badly shaken by the dream—he is, quite frankly, a nervous wreck.
The king's eunuch catches up to Sohyeon just as he's about to leave the palace, and urges him to see the king. Sohyeon instructs the eunuchs to calm the king and says he'll be back as quickly as he can, then rides off with Min-seo.
That mysterious messenger, Mi-ryung, arrives next at the gibang. With her fierce looks and her scary-looking, eyepatch-wearing guard, people automatically give her a wide berth. Dal-hyang briefly locks eyes with Eyepatch, but feigns drunkenness to cover up. The newcomers head into Kim Ja-jeom's secret meeting, where Kim proposes a course of action: Fearing that King Injo will lead them into another futile war, he intends to tell Manchu general Ingguldai that there are those in Joseon government who are on his side. Treasonous!
Mi-ryung and Eyepatch are brought in to take their message back to Ingguldai. But just then, Seung-po touches a creaky board, and Eyepatch gets suspicious. He accuses Kim Ja-jeom of either pulling one over on them or being oblivious to an eavesdropper, and kicks in the wooden boards. Seung-po is caught off-guard but recovers quickly, drawing his sword.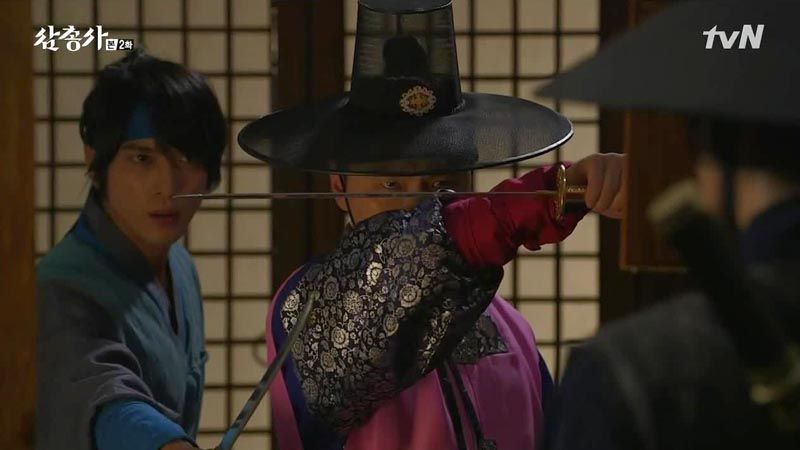 Dal-hyang joins him, and Eyepatch is left to confront them as the noblemen scatter. But they need to confirm who was in the meeting, so Seung-po leaves Dal-hyang to take on Eyepatch alone, then heads out to follow the traitors. He gets caught in a tangle with Kim Ja-jeom's bodyguards, and engages in a swordfight. It's one versus many, but hey, Seung-po's kind of a badass.
It's a bit different for Dal-hyang, who clashes swords with Eyepatch, who's clearly the more seasoned and ruthless veteran. But Dal-hyang is fast and resourceful, throwing in a few chairs and bottles to even out the fight.
Sohyeon and Min-seo arrive as both fights are well underway, and join the fray. Not a second too soon, because Sohyeon's sword swoops in to stop Dal-hyang from getting gutted at one point, which leads to a wry interchange where Dal-hyang is all, I totally would've been fine without your help, and Sohyeon points out, Sorry I keep getting in your way, needlessly helping you pass exams and not get killed. Heh. I love their reluctant bromance, especially since I think it's only reluctant on one end.
With the situation well in hand, Sohyeon leaves to follow the noblemen, who are in a panic to escape because they recognized Seung-po as the prince's bodyguard and fear that they'll all dead meat by morning. Sohyeon manages to get a good look at their faces, noting their names and offices. Then he sees Mi-ryung, remembering Dal-hyang's warning that there was a woman among them.
Sohyeon seizes Mi-ryung from behind and whirls her around—and then they both freeze in astonishment. And recognition?
Dal-hyang shouts a warning, just seconds before Eyepatch slashes him in the arm from behind. The sight puts Mi-ryung into shock, while Sohyeon staggers to the ground. But his shock seems to be entirely unrelated to his arm, which he barely registers, and more about this strange encounter.
The other musketeers arrive, and Dal-hyang makes the decision to chase after Mi-ryung and Eyepatch, who are fleeing on horseback. Mi-ryung calls Eyepatch crazy, and even he looks stunned when she says he just stabbed the prince.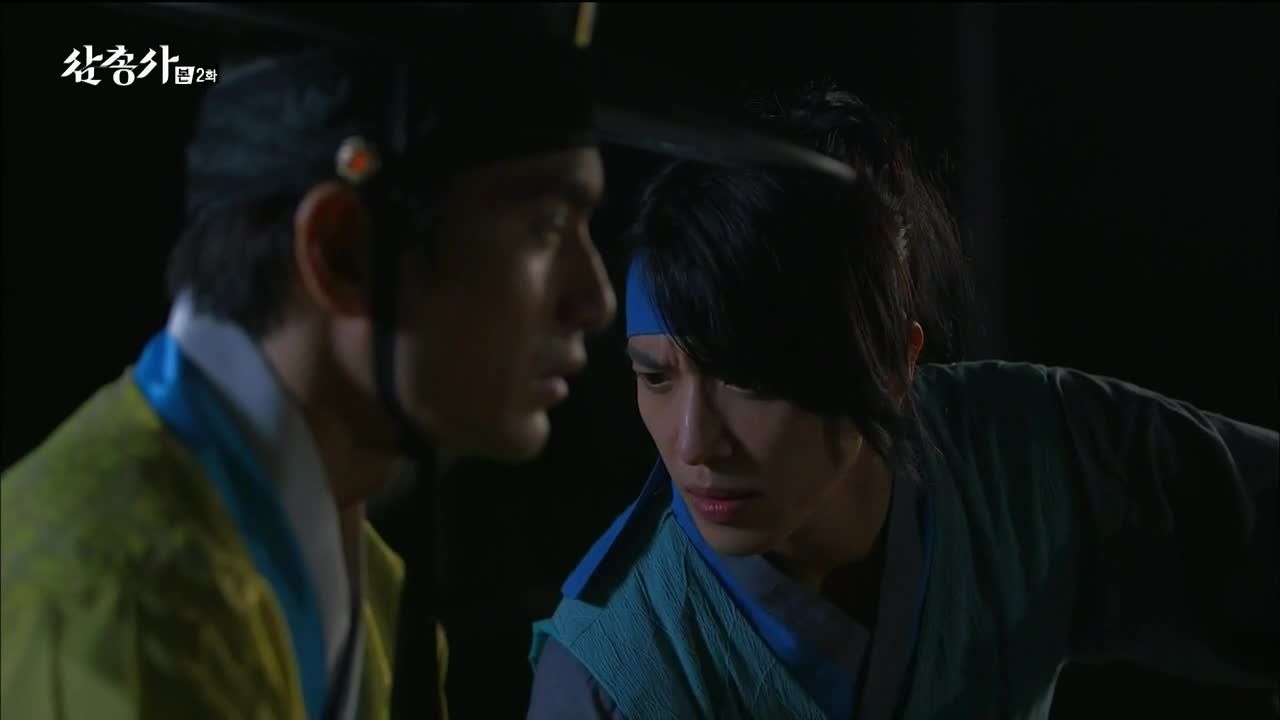 The king has been insisting that the prince be brought to him, stressing the eunuch out so much that he goes to the princess to ask how to handle this. Making things worse, they receive word that the king is on his way over right this moment, raging at everyone for either lying to him or failing to bring the prince properly.
Yoon-seo hurries out to intercept him, lying (badly) that the prince was deeply asleep after having a drink and only now has woken up. But the king is by now suspicious and barges in to see whether Sohyeon is indeed inside—
—and he is, of course, having returned in the nick of time. He repeats the princess's lie and is appropriately concerned for his father, whose anger dissipates as he shares his fears. Injo begs his son not to leave him feeling so uneasy, then heads back to his quarters, mollified for now.
Yoon-seo reacts in alarm to see blood dripping down Sohyeon's arm, but he rejects her concern and asks her to leave. She does, feeling hurt at his continued coldness.
His eunuch is likewise shocked at the sight of blood, but Sohyeon is still fixated on that other concern, and says merely: "Mi-ryung. I saw her earlier. What in the world is going on?"
Dal-hyang continues his pursuit on horseback, keeping Mi-ryung in his sights as they charge up the mountainside. Finally they pause at a clearing, and Dal-hyang draws his sword to finish this off here and now.
But then, they are joined by a whole army—the Manchus, led by Ingguldai, who take their positions. Suddenly Dal-hyang finds himself at the point end of dozens (hundreds?) of bows and arrows, just waiting for the command to fire. Gulp.
Ingguldai asks who he is and why he's about to attack one of his envoys. Dal-hyang has no idea what is being said, however, as it's said in Manchu.
The narrator takes over to inform us that today now marks the fourth meeting of Dal-hyang and the Three Musketeers, and it's now that he's starting to get the inkling that trouble is going to become a regular part of his life. Ha, I'll say.
Mi-ryung informs the general that he is one of the prince's men, and that the prince has caught wind of their plot.
Ingguldai gives his men the order to fire. A barrage of arrows flies at Dal-hyang, and our narrator informs us that we have now met all the principal players, and thus the story takes off in earnest. Dal-hyang looks up at the sky, just moments before the rain of arrows lands.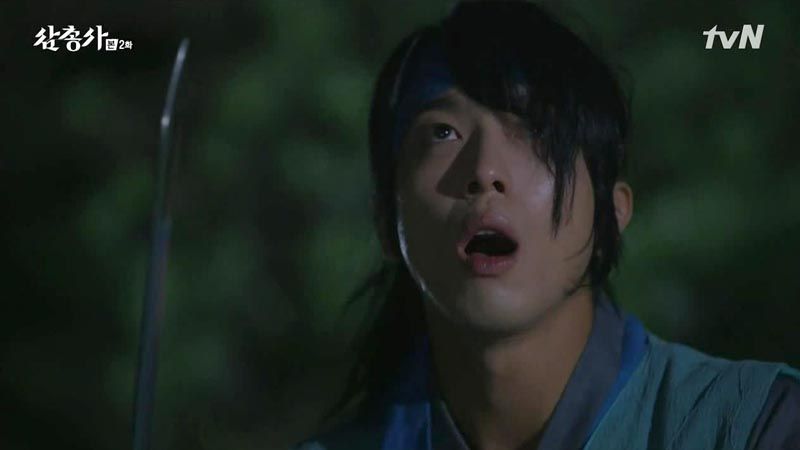 COMMENTS
The cast is gelling together nicely, and the story is turning out to be quite well-adapted into the time period—I'd wondered if there would be difficulty in preserving the important beats from both the original story and actual history, but so far I think the writer has done a thorough job working in the timelines of the first and second Manchu invasions, and the political machinations that came therewith. So while Joseon is caught in a difficult (impossible, really) predicament between the waning Ming and surging Qing empires, with the state of Manchu-Jin exerting pressure to throw its loyalties to Qing, we have ample room to play with conspiracies, spies, and impending war. I'm sure a Three Musketeers could have been adapted to fit other time periods, but this is an interesting intersection of history that works really well, I think.
But what I really like isn't just the incorporation of history, because without a connection to our characters it means very little. You may as well crack open a history book instead if you're not going to also tell a story and be entertaining, right? So it's the way the drama pulls in the characters into this larger intrigue that gives it its tension, and I think it's done smartly.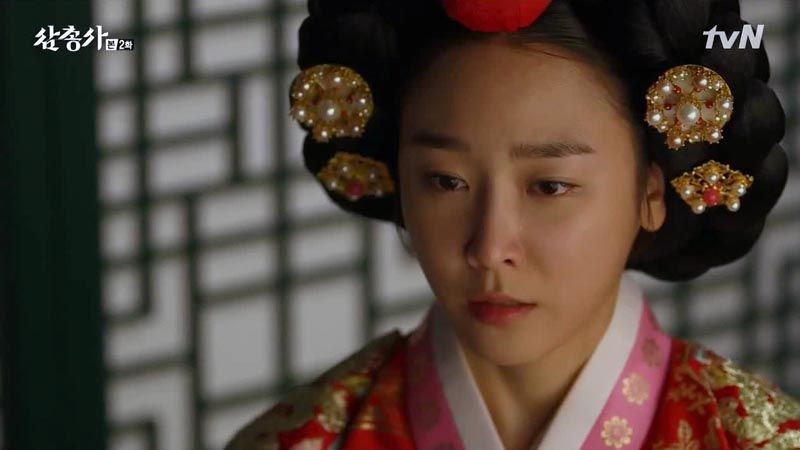 For instance, a princess in a love triangle is fairly common stuff for a drama, but once we realized that there was a past love in Sohyeon's past, their strained relationship took on a new dimension. I knew Sohyeon had been messing with her previously, but couldn't understand why; now it's pretty clear that he's harboring some latent resentment, and it almost feels as though he wields his politeness as a weapon. He's so absurdly smiling and genial that we all know he's not being sincere, but you can't argue with a guy who's going through ever motion of being solicitous. He won't give you the privilege of even acknowledging that he has any feelings about this, and that can be a pretty effective way of hurting the princess.
I felt a lot of sympathy for Yoon-seo in this episode, after not being sure which way I would swing based on the premiere. I loved her goodbye scene with Dal-hyang, where you saw exactly how she felt despite the words she was speaking, and I'll commend the actress, Seo Hyun-jin, for a really winning take on the character—she can be pretty timid and maybe even childlike (I found her teary outburst with Sohyeon really cute in the scene when he told her she'd imagined his coldness), and being tough isn't her inclination, but I suspect she'll find her mettle and become stronger than people expect of her. Both the actress and the character possess a lovely vulnerability, and Yoon-seo has been put in this impossible situation where the only thing she can do is sit there and endure. Nobody's mean to her, necessarily, but she's got nobody on her side, either. You get the sense that she might be able to love or at least care for the prince if he'd let her, either in a romantic sense or a buddies-in-arms sense, but the fact that he won't allow her that just keeps her isolated and hurt.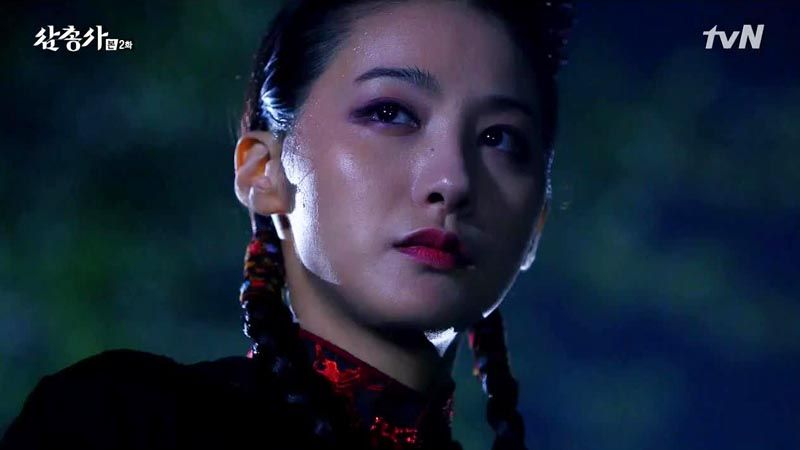 Mi-ryung, on the other hand, is an interesting twist. On the one hand, you're meant to think she's Manchu until we're told that her name is Mi-ryung and that the prince knows her. If she's his dead first love, how the heck was a death faked? We saw her hanging from the ceiling, so it's not even like she jumped from a cliff and her body wasn't recovered; somehow, someone snuck her out of this life and into another one, and now she's colluding with the enemy. Or IS the enemy.
Mostly, I'm enjoying the fast pace and the humorous tone, which manages to hit that balance of being a little campy without being cheesy or embarrassing. The narrator is one of those things that can go either way, but I recall how the Return of Iljimae narrator gradually developed into being one of the comic highlights of that show, so I'm keeping an open mind. It's a tough balance to pull off, and I hope the drama can keep that up, because I'm in just the mood for a cheery swashbuckler. And bromancey action heroes. And Lee Jin-wook.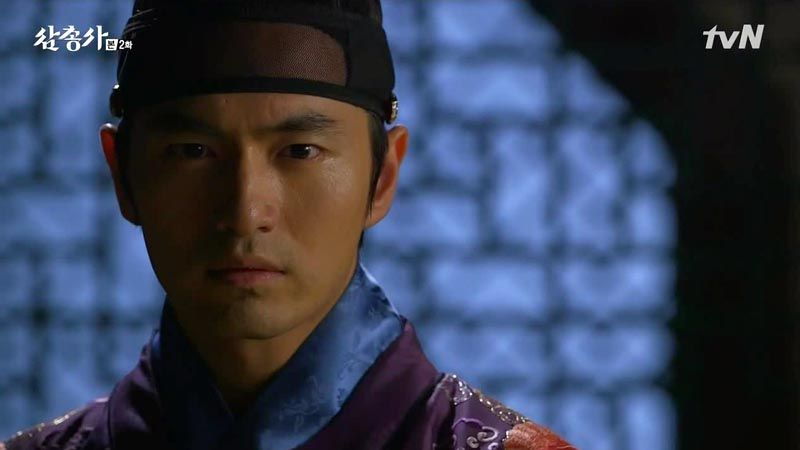 RELATED POSTS
Tags: featured, Jung Yong-hwa, Lee Jin-wook, Three Musketeers, Yang Dong-geun, Yoo In-young