Trot Lovers: Episode 13
It's time for our leads to stop just reacting to everything that happens to them, and start taking the reins and making things happen. The mystery of whether Joon-hyun's gotten his memory back is solved, which only creates a whole new set of problems for him to tackle. But he manages to find a pretty smart way to confront his enemies while still keeping his newfound family safe, and I genuinely look forward to the epic smackdown that's surely coming to anyone who tries to get in his way.
EPISODE 13 RECAP
On the pier, Joon-hyung tells Chun-hee that he remembers how the Little Mermaid story ends: The moment the mermaid turns to bubbles, the prince's memory returns.
Out of the corner of his eye, Joon-hyun notices Geon-woo and Soo-in approaching, and his tone of voice turns more casual as he says of course that's how it ends, because fairy tales have happy endings. He tells Soo-in he's ready to go, and they leave Chun-hee and Geon-woo looking shocked.
Alone on the ferry, Soo-in gives herself a pep talk, reminding herself that it's not over yet. She invites Geon-woo and Chun-hee to dinner with her and Joon-hyun, saying she has something important to tell them. They all sit down to the Most Uncomfortable Lunch Ever, and Geon-woo breaks the silence by asking Chun-hee if she found what she lost. Joon-hyun gripes at him for buying her such a cheap hairpin, and Chun-hee realizes that he hasn't remembered her or their relationship.
Out of nowhere Soo-in makes her announcement — she and Joon-hyun are getting married. Geon-woo congratulates them, but Chun-hee is stunned and Joon-hyun looks at her guiltily. He may not remember her, but he knows that something is very wrong here.
Later, Chun-hee asks Geon-woo to drive her to the studio to practice, and he says she doesn't have to be brave in front of him. He tells her not to hold it in, but Chun-hee looks like she's barely holding her emotions under control. At home, she remembers Soo-in's announcement, and puts the hairpin away.
But as she's letting go, Joon-hyun is starting to have flashes of memories like the set piece falling on him, and seeing Chun-hee's face in his dream. He heads to the theater to pick up his cell phone that was broken during the accident and takes it to be repaired.
Soo-in lets herself into Joon-hyun's practice room and finds his cell phone, and goes through his messages (she obviously takes after her mother). She finds a text message from the repair shop promising to have his phone fixed soon. She heads to the repair shop but finds that Joon-hyun has already picked up the phone, and it scares her so badly that her knees buckle.
Soo-in freaks out to her mom that he'll see all the pictures of himself and Chun-hee in his phone. Mom says she'll take care of the phone (I guess if you can erase the internet, you can deal with one small cell phone), and instructs Soo-in to just proceed with the engagement plans.
Geon-woo takes Chun-hee to a sort of Shine Star Hall of Fame to show her all the albums they've produced, and asks her to choose one as her role model. She finds her mother's album (aww, it's a cassette tape! I feel old) but Geon-woo says she doesn't have to stick to trot music, and specifically mentions the possibility of doing a ballad album next time. Chun-hee looks thoughtful as she considers her options.
Soo-in and Joon-hyun's engagement party invitations have arrived, and they discuss who from Shine Star to invite. They run into Chun-hee, and Soo-in doesn't miss the opportunity to give her an invitation and ask her to sing a song at the party. It's so bitchy that Joon-hyun says her name with a warning tone, but Chun-hee declines.
Joon-hyun finds Chun-hee and apologizes for Soo-in asking her to sing, and they stand in the elevator carefully not looking at each other. It's heartbreaking when Chun-hee quietly asks if he's happy, and he asks what reason he would have not to be, but his face looks downright miserable. He exits the elevator and Chun-hee says to herself, "It's enough."
Later, Joon-hyun asks Soo-in if they can postpone the engagement party, because he needs time to confirm something before then. Her face takes on a panicked look and she asks if there's another woman. He denies it, and she says she knows he's confused after the accident but asks him to try harder. She thanks him for saving her life at the theater, which just confuses him more.
Joon-hyun gets home to find his mother has flown in from the U.S., and he doesn't look at all happy to see her. She says that Soo-in's mom called her for the engagement party and fawns all over him. She's completely fake and I already don't like her.
Soo-in and Joon-hyun and their mothers sit down to lunch and the moms immediately start exchanging passive-aggressive barbs. Joon-hyun's mom gets right down to business and asks who's going to pay for their first house, wondering why Soo-in's mom hasn't started planning that yet, and Joon-hyun looks embarrassed of his mother. He drinks alone at a bar that night, ignoring calls from Soo-in and thinking of Chun-hee.
Joon-hyun pulls out the necklace he had made for "MJ" and regards it thoughtfully. He finally gets around to unpacking his suitcase and finds the little wooden guitar with the note from Chun-hee written on it, promising to get his real guitar back. At her home, Chun-hee hugs his guitar case and tells it that it's time to go home now. She pats it and tells it that she'll miss it. It's so sad to watch her choose to turn to bubbles, so that her prince can be happy.
President Jo learns of the engagement from his assistant, and accepts a dossier on Soo-in's mother that he asked the assistant to put together. He finds her at Shine Star and confronts her about Chun-hee's scandal with the politician. He says that he trusted her to train Chun-hee but she instead tried to ruin her, and he asks why. Joon-hyun sees them talking (and may I mention how well he wears that tux, RAWR), and hides in a doorway to listen.
Soo-in's mother denies any wrongdoing, but President Jo interrupts to ask if she knows Chun-hee is Sung-joo's daughter. He says he owes a debt to Sung-joo and warns Soo-in's mom that he'll be taking care of her until her father returns, and he won't tolerate her trying to hurt Chun-hee again.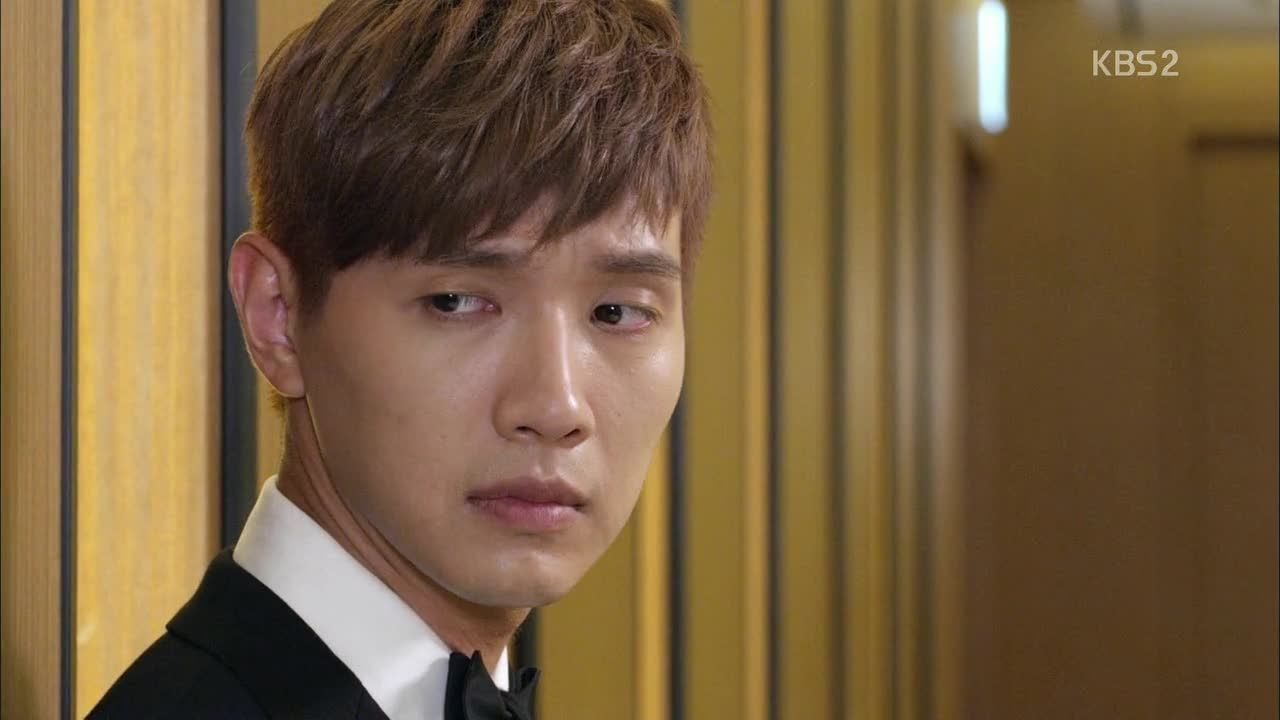 After he leaves, Soo-in's mom makes a call and tells the other person that President Jo claims to know everything, and says that if anything gets out they'll ruin Chun-hee permanently. Thankfully, Joon-hyun has heard it all.
Before he can confront her, a man brings him his guitar case, saying that a woman asked him to deliver it. He runs to catch Chun-hee, but only glimpses her in the lobby before losing her again. He follows her out and down the street, but she hides while he frantically calls for her.
A motorcyclist passes too close to Joon-hyun, and Chun-hee tackles him out of the way, and they both hit their heads and are knocked unconscious. Joon-hyun wakes up in the hospital, and a nurse shows him that Chun-hee is okay though still unconscious.
He kneels by her bed and touches her face, as all of his memories of their relationship flood back to him one after another. Tears fill his eyes as he whispers to Chun-hee, "Are you okay? I was a little late, wasn't I?" He takes the MJ necklace and places it around her neck, smiling through his tears as he tells her, "It's yours."
His mother, Soo-in, her mother and Tae-song all run into the hospital room (his mom shrilly making as much noise as possible, geez) and Joon-hyun quickly grabs the necklace back and pulls the curtain around Chun-hee. He assures them that he's fine and makes up a story about the accident, apologizing for ruining the engagement party, pretending that he still hasn't regained his memory.
Joon-hyun remembers now what happened at the theater, how Soo-in caused the accident and it was actually Chun-hee that he saved. He knows that Soo-in and her mother are lying about the engagement and that Soo-in's mother is planning to harm Chun-hee, and a dark expression crosses his face.
He calls Chun-hee but she's still at the hospital, where the nurse tells her that Joon-hyun is fine and has already been released. She sees the missed call from Joon-hyun, though he didn't leave a message.
Geon-woo visits Byul, bringing her candy, but Byul is smart and knows it's a bribe. She's stern as she tells him that she's keeping a firm boundary between him and Ahjussi, and she won't allow him to cross it. Geon-woo reasons that if she accepts gifts from Joon-hyun too, then that's fair, and that's all it takes to get her to take the candy, ha.
Geon-woo looks less happy as he talks with his dad, complaining that the "competition" (for Chun-hee's affection) is still on, but it feels like the other competitor has withdrawn. President Jo tells him the engagement has been postponed, and encourages him to try harder. Geon-woo grins a sly grin as he offers his dad a chance to act like "a real father."
President Jo finds Chun-hee outside her apartment and comments on how sad she looks. He offers to take her to a "fan meeting," which is pretty much just him and Geon-woo in a fancy restaurant, ha. They're adorable as they reveal that they're father and son, enjoying her reaction, and now that she knows who he is Chun-hee peppers President Jo with questions.
He tells her that her mother was his first trainee at Shine Star, and confirms that he was speaking of her when he mentioned the person who'd given up singing. He says her mother was a great singer, and that he sees her in her daughter when she performs, making Chun-hee smile her first genuine smile in days.
Alone later, she tells her mother's photo that she wants to become a great singer and asks for her help. She's unaware that Joon-hyun is outside, remembering all the times they interacted right there on those stairs. He finally gets up his nerve to ring the doorbell, and poses in exactly the same place as he did the first time he came here, with the same expression.
He goes right in when she opens the door, touched when she brings him water in his heart cup. He asks why she dropped off his guitar, and she fibs that he entrusted it to her when he was managing her. He starts to correct her that he gave it to Geon-woo, but stops himself and just denies that he'd ever have given it to her.
He fusses at her for running and making him chase her and getting them in an accident, saying that she's already not pretty but a scar would have been a lot worse. He turns on "his" fan and complains when it's broken, but when he uses the restroom he smiles to see that the bathroom rules sign is still there.
Chun-hee asks why he called her earlier, and he says he just wanted to thank her for saving him, and leaves before he can get emotional. But when he gets outside, he thinks to himself, "Thank you, Choi Chun-hee. For saving me, and for finding my guitar."
At Coach Bang's restaurant, the loan sharks complain that Soo-in has instructed Chun-hee to perform at a homeless people's event. But Chun-hee wants to do it in her father's honor, so the loan sharks adorably offer to be her backup dancers while Pil-nyeo volunteers herself and Tae-song to be her chorus. This is going to be so awesome.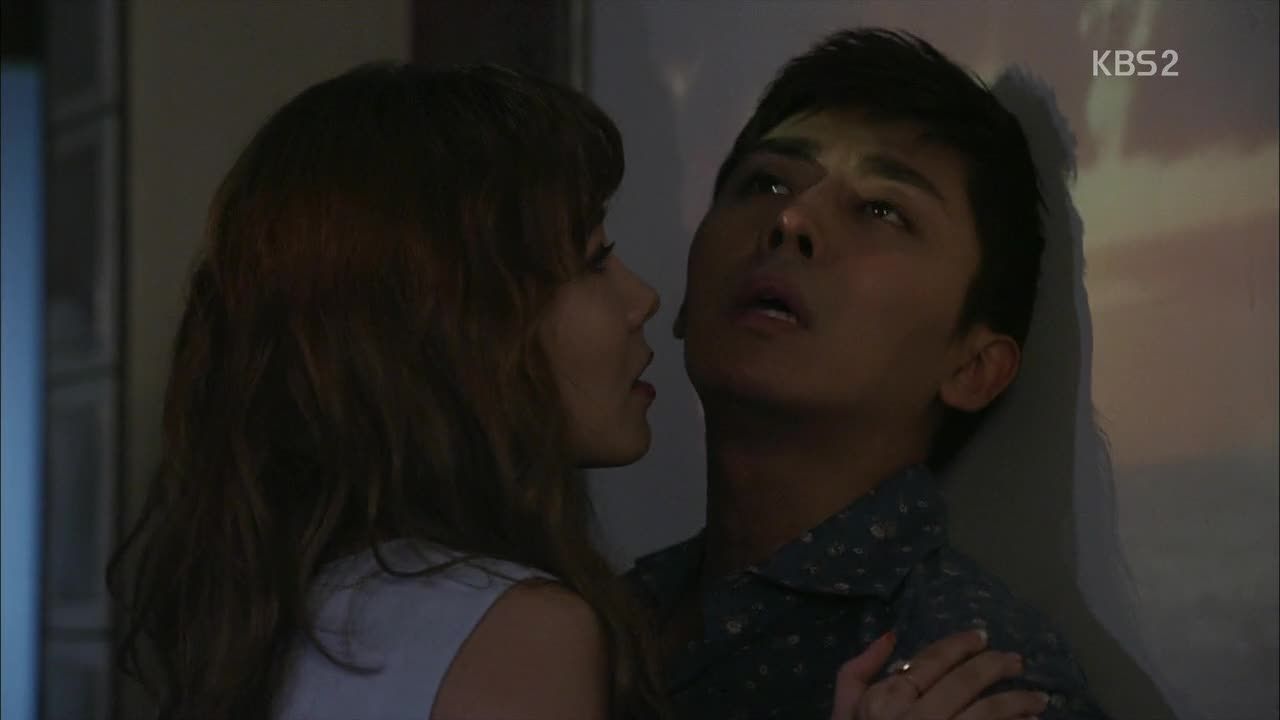 Pil-nyeo and Tae-song go to a noraebang, where she gets up close and very personal until he hollers, and she claps that he's figured out how to project his voice. I guess threatening a man's jewels is one way to motivate him to learn! She sings some trot songs to teach him the musical style, but poor Tae-song looks like he's more interested in how sexy he's just realized Pil-nyeo can be.
They all go to the event, but the people there yell at them to just let them eat in peace. Chun-hee handles it like a pro, saying that she knows how hard it is to try to make a living and asking them to let her music be a source of strength for them.
She sings "My Way" and I was right, the loan sharks in their sequined jackets dancing behind her is pretty much the best thing ever. At first the people ignore her but slowly they start to pay attention, and the lyrics even move many of them to tears. ("We can all fall down once / We can't sit down and give up now / On this road we must travel, until the day we collapse in fatigue / We get up one more time and face it head-on")
And of course, her father is there in the back, proud to bursting of his daughter. (I'm not crying, it's just raining in here.) Dad takes a call from a nurse, asking when he'd like to reschedule his surgery. He says that he won't be able to get the surgery and hangs up — I swear if it's cancer I'm going to defenestrate my computer.
Tae-song visits Joon-hyun at home and nearly dances with joy when he realizes that he's watching the video of him and Chun-hee, which means he's gotten his memory back. Hooray, Tae-song knows! Joon-hyun just dryly tells him to get on his knees, which he does immediately and starts to stammer out an apology.
Joon-hyun grabs him and demands to know what he's sorry for: handing him over to the police, or not telling him the truth about himself and Chun-hee. He asks Tae-song to keep it a secret that he's regained his memory, because if Soo-in's mother finds out it could be very bad for Chun-hee.
Soo-in finds Joon-hyun at his studio later, and he pulls her aside to talk. He asks her about the day of his accident, wanting to know why she was onstage since it was Chun-hee's concert. She quickly ad-libs that she was there to support Chun-hee as her sunbae. He says that he has a strange feeling that there's more to the story, that someone was in danger from someone else, and asks Soo-in if Chun-hee was the person being targeted.
Soo-in tries to redirect him by saying that all she can remember about that day is how much danger he was in and how worried she was, but he's not letting it go. Joon-hyun looks her dead in the eye and says that if it were someone he loves being targeted, that he would hunt them down. He says it as if Soo-in is the one he loves, but the threat is crystal clear.
Next he visits Soo-in's mother and tells her that he was curious so he visited the theater's office, only to find that the CCTV cameras conveniently weren't on at the time of the accident. He notes that his cell phone was also lost, and that he wants to look into things further. She offers to look into it for him, but he declines, saying firmly that he's going to hunt it down himself. Gauntlet thrown.
Mom finds Soo-in, who wonders if Joon-hyun's memory has returned but he's pretending it hasn't (bingo!). Mom brushes this aside and says they have to think methodically about what to do next.
Joon-hyun sits in his car waiting for Byul outside her school, and witnesses her being bullied by Bratty, who's brought in her older sister and a friend to scare Byul. The sister grabs Byul and shakes her, but suddenly she's grabbed by Joon-hyun who parrots their threats back to them.
The girls regain their cool and tell the "ahjussi" to butt out, and when he tells them to pick up the gum they spat out, they get all, "Oh yeah well who do you think you are?" He takes off his sunglasses and suddenly "ahjussi" becomes "OPPA!!!" as they fangirl all over him.
Joon-hyun tells the girls that Byul is his family, and they fawn over her and swear they weren't giving her a hard time. Bratty gets sour-faced that her revenge has backfired and her sister is now telling her to get along with Byul. Byul looks triumphant and gives Joon-hyun his usual "good job" pat on the butt.
The two of them get ice cream and Joon-hyun starts to ask Byul to keep this a secret, but says she already knows to do that. They make their adorable finger guns at each other, and I couldn't be happier that my favorite duo is back together again.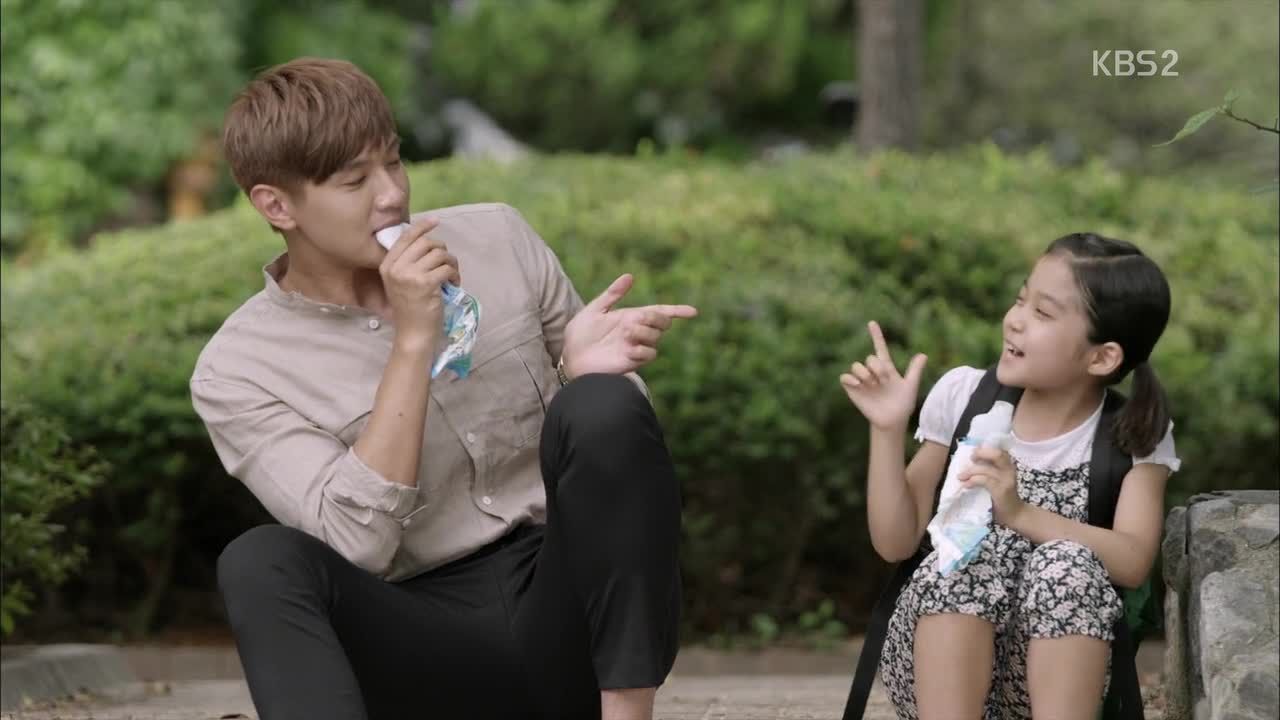 Joon-hyun goes looking for Chun-hee and Byul's father and finds him at a gosiwon, lying on the floor writhing in pain. He piggybacks him to the emergency room and when Dad wakes up later, they talk. Dad confesses that he got loans from another loan shark to pay back our loan sharks, and that when he couldn't pay them back they beat him badly. When he woke in the hospital, the doctors told him he has colon cancer and only has six months to live. (I just… I can't…)
Joon-hyun says that his father died when he was young, while he was at school, and that he regrets going to school that day. He tells Dad that Chun-hee is having a hard time because of the scandals, and asks him to go home and take care of her until Joon-hyun can come back to her.
Chun-hee finds Geon-woo and tells him that she enjoyed the volunteer concert. She says that she learned that she's happiest when she sings trot because it can help people in any situation, so she wants her next album to also be trot.
Joon-hyun furtively lets himself into Chun-hee and Byul's house, and later when they return home, things are not quite how they left them. The wobbly cabinet door is fixed, the fan works again, and Byul's broken ukulele strings have been replaced. Awww. Byul figures out the mystery but keeps it to herself, and leaves Chun-hee mystified.
Soo-in lets herself into Joon-hyun's place and frantically goes through his things, and he walks in to find her sitting on his bed wearing the MJ necklace. She chirps that she found it and knows he made it for her, but it takes him a moment to fix his facial expression and she asks what's wrong. He covers by faking her out that he was angry because he wanted to give it to her properly.
Chun-hee leaves more balloon flower tea in Joon-hyun's studio, and he finds it and regards it thoughtfully. He says to himself, "I'll drink it well," and we see that Chun-hee is still in the room, hiding behind the door. He drinks the tea and she can't hold back anymore, and she backhugs him, crying.
Joon-hyun stands frozen for a long moment, then gently removes her hands from his waist. He turns around and looks her in the eyes, then he smiles and says gently, "I'm back."
COMMENTS
Okay, so I'm prepared to take back some of the mean things I said about the show last week. I can admit I was (a little bit) wrong, and that I had a knee-jerk reaction to the use of amnesia. I still feel that amnesia was a bit of a writing cop-out, because it's just too much of an easy paint-by-numbers way to introduce conflict in a show that honestly, didn't need it. We already had more drama than we needed in what was supposed to be a rom-com about music, what with the jilted lover, her ambitious mother, the attempted murder, and the missing father. I would much prefer to have spent more time exploring Chun-hee's rise in the music business (remember that?) than spend 3 episodes watching Joon-hyun look confused, but it is what it is, and I can accept that and move past it.
Where I'll admit I reacted a little strongly is in my assumption that the amnesia served no narrative purpose. I can't claim to know why the show threw it in there, but I can at least, in hindsight, see that the way they are using it is pretty interesting and does fit into the flow of the story. By having lost his memory and been smart enough to hide it when he regained it, Joon-hyun is now in a perfect position to take down Soo-in and her mother (and Director Wang by extension) for their lying and scheming and attempted murder.
This time last week I was upset because I felt like the viewers were being manipulated into hating the three villains through artificial means because, until then, their machinations could still be explained away by their musical ambition. But you introduce attempted murder and now they're suddenly The Bad Guys, and everyone else are The Good Guys, and it leaves the characters no room to be, you know, people. At that point we have no choice but to hate them, which makes me feel like I'm being told what to feel. Which is not cool. And I still think that in part that was the intent, so I'm not letting the show off the hook for that. Bad Show, bad! ~smacks Show in the nose with a rolled-up newspaper~
The difference is that this week I do find myself appreciating that Joon-hyun now has the tools to trap Soo-in and Mom in their own lies, which he's already started doing by asking pointed questions and actually hearing, with his own ears, their lies. Until know, everything he knows was gained by hearsay and eavesdropping, but now he's starting to go after them with a purpose. I enjoyed seeing him look Soo-in and her mother in the eyes, and pinning them to the wall and watching them squirm. I hope we get a lot more of that, because Angry Joon-hyun is being pretty smart (and let's face it, kinda hot).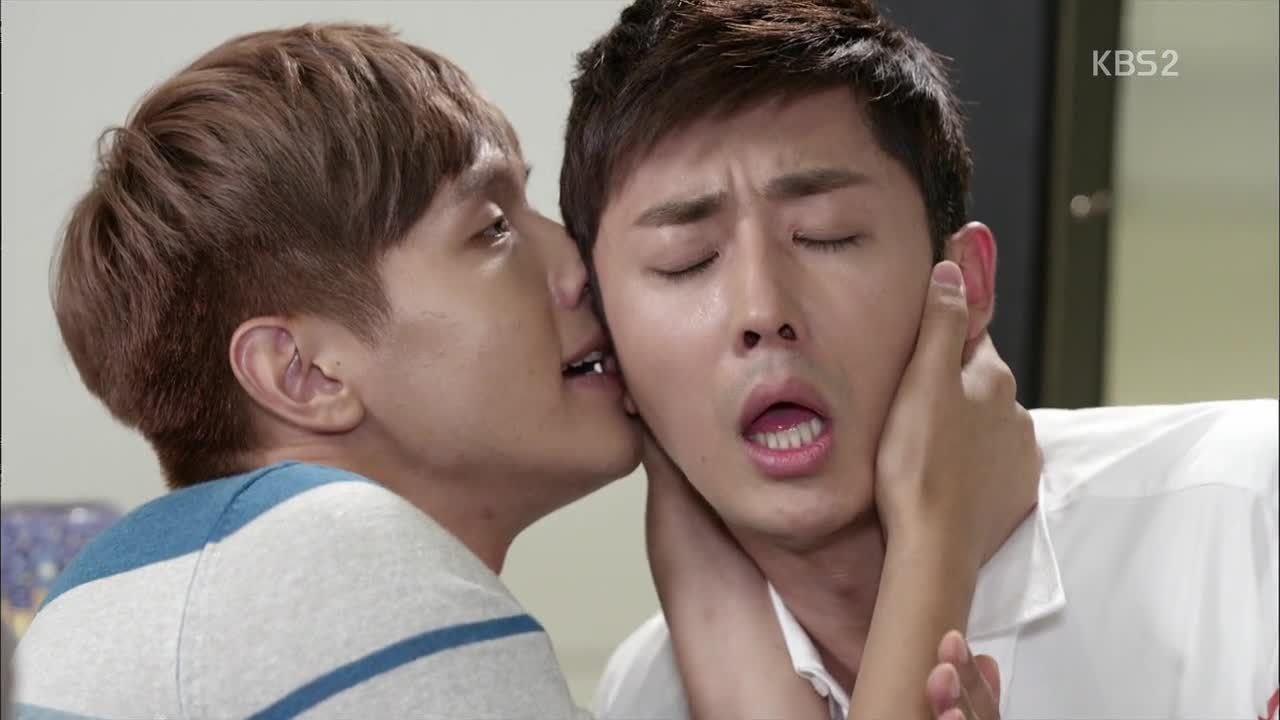 But I'm sorry to say that just when they got me to accept one drama trope as needful to the story, they threw another almost-certainly useless one at us. For one hopeful moment I thought that when Dad said he was hospitalized after being beaten, that the aforementioned surgery would be to repair some internal damage. They could have done that and it would have been just as dramatic, without playing the Parent With Cancer card. I honestly don't understand what's happening there… I know a lot of us have wondered why Dad hasn't come home yet since his debt is paid off, and I can see that the show is trying to give us an acceptable reason why that plot point has been drawn out so long. I really just don't think it needed to be cancer.
Again I'm left feeling like my emotions are being manipulated, so I'm back to being disappointed in the show. It's still cute, and still fun, and I'm still looking forward to Vengeful Joon-hyun and his big plan to take down the Big Bad. But in the end, I guess I'm always going to feel conflicted that this show, which had so much promise and everything going for it and could have been such a great show about music and the music industry, decided instead to make it all about the angst.
I do want to say before I wrap this up, and because she hasn't gotten much mention lately because the last few episodes have been all about Joon-hyun, that I think Jung Eun-ji is doing a fantastic job. I feel like her performance in the show is very emotional and real, and her singing is out of this world. I loved her in both Answer Me 1997 and That Winter, the Wind Blows, and she's by far one of my favorite idol actors. I think she has a lot of yet-untapped talent, and I see her getting better with each role. She's doing the absolute best anyone could expect with the role of Chun-hee, and more than any other actor in the show, I've found myself the most drawn into her performance. Jung Eun-ji fighting!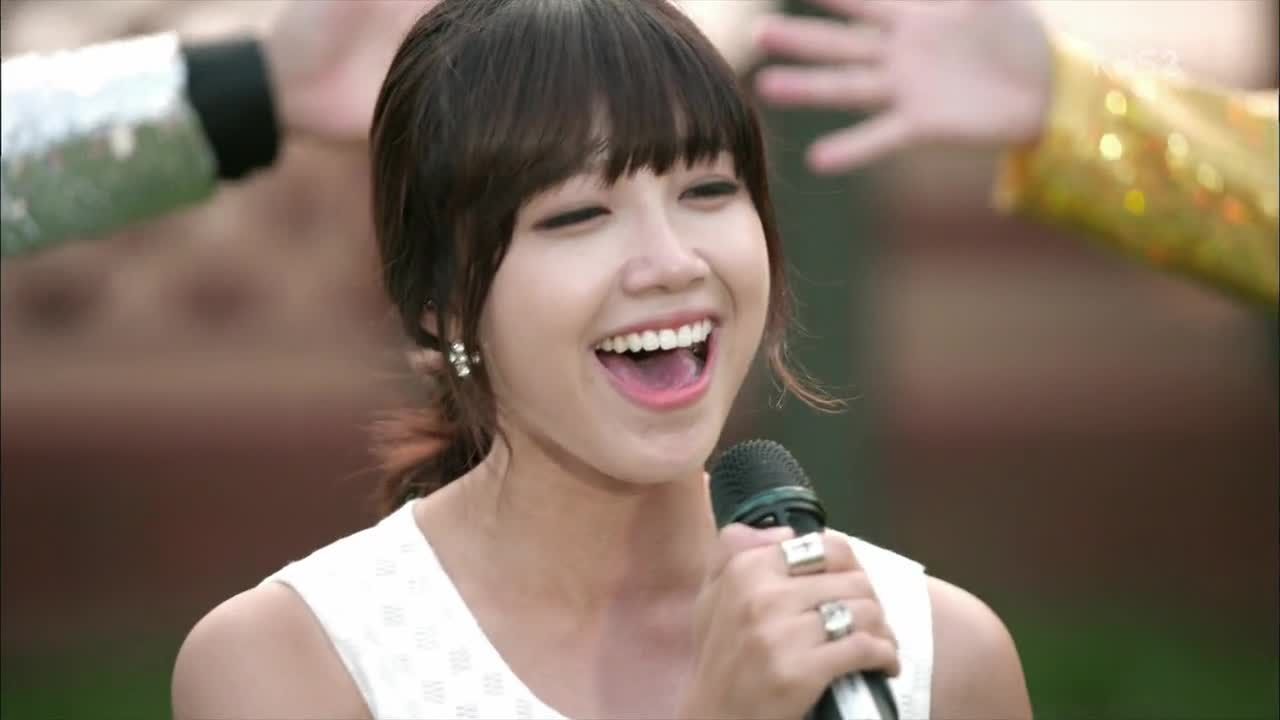 RELATED POSTS
Tags: featured, Ji Hyun-woo, Jung Eun-ji, Trot Lovers