Trot Lovers: Episode 16 (Final)
Trot Lovers wraps up its run with a finale that gives me everything I've ever wanted from this show, as it addresses the big question of "does everyone live happily ever after?" Particularly, are the sins of the Worst Parents Ever to be passed down to the children? Or is it possible to break free from a life that is shadowed by the past?
FINAL EPISODE RECAP
After Chun-hee overhears Joon-hyun's mother begging her father to not send her jail, she dazedly returns home to think things through. Joon-hyun tries calling her since she never returned for dinner, but she's lost in memories of her mother and how difficult it was for her to no longer speak or sing. Finally she picks up the phone, and apologizes for not answering sooner. She makes the excuse that her father was sick so that's why she had to leave early.
Joon-hyun's mother arrives at his apartment, distraught and possibly a little drunk. She begs him to call off the wedding, giving the reasoning that Chun-hee's unsuitable and her family would be a burden for Joon-hyun.
The next day Joon-hyun reassures Chun-hee that no matter what his mother says, he'll convince her to approve of their marriage. When he notes her solemn expression, she asks if he wants to go somewhere fun.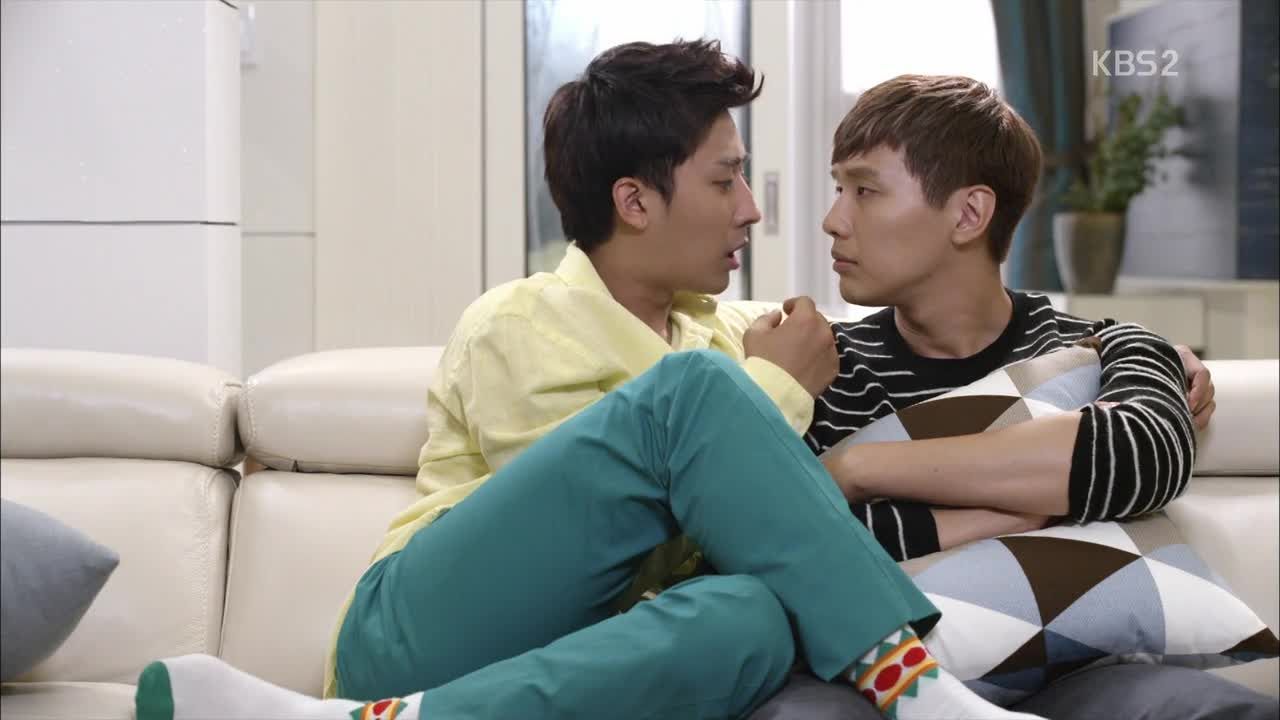 As he's packing for their camping trip, Tae-song expresses his jealousy about going on vacation — and gives his advice on how to woo the ladies. Funny how his advice sounds exactly like how he was seduced by Pil-nyeo.
The couple enjoy a pleasant day outdoors in the wilderness, and after dinner, they enjoy a pleasant time around the campfire. It's clear that Joon-hyun has some snuggling on the mind as he serenades her with his version of 10cm's "Tonight I'm Afraid of the Dark."
But Chun-hee has her own reasons for going on this little vacation. She tells him that the real reason she left early for dinner was that their parents were arguing loudly. She doesn't say what exactly they were arguing about, though she indicates that it was pretty serious and says that she could deduce that they had met before.
Surprised to discover her father and his mother knew each other previously, Joon-hyun is perceptive enough to know that Chun-hee knows more than she's letting on. After she admits that it's hard to talk about, he gently promises he'll find out more about it.
As he makes his way home, he runs into Yang Joo-hee apparently waiting for him in the lobby of the apartment building. She immediately accuses him of lying about his memory returning, but he spins it back on her, asking how long she expecting him to believe all the lies she told him. After all, she and Soo-in were the first ones to deceive — not him.
He tells her that the reason Soo-in turned out the way she did isn't anyone's fault but her mother's. She put all the pressure on her daughter to be first place. But she shouts that she's only ever looked out for Soo-in, and he's still the one to blame because everything he did to look out for Chun-hee brought Soo-in to this point.
Joon-hyun threatens that Yang Joo-hee had better watch what she says about Chun-hee, because he's going to marry her. But she scoffs at the idea of their marriage, because she knows something he doesn't — the hit-and-run driver responsible for Chun-hee's mother's accident was his own mother.
His voice gets dangerously low as he warns her to stop being so careless with her lies. She smirks as she challenges him to find out the truth by asking his mother what really happened.
He storms upstairs and wastes no time confronting his mother. She denies that she knew Chun-hee's parents, but he grabs her by the shoulders and begs her to look in his eyes and tell him the truth: Was she the one responsible for Chun-hee's mother's hit-and-run?
She drunkenly and tearfully protests that it wasn't like that — she wanted to take Chun-hee's mother to the hospital right away. He looks like he's just taken a punch to the gut, and rushes out of the apartment as his mother tearfully calls after him.
Outside of Chun-hee's house, Joon-hyun takes a moment to send her a text, asking if she's sleeping. He's still reeling as he messages her to meet him tomorrow.
The next day, with tears in his eyes, he asks her if they should take some time off to think. She's surprised by this until he says that his mom told him everything, and in these kind of circumstances, they might not be happy if they're together. They both struggle not to cry as Joon-hyun says it must have been hard on her, and promises he'll take the blame for the break-up. Oof, my tears.
Meanwhile Pil-nyeo is happy to working at Coach Bang's restaurant with her boyfriend, until she finds his phone and discovers that the "Oh My Goddess" saved on it is not her phone number, but Coach Bang's. Instead, she's saved as "Silly Nag."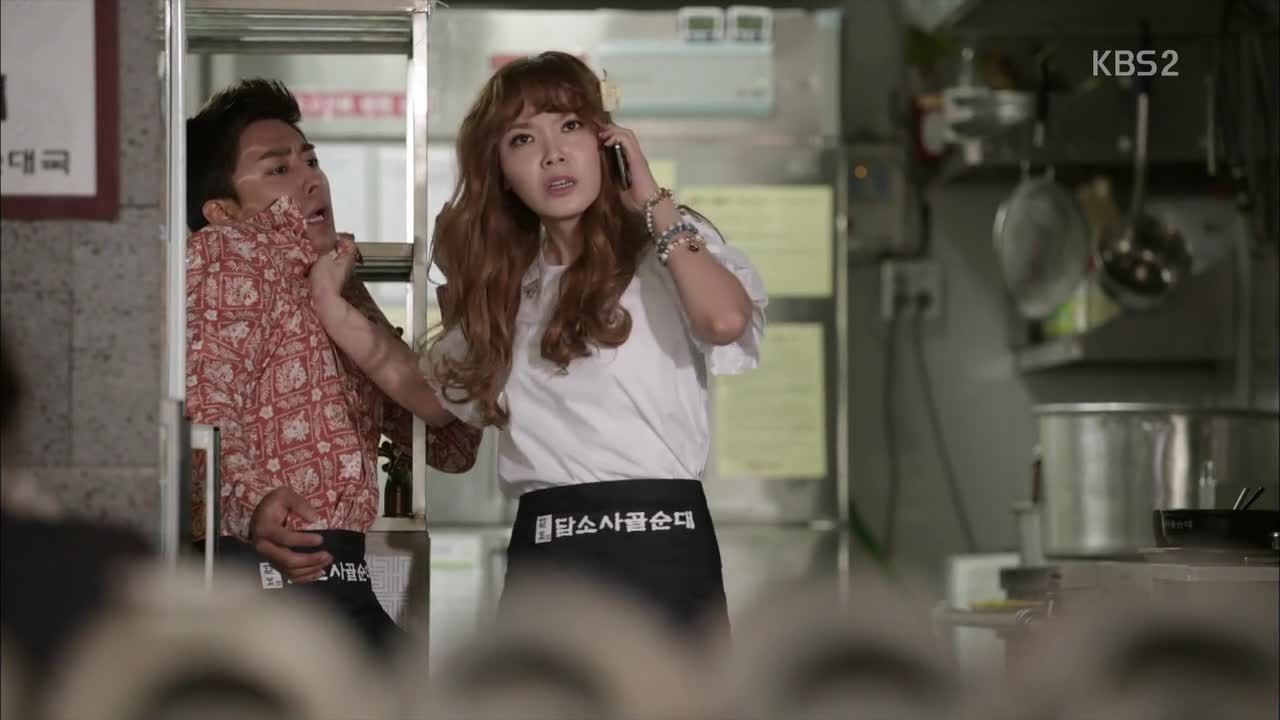 She shoves an unsuspecting Tae-song up against the wall and demands to know why she's the nag and Coach Bang's the goddess. But before he can formulate a defense, he's saved by her phone ringing — it's an offer for a recording contract, based on the song they uploaded.
Geon-woo meets with his father, who notes that Chun-hee made it to the final round of "Voice of Trot." When Geon-woo says that Shine Star will support her, his father assumes that he's just doing it for another shot at wooing her.
President Jo gets a good laugh at Geon-woo's insistence that he's supporting her strictly for business reasons. Besides, Joon-hyun is the real Shine Star headache right now, since he prefers to stay home instead of going to his scheduled performances.
Watching her father sleep, Chun-hee quietly tells him how nervous she is to be going to the finals tomorrow. It used to be comforting because Joon-hyun was by her side, but now that he's not, it's hard. Her father is awake, but pretends to still be asleep as he hears his daughter sadly admit how much she misses Joon-hyun.
At the "Voice of Trot" final competition, Chun-hee explains that she chose her song because it reminded her of how exciting, sad, difficult, and happy it was for her when she started performing trot. As she sings Ryu Kye-young's "Life," Tae-song marvels at the mysterious MJ on the radio (and is convinced it was a good thing he failed making it to the finals, ha). But Joon-hyun recognizes her voice and smiles to himself.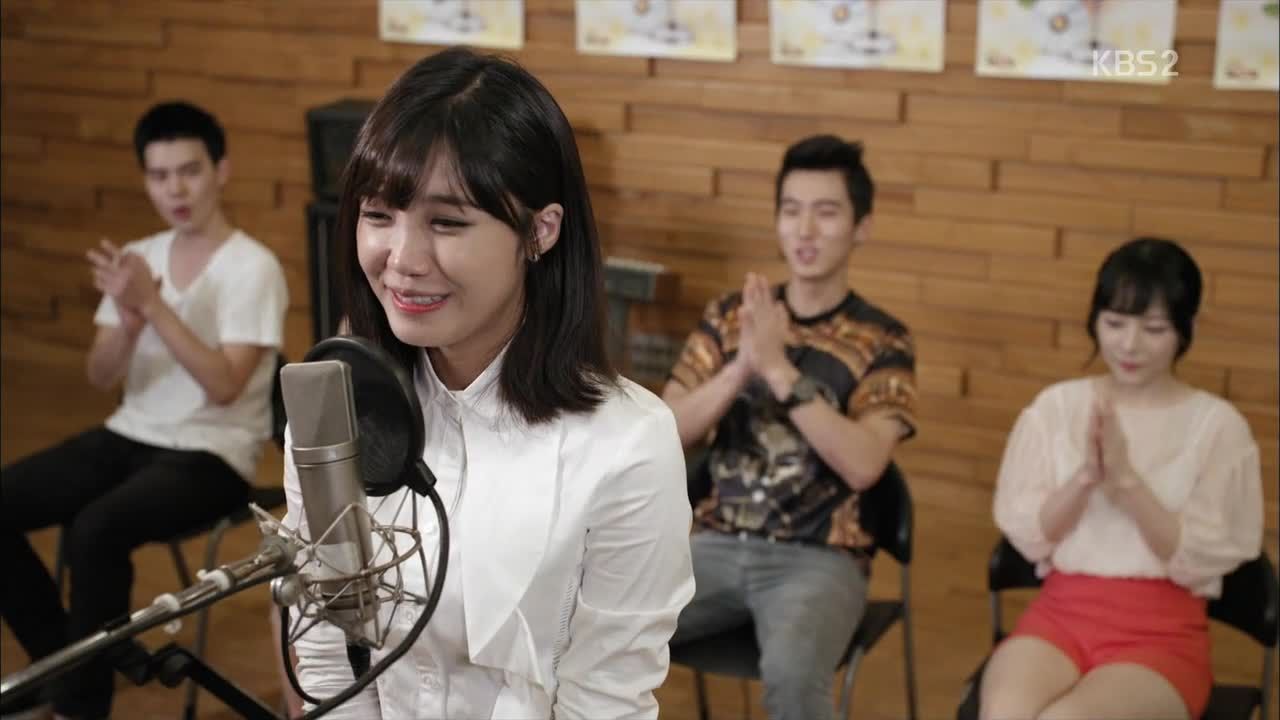 The "Voice of Trot" winner is declared — it's Chun-hee! She's probably more surprised than anyone else, and hesitatingly steps back up to the microphone. The radio announcer happily reveals that MJ is none other than the trot singer Choi Chun-hee.
As the radio announcer reads off various messages from listeners about how her music has made their lives better, we get flashbacks of all those moments when Chun-hee performed her trot music in the marketplace and to the hurting people she met in her journey to become a singer. There's an outpouring of gratitude and affection for how Chun-hee's music has touched so many lives and made them better, and she returns home, beaming with pride and joy.
Her father is surrounded by local ahjussis and ahjummas who are so thankful for his daughter's gift of song and share their congratulations for her win with an outpouring of gifts. She performs an impromptu encore for everyone, her smile brighter than it's been for some time.
Joon-hyun quietly looks on at everyone enjoying her performance, clapping and cheering along. She notices him standing there, but just watches him walk away. Taking courage from her example, he promises to himself that he will live the life that's true to himself. He tells his mother that they should move to the U.S. since he got an offer to work with a record company out there.
Chun-hee's father finally meets with President Jo, who admits he's regretted how the accident was handled. But Dad is surprised to learn that there may be more to the story, as President Jo informs him that Yang Joo-hee was the one behind the Creeper Assemblyman scandal.
Meanwhile, Yang Joo-hee is freaking out because she has no idea where Soo-in has run off to. She's desperate to find her daughter before the police can, but when Director Wang asks if any of her friends might know where she is, Yang Joo-hee realizes that her daughter doesn't have any friends.
Enjoying a moment of peace and solitude (and freedom, no doubt), Soo-in relaxes at her secret hideaway. She convinces Geon-woo to go meet her for a brunch of spicy rice cakes, fish cakes, and all those treats she never was able to try when she was a teenager. Geon-woo is happy to enjoy the experience because it's new to him, too, and teasingly plays along when the snack shop ahjumma says they look like lovers out on a date.
But Soo-in quickly straightens her out, saying he's the company president — and so the snack shop ahjumma convinces him to spend more money, ha! He's happy to do so, but Soo-in's the one who ends up with the bill when she insists that instead of a credit card (so her mother can't find her), they have to use cash (which he doesn't have, of course).
Geon-woo is envious that Soo-in spent the last two days doing all the the things she never got to do, like read comics and sleep and eat snack food. She wonders what it was she worked so hard for that she never got to enjoy these small moments before.
As they reach a (literal) fork in the road, she tells them that she must go on without him. He jokes around like she means just for today and promises that when she's free again, he'll pay for the spicy rice cakes. But his face gets serious as he watches her walk away.
Soo-in's mother finally is able to track down where her daughter is staying, but too late — Soo-in sends her a message that she's going to turn herself in. To make matters worse, Yang Joo-hee is stopped by Chun-hee's father, who wants to confirm details about his wife's accident. She tries to blow him off, but he knows she was the other person riding in the car with Joon-hyun's mother.
Finally she admits that he's right — she's the one who was responsible for leaving his wife on the street. She did it because she wished Chun-hee's mother would just disappear — she was just as talented but was always second best next to Chun-hee's mother.
Hysterical, she defends herself by saying that it's not like she actually killed her. But Dad angrily grabs her by the arms, saying taking away a singer's voice is just like murder. She shoves him away from her, and he collapses on the ground while she drives away.
Too late, though — Soo-in's already turned herself in. Her mother still frantically tries to take the blame for it, but Soo-in calmly tells her it's all over as the detectives lead her away.
Chun-hee is prepping the dressing room for the "Voice of Trot" televised concert, and Joon-hyun arrives because he's a guest performer. Everyone thinks they're still dating, but their interactions with each other are stilted and distant. As they're preparing to go onstage, Chun-hee gets a call from the hospital — her father has to have surgery immediately.
She and Joon-hyun rush to the hospital, where her father is prepped for surgery. He surprised to see her since she has her concert, and she tearfully asks him why she didn't tell her he was sick. Promising to return as soon as her performance is over, so he must endure it and still be there when she gets back.
Chun-hee's support crew of Coach Bang, Pil-nyeo, and Tae-song are there to to stay at the hospital in her stead. Joon-hyun promises to stay to see her father into the operating room, since he doesn't have to perform until later. With one last glance at her father, she leaves for the concert hall.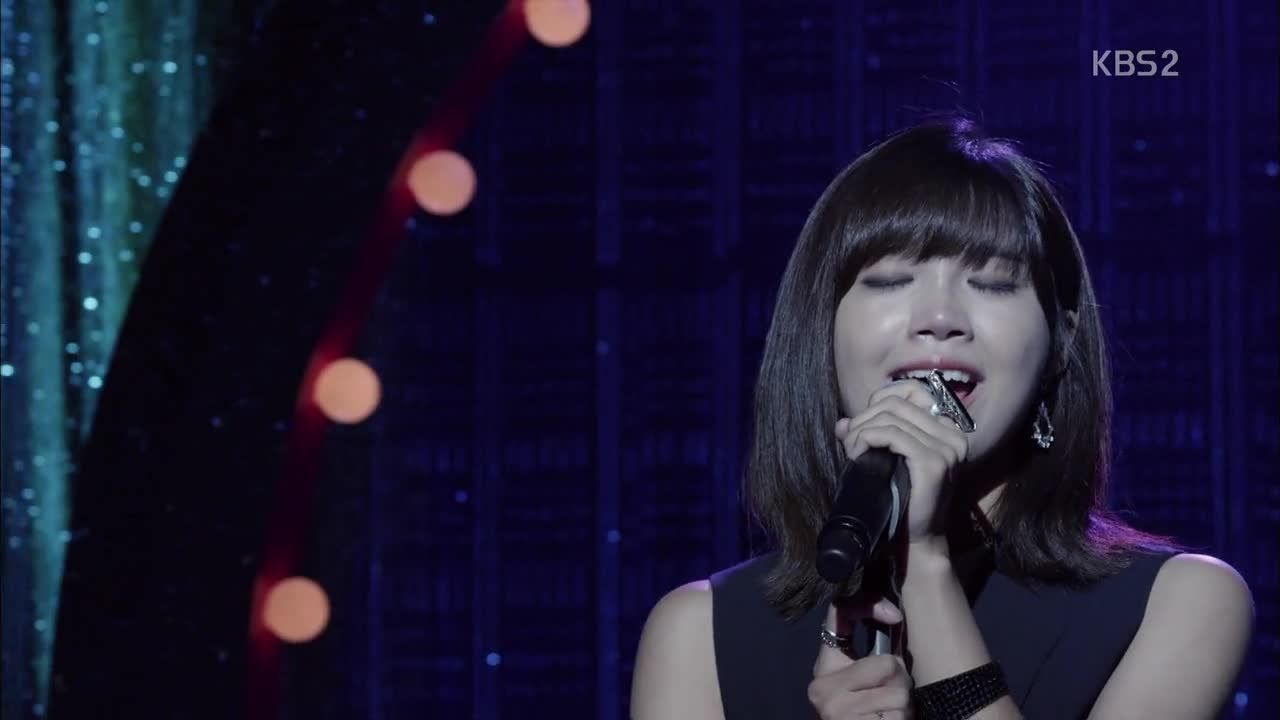 She barely arrives barely in time for her scheduled performance, despite her faithful ex-loan-shark manager ahjussis finagling for some understanding from the PDs. Immediately walking out onto the stage, she sings an emotional and powerful version of "Life," as her father is operated on, and we see flashbacks from all the cute and heartfelt moments between her and Joon-hyun.
As soon as she can, she returns to the hospital, where her father tells her that it's going to be okay. Joon-hyun watches as Chun-hee cries tears of relief.
Yang Joo-hee visits Soo-in at the prison, still determined to find a way to clear her name. But Soo-in is no longer a child — even though she's felt like her mother was the one who ruined her life, she now thinks she's the one who's responsible for ruining her mother's life. She tells her mother not to worry about her — she's no longer a child, and needs to take care of her own life: "I'm sorry, Mom."
Dazed and defeated, Soo-in's mother leaves the jail, only to be greeted by a worried Director Wang who informs her that Creeper Assemblyman is suing her for defamation, and all the bribes she's given are under investigation, too. Two detectives arrive with her arrest warrant — looks like she'll be joining her daughter soon enough.
Chun-hee tends to her father as he heals post-surgery, and he sincerely tells her to leave the past in the past. What makes her happy right now is more important than anything that happened to him and her mother back then.
When they return to his hospital room, they find Joon-hyun's mother waiting for them. She gets on her knees and apologizes for what happened back then. When Chun-hee steps out to give them some privacy, she sees Joon-hyun waiting. They're both glad that their parents are working out the guilt of the past, but Joon-hyun says that he still thinks they need more time.
She's surprised to learn that he's going to the U.S., and he's not sure how long he'll be gone. Worried that it's because of her, he reminds her that he's the "God of Music" and there's a long line of record producers who want work with him.
In his egotistical way, he counsels her to keep working hard — if she wants to date a superstar "God of Music," she'll at least need to become the "Queen of Trot." But his expression softens when he admits that she won't be waiting — he's the one who will be waiting for her.
One Year Later
The loan-shark ahjussis are busy at work in their role of managers for Pil-nyeo and Tae-song as they gather up copies of the couple's CD to put on the top shelf.
Pil-nyeo waltzes in like she's a top star, and Tae-song (who carries her purse, ha!) is embarrassed at all the looks they get — not because anyone recognizes them, but because of her unnecessary hat and sunglasses. And two of them are also the couple are expecting a baby!
Geon-woo and Chun-hee shop for groceries, and he's like a little kid pointing out all the delicious things he wants, but she's too focused on showing him how to be frugal and buy only what's on sale. To show his gratitude, he promises to send a special gift to the homeless shelter.
Joon-hyun returns to Korea, now a "top star" with his pretty agent on his arm. Since the two are always together, there's rumor of a dating scandal. Byul is surprised to see "that ahjussi" on the news, and when the doorbell rings, Dad is surprised to see who's at the door (but we don't get to see who it is, darn it!).
As Chun-hee enters her dressing room, she's surprised to see Soo-in (whom she still greets as "sunbae"). She avoids Chun-hee's friendly attempt at a handshake by admitting that she didn't like Chun-hee, and still doesn't like her all that much. But then she clasps Chun-hee's hand in hers: "I'm sorry."
Thanking Chun-hee for taking leniency in her case, she asks if it's possible for for Chun-hee to forgive her mother, too, even offering to apologize in her place. When Chun-hee doesn't answer, Soo-in changes direction and reminds her that she's returning to the stage, so Chun-hee will have some competition once again. But this time, Soo-in is determined to succeed strictly based on her talent. Aw, and Chun-hee cheers her on with a "fighting!"
Now that Joon-hyun has returned to Korea, Geon-woo says that he'll be working with Shine Star again. The two have a moment of bickering bromance until Geon-woo gets serious and says that there's some place Joon-hyun needs to go with him today.
As the ex-loan-shark manager ashjussis help Coach Bang serve food to the homeless as part of Shine Star's charity event, Chun-hee, now aware that Joon-hyun is back in town, sighs at the fact he never contacted her for a year. But surprise!
He wraps his arms around her in a back hug: "I'm back." She spins around and they just stare silently at each other, goofy grins on their faces.
Byul and Geon-woo are incredibly pleased about their secret plan for Joon-hyun and Chun-hee's reunion. Before disappearing down the hallway of rejected second leads, Geon-woo turns back to give Byul (and the rest of us) a good-bye wave. Byul finishes the story she and Chun-hee started: "And this is how Dad, Unnie, Ahjusshi, and Byul lived happily after. The End!"
COMMENTS
Aw, what a sweet and perfect ending for this show! I actually enjoyed this ending more than I thought I would — then again, it was as if the writers had heard my pleas and put everything that I've loved (and begged for) in one neat final package. It's the perfect parting gift — a happy memory of a drama that definitely seemed to lose its way in the latter third.
I think I loved this ending because it reminded me of the way it started — fun and ridiculous and chock-full of quirky characters that you didn't know quite what to do with, but you loved anyway. Considering everything that went before it, I will cheerfully cling to the fact that everyone lived happily ever after. Well, most everyone. Here's hoping Soo-in's mother will continue to rot in jail for a long time. Oh, and that Geon-woo will find some quirky new girl who will bemuse and fascinate him forever and ever (I'm sure there are plenty here who would volunteer!).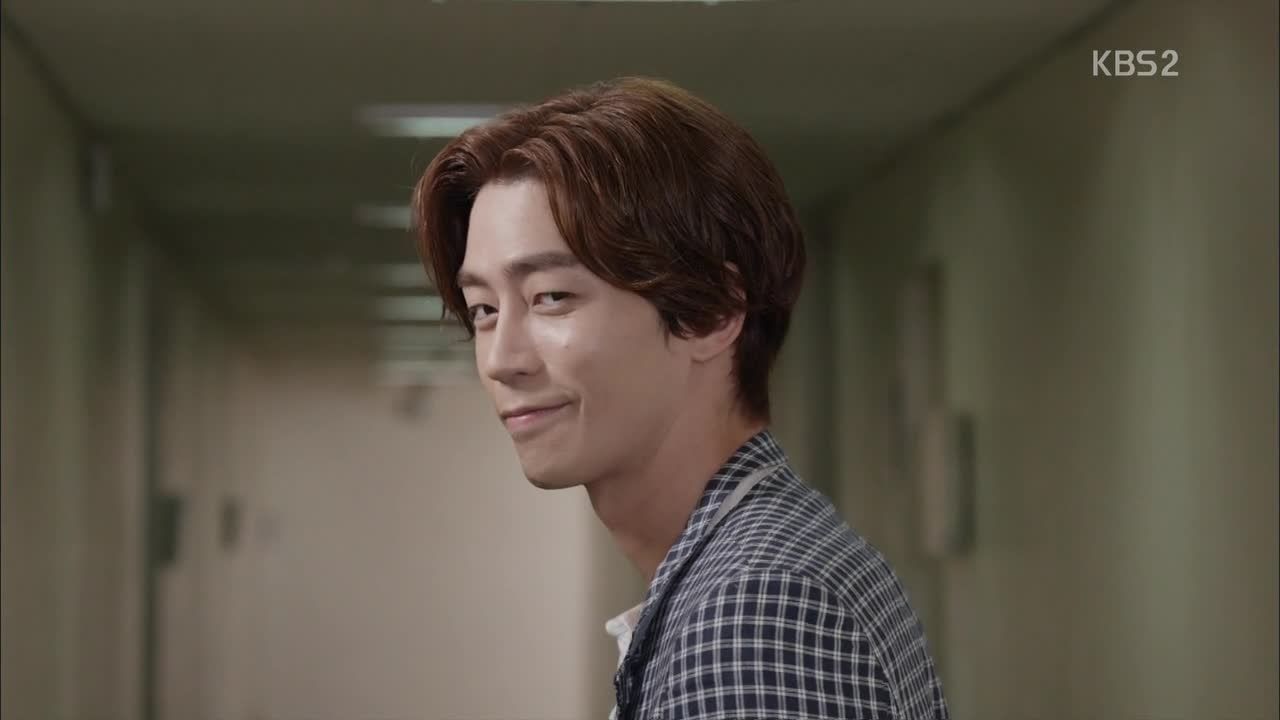 True, the ending was a little too neat, perhaps; Soo-in's redemption could give you whiplash (even though I was pleased, because I always had hoped she would finally break away from her mother — even if she had to go to jail to do it). It did seem almost miraculous how Chun-hee went from the scandal queen to suddenly beloved by all. But I did appreciate that, when everything was stripped away and it was just her, her voice, and her heart opened in song, she was flooded by reminders of all the lives she's touched. When the underlying need to sing for someone else (be it for money or for her father to return) was stripped away, she finally was able to understand just how much her songs meant to other people.
This is why I'm disappointed that we only briefly dealt with the impact of her mother. Admittedly, it was only until the previous episode that I began to realize her mother didn't die in the car accident, but instead lost her voice. Maybe I wasn't paying close enough attention, but I would have appreciated it if the writers had made it clearer earlier what impact that made on her mother's life. I would have happily gotten rid of the amnesia if it meant her father returning home sooner and the two of them struggling through the knowledge that Joon-hyun's mother was (seemingly) responsible for the accident. Watching her father deal with the guilt of letting his daughter sing after his wife couldn't, would have been so fascinating and compelling.
Thanks to everyone who stuck with this drama until the end (there are some of you left, aren't there?). This show may have become a forgettable bit of fluff, but I did manage to appreciate it for what it was. Most importantly, I've learned that if Eun-ji ever decides to release a trot album, I'll be the first in line to buy it.
RELATED POSTS
Tags: featured, Ji Hyun-woo, Jung Eun-ji, Trot Lovers