Youths Over Flowers: Episode 3
girlfriday: We catch up to the boys in the aftermath of being abandoned by the entire crew in the middle of the night. Hee-yeol says he saw the letter and expected it to be a gift, and thought to himself, "Young-seokie [Na PD] isn't such a bad kid." Then we cut to Na PD sneaking away with the staff and the caption reads: "Young-seokie is that bad a kid."
javabeans: The crew head over to stake out their lookout points just outside the hostel, setting up surveillance teams in the vicinity because Na PD can't actually let his cast go wild without checking in on them, can he?
girlfriday: It cracks me up that he's the one who can't handle being away, because he's dying of curiosity.
javabeans: His staffers huff and puff their way up this mountain of sand to reach their spying point, and I swear there's this feeling of "serves you right" mixed in. No sympathy for that kind of suffering! Ha, then you pan over and Na PD is on the roof of the next-door building like someone in a spy movie.
girlfriday: It turns out Na PD was right to be paranoid though, because the spy camera spots the boys sitting on the patio outside the hostel… and they have no cameras in their hands.
javabeans: They talk for a while, and then Hee-yeol goes back inside and comes out with a camera in his hands. Cut to an interview later where Juck says that they seriously considered not filming anything, but Hee-yeol was the one who pointed out that this is the first program their PD (the one in charge who isn't Na PD) is doing after switching stations, so they couldn't do that to her. Awww. How fitting that the production uses Hee-yeol's song "Good Person" to score the moment, too.
girlfriday: That's sweet. Shin PD used to do Sketchbook, which is why he feels personally responsible for her failure if he doesn't shoot anything. They totally would've gone through with the mutiny if it were only Na PD, maybe at least for half a day.
javabeans: The crew VJ zooms in on the three guys eating breakfast, and goes close on Hee-yeol, who's filming on his handheld. And then his camera briefly pans over them, which makes them gulp for a second that they've been caught. Luckily it's a false alarm. Although now I really really want the crew to be caught.
girlfriday: I know, wouldn't it suck the wind right out of their sails?
javabeans: Watching them film, though, it really was smart of Na PD to have a secret backup film reel because these guys just shoot for a few minutes, put the camera down, eat eat eat, film a few more minutes, eat some more… If they had to cobble together a narrative out of that they might have really had trouble.
girlfriday: You'd think they'd at least keep the camera on the whole time, but they don't seem very interested in being good VJs.
javabeans: I love the silent film that Na PD constructs out of the soundless footage, because Juck totally talks with his hands and it's hilarious.
girlfriday: It almost seems made up, but it might be because he's communicating in English (I imagine) so he's basically illustrating the whole conversation like a mime. They should just shoot them with the spycams all day.
javabeans: Except now I want another team filming the team filming the cast.
girlfriday: There's this hilarious dramatic turn when the spycam spots Hee-yeol and Juck venturing out without Sang, and when they buy a pair of matching hats, they're all, …Without SANG?!
javabeans: Lol, they're totally creating drama out of what is probably very boring. Somehow I'm not surprised that Na PD is a drama queen.
girlfriday: Right? He's probably on the toilet!
javabeans: And then they show a producer talking to a stony-faced Na PD and saying, "Omg, he disappeared!" Haha, then we see the producers' text exchanges, which are all alarmist. "I don't see Yoon Sang!" "Where is Yoon Sang?!"
girlfriday: Hee, the panicked texts are so great. It takes all of two minutes for Na PD to start jumping to conclusions: "What… what happened? Did they fight?"
javabeans: We skip ahead to later to find out what this whole deal was about. The guys hear what Na PD had been worried about and burst out laughing, and Hee-yeol declares, "That's when he pooped!"
girlfriday: See! I told you so! Na PD worrying about that for ten hours is pretty priceless though.
javabeans: Then we jump back to the footage the guys shot, where Sang asks the other two to leave so he can try pooping in peace. Lol. So the opposite of Na PD's dramatic flights of fancy. The crew was all, "Omg, they ditched Sang for 15 minutes." And then we see Sang asking, "Please leave for 15 minutes."
girlfriday: They head off to their next destination, and Na PD follows in the van so close that when Juck films from the front seat of the cab you can see the staff van right on their tail. They don't seem to notice though, and get their bus tickets for the journey.
javabeans: They arrive in Nasca and make arrangements to go up in a small plane to look at the lines in the desert. The crew's footage is so close that at this point I'm amazed that the guys keep missing seeing their spies. Seriously, they're right there!
girlfriday: And then hilariously, the boys get taken to the hotel where the crew is staying. Suddenly they start freaking out in the van: "That's not… our hotel is it? Wait, they're going into our hotel! Call them! Stop them!" Panicked texts go out to the crew: "Hide!" A few seconds go by, and then a staffer comes running out looking horrified. Were they caught?
javabeans: The caption asks: "Where did things go wrong for our producers?" and we rewind footage to when the guys arrived in Nasca. Ha, so apparently the producers saw the guys being led by a man carrying a pamphlet for that airplane ride out to the lines, and assumed that's where the guys were going.
girlfriday: It just so happens that the tour guide's office operates out of that very hotel, which is where they get taken. What a crazy coincidence.
javabeans: Omg, this is hilarious. You see from the guys' camera's POV as the enter the hotel and see a staffer hiding (very badly) on the sofa, and another one trying to hide in the open lobby. She actually takes a running leap over a sofa while they're growling, "Get over here, you poor excuses for humans!"
girlfriday: Hee-yeol says in a later interview that he felt betrayed because when they walked in at first, he was thinking to himself how nice it would be to stay one night in a place like this… and then there was their head writer lying on the couch like he was on vacation.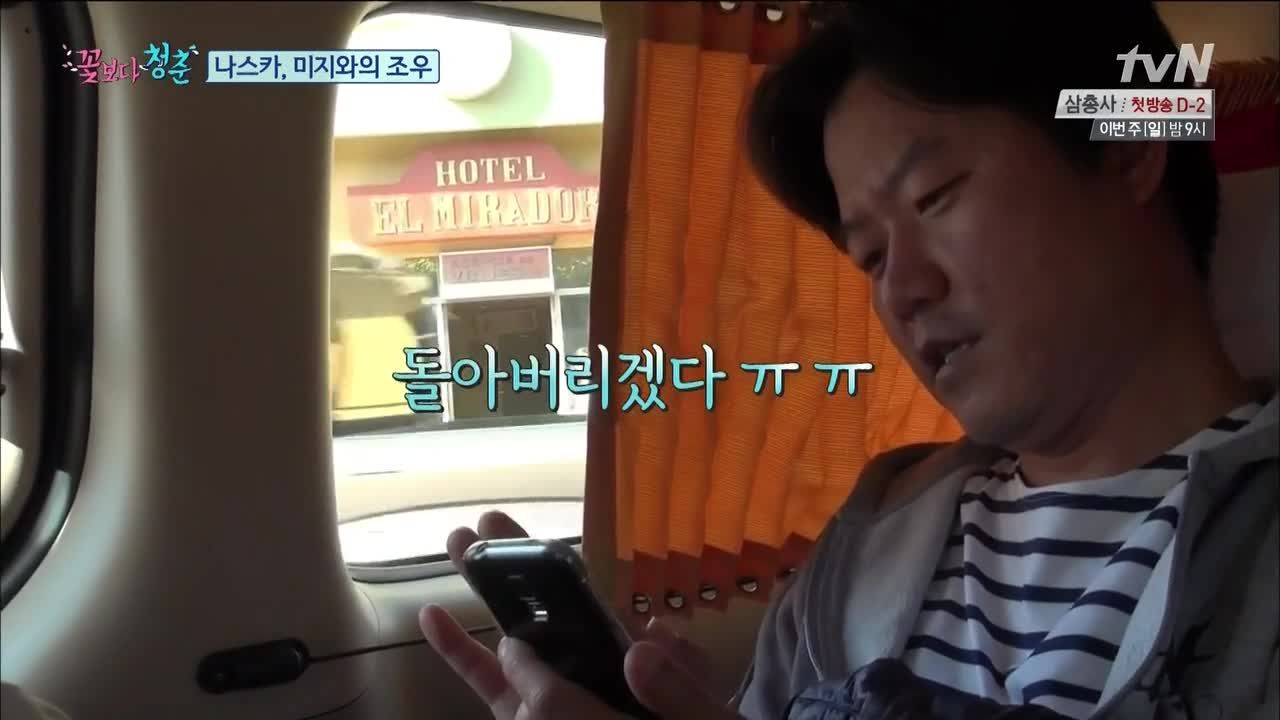 javabeans: I love the camera on Na PD's face as he reads the staff texts: "Oh no." "We were caught in the lobby." "ㅠㅠ" There's this whole montage showing the staff's elaborate prep for this stunt, asking basically, Why did we go through all this? Annnnnd…. no sympathy. This stunt was totally worth it, but not for the reason they prepared.
girlfriday: I like it best when things backfire on Na PD. He deflates and chuckles to himself in the van: "Hee-yeol hyung must be feeling such glee [hee-yeol] right now."
javabeans: Later, they get asked what their favorite part of the day was. Juck: "Catching you guys here."
girlfriday: Now that they've reunited with the crew (after only a few hours apart, heh) they head into the desert for their plane tour. We rewind to a few days before when they were talking about the itinerary, and Sang objects to the flight outright. Hee-yeol just puts his foot down and says they all have to do it.
javabeans: It's sweet how Hee-yeol does it thinking of his hyung, saying that he was afraid Sang would regret not doing it, so he wanted them to push through and do it while they could. And it's not like Sang doesn't know this, because he says he'd like to tell his kids about it, even as he looks terrified at the idea of going up in the plane. Hee-yeol films Sang and asks him to send some words to his wife, like it's his last message before dying, and cracks up through the whole thing.
girlfriday: Once you see the plane and how tiny it is, you sort of get why he might be scared. Though really I think Sang is just afraid of trying most things. That's why it's extra touching when he's having a great time in the air, and when he talks about how happy he is afterwards, that he gets to go home and tell his kids about the cool things he did.
javabeans: I love his line about how it's utterly uninteresting for him to be all, "Hey wait till you see this awesome rhythm kick in this new model instrument," but now he can take them to a really interesting place he saw.
girlfriday: He says this trip is giving him the confidence to be the kind of dad he wants to be, which pretty much makes me want to cry.
javabeans: And he didn't even throw up once in the plane! It's cute how they pointed out that Sang was the one most excited to get on the plane (walking ahead of everyone to get on it), and after they land he's the one most excited about having gone. Seriously they're all hopped up on glee afterward, it's infectious. They're just short of doing cartwheels in the yard.
girlfriday: Then they walk down the street and eat everything in sight, stopping at all of the food stands they come across.
javabeans: Great, now I'm starving. They should shoot food commercials—they make everything look like the best thing ever.
girlfriday: But they'd have to look as ragged as they do now, otherwise you lose the ravenous hunger appeal.
javabeans: They decide to rest in the park, at which point a familiar figure makes his appearance and gives a full 90-degree bow before approaching with a sheepish face. Ha. I bet you it took all those hours for Na PD to go from his initial panic and glowering dark mood to this humble version.
girlfriday: Sang starts talking up the plane tour in this adorably proud way, and Hee-yeol stands behind him grinning so hard because he thinks it's cute. I love it. They stop to buy Sang a popsicle and tease him for being a kid, and then the captions turn ominous as they tell him to savor this moment of happiness…
javabeans: Oh no. I don't even know what the problem is but my stomach just dropped.
girlfriday: Instead of going to the hotel, they go straight to the bus depot and buy tickets for their next destination. A quick flash-forward shows us that this is the beginning of their 16 hours of hell trapped on a bus. That… is a looooong bus ride. I'm trying to think of something that might be worse, but I can't come up with anything.
javabeans: That is a nightmare. I hope Na PD's on that bus.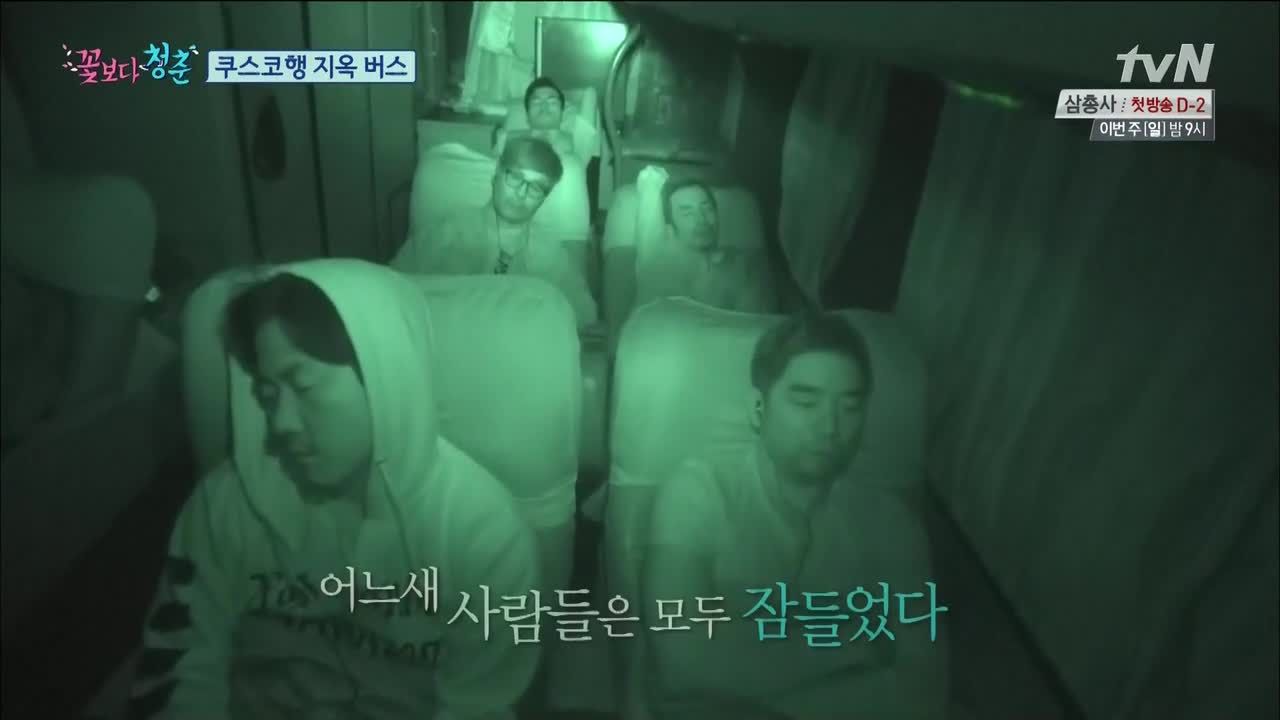 girlfriday: He is, which at least makes their suffering communal. Ha, once they get in their seats the bus attendant comes by and asks, "Comida [food]?" and they're all, "Korean? Yes we're Korean." Juck: "No he's saying we're flower boys [kkot minam]." Pfffffft.
javabeans: Lol. At least it gives us a funny montage of the three of them being the ugliest flower boys ever, catching them at all their least attractive moments, making funny faces and whatnot. Then they get food trays and realize that comida must mean food and are, at least, retroactively embarrassed.
girlfriday: Na PD didn't know what it meant either, but delights in rubbing it in.
javabeans: They ride out the long, painful night in their bus seats, and finally light dawns… only then you see that they have seven hours left and it's like an extra blow.
girlfriday: I feel such sympathy pains watching them fidget restlessly in those seats. And the map shows us that the worst is yet to come as they approach the most winding set of mountain roads. They make their way up, up, up, and then suddenly the bus comes to a full stop. They get out and find a row of cars and buses… and discover that no one can pass during road construction for another two hours.
javabeans: It'll be at least two hours until they can move, so the guys decide to wade into the nearby stream. Sang isn't feeling well and fighting some headaches and pains, while the other two play in the water like kids. Hee-yeol slips and falls into the water, which is worth a replay.
girlfriday: Thankfully, he slips and falls again, so no need for a replay. The bus honks for everyone to return so they can get going, and hours later, they finally arrive in Cusco.
javabeans: I find the guys' selca routine really cute (they chant into the camera-on-a-stick the name of their location and do this adorable shuffling dance) but it's really one step better when you see the VJ's perspective and you see how they look doing that in context, with people walking by giving them weird looks and all that.
girlfriday: You mean like how they're strangely not embarrassed doing that in every single city they go to?
javabeans: I wonder if that chant gives them a circle of immunity or something, because it sure looks embarrassing. Also, isn't it weird how now the production has given up on stealth-videoing them and is filming them openly, and yet the three of them are still responsible for getting their own footage?
girlfriday: I wonder if their handheld camera is even on.
javabeans: It kind of looks like they're carrying it around but forgot they were supposed to use it for stuff.
girlfriday: Cusco is beautiful, by the way. They walk around the main square and just Oooooh and Aaaaaah at their surroundings, and decide to spend some extra time wandering the tiny side streets. They go to a store and start eyeing the ponchos, and Hee-yeol beelines for this stuffed llama…
javabeans: Is this where Hee-yeol falls in love with that llama? Hahaha. I recognize it from the promos.
girlfriday: He's like strangely entranced the second he sees it, and then we cut to future footage of him lovingly carrying that thing everywhere he goes.
javabeans: It's hilarious and seriously adorable. Weird, but adorable. He talks to it like a real living thing and names it Hermes.
girlfriday: Juck: "Is it male or female?" Hee-yeol: "It's gender-neutral." He kisses it and baby-talks to it, and then later even introduces it to a real llama.
javabeans: I love that Sang tries on a poncho and looks elegant, while Juck tries one on and gets labeled a hobo.
girlfriday: Lol. It's literally the same exact poncho, but man, what a difference.
javabeans: Hee-yeol tries jackets on, and points out that if the shopgirl is laughing too, it's not a good sign. Haha, so they decide what they want to buy, and then things take a turn when the shopgirl points out that Hermes' handknit cap will cost extra, and Hee-yeol is displeased. I love that he doesn't just choose the option not to buy his stuffed animal a ridiculously overpriced accessory, but is all, But he needs it!
girlfriday: I know. Why is he buying the stuffed animal things to wear? He tries bargaining but the shopgirl is near tears about how her mother hand-knit the tiny hats, and so he forks over the money in the end. She totally played him and his llama love, didn't she?
javabeans: Dude she should try acting. She really sells it. And I'm so glad Juck has real clothes to wear now, not just that tracksuit top that made him look like a drama character. (You know, the sad-sack unemployed kind.)
girlfriday: Juck just fits that perennial gosi student aura anyway, so I found the tracksuit rather perfect.
javabeans: But he's the gosi student you want to clean up and marry off, so now he's one step closer. They encounter a parade in the streets and start dancing (Hee-yeol with his llama), which the show points out is full drunk-ajusshi mode. Hee-yeol interviews that normally he finds stuff like that too embarrassing, but by this point he'd given up on any semblance of a dignified image, and got excited dancing around.
girlfriday: After the parade, Sang's headache worsens, so they decide to look for a hostel first so he can rest. The other guys decide to look for the best room on their own so Sang can at least sit down, and he admits that he's been struggling all day and trying not to let it show.
javabeans: They can all tell that he feels bad for being a burden with his blinding headache, but it's a case where taking extra care of him would make him feel even worse (for being more of a burden) so the guys carry on as normally as possible and find a room close by. Ha, I like this exchange as they lie down and Juck looks up words on his phone app. Hee-yeol: "Look up the word towel." Juck: "Enjugamanos." Hee-yeol: "…I'll just gesture with my hands."
girlfriday: Then they practice the three words they looked up over and over, and the only way Hee-yeol can manage to remember the word for breakfast is to put it in a pick-up line: "Do you want to have breakfast with me tomorrow?" They giggle like teenagers. Hee-yeol starts to worry about Sang tossing and turning in bed, and quietly heads out in search of coffee. That doesn't seem like the most sensical thing to get a sick person, but Sang loooooves coffee and all he can think about is getting Sang something he likes.
javabeans: Aw, now he says he feels bad for maybe pushing him on a schedule that was a bit too ambitious. It's cute because of course that would be the best thing to get ME at 8 in the evening, but he gets back and Juck and Sang are totally nonresponsive to the coffee, and return to sleep. It turns out Sang has a fever and only wants to sleep, so the other two head out to dinner.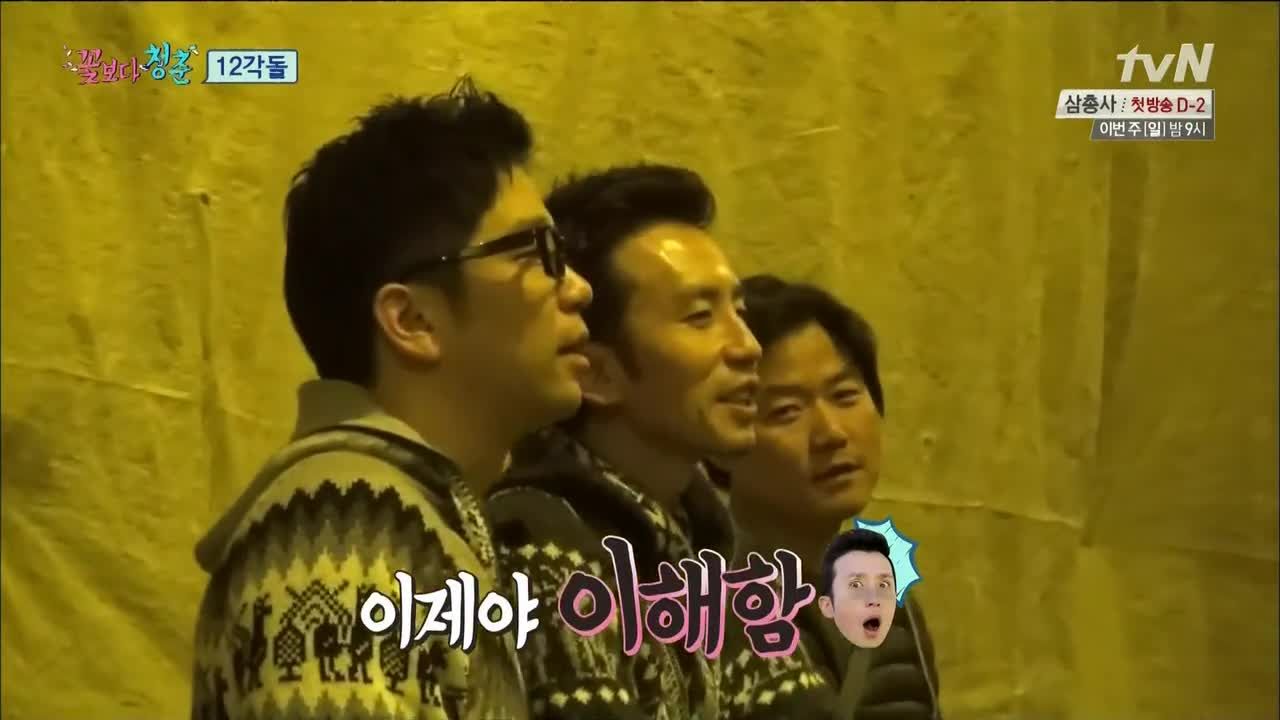 girlfriday: They stop to seek out this famous 12-sided stone that's set into a wall, and walk right past it at first and Na PD has to point it out. After marveling at Incan architecture for a while, we cut back to Sang who's still tossing and turning at the hostel.
javabeans: He looks miserable. He interviews later that he was worried that this was his body's limit and that he might not get to go any further, and would have to miss out on the climb up Machu Picchu. So finally he seems to make a decision and puts on Juck's jacket, and leaves the room with an aura of resolve. Um, what's he gonna do?
girlfriday: Shouldn't he stay in bed?
javabeans: Ack! I hope he's not going to go out and force himself to do something! Unless he's going to the hospital, which I doubt is the case. Go to the hospital!

RELATED POSTS
Tags: featured, Lee Juck, Yoo Hee-yeol, Yoon Sang, Youths Over Flowers