Youths Over Flowers: Episode 4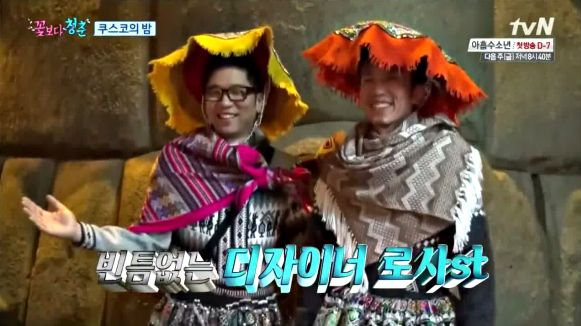 girlfriday: Hee-yeol and Juck go wandering through the big square at night and decide they suddenly need scarves, and the saleslady suddenly puts this awesomely large hat on top of Hee-yeol's head, and then comes back to add a sparkly skirt. Do you think they just have fun messing with tourists like this?
javabeans: Yes. But also, Hee-yeol is exactly the kind of guy who'd think it was fun and play along, twirling prettily and all that.
girlfriday: I love that Na PD walks in just in time to see him looking that way, without seeing the process of how he got to that point. Then it's Juck's turn to get decked out, and then she shoves the pair of them out into the street to take pictures… and somehow they turn into a local photo op attraction, and other tourists randomly stop to take pictures with them, ha.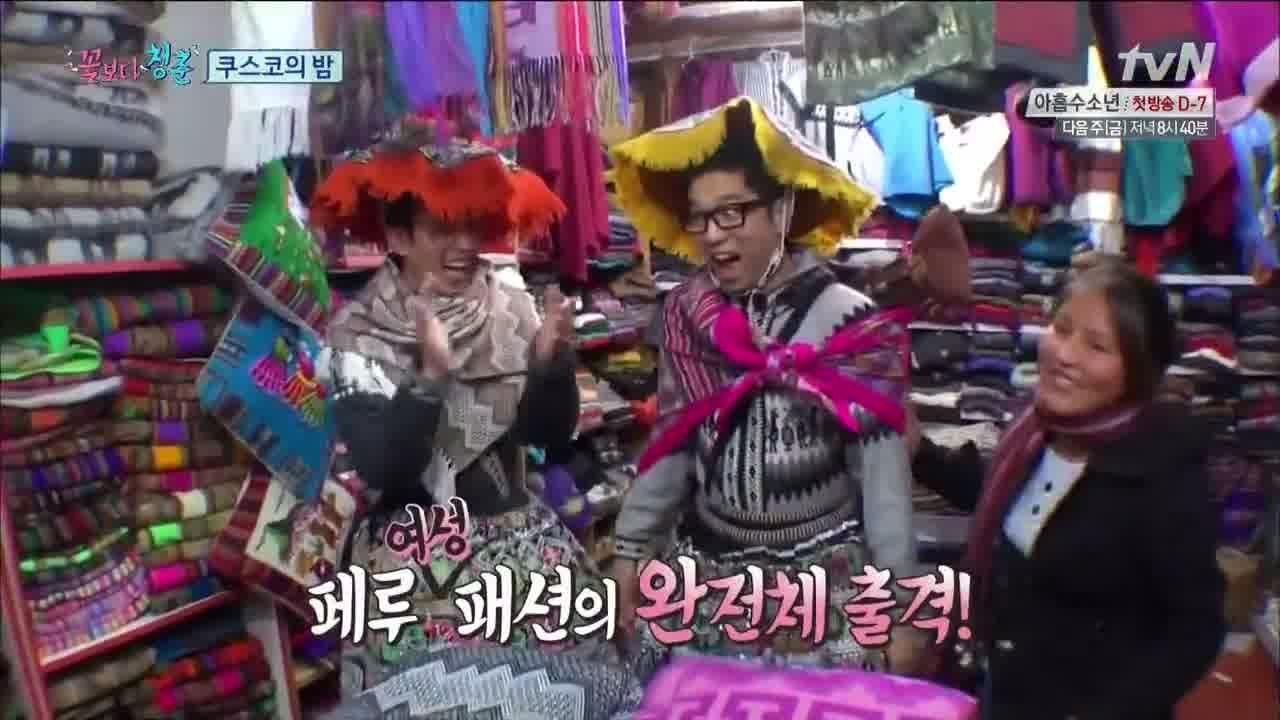 javabeans: Back in the hostel, we rejoin Sang and get to see why he so suddenly left the room when he was nursing headaches and fever all night. He explains that today is his five-year-old's birthday, and that he's missed his birthdays since the first one because the wife and kids live in the States and he's always been working. He'd intended to spend this birthday together, except then he got kidnapped and sent to Peru.
girlfriday: Aw. He just sits up waiting to try and call his family at a decent hour. Meanwhile, Hee-yeol and Juck feel too bad to just go out and eat on their own, and decide to pick up street food to bring back for Sang.
javabeans: I like how the food vendors ask questions that they don't understand, and Hee-yeol just gestures, Yes, yes to everything.
girlfriday: They come back with giant burgers and various meats on sticks, and even though Sang looks like he's miserable, Hee-yeol insists he should eat. Juck interviews later that he and Hee-yeol are so different in the way they approach Sang — Juck is always super accommodating and placating, while Hee-yeol sort of orders Sang around for his own good.
javabeans: I think it's good to have both, because if you're not that way and you force it, maybe it won't come out right? But Hee-yeol totally makes it seem warm and thoughtful even when he's ordering you around, and Sang says he finds it attractive.
girlfriday: Yeah, and Juck says that Hee-yeol seems more like a real brother in that way, where he'll just nag you because he knows you'll be better off taking the plane ride or eating, or whatever.
javabeans: I do really like Hee-yeol's very positive, energetic personality. It also cracks me up: "Hyung, don't eat that, it's chicken. This one is carne so I think it's cow. Eat this." Na PD marvels at how enthusiastically they're eating street food: "You're like penniless brothers!" Ha, you can almost not hear Sang talking over the smacking noises caught by Juck's mic.
girlfriday: Hee-yeol brags about his shopping spree, and they point out that Na PD copied him and bought a scarf.
javabeans: That pan-and-reveal of Na PD made me laugh out loud.
girlfriday: It's a pretty unexpected sight gag, 'cause they just point behind Sang, "Look at that!"
javabeans: After eating, it's back to clock-watching for Sang, who calls his family and finally gets his son on the line, who sounds adorable. His son says he wants to go to Peru, and Sang promises to take him and show him lots of things. Kiddo: "But you're gonna forget them!" Sang: "I wrote them all down."
girlfriday: That's so cute. I'm so happy for him, 'cause he seemed so down about not being able to talk to him on his birthday.
javabeans: Then Juck gets on his phone to talk to his daughter, who squeals adorably, "Daddyyyyyyyyyyy!" He gets all excited and baby-talks her, and then suddenly, it's this awkward "Mother!" Because his mother-in-law took over. LOL.
girlfriday: Hahaha. The other guys crack up too, and she's all, "I saw the underwear you were wearing!" They all talk about how scary it is to become a father and feel like you're the only one in the world who isn't prepared, but when you see them interacting with their kids they're all so sweet.
javabeans: Then the next day dawns and I think they're going to start a new storyline, but whaddaya know, the guys get up and it's more kiddie videos, haha. Sang's son plays the drums and the guys joke about getting their own kids started and making them rivals. Juck is all, "They'll be like Akdong Musician" (sibling duo) and Hee-yeol corrects, "Nah, more like Koreana." Which cracks me up because Akmu is young and hip and Koreana is… like…
girlfriday: A band our parents know? I guess this is like athletes wanting their kids to be just like them, but it's really funny to hear them talk about music competitively like they're pitting their children against each other for bragging rights.
javabeans: Oh, is today Machu Picchu day? I guess I always think of Machu Picchu as being this huge hiking excursion, but the guys set out on a bus tour that ends in Aguas Calientes, at the base of Machu Picchu.
girlfriday: Thankfully Sang is feeling much better, and they're off in good spirits. The bus tour is mostly leisurely, but the boys have a moment of panic when it starts to go up this narrow winding dirt road where they could fall off the cliff if the driver wasn't careful. They stop at the Salineras salt mines and gape at the massive maze of little ponds, and Hee-yeol climbs down to where a woman is digging up salt.
javabeans: I want to see him fall into those pools. It could be his tradition. It's a pretty amazing view, but the work looks back-breaking. Then they all pause for pictures with the other tourists, and I dunno why but the brief American(-sounding) family that's all bickering "Ack!" and "Don't touch me!" is a crack-up.
girlfriday: Then Hee-yeol sweet-talks his llama and gives it kisses. It says something that he feels no shame doing this in public.
javabeans: "Don't listen to those ajusshis! You'll ruin your ears!" Then they go to buy train tickets to Aguas Calientes, and they note that Na PD is looking really unhappy. Sang: "Why, what would you like us to do?" Na PD: "Walk!"
girlfriday: Ha. Then you shouldn't have put them in charge of buying their own tickets! They arrive in what looks like an entire town devoted to the tourists who come to see Machu Picchu, and head out to look for a hotel. They're in the mood to spend more money since they've been pennypinching up until now, and walk into a really swanky looking boutique hotel… that costs 500 dollars a night?? Dude.
javabeans: Where is the camera on Na PD's face??
girlfriday: Lol, he's standing out in the street with the crew, and when the boys come out with looks of horror on their faces, Na PD needles, "What, you went in there so full of confidence! You said you were going to stay there!"
javabeans: He's so gloaty. They head over to a cheaper place, but it's still too pricey and they try to haggle it down. At first I think they're going to just get shot down but they actually get a bit of a discount, and it works out to maybe 60 dollars total.
girlfriday: The best part is that Hee-yeol gets to use the one phrase he practiced over and over in Spanish: "Is breakfast included?" She says it is, and he beams, mostly because he got to say it.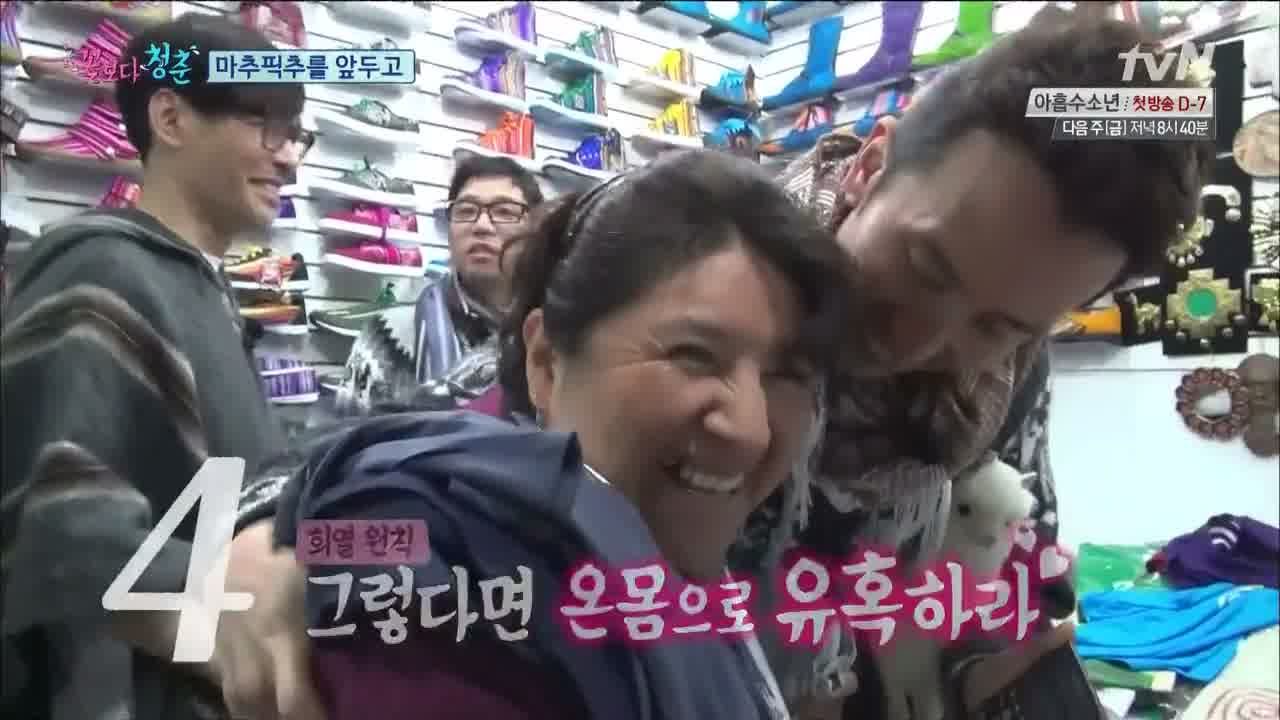 javabeans: I love that these guys are bargaining. I hate bargaining so much (it is the worst), so I'm always impressed when people do it successfully and without much angst. They go to buy T-shirts and sneakers next, and while they're trying things on, Juck is all (to the guys), "The price is okay, I can just bargain it down." Then when the saleslady holds firm on her price, Hee-yeol totally just hugs her and aegyos her into a discount.
girlfriday: That's awesome, especially because he might've cried to lose out on the llama shirt she happened to pick out for him.
javabeans: They pause to watch a group of musicians setting up on the street, and Sang says (like the consummate musician) that he was curious to see how good their skills would be. It's just funny, seeing these three pro songwriters standing there, almost like they're these judges. But then they start playing, and all at once the guys are agog, impressed.
girlfriday: Trust Sang not to know how to say "breakfast," but know the name of the local flute instrument played by the guy in the band.
javabeans: They decide they want Chinese food tonight and manage to find a place, where they find alpaca on the menu. Hee-yeol makes a protective grab for his stuffed alpaca and vetoes it, ha. As they wait, Juck caaaasually pulls out this plastic bag, from which he pulls out tubes of Korean red pepper paste, LOL.
girlfriday: Ha, that is so something my parents would do. The staff wonders where the heck they got it, and they sing-song, "The airplaaaaaane!"
javabeans: That's so smart. I love now knowing that this whole time they were saving it for something like this. They literally came here with no extra underwear, but at least they have sesame oil!
girlfriday: And I like that they were scrimping and staying at hostels all that time so they could splurge on the last leg of their trip. That's so something I would do.
javabeans: They joke that nothing about this is very "youth"-like… and then omg, we skip ahead to the Laos trip and the Answer Me boys are doing the exact same thing! (Squeezing a tube of pepper paste to make a dish Korean-y.) Best cut ever.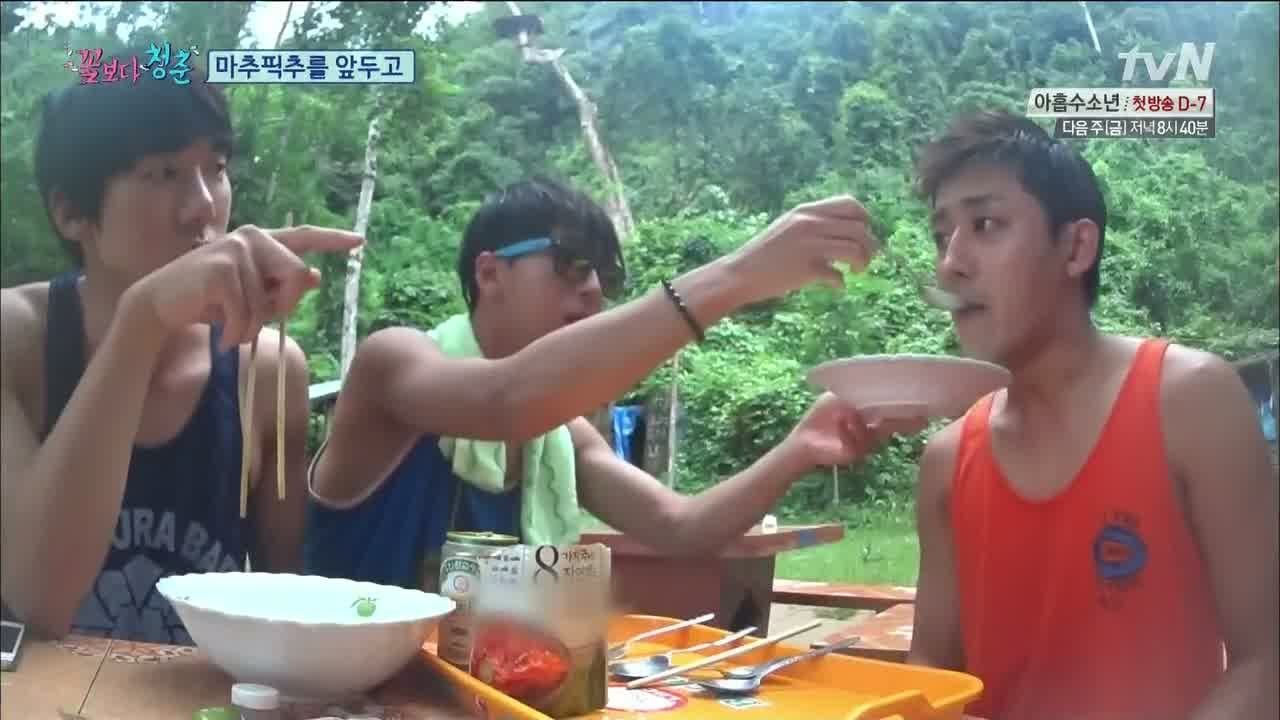 girlfriday: I can't wait!
javabeans: Hee-yeol gets stopped in the street by a Japanese fan, and Juck is so amazed that he stops the woman and asks (conversing comfortably in Japanese) how she knows Hee-yeol.
girlfriday: Does Juck just speak all languages? I'm impressed.
javabeans: It's cool! He doesn't really flaunt it, just pulls it out because it's useful. She says it's because of Infinity Challenge and K-Pop Star, and then Juck actually asks, "What about me? Do you know me?" The hilarious thing is, she did recognize him from Infinity Challenge, she just wasn't excited about him.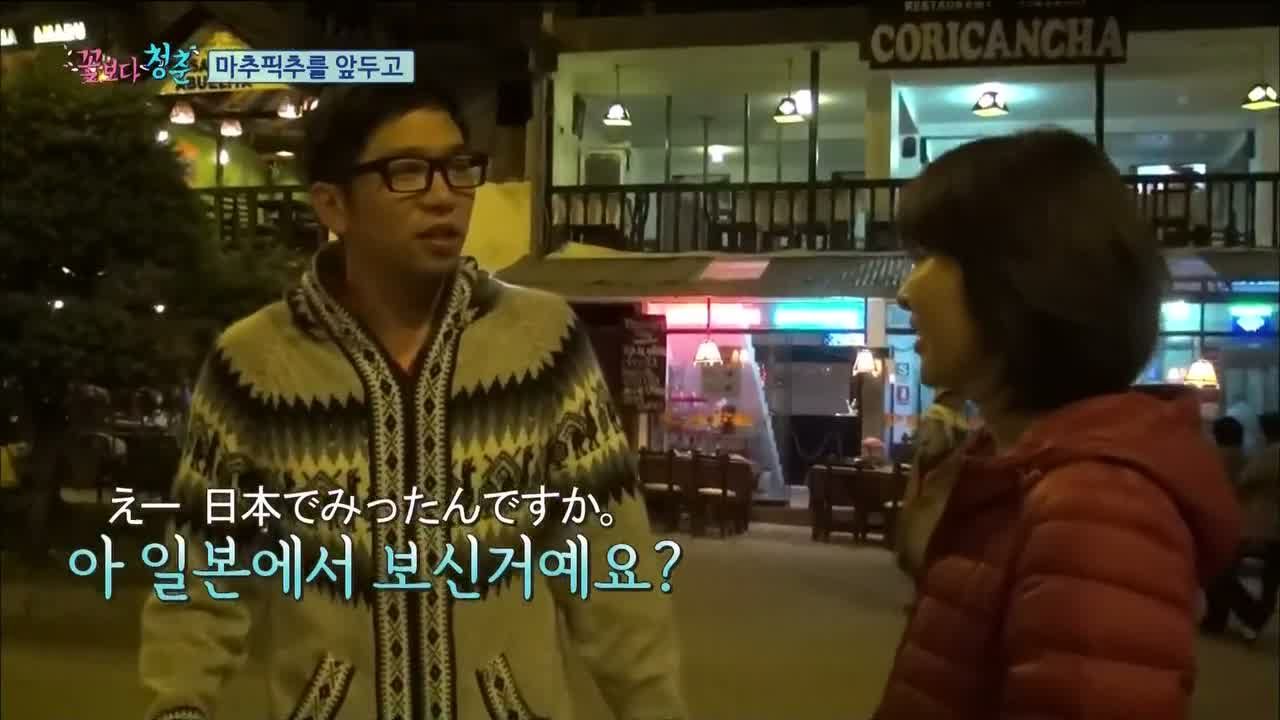 girlfriday: Ha, poor Juck. As they get ready for bed that night, Hee-yeol shaves for the first time since they left Korea, and it turns into this whole discussion of age, because they had been saying that they're at the age where their beards grow white now. Juck talks about resisting being called ajusshi for a long time and hating it, but turning 40 helped him come to terms with it.
javabeans: They spend all night reading up about Machu Picchu in preparation—or rather, Hee-yeol reads and picks out highlights to tell the others. Finally it's lights out and they try to grab some sleep before their early morning start. Only what ensues is a whole string of silly jokes and nonsense conversation in the dark, just like friends at a sleepover.
girlfriday: I love the black screen with the conversation transcript, complete with giggles.
javabeans: You know what, whoever does the captions on this show is an artist, really. It's just funny seeing the way they chose to visualize the words that are being said.
girlfriday: It's even funnier because they're joking in song, so they're singing the instrument parts and all of it gets transcribed.
javabeans: They get up super early to make the climb up, and then they just find this huge, thick fog obscuring everything. Aw, they're all bummed but try to be optimistic about it, even as they get teary-eyed in disappointment.
girlfriday: Augh, that's terrible. They built it up SO MUCH in the days leading up to it, about how the trip was really for this.
javabeans: Hee-yeol gets philosophical, saying, "Is this what life is about? It made me think that we can't have everything be great through the end…"
girlfriday: They can't help but shed a few tears wondering if this is how their trip will end. But as we know, there's one more episode, so maybe there's still hope the fog will clear?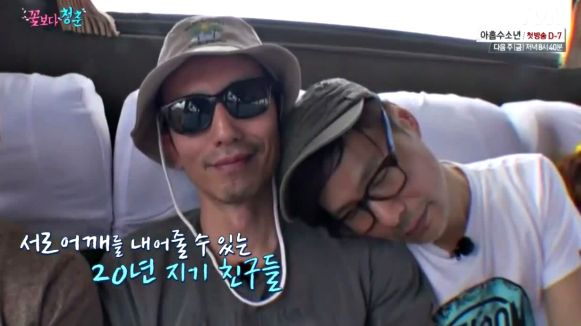 RELATED POSTS
Tags: featured, Lee Juck, Yoo Hee-yeol, Yoon Sang, Youths Over Flowers