Discovery of Romance: Episode 12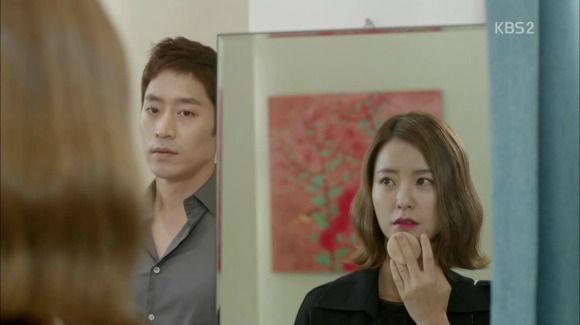 The process of letting go is slow and painful, and it's even more heartbreaking for Tae-ha, who's going out of his way to help his past lover find her own happiness. It's a noble gesture and one that tugs at the heartstrings, but the clock is ticking. He's only got so much time to decide what's best for his own happiness. And he may not think so, but he deserves that happiness as much as anyone else.

EPISODE 12: "The day the words 'I love you' touched my heart…"
Ha-jin wakes up and finds that Yeo-reum is missing. He tries calling her and Sol, but he's unable to reach them. He narrates, "I don't know why, but suddenly I thought of Kang Tae-ha." He grabs her cardigan and immediately goes outside to look for her.
Frantically searching, Ha-jin thinks to himself, "I had always trusted Yeo-reum. Thinking back, I wonder how I was able to trust her to that extent. I felt that trust quickly turning into anxiety, and I wondered how my feelings could change so dramatically without a moment's notice. Amid these thoughts, I saw them…" He sees them kissing… but then it turns out to be a different couple, and he continues on his way, nearly crying from relief.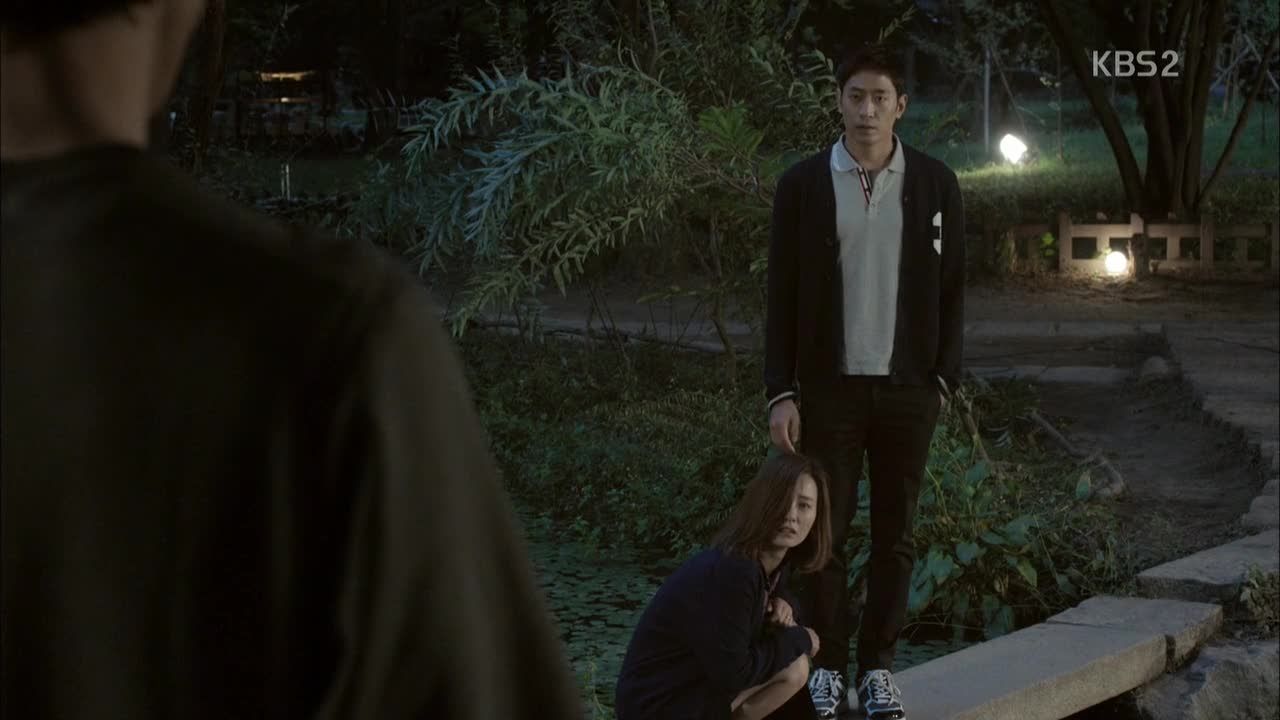 He finds them, and this is where we left off, with Ha-jin witnessing Tae-ha about to comfort a crying Yeo-reum. He thinks back to Tae-ha's vague replies about his relationship with Yeo-reum. Walking towards them, he admits to us that the vagueness gave him a bad feeling about these two. He interrupts them just before Tae-ha can reach out to her, and glares at Tae-ha before leading Yeo-reum away.
But Tae-ha calls out to Yeo-reum using honorifics and finishes their conversation as if they had been talking about work. He says he's disappointed in her lack of professionalism and her overemotional response to a business decision. He turns around and walks away from his noble cover-up while Yeo-reum remains speechless with tears brimming in her eyes.
Back inside, Ha-jin asks about her work with Tae-ha and cautiously requests that she stop working with him if possible. She apologizes and replies that she can't. He nods in understanding and admits that he felt ridiculously anxious when she disappeared. Then he asks what upset her so much, as he's never seen her cry that hard. But seeing that she's not talking, Ha-jin decides that they should sleep on it.
Tae-ha returns to his room, and Director Yoon stumbles in asking why he was out so late. He comments on how Tae-ha's not like his usual self nowadays; he's lacking his malice. But Tae-ha's mind is elsewhere, thinking about Yeo-reum's confession that she's been waiting for and expecting him. Turning to Yoon, he asks, "Hyung, I just heard something, and it was quite long. But I remember all of it. Every word, every breath, and the intonations. I remember every single thing. Strange, isn't it?" But Yoon's already fallen asleep.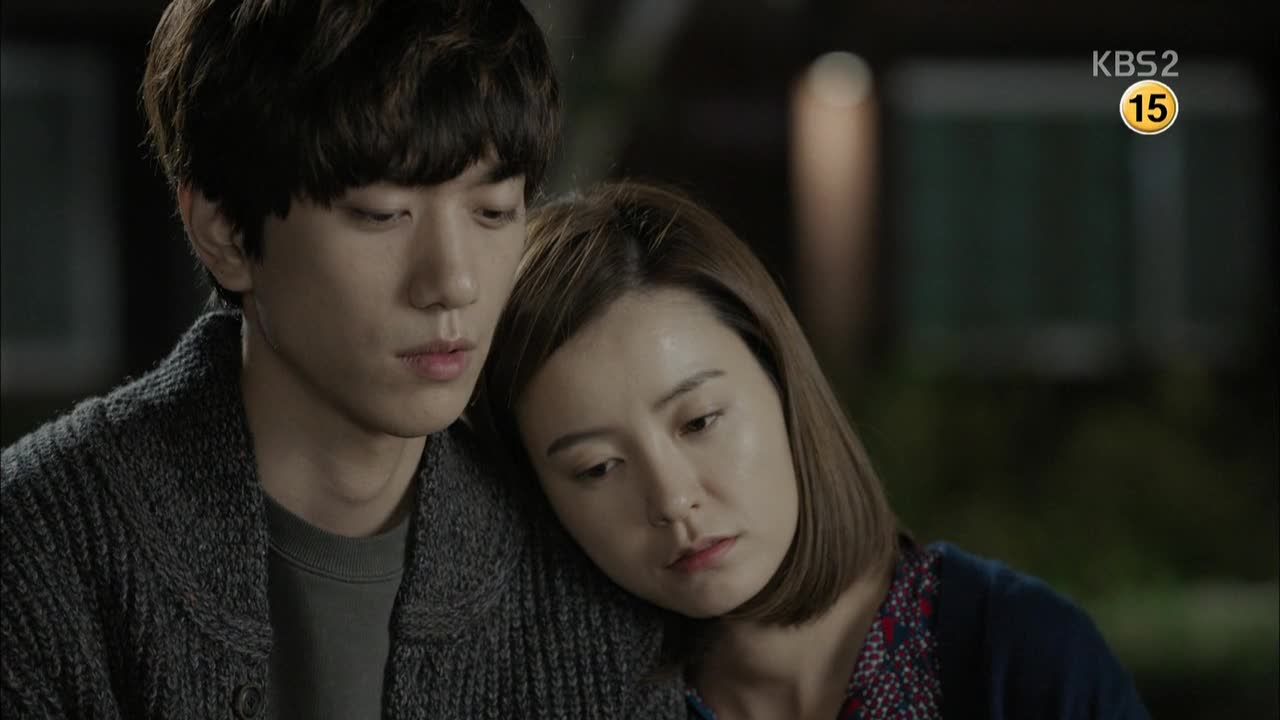 Outside, Ha-jin drinks a beer alone, but he's soon accompanied by Yeo-reum. She leans on his shoulder and asks why he doesn't ask her about earlier. On days like this, she wishes that he would press her for answers, but he always falls short of pushing for them. He answers with a pitiful yet true response: "It's because I like you more. Our relationship is not equally balanced. I like you more. There are times that I want to fight and question you, but do you know why I let them slide? If I don't, I feel like we'd break up and our relationship would reach its end."
Yeo-reum gets off his shoulder and stares at him as he continues. He tells her that he hates that feeling — always having to lose to prevent their break-up. All she can do is apologize, but he says he needs words other than an apology. Giving him a hug, Yeo-reum says that she loves him, ending the bittersweet night on a sweeter note.
The next morning, Sol approaches Tae-ha with an intuitive guess behind her missed call from Ha-jin last night: Yeo-reum must've disappeared last night and Tae-ha must know something. He says that he ran into her by coincidence, she cried, and Ha-jin saw her crying. All Sol needs to know for the sake of cover-up is that she was upset about work-related issues. Sol shakes her head at their complications: "Wouldn't it be easier if we just eat when we're hungry and sleep when were sleepy?" Exactly how I feel.
Sol catches Ha-jin and Yeo-reum as they're leaving to catch the morning ferry and carefully analyzes their behavior. After a quick interaction, she determines that they're fine and runs over to Tae-ha to point out the happy couple. He watches them leave with a dejected smile.
Mom finds the little soccer boy after practice and hands him a new pair of cleats. She claims that she happened to get a free pair which just happened to be his size. She assures him that he can accept the gift, so he happily takes it and runs off to brag to his friends. From behind, Producer Bae asks why Mom keeps visiting the boy and why she doesn't hate him. Mom shrugs and says the kid isn't to blame. Hmm, interesting.
As they continue walking, he asks if she's thought about his proposal. She shakes her head and says she's thought about it a hundred times but can't imagine them dating. But he insists that thinking about it is the beginning. He reminds her that they've got half of their lives left; why not spend it together? Then he takes her hand and throws out a cheesy line about thinking in the now and only today. Mom's not about that cheese and walks off, leaving him hanging.
They end up eating dinner, where Producer Bae continues to persuade her about dating. He says that the concept of friends dating isn't a new one. "You eat your food. I eat my food. But I just add a side dish on your spoon, you eat it, and I'm content with that." Mom smiles at his simplicity and continues to let him add side dishes onto her spoon. They're cute.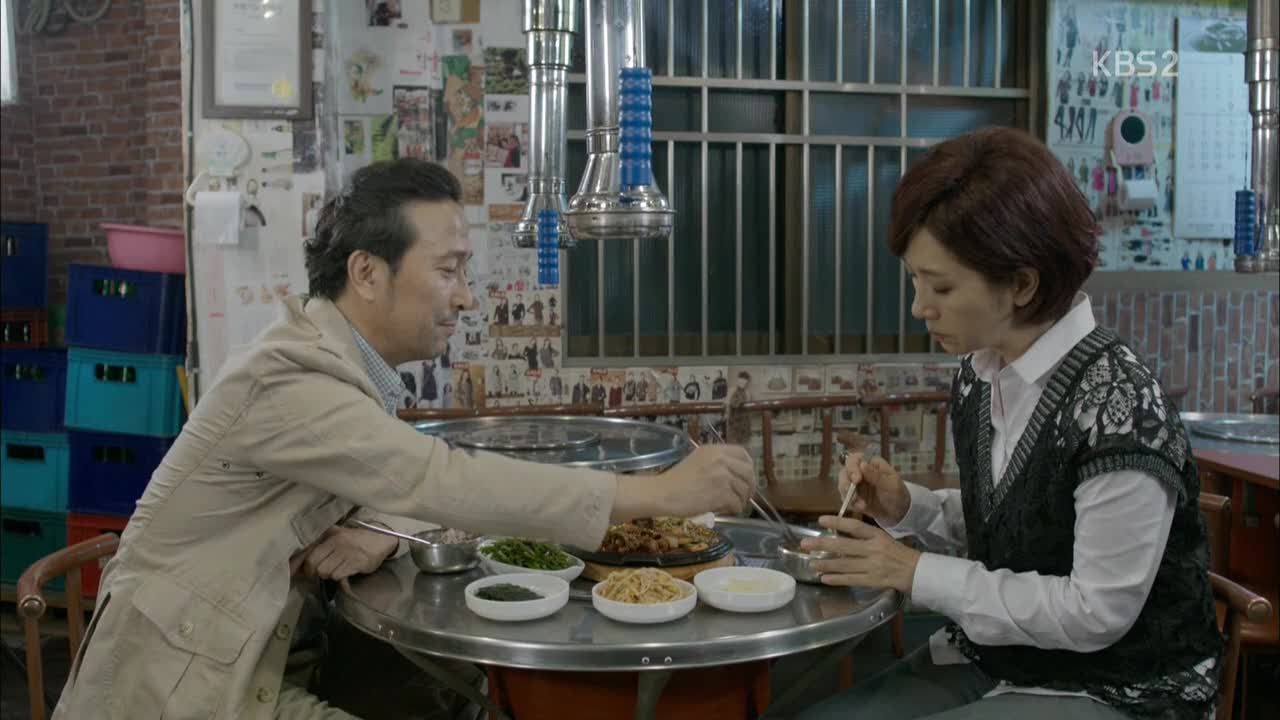 Ha-jin helps out Yeo-reum at her workshop and they get into an obligatory coupley paint fight. They take a break for food, and Yeo-reum thinks back to Tae-ha's advice to give Ha-jin a chance to understand her troubles. She starts the conversation by asking if he remembers his proposal (he adorably has her feel his racing heart at the mention of marriage) and explains that she held off on accepting it because she's in debt — her student loans and other loans to repay to Mom.
She admits that she would've felt embarrassed telling him this a month ago, but now she feels comfortable and supported. He smiles but presses further, noting that she's not saying anything about her father. Yeo-reum freezes, but Ha-jin tells her that they've done a lot today, so she can tell him next time. And he'll tell her about himself next time as well. Baby steps.
After the work retreat, Sol comes to the office to discuss business at Tae-ha's request, and Director Yoon swoons at her initiative to be there late at night. As they discuss the concept and interior aspect of the wine bar, Sol and Tae-ha get into an argument over design choices he swears he already told Yeo-reum about. Sol slams her laptop closed and demands that they go out for a drink, just the two of them — between people who could have been friends.
A couple drinks in, Sol complains to Tae-ha about excluding Yeo-reum from this business. She hates playing the middle person, relaying messages and arguments between the two. She assures him that Yeo-reum does not like him anymore and requests that he be cool about this whole thing. Now that she's mentioned it, Tae-ha says that she's not one to insist on being cool. It turns out, he was her drinking buddy when she had relationship problems and used to carry an extremely drunk Sol back home on multiple occasions since Joon-ho basically lived at the hospital then. Haha, they really could have been good friends.
With the petty arguments out of the way, Sol gets into some real talk: "Kang Tae-ha, do you know why I have complicated bad feelings about you? I really wanted you two to work out because your story wouldn't have had a happily-ever-after fairytale ending. 'The two fought, argued, misunderstood, were suspicious and disappointed in each other; yet, they still tried to be happy together.' I wanted that ending, so that I could look at you two and wish for a true but realistic love for myself. But you ruined it and crushed my dreams."
Sol says that even if she drinks until she drops, she's not letting Tae-ha carry her home. Cut to: Tae-ha piggybacking drunk Sol home, complaining about how she gained weight over these past five years. HA.
Tae-ha stops at a convenience store for a break and an interview. He tells us that he was Yeo-reum's boyfriend, not Sol's, and he properly apologized to her. What he doesn't understand is how girls think that their friends' boyfriends are also their business. He points at Sol and accuses her of being the worst. Then he proceeds to carry her back home.
Joon-ho escorts Tae-ha as he piggybacks Sol into the room, and tenses up when she falls into his arms on her bed. Right as Tae-ha's about to leave, Sol whacks him with a pillow and says that he's the worst ex, as he still makes Yeo-reum cry. Yeo-reum listens from outside as Tae-ha accuses Joon-ho and Sol for being horrible friends. He ended his relationship with Yeo-reum, but as soon as he did, he lost their friendship as well. He walks out to Yeo-reum standing outside the room, and she offers to drive him home.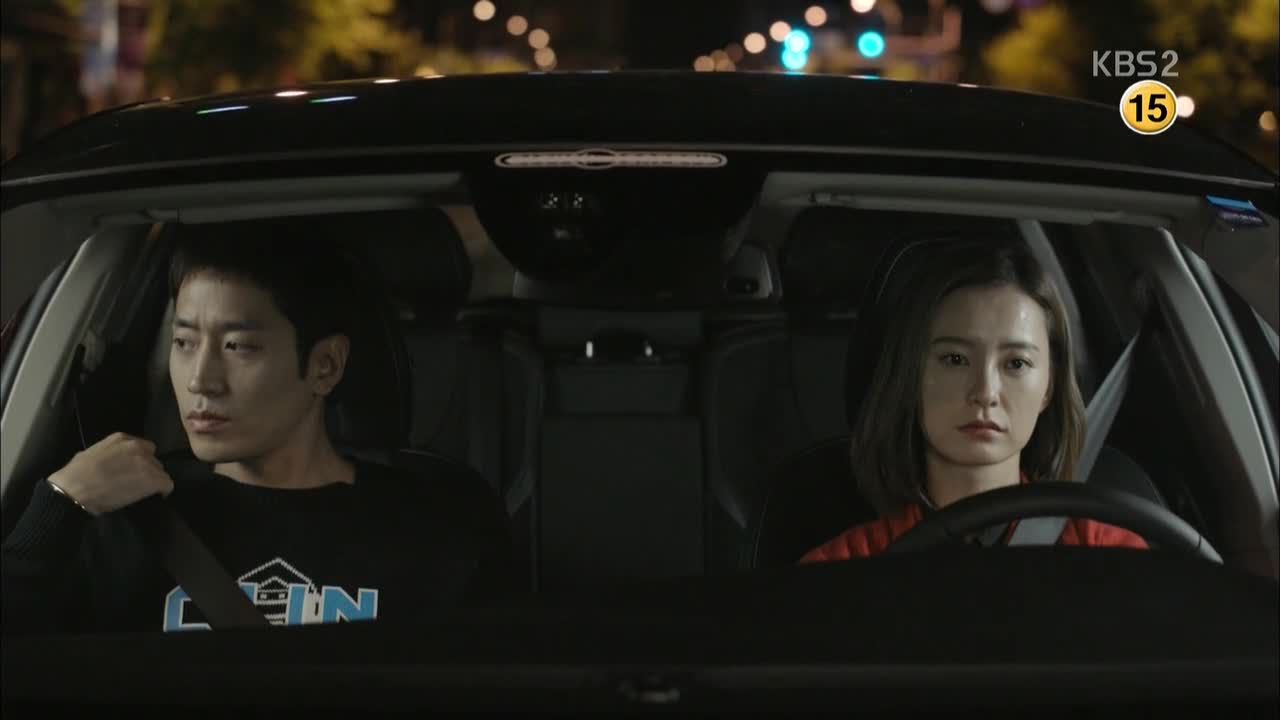 In the car, they both think about the previous night when Yeo-reum broke down in tears. She assumes that he knows that she didn't mean it entirely, and she's right. He thinks about the night and assumes that if she'd meant it entirely, she would have returned to him. Yeo-reum starts the conversation by saying that she can't conduct business in this uncomfortable manner.
Then they're interrupted by a call from Ha-jin, and Tae-ha puts the phone on speaker for her, ignoring her protests. Yeo-reum lies that she's home, and Ha-jin starts up an uncomfortable conversation about a proper proposal. She answers to his requests, but her mind is on Tae-ha. That's enough distraction to get her sidetracked from driving, causing Tae-ha to yell about the upcoming red light.
Of course, Ha-jin catches on — Yeo-reum lied and is with Tae-ha right now. She explains the situation, but he's annoyed that she keeps lying to him. After hanging up, she looks at Tae-ha apologetically, but he avoids eye contact.
Ha-jin broods through the night, thinking about Yeo-reum's lies while looking at his proposal ring. When he gets a goodnight message from her about getting back safely, he can't bring himself to reply.
The next morning, Joon-ho looks at Sol's two dying plants from the Twelves and shakes his head. He says that some Twelves aren't meant to be. When Sol walks over, he tells her that he's got just the thing for her — something that doesn't wither or rot. Covering her eyes, he leads her to the bathroom to give her… surprise! A self-flushing toilet just for her whenever she poops! Bwahaha.
Sol starts to tear up in anger, which Joon-ho mistakenly thinks as her being moved by his grand gesture. She beats him up and yells that he really doesn't know women. Yeo-reum arrives just as Sol storms off in disappointment and is delighted at the new toilet contraption. That's the reaction he wanted, just from the wrong person.
Ha-jin researches overseas opportunities for Ah-rim and lets her know that he'll leave the files at his office. He also asks her to think again about getting surgery for the scar on her arm.
Ha-jin gets a text from Yeo-reum saying that she's prepared the flowers for tonight — the proposal night. She walks around his place looking for a vase for the flowers, and she happens to find the framed picture of Ha-jin and Ah-rim (she doesn't know the girl is Ah-rim yet). Suddenly, his mother approaches her from behind, here to drop off side dishes, and sees that Yeo-reum's holding the picture. Her secret threatened, his mother overreacts to her being in the house and grabs the picture from her.
As expected, Ha-jin's mother comes into his office to confront him about the picture. She asks him to stop being so stubborn, but he replies that he's not being stubborn — he's waiting for her permission. "I want to tell someone my story. Whenever I'm asked about my childhood, I force a smile, but I have a hard time breathing. Living with a different name has had its ups and downs, but I don't have anyone to share my pain with. Not one person. That's what I want to do with Yeo-reum." He tells his mother that he'll wait until she gives her approval to tell Yeo-reum. And in tears, his mother approves.
At the same time, Ah-rim picks up the files from the hospital, and Ha-jin's mother bumps into someone as she leaves. The picture flies out of her bag, right in front of Ah-rim, and she stares at it in shock. Ha-jin's mother grabs the picture from her, and Ah-rim confirms with Joon-ho who that woman was. The pieces are coming together.
She tries to distract herself with work, but all she can think about is her interactions with Ha-jin. Her legs give out as she finally accepts the facts on who Ha-jin really is. Trembling with shock, she tells us that she thought she'd recognize him right away, but she had no idea.
At work, Yeo-reum touches up her makeup in preparation for her big day, and Tae-ha realizes that today's the day. He notices her waiting at the curb, so he offers to drive her, knowing where she's headed. When they arrive, she quickly thanks him before she leaves, and he silently watches her walking away from him.
As Yeo-reum approaches the building, she notices Ah-rim standing there. She's angered that they keep running into each other and clarifies that Ha-jin has no feelings for her. He's just a kind person doing nice things for her.
Ah-rim acknowledges this but also challenges her: "Are you saying he's just acting out of sympathy? You're right, but why do I have to hear those words from you? Even if it's sympathizing, it's between him and me. If you knew that it was out of sympathy, and you still aren't trusting your boyfriend, why don't you try being an orphan? You lead your own life, and I lead mine, but think about how your words would sound in my shoes." Oof. Ah-rim walks away in tears, leaving Yeo-reum confused and regretful.
Yeo-reum arrives at Ha-jin's place, her mood significantly cast down. He doesn't seem to notice, as he welcomes her in and pours the wine. But she looks at everything set up and can't go on like this. "I met Ah-rim outside. I don't know if this is your method, but it's not mine. I can't sit here like nothing's happened." He tries to get an explanation, but she cuts him off and heads out.
Ha-jin follows her and asks why it's okay for her but not for him. "I trust and wait for you, but why can't you do either? I don't understand why you have so many coincidences with Kang Tae-ha, but I still trust you. But how can you not trust me even for a moment? I promised I would tell you, and you can't even wait for that. Is this all I am to you? If you're going to be like this, then don't tell me you love me. You've never been sincere to me; you don't know love." Then he immediately apologizes for his harsh words and asks her to sit down.
But Yeo-reum's definitely not in the mood. He follows her, but she's set on leaving. "I'm me and you're you. We're completely different people. I can't do this today." With that, she walks out.
Ha-jin sits down with the ring, reflecting in tears. "There were moments that I shouldn't have lost because they don't come back. I've lost all my chances to tell her the truth." Hoping for one more chance, Ha-jin rushes out. Just as he turns the corner, he stops. Thankfully, he finds Yeo-reum right outside, crouching down in tears. She apologizes, and he pulls her into an embrace.
Meanwhile, Tae-ha broods over his own rings — the ones he never got the chance to give to Yeo-reum. He thinks back to drunk Sol's vision for him and Yeo-reum, now just an unfulfilled wish. "That ending probably doesn't exist anymore. If we wanted that ending to come true, we had to remain hand-in-hand through the hardest times. But we didn't. We both let go."
Back to our couple, we see that Yeo-reum has accepted Ha-jin's proposal ring. He asks her why she didn't leave, and she replies that it was the painful thought of him sitting alone in misery. She says the simple yet key words, "I love you," and he's clearly touched. He admits that this is the first time he's felt the true meaning of those words, even though she's told him many times before. They pull each other into a hug, grateful to have overcome their crisis.
Tae-ha looks at his rings as a tear begins to fall. "Now the hand that Yeo-reum needs to hold onto is no longer mine, but someone else's."

COMMENTS
I just want to give Tae-ha a big hug and tell him that everything will pass. He's been through a lot these past episodes, and we've seen some exceptional growth from him. He's given us a better understanding of what the break-up was like from his perspective, which is something we really didn't get until now. He came off as a little cocky and vain from the start, so I did expect him to outgrow that phase, but boy, this is something else. I love seeing such rich emotion from such a commonplace drama theme like dating, especially from the guy's side. It's not often that we see our men bawling or just letting the tears fall. It's nice to see that the drama is showcasing these emotions because they sure do add more dimension to the show. Tae-ha's character arc is probably the most interesting and rewarding of the three leads, and I'm excited to see it through until the end. Eric's face and eyes tell it all, and I just want moarrr.
Though I'm not completely on their ship, our current couple made some significant improvements in this episode. I honestly wasn't expecting any improvements, given how dysfunctional these two are. The communication has always been off, and deception had become a natural part of the relationship. Plagued with these two elements, I was sure that it was only downhill from there, but they pleasantly surprised me. It's almost a miracle that Yeo-reum and Ha-jin managed to salvage themselves from a sunken ship, but I'm glad they showed us that they did work in some respects. They care enough for each other to keep afloat, but again, I wonder how long they can keep this up while keeping their secrets. To be fair, Ha-jin was prepared to tell her the truth about his past. The issue is whether or not Yeo-reum is ready to be completely honest to Ha-jin and herself.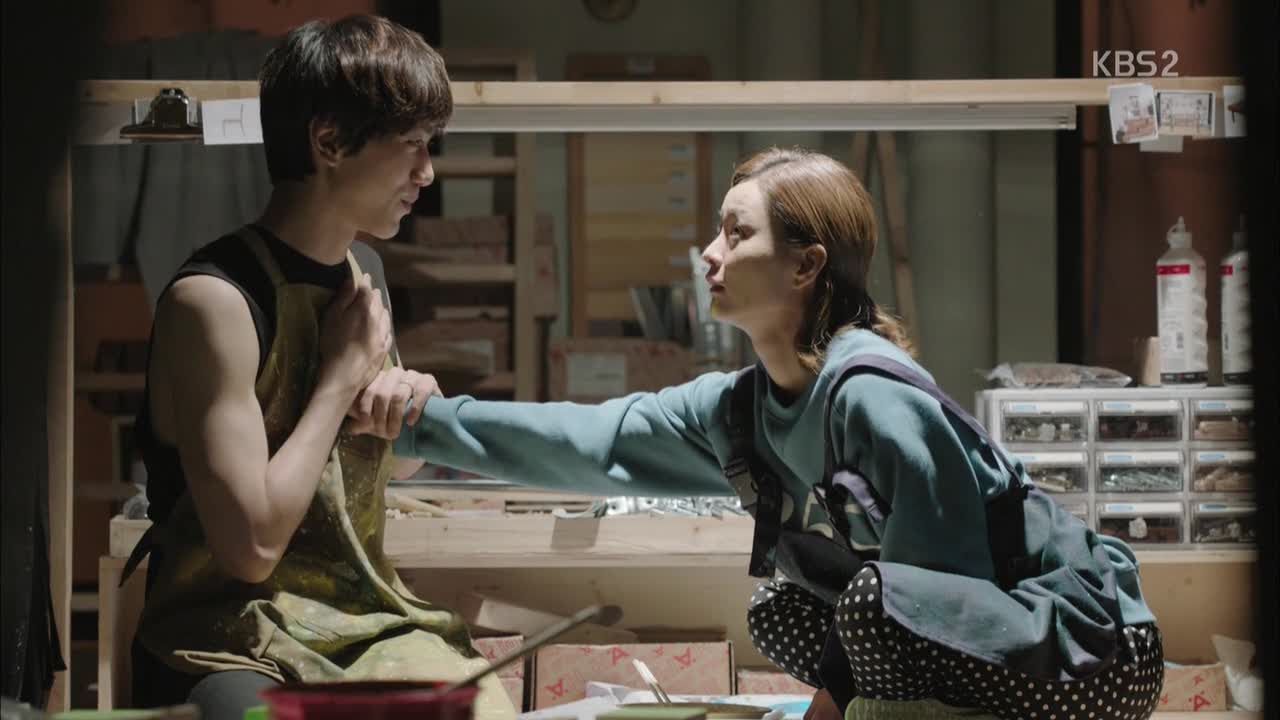 Personally, I wasn't a big fan of Ha-jin in this episode. While he's always sweet and actually kind of perfect, he's quite incompetent with this whole relationship thing. He did have some good moments, especially when he openly recognized the disadvantage he was at by liking Yeo-reum more than she did him. But the part when Yeo-reum opens up to him about waiting on marriage because of her debt… I thought the way he handled that conversation was sort of elementary. I get that he was taking baby steps before reaching a deeper understanding with Yeo-reum, but it seemed too structured like, Okay good work today, next session we'll go further! Yay! It's cute, but I'm not sure it works that way.
Though Yeo-reum didn't get much of a spotlight, I just want to comment on her merits as the heroine. She's no Candy and definitely no damsel in distress, but she's not some despicable character either. She portrays a very realistic heroine, one with critical flaws as well as admirable and redeeming qualities. She's ruthless when it comes to her pride, yet she knows when she's done wrong. Manipulative, yet candid. And she's expressing her struggle between these two men quite well. One person will guarantee her happiness because he loves her more than she will ever love him. The other person will guarantee quarrels but understands her more than anyone else ever will. Both appeal to her, and she's yet to determine which is more important to her.
As for me, I've got to go with Sol's vision for Tae-ha and Yeo-reum. They would in no way be like a typical storybook ending, but it would be a messy and realistic story of finding happiness together. And in the end, that's what actually matters: being happy together. Tae-ha knows that Yeo-reum's got another hand to hold onto now, but I hope he finds it in him to reach out for her hand again and give her a reason to never let go.
RELATED POSTS
Tags: Discovery of Romance, Eric, featured, Jung Yumi, Sung Joon