Discovery of Romance: Episode 5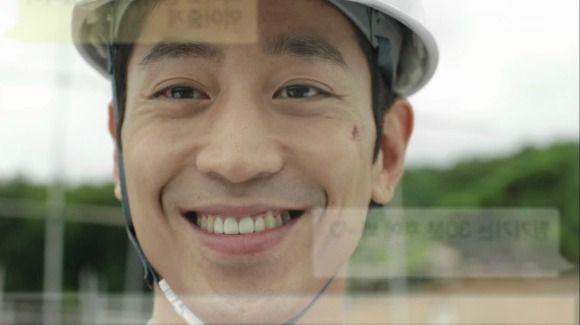 When, if ever, is it okay to lie to someone to protect them? Do secrets do more harm than good, or are secrets something that can save someone from hurt? This episode focuses on whether or not it's ever acceptable to lie in order to shield someone from being hurt, or if total honesty is better even if it means the truth can do irreparable damage. Interesting how nobody considers that possibly, not doing the hurtful thing in the first place might be the correct answer.
EPISODE 5: "I know that it's a confession I'll regret tomorrow!"
Tae-ha and Ha-jin fight, and Yeo-reum enters in time to stop Tae-ha from seriously injuring Ha-jin, with a crack across the shoulders with a pool cue. She coos over Ha-jin's injuries while a jealous Tae-ha looks on, wondering how she could have hit him.
Ha-jin blames the whole thing on Tae-ha and she agrees, because Ha-jin would never do anything wrong, and Tae-ha fumes that someone should tell her that her boyfriend is cheating on her. He thinks back to their dating days when she'd fussed over an injury of his like that, and told him that his body was hers and he should take better care of it.
He'd proudly taken her to his job site to see the giant pine logs he'd injured himself carrying, only to have her kick them out of anger. She'd hit him where he was injured, and he'd faked pain to get close and surprise-hug her.
Back in the present, Tae-ha asks if Yeo-reum has any first aid for him, only to have her slide her purse at him and tell him to get it himself. The best part of this scene is Ha-jin side-eying them both at how Tae-ha's so comfortable getting things from her purse.
Yeo-reum gripes at Tae-ha for hitting a doctor and Tae-ha snaps back, causing Ha-jin to puff up at him again. Yeo-reum calms them down but kicks Tae-ha to apologize, and he kicks her back to say no way as Ha-jin's head whips back and forth like a Wimbledon spectator, knowing there's something unspoken being communicated.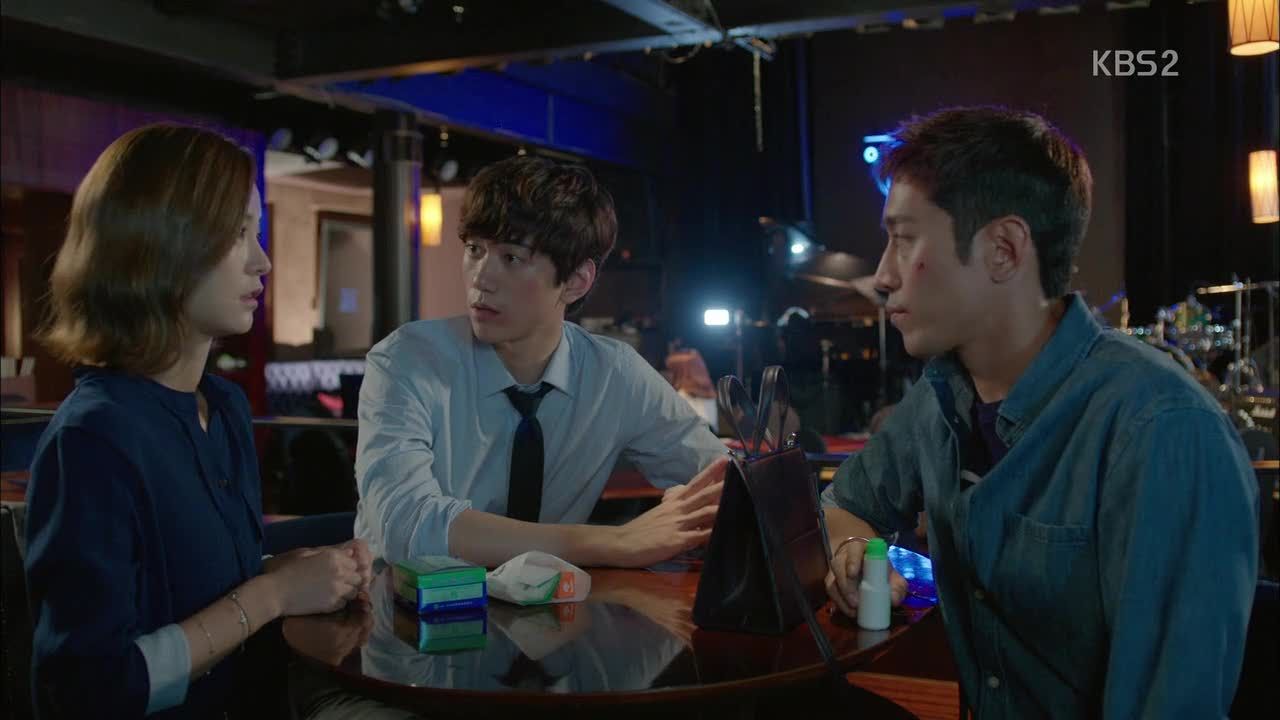 Suddenly Ha-jin notices that Tae-ha and Yeo-reum are speaking banmal as they fight, and asks when that happened, since they're in a business relationship, right? Whoops. They both freeze for a long moment, until Tae-ha bows and apologizes formally to Yeo-reum and she accepts… only Ha-jin points out that she started speaking banmal first. Funny, but this guy is way too perceptive.
As they all head for their cars, Tae-ha calls out to Ha-jin that they should play again, for real, and without the girl. Ha-jin says he'll play for a bet but there's nothing of his that he wants to lose to Tae-ha. He'll have to think what he wants to bet Tae-ha for.
Yeo-reum rests her head on Ha-jin's shoulder in the car, but he's in no mood for her aegyo and pushes her away. She complains that he won't tell her why they fought, and asks for a kiss – but he's seriously mad, for realsies this time, and nothing she can do will change that. Except cry. He caves, hugging her and telling her that they fought because Tae-ha cheated, but Yeo-reum looks skeptical.
Tae-ha slams around his house and gets a call from Yeo-reum, demanding to know why the guys fought. She accuses him of being too competitive and warns him never to do that with her boyfriend ever again. Tae-ha literally can't get a word in edgewise before she hangs up on him. He complains interview-style that she used to like him so much she'd do anything for him – the least she could do is think of nice memories when she sees him.
Sol and Joon-ho join the interview-style narration, and Sol says that girls see their boyfriends as used cars, while the new guy is a brand-new, luxurious car. Who would go back to the used car when they already have a brand-new one? Joon-ho gripes that she's sure insightful when it comes to someone else's problems. HAHA, Yeo-reum comes out of her room and gives them a Who the heck are you talking to? face, and they cover and flee.
Sol lurks outside Eun-gyu's workplace and witnesses him going out with some coworkers, and follows them. She starts to lose them and hurries to catch up, only to crash into a vendor carrying an armload of jewelry and merchandise, and he demands that she pay for everything. She can't find her wallet but she's rescued by Eun-gyu, who pays for everything but tells the vendor she's just his friend. Awww, and ouch.
Eun-gyu takes Sol to eat and says he wishes she'd be happy, but she swears to cry all the time and stop eating, so that he'll feel bad. She says that she thinks he actually did like her, but that he was calculating and talked himself out of it since he's successful and she's not. She threatens to follow him around and show up everywhere, but her weak threats don't worry him and she gives up.
Yoon is in the neighborhood and runs into Sol as she sadly limps her bike home, with scraped knees and a flat tire. She asks him tearfully to pretend he didn't see her, but he drives her home anyway, and it's cute how discombobulated he is by a crying, wobbly-voiced girl. Yoon tries to give Sol some words of wisdom but totally flubs it, and gets his butt chewed for his trouble. The next day at work, Yoon is still marveling at how neatly Sol turned things around on him, and finds her cute.
Tae-ha admires his battle wounds, and gets a text from Yeo-reum asking if he's still mad. She offers to buy him lunch and they set up a time, and it's adorable how Tae-ha indulges in a little squee at the heart icons in Yeo-reum's text messages.
Tae-ha finds Yeo-reum at the restaurant, and he's so happy he's beaming, but oh no, the look on her face plainly says she was expecting someone else. She apologizes profusely for texting him by mistake instead of Ha-jin, but he stays anyway, whining that she takes her boyfriend to nicer places than she takes him.
She says that Ha-jin called him a cheater at pool, and when he defends his honor she agrees that he's aaaall about the fairness, somehow making it sound like an insult. He hesitantly asks if she thought that maybe he started the fight in order to protect her, but Yeo-reum declares that she's not his to protect.
Tae-ha sees Ha-jin walk in (Sol told him Yeo-reum was waiting for him) and hilariously hides them both behind the buffet. Ha-jin calls Yeo-reum when he doesn't see her, and sees her phone ringing on the table. Yeo-reum and Tae-ha cringe behind a pillar, but Ha-jin has already noticed Tae-ha's jacket at the same table as her phone and sits to wait.
Tae-ha reasons that they haven't done anything wrong and should just act natural, so they casually go and sit with Ha-jin. Yeo-reum apologizes and Tae-ha just stuffs his face nervously while Ha-jin stares at him. He thinks to himself that his pride is so hurt he wants to die. Aww, that's sad. But it's sweet how he assures Yeo-reum that he's fine and she shouldn't worry about him.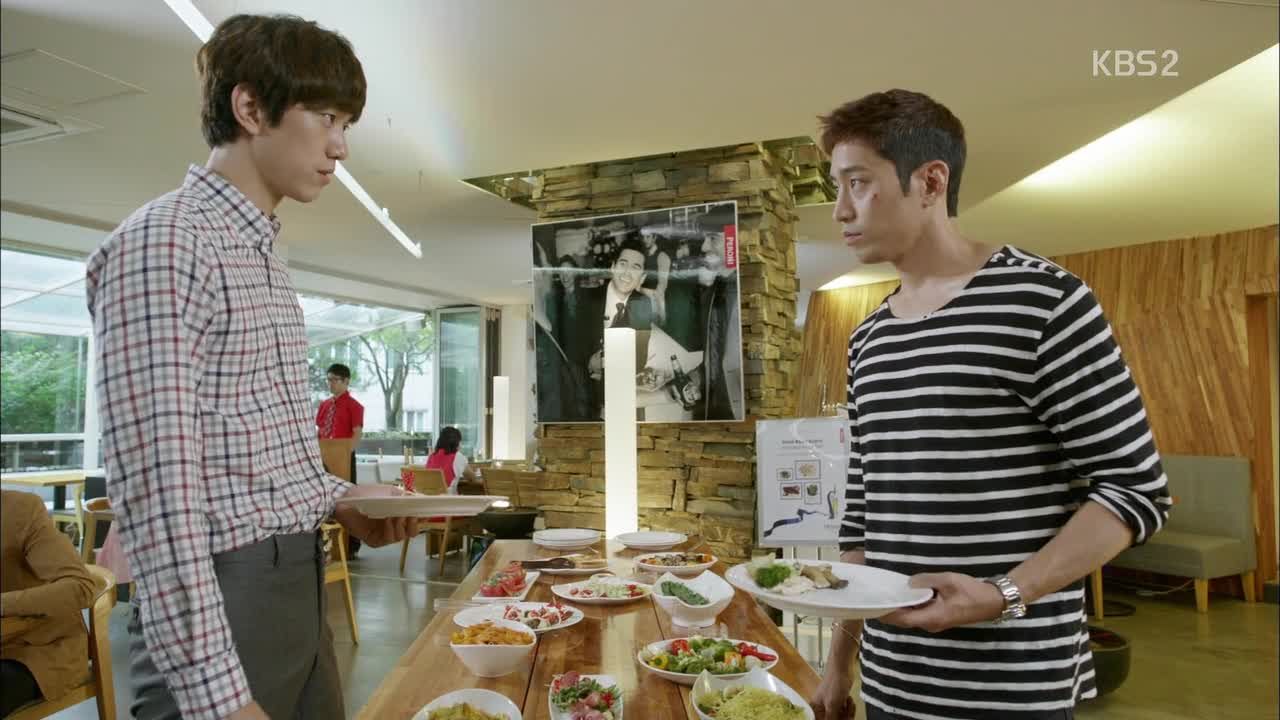 The two guys end up across from each other at the buffet and immediately begin trading barbs. Ha-jin comments again on how often Tae-ha and Yeo-reum coincidentally meet, and Tae-ha says that a girl told him once that so many coincidences is actually Fate. Ha-jin asks if Tae-ha really likes Yeo-reum or if he said it to provoke him, and adds that he doesn't care, as long as it doesn't make Yeo-reum uncomfortable. But his face hardens as he warns Tae-ha not to ever tell her he likes her, or he'll kill him.
Tae-ha asks if he's going to keep other things from Yeo-reum as well, like the girl he was hugging the other night. Ha-jin blusters that it's none of his business, but shows his hand a bit by asking why Tae-ha hasn't told Yeo-reum. Tae-ha just snickers that he's not a tattletale.
After a super awkward lunch, Ha-jin walks Yeo-reum out and asks why she never smiled while they were eating, and she tells him that it was uncomfortable. He assures her that guys just do that power-struggle thing and it's nothing to do with her.
Tae-ha heads to the pharmacy for something for his nervous stomach, and finds Ha-jin there chugging the same medicine. He manages to smoothly ad-lib that it's for a coworker, hee. He downs the medicine at his car, now growling at the text hearts that Yeo-reum accidentally sent him and calling them childish. Even Yeo-reum isn't exempt from the post-lunch upset tummy issues, and Sol pricks her finger for her.
A nun from the orphanage visits Ah-rim at work, bringing her a photo she found of herself and Ha-jin as children. Ah-rim tries (obviously not for the first time) to get the sister to tell her where they sent Ha-jin, but the nun can't tell her no matter how she'd like to. Ah-rim sadly reasons that if he'd wanted to see her, he would have found her by now anyway.
Ha-jin calls her and offers to meet and discuss the patient who needs facial reconstruction. Ah-rim tells the new picture of her oppa that she met a nice man, and we see that Ha-jin has that exact same photo at home.
Yeo-reum's mother shows up to her writing studio to find Producer Bae invading her space again, though this time he looks a little less… stinky. He wants to talk about their supposed cheating together ten years ago, since he doesn't remember anything of the sort. She reminds him of a certain business trip with lots of drinking, and when he seems to remember, she kicks him out.
Yeo-reum sets the table at Ha-jin's and decides to tell him the truth about her and Tae-ha, but then she spies a shopping bag from the mall. She sees the date on the receipt and realizes that he must have seen her eating with Tae-ha, but pretended not to know when he called her. She wonders if he saw them holding hands too.
Ha-jin details for Ah-rim the surgery he has planned for the boy with the cleft palate, and he notices her schoolbooks. She says her schooling got delayed but she's studying between her part-time jobs. She offers to buy him dinner just as he gets a text from Yeo-reum that she's at his place – Ah-rim offers a rain check, but instead, Ha-jin texts Yeo-reum that he's got dinner plans and not to wait for him. She texts back that she's wearing sexy lingerie and will wait.
Ha-jin takes Ah-rim to a restaurant that's much nicer than she's used to, and when she sees the menu prices she admits she can't afford to treat him. He feels bad and offers to leave, but she says she smells the food and doesn't want to leave. She admits that it's rude but asks him to treat her this time, and she'll pay next time.
The next morning, Ah-rim leaves a juice delivery on Ha-jin's door as a surprise (she strong-armed his address out of Joon-ho) and rings the doorbell, but it's Yeo-reum who answers to find the juice hanging from the doorknob. Ah-rim watches from around the corner, surprised to realize that Ha-jin has a girlfriend. Yeo-reum reads the note on the juice bottle thanking Ha-jin for dinner and offering to take him on a date for kimbap next time. She confronts him, particularly suspicious that the note is in a girl's handwriting.
Ha-jin says that Joon-ho introduced them and that he's doing surgery on her friend, and even admits that the girl in question is young and pretty. Yeo-reum changes the subject and asks if he followed her and Tae-ha at the mall, wanting to know why he hasn't brought it up. He says that since Kang Tae-ha showed up they've been fighting a lot, and that he didn't want to be suspicious and fight again.
Yeo-reum counters that she wants them to tell each other everything, even if it leads to fights, because keeping secrets is worse. Every time he overlooks something, she ends up lying, and she doesn't want that to happen anymore. She also tells him that she doesn't like this note, she doesn't like that a girl wrote it, and she doesn't like her use of the word "date."
Yeo-reum asks why Ha-jin can't be jealous like her, and he says that if he told her not to work with Tae-ha, he wouldn't be so cool anymore. She swears up and down that her relationship with Tae-ha is nothing more than business. So much for no more lies.
In a meeting with Tae-ha, Yeo-reum sits fuming as he tears her ideas apart, nitpicking just about everything in her designs. She finally breaks in to complain that the entire design team decided on these plans, asking what the point of that work was if he's just going to veto everything. Tae-ha calls her designs amateurish, and she just packs up her things and leaves, agreeing to start over.
Tae-ha sends Yoon after her to tell her that he hates being cut off like that, but Yoon only asks her if something happened between them. She has to admit that Tae-ha wasn't wrong and that she'll talk with Sol about what to do. She gets outside to find Tae-ha's car blocking hers and tries to push it (as he watches from the window, jerk), but ends up having to call Tae-ha who refuses to come move it.
Yeo-reum tries to do an end run around Tae-ha and have Yoon move the car, but Tae-ha anticipates this and calls Yoon to tell him not to help her and to tell Yeo-reum to come to his office if she wants his keys. She goes up and demands the keys, but Tae-ha (sitting hurt with his back to her) wants an apology for texting him and inviting him to lunch accidentally. She apologizes and he tells her to get the key from Yoon, and I honestly don't know how she refrains from killing him.
On his drive home, Tae-ha remembers a time driving with Yeo-reum when she'd cutely used her handkerchief on his shoulder as a pillow. He muses at how he seems to be thinking of old times all the time lately. He even imagines her when he's brushing his teeth, then again in the kitchen at work. He scares himself when his imaginings get too real and he has to yell at the specter of Yeo-reum to leave, but HAHA, she's really there, staring fascinated at the crazy man.
The design team goes out after work, and Tae-ha says in voiceover that after Yeo-reum broke up with him, he wrote her a letter. He knew that Yeo-reum had moved but he'd gotten drunk and written it anyway – the letter simply said, "Come back. I was wrong. I miss you." He didn't even have a stamp, but he staggered to a mailbox and mailed it anyway, knowing it would never find her.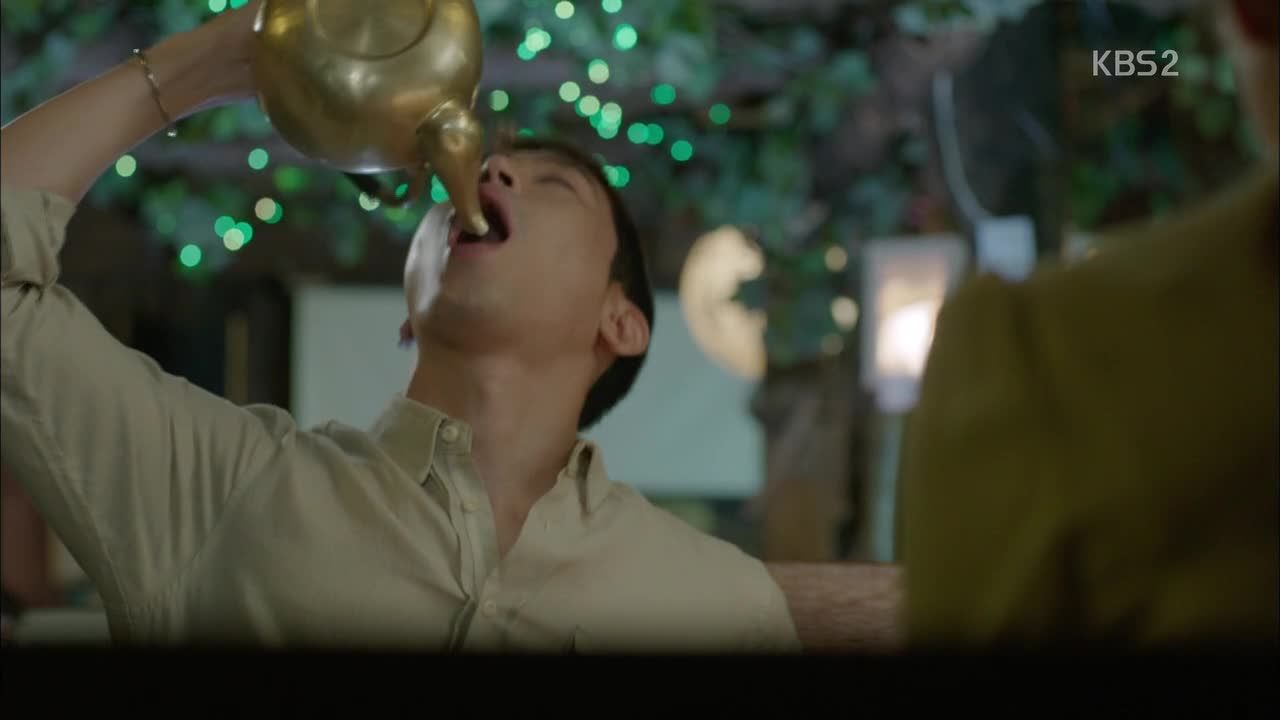 His coworkers socialize while Tae-ha doggedly downs bowl after bowl of makgulli, then stumbles outside for some fresh air. Yeo-reum sees him go but gets a call from Ha-jin and heads outside to meet him.
Tae-ha sits on the steps and when Yeo-reum passes him and says she's leaving, he hollers loudly, "I like you, Han Yeo-reum! I've started to like you again." She's speechless, and he continues, saying that he'll probably regret this tomorrow but he figures he may as well say it, and tells her again that he likes her.
He elaborates, explaining that he thought he liked her before but now he knows that was fake, because it didn't hurt like this. In the past he didn't feel this intense and desperate, but at least it wasn't as painful. He says that he didn't understand her when she'd say she was in pain, but he does now. He looks bleak and on the verge of tears as he says that the one who likes the other more, hurts more. He understands now, and it's hell. Oh you poor thing, this is just awful.
Tae-ha goes back inside and Ha-jin pulls up, and Yeo-reum tells us that it's normal to have a stronger and weaker party in any relationship, and dating is no different. The one who likes the other more becomes weaker, and is more likely to apologize first or be more patient. She says that in the past she was the weaker one and always wanted more of Tae-ha.
Tae-ha goes back in the bar and resumes drinking, and Yeo-reum brings Ha-jin in to meet everyone. They're convinced to stay a while, and Tae-ha downs more makgulli, thinking that he'd like to never be sober again.
With an expression I don't like one bit, Yeo-reum notes that Tae-ha is in the state of hell she used to be in. She realizes that she has the power now, and that she can torment him all she wants. Even knowing that it's cruel, she's glad that Tae-ha confessed.
COMMENTS
Until now, I've given Yeo-reum a pass to be a little snooty to Tae-ha because yeah, he did hurt her in the past and he's seemed to be not so much interested in her, as sort of poking at her to see how she'd react. As long as he was playing games, I gave Yeo-reum a pass to play a few games herself. But this? I don't like this side of her one tiny bit, no I do not. I don't care how much hurt you've felt from someone in the past – when they open up their heart to you and hand you the ammunition to hurt them badly, it is SO not cool to decide to hurt them just because they once hurt you. We still don't know the whole story of Tae-ha and Yeo-reum's breakup, but it seems like he hurt her not out of meanness, but out of neglect. He never hurt her on purpose. If she starts hurting him on purpose, I'm so done with her.
And oof, that futile confession of Tae-ha's was so hard to watch. You could tell he got no pleasure from admitting his feelings, because he knew she wouldn't respond positively. He knew that confessing now would be like that stampless letter to an old address… it would do no good other than to get it off his chest. He looked downright miserable as he admitted that he knows now how she felt back when they dated, and he's feeling the same hell she went through. That's a big reason why it will make me very angry if she uses this to toy with him – just the confessing was painful enough for him. He hasn't done anything to deserve her inflicting deliberate pain on him on top of everything else.
Mostly this episode was a study on lies, and whether or not it's ever a good idea to lie to someone to "protect their feelings." Yeo-reum actually had a good point when she said that Ha-jin's lies, and that keeping secrets and deciding to overlook things that bothered him made her lie more, and that it became this growing snowball of dishonesty. I disagree that someone lying to you makes you lie to them more, because we should each be responsible for our own choices. But she's right that when he overlooks something, it makes it seem like it's not important, and makes it more likely to happen again in the future. Better to confront the issue right away and discuss it openly.
But is it ever excusable, or even preferable, to lie if the truth would hurt someone? I actually do think there are situations in which a small lie is better than a painful truth, as long as the hurtful thing will never happen again. Confessing a mistake that you feel horrible about and will never let happen again, just to free your own guilt, can do more hurt to someone than if you just do a little smoothing-over and then make sure nothing like that ever occurs again. But those situations are few and far between, and mostly it's just better to be honest from the beginning.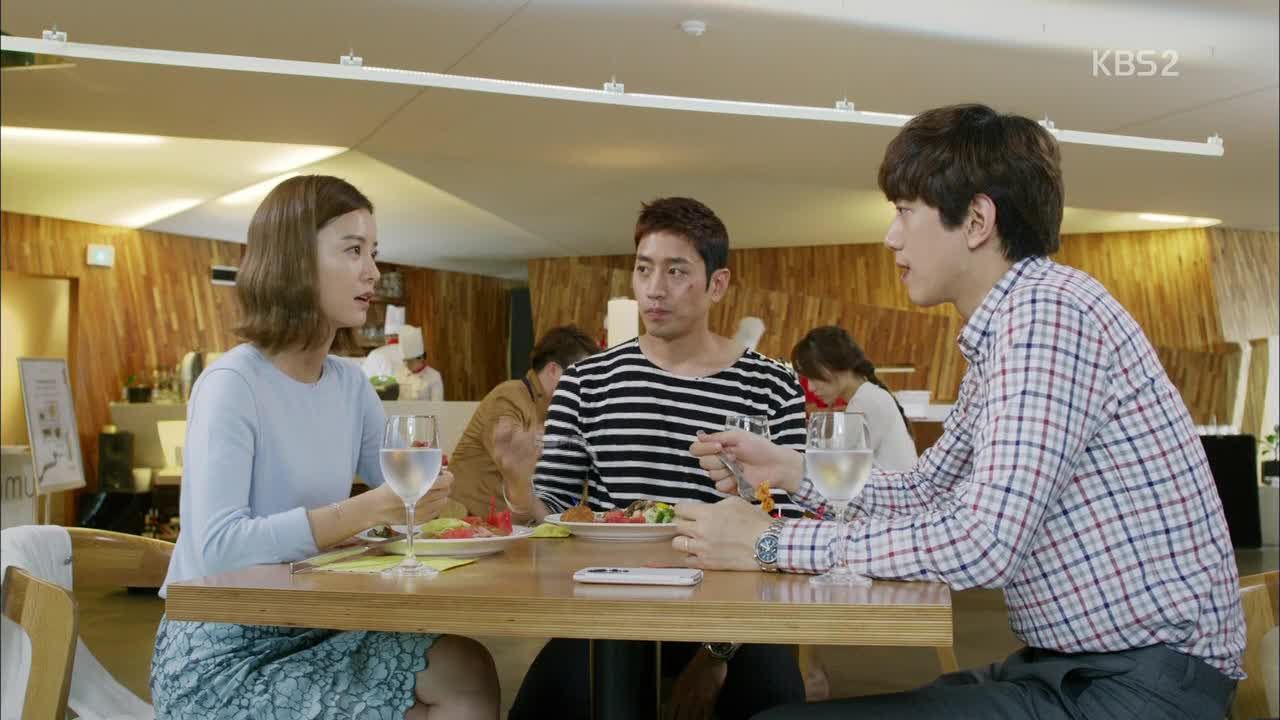 My main concern about our three leads is the lies upon lies that they're telling each other. Tae-ha lies that he's not interested in Yeo-reum, but then continuously says things that lead Ha-jin to think that he does like her, just to upset him. He lies to Yeo-reum and tells her that he doesn't want to get back together with her again. Yeo-reum lies to Tae-ha that she has no feelings for him anymore, and she lies to Ha-jin about her past with Tae-ha. Ha-jin lies to everyone about Ah-rim, which is most worrisome to me because if he truly only sees her as a sister from his childhood at the orphanage, then why wouldn't he just tell Yeo-reum about her? I have a feeling that we really don't even know yet why he's expending so much energy hiding his relationship with Ah-rim, whatever it is, and it could end up being the biggest lie of all.
These people need to start telling the truth, and soon. This tower of lies upon lies can't hold up forever, and it's pretty obvious that once people start learning the truth, knowing that they were lied to is going to cause a lot more fallout than if they had just been told the truth in the first place. It's already difficult to watch someone admit they've lied and tell the honest truth, as in Tae-ha's obviously painful confession. If these lies go on for much longer, irreparable damage will be done, and they'll end up destroying the relationships they were misguidedly trying to protect.
RELATED POSTS
Tags: Discovery of Romance, Eric, featured, Jung Yumi, Sung Joon