My Spring Days: Episode 1
What a pleasant surprise. My Spring Days premiered on MBC this week, and while it does inevitably have that comfort food vibe, it still adds enough of its own zest to become a hearty, standalone dish. With an unconventional pairing at its center and plenty of space for serious drama down the road, I was expecting a rather dreary affair—but instead, what we get is a premiere that knows how to balance (what could easily be) its more melodramatic tendencies with warmth and humor. Especially humor.
Note: This is just a one-off recap for now. Waiting to see how next week shakes out before making any promises.
SONG OF THE DAY
Girls' Generation – "Mr.Mr." [ Download ]
Audio clip: Adobe Flash Player (version 9 or above) is required to play this audio clip. Download the latest version here. You also need to have JavaScript enabled in your browser.

EPISODE 1 RECAP
"People say that you can do anything if you try hard enough," a voiceover tells us. "But the truth is that there are some things you can't do, no matter how hard you try."
The words are said over a series of touching vignettes: a young son helping his blind mother find her way, a mother begging a doctor to save her son, and a young patient, LEE BOM-YI (Sooyoung), smiling when she learns that she'll receive the heart transplant she needs.
The voiceover continues before and during the transplant surgery that in cases where there is no hope, all anyone can do is pray for a miracle. When the surgery is successful, and Bom-yi's new heart begins to beat in her chest, we hear: "But miracles do happen. For now, let me tell you about a beautiful miracle that happened to us."
After some time has passed, Bom-yi wakes up in her own room, filled with books about nutrition and healthy eating for a healthy life. She sighs with relief as she feels her heart beating in her chest, and looks to a map of Udo (an island off the coast of Jeju island) tacked to her wall as she thanks her invisible donor before promising that she'll live yet another day to the fullest.
Bom-yi heads to a vegetable market auction (which gives me terrible Bachelor's Vegetable Store flashbacks), and takes the produce to the hospital, where she works as the chief dietician for their cafeteria.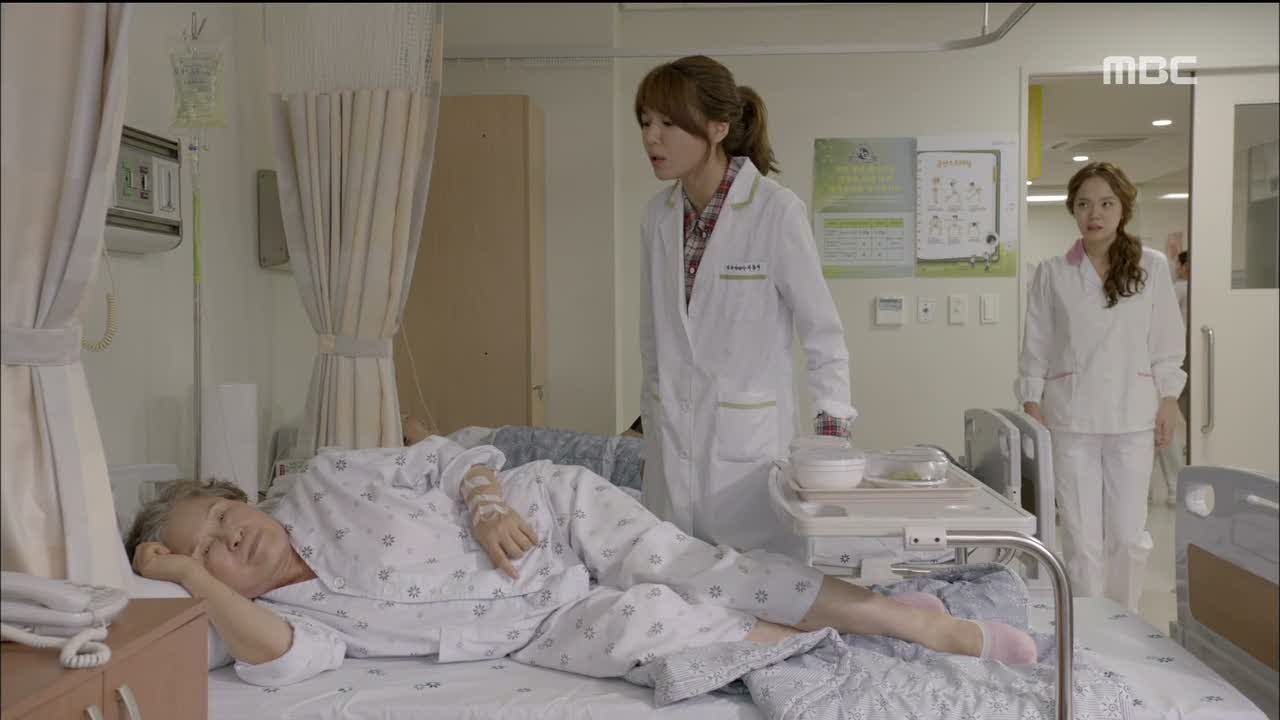 She also oversees patient nutrition, and has a sharp eye for noticing when someone's not eating as they should be. She politely but firmly scolds a stubborn grandma for not finishing her meal, and attempts to get her to eat so she can help herself on the road to recovery.
But when the grandma complains that a healthy young woman like Bom-yi can't understand a sickly old woman like her, Bom-yi throws down the gauntlet and unbuttons her shirt to reveal her transplant scar. Now that the grandma is listening, Bom-yi promises to get her anything she wants to eat—she only has to name it.
Since the grandma wants ox bone soup, Bom-yi wakes up her friend/coworker JOO SE-NA (Ga Deuk-hee) at dawn to get the ingredients they need. Though Se-na is not pleased when she finds out that Bom-yi plans to get the hospital's beef from the same market, since it means she didn't order it beforehand like she should've.
Her plan doesn't end up working out when she realizes, much too belatedly, that there's a limit on the amount of beef she can buy—so she can't get enough for the hospital.
The man selling said beef is our hero, KANG DONG-HA (Kam Woo-sung), who takes special notice of Bom-yi… but not enough to give her even one extra package of beef. She has to get back in line if she wants more.
Looks like we can't escape some hospital politics, since belabored secretary BAE JI-WON (Jang Shin-young) has to deal with her hospital's no-nonsense chairwoman and the fact that their star doctor hasn't yet showed up for an important business meeting.
That star doctor is KANG DONG-WOOK (welcome back, Lee Jun-hyuk!), currently being filmed while performing a surgery.
Bom-yi leaps at the opportunity to buy more beef once crabby ajusshi Dong-ha is no longer manning the counter, but is caught in the act by him anyway. He finally asks her why she needs so much, and she explains that it's for her job as a hospital dietician—but he doesn't buy it.
Instead, Dong-ha thinks she's trying to buy their well-priced (sponsored) beef to turn around and sell it for more money, and accuses her of being a no-good scam artist. Bom-yi won't stand for that, and demands he apologize.
Dong-ha scoffs, and tells Bom-yi she's wasting her time looking for mannerly conduct from a butcher. He tells her to go home before he cuts her up like a side of beef, causing Bom-yi to become even more offended that he'd threaten her body, which she considers to be a gift from her parents.
She won't let this one go, but when Dong-ha roughly turns away from her, he ends up knocking her over. He has no sympathy for the fact that Bom-yi's beef has now been ruined, nor does he care that other customers are filming them as he threatens to break Bom-yi's legs if she ever shows up again. I'm pretty sure he means it.
While discussing methods to get star doctor Dong-wook to renew his contract with their hospital, it's revealed that hospital chairwoman JO MYUNG-HEE (Shim Hye-jin) is Bom-yi's mother.
To add to the drama, Bom-yi and Dong-wook are set to be married (whether it's an official engagement, I'm not sure), but even having Dong-wook as her son-in-law doesn't soothe Chairwoman Jo's worry that he'll sign with one of the many other hospitals dying to have him.
But when her cohort recommends ousting her husband, Bom-yi's father, from his position as director so that they can offer it to Dong-wook as an incentive to stay, Chairwoman Jo actually seems to consider it.
We meet Bom-yi's father, LEE HYUK-SOO (Kwon Hae-hyo), while talking shop with Dong-wook. Daddy Lee knows he wasn't invited to the big meeting because of his wife, but wants to know why Dong-wook didn't go.
Dong-wook sighs that his interests just aren't with Chairwoman Jo's hospital, which Daddy Lee tsks at him for—how else is he going to earn money for that organ transplant hospital he's always wanted to build? It's clear the two have a friendly rapport, even if Daddy Lee is a little bit crabby that Dong-wook will be stealing his Bom-yi away by marrying her.
His crabbiness is just for show, because he loves Dong-wook like his own son now, and especially since he saw him crying the day of Bom-yi's heart transplant five years ago. Surprisingly, Dong-wook's tears then weren't just for Bom-yi (who he probably didn't know then), but because the donor was a relative of his. Uh oh. He's Dong-ha's brother, isn't he?
After feeding the stubborn grandma the ox bone soup she'd wanted so badly, Bom-yi grumbles about the crabby butcher ajusshi she got in a fight with as Dong-wook treats her scrapes.
Though he tries to ease her mind about it like a good oppa, Bom-yi can't help but feel that what Dong-ha said about her "living her life for free" is true—she should have been dead a long time ago, but because she got a new heart, she got an extra life for free.
Dong-wook gently argues that a heart isn't free, but it's precisely because it can't be bought with money that Bom-yi argues it is, because that makes it priceless. And since she can't pay for a priceless thing, that makes it free.
While Big Beef employs a legal team to pull down the now-viral video of Dong-ha knocking Bom-yi over, Dong-ha is schooled in parenting by his own daughter when he makes his younger son cry by taking away his toy.
Since they're in the middle of the airport (having come from Seoul to Jeju Island), Dong-ha eventually just throws his son over his shoulder. They've got to get to Udo, which means Dong-ha doesn't have time to indulge his son screaming that he hates him.
As fate would have it, Bom-yi has also just arrived on the island, and she also takes a ferry to Udo, the island from the map she looks at every morning.
She sees only the back of a man on the shore throwing liquor and food into the sea, and instead of looking at his suit and concluding that he's performing a memorial service, she concludes that he's littering and presumes to take him to task for it.
It's Dong-ha, of course, and while he instantly recognizes her from their incident at the butcher shop, she can't do the same because he was wearing a mask then. The second she leaves him alone, Dong-ha resumes paying his respects to the dead.
When Bom-yi spots Dong-ha's children waiting nearby, she has no idea why tears suddenly spring to her eyes. After brushing them away, she notices that daughter KANG PU-REUN has bled through her pants, and tells the girl so she can go home and change.
Bom-yi wraps her sweater around Pu-reun's waist for modesty, while her brother, KANG BA-DA, asks Bom-yi why she was crying earlier. She'd rather switch the subject, and finds it cute that their names mean "Blue sea" when put together. (Pureun translates to "blue" while bada translates to "sea.")
Little Ba-da doesn't think it's so cute, since their grandmother's told them that the "blue sea" is responsible for their mother's death. When Bom-yi comforts him though, Ba-da asks his older sister if that's what their mother used to do.
Dong-ha sees the three of them just as Bom-yi wraps Pu-reun's shirt around her waist so she can go home comfortably. She even gives the girl her business card so she can call her any time, which is when Dong-ha intervenes.
"Don't you recognize me?" he asks, but Bom-yi doesn't. His tone is accusatory as he asks his daughter why she was acting so close to a stranger, which soon turns into a bicker-a-thon between him, Pu-reun, and Bom-yi.
He finally backs down the way all dads do when daughters talk menstrual cycles, which is pretty funny. Bom-yi leans in the same way his daughter did to whisper in Dong-ha's ear that he better take good care of his children, since she knows they don't have a mother. I'm sure your intentions are good Bom-yi, but maaaybe leave the parenting to the parent who's twice your age.
Apparently, the reason Big Beef is now involved in the butcher shop kerfuffle is because Bom-yi filed a complaint afterward, leading to a meeting between their people and her people, represented by secretary Ji-won. After curtly assuring them that Bom-yi isn't after settlement money, Ji-won considers the matter closed.
Daddy Lee is proud of his headstrong daughter when Ji-won brings the news to them, but Chairwoman Jo doesn't find it quite so amusing. Regardless, she asks Ji-won to gather every bit of information possible on her future son-in-law.
Dong-wook finds out through Daddy Lee that the online butcher shop scandal brewing because of Bom-yi is partially his fault, since he wrote her a doctor's note that got her out of work for a day.
Neither of them know where Bom-yi went off to, and Daddy Lee jokes that she must have another man. But when Dong-wook wonders whether Bom-yi knows where her heart came from, Daddy Lee claims she doesn't know who the donor is—but because the heart was delivered via helicopter, Bom-yi would have a rough idea of where it came from.
Daddy Lee guesses she went to Udo (judging from the map in her bedroom), and since today is the anniversary of her donor's death, they figure that's why she went.
It is, since Bom-yi has brought memorial food to the sea shore for the donor she's never met. "Thank you," she says, with tears in her eyes. "I'm sorry… I should've come here earlier." It's sad how she tries to be cheerful despite herself, as if she's afraid of making the spirit of her donor upset on her account.
"Can I ask… how should I live? Can you tell me?" Bom-yi asks. "You know, there were places you wanted to go, things you wanted to do, and even people you wanted to meet… right? I don't know how, but if you just tell me, I'll do anything. I know it won't make a difference, and I know it's for my own sake, but… this is the only thing I can do for you."
The touching music accompanying her monologue is cut comically short when Dong-ha suddenly interrupts from nearby to ask what she's doing there—is she planning to throw herself into the sea?
Bom-yi gives him a long-winded explanation as to why she'd never opt to die young when she has to live each day to the fullest for a very very long time, and I love how Dong-ha is all, Well, then get down from there.
But then he has to clarify that he's not the one worried about her being perched precariously on a rock, it's his neighbors.
Cut to: A bunch of the islanders standing on the shore, watching her curiously. Hah. Out of pride, Bom-yi refuses Dong-ha's help, but no sooner does he turn around that she slips and falls into the ocean.
She passes out fairly quickly and starts to sink, while Dong-ha runs and dives in after her. But a phantom pair of hands reach up from the depths to push Bom-yi up by her feet, jarring her back to consciousness moments before Dong-ha is able to grab her and pull her to the surface.
Under the water, we see the woman who pushed Bom-yi to safety smile sadly and wave goodbye. Is this the spirit of her donor?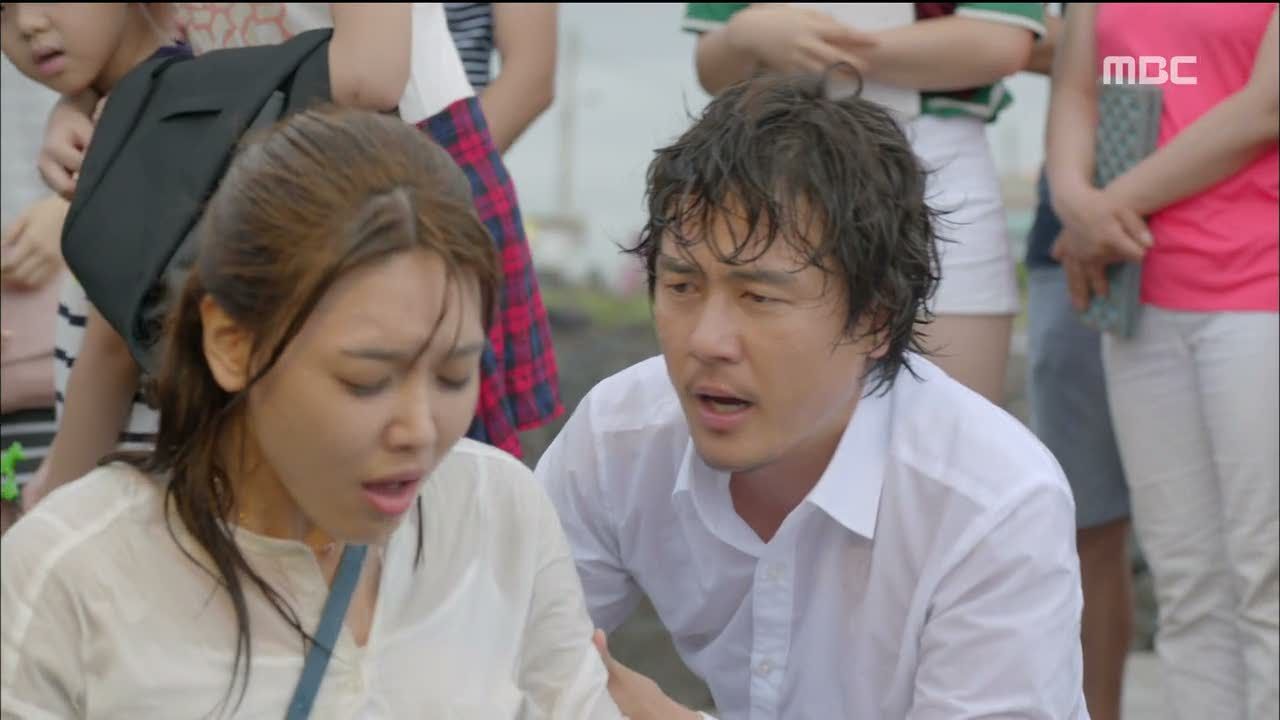 Dong-ha administers CPR to Bom-yi, but the name he cries is his late wife's as he desperately tries to get her to wake up. One of his neighbors brings him back to reality, and Dong-ha reverts to calling Bom-yi "agasshi" as he continues to administer CPR until she spits out water.
No sooner does Bom-yi open her eyes that she says, "There's someone in there! I saw someone in the water!" Assuming she's lost her mind, Dong-ha hurriedly carries her on his back to the nearest clinic, where he has to keep pushing her back down to the cot every time she gets up to insist she's fine.
The physical comedy that ensues with the doctor, Dong-ha, and Bom-yi is pretty funny, especially when the neighbor who accompanied them chastises her for yelling at Dong-ha when he saved her life… only for her to bluntly reply, "I almost died because of him!"
She claims that it's his fault she was in a hurry, and when she threatens to sue him, Dong-ha fires back that she sure likes to use that word a lot. When she doesn't understand him, Dong-ha seems genuinely confused as he asks her if she has a legitimate problem with recognizing faces.
Bom-yi is offended because she totally recognizes him… as the man she met throwing garbage into the sea. Hahaha, and that's the final straw for Dong-ha, who decides that it's time to leave the crazy girl alone.
After he has to point out that she's wearing the bag she thinks she's lost, Bom-yi looks down and notices that Dong-ha's foot is bleeding—he'd lost his shoes while piggybacking her earlier. At least she finally thanks him, however reluctantly.
Of course, it's out of the kindness of his heart that Dong-ha invites her to his house to take a shower (since he saw her wringing the water out of her shirt), but it comes out like an invitation to shower together.
Bom-yi scoffs and storms out, leaving Dong-ha to repeat his question to himself to figure out where he went wrong. Hah. But when she happens by a picture of Dong-wook on the clinic wall, she can't actually call him since her phone got dunked with her.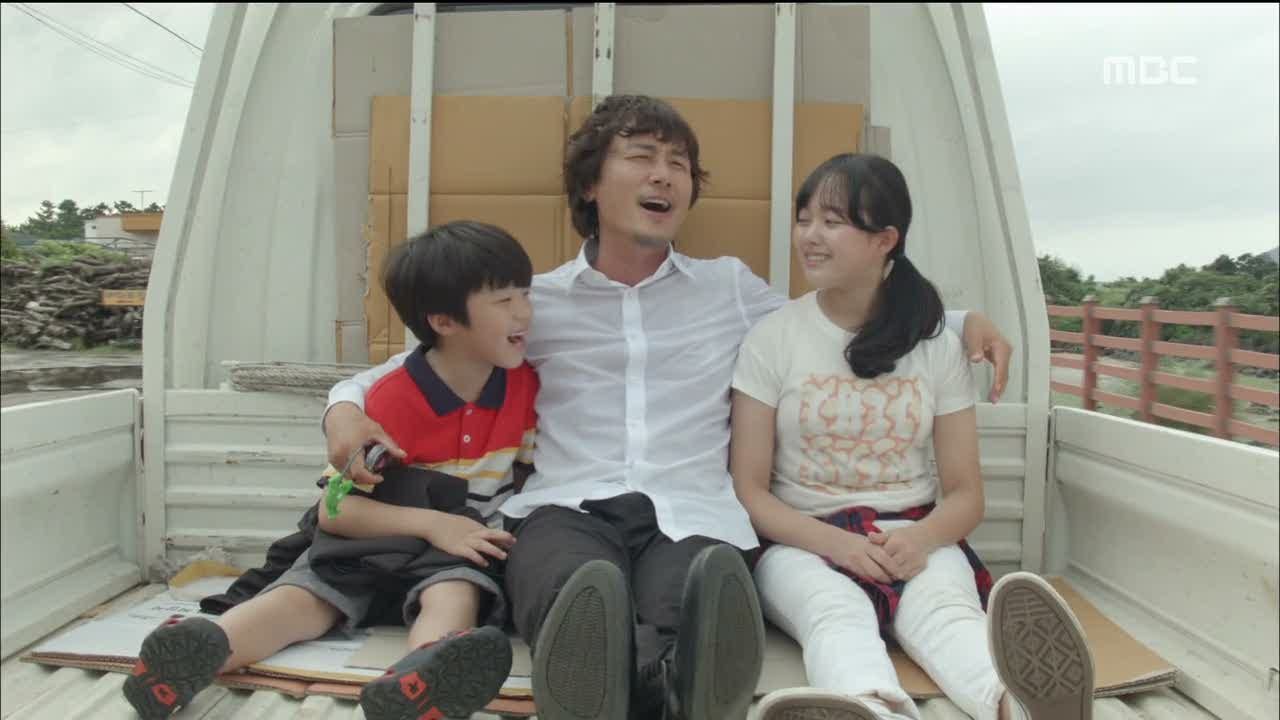 When Pu-reun asks her father what happened to "that unni," clearly worried about her, he tells her that Bom-yi is going to take the last ferry out. Pu-reun says there are no more ferries for the day, which Dong-ha definitely hears, but doesn't immediately respond to.
Instead, he and his children sing together the whole truck ride home, all smiles and laughter.
Bom-yi finds out the hard way that she won't be taking a ferry today, and gets into the first bus she sees outside, figuring it'll take her somewhere.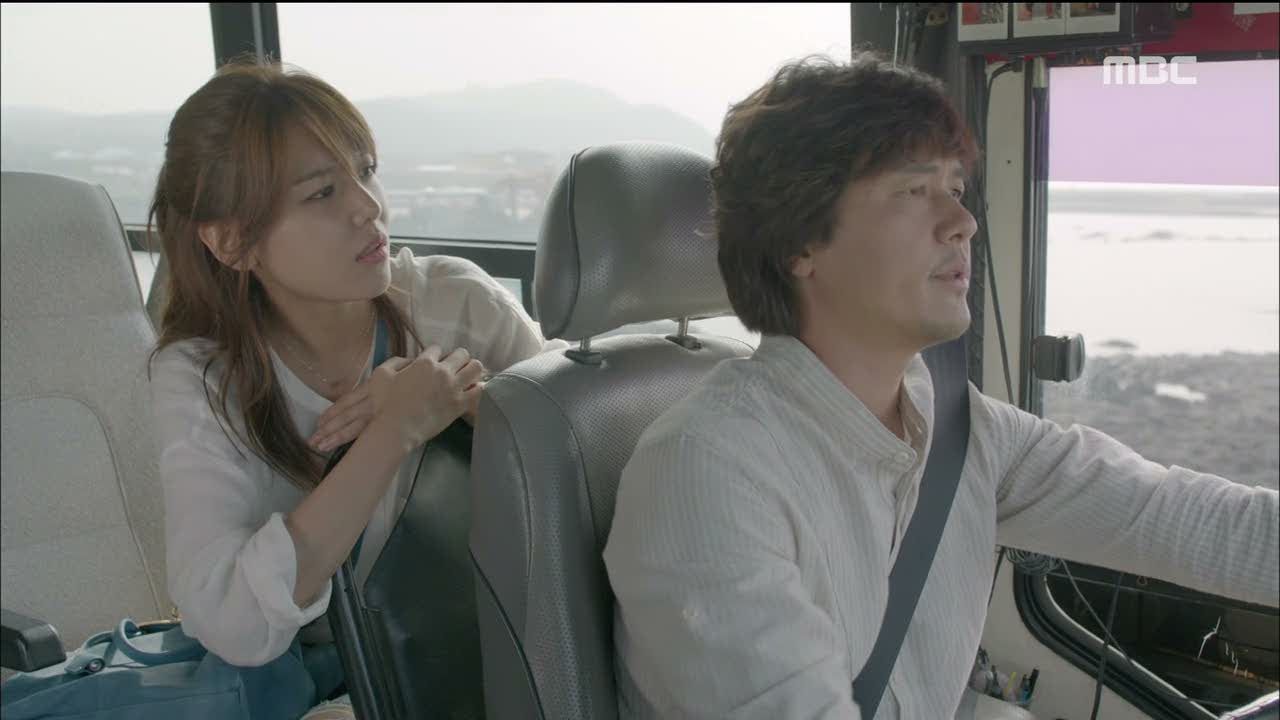 In what must be some sort of dream sequence, the bus driver is revealed to be Dong-ha, and Bom-yi is the only passenger. It starts to feel less and less like a dream when she asks him why he didn't tell her about the ferry thing sooner, enough to make me think it IS real. Huh?
She asks that Dong-ha drop her off "downtown," which, on a small island like Udo, is the middle of nowhere. Bom-yi wanders the country roads until she hails down a passing truck—also driven by Dong-ha.
Bom-yi blinks, then asks herself if he has a twin or if everyone on this island just looks similar. I still don't know if she's just imagining everyone in town as Dong-ha, or if Dong-ha is using all these random methods to help her without looking like he cares.
Dong-ha drops her off when she asks to be taken to an inn, but she's surprised to see the neighbor who accompanied them to the clinic… and especially surprised to see Dong-ha's two children, who inform her that this isn't an inn. It's their house.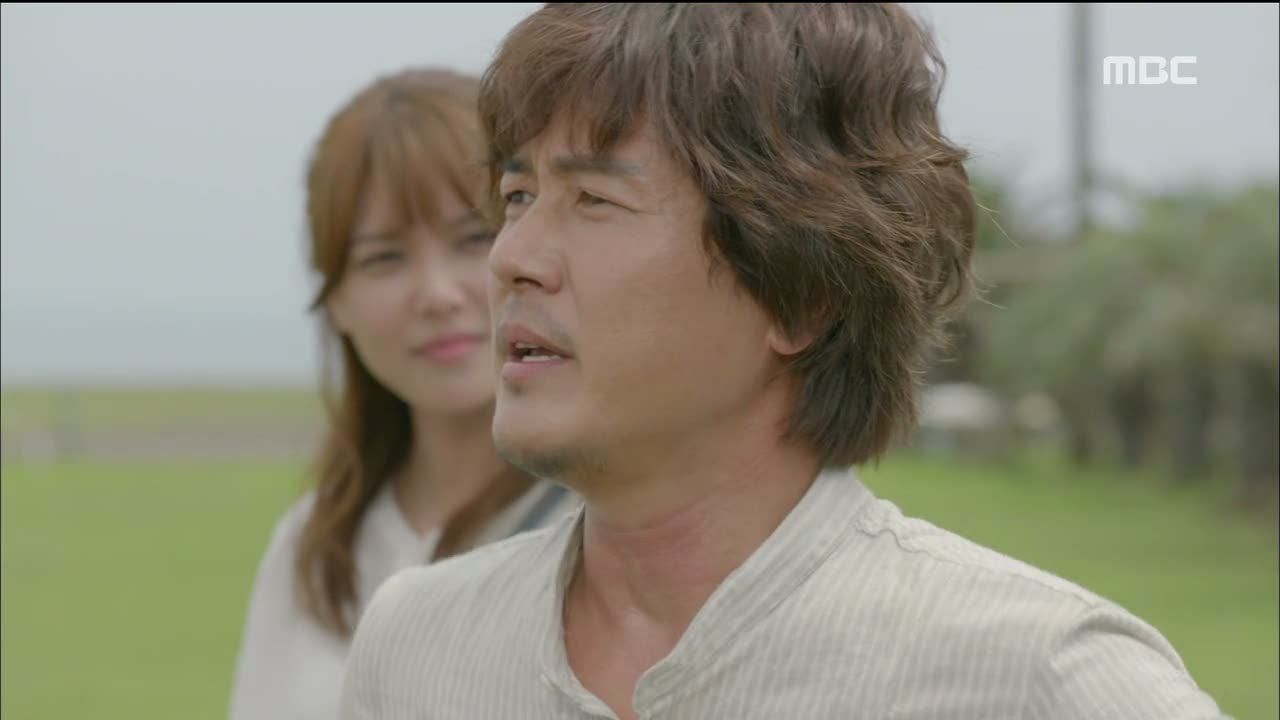 Bom-yi realizes what Dong-ha pulled belatedly, and he brushes his act of kindness off by saying it would've been much easier if she'd just accepted his offer earlier. Wait… so he went through all that trouble to help her? (And the Best Ajusshi Ever award goes to…)
While Pu-reun takes her clothes out to dry, Bom-yi wears a dress that once belonged to their mother—it was the only article of her clothing Dong-ha didn't throw away.
Meanwhile, Dong-wook tries to call Bom-yi with no response. After pulling out a picture with him, his brother Dong-ha, and his brother's late wife, he thinks back to Daddy Lee's question about how exactly the donor was related to him.
And when Dong-wook deflects the question by asking if Daddy Lee really thinks he came to this hospital just to stay close to the heart… well, that pretty much says everything, doesn't it?
Dong-wook cites a theory called "cellular memory" that posits the idea that memories aren't just stored in brain tissue, applicable only to transplant patients who may take on new behaviors because of the organ they received.
Buuut, he claims that while Bom-yi's transplant was a happy surprise for him, it's not the sole reason he fell for her. Daddy Lee is the one to tell him that he should keep the details a secret from his family, since Bom-yi will be seeing a lot of them once they're married.
Back on Udo, Dong-ha is in for an unwelcome surprise when he sees Bom-yi outside in his wife's favorite dress. He's instantly flooded with memories of his wife, and sees Bom-yi as her…
…But when Bom-yi catches him staring and doesn't know why, she just stares right back.

COMMENTS
It's really nice to go into a show with zero expectations and come out with a result like this. As I like to do when recapping, I stayed away from any promotional materials and read only the bare bones of what I had to know before diving right in.
Even with blinders on, it was hard for me to imagine something mind-blowing coming out of a one-line premise that included a man falling for a girl who received his wife's heart in a transplant operation. And yes, this episode was very on-the-nose about the connection between Bom-yi, her heart, and pretty much everyone else in the cast.
But there's something to be said for the way My Spring Days managed to get that point across without being obnoxious about it, and I think that something boils down to good old fashioned sincerity. The show just feels earnest, which is a pretty intangible quality but a quality nonetheless—and that goes miles toward making a conventionally unconventional story like this into something that not only just works on a fundamental level despite all its impossible coincidences, but also manages to be charming in its own right.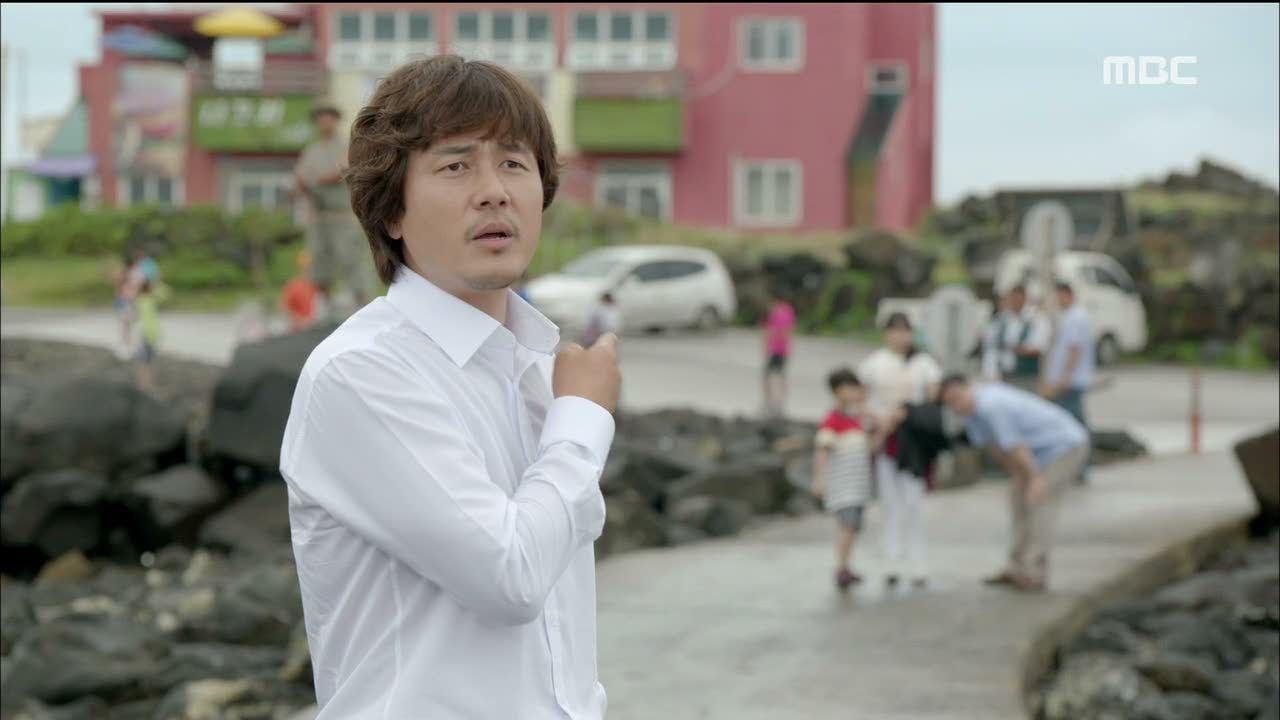 I was a little daunted by the fact that I'd never seen lead actor Kam Woo-sung in anything, ever, but I love the natural charisma and lived-in feeling he's bringing to Dong-ha. While I'd initially written him off as a crabby ajusshi whose emotionally-scarred heart could only be melted by Bom-yi (or so it always goes), I actually really came to like him as a character. Maybe it's because he defies normal heroic conventions by not just being an everyman, but a working-class widower with two children and a surprisingly high tolerance for female shenanigans.
Which brings us to Bom-yi, who's clearly got her heart (unintentional!) in the right place, even if she can be a tad bit impulsive and quick to judge. I do like that she isn't perfect, because when she first woke up and thanked her heart donor for giving her another day to live life to the fullest, I was worried that she'd be way on the opposite end of the heroine spectrum—you know, the kind who derive all their nutrients from drinking flower nectar and working every part-time job ever.
So the fact that Bom-yi has some people skills to work on, as plainly noted by Dong-ha, makes her that much more likable and relatable. She's fun, whether she's being worldly beyond her years or especially dim, so I'm interested to see where her story leads with Dong-ha and his apparent brother. Because this is probably the only drama where it would be actively weird for the heroine's fiancé to be much more concerned with what's on the inside rather than what's on the outside.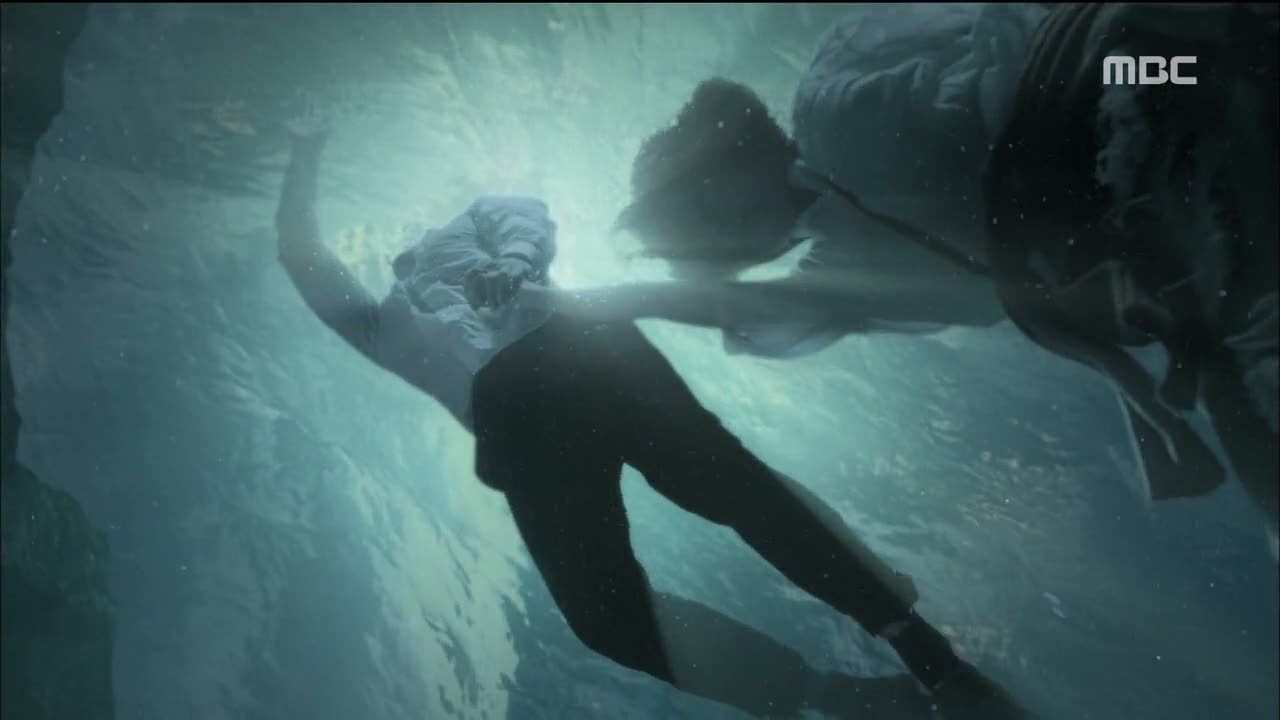 RELATED POSTS
Tags: featured, first episodes, Jang Shin-young, Kam Woo-sung, Lee Jun-hyuk, My Spring Days, Sooyoung