Odds and Ends: Mutually assured destruction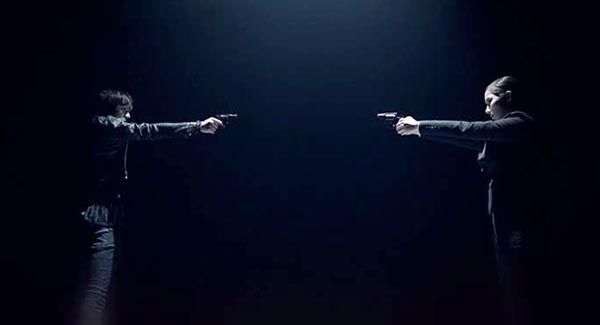 javabeans: Happy Chuseok weekend, everyone! Technically the holiday isn't until Monday, but I'm pretty sure everybody's brains turned off on Friday afternoon anyway. Or maybe it was the mass exodus out of Seoul to everyone's respective hometowns that killed the brainpower. I swear you'd think from the traffic that the world was ending or something.
girlfriday: I actually want to visit Seoul during Chuseok just to see the post-apocalyptic ghost town it becomes when everyone leaves. All I have to do in LA is avoid going to Koreatown and I'm relatively safe from being mauled on the way to pick up songpyeon (rice cakes).
javabeans: What, you don't make your own? That's the big Chuseok activity moms make you do, isn't it?
girlfriday: Yeah maybe moms on farms make you do that, but mine would rather order them from the rice cake shop and watch movies instead. This is what you do on Chuseok: stuff your face with songpyeon and watch movies.
javabeans: I guess my family is less festive, since we just do the American Thanksgiving like proper immigrants—you know, turkey with kimchi and stuff. We usually bypass Chuseok, although maybe if I lived closer to home my mother might make a fancy dinner. *thinks about this* Orrrrr maybe not. Mom doesn't love the cooking.
girlfriday: Does not compute.
javabeans: She thinks sohn-mat ("hand taste," or cooking with your hands) is an offense, not a flavor. In Korea, Chuseok is one of the biggest movie-going holidays of the year, much like Thanksgiving or Christmas, so I expect to hear all about the box office records being broken after the weekend.
girlfriday: Though Roaring Currents pretty much made sure it would be the one movie breaking records this year. It'll probably just make even MORE money this week.
javabeans: Yes, and everyone who doesn't see that will either watch The Pirates (if they wanna have fun), or Dugeun Dugeun My Life (if they wanna cry). Any idea what movies you're going to watch?
girlfriday: I will be voting for Kundo: Age of the Rampant, for obvious reasons (their names are Ha Jung-woo and Kang Dong-won), while my mom will likely want to see Crying Man or something, for Jang Dong-gun. Or she'll want to watch Miss Granny again. The problem is that there are too many things to watch, really. The list just gets longer and longer every year.
javabeans: I don't know why you're watching so many movies when there are still dramas to be watched, missy!
girlfriday: Oh remember when we made a deal to make each other watch a drama from beginning to end? We never did that!
javabeans: For obvious reasons, but it was a good idea. We should still do that. You first.
girlfriday: Hey, this is a two-way street, buddy. You can't keep me up at night if I don't get to make you lose sleep too! Uhhhh… now here comes the hard part: What to pick? Do I make you watch something old that you missed like Propose? Something cute and rom-comy to your taste like Bottom of the 9th With 2 Outs? Something classic or something new?
javabeans: This is the dilemma, because knowing us, we probably only get one shot at this. So if I had the power to force you to watch ONE thing, only one thing, what would it be?
girlfriday: THIS IS SO MUCH PRESSURE.
javabeans: For instance, should it be my sentimental favorite, Delightful Girl Chun-hyang, so that you could understand what the hell I keep talking about? Or do I recommend something you otherwise would totally bypass, like the sweet, macabre Flowers For My Life that nobody watched?
girlfriday: OOH, ooh, you have to watch Biscuit Teacher Star Candy! That's it! I mean, it's not like you need to see it to like Gong Yoo or Gong Hyo-jin any more, but agh, so cute!
javabeans: But maybe I could pick the one I know you're gonna dig because it's genre-y and mindfucky, Joseon X-Files. And then there's Who Are You (the one from 2008 with Go Ara and Yoon Kye-sang), because it's so unexpectedly heartwarming and will make you cry for all the right reasons. TOO MANY CHOICES.
girlfriday: On the other hand, I could use this opportunity to make you watch White Christmas or The Chaser, because you might not reach for them voluntarily and I want to use my powers for good.
javabeans: Well, now you planted the idea in my head that I could use my powers for evil, and that just opens up a whole new world of possibilities. If I had to suffer through Dr. Jin and I Miss You…
girlfriday: Just remember: I know that you haven't seen Winter Sonata. Or To the Beautiful You.
javabeans: Oh god. Is this what they call mutually assured destruction?
girlfriday: Yes, it's Dramaland Cold War.
javabeans: Or, I suppose we could go scorched earth. But I'd like this experiment to not fry both our brains. We do have normal dramas to watch and recap, after all.
girlfriday: Yes, ideally, we remain friends after this.
javabeans: Okay, fine. Good triumphs, I guess. But the question remains: Which drama?
girlfriday: Maybe you guys will have better ideas to help us narrow it down. We promise to watch, and we'll have regular check-ins to make sure we're not lying.
javabeans: Remember: Good, not evil!

RELATED POSTS
Tags: conversation post, Odds and Ends