Pinocchio courts Lee Yubi and Kim Young-kwang to play reporters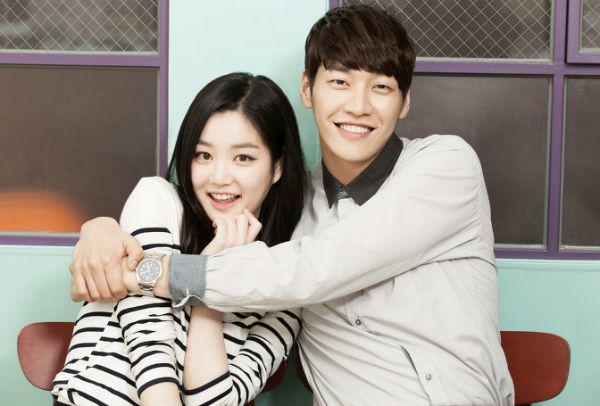 We've got two more names in circulation for Pinocchio, the new drama about young reporters headed to SBS this fall: Lee Yubi (Gu Family Book, Nice Guy) and Kim Young-kwang (Plus Nine Boys, Good Doctor) are reportedly being wooed to join the cast, with the usual "just considering maybe" caveats. They're up for supporting roles, while Lee Jong-seok and Park Shin-hye are still considering the leads.
Lee Yubi and Kim Young-kwang haven't been paired in a drama yet, but they've done CFs together (that's where the picture comes from), which is the same case for Lee Jong-seok and Park Shin-hye. But the boys did the movie Hot Blooded Youth together, where Lee Jong-seok played a wimpy ladies' man and Kim Young-kwang played a gangster who was jealous of him, and the girls play rivals in the historical film Tailor due out sometime this year.
Some of the stories still mention Kim Woo-bin as a casting possibility in addition to these guys, though the last I heard, he'd already moved on. If it's still a remote possibility, then we'd have a reunionpalooza on our hands, from Heirs, School 2013, White Christmas, and Vampire Idol. Apparently, all roads in the universe lead to Kim Woo-bin.
The new drama comes from writer Park Hye-ryun and PD Jo Soo-won of I Hear Your Voice, and will star a group of twentysomethings who work day and night behind the city news desk as eager young reporters in search of the truth. Lee Yubi is up for the role of an idol sasaeng fan who becomes a reporter. I suppose stalking skills could come in handy for that job? And Kim Young-kwang is up to play a second-generation chaebol who dreams of becoming a reporter.
They're considering the offers for now — Lee Yubi is currently shooting her movie Twenty with Kim Woo-bin (of course), and Kim Young-kwang's new tvN drama Plus Nine Boys just barely premiered last week, so it might be a while before the cast gets locked down.
Pinocchio follows She's So Lovable (after It's Okay, It's Love) in November.
Via MBN
RELATED POSTS
Tags: Kim Young-kwang, Lee Yubi