Plus Nine Boys: Episode 3
This show continues to be an understated slice-of-life tale that focuses on very relatable foibles, like getting your hopes up way too soon over the slightest possibility at love, or teasing the girl you have a crush on because it's easier than letting her see your bleeding heart. Now that the premise has been set up, luck takes a backseat to plain old insecurity, which turns out to be a problem at any age, especially when it comes to love. It's an episode about connections—the ones that you wait a lifetime for, those that pass you by, and the ones that sneak up on you when you least expect it.

SONG OF THE DAY
Sugarbowl – "이렇게 한 걸음씩" (One Step at a Time Like This) for the Plus Nine Boys OST [ Download ]
Audio clip: Adobe Flash Player (version 9 or above) is required to play this audio clip. Download the latest version here. You also need to have JavaScript enabled in your browser.

Track 3: "It's been a while"
Uncle Kwang-soo narrates that love is common, but for some people, there are times when just starting love is difficult. He walks into the art gallery to see his first love after all these years, full of anticipation, "that this small decision would be the best choice of my life…"
As he waits, he pictures his college sweetheart in all her youthful glory, and spins around with a smile to greet her. But then his face falls to see just how much she's changed (cameo by Lee Gook-joo). Well, I have no sympathy for you if the only reason you looked her up was the hope that she looked the same.
She totally calls him out on coming here to see her, and drags him away to lunch. Later, his buddy Young-hoon laughs to hear the story and asks about his other ex-girlfriends, chuckling at the fact that Kwang-soo feigned disinterest but has been seeking them out one by one.
Kwang-soo sighs at the mention of the ex he dated after army, and we go back to that recent coffee date… where she showed up with her new girlfriend. Ha. That's awesome. They cap it off with a request for him to sign a petition so that they can be married, and he signs with his mouth hanging open, still shocked and confused.
Young-hoon says he did the right thing by signing, while Kwang-soo just grouses that this is all his fault. Young-hoon passes the blame onto Telefairy, and thinks they must've missed someone in his past because she's never wrong about these things. He decides to look up the girl he dated before army (how many girls did you date, player?) and ignores Kwang-soo's half-hearted objections.
Meanwhile, Jin-gu goes on an overnight work trip with his teammates, including Se-young and his bestie Jae-bum. He sits quietly next to Jae-bum and mulls over what he knows so far—that Jae-bum confessed his feelings to Se-young and got rejected, and Se-young likes someone.
She snaps him out of his reverie and calls him over to her seat, and he reluctantly scoots closer and closer, until he's within reach and she cracks an egg on his head. She decides that it's tastier this way and shoves the whole thing in her mouth, and then it's his turn to laugh at her for choking on her food.
Jae-bum is the only one to get up and hand her a bottle of water to help her, and Jin-gu looks on, a little chastened. It's a nice encapsulation of their three-way romance.
When they get off the bus, their team leader lets Jin-gu explain the concept of their scouting tour—to find places suitable for a romantic meet-your-match trip for singles. In order to find good locations for dates, they're going to break up into male-female pairs for their day trips.
Of course Se-young and the two boys are last to be paired, and she ends up with Jin-gu, while Jae-bum gets stuck with a handsy coworker. Se-young sighs at the tiresome day ahead, and Jin-gu just throws an arm over her shoulder to point out that protesting that much means the opposite; she deadpans that sometimes words mean what they mean. I like her.
Jae-bum is reluctant to leave, and lingers to ask Jin-gu to take good care of Se-young. That request doesn't sit well with Jin-gu, and he thinks to himself that he wanted to be happy for Jae-bum when he fell in love someday… but now that's going to be difficult.
When he's alone with Se-young, Jin-gu sticks to his most comfortable full-of-himself, blustery façade, telling her to be grateful she got paired with him when everyone else was obviously dying to be his partner. She just walks away, leaving him to talk out loud to himself, ha.
They spend their day scouting locations and taking the cutest couple photos wherever they go, and I swear, the way he looks at her just does me in. He takes pictures of her whenever she isn't looking, and they spend the day goofing off and taking in the sights.
They end up at the beach, where Jin-gu makes Se-young lie down in the sand pretending that she's disrupting his panoramic shot of the shore, only to take pictures of her and tease her for her pose.
She thinks this would be a good spot for the picnic lunch portion of the tour (where the participants will choose their lunch dates and pair off that way), and Jin-gu seizes the moment to ask which coworker Se-young would choose to have lunch with. He waits with anticipation and after a long pause she turns to him: "Oppa…"
He lights up, but then she finishes with, "…you have something on your face." Wah-waaaah. He pouts that he dislikes this location after all, and she's dumbfounded when he was singing its praises a second ago.
They relocate to a café where he takes more scenic pictures from the balcony, and he notices that she's dozing off. That gives him free reign to just openly stare googly-eyed at her, and he blocks the sun from her eyes, causing onlookers to gag at the display of affection.
As his hand hovers inches away from her face, he wonders in voiceover, "Just this far… Is this the right distance for us? If I take one step closer, will we grow farther apart?"
She wakes up in time to see him snap his hand back in a hurry, and he covers up the moment by calling her ugly even when she sleeps. She guesses that he was going to hit her, and he pretends to be caught red-handed. Doofus.
They go shopping at the fish market for fresh catch and eat it raw right there on the beach with soju. I'm so jealous right now. Se-young makes this adorably contented face when she takes a bite, and Jin-gu tells her to stop making that face, complaining that it's her ugliest.
She keeps doing it just to spite him, and then we hear him thinking, "I'm the weakest when she makes that face." Aw. Jae-bum calls just to check in with them, and Se-young points out that Jin-gu must be be dating him, they're so inseparable.
Kwang-soo's staff at his new infotainment show Sponge goes through a series of demonstrations of weird phenomena, each more deflating than the last. I love the look of utter exasperation on his face as he watches them do stupid human tricks, and he shuts down their ideas with the deafening logical question: Why would anyone want to know that?
Young-hoon finds him skulking in the halls and shows him pictures of his pre-army ex-girlfriend, who's now a doctor. He urges Kwang-soo to go in for a checkup to see her. Kwang-soo: "What's she a doctor of?" Young-hoon: "Urology." Pfft.
Nineteen-year-old middle bro Min-gu waits at the bus stop to go to judo practice and sees his mystery girl one more time as she passes by on a bus. He decides that three times is fate, and tweets about it. (Ha, is he supposed to misspell "destuny"?)
He sits quietly as his friends tease each other about their latest failures at dating, and they wonder why he doesn't have a girlfriend with a face like that. (It cracks me up that we get explanatory subtitles whenever the teenagers talk, because it works to poke fun at their overly shortened words, while also being helpful because I wouldn't understand them otherwise.) Min-gu just says that he already has a girl he's destined to be with.
At home that night, Min-gu kicks maknae Dong-gu until he busts out his sageuk speech to complain to "queen mother" that hyung is abusing the "prince." My favorite part is that Mom answers back in sageuk tone. It just makes Min-gu tease him for his terrible foot-acting, of which Dong-gu continues to be blissfully unaware.
Mom takes the remote from Kwang-soo to watch You From Another Star, and sighs happily that Do Min-joon and Chun Song-yi were destined to be together. Dong-gu pouts at anyone named Do Min-joon because of the kid he lost that movie part to, and on the other end of the couch, Kwang-soo complains that every drama nowadays touts the slightest thing as fate. Tell me about it.
Min-gu argues that fate is totally real, and tells him about his Destiny Girl. Kwang-soo the skeptic tells him that he's noticing her because she's pretty, and there are probably about two thousand other guys who think she's their destiny too.
The upstairs neighbors start with the noise again, so Min-gu takes out the big guns: a tower of stereo speakers. He blasts music and he and Dong-gu have a dance party, and Mom tells them to do it for just ten more minutes.
The tour-planning day winds down for Jae-bum and his partner over dinner, and she laughs that if Se-young were here she would've eaten everything on the table. The coworker thinks that Se-young isn't popular with men because she's so tomboyish, but Jae-bum counters that she's just one of those people who's pretty no matter what she does, and being with her just makes you happy.
He calls Jin-gu again to check on Se-young, but this time Jin-gu doesn't answer and lets Se-young believe it's a spam call from downloading too much porn. She's happily drunk by now, and Jin-gu asks again about her picnic lunch date choice. He's like a dog with a bone, but I love how much importance he's placing on this stupid hypothetical question.
She starts to point in his direction, but then passes out before she can answer. He's so desperate to hear her say it that he tries to shake her awake, even prompting her, "It's me, right? Me?"
But she's too far gone to finish the thought, and he has to drag her back, eventually piggybacking her. He's exhausted from having to carry her and all their stuff, but the second she wraps her arms around him while he piggybacks her, he breaks into a big smile.
He makes it to the team's lodgings drenched in sweat and spills Se-young onto the floor, and Jae-bum quickly piggybacks her to her room before Jin-gu can intervene. Jae-bum tucks her into bed and when she sees that it's him, she slurs, "I'm sorry, Jae-bum oppa, I'm sorry."
He reaches a hand out to touch her face but pulls back, and Jin-gu watches all this from the hallway. The boys have another drink and Jae-bum says he likes liking someone, and Jin-gu asks if he's going to confess again.
Jae-bum plans to win her over and try again, and asks Jin-gu for his help because he's well versed in the dating game. Eek, don't agree to help him! Jin-gu avoids it by saying that Se-young is different and none of the usual stuff will work on a girl like her. Aw, it's both cute (pointing out that she's special) and sad (he knows from trying that it won't be easy).
In the morning, Jin-gu wakes up early to make hangover soup for Se-young, but then when Jae-bum sees it, he totally jumps to the wrong conclusion—that Jin-gu is doing this for him as a friend. Ack. He takes over, pretending like he made the breakfast, and Jin-gu doesn't know what else to do but step aside and let Jae-bum take the credit. But… but… mrmph.
Back in the city, Kwang-soo steps cautiously into the urology clinic and acts squirrely as he asks for an exam. There's nothing wrong! I just want a general exam, you know, for general things! He nearly jumps out of his skin when a nurse hands him a cup for his sperm and turns on a bow-chicka-bow-wow video.
Still, he goes through all of it just to see his ex-girlfriend, and he's full of anticipation all over again as he sits in the waiting room to see the doctor. She's happy and surprised to see him, and thinks he looks as boyish as he always did. She's impressed that he grew up to be a PD (he brags that he's good friends with all sorts of celebrities), and they leave on a very hopeful note—this could lead to something more, and he lets himself get excited.
She starts to say something as he's leaving but is too self-conscious to say it, and he thinks she's being shy about asking him out. But then she catches up to him at the elevator and hands him an envelope… with a wedding invitation inside. Oh no.
To twist the knife further, she asks if he'll help her find someone to sing at her wedding: "Do you know Sung Shi-kyung?" Ha, and aw. He blames the Telefairy for getting his hopes up, thinking it better to just live the rest of his days alone.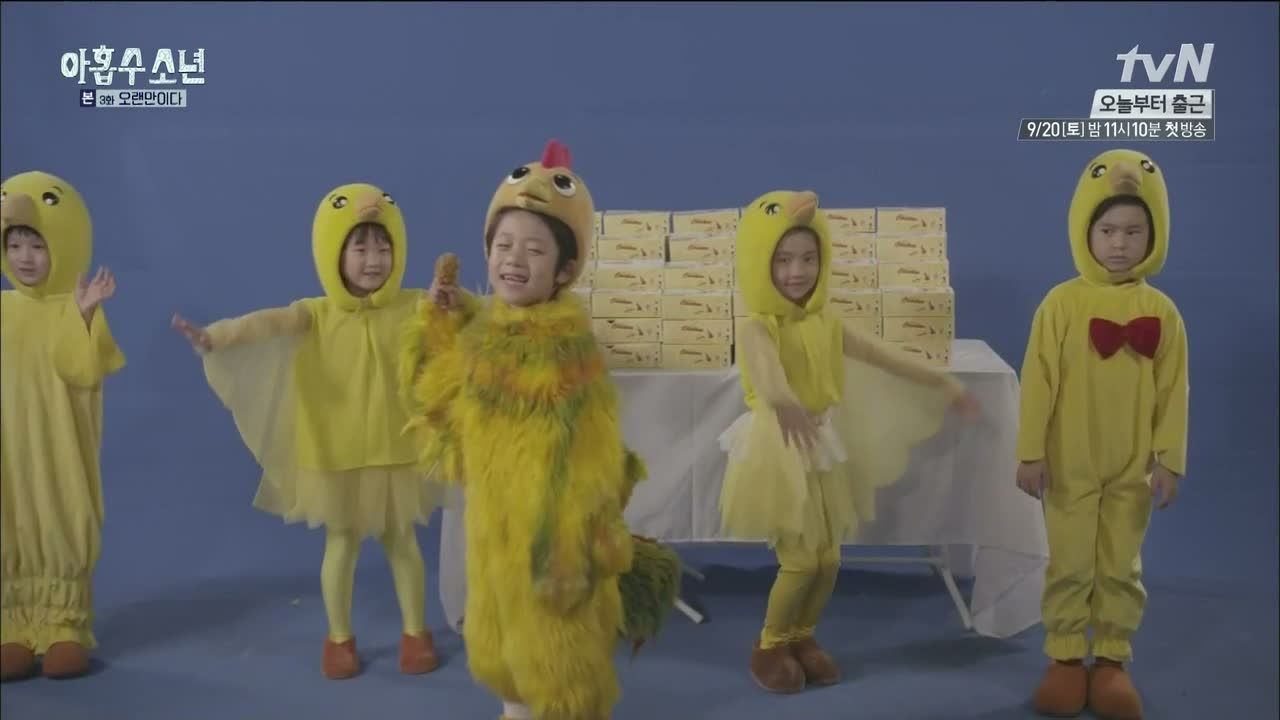 Mom drives Dong-gu to a CF shoot today, and they're both surprised to see his rival Do Min-joon there. Mom promises that he won't even be visible in the frame because Dong-gu is the star, but when they get on the set, Min-joon turns out to be the star while Dong-gu is just one of many background chickens.
The director doesn't even recognize Dong-gu despite having made a commercial with him before, and Dong-gu bursts into tears when he gets called out for not trying hard enough. He and Mom get the cold shoulder from the staff while everyone fawns over Min-joon the star, and Dong-gu asks to go home.
He wails in the car, blaming Mom and Do Min-joon and generally hating life, but he is 9—when Mom offers to buy him a hamburger, his tears stop immediately.
Mom calls Min-gu to go buy hamburgers on his way home, and though he complains, he ditches his friends and does as asked. He grabs the bus to change direction, and whadduya know, Destiny Girl gets on the same bus.
He decides that it's time to make his move and practices his greeting, and the nervousness makes his irritable bowels act up again. But he narrates that judo is all about timing, and love is the same—if you lose your timing, it gets difficult.
He whirls around to approach her, but just then his judo rival (the one who beat him at the last competition) notices him and cuts him off with a bout of trash-talking. They nearly come to blows right there on the bus, but then Min-gu notices that Destiny Girl has already gotten off and he missed his window. He fumes, but then finds that she left a notebook behind.
The tour planning team spends the evening drinking together, and they play a game to send the losers on a beer run. To Jin-gu's dismay, Se-young and Jae-bum get stuck going together, and to make matters worse, their team leader makes them hold hands while doing it.
Se-young looks embarrassed and awkward, but their coworkers just take it as a sign that they like each other and egg them on even more, as Jin-gu looks up at them jealously.
Back at home, Kwang-soo has a good cry while watching a sad movie and gets annoyed when his mood is broken by the upstairs neighbors. This time he's had enough, and storms upstairs to give the noisy stompers a piece of his mind. Mom runs after him excitedly, and Min-gu cheers them on.
He bangs on the upstairs neighbor's door repeatedly and starts to launch into his complaint… only when he looks up, he's rendered speechless. Their neighbor turns out to be Da-in, Se-young's friend from the café with the young daughter. Da-in doesn't look pleased to see Kwang-soo either, and they just stare intently at each other, unable to say a word.
Mom interrupts the moment by reminding them why they came up, and complains about the incessant noise. Da-in looks confused and says that it can't be them, looking back at her quiet little daughter who's eating without a peep.
Just then, the noise starts up again, and Mom apologizes that they had the wrong house. Kwang-soo just shuffles away without a word, lost in thought. And one door over, Mom finds the noisy culprit in her neighbor friend.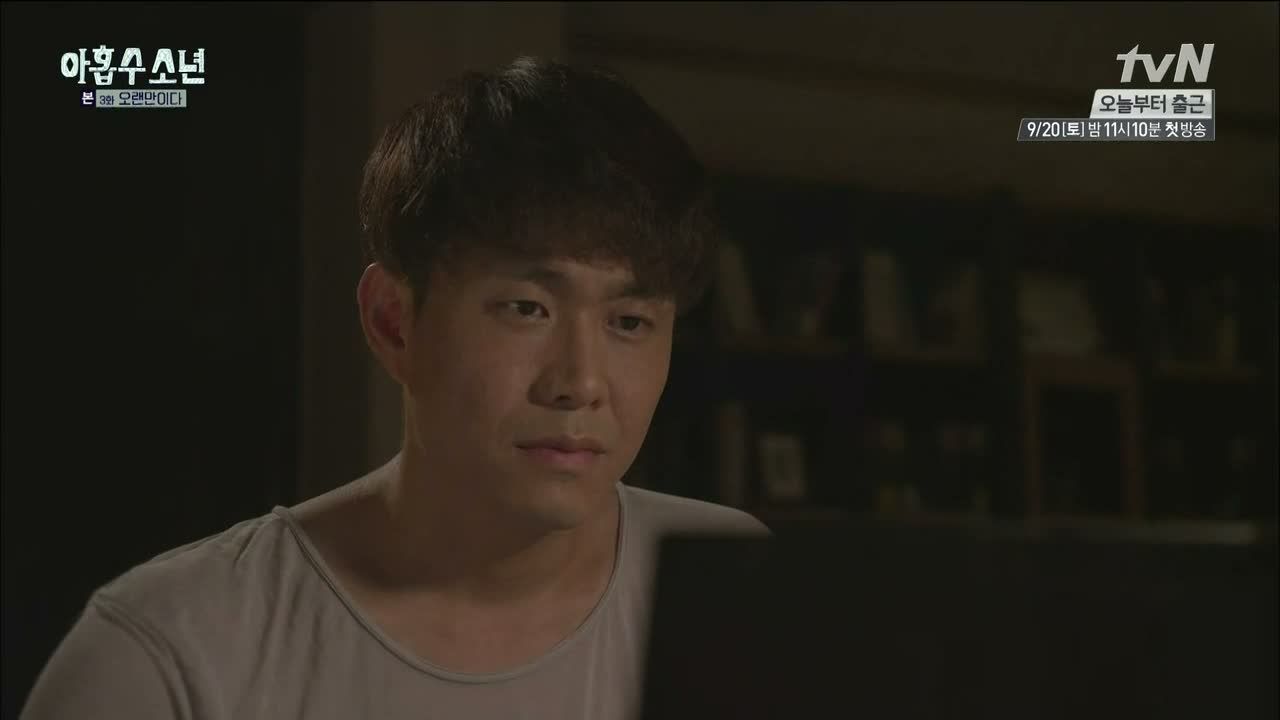 Kwang-soo looks up an old homepage featuring an album titled "My Everything." It's filled with adorable happy photos of him and Da-in, and one of her wearing a soda can tab as a ring with the caption: "I'm sorry I can't be better to you—next time I'll get you a real ring. Thank you for loving me."
Young-hoon's questions about his exes float through his head: "I really thought you and Da-in would get married. Whom do you want to see the most? Da-in?" Upstairs, Da-in sits with her daughter, lost in thought as well.
As Kwang-soo thinks about his chance meeting with Da-in, Jin-gu watches Se-young leave hand-in-hand with Jae-bum and gets up with determination. And Min-gu sits in his bed reading through Destiny Girl's notebook.
He narrates: "Connections sometimes find you when you're least prepared. And connections are easy to suddenly lose. That's why connection isn't something you wait for—it's something that's won."

COMMENTS
I was happy to get lots of Kwang-soo in this episode, because he's fast becoming the show's most interesting character. Jin-gu's loveline with Se-young is my favorite, but he's a rather uncomplicated character, at least from what we've seen so far. (Granted, his puppy crush and foot-in-mouth syndrome is endlessly cute.) Kwang-soo on the other hand has so much growing to do, professionally, romantically, and just generally as a human being. In some ways his boyishness can be seen as a positive trait, but we also start to see that he might be the least mature man in the family (okay, save for the 9-year-old who thinks he's a star), who confuses jadedness with wisdom.
His journey through his past girlfriends was a really fun device, because it's a nice catalogue that tells us about him as a person—he's vain, a little oblivious, and unrealistic about people from his past remaining unchanged. But it also says a lot about him that no matter how many failures he encounters, he still waits eagerly with newfound anticipation every time he seeks out an ex. For all his faults, he's hopeful for a second chance at love, and I can't help but feel for a guy with that kind of earnest optimism underneath it all.
I don't think it's a leap to wonder if Kwang-soo might be the father of Da-in's child, in which case they both have some serious questions to answer. I'm looking forward to seeing their relationship in flashback, because Kwang-soo seems like a totally different person in love. It's fitting that he just got done telling Min-gu that destiny is a hoax and he's just seeing what he wants to see… only to come across the love of his life one day by chance. I love the setup that she was the one that got away, because I have a feeling he doesn't even know why he lost her, and he'll have to do a lot of maturing before he can ever win her back.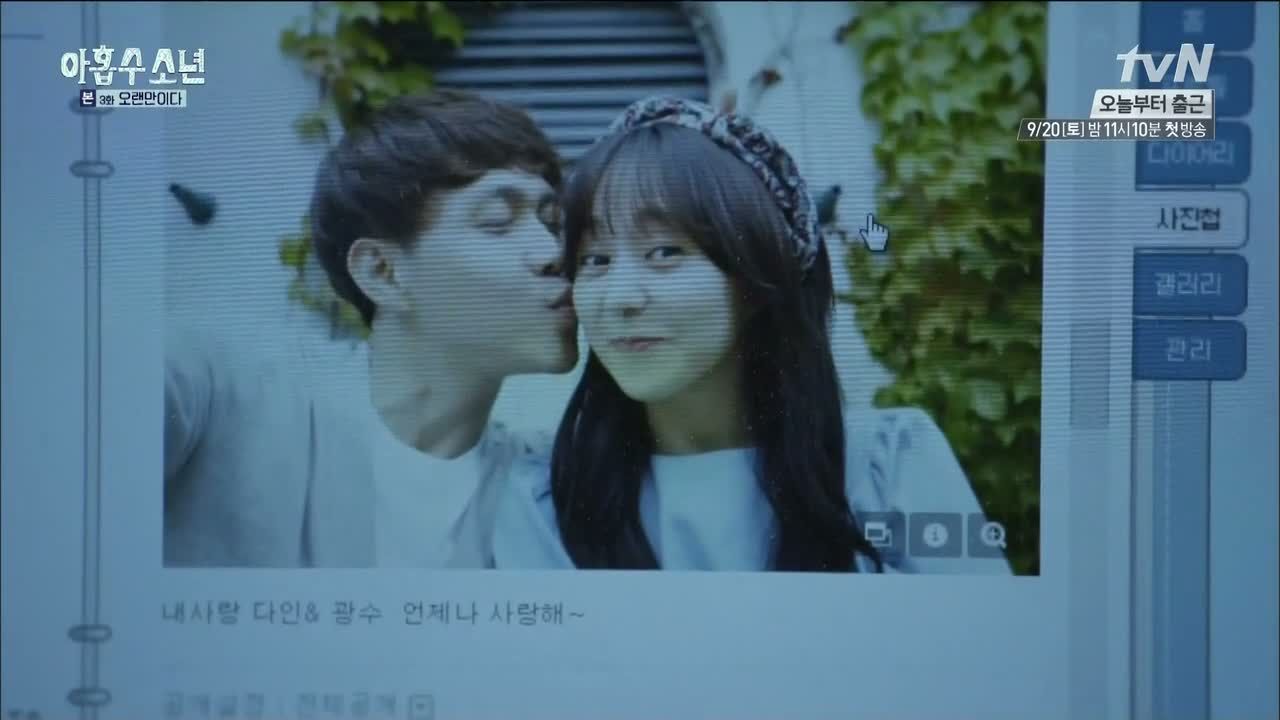 Jin-gu and Se-young's non-couple couple tour was the cutest thing, and the trip actually helped show just how badly he gets in his own way when it comes to her. He could be openly showering her with affection and getting all the credit for thoughtfully cooking her breakfast, but instead he covers up his fears (of rejection, of ruining friendships, both?) with teasing and deflection. How is a girl to know you like her when you call her prettiest face her ugliest, and only pull out your smitten kitten look when she's asleep?
It was the obsession with the stupid lunchbox question that did me in though, because it's such a sideways way to ask her what he really wants to know, loading a seemingly harmless question with so much meaning. It's SO hypersensitive—he reminds me a little of Answer Me 1997's Yoon-jae, with his inability to say how he feels directly, leading him to place too much significance on the little things. But that's so relatable, because who hasn't done that to mortifying effect in at least one relationship in their lives? Maybe all boys who get friend-zoned become this sensitive, but then maybe that's why I like them as drama characters.
I'm not worrying too much about the fortuneteller's prediction that only one of the boys will find their connection this year, because there are all sorts of loopholes, like the others having to wait till the following year, or the fortuneteller being plain wrong. It's not a closed mystery like Who's the husband? (GAH), and even if only one of the boys gets his romantic happy ending, I don't doubt that we'll get satisfying resolutions for all of them regardless. I suppose right now I'm rooting for Jin-gu to get his girl, but I have a feeling I'll soon want Kwang-soo and Da-in to reunite; I refuse to pit their happy endings against each other, so I'll just remain optimistic that Fate's got all sorts of loopholes in her arsenal. Don't make me regret giving you the benefit of the doubt!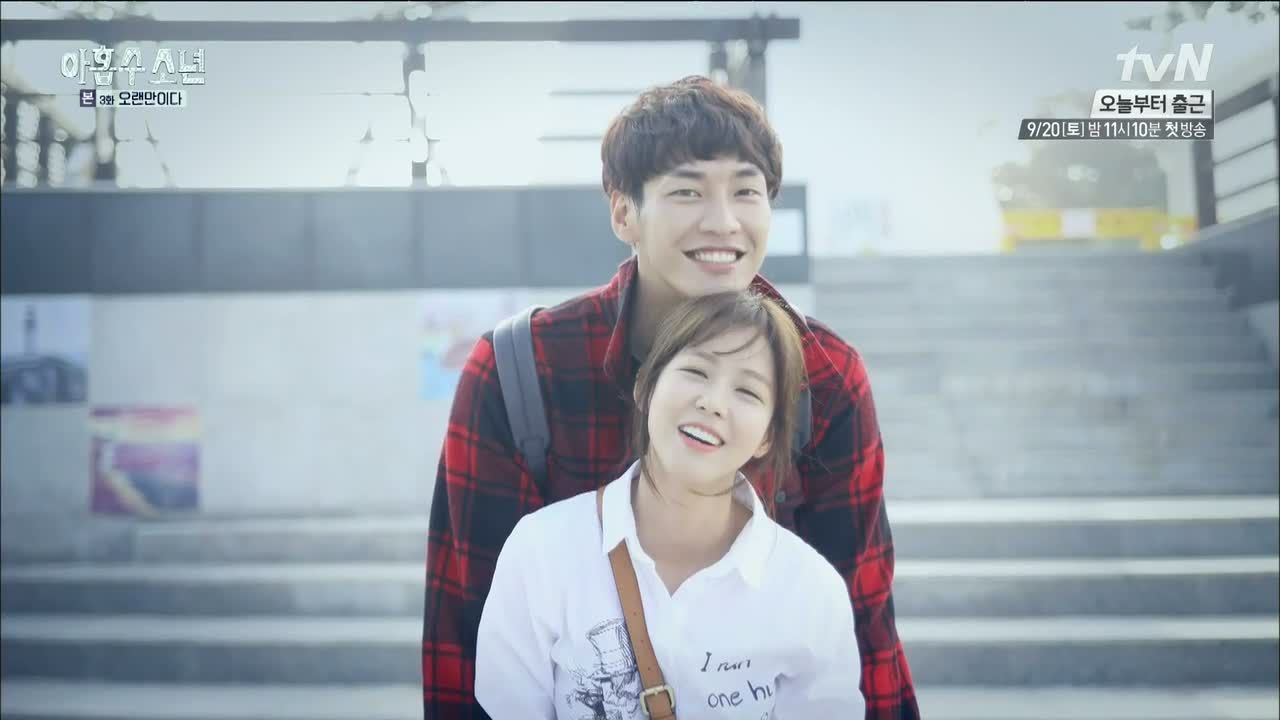 RELATED POSTS
Tags: featured, Kim Young-kwang, Kyung Su-jin, Oh Jung-se, Plus Nine Boys