Secret Door: Episode 2
With the setup swiftly in place in one episode, the story gets going in earnest today, with the central mystery that will drive the plot from here on out. It's such an interesting world that I actually wouldn't mind a slower introduction to the numerous characters (really, there are so many), but watching these actors engage with such an array of tense, emotional moments makes me care very little about dwelling on anything else. Why fill your belly with appetizers when the main course could come right now?

SONG OF THE DAY
Epitone Project – "유서" (Last Will and Testament) [ Download ]
Audio clip: Adobe Flash Player (version 9 or above) is required to play this audio clip. Download the latest version here. You also need to have JavaScript enabled in your browser.

EPISODE 2 RECAP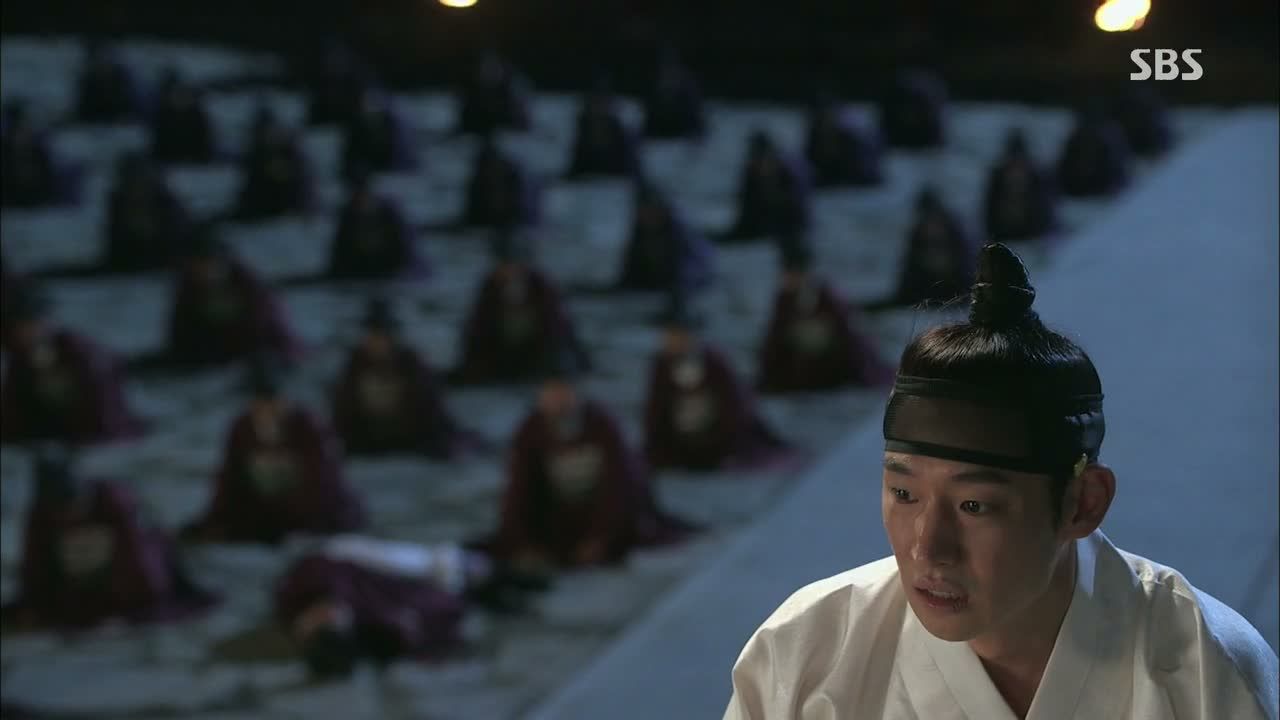 King Yeongjo has shut himself inside the palace, threatening to abdicate, as is his custom whenever he's displeased. The entire court spends the evening pleading in unison for him to retract his order, lining the courtyard with straw mats and led by the prince-regent Lee Sun (Sado).
One official, Minister Hong (Princess Hyegyeong's father and Sun's father-in-law), beats his head on the ground repeatedly until he finally collapses in a bloody heap. Sun turns back in alarm. The display is, of course, on purpose—Minister Hong has a vested interest in Yeongjo remaining king, and is determined to make it known.
Now we see that inside, Yeongjo is lounging around rather comfortably, and when he hears that Minister Hong is refusing medical attention for a gaping head wound, he seems almost amused. The king's eunuch conveys the message: "If the king does not rescind his abdication, he has vowed to make the courtyard his grave."
It must've worked, because the next thing we know, Sun has his father-in-law rushed inside. He demands for doctors, but Minister Hong signals for him to send them away, choosing instead to lament pitiably.
Back in their royal robes, Sun kneels before his father, as the king chuckles to hear of Minister Hong's extreme measures. Yeongjo blames Sun for this whole debacle—it was his book-borrowing escapades and his attempt to legalize private publication that started all this.
Sun asks in earnest what is so wrong about the hardworking people reading a few stories freely in books. Yeongjo softens and comes down to meet Sun at eye-level, explaining carefully that this is a matter of maintaining a 400-year-long legacy of law and order: If one law is changed, what's to stop the people from demanding another reform and another, until the royal house is threatened?
Sun doesn't see that as an inevitability, and asks why both sides couldn't come to the table with magnanimous intentions, and agree to change. But Yeongjo blows up: "Magnanimity is for those in power to yield!"
He rails at Sun for thinking he could enlighten the people when he can't even tame his own court. He teaches his son to amass power—enough to break his court, and even his own father—only then can he hope to lead the people to change. Sun's heart sinks.
It's only when he returns to his room that Sun finally receives the letter from his painter friend Heung-bok, pleading with the prince to stay awake that night because he has something very important to discuss. We see that he's on his way to the palace now.
We were reminded of Heung-bok's eventful evening at the top of the episode: He was the person who uncovered the crucial document that both Yeongjo and Prime Minister (and Noron leader) Kim Taek are desperate to get their hands on.
Prime Minister Kim discovered that it was in Heung-bok's possession and sent a henchman after him, and Heung-bok hurriedly copied it into the pages of Seo Ji-dam's mystery novel, the one that the prince liked so much. He marked this altered copy of the book with a new seal, altering the hanja for "writing" with the one for "painting." Clever boy.
Sun reads the letter with a furrowed brow, and turns to his eunuch, suddenly cracking giant smile: "Is he messing with me?" He doesn't take Heung-bok's letter seriously at all, deciding that his buddy is just playing up the mystery element of their rendezvous, since the prince asked to meet the writer of the crime novel he liked.
That writer is, of course, Seo Ji-dam, daughter of Seo Family Booklenders. The underground book workshop (literally underground in their basement) wraps up the books ready for delivery that night, and Dad reminds them to be careful and only distribute to the people with identification tags for their booklending house.
Sun argues with his eunuch over the gender of mystery novelist. The prince is convinced it's a man, while the eunuch argues vehemently that it's a woman. He says the penname is bing for "ice" and ae for "love"—in his estimate, Bingae could only be the penname of a woman.
(AH, so she's Bingae? Historically, Sado is known for being in love with only one woman, a lowly court lady-in-waiting named Bingae. They're appropriating her name and attributing it to Ji-dam, who is by the drama's account, a fictional character. But Bingae was real, so that makes Ji-dam—however loosely—based on a real historical figure.)
Sun says that the penname is purposefully misleading, like the red herrings in the story. His eunuch wonders why he's so eager to meet him then, if it's not even a pretty lady. But Sun is taken with this writer's talent and wants to give him an opportunity to rise above his station.
At the same time, Ji-dam is skipping along with her book delivery in hand, especially eager to get the second volume to her number one fan. Heung-bok crosses a bridge just a few minutes ahead of her on the road, and he whirls around as someone rushes toward him. He freezes, terrified, and drops the bundle of books in his hand.
Ji-dam reaches the bridge just as a figure falls to the river below. Ack, don't die, Heung-bok! Above is a man in black, who turns and walks away. She's unsure of what she saw in the dark, so Ji-dam crosses the river underneath the bridge, lighting a candle on the way.
She scans the rocks and gasps when she comes upon a body—aaagh, it's Heung-bok. He's already dead, and when she goes to check his pulse, she sees that his neck has been broken. She suspects that it's murder, and runs right to the police to tell them what she saw.
But before she returns with inspectors in tow, someone else comes to the bridge and picks up the bundle that Heung-bok dropped. Based on the clothes, this is not the assassin who killed him, but a different man.
Ji-dam tells the officers that she checked the dead man's tag and he's a painter named Shin Heung-bok. But when they return to the crime scene, there's no body. In a flashback, we see that the chief officer has been ordered to remove the body and cover up the crime.
But the cleanup wasn't ordered by Prime Minister Kim, because he asks his henchman where on earth a dead man ran off to right under their noses. Meanwhile, Sun and his eunuch wait up all night, thinking it uncharacteristic of Heung-bok not to show up when he said he would.
The next day, Yeongjo leads a royal procession to visit his brother's grave, accompanied by Sun and his court. He stops at the well in front of the memorial and orders for water to be drawn, but the eunuchs struggle with the rope and eventually the soldiers have to take over, much to Yeongjo's annoyance.
But as the well is drawn, everyone draws in a sharp breath: Up comes a corpse, feet-first, dangling in mid-air from the rope tied to the pail. Yeongjo looks aghast, but it's Sun who breaks down, because he immediately recognizes his friend Heung-bok.
Sun's eunuch is equally shocked, and identifies the body as that of the painter who's currently working on a portrait of the prince. The name Shin Heung-bok rings alarm bells, particularly for Yeongjo and Prime Minister Kim. Yeongjo grows incensed at everyone around him, convinced that this was some kind of deliberate offense to mar his trip to his brother's memorial.
Unable to contain his grief, Sun breaks past the eunuchs to get to Heung-bok's body, but the soldiers are ordered to block his path. The eunuchs plead with him that he mustn't go, but he's not listening, and that just adds fuel to Yeongjo's fire.
The king finally snaps and grabs a sword, swinging it wildly at his ministers' throats, accusing them of plotting against him. He looks Prime Minister Kim in the eye, and demands that they remove that abhorrent sight with their own hands, or else he'll rip them to shreds and bury them all right there. Jeepers.
Nobody dares to even breathe until Yeongjo drops his sword and staggers away, and then once the coast is clear, Police Captain HONG KYE-HEE (Jang Hyun-sung) has the body taken to the bureau to be examined.
Ji-dam conducts her own investigation out of curiosity, and seeks out Heung-bok's artist colleague HEO JUNG-WOON (Choi Jae-hwan) why Heung-bok was found in a well when she saw him die on the bridge last night. He's shocked that she knows that much, but he's too terrified to say anything.
Yeongjo returns to the palace and throws his robes on the ground, demanding that they be burned. He asks his eunuch if Heung-bok was that painter—the one suspected of having that incriminating document that the king wants so badly destroyed. His eunuch confirms it.
Flashback to eight hours before Heung-bok's body is discovered. The king goes to meet Prime Minister Kim in secret—notably, the king is summoned to come to him. There, Kim Taek calmly hands Yeongjo the document that's now back in his possession, and Yeongjo tries to contain his fear as he reads it.
Kim Taek reminds Yeongjo that he was the one who gifted him the throne, and Yeongjo doesn't miss a beat, replying that it means that shaking that seat of power is a cakewalk to someone like Kim Taek.
Yeongjo folds the document and throws it back at the prime minister, challenging him to take away his crown and throw the nation into turmoil. But Kim Taek throws him a curveball just as Yeongjo is about to storm off: The man who had this document in his possession was none other than the prince-regent's portrait artist. Oh, so this is your ploy. Kim Taek says that only one person could be the mastermind behind that artist: his own son.
That gets under his skin, and back in the present, Yeongjo is rattled at the very deliberate display connecting Heung-bok's dead body to his brother's grave. (Yeongjo was plagued by suspicion that he murdered his own brother to ascend, and we can assume generally that the document implicates him in a Noron coup.) Still, Yeongjo insists that Sun doesn't have the political stones to be the one behind it.
His eunuch asks what happens if the prince finds out about the document now because of Heung-bok's death. Yeongjo says in a trembling voice, as if realizing for the first time, "Then… he could become… an enemy…"
Meanwhile, Sun goes straight to the police bureau to see Heung-bok's body. His hands quake as he reaches to pull back the sheet, and when he sees his friend's face, he breaks down in tears, crying, "Who did this to you, Heung-bok-ah?"
He blames himself for Heung-bok's death, knowing that he was simply a target: "If I hadn't kept him near, if I hadn't made a friend of him and kept him close… he wouldn't have died like this."
He stifles back his tears and tells Heung-bok that he can't cry for him yet, not until he does the work that he's supposed to as the prince. Once he does, he promises to return as a friend, to pour him a memorial drink with his own hand.
Ji-dam waits outside the police bureau, eager to ask the officer from last night more questions about Heung-bok and why he was found in a well. But he simply tells her that jurisdiction for the case hasn't been determined, and then suspiciously signals a henchman in black, who follows her. Uh-oh.
Both Noron and Soron ministers debate how best to use this situation to their advantage, and Prime Minister Kim orders Minister Hong (head of the Euigeumbu, the state tribunal) to cover up the murder as a suicide. He argues that it won't go over, but the prime minister need only remind him of the fact that he was the one who made him the prince's father-in-law. In other words, remember who calls the shots. Kim Taek: "Do as you're told, or else the day might come when you must take the crown prince's life with your own hands."
Sun calls his court to session, and as the ministers file through the palace, Heung-bok's friend Jung-woon stops Soron minister (and the prince's teacher) Park Mun-su to ask what is to be done about Heung-bok. Park Mun-su shushes him for seeking him out in the open, and Prime Minister Kim notes the interaction curiously.
The court is divided, as always, and the question of who will investigate Heung-bok's murder case turns into a Noron-Soron power struggle. Sun's fury just grows with each petty argument that gets tossed back and forth, and he erupts that this is about the unjust death of one of his people, but they're more concerned with power than finding out the truth.
Sun tries to vent his frustration as he practices archery, but his anger only clouds his aim. The other Noron ministers flail about, thinking that they could lose jurisdiction and be exposed, but Prime Minister Kim says that they needn't worry—Yeongjo has a vested interest in keeping that document hidden, so he'll act accordingly.
Sure enough, Yeongjo comes to see Sun and chides him for his poor aim, demonstrating a perfect shot with frightening accuracy. The prince expresses his frustration at the court's power struggle, and Yeongjo agrees sympathetically about how difficult it is to lead a divided court. But he teaches Sun to never show his hand—it isn't becoming of a prince-regent to wear his emotions on his sleeve.
Sun asks if his father has always done so, hiding his true feelings and thoughts from others. Yeongjo doesn't answer, but Sun asks, "Weren't you… lonely?" Yeongjo smiles warmly, "But at least you understand me."
The king says that Sun should just hand the case over to the Euigeumbu, and that there's no better person to entrust the investigation to than his father-in-law Minister Hong. Sun seems reluctant, but Yeongjo maintains his fatherly demeanor and presses for an answer, so Sun agrees to do as he's told.
Sun's wife Princess Hyegyeong turns out to be even shrewder than her father—she tells Minister Hong that if they can get jurisdiction for the case, they have the chance to figure out what Prime Minister Kim and Yeongjo are so desperate to keep hidden. She guesses that it will be a crucial weakness, which they mustn't lose the chance to wield for political gain.
Sun gets a visit from his teacher Park Mun-su, who despite being Soron, seems the most non-partisan minister in court. Sun tells him what the king advised, knowing that basically his father wants him to side with the Noron on this, but feeling uneasy about the choice. Park Mun-su seems to have a better idea.
Suddenly the Noron ministers receive word that they won't be investigating the case after all. Neither will the Soron, because at the same time, Sun is handing the case over to Police Captain Hong—the one person whose record shows that he cares about the facts of an investigation, not which political party it serves.
Park Mun-su confirms his reasons with Sun's other advisor that Police Captain Hong is squeaky clean, and the one person they can trust. Thus, a special investigation unit is formed, and Hong charges his officers to tighten security and canvas for witnesses.
Ji-dam is especially excited to hear about the special investigation, having sensed that this was an important case. But Dad warns her not to step up as a witness, for one because she's part of an illegal booklending ring, and also because it's a case involving accusations of high treason.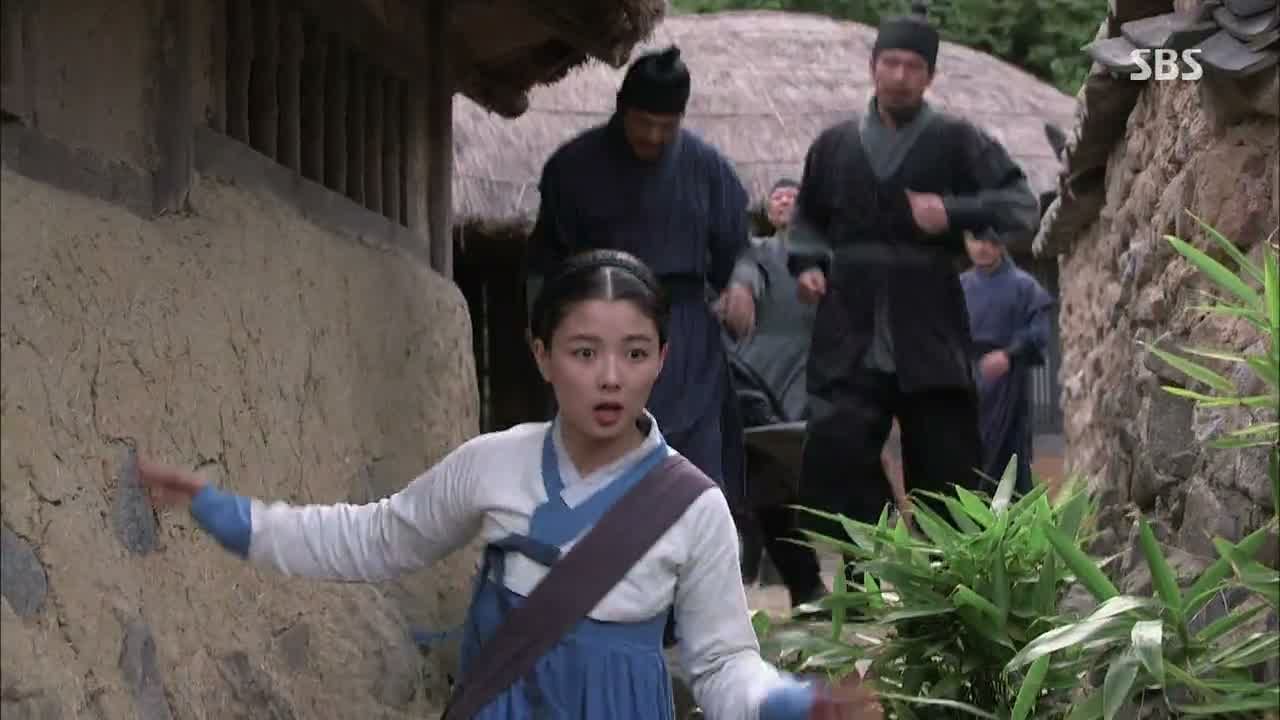 The autopsy begins under Captain Hong's watchful eye, and they discover that there's no water in Heung-bok's lungs, meaning that he didn't die drowning in the well.
Ji-dam heads out against her father's wishes, and naturally, the rebellious young girl decides that the police need to hear her side of the story. But the henchmen who are following her catch on to what she's about to do, and when she feels someone following her, she makes a run for it.
She weaves through the market and nearly loses them with few quick distractions, but in the end they corner her in a back alley. She grabs the nearest stick and tells them to go ahead and attack (she even manages to insult them for needing so many grown men to chase down a girl).
Suddenly a few of them start falling at her feet, and she looks up to see OPPA—er, I mean, a mysterious swordsman—coming to her rescue. He takes down the entire gang of thugs without breaking a sweat, and assures Ji-dam that he collected enough clues from them to find out who they are without giving chase.
The thugs report to their leader (the dirty police officer) that the man who attacked them was NA CHUL-JOO (Kim Min-jong). He's the head of a rival gang, and they jump to the conclusion that Ji-dam is his girl.
Chul-joo and Ji-dam are on very familiar terms, and he warns her not to get messed up in this case, because the gang that attacked her is known for serving political leaders. But she's not about to listen to him either, and says that she can handle it on her own.
Sun goes to see Heung-bok's sister and their sick mother, feeling regretful that he came only now after losing his friend. He leaves behind court ladies to serve the mother until doctors arrive, and promises the sister that he will find Heung-bok's killer and make sure he isn't framed as a traitor.
Prime Minister Kim takes issue with Yeongjo's lackadaisical attitude towards Sun's rebellion, but Yeongjo asks what he can do if his son openly defies him. Kim Taek asks ominously what happens if the prince-regent finds out about their document, "and opens the door to the secrets in it." The king simply passes over scrolls of events recorded on three different dates, saying that it'll be of help.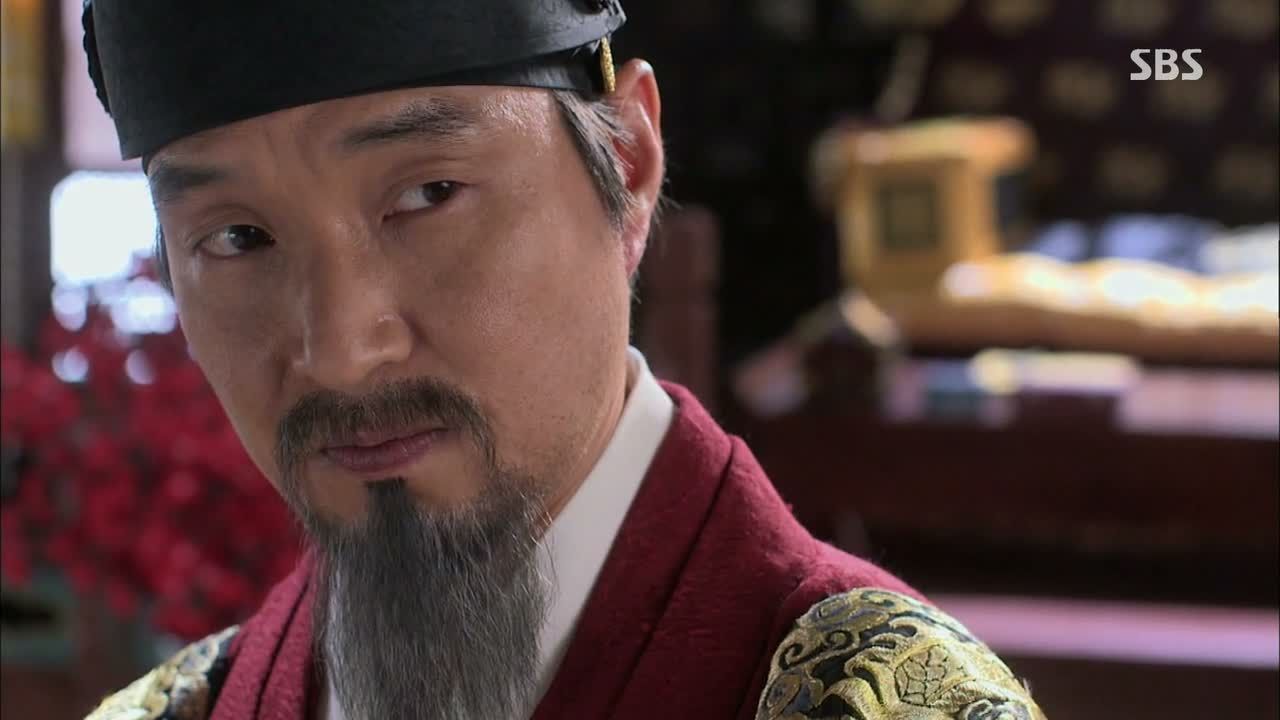 Police Captain Hong asks for the autopsy report, and the examiner says the cause of death was a broken neck… and concludes that it was suicide. Captain Hong argues that it isn't at all evidence of suicide, but the examiner simply names three dates—the ones in the scrolls passed to Kim Taek—and Captain Hong freezes. Aw man, is the squeaky-clean captain not so squeaky?
Ji-dam finds a safe way into the police station, disguised as a damo. She hands over her written eyewitness statement, pretending to only be the messenger. The report throws Captain Hong into a tailspin, because now he's really stuck between a rock and a hard place, if what Ji-dam wrote is true.
He struggles with the prospect of being ruined, or covering up the murder as a suicide despite what the facts are telling him. He holds the blackmail letter in one hand and Ji-dam's testimony in the other, and in the end, he burns the blackmail letter…
The official verdict gets brought in to both Yeongjo and Sun simultaneously. Sun opens it before his court, eager to see the results of Captain Hong's investigation. But his face falls to read that it's been ruled a suicide. Noooo.

COMMENTS
I know, our hero can't possibly win his political battles out of the gate, because where would the dramatic arc be in that? But man, is there really no one out of corruption's reach? I was so excited at the prospect of an impartial investigation, feeling so proud of Sun's decision to deny both factions and employ a righteous man who cares about justice over power. But clearly there is no move that Yeongjo has not seen coming a mile away. I love the dynamic that's emerging between father and son—it's a familiar one, to be sure, but it's also Joseon's most extreme example of strife between a king and his heir, which adds heft to every interaction between them. Their moments of empathy are most surprising, especially because Yeongjo seems at times to genuinely understand Sun's dilemmas and advise him hoping that he will become a wise and powerful king. It's hard to know in any given moment whether he'd prefer it if Sun were as smart as he is, or if he'd fear a son so shrewd. Their relationship is inherently contradictory, in that Yeongjo wants his son to be just like him, but not enough to usurp his father's place. Add in ideological differences about things as fundamental as absolute power and the people's rights, and you basically have a recipe for royal kablooey.
We're just scratching the surface of the story, but in general I like the murder plot at the center, because it's a way to tie in very high-level political wars (basically the ongoing Noron-Soron struggle for power) into something that should be apolitical, as far as seeking justice for a man's murder is concerned. It also serves to connect Sun to the case in a personal way, though it kills me that they had to separate Lee Je-hoon and Seo Joon-young like that. Can't these two ever just be best friends and NOT meet some cruel fate? Their star-crossed bromance pains me so.
I can't wait to see more of Kim Min-jong's character, who I think will be a righteous gangster type. But we got so little of him that I'll just have to wait till next week for a more satisfying dose of his story. The really interesting turn in this episode was the twist that Ji-dam goes by the penname Bingae, which makes her a crucial character in Sado's life.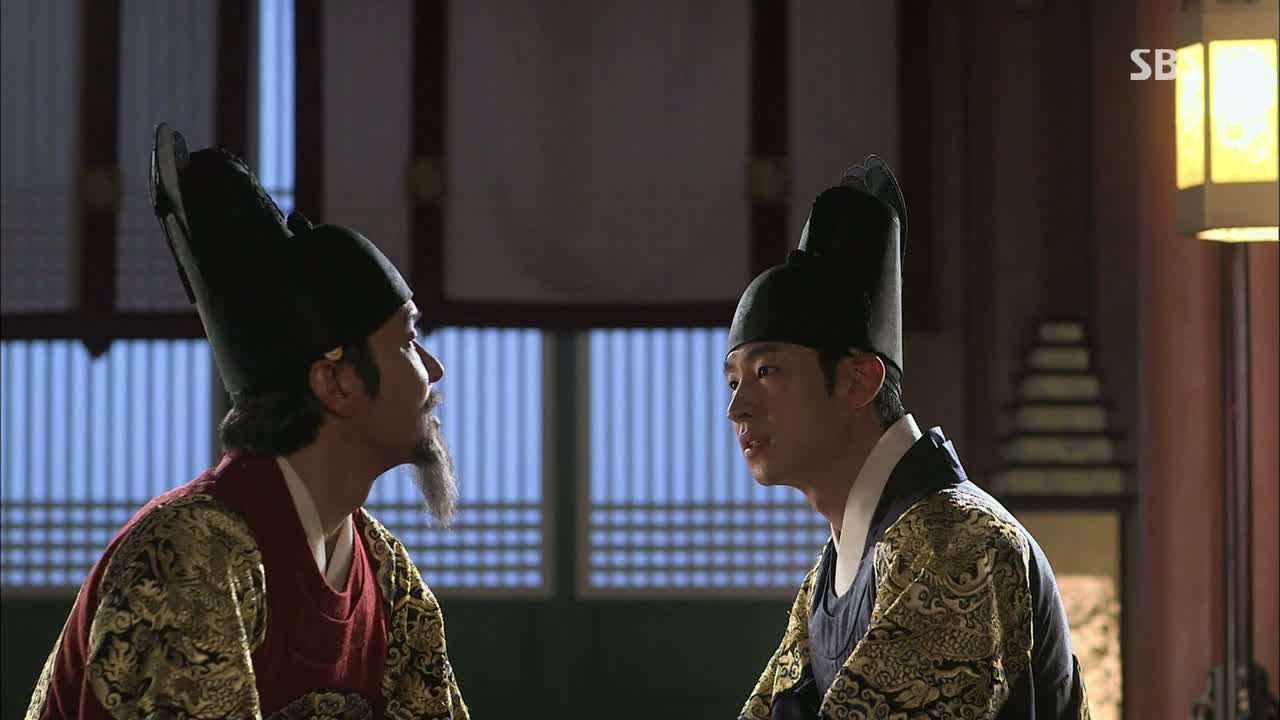 **Note: Don't read this paragraph if you'd rather not know what happens to real-life Bingae.** [Historically, she's known as a lady-in-waiting, whose station made it illegal for Sado to take her as his consort. He did it anyway, much to his father's ire, and she bore him two children. In Lady Hyegyeong's memoirs, Bingae is described as the only woman Sado was truly enamored with, and he went to great lengths to keep her close. Though in the end, he reportedly kills her himself. I know—don't read historical accounts of Sado unless you want to be deeply disturbed.]
We already know the drama will turn those expectations around, but now I'm intrigued as much for Ji-dam's fate, both as a potential love interest (she's young but it fits for the time period), and an ally in Heung-bok's murder investigation, which puts her in far more danger than she realizes. I really wish she'd heed the numerous warnings to stay away from a treason murder case, but then, the thing I like about her character is that she dives headlong into danger anyway. I love her excitement, because from her perspective, she's just murder novelist who's getting her first brush with actual crime. She thinks it obvious that truth and justice should prevail, and that she has a duty to say what she knows.
Fear of political ramifications aside, I can't wait for her and Sun to put their heads together and solve this mystery—it adds a really fun dynamic to the central story, which can admittedly get bogged down with too many Noron-Soron debates. So far I think we're getting a good balance, because the father-son story can't escape the partisan court politics that underlies every single one of their choices. But I do appreciate that the story world is opening up to include more players who drive the action, and that Sun is shown as a character who goes outside the palace walls, that he acts first and thinks later, and wears his heart on his sleeve. I know that'll probably be the source of his downfall, but already he has me on his side and hoping against all reason that history is wrong.

RELATED POSTS
Tags: featured, Han Seok-kyu, Kim Yoo-jung, Lee Je-hoon, Park Eun-bin, Secret Door, Seo Joon-young