Secret Door's enthusiastic press conference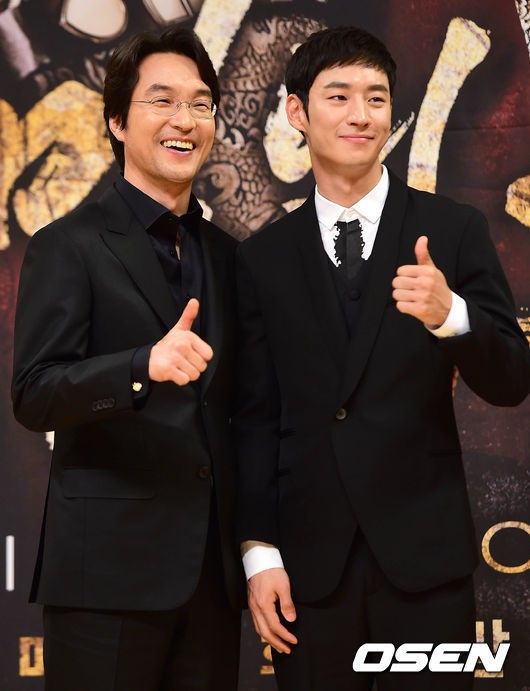 It's here, it's here, it's finally here: A press conference was held on the 18th for Secret Door, which at long last will be premiering next Monday on SBS. The stars and director of the reinterpreted historical drama fielded questions from journalists, and unilaterally the message was, "I feel privileged to be part of such an amazing work."
I get the sense from the actors' responses that they weren't just dutifully present at the promotional event, but were truly giddy and proud of being in what could be one of the most watched shows of the year. Of course, their palpable enthusiasm just makes the wait that much worse — at least we have less than a week to go.
The historical drama reinterprets the events surrounding King Yeongjo's condemnation of his youngest son, Crown Prince Sado, to death at the age of 28. Han Seok-kyu plays Yeongjo, a role he's dreamt about for some time. In explanation, he said, "Sometime around the time of Tree With Deep Roots, I kept the idea of playing Yeongjo in my heart. Even though I was playing King Sejong the Great, I felt a desire to play Yeongjo once in my career."
He also said, "When I was in my twenties, I thought I would like to play Shakespeare's King Lear, a role that all who study acting dream of." Han continued, "I wanted to bring Yeongjo to life even more than my desire to play King Lear in my youth. Deep in my heart, my dream part was Yeongjo."
Han explained that as a father himself, he wanted to explore how a father could sentence his youngest son to death. "I wanted to know how this person could do something like that at the time. Why did the event happen?" He hopes to "show the viewers the essence of the man," although he said, "I'm worried that I'm still a little young to be playing Yeongjo, but I couldn't pass up this opportunity to play him on this stage. Along with my peers, we will do our best."
Lee Je-hoon plays Crown Prince Sado, and he also posed the same questions: "What could possibly have happened between Yeongjo and Sado? How did his tragic fate come to be? I was curious, and I thought by working with Han Seok-kyu sunbae we could create a compelling story and a great work."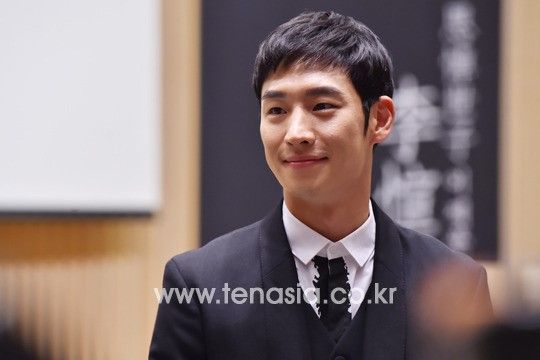 He talked about his reasons for selecting the project, saying the opportunity to work with director Kim Hyung-shik and writer Yoon Sun-joo was one of the biggest factors, and also said, "New light is shed on history's Yeongjo and Crown Prince Sado, so I thought viewers would be interested and enjoy it." He also reiterated what an honor it is to work alongside Han Seok-kyu sunbae and the rest of the cast, saying, "I didn't want to miss this opportunity."
Much of the same accolades regarding the cast were heard from Park Eun-bin, who plays Lady Hyegyong, Sado's wife. About her character, Park said, "This is a different character than the ones I've shown you in the past. I'll be playing a much stronger personality." She vowed to "work hard to exceed expectations."
Kim Yoo-jung plays a fictional character amidst a cast of historical figures, which means she had a different kind of interpreting to do than her castmates did. She found it difficult and said that it's an ongoing task to figure out who the character is, but added that the director's description of her role (lively, free-spirited, energetic) gave her the confidence to take on the part. "I felt like this chance might not come again, so I'd better grab it," she said.
Choi Won-young plays Chae Je-gong, a powerful councilman and trusted advisor to the royal family. "In history, Chae Je-gong was active in the reigns of both King Yeongjo and King Jeongjo [his grandson], and was a faithful subject. In the drama, my character is at the side of the crown prince, and is a sensible and wise right-hand man. Because of human nature, indecisions arise, and my character's subtle emotions will be shown." He also waxed enthusiastically about being part of the show: "If I was to do a sageuk, I had strong hopes it would be a really great work, and I'm incredibly blessed to be in this project working with these sunbaes."
Humblest and most excited of all was Kim Min-jong, who said of his fictional character, "At night I'm the 'emperor of darkness' —it's a great part." He admitted, "I thought it would be fine if I just did my best, but I'm struggling with getting into character. The great director and esteemed sunbaes have been aiding me throughout production." Asked about being offered a part in Secret Door, he got into full-blown fanboy mode, saying, "I didn't think twice. A great project, revered sunbaes – the thought that I could join them in this work was enough; I didn't think twice and jumped at the chance to do it. I told them if they would give me the work, I would do my best."
Last, but not least, director Kim Hyung-shik was quoted as saying, "It was an honor to be able to cast all the actors we had in mind at the onset of planning Secret Door." If all of these amazing actors couldn't say no, how could we the viewers? This wait has been excruciating: SBS, give us the show already!
Secret Door airs on Mondays and Tuesdays beginning September 22nd.
Via TV Report, SBS funE, Sports Today
RELATED POSTS
Tags: Choi Won-young, Han Seok-kyu, Kim Min-jong, Kim Yoo-jung, Lee Je-hoon, Park Eun-bin, press conferences, Secret Door