She's So Lovable: Episode 1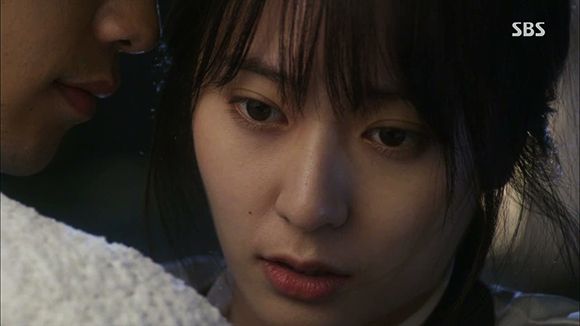 Has it already been four years since we last saw Rain on the small screen? Time sure does fly. She's So Lovable (also known as My Lovely Girl) aired this week on SBS, rounding out the Wednesday-Thursday lineup of three whole dramas from the biggest three broadcasters—just like the old days.
And just like the old days, there's plenty you'll find familiar in Lovable, from its hard-working Candy heroine, to the hero's tragic backstory, and to the rags-to-riches tale that's sure to come. It doesn't quite feel as comfortable in its own skin as fellow comfort-food competitor Spring Days, but it does have one thing neither of its competitors have: Rain, The Gateway Drug. Add a faithful dog to the mix and you're sure to get something right, even if this first outing isn't one to knock our socks off. Maybe it's one to gently pull them off our feet instead.
Ratings-wise, Spring Days led the pack with 9.5%, while Lovable netted 8.2%, leaving Iron Man in last place with 5.6%.
SONG OF THE DAY
Loco and Mamamoo – "이 노래 (This Song)" from the OST [ Download ]
Audio clip: Adobe Flash Player (version 9 or above) is required to play this audio clip. Download the latest version here. You also need to have JavaScript enabled in your browser.

EPISODE 1 RECAP
Two lovers share a heated argument while winding down a mountainside road. This most recent tiff seems to be about her meeting his father, which usually ends badly—and today, she's talking about ending things for good.
LEE HYUN WOOK (Rain), on the other hand, isn't as ready as she is to let go. Since it's been all over the promotional materials, it's no spoiler to say he's the CEO of a talent agency (think YG or SM), and that's another point of contention between the two as girlfriend YOON SO-EUN accuses him of sleeping with a young starlet whose debut song they hear playing on the radio.
He refutes any such doings, and asks her what it will take for her to believe that she loves him. "Just ask me if I love you!" he yells. "Stop playing these games!"
But she wonders if he's not sick of this issue constantly popping up between them, because she is. Hyun-wook pulls over and gets out of the car to cool his anger.
Just then, a passing car blows a tire and swerves before it crashes into another car. An oncoming truck plows into the pileup, is flipped onto its side, and careens toward Hyun-wook's car… with So-eun still inside.
Hyun-wook sees what's coming too late and runs to save her, but the force of the impact blows him backward. The moment he comes to, he pulls a bloodied So-eun from the wreckage.
She seems to know what's coming and smiles as she strokes Hyun-wook's cheek: "We… fought for nothing." Her hand drops as she falls unconscious. Hyun-wook holds her close and cries. "I'm sorry! So-eun… I'm sorry."
Three years later.
We meet our heroine with a heart of gold, YOON SE-NA (Krystal), and we know this because we see her feeding a stray kitten while musing that it's a hard knock life out there, even for people.
A couple of loan sharks have managed to find her, and judging by the way she's always packed and ready to leave at a moment's notice for instances like these, this is not an uncommon occurrence.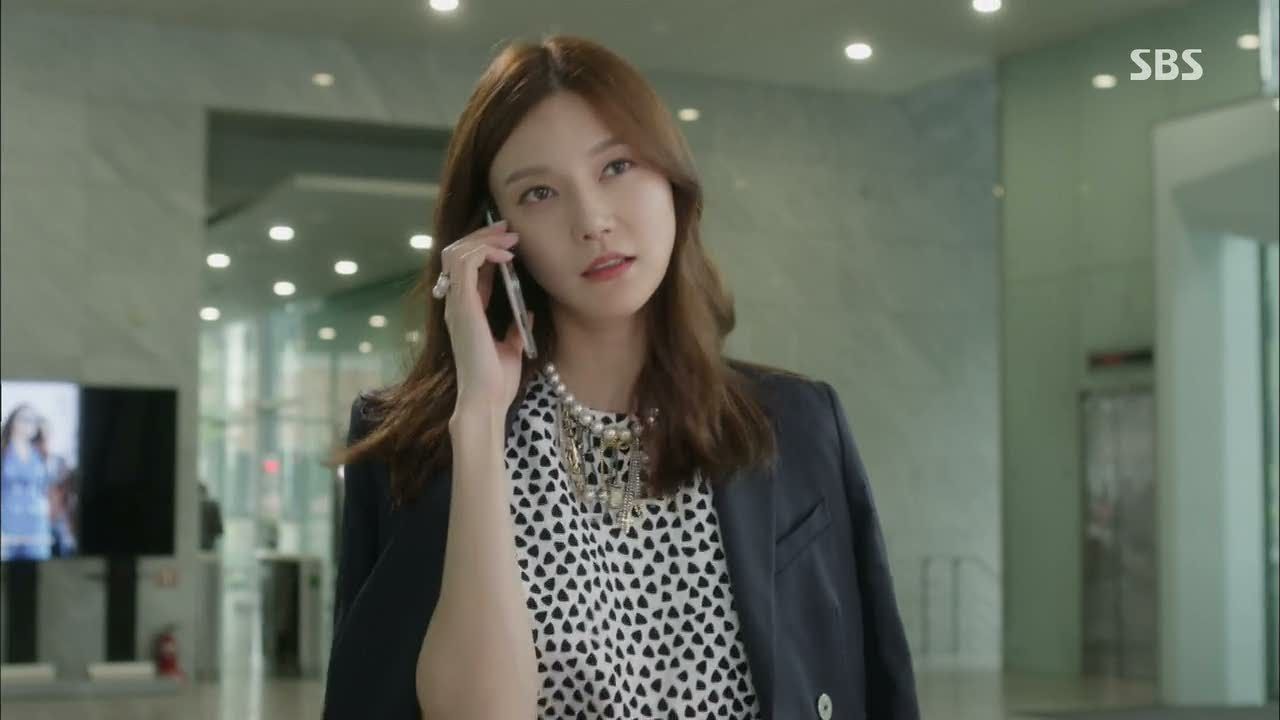 Next up is SHIN HAE-YOON (Cha Ye-ryun), a no-nonsense talent manager who has assistants at her beck and call while she makes preparations for one of her groups to take the stage for a live music show.
But she's stopped dead when someone calls her from Jeju Island to say that they just saw Hyun-wook.
Hyun-wook lives in a quaint country home with his own garden, and makes a salad from the vegetables to give to his neighbor, who's harboring a crush on him.
He tells her he's got someone else, and wonders if that woman is Hae-yoon when she walks through the door, looking pretty peeved.
"It's been a while," Hyun-wook says with a mirthless smile, which his neighbor takes as a cue to leave. Hae-yoon immediately starts hitting him with her purse as she calls him all sorts of names for not having called her in three years.
Afterward, Hae-yoon reverts to calling him "Oppa" as she talks about how hard it's been to find him. But now that she has, she wants him to return to Seoul with her to make music again. Why is he wasting his talents here when he could be rolling in money?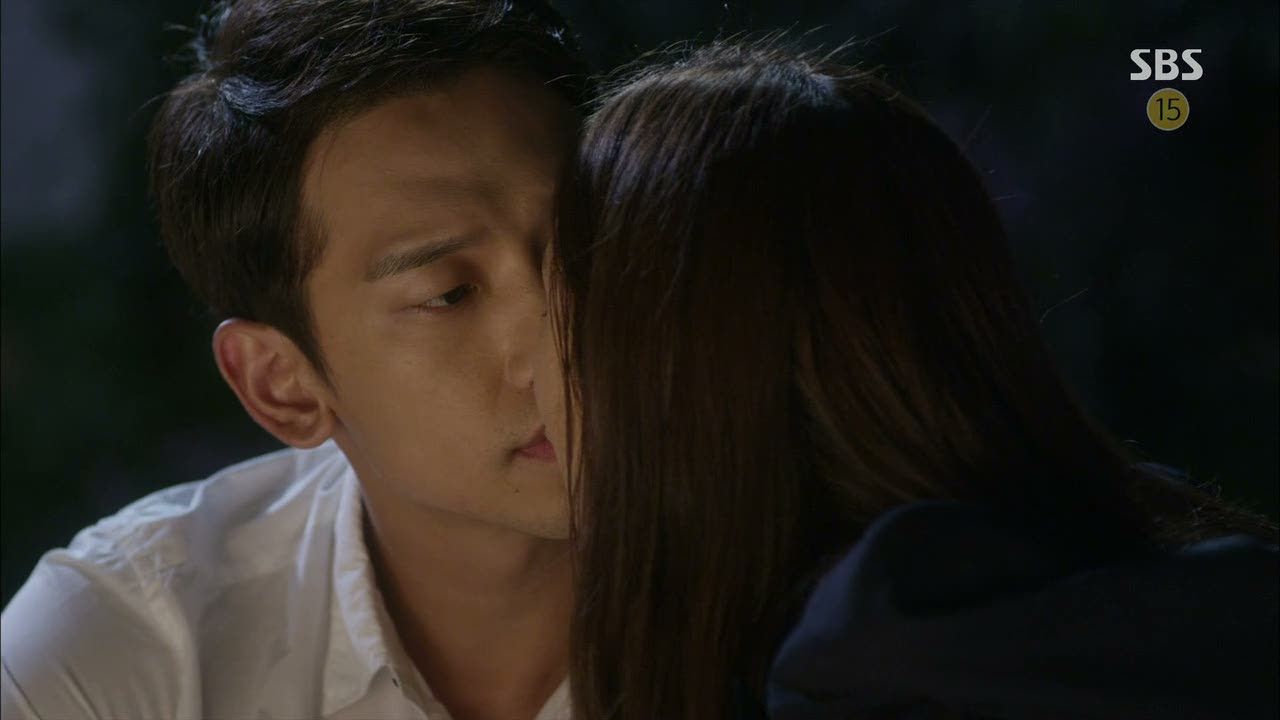 "There are two things I've decided not to do: Music… and dating." Hyun-wook replies in an even voice. Hae-yoon leans over and kisses him, before noting that if he can still kiss, then music and dating should come back to him. Hyun-wook isn't quite as amused or optimistic.
Displaced again, Se-na sits with her only belongings—a bag and a guitar case—as she stares out at the Han River.
Then it's back to Hyun-wook, who sighs about the strange day he's had. To add to the strangeness, a very sudden storm knocks his power out.
But strangely enough, he hears a phone ringing inside his dark house… and opens a drawer where he's kept his late girlfriend's cell phone from the crash. Which, somehow, still holds a charge.
It's Se-na calling, and she leaves a voicemail to tell her sister how she sees so many people around her, but is all alone. Tears spring to her eyes as she adds how nice it would be if they were there together.
"What should I do now?" she asks. "Where should I go now? I'm so scared… everything seems so bleak. Why did you do it? Why did you go and leave me behind?" Hyun-wook listens to this all after the fact, and only then does the phone die.
Se-na has no choice but to depend on the hospitality of her friend, JOO HONG, who knows all about her dire financial straits and part-time job skipping.
So since Se-na needs to keep hiding from the loan sharks always after her, she comes up with a plan: She'll use Hong's name instead of her own for a while. Hong readily agrees, like this is an easy and totally legal thing to do.
Hyun-wook takes So-eun's cell phone to an electronics store, only for the clerk to claim that there'd be no way for him to receive a call when the phone is most definitely broken, and the number disconnected.
He confused when he returns to his car where his dog, Dalbongie, is waiting. Hyun-wook asks him if he should look for the girl who called anyway, and Dalbongie barks in the affirmative.
Se-na, now going by Joo Hong (that was easy) is working at a new part-time job serving poolside drinks at a fancy hotel. She displays her talent for playing music with half-full wine glasses by tapping them to the tune of "Twinkle Twinkle, Little Star" to calm down a crying child, and is tipped graciously for it.
Hyun-wook hires a private investigator to try and find Se-na, since he knows she left the voicemail. Other than knowing that she's his late girlfriend's little sister and that she plays music here and there, he doesn't know much about her or where to find her.
He has to try explaining his reasons to his friend, then decides it's easier not to explain the whole phantom-phone-call thing—he just knows Se-na is in a bad way.
But then the song that played when he was in the car with So-eun, the one he produced, suddenly plays over the bar speakers. Hyun-wook is instantly assaulted by traumatic memories of the accident and books it out of the bar, clutching his chest.
Se-na enjoys a poolside break after all the customers have gone and hums a little tune to herself. Dalbongie abandons Hyun-wook when he hears the tune, forcing his owner to give chase.
She greets Dalbongie when he arrives, cutely calling him formally like she would any other hotel guest since he's wearing a bow tie for a collar. She has fun playing with him and singing to him, which is how Hyun-wook finds the two of them.
"It's nice," Hyun-wook says of her tune. "It's a pity I couldn't understand the lyrics." Se-na claims she was singing to Dalbongie because he looked tired, which Hyun-wook explains as due to jet lag.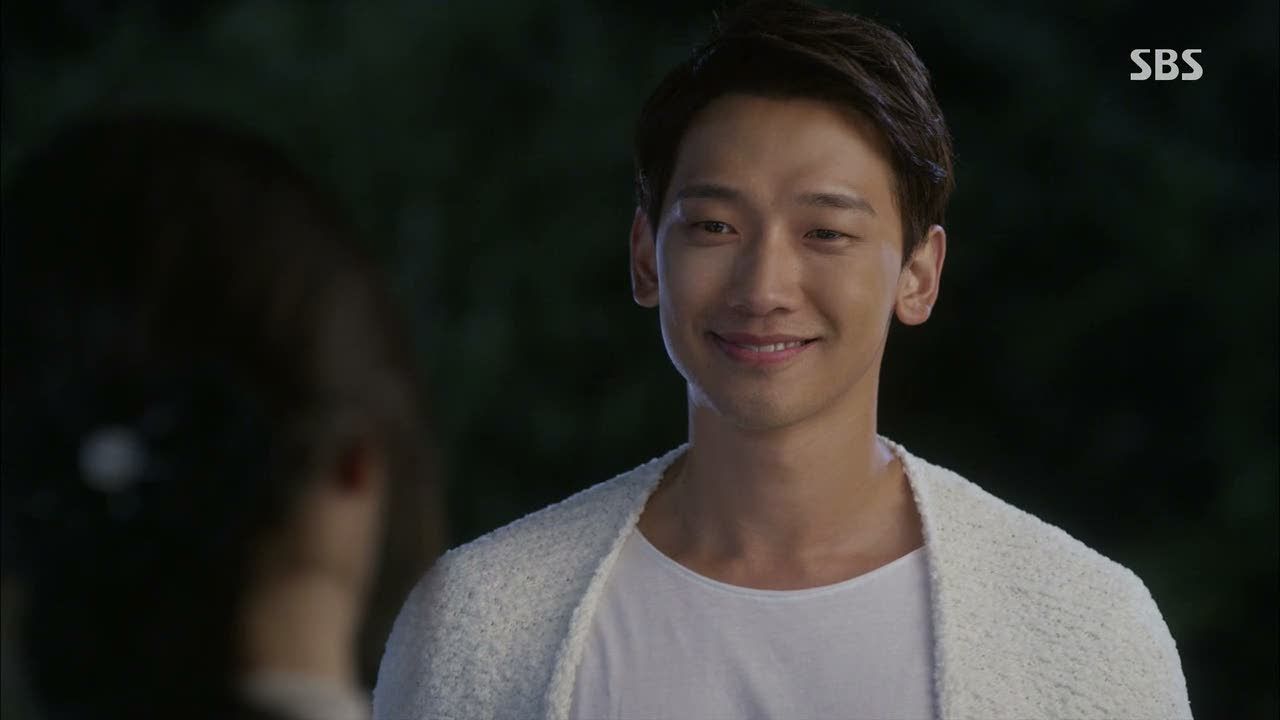 When she asks if he's the dog's owner, Hyun-wook almost laughs when he answers, "I'm his friend. Though I'm not sure what he considers me to be." Aw.
Dalbongie gets a little excited when she repeats his name (after asking Hyun-wook for it) and jumps on her, sending Se-na off balance as she falls toward the pool…
…But Hyun-wook catches her just in time, and holds her close after such a near-miss. She's much more caught off-guard than he is, and is barely able to speak when Hyun-wook jokes that Dalbongie must've done that because he's fallen for her.
Hyun-wook takes a look at her name tag and calls her Joo Hong, and while Se-na almost tells him her real one, she decides to keep up appearances and sticks to the fake name by explaining that it's "joohong" (scarlet) not "ppalgang" (red). Before he leaves, he cutely refers to her as "Miss Not Red, But Scarlet."
The next day, Se-na and her fellow employees are briefed on the huge party that will be held at their hotel by the AnA talent agency. But Se-na (as Joo Hong) is pulled aside after the meeting since she's been summoned to a very specific room.
Her fellow employee titters that it's the "Handsome Dog Man's" room, for reasons that should be self-explanatory. They're all jealous when Se-na realizes she met the guest they're talking about yesterday by the pool.
Se-na shows up to Hyun-wook's lavish two-story villa, since he's requested her services to look after Dalbongie while he's at the party. She leaves right after when he gets a phone call, which is (of course) from the private investigators about their search for… well, her.
Another quick and jarring cut takes us to Hae-yoon, as she prepares the hotel for the upcoming party while Se-na learns she's in a high position at AnA.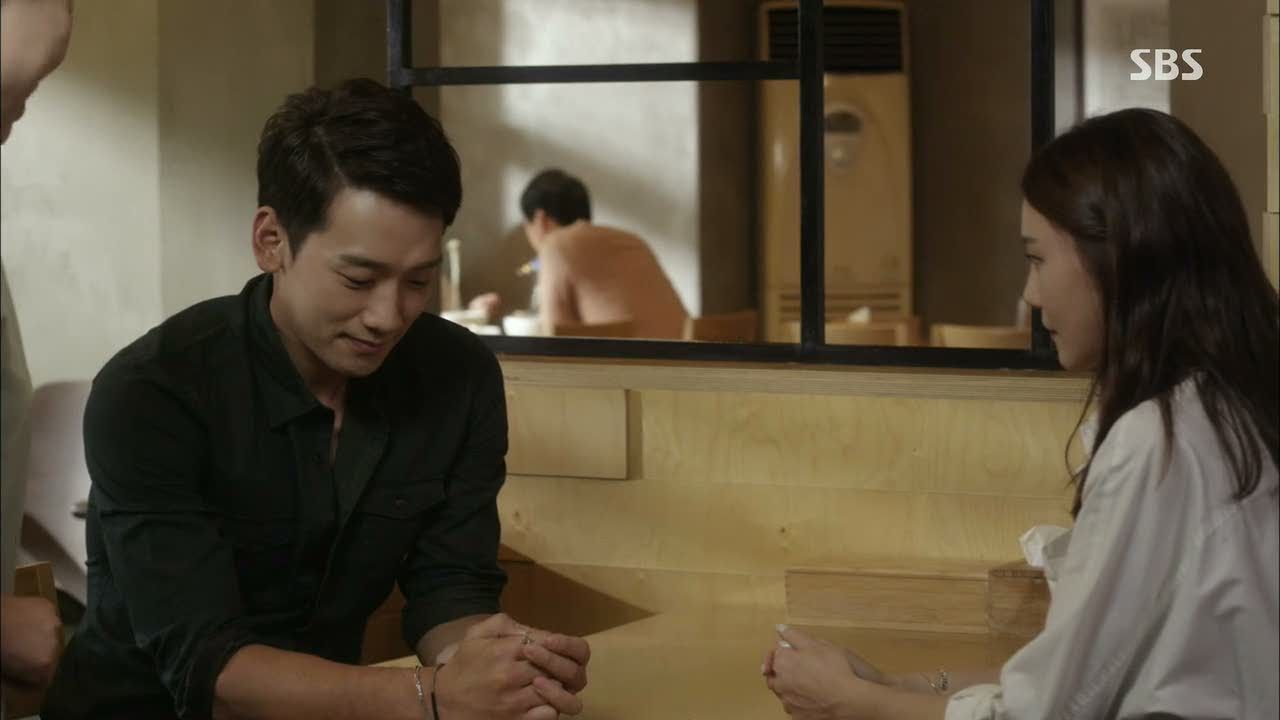 Once Hae-yoon sees Hyun-wook's buddy SUNG-JIN at the hotel, she knows Hyun-wook must be there and knocks on his door, offended that he didn't contact her first to let her know he was coming. She's also offended that he didn't come to Seoul because she asked him to—he must've come for a woman.
Hyun-wook just nods, like it's no big deal. That's when Se-na shows up for her shift with Dalbongie, and Hae-yoon shoots her a suspicious look before tipping her for her service.
Hae-yoon and Hyun-wook visit a familiar restaurant with a familiar ajumma, though she makes a slip-up when she asks where Hyun-wook's usual girlfriend is—you know, the one he always used to bring with him. Yikes.
Rather than be sympathetic, Hae-yoon demands that they go somewhere else if this is where he used to take So-eun. "Isn't it enough that you've been wandering around all this time? What's so special about that woman anyway?"
Hyun-wook thinks she's going overboard, but Hae-yoon continues that she's known him for twelve years now—doesn't that give her the right to be honest with him? He tags her back when the ajumma returns to the table, blaming herself for bringing up his past girlfriend when he's here with a new one.
"You don't have to be sorry," he tells the ajumma, before turning his gaze to Hae-yoon pointedly. "She's not my girlfriend." Hae-yoon storms out, only to become further enraged when Hyun-wook doesn't come after her.
After Dalbongie refuses to eat his dog food, Se-na placates him by sharing some of hers before she wonders aloud who the woman Hyun-wook went out with is to him.
But when she turns around for Dalbongie's answer, she finds him lying on the floor. Hyun-wook arrives just then and loses his temper when he sees the scraps of sausage Se-na fed him. Um… is that dog being rushed off in an ambulance?
At the animal hospital, Hyun-wook receives some sobering news: While Dalbongie has been saved from choking to death, he also has cancer. (Yeeep.) The prognosis isn't good, since Dalbongie is already on in years.
Hyun-wook dejectedly asks if this means he's not supposed to do anything, which is pretty much what the doctor recommends. Dalbongie doesn't have long, so all Hyun-wook can do is let him live out the last of his days in comfort.
He cries, not just because it's his dog, but because it's attached to memories of So-eun—they got him when he was just a puppy and playfully fought over who Dalbongie liked more.
Hyun-wook revisits the spot from his flashback with Dalbongie, much older now than he was then. Then he calls the PI again to check on their hunt for Se-na.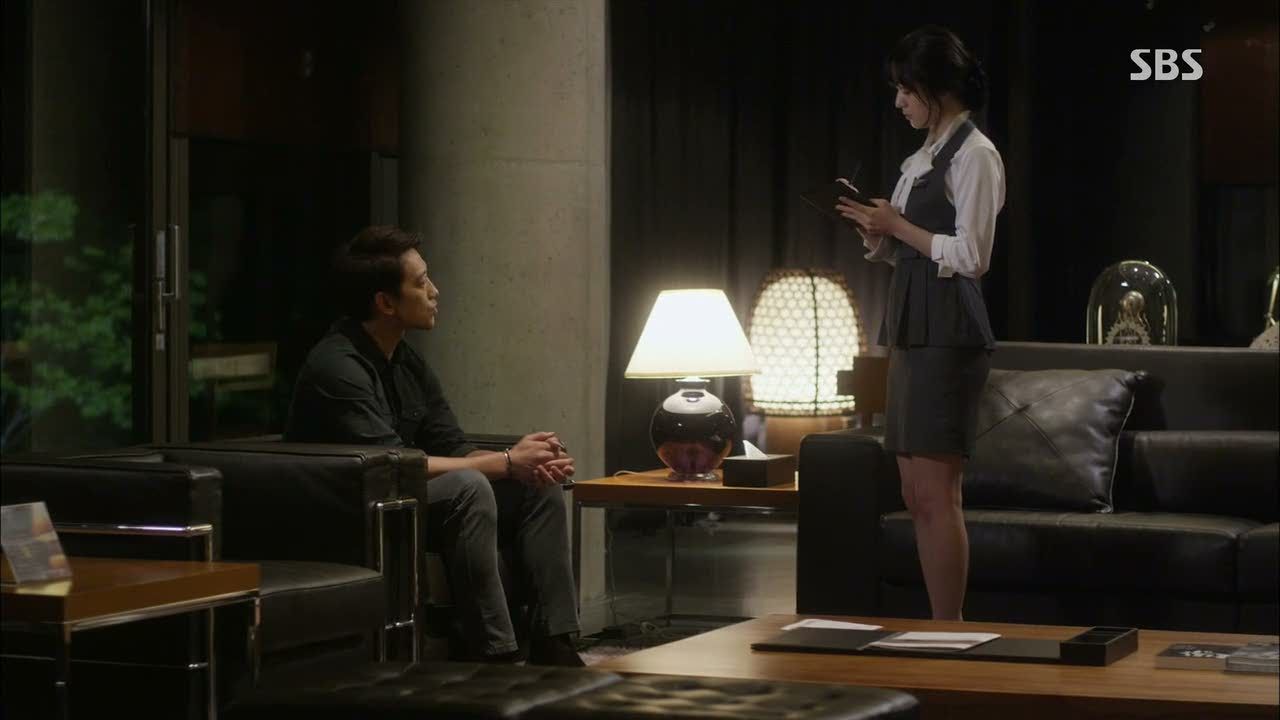 Se-na is there to greet Hyun-wook and Dalbongie when they return from the hospital, and while Hyun-wook isn't in the mood for her apologies at first, he has a change of heart and invites her inside.
After laying down the law that she is not to feed Dalbongie anything off-menu again, Hyun-wook agrees to let her continue to take care of his dog exclusively.
Se-na is confused at first, since she assumed he'd be furious—something he doesn't deny. He is mad, but since Dalbongie loves her so much, there's not much he can do other than to give her EXACT instructions on what Dalbongie can and cannot eat.
So poor Se-na has to make multiple trips to the pet store to get food that meets Hyun-wook's ridiculously high standards, when he could've just made this easier by browsing online and telling her which brand he'd prefer. She even tries cooking Dalbongie's meals, only to be turned back to the kitchen every time when Hyun-wook isn't satisfied.
Later that night, Se-na can't help but think about how much running around Hyun-wook made her do, but forces herself to focus so she can finish a recording she's making.
A quick cut to the hotel entrance shows a mob of screaming fans as members of the boy group Infinite Power/MHDR show up for the concert they'll be playing there—and though Se-na is in eyesight of the hubbub, she looks more confused than anything.
Then poof! She's back in Hyun-wook's room, having to explain why the hotel is all aflutter because of MHDR's arrival. Hyun-wook leaves her to babysit, while he meets with the private investigator who's found Se-na and the friend she's been staying with.
Hyun-wook goes to the real Joo Hong's address, but can't bring himself to knock on the door.
It's quite the party when MHDR performs (I'm going to hold off introducing them until the show gives each member a proper one), but it's one Se-na isn't attending. She can see the concert and hear it from Hyun-wook's window, though.
She takes Dalbongie for a walk after the concert is over, even though that's only the beginning of the festivities and the work for the staff. Se-na asks one of her coworkers if she can trade places with her (uh oh) so she can serve all the big industry execs at the party a drink… and a copy of her recording.
SHI-WOO (Infinite's L), one of the MHDR members, looks deflated when a girl he recognizes takes a drink from the leader of his group, KANG RAE-HUN (Hoya, also from Infinite) and continues to chum it up with him while watching another smaller performance.
Hyun-wook waits outside Joo Hong's house until she shows up, but when he asks her if she knows Se-na, she claims she hasn't seen her in a looong time. But he doesn't get to press her any further when Hae-yoon calls, demanding they meet.
Meanwhile, the friend Se-na entrusted to walk Dalbongie loses the dog. Lordy, how many terrible things are going to happen to this dog in the span of one hour? Cancer isn't dramatic enough already?
Hyun-wook arrives at the hotel and unknowingly walks into a meeting with his father, LEE JONG-HO, set up by Hae-yoon. They're cold and bitter with each other, and end up at the same stalemate they've likely been in for years: Daddy Lee thinks it's Hyun-wook's choice to live with his back turned to his own father, while Hyun-wook claims the fault is all Daddy Lee's.
Hae-yoon tries to patch the situation by telling Hyun-wook that his father is very ill (is it cancer again?), but they're interrupted when the loudspeaker blares that a golden retriever has gone missing. Hyun-wook knows it's Dalbongie and goes running.
Shi-woo keeps drinking every time he looks over to see Rae-hun with the girl he likes, and finally decides to just grab her by the wrist and take her outside.
Se-na ducks when she sees them, but peeks from behind her cover as Shi-woo tells the girl not to date Rae-hun, because he likes her. The girl is cruel enough to laugh at his confession and leaves him devastated.
He spots Se-na in hiding and calls her out, immediately suspecting her of being a sasaeng. While searching for the recording device he's sure she must have, he finds her CD.
Shi-woo thinks he's got her all figured out when she sheepishly admits she's an aspiring composer, and grabs her by the wrist to drag her inside… all the way up to the stage, where he turns off the music. Dude, you're not going to publicly embarrass her, are you?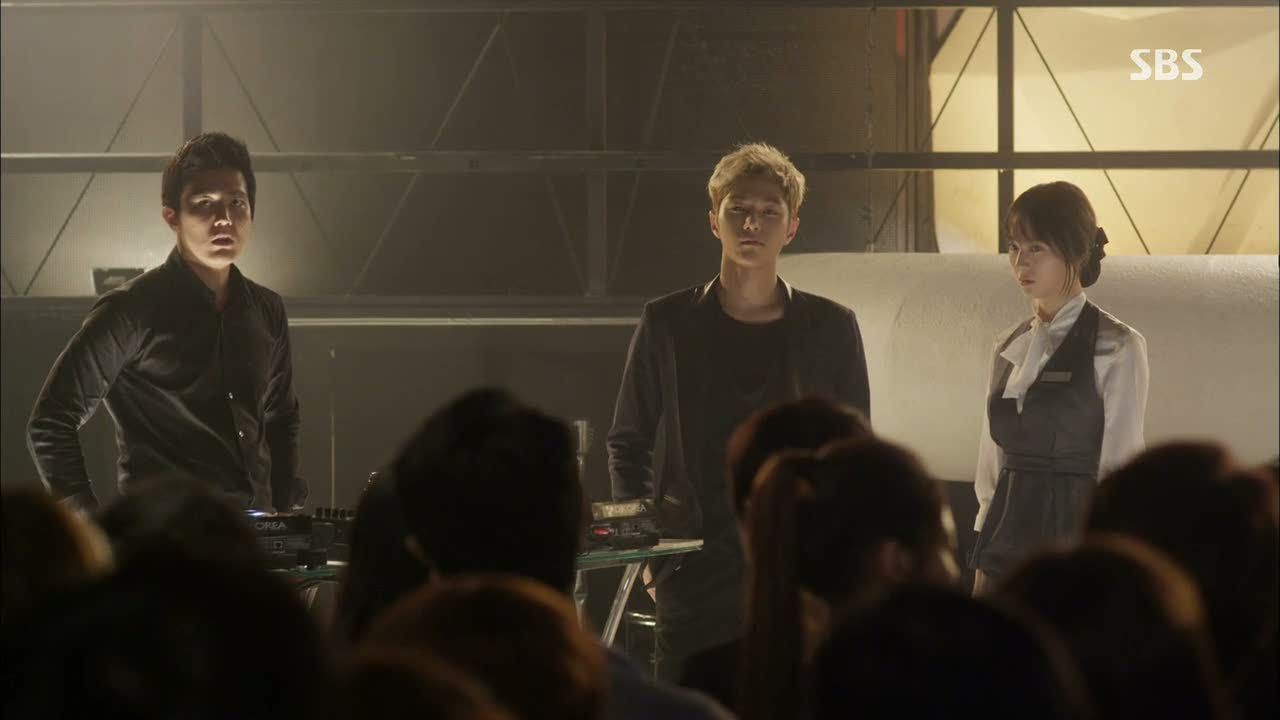 Why yes, yes he is. He announces to everyone that she's an aspiring composer and plugs her CD into the player, answering her meek protests with a, "Why? Didn't you want them to listen to your music?"
He plays the CD, which starts with Se-na introducing herself and the song as being about a girl who falls in love at first sight. Everyone in the audience laughs, including Shi-woo, who's being awfully cruel to a girl he's never met.
Se-na presses the stop button, claiming she didn't want her song to be heard this way, but Shi-woo eggs her on by asking if she'd planned on having someone listen the casting couch way.
She slaps him for that comment, and it's well-deserved. She calls him a piece of garbage before leaving, but Shi-woo's not willing to let it go and follows her out to yell at her about the mistake she just made—does she not know who he is?
Se-na whirls around on him and asks if being a celebrity makes him so special. Does it give him the right to treat people like this? Shi-woo further degrades her for just being a waitress, and for lurking around in the hopes she'd get discovered.
She doesn't deny that, but adds that she wasn't hanging around him on purpose. At least she sticks up for herself by asking him if he's just mad because she saw him get rejected, which only makes him even angrier—luckily, his manager is there to drag him away.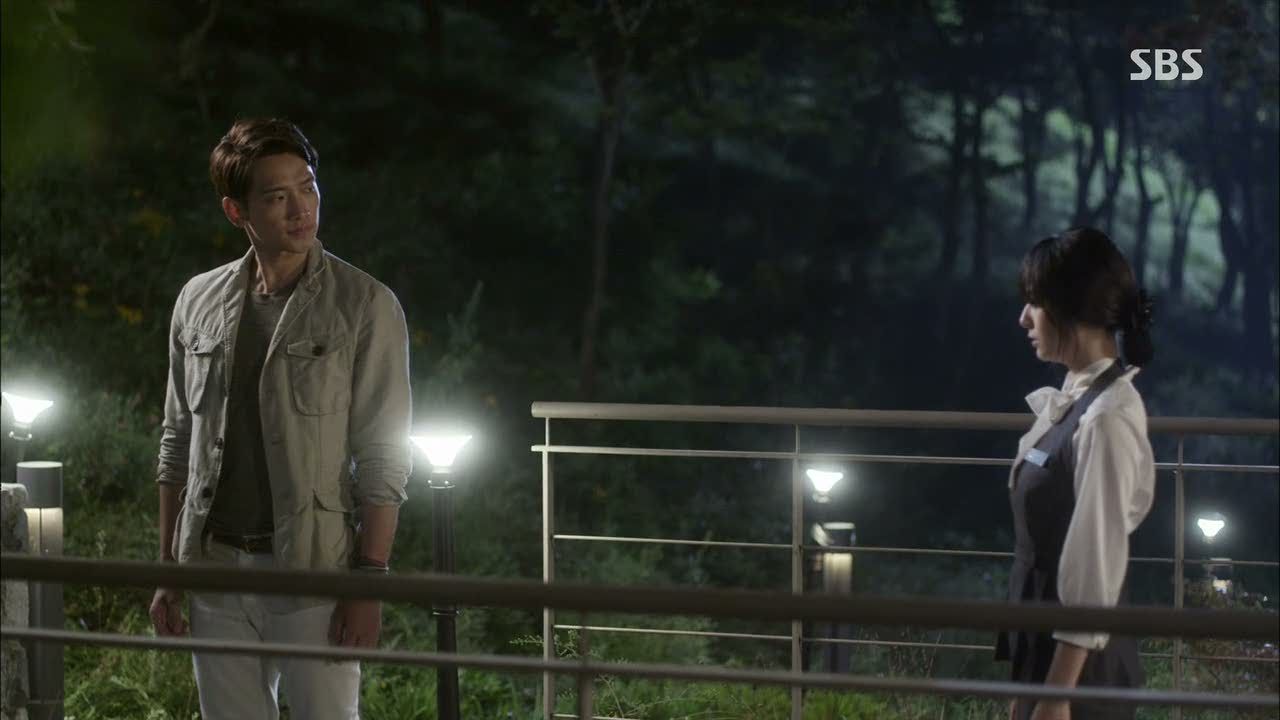 Hyun-wook arrives a second after to accuse her of leaving Dalbongie in order to chase celebrities around. She has no idea the dog is lost and says she had her reasons, but Hyun-wook explodes: "While you were here following celebrities, my dog disappeared!"
She immediately offers to look for Dalbongie, to which Hyun-wook says that even if she finds him, he'll make sure she gets fired. "To think, I entrusted Dalbongie to someone like you," he mutters.
"'Someone like me?'" Se-na repeats. "What kind of person is that? Are you saying someone like me is lower than a dog? You're saying that's how I am, right?"
Hyun-wook can't even believe what he's hearing—Dalbongie is his family whiel she's just an employee. An employee with a duty to take care of his dog! "I'm not the one who lost the dog!" she fires back.
Yes, she admits to leaving him with someone else for just a moment. But she had something else she had to take care of. "Why are you doing this only to me? What did I do that was so wrong?" she asks, mystified. "Is it because of the sausage that got stuck in his throat? Is that my fault? Did I feed him something he shouldn't eat? Why are you being like this to me? Why is everyone being like this only to me?!"
Her boss shows up to tell Hyun-wook that his dog has been found,before ushering Se-na over for a talking-to. Se-na admits she's at fault, but defends herself against her boss belittling her meager education, even if it doesn't change the fact that she's fired.
The private investigator calls Hyun-wook just then to tell him that Se-na's now working at the hotel he's staying at under the name Joo Hong. Hyun-wook runs to the desk, but she's already packed her things and left.
He sees her sitting dejectedly at a nearby bus stop and calls her from across the street. But when she picks up, Hyun-wook can't bring himself to speak.
As his eyes fill with tears, Se-na finally catches his gaze.

COMMENTS
At least that's out. I would've expected the identity game to last longer (anywhere from four to ten episodes by normal dramaland standards), so it's good to see the show subvert at least that trope, even though the chances are pretty high that the identity scales will be tipped in Hyun-wook's favor for a while—he'll know who she is, but she won't know who he is.
That whole not-knowing business does seem a bit strange if Hyun-wook and Se-na's sister were dating long enough for a puppy to turn into a full-blown senior, unless Se-na's sister had been estranged from the family for years on end. There's got to be some reason why Hyun-wook would've never met her family, or her his, though I wonder if it'll boil down to his chaebol daddy and their chaebol problems.
Though I'd heard nothing but praise about the writer/director team from Dr. Champ and Scent of a Woman, I was underwhelmed by both those aspects here. Yes, the shots themselves were very pretty, but the editing was like a horror show at times with way too many arbitrary quick cuts between scenes and characters that could've benefitted much more if the camera didn't have the attention span of a gnat. It was almost as if they were afraid to linger too long on any one character while setting up the world around them, but it could very well be because there were a lot of characters and only so much time so devote to each of them. Maybe there'll be more breathing room once the setup is over and done with and some of the separate character threads start to converge. I'd be willing to put at least that much faith in a team that comes so highly recommended. (Don't make me regret it!)
As far as characters go, we got a much better sense of who Hyun-wook is than Se-na, who so far seems fairly typical of a Candy—but really, have we reached the point where dramas don't even have to try anymore when it comes to explaining why their heroine is running from debtors? All I got from Se-na is that she's kind, hard-working, has dreams, and isn't afraid to stand up for herself when she has to. All are admirable traits, but there's nothing so far that seems to break the mold. Or maybe that's the point, and Hyun-wook will help her become something more.
That's if he can help himself first, anyway. Going off the map for three years only to come back once he remembered his late girlfriend had a sister seemed a bit flimsy reasoning-wise, even if I don't know what to make of the magical fate intervention that turned So-eun's phone on just so Se-na could make that call. Hyun-wook's got more heart than bite though, which already puts him on the more bearable side of the spectrum with plenty of room to grow.
But honestly, the character who caught my interest the most this hour, even with the little amount of time he had to play with, was Shi-woo. And the fact that maybe being an idol has led him to automatically believe the worst in others, which is already a far more interesting dynamic to explore than the hard-working girl who feeds stray kittens and dreams of becoming a composer.

RELATED POSTS
Tags: featured, first episodes, Krystal, Rain, She's So Lovable