Three Musketeers: Episode 3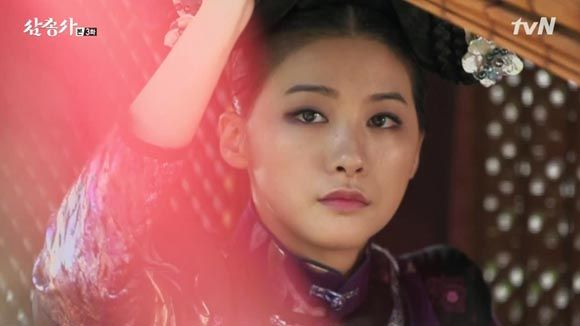 Today's episode reveals one big mystery (or at least a big corner of it), which is a big enough twist to turn a few things on their sides. I like being surprised, and especially when we get one early on in the game, because it helps me to have faith that the show will keep churning them out at regular intervals, which is infinitely preferable to the drama that just withholds its surprises until nothing's a surprise anymore. In this episode's case, we're left once again dangling on fresh information and on the hook for another week till we get our curiosities appeased, which is both welcome (yay, suspense and curiosity) and maddening (argh, stupid suspense and curiosity!).
SONG OF THE DAY
The Vinyl House – "Bye & Bye" [ Download ]
Audio clip: Adobe Flash Player (version 9 or above) is required to play this audio clip. Download the latest version here. You also need to have JavaScript enabled in your browser.

EPISODE 3: "Secret Mission"
Dal-hyang finds himself under enemy fire after chasing Mi-ryung and her sidekick No-soo (formerly known as Eyepatch) into the mountains. Those two find safety under cover of the Manchu army commanded by Ingguldai, but that means Dal-hyang is suddenly a target, and dozens of arrows fly at him all at once.
He falls off his rearing horse but quickly somersaults behind a tree to avoid getting shot. Ingguldai commands his army after him, then looks on in puzzlement when Dal-hyang's horse gallops on alone.
…and from the other side, we see Dal-hyang hanging onto the saddle for dear life, hidden behind his horse's body in a tuck position. HAHA. I totally laughed out loud. In public.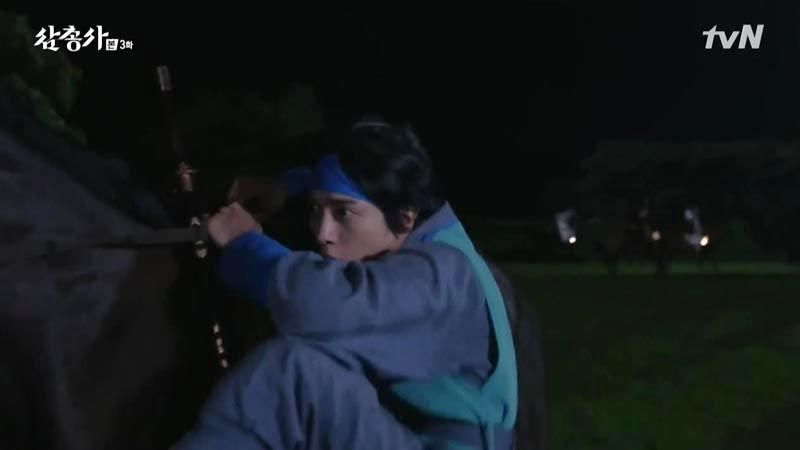 Once at a safe distance, he swings up into the saddle and rides like a normal person. He slices tree branches with his sword so they'll fall in his pursuers' paths, and manages to outstrip them.
But his horse, which has valiantly soldiered on despite being shot with several arrows, finally collapses. Poor beast! Are all of Dal-hyang's animals doomed? Dal-hyang has to continue on foot, all while wondering why he's being chased in the first place.
Prince Sohyeon makes it back to the palace after the gibang encounter where he witnessed crafty politicians secretly plotting against King Injo. The worried princess, Yoon-seo, sees his hand dripping blood and tries to tend to it, but is asked to leave. She sees that Seung-po's hand is also bloody and demands to know why, but he uncomfortably dodges the question.
Sohyeon, shell-shocked after seeing Mi-ryung, asks a eunuch how it could be possible. The eunuch had been the one to confirm that Mi-ryung had hanged herself all those years ago and looks stunned to hear it, but I'm not sure yet whether he's genuinely surprised or acting. He explains that he had never actually seen Mi-ryung's body after the hanging, but had been told she was already buried and took that as confirmation. Surely her father wouldn't dare lie to the king, he muses, and ventures to suggest that Sohyeon saw wrong.
The princess tries one more time to ask what her husband has been up to, and Sohyeon gives the completely unbelievable explanation that the "blood" he's dripping is merely red-colored liquid, and that he was playing a prank. She's not having it, but Seung-po assures her that they'll be seeing a doctor, so she needn't worry.
Going to the royal doctors would blow this up into a huge fuss, and therefore Sohyeon resorts to more secrecy. His musketeer sidekicks wake up an old doctor in the middle of the night, and based on the way Sohyeon greets him, it appears they're well acquainted. In fact, I'd bet cash money that Sohyeon's personally responsible for some of the gray hairs on his head.
General Ingguldai's troops finds Dal-hyang's horse dead in the woods, but no Dal-hyang in sight. Ingguldai demands to know who's responsible for this—is it the prince? Politician Kim Ja-jeom? Or Mi-ryung, daring to play backstabber?
Mi-ryung replies that she doesn't know who the sudden interloper was. Ingguldai warns that if the prince dies from this encounter, her neck is on the line—because if Sohyeon were to die from being stabbed by No-soo, that could spur war.
No-soo assures her that his cut wasn't fatal, though that's probably more lucky than intentional, since he says that he would've made sure to do him in if he'd known that it was the prince. "What has this country done for us?" he disdains.
A weary Dal-hyang makes it back to his lodgings in one piece, looking half-dead. He collapses on the ground in exhaustion, but a second later he bolts upright, sensing something amiss. Is danger afoot?
So when a cheerful-looking servant knocks on his door, he has the lights scared out of him as the door swings open and Dal-hyang faces him coldly with a bow and arrow pointing right at his face. The servant, named Pan-swe (played by Lee Kyun), begs Dal-hyang to calm down and explains that he was sent by Seung-po.
Pan-swe delivers a letter as well, in which Seung-po checks that Dal-hyang is safe after last night's escapade (and says that he was preoccupied looking after a friend who got "stabbed a little" and spent the night "crying like a girl"). In flashback, hilariously, we see that it's actually Seung-po who's the weepy one, worrying while the prince stoically takes his treatment.
Seung-po asks Dal-hyang to go with his servant to meet the musketeers, and so they head over to the home of their teacher, minister and diplomat Choi Myung-gil (Jeon No-min). Dal-hyang arrives at Minister Choi's home in time to see him scolding Seung-po and Min-seo for their lapse and not protecting the prince properly, while the two musketeers receive their lecture meekly like schoolboys.
Then Sohyeon draws Dal-hyang's attention, mock-scolding him for being partially responsible for the prince's injury because he hadn't protected him properly. Dal-hyang starts to defend his actions, but stops himself halfway through and recognizes that he's making excuses. Instead he apologizes sincerely for not following through on his promise.
Sohyeon asks what happened to the two people he chased, and Dal-hyang explains that he lost them in the woods when he came upon foreign soldiers. Based on his description, Sohyeon surmises that he must have run into foreign envoys and the famous general Ingguldai.
Next, Minister Choi Myung-gil turns his scolding to the prince, who says all the right words of apology while looking completely unrepentant (which Minister Choi notes). At that point, Minister Choi notices the new arrival, and Dal-hyang introduces himself and offers up the letter his father had written—this is the distant relative he'd tried to contact his first night in the city.
Minister Choi reads the letter, and tries to place Dal-hyang's father, tracing the convoluted lineage Dal-hyang provides (Choi's brother-in-law's maternal uncle's nephew). Dal-hyang looks excited when it seems Minister Choi knows his father, but deflates when he realizes that his father doesn't register at all, even though Minister Choi kindly pretends for his sake that he might.
In any case, Minister Choi receives Dal-hyang warmly and folds him right into the group, since he's already privy to their secrets. So he explains that the current political situation is precarious—he senses impending war. And that would throw the government into disarray as ministers act to save their own necks, the beginnings of which we've already seen. He asks Dal-hyang how he plans to protect his country, now that he's a soldier whose job is to serve it.
The three musketeers, meanwhile, discuss what they've seen. They correctly guess that the wily Kim Ja-jeom will flee the capital, now that the prince has identified him and his co-conspirators. Sohyeon muses that it's no surprise that Kim Ja-jeom would be so quick to make friends with the king of Later Jin (which will become Qing in the near future), since he's always looking for ways to benefit himself. But why would Ingguldai try to meet Kim Ja-jeom, he wonders. What would Kim be able to promise him?
The prince's eunuch pays a visit to Mi-ryung's father, Lord Yoon, to ask about her suicide from five years ago. What's surprising is that Lord Yoon didn't see her corpse directly either, because he'd been told by his servant that the sight was so terrible that he buried her right away. Lord Yoon hadn't pressed the matter, and then more curiously, the servant hanged himself a few days afterward.
That means nobody can confirm Mi-ryung's death, Sohyeon concludes. Convenient, that. On the other hand, he can't be certain that the woman he saw yesterday was her without other clues to back up his hunch. Asked what he would do if she were truly alive, he doesn't answer.
The prince returns to the palace in the early morning intending to make his morning greeting to his father, only to hear that the princess waited for him for a while before finally heading over on her own. We can see that Yoon-seo is practically trembling in fear to be doing this alone, especially since it entails lying to the king (about the prince not feeling well)—but still, she musters the courage, blinks back her tears, and presents herself at the king's door.
At the very last second, however, Sohyeon joins her out of the blue. She's shocked and relieved, and the tears start to spill over as she registers his arrival. He pauses to allow her to compose herself, and then they make their customary bows to King Injo. Yoon-seo and Injo both notice him favoring his arm as he bows, but he deflects it with a ready excuse.
Injo is a bit abashed at his nightmare-spurred outburst in the middle of the night, and asks his son to understand his unease. He sighs that his nerves would be somewhat allayed if the prince were to have an heir, and asks hopefully whether the royal couple has any news. Are they trying? But that simple question prompts more tears from the princess, and her emotional response baffles the king, who wonders why his words would be so upsetting.
At least Yoon-seo is reassured by the eunuch that Sohyeon wasn't very injured and that he spent the night with his teacher.
His talk with Minister Choi puts Dal-hyang into a pensive mood the next day. He thinks over his words about war and protecting his country, then takes his place in the ceremony for new civil servants, where he'll officially become an officer of the state. Meanwhile, four cowering officials confer in hushed voices, panicking because their secret gathering was spotted by the prince. Making them extra nervous is the fact that nobody knows where their leader, Kim Ja-jeom, went—what if the prince dies from his injury and the four ministers get blamed for it?
That's when Sohyeon interrupts with his entourage in tow, asking them pleasantly how they passed their night, saying that he had bad dreams of traitorous plotters that ruined his sleep. He says pointedly, "I was so relieved to wake and realize that it was only a dream, and that it wasn't real."
Sohyeon continues on to the ceremony, while Minister Choi stays behind to have a word with the four traitors. They gulp nervously.
The princess hears the festivities from her palace quarters and is asked if she'd like to drop by. She declines, but the mention of the ceremony reminds her of being with young Dal-hyang, who had told her to come when he passed the exam, which makes her wistful but also brings a small smile to her face.
King Injo and Prince Sohyeon take their places, and the ceremony begins. Dal-hyang awaits his turn with anticipation, and when his name is called, he steps forward. Just as he does, Yoon-seo arrives and looks on with pride, and takes in the sight for a few happy moments before retreating.
In the middle of the proceedings, Sohyeon's eunuch catches a glimpse of something unsettling and tells the prince to look over to where the families are watching. Standing in their midst, glaring fiercely right at the prince, is Mi-ryung.
Ack! She's shooting him such an intense look that it's unnerving, and also a little bit frightening. Sohyeon holds her gaze for long seconds and instructs the eunuch to get her. She exits and makes her way through the palace grounds, staying a step ahead of the eunuch—only to run right into Yoon-seo's path.
Mi-ryung glares at Yoon-seo, who doesn't know who she is and inquires politely if she's okay. Yoon-seo doesn't quite know what to make of her, though the encounter certainly strikes her as odd.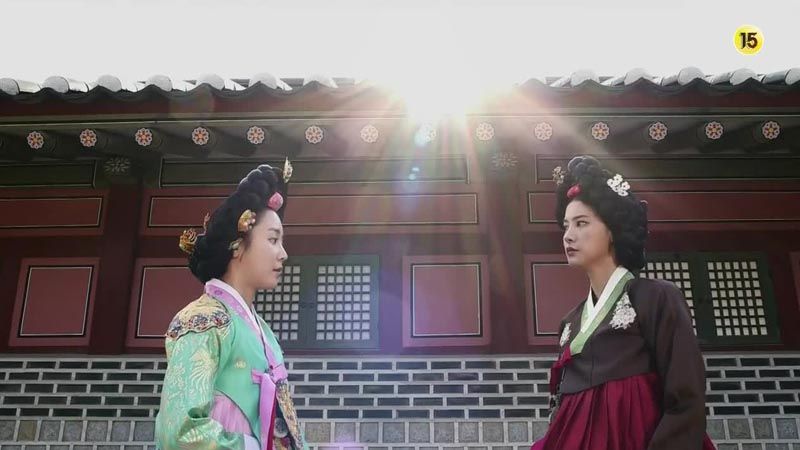 Dal-hyang returns to his lodgings after the ceremony, at which point he receives another visit from Pan-swe, who delivers another letter from Seung-po. He congratulates him and tells him that Pan-swe is his gift to him—included are his slave's papers.
Pan-swe's reaction—"Oh no, what misfortune of heaven is this?! I'm ruined!"—is a little less than flattering, and he bolts up to race home to find out what kind of mistake Seung-po made. Surely he meant to send somebody else—Pan-swe is too important!
And then, Dal-hyang is surprised by another unexpected visitor: Sohyeon, who invites himself in and makes himself comfortable. Dal-hyang receives him awkwardly, since this is such shabby surroundings, but the prince tells him that he's more comfortable outside the palace than in it. Because he hadn't been raised to be crown prince (King Injo only became king after a coup displaced his predecessor, Gwanghae—a coup led by Kim Ja-jeom, in fact), he finds the palace restricting, with too many watchful eyes.
Sohyeon calls this a secret between the two of them, which the other two musketeers don't even know about. He asks what posts Dal-hyang is interested in serving, mentioning one special unit as a possibility, which Sohyeon could recommend him for… but instead opposed. Dal-hyang's face goes from hopeful to perplexed, and then affronted when the prince says innocently that he can't have Dal-hyang brought in close proximity with the princess—what if they fell in love?
That's a joke, of course, and Sohyeon adds that his real reason for declining to give him that post is because he wants him in another, where he'd be dealing directly with the Manchu envoys—namely, General Ingguldai. He gives him the instruction to find Mi-ryung, as Dal-hyang is one of very few who knows what she looks like, and bring her to Sohyeon. That is his first order as a soldier.
Thus Dal-hyang is among the ranks of the officers who line up in front of the city to receive the Manchu envoys. Ingguldai gives the signal to his men, who draw their swords upon their approach. The Joseon troops hurry forward to guard their people, and the air grows thick with tension.
Then the screen lifts from the carriage window, and Mi-ryung peers out. She and Dal-hyang lock eyes, and she smirks at him.
Dal-hyang flashes back to the instructions the prince gave him: to keep this a secret. Sohyeon describes this as both a private and public matter to him, and when asked what he wants from her, he replies that he'd like things to unfold differently than five years ago.
In another flashback (within this flashback), we see a younger Mi-ryung crying and calling out to the prince. She's tied up and says pleadingly, "You said you loved me." And then young Sohyeon gives her an order: "Commit suicide." Oh holy shit. That was a left turn I wasn't expecting.
So it's not too far from the truth when Sohyeon tells Dal-hyang, "I killed her. But as she survived, this is a shocking matter." Dal-hyang is stunned at the implication that he might kill her again, asking what he'll do this time. Sohyeon replies, "I don't know. I must see her to know what I'll do." Sohyeon supposes it'll be one of two possibilities: He'll either kill her again, or maybe they'll hold hands and be in love again. He says it in his trademark wry tone, which doesn't betray how outrageous either option is.
Taken aback and confused, Dal-hyang asks if he's joking or serious, but Sohyeon declares question-and-answer time over: "Now, carry out the order."

COMMENTS
Whoa. I wasn't expecting this, but it sure does explain certain quirks in Sohyeon's character, doesn't it? I fully expect there to be a complicated, perhaps even sympathetic reasoning behind the suicide order, but it's hard to argue that it was reasonable or even justifiable. Perhaps it was purely politically driven, or there were coercions involved, or the stakes were super high, but in any case the bottom line is that Mi-ryung was an innocent girl used as a pawn, and Sohyeon was the agent of betrayal.
It certainly explains her turn now, siding with the Manchus against the Joseon court in a situation that is almost certainly going to lead to war. He may have had the more powerful support in their youths, but now she's on the side with the power (inasmuch as this would be a war that the Manchus are poised to win—they're on the way up while their rivals in the Ming dynasty, with whom Injo maintained alliances, is crumbling). The question now becomes what she intends to do once she's gotten close to the prince; if it's a personal vendetta, does she mean to kill him? Or just help a rival nation crush Joseon and take her revenge in seeing his dynasty subjugated? I'm intrigued. Mi-ryung was always an interesting character given her fierceness and screen presence, but seeing the backstory supporting all that animosity makes her downright fascinating.
By extension that also makes Sohyeon more intriguing as well, and casts his character in a darker shadow. It has the twofold effect of making me like him both less and more; less because of the obvious reason that his charming, witty facade is now marred by questionable moral fiber, and more because complicated characters are much more compelling than the ones who are just likable all the time. Even if likability is nothing to scoff at (goodness knows I wouldn't like a character who's unlikable just to be different either!).
And now, it'll be a challenge for Dal-hyang to figure out where he stands when his personal code of honor is put in direct conflict with his professional one, because as a soldier, he certainly owes the prince his utmost devotion. So he'll take on this secret mission, I'm sure, but I expect his pure soul to challenge him every step of the way. It's something he does need to grow out of to a certain extent (gaining some worldliness isn't all bad, especially when you're as full of naivety as Dal-hyang), but it's also something that makes him who he is, and to some extent I see that as part of his identity. I'll be curious to see just how much he changes over the course of the show—and how much he doesn't.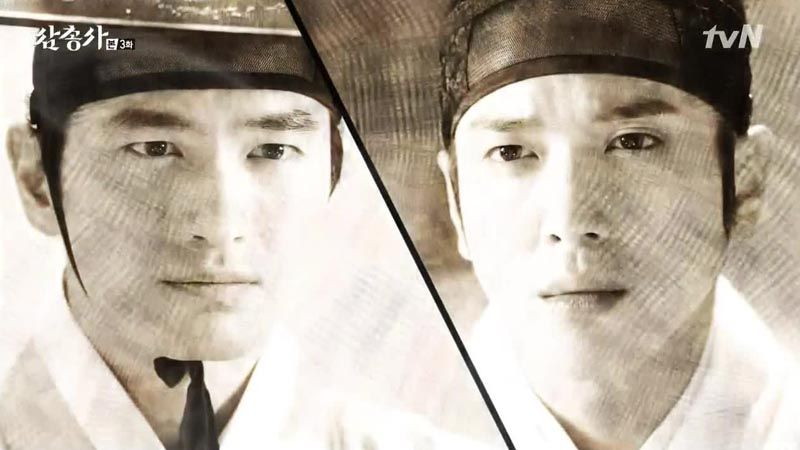 RELATED POSTS
Tags: featured, Jung Yong-hwa, Lee Jin-wook, Three Musketeers, Yang Dong-geun, Yoo In-young