Three Musketeers: Episode 4
Talk about your worst first day on the job ever. Something tells me that Dal-hyang's about to face a lot of "worst firsts ever," though, so he may as well get used to this feeling of constant disorientation. It'll serve him well over the rest of his tenure serving the prince, who is, finally, outright called a nutjob. And by his best friend, no less. Hey, we were all wondering, but now we've got the word from a reliable firsthand source. Fine, reliable-ish.
SONG OF THE DAY
O.O.O – "비가 오는 날에" (On a rainy day) [ Download ]
Audio clip: Adobe Flash Player (version 9 or above) is required to play this audio clip. Download the latest version here. You also need to have JavaScript enabled in your browser.

EPISODE 4: "Protect the neck of enemy general Ingguldai"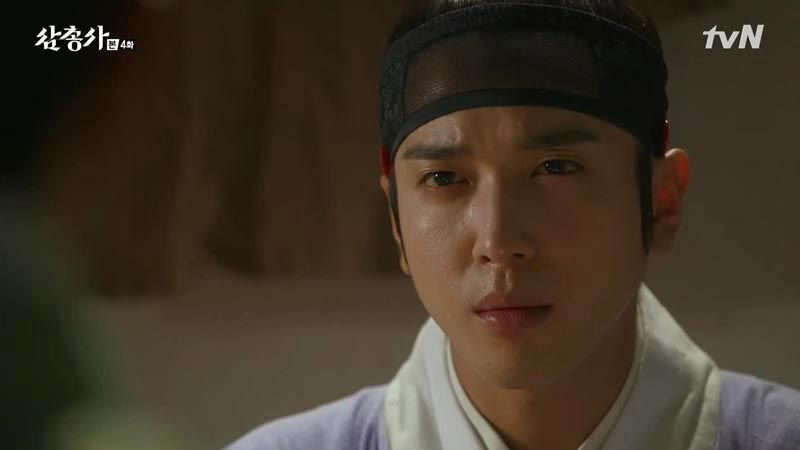 Prince Sohyeon tells Dal-hyang of the story of his almost-wife, Mi-ryung, whom he ordered to kill herself years ago. There's got to be more to this story than what we've seen, but based on the recounting Sohyeon gives now, it's shocking enough to have Dal-hyang gaping, not entirely sure that he's not joking.
Sohyeon wraps up the story and issues the order to capture Mi-ryung. Dal-hyang has enough misgivings to call the prince back to ask if he absolutely must fulfill these instructions—the purpose of the order isn't clear to him, and it's not expressly for the sake of the nation, either.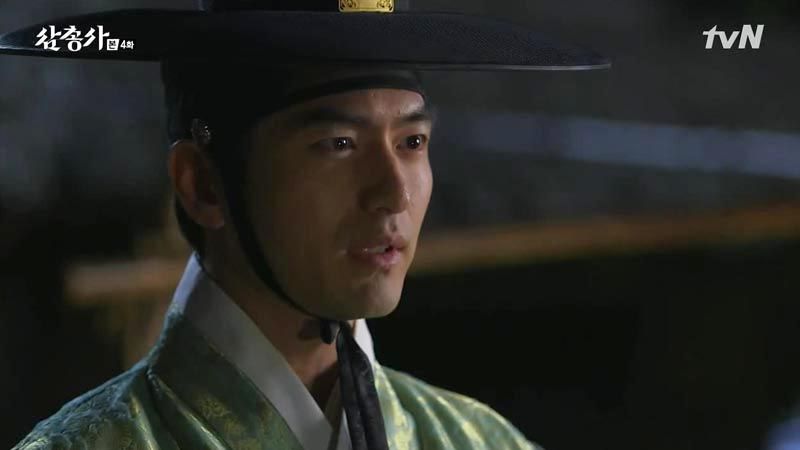 Sohyeon says that as a soldier of the state, the only order that trumps his is the king's—Dal-hyang has no place arguing with motive, methods, or personal risk. Chastened, Dal-hyang quietly accepts this.
The prince explains that while Seung-po and Min-seo consider Dal-hyang their friend (aw), he doesn't yet trust him—he's not in a position to trust anybody easily. "I am not entrusting you with this mission because I trust you," Sohyeon says. "I am using this mission to confirm whether I can trust you or not."
In the palace, Yoon-seo is visited by her mother, who gives her a talisman she is to hide in the prince's bedchamber, to aid their begetting of heirs. Yoon-seo demurs, saying that the nation is undergoing a tumultuous period, but her mother says that it's all the more reason to secure the succession and give the people more hope.
So when Sohyeon arrives home later that evening, Yoon-seo is given only a few seconds' notice, which throws her into a panic because she's about to be caught red-handed with a fertility talisman in plain sight. She rushes out of the room only to come face-to-face with the prince, and since she's a terrible liar and Sohyeon is quick on the uptake, he's not about to let this go easily.
He sees the paper in her hand, which she stuffs in her sleeve and baldly denies is anything. When he steps toward her, she shrinks back, so of course he keeps stepping toward her until she's shuffling backward nervously. She trips and falls backward, and he lands, well, right on top of her.
The court ladies see them entangled thusly, trade knowing smiles, and quietly close the doors. A monarchy's gotta have heirs, after all.
Sohyeon clocks their position, then leans closer and closer until Yoon-seo closes her eyes and puckers her lips. But instead of kissing, he takes the opportunity to snatch the talisman out of her hand, and Yoon-seo can only cringe in mortification. She admits to the talisman's purpose and asks for it back to burn.
That's when he reminds her that she'd accused him of having no interest in her and adds, "Truthfully, I have no interest in women. To be more precise, I dislike women as a whole." Yoon-seo connects the dots, albeit wrongly: "Then… are you saying you like men?!"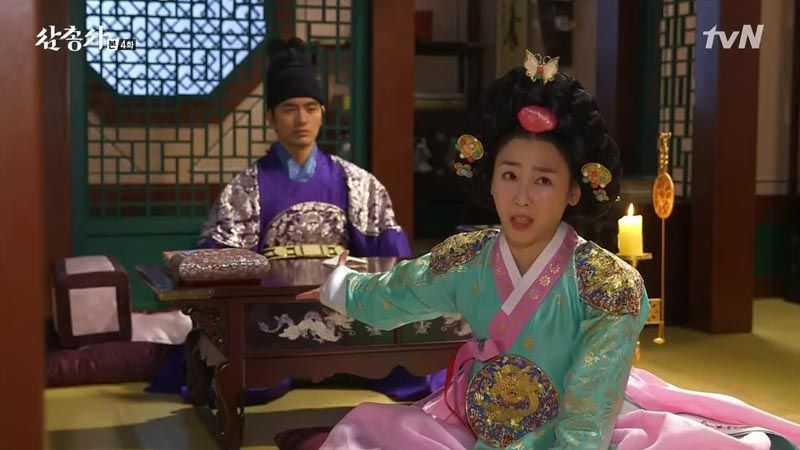 Sohyeon laughs at her skewed interpretation, then says more sincerely that he means it's not her fault, and therefore not something she should feel upset about. Then he adds that he can see why Dal-hyang treasured her letter for so long, because Dal-hyang has a discerning eye for good women. That's sweet to say—and the least he could say, really, given how he's usually picking at her fears in amusement rather than assuaging them.
Sohyeon returns the talisman, and then says he'll have to think it over seriously, "whether I really do like men." Heh. Well we can't expect him to be serious through an entire conversation, could we? But he is considerate of her embarrassment and suggests that she stay a while here, so as not to disappoint the courtiers outside.
So when Yoon-seo's court lady's assumes that the talisman worked its magic, she doesn't correct her. She opens her drawer to tuck the talisman away, but is stricken with panic over the sight—something is missing.
Our two musketeers sleep off the effects of a long night, and the maids sent to clean up pause to ogle Min-seo's pretty face. When he asks about bathing, the girls not only perk up in excitement, they run to spread the news to the other women servants, who drop their duties then and there to steal a glimpse. Which means that Seung-po wakes up to find absolutely nobody around to heed his requests, as they are all in a race to witness the bathing.
Seung-po sidles up behind the looky-loos and offers, "Want me to take off his pants, too?" The women scream and scatter (though one turns back to touch Min-seo's bare abs, LOL), and Min-seo hurriedly covers up.
Eager-to-please Pan-swe arrives to serve his master Seung-po, and still not believing that Seung-po was serious in sending him to Dal-hyang. Now realizing that he really did intend to transfer his ownership, Pan-swe freaks out and pleads with Seung-po not to send him away. It's not only about loyalty, but also pride: "His room is smaller than the servants' quarters here! Even servants have levels!"
So Seung-po delivers Pan-swe personally to his new master, and settles in for a friendly chat. Hearing that Dal-hyang has been stationed at the envoys' residence instead of undergoing training, as per custom, Seung-po wonders whether somebody pulled any strings. Dal-hyang recalls the prince's warning that his mission is a secret between the two of them, and plays dumb. Then he asks what kind of person the prince is, saying that he can't figure him out.
Seung-po leans in close and confides, "He's a wacko." Saying that Sohyeon's got a crazy person's type of charm, he tells him not to try to understand him, because it'll only give him a headache. He sighs that it's a pity for the princess for getting stuck with a madman, and slyly notes Dal-hyang's dismayed reaction at that.
News of Dal-hyang's passage of the civil service exam finally reaches his parents, who are so thrilled that they're reduced to sobs. The government messenger delivers them a gift of rice and notifies them of a village feast being thrown in Dal-hyang's honor.
As they rejoice, Dal-hyang's voice narrates another letter that he writes to them, informing them of what has transpired, as we see him preparing for his big first day on the job. He dresses in his fresh uniform as an apprentice official (he has yet to receive an appointment) and heads out, which is when we jump forward to the scene we'd glimpsed previously: Manchu general Ingguldai leads his envoys toward the city.
Their approach is greeted by a line of Joseon ministers and officers, but it's a tentative welcome and tensions mount quickly as both sides regard each other with weapons drawn. That's when Dal-hyang spots the woman seated in the carriage: Mi-ryung.
The Joseon ministers welcome Ingguldai, and for now the situation remains peaceful. However, the foreigners' arrival has the court split, and ministers appeal to King Injo not to receive the enemy—they must fight back against the oppressive foreigners to free themselves from under their thumb. Especially in light of the Manchu emperor's latest demand that Joseon change its status from being a "brother state" to one that would be subordinate to them.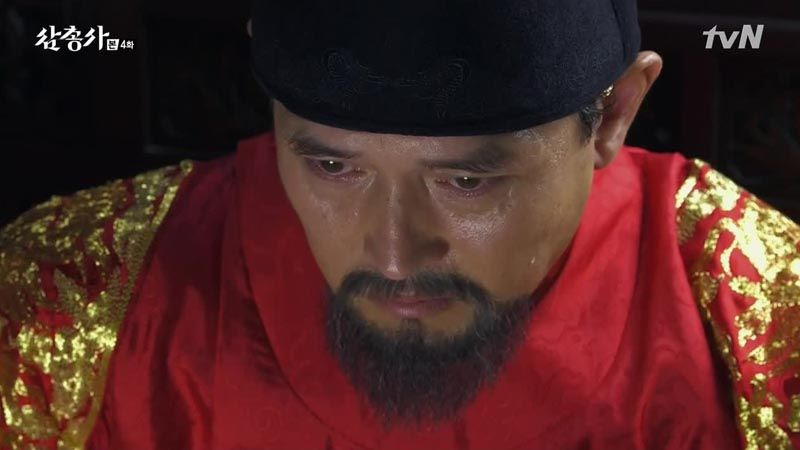 (This drama takes place between the first and second Manchu invasions, with Joseon caught between the warring Ming and Manchu (soon to become Qing) forces. Injo had previously sided with the Ming, which was losing power by this point, and the Manchus did not take this lightly. The two political factions during this timeline were composed of (1) those who argue that Joseon must ally with Ming, and (2) those who argue to not shatter relations with Qing. Our forward-thinking good guys, aka Prince Sohyeon and his teacher, Minister Choi Myung-gil, belong to the latter group. But you can't say the other group is entirely wrong in arguing the need to eliminate Ingguldai, because the general would become a leading figure in the second Manchu invasion.)
So now as ministers beg Injo to strike Ingguldai down, Injo sweats and trembles, afraid to take action. Sohyeon trades disturbed looks with Minister Choi, as this is not the course they want. Minister Choi speaks up to persuade the king to not reject the envoys out of hand without hearing what they have to say—they can reject the terms they object to after they've talked. They must tread carefully if they want to prevent war.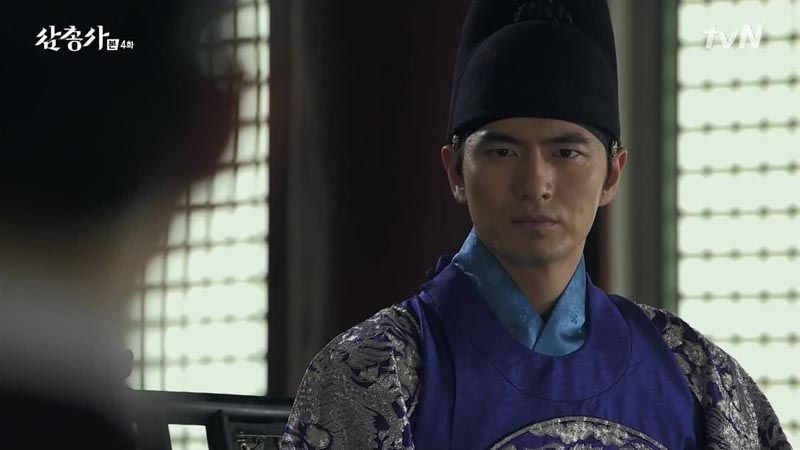 Under the prince's direction, other ministers hesitantly back up Minister Choi. Finally the king concedes with their side, agreeing that it's too early to strike. He will receive Ingguldai.
Which is why, you can imagine, it's an outrage to hear that Ingguldai refuses to travel to the palace to see the king—the king must come here, to the envoys' residence, to meet with Ingguldai. It's an aggressive demand, but Ingguldai warns that refusal to comply will result in his immediate departure: "And what happens next, I cannot be responsible for."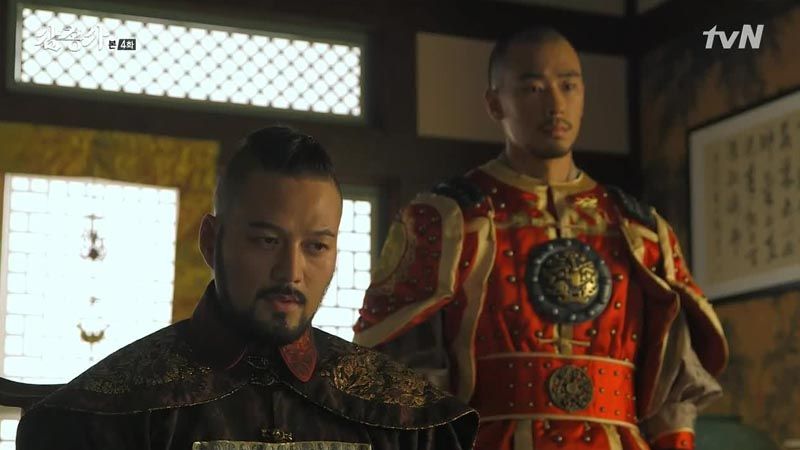 This throws the court into another tizzy, and Sohyeon is dismayed that his plan did not go as intended. The opposing ministers go off in a round of I told you so and urge the king to change course and strike after all. Fraught with indecision, Injo calls for a break and asks to speak with the prince, whereupon he breaks down into tears, calling this too hellish to endure.
Then his tone gets more angry and he starts sounding paranoid, saying that those ministers are just toying with him, and that they may be planning to replace him. They'd put Injo on the throne in a coup (overthrowing Gwanghaegun), so who's to say they wouldn't plan another one to overthrow him too?
Sohyeon tells him that this isn't a battle with his officials: "This is a matter of decision." He urges his father to think realistically, with a cool head. But he admits to being unable to press him because he's aware of how much the king will suffer in the aftermath.
Injo calls himself foolish for being less assured than his son, crying, "If you were in my place, the country would be better off than now." Hey, he read my mind. Then the king composes himself, wipes his tears, and grows resolute. He will go to Ingguldai.
Sohyeon cautions him against acting too swiftly, but the king would rather get this over with. Sohyeon looks uneasy, which is reason enough for me to be uneasy.
The decision comes so quickly that even Ingguldai is wary—he knew it was a pushy demand and thus expected more opposition. He puzzles it over, unaware that he's got an eavesdropper listening from behind the screen: Dal-hyang.
When Ingguldai leaves the room, Dal-hyang rifles through through the papers on his desk and reads through the general's journal. In it, he details what we've seen: arriving in Joseon, being approached by messengers sent by Kim Ja-jeom, and being wary of the woman who is fluent in both Manchu and Joseon languages. She'd introduced herself as Hyang-sun—a name the prince is also familiar with. Based on Mi-ryung's behavior thus far, Ingguldai is suspicious enough to keep a close eye on her.
Ingguldai's journal also tips Dal-hyang off on how Mi-ryung was smuggled into court, disguised as a soldier's concubine on the official entrance roster. So Dal-hyang makes his way to her room here and decides that since she's already recognized him, he may as well take the direct approach.
He knocks, and she invites him in. She also takes the direct approach, saying that she'd been wondering when he'd come to see her. Dal-hyang notices the burn scar on her bare shoulder, though he keeps his eyes averted since she's only half-dressed, uncomfortably asking her to dress before they talk.
She laughs (it is cute of him) but does so, and he sees the letter out on her desk. Upon reading, the words are disturbingly familiar and ring an alarm bell in his mind: It's the love letter Yoon-seo wrote him, which she'd said she burned, which is now missing from her desk. In fact, Yoon-seo is at this very minute tearing her room apart looking for that letter, regretting not having burned it after all.
Dal-hyang reads the letter with trembling hands, and Mi-ryung joins him, smoothly sticking a needle into his neck before he can even react. Gack, he's been poisoned!
Woozy and in pain, Dal-hyang staggers, trying to fight but fading fast. Mi-ryung says she'd had the princess investigated and was surprised to see that such a proper young lady would have promised herself secretly.
She also looked into Dal-hyang's background, and tsks-tsks in mock sympathy: "You experienced the same thing I did. You must have thought Yoon-seo's feelings would be eternal. As I did."
Dal-hyang collapses. Mi-ryung says that knowing they've suffered the same heartbreak has made her fond of him, which is why she didn't dose him enough to kill. She removes the needle and leaves him with some advice: "There's no need to be so loyal to the prince. He is not someone worth putting up your life for."
Mi-ryung adds the instruction to remember exactly how it feels to have that poison moving through his body—he can tell the prince, who will feel its effects next. She picks up a tray, now dressed as a court lady, and joins the preparations for the king's reception.
A short while later, the poison's effect wears off and Dal-hyang regains movement… only to jerk back in horror to see a corpse lying nearby with a needle in her neck—ah, this must be the real court lady that Mi-ryung is impersonating. Dal-hyang takes the needle and wraps it, tucking it away just as a knock sounds at the door. Uh-oh.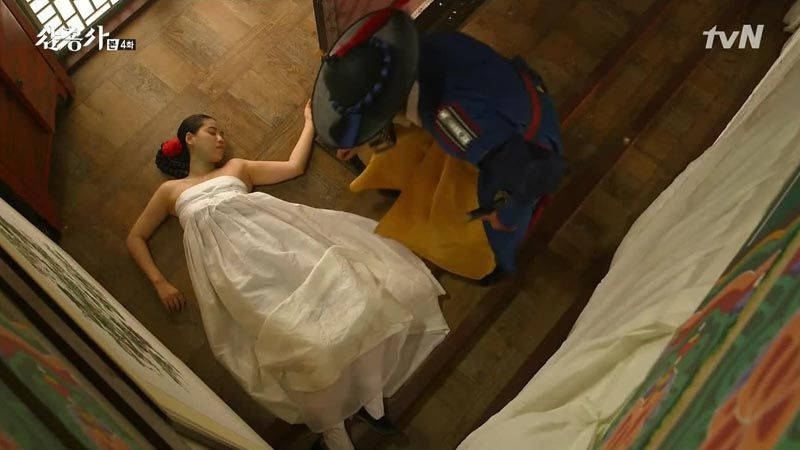 Thinking fast, Dal-hyang leaps out the window to avoid being seen, though the Manchu officer notices the open window. But he's distracted at the discovery of the dead woman's body.
Ingguldai oversees the preparations for the king's visit, and receives the report of the poisoned woman. For now, they suspect that it was the disguised court lady who escaped through the window.
King Injo's procession makes its way from the palace to the foreign envoys' residence, and he looks ill the whole way. Commoners bow down in the streets as they pass, but they wonder aloud why the king would do such a thing.
One old man even dares to kneel in the king's direct path, talking about preserving honor and asking, "Are you not afraid of heaven?" The man is dragged away, but the people remaining begin crying and wailing.
Sohyeon sends Seung-po to check on his father's condition through this ordeal, and the procession pauses as the king is asked whether he will stop and speak with the prince. But King Injo musters his determination and orders them to continue on, albeit with his palanquin's shades drawn. So there he sits, alone in the dark, while his subjects sob around him. He starts to hear that old man's recriminations, only they become distorted and accusatory, and suddenly blood sprays at him and douses his face. He hallucinates ghosts in the darkness, attacking him with words and threats, slowly driving him mad.
Then it's that scene from his nightmare: Ingguldai shooting an arrow directly at him, which lands directly in his chest. He's relieved when he arrives safe and sound, though now he's also thoroughly rattled.
Ingguldai is called to the dead court lady's quarters. She's a Joseon woman and the king is due to arrive soon, making it potentially problematic, so he orders the body disposed of quietly. Ingguldai looks out of the window, but his officer states that it's too high for a woman to have leapt from. Let's hope their chauvinism keeps Dal-hyang safe for now.
Granted, it is a long, hard fall and Dal-hyang lies unconscious at the ground far below. Must have been painful, but he stirs awake and looks mostly fine, just achy.
The king is welcomed by the Manchu officials, but he is in no mood for peaceful talks—brimming over with impatience and rage, he does a complete turnaround. He declares that he will no longer sit back while their brother nation goes back on their promise in now trying to declare itself Joseon's sovereign state. Thus he will take Ingguldai's life here, in this place, and protect Joseon.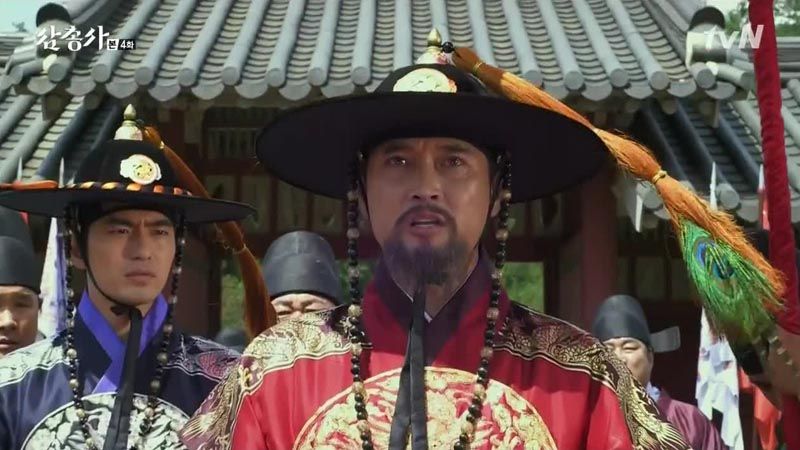 To that end, he orders all of his soldiers to go forth and capture Ingguldai. (There's a hilarious pause while the Manchu official asks his translator what was just said, ha.) Meanwhile, the Joseon ministers are taken by surprise and wonder at what he means, and Sohyeon looks dismayed as fighting breaks out.
Ingguldai has about a ten-second heads-up from his officers before Joseon soldiers come upon his party. Ingguldai heads inside, collects his things, and grabs his sword. He knocks down those in his path easily, then heads out.
The fight outside is a very short affair, and the envoys are quickly subdued. Injo orders Ingguldai captured and brought to the palace, then gets into his palanquin to beat a hasty retreat. Sohyeon stops him to warn that this will backfire on them in a big way, pleading with him to cancel his order.
A trembling king says that what's done is done, and that he has wanted to say these words for the past nine years. He cries that Ingguldai is their enemy, responsible for so many Joseon lives, and that his death is right.
"But it's war," Sohyeon presses. The king can only look at him tearfully, and his entourage leaves at that point. Sohyeon, on the other hand, remains behind to deal with this.
Inside the residence, Ingguldai evades the Joseon soldiers clamoring for his neck, then heads back to that one room. He throws open the window and leaps out—and lands almost directly on top of Dal-hyang.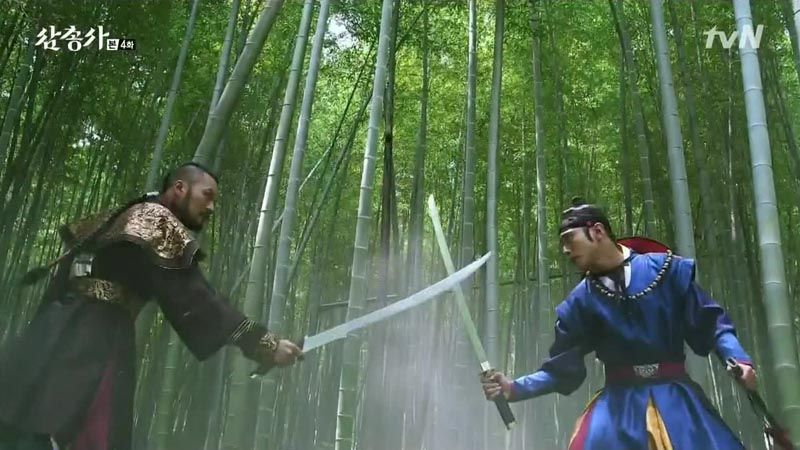 Both men draw their swords, but when voices float down from the open window, Ingguldai darts off into the bamboo forest. Dal-hyang overhears the soldiers above declare Ingguldai an enemy of the state and give the king's order to catch him dead or alive. He takes off running after him.
Dal-hyang manages to cut off his line of retreat and holds Ingguldai at swordpoint, and they both growl and mutter at each other, though neither can understand the other's language. Maybe that's not so important, since it's mostly Dal-hyang grumbling about his first day of duty being a mess.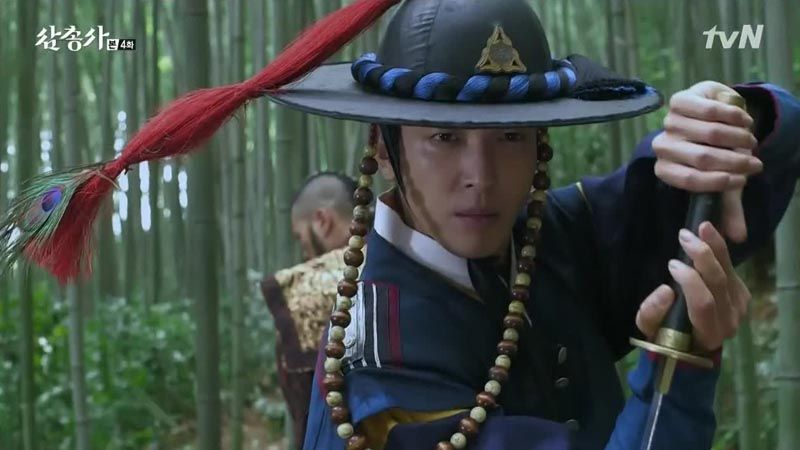 But one thing he does know is that the king's order trumps everything, so he's ready to fight him now. Bring it on.
Ingguldai draws his sword, and their fight begins.
Meanwhile, Sohyeon gives his instructions to Seung-po and Min-seo: They must get to the general before the others do. They must protect Ingguldai's life.

COMMENTS
I have to get the quibble out first, before I can talk about all the stuff I thoroughly enjoyed, and that is: WTF with that title, man? You can't name your episode that, flash the title in the first ten minutes, and then build the entire episode up contrary to the title, so that we totally expect the prince's reversal at literally the last minute! I was puzzled enough over the title when it first showed up that it stuck with me as I was watching, and when Injo declared Ingguldai Public Enemy No. 1, I was completely unsurprised that there'd be a way to twist it back around. Boo. It could have been such a nice twist, too, if the drama hadn't actively given away their punchline.
Okay, that aside, I had a lot of fun in this episode, which was a pretty eventful hour. That's something I appreciate about this show—it doesn't dither around much, and just gets to the action, because you can't dally around when you've got so much ground to cover. This is the beauty of (well-written) shorter-run dramas, which I have frankly really missed—you have less running time, so you're forced to be efficient with your storyline. And as it turns out, a lot of the time you can cover quite a lot of narrative ground if you are economical about your choices. And most of the time, your story is better off for it. (Yes, sometimes the once-a-week format can be less crack-levels-addictive because we're so used to the two-a-week rhythm of build-up and payoff, and not all dramas benefit from this style. But this one is working well with it.)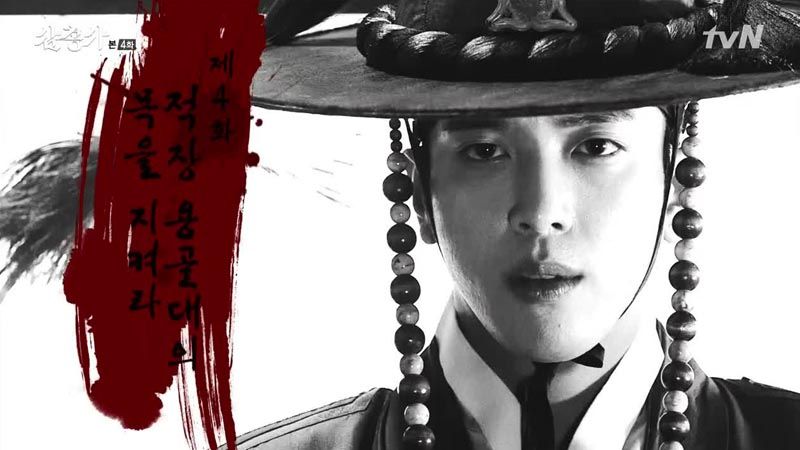 You know, it feels like I'm just watching a lot of dramas about weak kings these days, but while I'll admit that it's frustrating to have somebody in a position of such power being such a spineless puppet, I really like how it works for our stories. In this drama, Injo may be indecisive and wracked with fear, but he's wonderfully acted with nuance, and you can feel that father-son bond between the actors, which makes him a sympathetic character in my view. You want him to not be so ruled by his fears, but on the other hand, it makes for such rich development with Sohyeon, who is, as Injo himself admits, much more king material than the king himself.
That also hammers in the whole "What if" premise of Three Musketeers, which, aside from being a fun romp adaptation of a classic adventure story, also allows us to see what the country might have been like under a stronger, more progressive leader. We know how his story ends in history, but there's no reason we can't color in part of his life before that ending with a little creative liberty, right?
So as the tensions ratchet up and the country teeters ever closer to the brink of war, it's ever more important to be thoughtful and shrewd, as Sohyeon is, and not prone to your emotions. Of course, there's the question of whether Sohyeon has any human emotions… I mean, aside from teasing enigmatically and punking his new best friend at every turn.
RELATED POSTS
Tags: featured, Jung Yong-hwa, Lee Jin-wook, Three Musketeers, Yang Dong-geun