Three Musketeers: Episode 5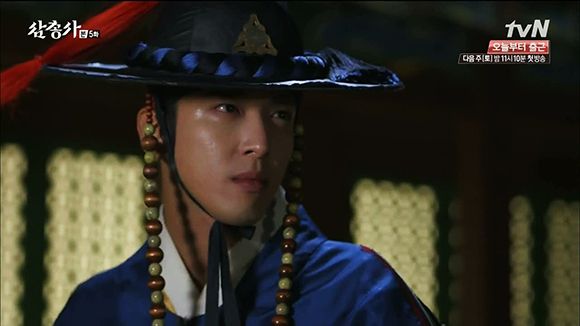 As if everything wasn't already a test for Dal-hyang, now it's his loyalty that gets put through the wringer when he's faced with obeying his king, a prince he could probably do with seeing a little less of, or himself. But it's as hard to know what he wants sometimes as it is to know what Sohyeon wants, probably because it's never just one thing, is it? But if there's a perk to jealous would-be heroes hashing it out in a sageuk, it's that they get to settle things like men—even if they sometimes act like boys.
Note: I'll be taking over for javabeans, who was awesome enough to recap Musketeers when I wasn't able to. Talk about a hard act to follow, though. No pressure, no pressure… *repeats mantra*
SONG OF THE DAY
MOT – "Without Love" [ Download ]
Audio clip: Adobe Flash Player (version 9 or above) is required to play this audio clip. Download the latest version here. You also need to have JavaScript enabled in your browser.

EPISODE 5: "A Duel"
Dal-hyang fights bravely against General Ingguldai, but finds himself in trouble when the general pins him down to the ground using a spear fashioned from a bamboo tree.
Luckily, Ingguldai is forced to flee when two more soldiers approach. Dal-hyang orders one to go with him to follow the general, and sends the other to alert the remaining forces as to where they've gone. The chase begins.
Sohyeon is shown which window the general jumped from by a soldier who assures him that they'll catch Ingguldai. "That's the problem," Sohyeon murmurs under his breath. He doesn't want his father's soldiers catching Ingguldai, he wants to protect him.
Dal-hyang is just as relentless in following Ingguldai as the general is to run from him, being too evenly matched on foot in an open terrain where no one can hide.
That's when Ingguldai spots a horse—which is, unfortunately, being ridden by a woman accompanied by only a few attendants. He mercilessly kills them all for the horse, inciting Dal-hyang to the point where he asks his fellow soldier if the king's orders allowed for Ingguldai to be killed.
When the soldier replies yes, Dal-hyang takes his musket and aims for Ingguldai, who rushes to get on the horse and flee before the match cord ignites. But Dal-hyang is patient, and fires when Ingguldai is firmly in his sights.
Everyone hears the gunshot, including a very concerned Sohyeon. But when we return to Dal-hyang, we see the musket shot miss Ingguldai. By the time Dal-hyang realizes something was thrown at the barrel so he'd purposefully miss, it's too late—his fellow soldier gets knocked out, and so does he.
It's Min-seo, carrying out Sohyeon's orders. He does feel bad about having to knock the resilient Dal-hyang out twice (so he wouldn't be recognized), so he at least pats the blood away from Dal-hyang's forehead before removing evidence that he was ever there.
He looks out to see a mounted Seung-po gaining on Ingguldai, and we see Seung-po fire at the general with an arrow… surely he just shot at his horse, right?
The court ministers are beside themselves that Ingguldai hasn't yet been caught, but Minister Choi acts as the voice of dissent (and reason) as he tells the king that they're in dire straits: The envoys know King Injo ordered Ingguldai's beheading, but Ingguldai has disappeared.
Even if they were to catch him and kill him, Minister Choi argues, sending his head back to the Manchu emperor would incite a war. Similarly, if Ingguldai manages to make it back alive, he'll tell the emperor everything and war would again be inevitable. His advice is to calm the envoys and capture Ingguldai alive, then decide from there.
While the ministers argue amongst themselves, Sohyeon is handed a secret missive from Seung-po. Hopefully it's good news.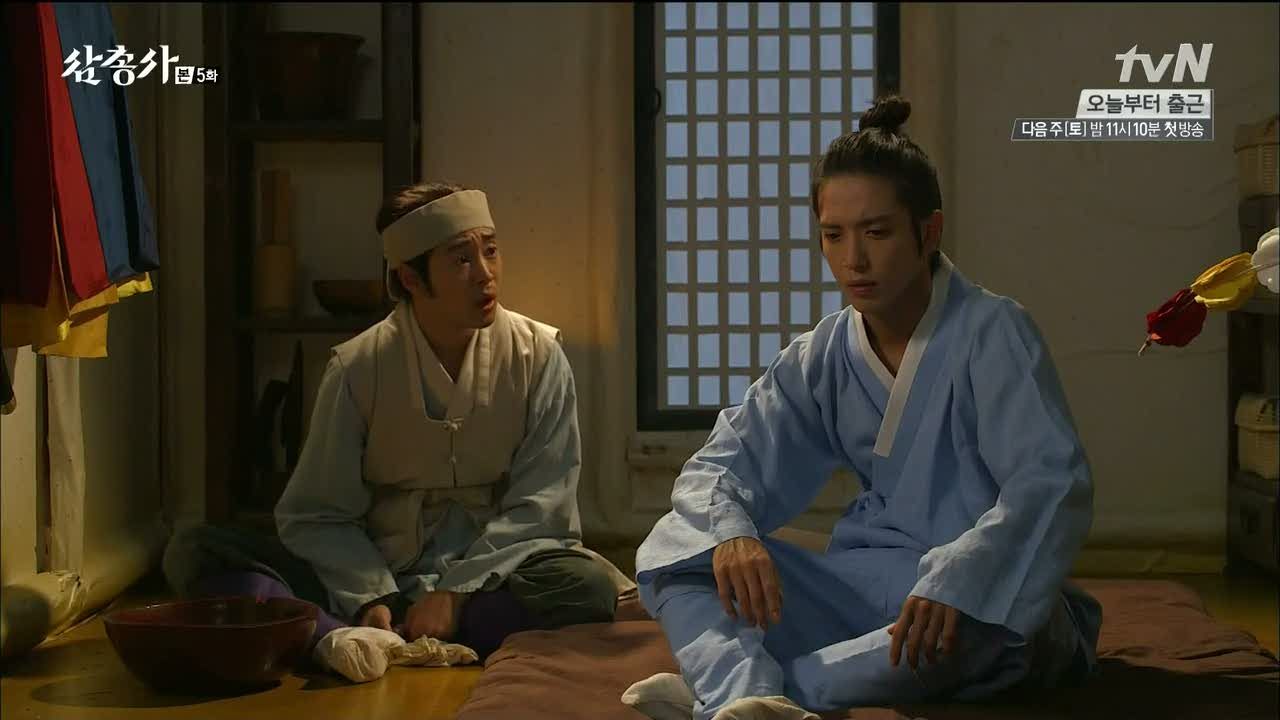 Dal-hyang wakes up in his quarters, being tended to by the ever-fretful Pan-swe. Dal-hyang's face falls when he's told that Ingguldai hasn't been caught, while Pan-swe begins to wail about the possibility of war.
But then, Dal-hyang remembers being sabotaged in his attempt to shoot Ingguldai, even if he can't remember who knocked him out. He knows there's someone helping Ingguldai… but who?
Pan-swe curiously pulls out the needle he found in Dal-hyang's garments, which Dal-hyang quickly swats from his hand for his own protection—it's the poisoned needle he took from the deceased court lady's neck.
When Yoon-seo hears her husband is heading out later that night, she rushes out to meet him… and ends up tripping over her hanbok into his arms. I love the look Sohyeon sends to her attendants, before he jokingly asks if Yoon-seo keeps falling on purpose (so everyone will think the makin' babies talisman is working).
She chalks it up to her usual clumsiness, before telling Sohyeon that she has something personal to speak to him about—she's been waiting all day for the chance. All their attendants step back to give them some privacy before Yoon-seo struggles to eke out that she made a mistake.
Sohyeon guesses it must be something big with how much she's hesitating, but in the end, Yoon-seo loses her courage: "Actually… it's… nothing." Hah. Sohyeon tells her to just come out with it since she waited all day, but Yoon-seo keeps insisting that it really is nothing. She's such a terrible liar.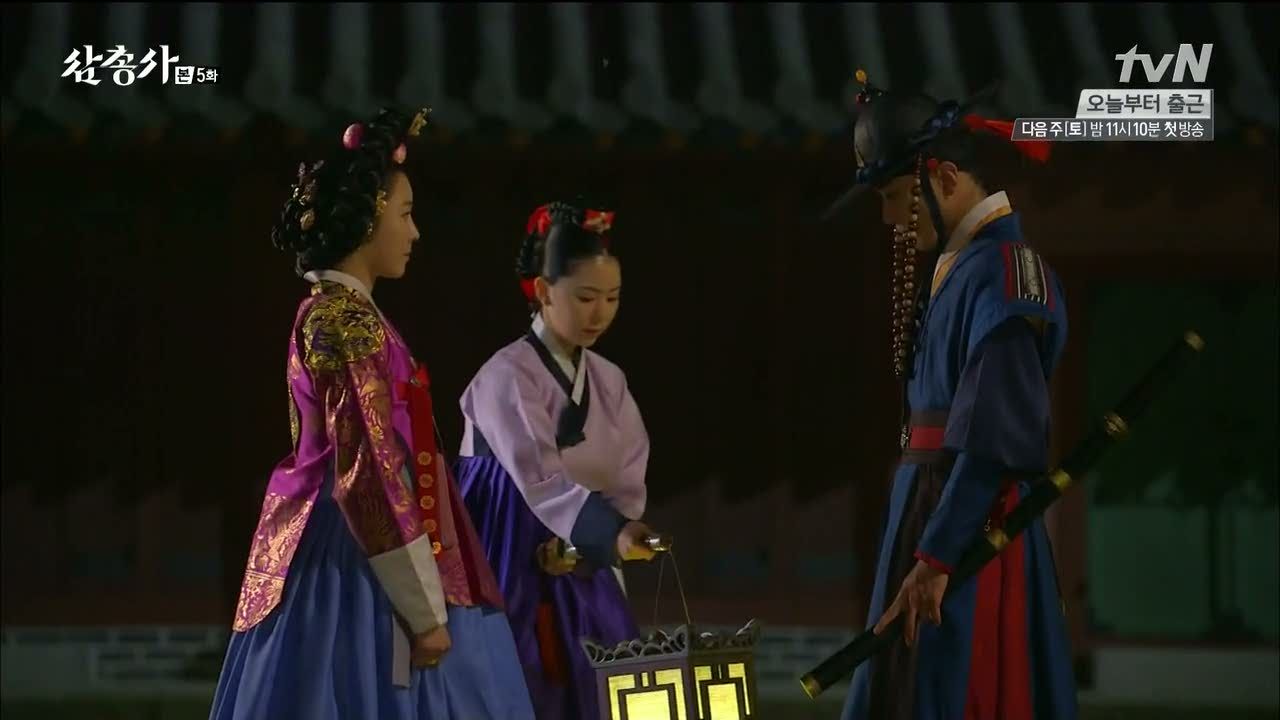 On her way back, Yoon-seo spots Dal-hyang, who's come to see the prince on an urgent matter. She's disquieted when Dal-hyang won't tell her what he wants from Sohyeon or why, and even more so when he asks her if she lost the letter.
Yoon-seo returns to her quarters in a panic before she orders all her attendants to leave—except for her head lady-in-waiting, who she sends to fetch Dal-hyang for a top secret meeting.
Separated by a screen, Yoon-seo asks Dal-hyang how he knew she lost the letter. Did he take it? Dal-hyang can only tell her half the truth: That he knows who has it now, even though he can't say more. All he can do is warn her to be wary, since one of her attendants is most certainly a spy.
But then Dal-hyang asks, "Why… why didn't you burn the letter?" Just the thought of it fills the both of them with emotion, which Yoon-seo does her best to hold back as she tells Dal-hyang not to misunderstand—she kept the letter only because it reminded her of her youth.
When she asks if Sohyeon knows, Dal-hyang says that's why he came, but again, he's forced to be cryptic about revealing anything further. He can only advise her to find the spy in her midst for her own safety, before he grows concerned when she doesn't answer.
Dal-hyang makes a conscious decision to forego propriety by letting himself behind the screen, and doesn't heed her initial shock as he asks, genuinely concerned, why she's crying.
"I hate it here," Yoon-seo admits, tears freely streaming down her face now. "It's always been like this. I can't trust anyone." Poor thing. What she describes seems to be the universal downside of palace life, since she hates all the secrets and being closed in by so many walls.
"Are you not receiving love?" Dal-hyang broaches carefully, to which Yoon-seo replies bitterly, "Love? What is that?" But she doesn't know what to do—if the letter is used against her and she's ousted from the palace, her family will suffer… and so will Dal-hyang.
The only comfort Dal-hyang can give is for her to tackle one task at a time, which means finding the spy. He'll take care of things outside the palace, and asks her to put her trust in him. They share a long moment of silence after, just staring at one another.
But then they both turn to hear Yoon-seo's chief lady-in-waiting address the prince, who's come for an unannounced visit. Eek! Her court lady stalls for as much time as she can before letting him in, only to find Yoon-seo alone. Dal-hyang must be hiding behind that screen… but she's such a terrible liar! This is not going to end well.
Sohyeon can tell she's been crying, a fact she quickly denies. But she doesn't even have to be bad at lying, since Sohyeon asks aloud what could make her so flustered, noting that the tassel from her hanging screen is swinging ever so slightly. He wonders, could it be that she brought a man to her room? Cue Sohyeon throwing back the screen to reveal Dal-hyang. Yiiiiiiikes.
This only reinforces why Sohyeon hasn't made Dal-hyang one of his people yet, and he has an I told you so moment about being right in his initial misgivings.
Then he turns to his wife to tell her that though he forgave her for the letter out of mercy, she wasn't happy since he wasn't being jealous like she expected him to. Now, he says, he'll do what a husband should in a situation like this.
Her voice trembling, Yoon-seo admits the full truth of the situation: The reason she went to see him earlier that day is because she lost the letter, and that Dal-hyang came to tell her it had been stolen.
She can't answer Sohyeon when he asks who stole it (since she doesn't know), but Dal-hyang can. "It's the woman you've been looking for," he says, before adding that he hid only because he didn't want to cause the princess trouble. Nothing else happened.
Yoon-seo asks who "that woman" is, but Sohyeon isn't in a mood to answer as he orders Dal-hyang out with him. Before he goes, Dal-hyang reassures the princess that Sohyeon won't turn this into an issue, because he bears more responsibility than she does.
Once they're alone, Sohyeon orders Dal-hyang to tell him everything. He starts by telling the prince that Mi-ryung, who used her other name Hyang-sun, was smuggled in by Ingguldai disguised as a soldier's concubine, but escaped soon after.
Dal-hyang also tells Sohyeon that Mi-ryung already knew he'd send someone before he even arrived, and that she knows about him and Yoon-seo because of the letter she stole. He was unable to find out more because she poisoned him, and produces the needle she used to kill the court lady as proof.
He also relays the message Mi-ryung gave him after he'd been paralyzed by the poison—that he should remember the feeling and tell Sohyeon, since she's coming for him next. What he doesn't add is the warning Mi-ryung gave him: "There's no need to be so loyal to the prince. He's not someone worth putting up your life for."
After telling Sohyeon that Mi-ryung was copying Yoon-seo's letter with the intent to use it against her, Dal-hyang finally asks who Mi-ryung really is—and more importantly, why did Sohyeon want her dead? What exactly happened five years ago?
Dal-hyang argues that he can't continue on like this when he knows so little, especially since this concerns Yoon-seo's safety as well. Sohyeon finally steps in to say that he'll worry about her, so Dal-hyang needn't concern himself.
"That letter is mine, so the fault is mine as well," Dal-hyang replies. Sohyeon doesn't like the sound of this, and says as much: The way Dal-hyang laid claim to the letter makes it sound like he's trying to claim the princess, too.
But enough is enough—Sohyeon won't tolerate Dal-hyang acting on his own anymore. Dal-hyang is to listen to whatever he says without question from now on, whether he's being serious or joking. And though Sohyeon claims to have bigger concerns than Mi-ryung, he still orders his eunuch to investigate Yoon-seo's servants to find the mole.
The first thing Yoon-seo does when Sohyeon visits her next is apologize for not burning the letter, but he attempts to ease her already rampant worries by telling her that he'll handle it, because it's his fault. He'll be on her side if the letter becomes an issue, and promises to protect her. "Trust me," he adds.
But then he turns around with his trademark half-serious/half-joking expression as he asks her if Dal-hyang told her the same thing. At her sudden silence, Sohyeon guesses that he must've, and clucks his tongue at Dal-hyang's gumption.
There's an awkward moment when Dal-hyang bumps into Seung-po and Min-seo, likely because one of the two gave him a minor concussion without his knowledge. I love how happy Seung-po is to hear that he came because of the princess, because he gets to take jabs at Dal-hyang for harboring a secret crush on her.
Dal-hyang happens upon a handkerchief Min-seo accidentally dropped, though he doesn't know it's the blood-stained handkerchief Min-seo used to wipe his forehead after hitting him. But it does get him thinking.
We finally learn the fate of General Ingguldai, who's brought from one secret location to another by Seung-po and Min-seo to meet with Prince Sohyeon.
Ingguldai seems surprised when Sohyeon apologizes for the rough treatment in fluent Manchu, but bows his head in respect once he's given back his sword. Sohyeon earns points by knowing his language, and when he adds that he studied it because he knew it would be of more use than the opposing Ming language.
At the same time, since King Injo's alliances have been with Ming, Sohyeon knows that speaking in the Manchu tongue as a prince of Joseon could only mean trouble for him—so in that sense, he's given Ingguldai a weapon to use against him as a sign of trust.
Sohyeon then explains that he had Ingguldai kidnapped in order to protect him, which should tell the general that he's a much better ally than Kim Ja-jeom. He doesn't want a war, and guesses that the reason Ingguldai met with Kim Ja-jeom is because he feels the same.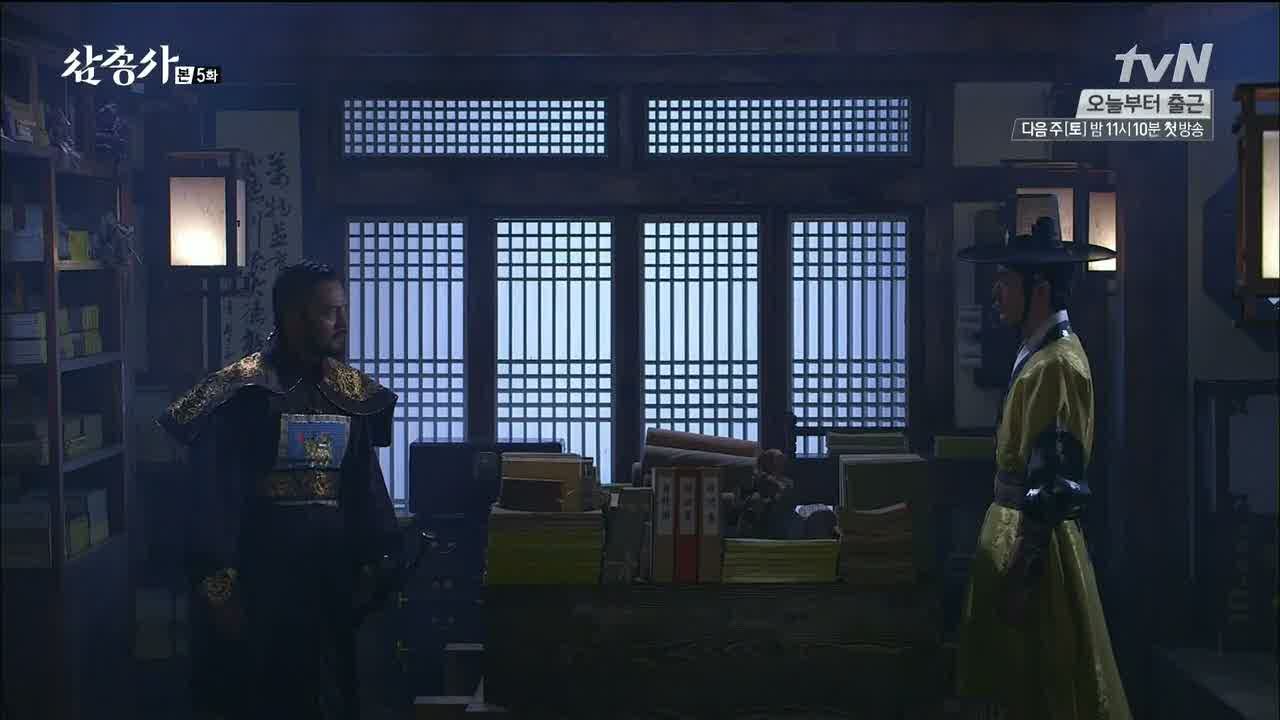 But when Ingguldai finally wonders where exactly he's been brought, his expression turns to one of dawning horror when Sohyeon reveals he's in his personal library… in the palace. It's the safest place for Ingguldai right now, since it's the only place they won't search. The darkest place is under the candlestick, as they say.
Cue flashback to the secret missive Sohyeon received from Seung-po after he'd captured Ingguldai alive. Sohyeon had been as much a part of the plot to smuggle Ingguldai into the palace using his own palanquin as the two other musketeers, since he'd actually ridden in it (along with their captive) in order to fool the guards.
It has to look suspicious for Seung-po and Min-seo to be guarding the prince's library this late at night, which is where Dal-hyang finds them. He gets right to the point: He knew whoever stopped him from killing Ingguldai was someone he knew, because he could feel them wiping the blood from his forehead after.
And now that he got a look at Min-seo's bloodied handkerchief (with the way important things keep spilling out of hanboks, you'd think someone would have invented pockets), he's got his suspicions.
Actually, it's more than a suspicion—he knows something's up with the two of them guarding a dark library, and wants to see for himself whether Ingguldai is inside.
Seung-po confirms it when he doesn't let Dal-hyang pass, claiming that a very important conversation is happening inside that Dal-hyang can't interrupt. Of course, this rankles Dal-hyang's sense of justice, since the king's orders were to kill Ingguldai—not to save him for a private chat with the prince.
But Dal-hyang won't be swayed when Seung-po tries to make light of the situation because they're all buddies (…right?), and claims he only fought with them against traitors to the country. To Dal-hyang at least, right now they're no better than Kim Ja-jeom.
No matter the explanation Seung-po gives, Dal-hyang sees the situation in black-and-white terms: They're disobeying the king's orders, which means they're committing treason. He draws his sword, convinced he's acting on a higher authority by carrying out his duty to the king.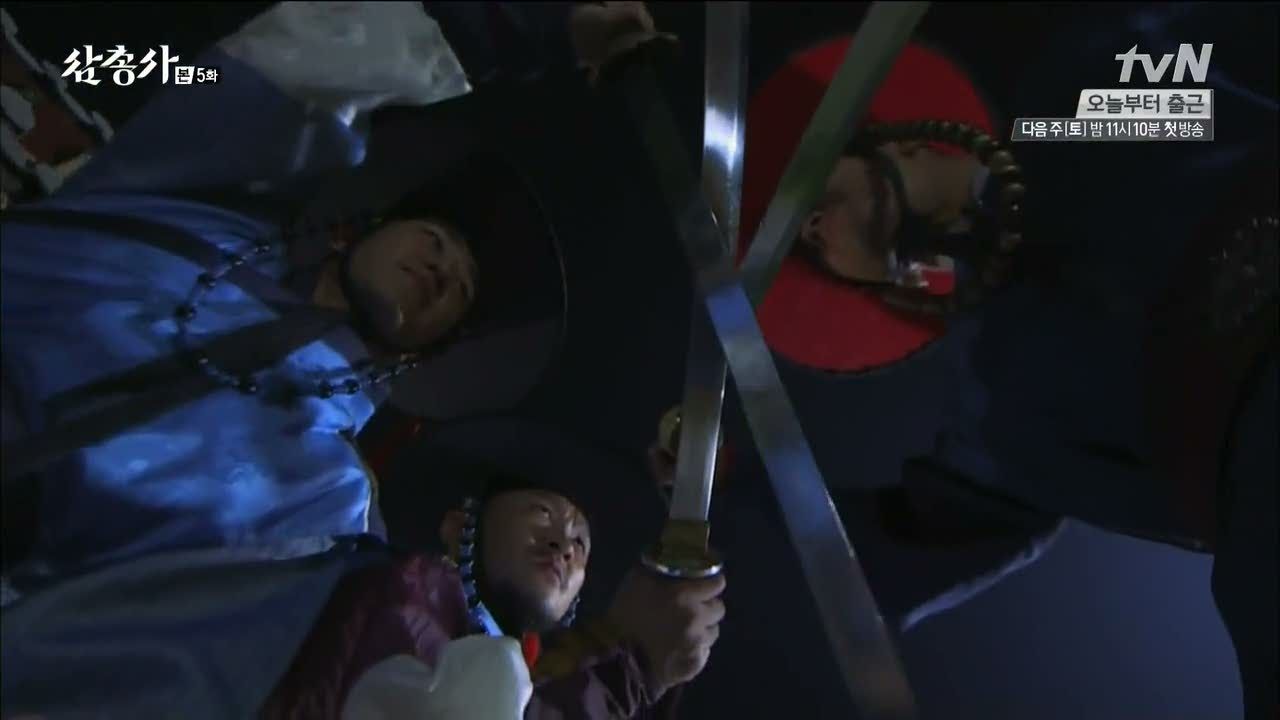 Inside the library, Ingguldai and Sohyeon realize their views are the same when the former admits that a war with Joseon would be a loss for both sides, even if his emperor wants to invade. He just wants an answer from King Injo on the whole going from a "brother state" to a subordinate one.
They're interrupted by the sound of swords clanging outside, since Seung-po and Min-seo continue to block a very determined Dal-hyang from gaining entry. Sohyeon watches the ensuing fight for a hot second before ordering them to stop.
Dal-hyang sticks to his guns when he tells Sohyeon plainly that he's only carrying out the king's orders and that he must be allowed inside, since he's sure Ingguldai is there.
Sohyeon is taken aback when Dal-hyang won't stop his approach just because he tells him to, even when he orders him to. Looking straight at him and unafraid, Dal-hyang repeats the words Sohyeon once told him: The only order that trumps his is the king's, and how it's not his place to argue the motive, methods, or personal risk involved—his place is to obey.
Since Dal-hyang says he's doing as he was told, he politely but firmly asks Sohyeon to step aside so he can carry through with his orders.
"If I don't, are you going to attack me?" Sohyeon challenges. Judging by the look in Dal-hyang's eyes, Sohyeon believes he would, and Dal-hyang doesn't deny it. If Sohyeon is defying the king's order, he'll do what he must.
Sohyeon takes off his gat and draws his sword, telling Dal-hyang that he'll have to defeat him first. Oh, it is on. "What arrogance," Sohyeon scoffs. "You aren't carrying out the king's orders, but defying me."
"I'm merely an officer carrying out the king's orders," Dal-hyang stiffly replies. Sohyeon: "No, you're defying me using the excuse of the king's orders. You lost your girl to me, and you've been angry with me from the start. Like a child, you throw caution to the wind. Isn't that so?"
His accusation is the only thing that shakes Dal-hyang's resolve, which means there's truth to it.
So Sohyeon makes him a deal: If they fight and Dal-hyang wins, Sohyeon will hand Ingguldai (who he confirms is inside) over to him and that'll be that. "But if I win, all the kindness I've bestowed upon you will be revoked. Your test results will also be revoked, and then you can return home right away. How about it? Isn't this a bet worth wagering on for a young, energetic man like yourself?"
Dal-hyang says he can't fight against the prince, but still orders him aside when that's something Sohyeon simply can't do. So he goads Dal-hyang into it, all, You don't want to fight then?, which lends Dal-hyang the cojones to say that while Sohyeon may be good at fighting, he's already lacking since he's not a soldier who fights for a living. Oh. OH. (*grabs popcorn*)
Sohyeon takes the challenge and puts his sword to Dal-hyang's neck, ordering Seung-po and Min-seo not to interrupt. Dal-hyang doesn't want to strike directly at him, but when the prince swings, he has to draw his sword to defend himself.
Sohyeon asks again if Dal-hyang will accept the bet, and Dal-hyang replies that he will if Sohyeon says so. Then the real fight begins.
After blows are traded and parried, the two seem pretty evenly matched… at least until Dal-hyang sees Sohyeon's wound from Eyepatch/No-soo begin to bleed through his sleeve. The distraction is momentary, but it's enough for Sohyeon to push him out of their gridlock and slash Dal-hyang's arm.
Sohyeon is still intent on seeing the fight through, so he doesn't notice Dal-hyang reversing his sword in his grip so that the sharp side won't be facing the prince.
Suddenly, Yoon-seo steps into the middle of their fight, and almost loses her head for it. Both men tell her to step aside for her own safety, but Yoon-seo refuses and yells for them to stop, locking eyes with Dal-hyang first before turning to her husband.

COMMENTS
This is the kind of fusion sageuk I've been missing lately, full of character depth, high stakes, and action. I especially like how Three Musketeers takes a balanced approach when it comes to the underlying political tensions serving as both a backdrop and driving force for the more nuanced character drama unfolding, because the politics become integrated by necessity as opposed to being overwhelming (our worst sageuk nightmare), or simply tacked on for legitimacy (our second worst sageuk nightmare).
In that way, Sohyeon's struggle to do right by his country seems all the more real, and all the more dangerous because he's a progressive thinker in a court that seems heavily skewed, well, against that. The only ally with political pull he has is Minister Choi, which leaves him to depend (in this version of events) on the loyalty of his closest friends/fellow musketeers. And if it weren't for the girl trouble going on between them, I'm sure Dal-hyang would've already become a fellow devotee—though the way they're playing their pseudo-rivalry now means that the character turns to come later will feel that much more earned.
But the developing love triangle is only growing more troubling by the episode, which isn't at all a bad thing. It's frustrating for the right reasons, even if the reason is that it's such a visible dead end for Dal-hyang that it's painful to watch for both him and Yoon-seo—and to a lesser extent Sohyeon, since his personal stake in his relationship with his wife is still one of the more compelling mysteries in the show. Well, that and who Sohyeon really is deep down, past all the walls and acts he puts on for others.
My heart broke a little more for Yoon-seo this hour, because her suffering really isn't so overt that one can look at her and see the pain she's in, and no one knows that better than her. She's had to bear so much in silence without anyone to confide in or sympathize with her, being of her status and having a husband as emotionally impenetrable as Sohyeon, so to have someone like Dal-hyang hear her out and be concerned for her must've felt so overwhelming for her. Not only is he a friendly ear to rely on, but also a remnant of who Yoon-seo was before becoming a title greater than herself. Her outburst to him about feeling stifled in the palace went a long way toward making her character that much more tragic, if only because there's nothing she can do to fix it.
Worse, there's nothing Dal-hyang can really do for her, which would explain some of his latent animosity toward Sohyeon. As much as they're fighting over a woman, their duel felt like more than a result of simple jealousy, because neither of them strike me as being that petty. Dal-hyang was a bit more dogged in playing the righteous officer than he would've been if Yoon-seo wasn't involved, sure, but I like that the strain between him and Sohyeon doesn't feel quite so shallow. Or who's to say, really—if keeping their relationship status complicated makes for drama this good, I almost don't want them to ever sort things out.
RELATED POSTS
Tags: featured, Jung Yong-hwa, Lee Jin-wook, Three Musketeers, Yang Dong-geun