Three Musketeers: Episode 7
This episode is downright fun, filled with high stakes and intrigue as Sohyeon's life gets caught in the midst of a political power play Dal-hyang can either choose to escape from or commit himself to for the long haul. Choosing the latter opens up even more do-or-die options, the hardest of which are whether he'll fight for king and maybe his country, or prince and still just a maybe on country. If only it came down to personal preference and not certain death if he were to pick the wrong side, but where's the fun in that?
SONG OF THE DAY
Song Ji-eun – "처다보지마 (Don't Look At Me Like That)" [ Download ]
Audio clip: Adobe Flash Player (version 9 or above) is required to play this audio clip. Download the latest version here. You also need to have JavaScript enabled in your browser.

EPISODE 7: "Mi-ryung and Hyang-sun"
It's with great shock that Yoon-seo hears of her court lady's untimely demise from the prince's eunuch, who also tells her his suspicion that she was the court lady who stole the letter and acted as a spy against her own mistress.
Yoon-seo has finally had enough with the secrets and comes right out to ask the eunuch what he knows about the mysterious woman pulling all these mysterious strings just to get to her.
The eunuch finally that admits her name is Mi-ryung, and that she was selected to be the prince's wife before Yoon-seo. The princess' eyes widen—she's heard this story before, but in the version everyone knows, Mi-ryung died, so what can he possibly mean?
She's alive, the eunuch claims. Yoon-seo is even further stricken as she asks how, when Mi-ryung was supposed to have hanged herself. "The thing is, Your Highness, Minister Yoon's daughter Mi-ryung is certainly dead. However… Mi-ryung's servant, Hyang-sun, is alive." Whaaaaat.
We return to the events directly before the ending to last week's episode, when Mi-ryung(?) had turned around to face the prince with tears in her eyes. Then the eunuch continues in voiceover: "Yes, the woman's real name is Hyang-sun. Even though she's known to everyone as Mi-ryung." Again I ask, whaaaaat?
Now we see the conversation that took place before the stabbing, with the prince saying in his usual enigmatic way that he didn't know Mi-ryung was still alive. How has she been?
I love that Mi-ryung is all, How do you think I've been?, like his question is just patently ridiculous. Then she asks what he wants to know—how she's been living these past five years, or how she managed to survive that night? "Both," Sohyeon replies. "I was told you hanged yourself."
She doesn't deny it, but sardonically adds that her servants "helped" her to the task after he made the order for her to commit suicide. In a flashback, a young Mi-ryung fought desperately against the men hanging her from the rafters as she pleaded with the prince's eunuch (who was there that night) to let her meet with Sohyeon.
The eunuch showed no mercy and ordered the building to be lit on fire, too. Mi-ryung had screamed as the servants kicked the stool out from under her and left her to hang as flames began to consume the room, and the eunuch only left to sound the fire alarm after he'd seen her go limp.
At the last moment, one of the servants returned to cut her down. But his intentions weren't noble, as he'd sat with a traumatized and burnt Mi-ryung in the woods outside the palace and told her she was his because he'd saved her.
However, he called her "Hyang-sun" and claimed to have always liked her—not because she was Minister Yoon's daughter, but because she was a slave of the same house pretending to be the daughter. In his mind, he was better suited to her since he was in the same class as her, even though he used force to try and rape her.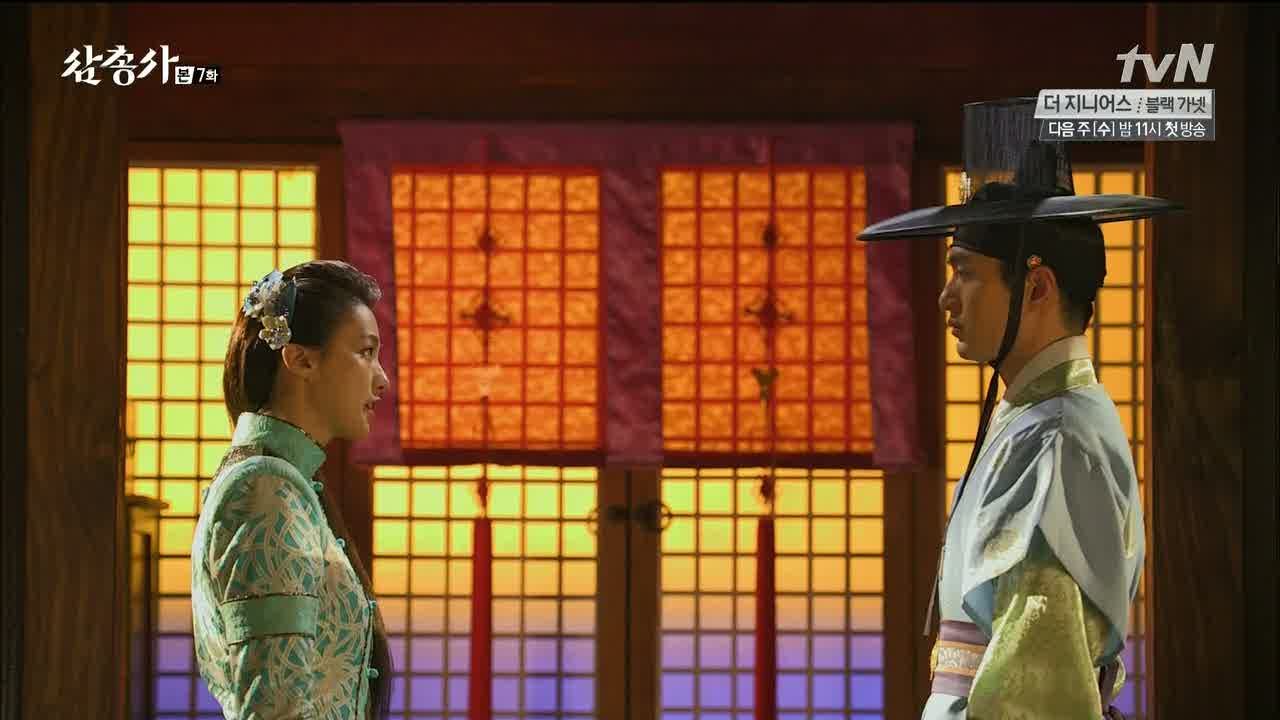 In the present, Hyang-sun/Mi-ryung (for ease of use, we'll keep calling her Mi-ryung) tells Sohyeon that it was at that moment she realized all men were the same, be they a slave or a prince. "So I killed him," she says of the rape-y servant in the woods. She made it look like a suicide so that her trail couldn't be followed, and adds almost too defensively that she's never lost sleep over it.
"I didn't do anything wrong," she proclaims. "It was all of you who used me. I never asked to be Mi-ryung, but they forced me. I just did what they told me to do because I was only a slave!" Sohyeon's face remains as impassive as ever, no matter how impassioned her speech becomes.
She narrates over the flashback that follows, showing her in her dirty and torn undergarments running for her life.
Half-starved, burned, and traumatized still, she'd wandered into a village where a man took pity on her and offered to take her with him to Manchu territory… but for a price. Mi-ryung tells Sohyeon in the present that she had to use her body as currency to cross the border, and afterward learned how to use it to control men.
She describes how she became a sixth concubine to a wealthy Manchu man, and in flashback we see her faking tears when her husband suddenly and unexpectedly passed—clearly not an accident. She'd just made it look like one so she could take his money.
In the present, she adds that having money and idle time finally gave her the chance to think of Sohyeon, the man responsible for setting off the chain of events that made her who she is today.
That's why she approached Kim Ja-jeom, because she needed a way to meet Sohyeon, and he needed a spy fluent in Manchu. But even she admits that she didn't expect to see Sohyeon again so quickly, since she'd planned to take him by surprise.
"It must be so terrible for you that the woman you thought was dead is alive," she both croons and grits through her teeth. At last, Sohyeon reacts with a shake of his head: "No. I was glad to see you alive."
He tells her he spent every day of the past five years regretting what he did—that he ordered her to commit suicide then. Mi-ryung's eyes fill with tears as she all but whispers, "You're lying."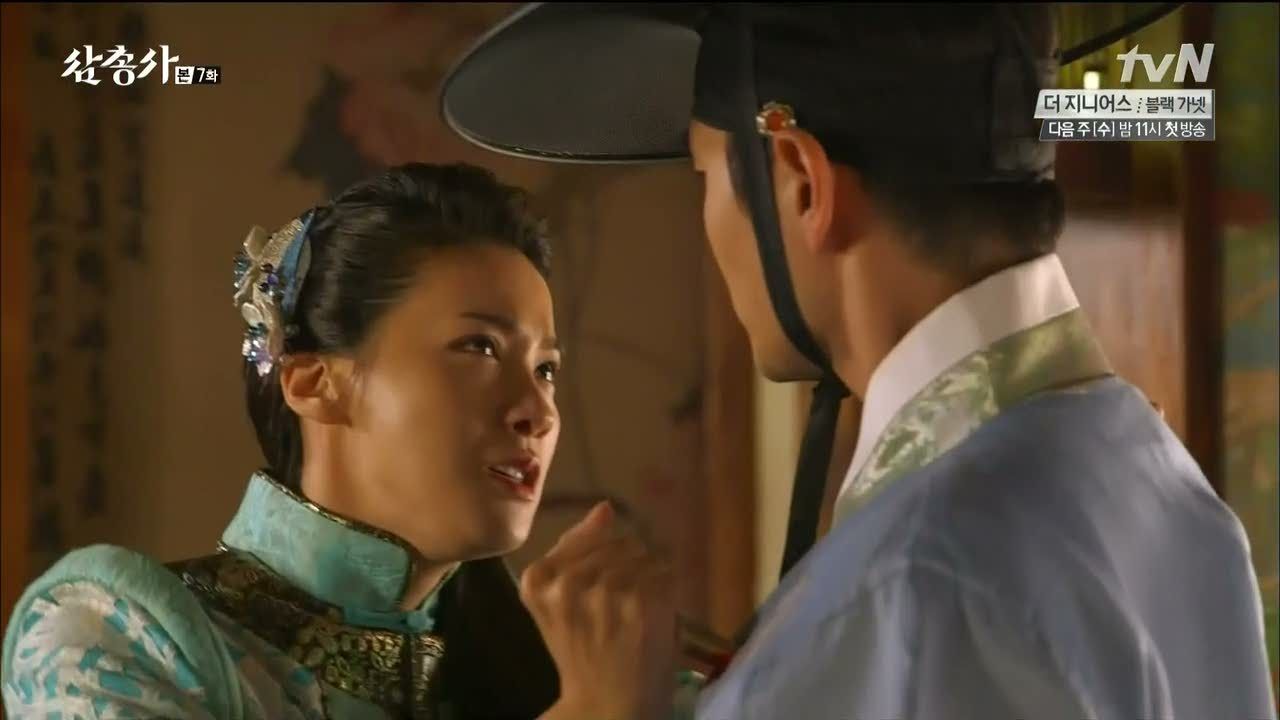 But maybe she knows it's true, or doesn't want to believe it. Sohyeon shows none of the same emotions as he tells her that now is her chance to make him pay. That's what she wants, right?
Mi-ryung balks at his cavalier attitude as she asks if he even knows how she wants to take her revenge on him—but he doesn't care. Sohyeon: "Whatever method you choose, I can have nothing to say."
His attitude seems to snap her out of her daze as the look in her eyes hardens, and her voice turns villainously crooning once more. "You'll regret this," she says, before she stabs him in the shoulder.
That's the scene Dal-hyang barges in on, and just like before, Sohyeon orders Dal-hyang not to interfere. Dal-hyang returns fiercely that he doesn't have it in him to leave the prince like that, even though Sohyeon reiterates his order firmly.
With that, Dal-hyang is reluctantly led/dragged out of the room, while inside, Sohyeon drops his hands from Mi-ryung's shoulders. His lack of resistance affects her more than anything, as she tries desperately to keep hating him despite it all.
"Does it hurt?" she cries, torn. She wants him to give her a reaction, any reaction, so she can know if the pain she's inflicting on him is even half as bad as what she suffered when she was hung. I doubt it's even the physical pain that matters—she wants him to acknowledge her pain more than anything.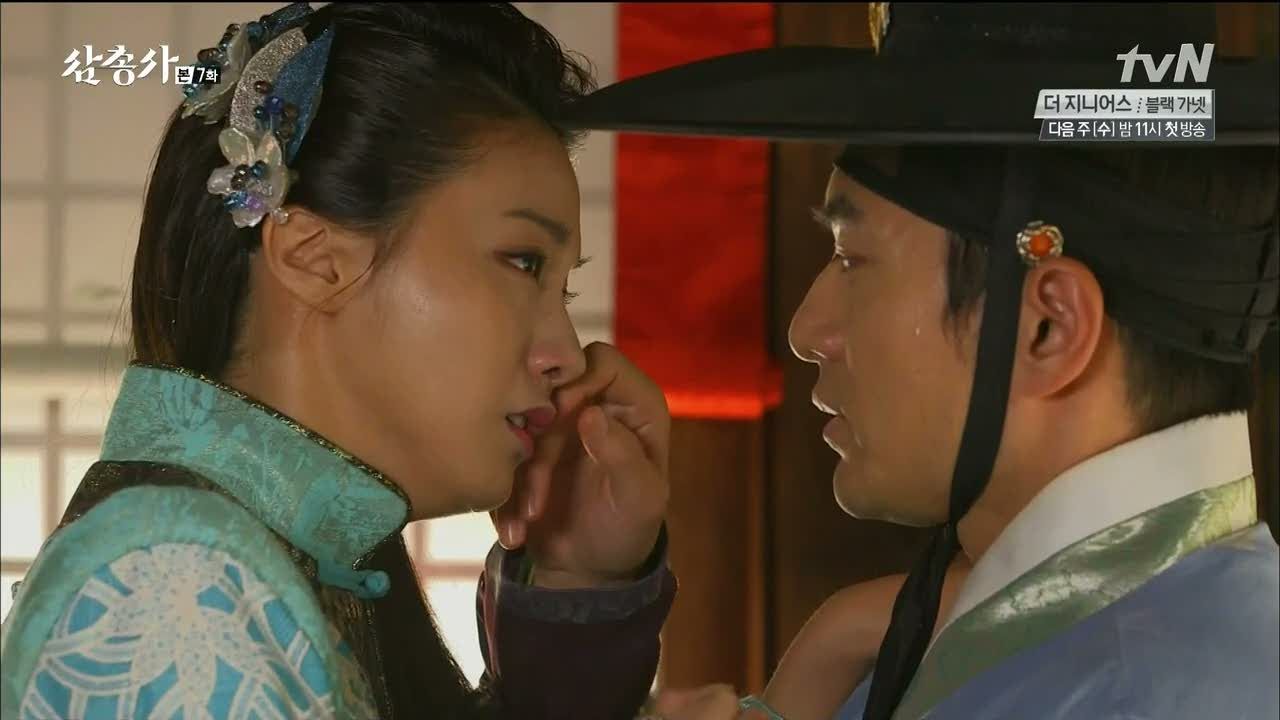 Sohyeon reaches a hand up to stroke her cheek as he admits, "I missed you." Her tears flow freely as they stare into each other's eyes for a long moment after, until she finally loses her nerve and lets the bloody dagger fall through loose fingertips.
While Kim Ja-jeom waits to hear the prince's answer to his offer to team up (or be turned in for treason Sohyeon didn't commit), Dal-hyang waits outside the secret corridor for the prince on pins and needles well into the night.
At last, Sohyeon emerges alone, looking fairly fine save for that open wound. He addresses No-soo first with the order/request for him to flee from Joseon with Mi-ryung, since she'd be a target for Kim Ja-jeom if she stays. He wants them to leave and never return.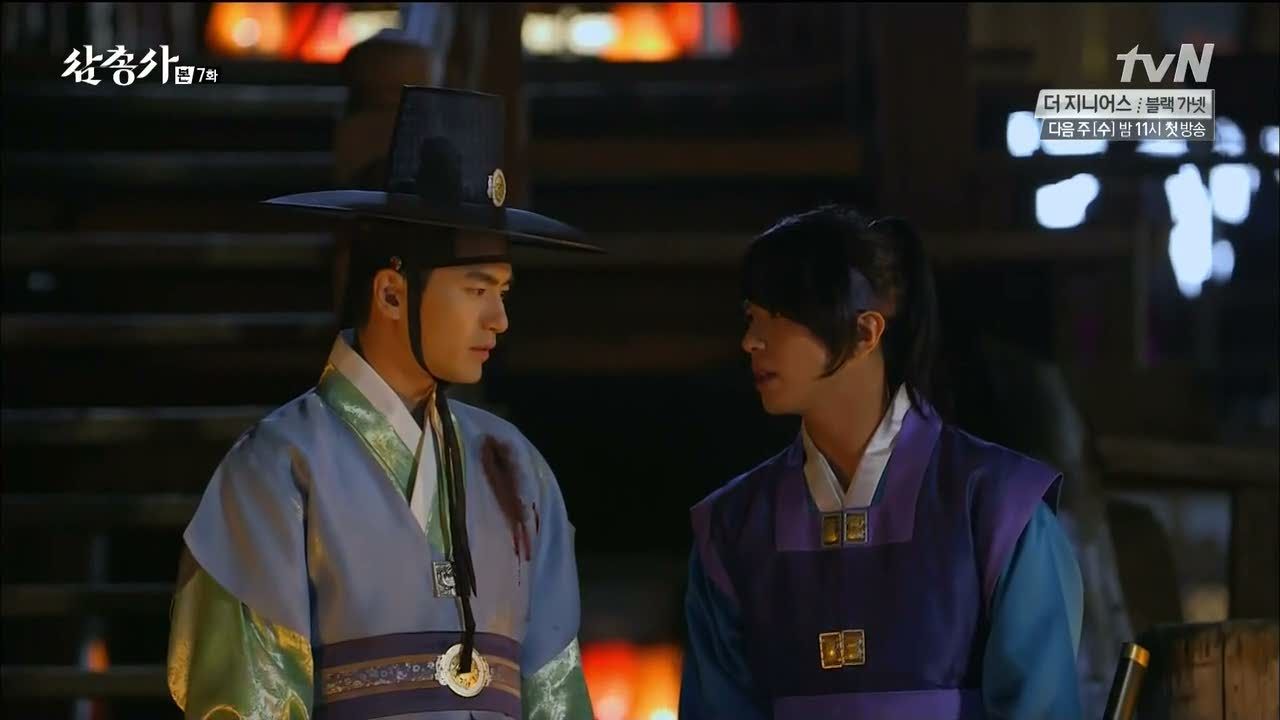 Dal-hyang's attempts to convince Sohyeon to see a doctor go unheeded, as well as his attempt to go after Mi-ryung and No-soo—though Dal-hyang lists their crimes (mostly murder) as reason enough, Sohyeon stops him by producing the letter Yoon-seo wrote to him five years ago.
He gives Dal-hyang the letter since he'd once claimed it was his, which effectively stops Dal-hyang from chasing Mi-ryung now that he knows Yoon-seo won't be blackmailed by her. Dal-hyang burns it to make sure it can't ever be used against her again.
In his usual way, Sohyeon says an enigmatic farewell as he mounts his horse bound for Minister Choi's house. He seems to be half-teasing and half-serious (wait, that's him all the time) as he tells Dal-hyang that he completed his mission and can be on his way now.
He mentions how he was going to bring Dal-hyang into the fold once he completed this mission, but sighs that their destiny ends here—it was Yoon-seo who requested that he keep a distance from her first love, even though he's not sure whether she needed that distance established for herself rather than him.
As Dal-hyang reluctantly parts ways with the prince, we flash briefly to the future (1780), where narrator Yeonam Park Ji-won reads from The Memoirs of Park Dal-hyang his confession that Sohyeon had been right: Dal-hyang did use the king's order as an excuse to pick a fight with him because he hadn't liked him from the start.
And he hadn't liked him, Dal-hyang said in his memoirs, because Sohyeon had taken his woman and couldn't even make her happy. In the present/past, Dal-hyang turns his horse around to follow the prince as we hear him say in voiceover that he changed his mind about him that day, when he recognized the common bond they shared with regard to their first loves.
Dal-hyang even wondered whether Mi-ryung was like the two of them in her suffering, finding a commonality between the three of them he hadn't seen before. Though he wasn't sure if Sohyeon deserved his loyalty in the past, now he's sure of it.
And not a moment too soon, since Dal-hyang hovers close enough to Sohyeon to see him pass out on his horse. When he tries to shake the prince to his senses, a bloodied letter falls from his sleeve (if only pockets had been invented!).
Dal-hyang piggybacks the prince into Minister Choi's manor, where the two other musketeers quickly leap into action. Since Kim Ja-jeom is unaware that Sohyeon has fallen ill, he assumes that the prince has rejected his offer when the deadline passes without word from him.
Though he's not keen on telling the king about Ingguldai just yet, Kim Ja-jeom plans to drag Sohyeon's name through the mud just like he threatened he would. It won't be hard to manipulate someone as suspicious and fearful as King Injo, he claims.
In an empty court, Injo reads a message from Kim Ja-jeom reiterating what he'd said about traitors in high places during the last assembly. Injo doesn't want to believe it, and looks like a madman when he starts wandering through the court, questioning himself about whether the ministers he imagines standing there could be traitors.
Each minister, even Minister Choi, is cleared of Injo's suspicion for various reasons. But no sooner does the king wail that he doesn't know who the traitor could be that he spins on his heel toward the throne and puts two and two together: Who else holds more authority within the palace but his son, Sohyeon? Ruh roh.
Yoon-seo can't help but think of the whole Mi-ryung/Hyang-sun mystery while practicing her needlework, and remembers the eunuch telling her clearly that the real Mi-ryung was found dead in a well. She also flashes back to Mi-ryung's mother crying that she should've died instead of her daughter.
After quietly asking the prince's eunuch not to tell him that she knows about Mi-ryung, Yoon-seo is surprised to hear the king wants to see her—mostly because he hasn't gotten ahold of her husband yet.
Minister Choi and the two musketeers have a crisis over how to best help Sohyeon, who's in desperate need of medical care. They can't take him to the palace doctors, because the king would suspect his son now that Kim Ja-jeom said whoever the traitor was would have been wounded.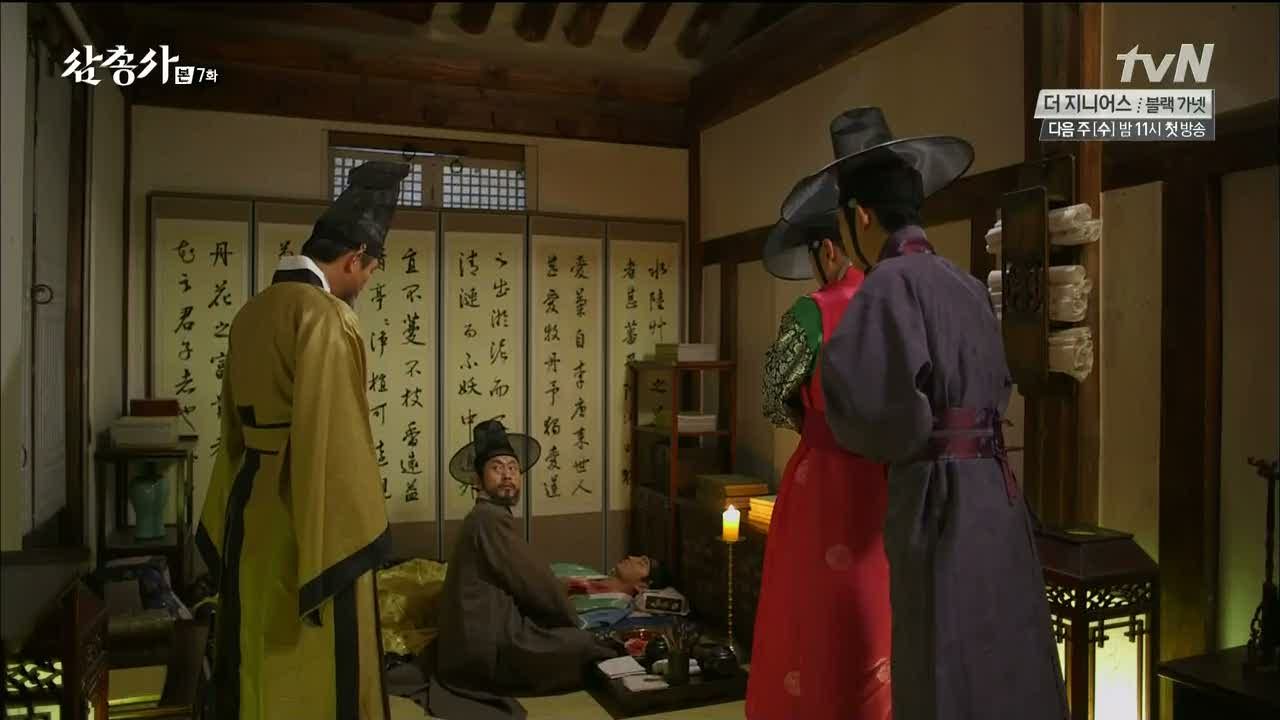 That means their only option is to beg Kim Ja-jeom, even though Sohyeon had no intention of playing ball with him. Minister Choi claims they have no choice—they have to do whatever they can for Sohyeon to survive.
Of course, Dal-hyang has to answer for why Sohyeon ended up stabbed on his watch, and Minister Choi finds him reading the letter that Sohyeon dropped. Though Dal-hyang can't divulge specifics, he somberly hands the letter to Choi, claiming that it's the reason why Sohyeon risked his life.
It turns out to be the damning info Mi-ryung claimed she had on Kim Ja-jeom, which she promised to give to Sohyeon if he met her—guess she kept her end of the bargain.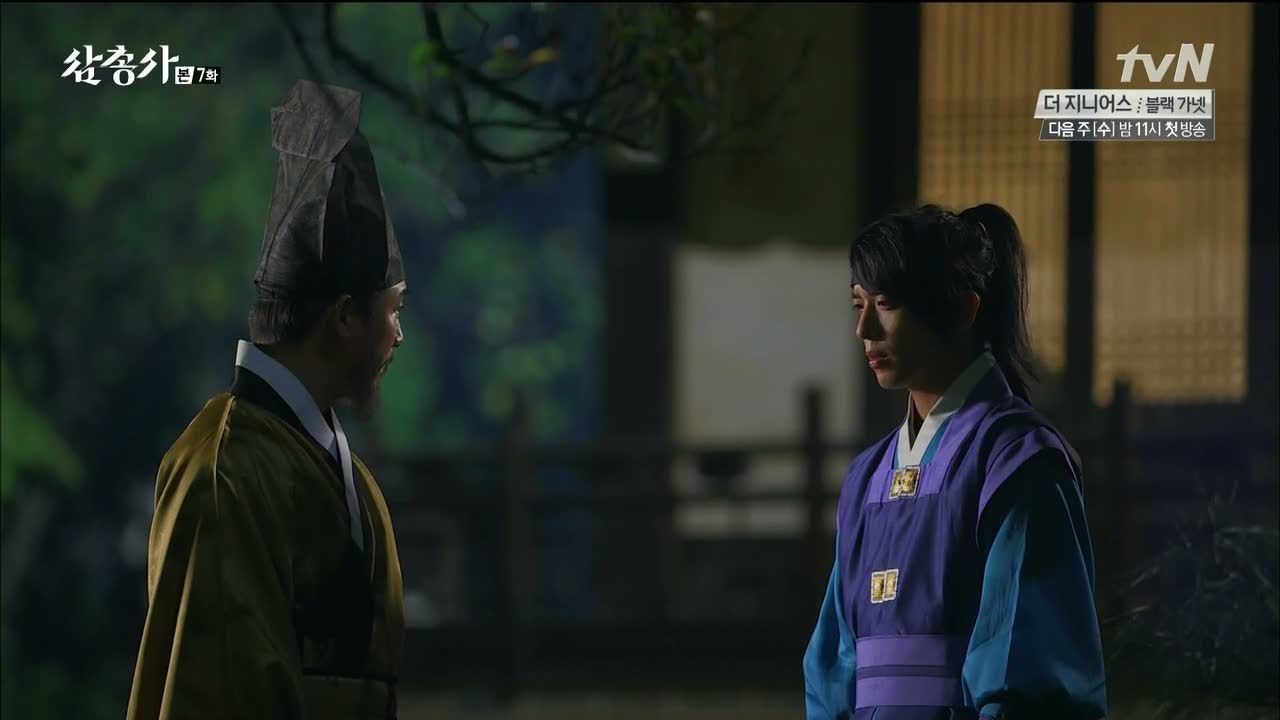 But Dal-hyang stops Minister Choi with a bit of an existential crisis: "What does it mean to protect our country?" he asks, much in the same way Minister Choi once asked him. It's because he still doesn't know the answer even though he's thought about it at length: Is Sohyeon doing the right thing by protecting Ingguldai against the king's orders?
While Dal-hyang knows that Sohyeon is trying to prevent a war, he wonders if that makes deceiving the king any better. His question to Minister Choi is whether the ends justify the means, though he doesn't get much of an answer out of Choi, who says history will be the true judge of their actions.
However, Minister Choi also vaguely references the king's righteousness in letting his citizens die because of a war he'd bring about, leaving Dal-hyang to decide for himself whether he really is referring to Injo or not.
He then tells Dal-hyang that the choice of who to side with—Injo or Sohyeon—is his alone to make. The third option is that he sides with no one and removes himself from the conflict.
After he gives the two musketeers the incriminating evidence against Kim Ja-jeom, Minister Choi tells Dal-hyang that he must make his decision now: How will he choose to protect their country? Dal-hyang: "I will—…"
Cut to: Min-seo dousing the unconscious prince in liquor as part of their plan to save him. Meanwhile, Seung-po gives his slaves weapons to fight with, though they don't know what they'll be fighting for. In a funny interlude, Seung-po wakes up his rotund and purposefully grotesque wife to ask her for money.
All that sweet talking must've worked, since Seung-po soon joins Min-seo in covering themselves in liquor so as to seem completely shitfaced. Pan-swe finds himself missing Dal-hyang when Seung-po asks him if he's ready to die for his master, only to perk up when Seung-po tells him that he'll see Dal-hyang tonight.
Dal-hyang is tasked with delivering the prince's reply to Kim Ja-jeom just moments before he would've entered the palace, which he almost too-happily confirms was written by Minister Choi.
It's a copy of the signed list of those pledging allegiance to Later Jin/soon-to-be-Qing, the TRUE traitors. Kim Ja-jeom rips the letter up in front of Dal-hyang as if to prove that he won't be threatened by it, only for Dal-hyang to quip back that it was only a copy—the prince has the signed version with him.
Acting like drunkards, Seung-po and Min-seo raid Kim Ja-jeom's house under the pretense that Seung-po has a gambling debt to collect from the currently absent minister.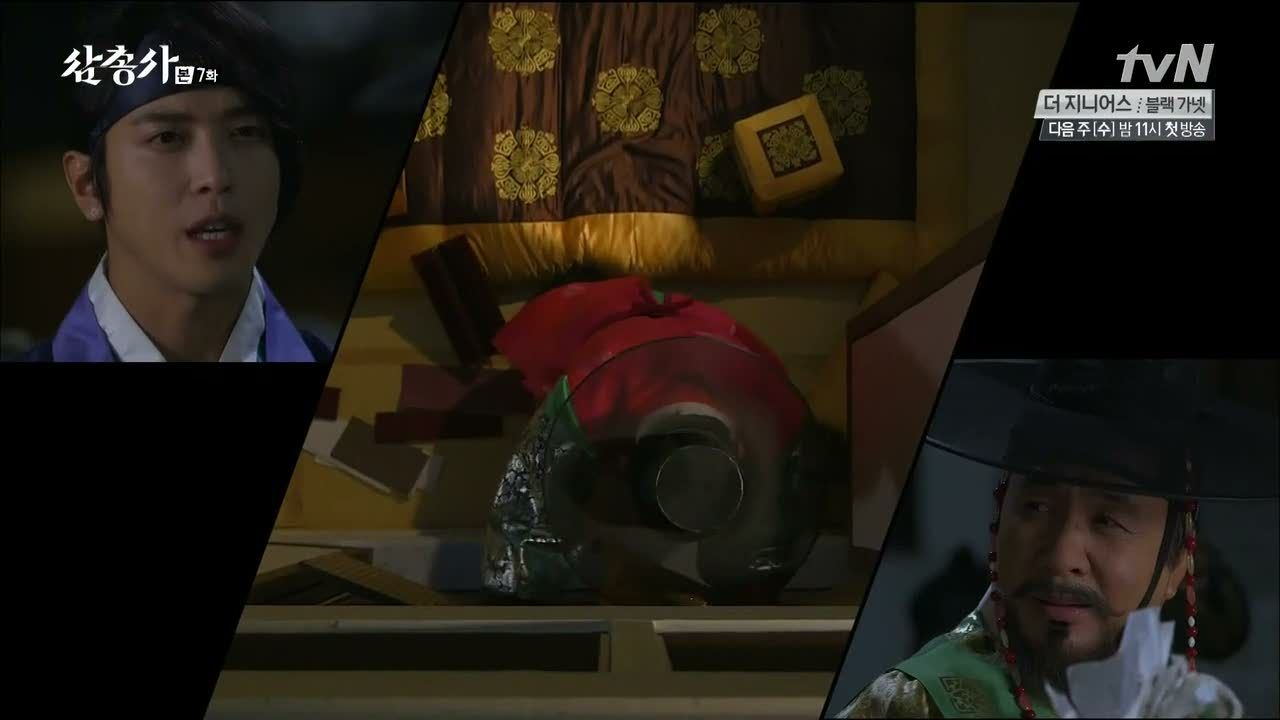 They fire their guns to alert nearby authorities before Seung-po breaks into Kim Ja-jeom's safe to find the real signed Traitor List, just as Dal-hyang tells the safe's owner how they found it. After sending the list with Pan-swe, Seung-po hangs back to keep up the drunken ruse with the authorities.
Kim Ja-jeom can't play coy when it comes to the Traitor List now, but when he asks Dal-hyang who tipped him off to the document, Dal-hyang tells him an adage his father once told him: Be wary of women. By the time Kim Ja-jeom realizes Mi-ryung betrayed him, it's too late.
King Injo puts Yoon-seo on the spot when he asks her if she's lying about Sohyeon's current whereabouts, and cautions her to speak only the truth, which already has her quaking in fear.
He remembers that she was one of the people who told him the prince was sleeping the day he burst into his room, so he all but bludgeons her with his accusation that she lied to cover up the fact that the prince was out of the palace moments before Injo found him.
It's when she doesn't know how to answer that Injo becomes more and more agitated. Instead of denying the charges, her flustered reaction suggests Sohyeon's guilt.
As Dal-hyang goes to the king to tell him that Sohyeon has been seriously injured, Kim Ja-jeom attempts to track Mi-ryung down in the secret room he gave her—the same one Sohyeon met her in.
There, Kim Ja-jeom finds the bloody knife she used to stab the prince, and a few feet away he finds… the actual prince. He doesn't know what to make of this discovery, at least until royal guards (having been tipped off by Dal-hyang) arrive. Ah ha, smart! Kim Ja-jeom's just been caught with the weapon used to stab the prince.
And there Dal-hyang is, acting like he just saw Kim Ja-jeom at the gambling den but can't remember because he was pretty drunk.
Now the whole plan falls into place: Dal-hyang tells the king that Sohyeon got into a brawl in his own secret gambling den (Mi-ryung's room), and that Seung-po chased after the man who had no idea who Sohyeon was when he stabbed him and ran off with the large sum.
And since Seung-po made sure he would be caught at Kim Ja-jeom's house, it implicates the minister in the gambling ring—which, hilariously, the king totally buys. He's even happy to latch onto that idea, since it gives Yoon-seo an excuse for lying to him if she was covering up for her husband's gambling addiction.
Thankfully Yoon-seo is a bit quicker on the uptake, and follows Dal-hyang's silent cue to tell the king that yes, that was exactly why she was lying. Definitely the only reason. Haha.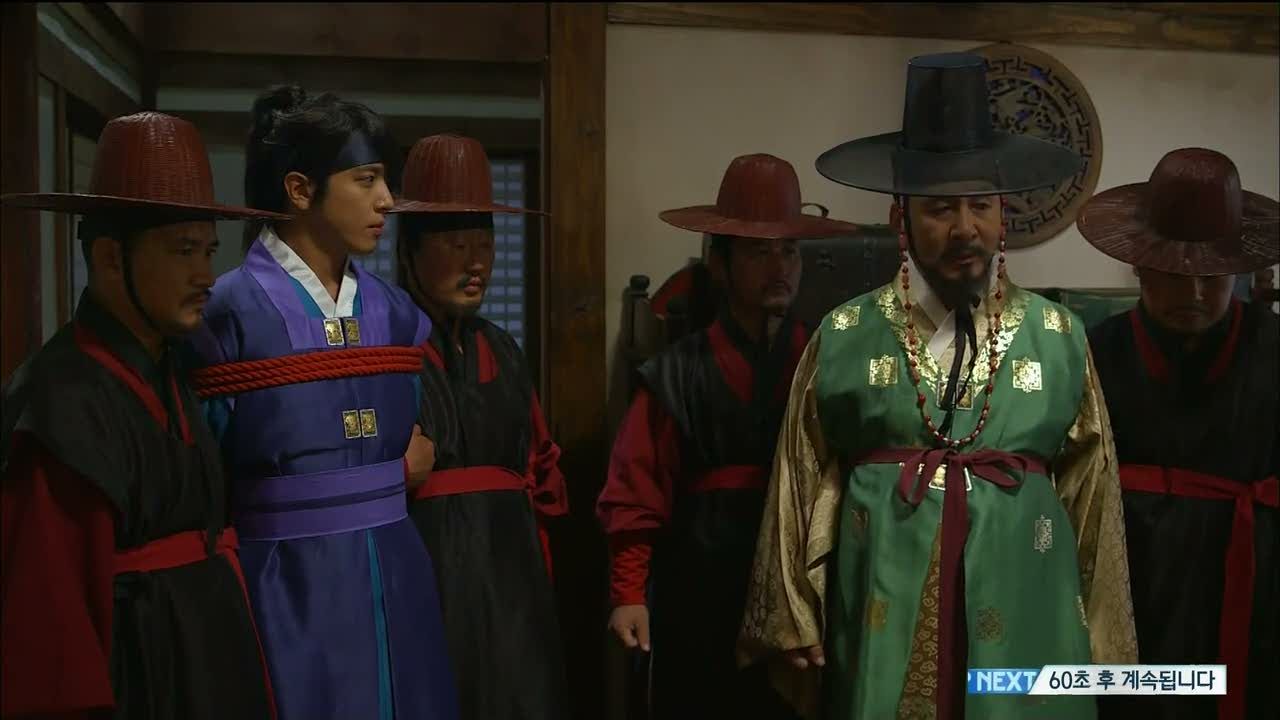 Before he's carted off by the guards for his role in the night's events, Kim Ja-jeom ominously promises Dal-hyang that he'll remember his name—he may have been caught with his hanbok down this time, but now that he knows what Sohyeon is capable of, it won't happen again.
While being carried to the palace on a stretcher, Sohyeon wakes up long enough to be told what happened. However weak he is, he still asks Dal-hyang why he's still around when he was supposed to go home.
Dal-hyang confidently tells him he refuses to go home, because their bet is null and void now that he's been told (offscreen) how the prince tricked him. They bicker cutely for a bit, with Dal-hyang sure that Sohyeon will have him released from prison since he's one of Sohyeon's people now.
"Who said you're one of my men?" Sohyeon challenges. "That's what everyone says," Dal-hyang replies. "Mi-ryung, Kim Ja-jeom, and the king. So you don't have a choice. I'm your man."
Dal-hyang adds that he's also the kind of person who sticks with a decision once he's made it, so he asks the prince to prove to him that he made the right choice.
Sohyeon says nothing, but as he's carried away, he sends a knowing smile Dal-hyang's way. Dal-hyang returns the gesture.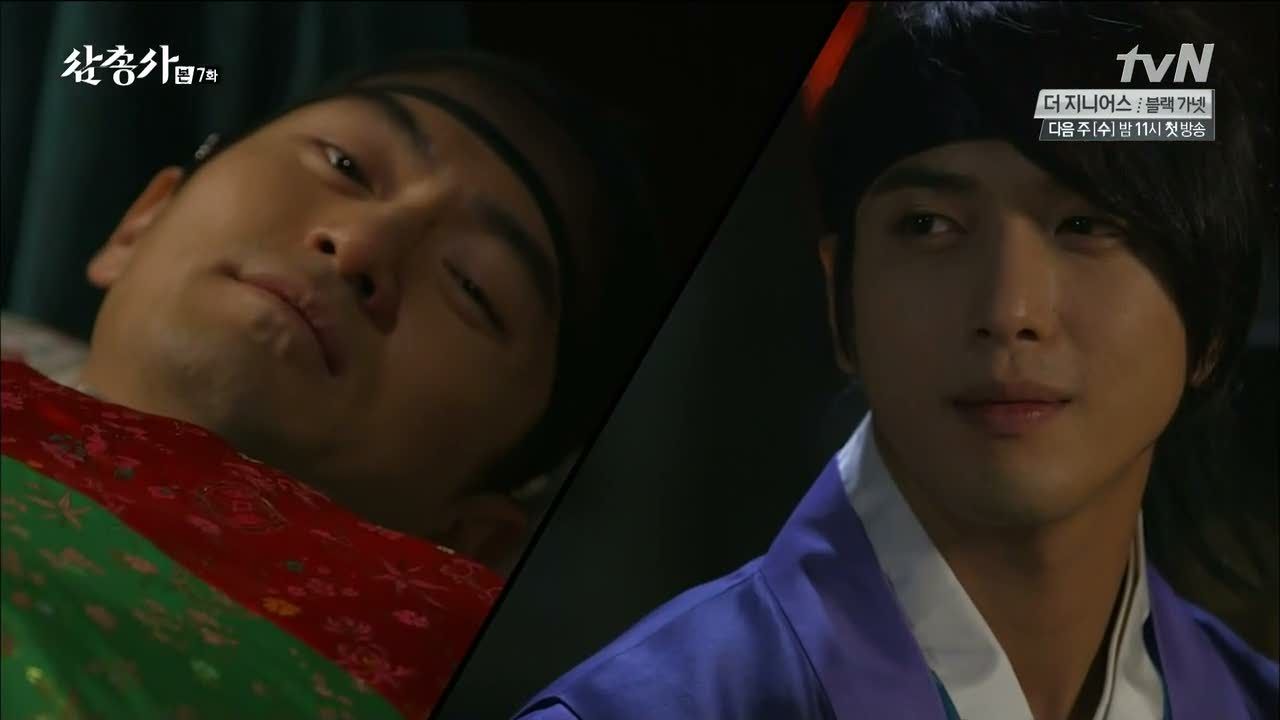 COMMENTS
Awww, they're buddies! It's good to know that Dal-hyang still likes Sohyeon even after finding out that he'd been tricked by him, since it means that the lesson Sohyeon wanted to teach him wasn't lost on him—but damn it if he's going to let Sohyeon out of his sight for one second when he knows what trouble he gets himself into.
I really like that dynamic between the two of them, since Sohyeon seemed poised to maintain the upper hand in their relationship. He may be older, wiser, and in a great position of power he used to lord over Dal-hyang from the moment they met, but Dal-hyang isn't one to just bow his head and take orders blindly anymore (or ever). He's got the prince figured out, maybe even better than the other two musketeers, and in such a way that he knows not to take him so seriously anymore.
The fact that he knows just how much bark is in Sohyeon's bite not only evens the playing field, it also gives Dal-hyang a measure of power I wouldn't have expected from him this time last week. Even with Sohyeon being who he is, Dal-hyang sometimes does know better than him, and coming to that realization himself gives him free rein to just smile and shake his head at Sohyeon sometimes. If he's going to continue to mother Sohyeon while acting as his bodyguard, sign me up for all future seasons (please and thank you).
Mi-ryung's story is shaping up rather nicely still, which isn't something I was sure I'd be able to say when most everything was laid out on the table. I say most because there's still a few questions surrounding Sohyeon's suicide order, though sometimes I wonder if he's being inscrutable just for the sake of it. I can't even blame Mi-ryung for stabbing him if she was looking for ANY kind of reaction from him—just something to prove he was even listening to her. And while his "I missed you" maybe isn't the sonnet she might've wanted, it was enough to move her—even if, after hearing her story, she had the right to stay mad and scorned.
The question is still why he asked her to do what she did if he loved her like he seemed to, and the answer might lie in Mi-ryung's true identity. We don't know why Hyang-sun was forced to play the part of a minister's daughter, only that she went from being a slave to being paraded as a noblewoman engaged to the prince. No matter the pretense, they both fell in love, leaving Sohyeon with no reason to have her killed… unless he found out about the ruse and her status. It'd slightly legitimize his request, though only slightly—if he had a choice in continuing the ruse because he loved her or killing her because he'd be marrying a slave, his reasoning just got a whole lot more interesting. Not like being uninteresting was ever Sohyeon's problem.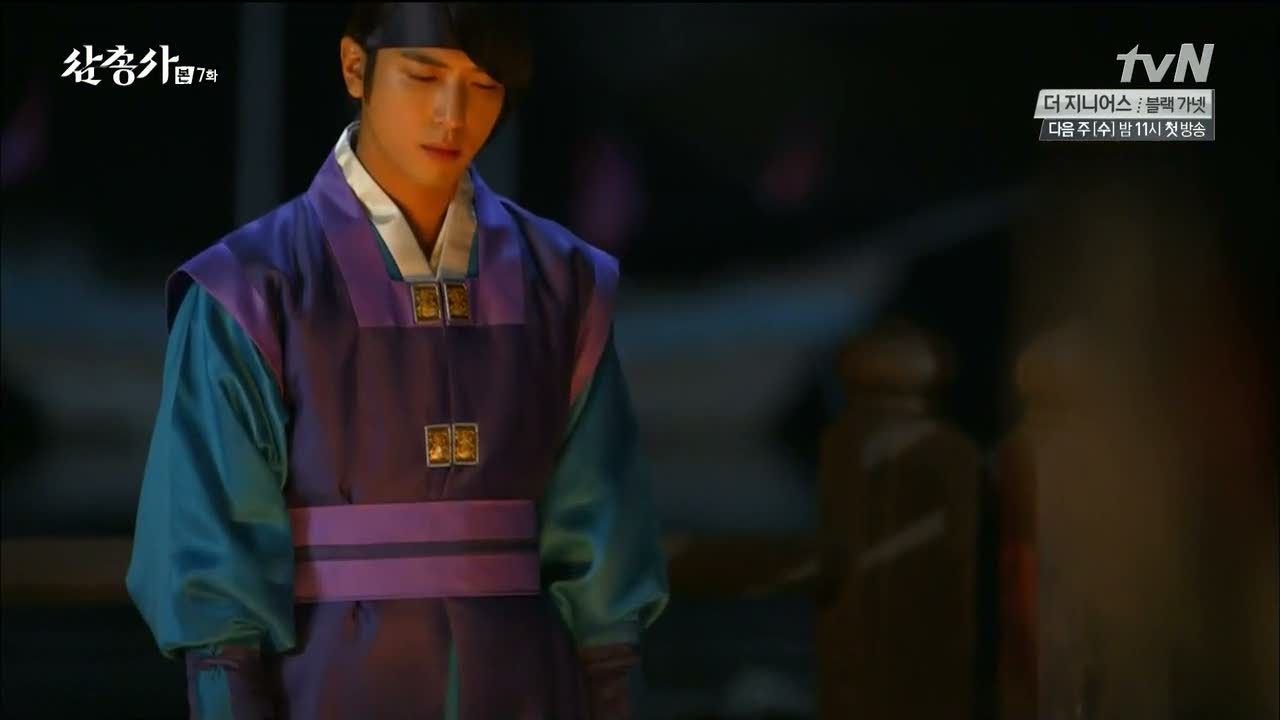 RELATED POSTS
Tags: featured, Jung Yong-hwa, Lee Jin-wook, Three Musketeers, Yang Dong-geun