Youths Over Flowers: Episode 5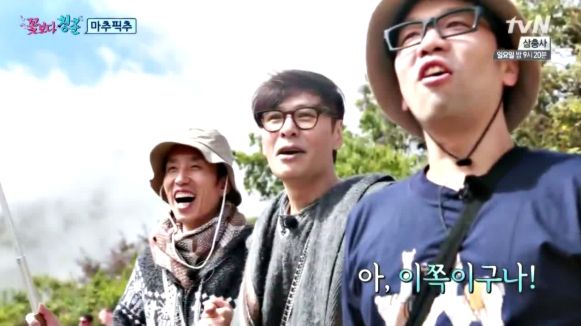 javabeans: We resume on the last morning, when the three guys wake up extra early to begin their trip to Machu Picchu, which is the highlight they've all been waiting for.
girlfriday: They get up while it's still dark and Sang is so eager that he's dressed and downstairs first. Problem is, he goes outside and finds that it's raining.
javabeans: They're all a little worried to hear about the rain, but eat breakfast and head out in optimistic spirits. Hee-yeol sing-songs "Machu Picchu" to himself as they head out, and marvels at how absurd it is that they all got up at 4 a.m. to go up a mountain.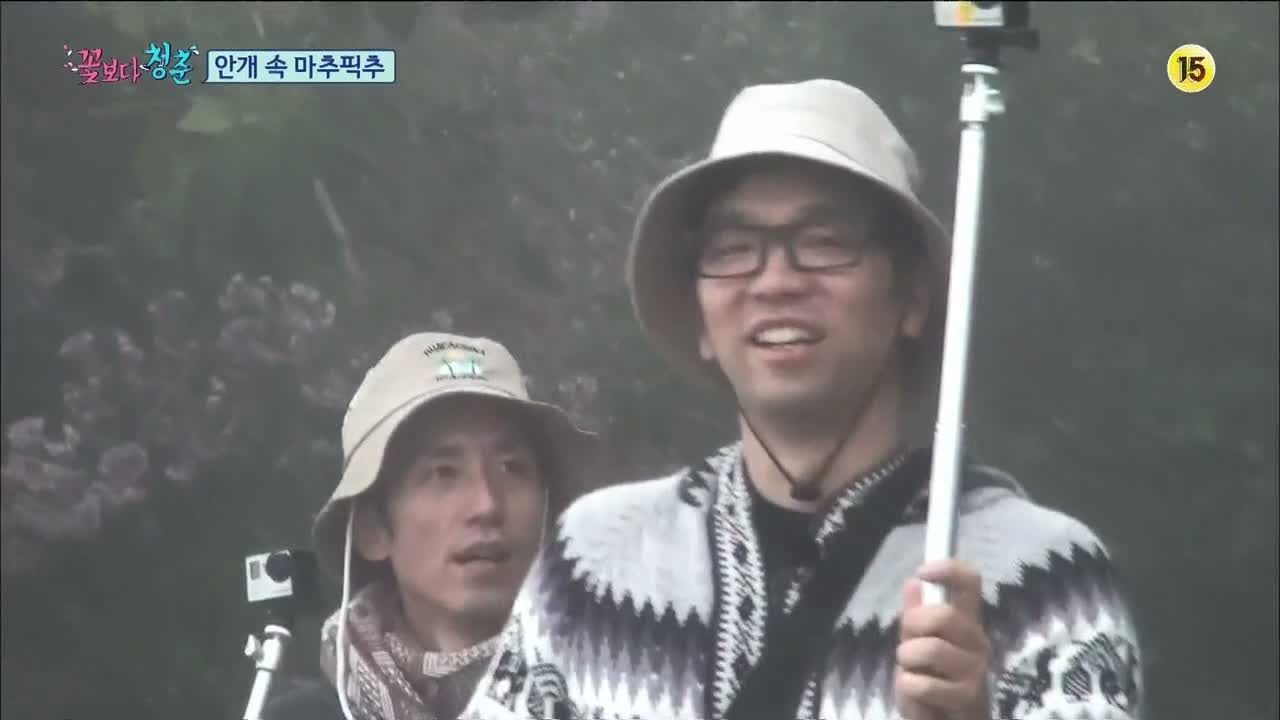 girlfriday: Hee-yeol says back in Seoul this would be before his bedtime, which I totally sympathize with. Four in the morning is night, not day.
javabeans: There's even this long line already there waiting for buses. As they wait, Sang suggests they all go hiking once a month when they're back home. Caption: "Our Sang hyung has changed~"
girlfriday: We expected this from the sneak peek last week, but the higher they go up the mountain, the denser the fog gets. You can hardly see anything from the bus.
javabeans: They maintain their spirits as they wait to get inside, joking around and keeping light-hearted, but as we saw last week, the view is practically white over the edge of the cliff. They hike up and up, and Juck says, "I feel like I wanna cry. We came to Peru to come here."
girlfriday: I want to cry for them.
javabeans: When they get to the top, they're so shocked at the complete wall of fog that they just stand there kind of dumbfounded, trying to laugh it off but totally disappointed.
girlfriday: Hee-yeol wills himself to hallucinate it, he's so in denial. Na PD hands them brochures and shows them the pictures of the view they WOULD have seen, which totally makes it worse. To add insult to injury, he says that 95 out of 100 days are totally sunny and clear here.
javabeans: Hee-yeol says in an interview that he'd felt on the verge of tears at one point, as though the universe was telling him that you can't have everything the way you want it. It made him extra grateful for the rest of the trip that had gone well, but I think that's kind of cold comfort at the moment. He gets a bit philosophical, saying that when he was in his twenties, he thought he'd see the seven wonders of the world before he died, just assuming he would, but sometime a long while back, he'd given that dream up. "I'd given up a lot of things, but I thought that I don't want to give up things—I won't give up on things anymore."
girlfriday: I guess this is why they say adversity builds character? As they stand there on the cliff with the fog getting thicker and thicker, Hee-yeol wonders if there's a way to stay an extra day instead of giving up like this.
javabeans: I think they're all ready to stick it out in hopes that it'll clear, and they (along with the other tourists) just keep sitting there, looking out into that big abyss. Finally Na PD suggests they take a break, grab some coffee, then wait some more, so they head back down for now.
girlfriday: How cute, Hee-yeol calls his wife to tell her about Machu Picchu and not seeing any of it, and she tells him that it's a sign that he should go back with the whole family. He's too disappointed to agree but finds it cute, and sort of fumbles for an "Uh… uh.. yes, totally… I love you!"
javabeans: That just means he's learned how to navigate marriage! It's adorable. Everyone waits at the base of the mountain, just waiting for the sun to come out, and you see the buses that arrive to take tourists down and nobody gets on them. EVER so slowly, slightly, you start to see a tiny hint of blue through the fog, but it's too small to get excited about yet…
girlfriday: All I can think is, to get that time-lapse footage from the top of the mountain, some VJ had to sit there all freaking day in the white fog. It's really cool though.
javabeans: The parting of the clouds gets big enough that the guys get excited and hurry back up the mountainside… and this time their faces are much brighter.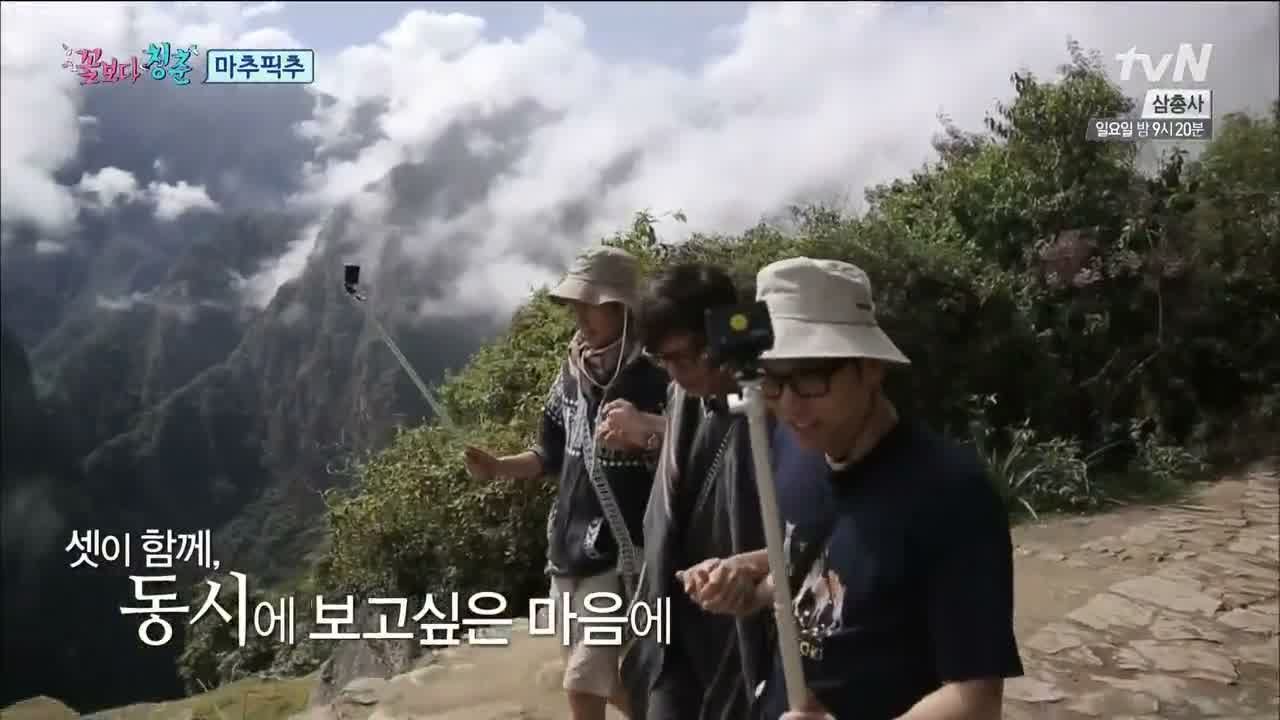 girlfriday: I find it really adorable that Hee-yeol slows the others down, declaring that he's going to enjoy every bit of it this time and not miss anything. You really get the sense that the morning's disappointment has made them appreciate this a hundred times more than just getting to see it without incident.
javabeans: Na PD prepares them to walk the final bit for the big reveal, and the guys hold hands and get all giddy as they make the walk, looking down and saying, "Don't look yet, don't look." Juck jokes that it feels like they're about to do a guerrilla concert (an unplanned, surprise concert for fans) and Sang adds, "I cried then."
girlfriday: They go all the way to the edge before looking up in unison, and awww, it's worth the wait just to see their reactions.
javabeans: I absolutely love that moment when they get to the edge, then look up in unison… and then there's this one blank moment when they just stare before all shifting to the left because their big reveal was in the wrong direction. LOL. What a way to undercut the moment.
girlfriday: It's pretty awesome. Once they actually see the view from the cliff properly, they get quiet and lost in their own thoughts, and Juck starts to cry almost right away.
javabeans: Hee-yeol is the next to start crying, and he says something that I first interpret to mean "There's so little time [here]"—as in, it's too bad they don't have more time to take this all in. But Sang asks what he means by it, and Hee-yeol just wipes away tears and says, "I don't know. It's just, time is so precious."
girlfriday: He starts reminiscing about their youth (spent together), and how he always thought of Juck as so young but now even he's over 40, and they're all talking about their kids instead of themselves.
javabeans: Now they're all crying quietly as Hee-yeol talks about how they thought they were so awesome at that age when they were really just kids in their mid-twenties, and how time flies so much, which is why he said that it's so precious. "But it feels precious because it was good," he adds, and they agree that really, they're still in their youth.
girlfriday: It's just a little more meaningful because these guys literally grew up together, and you see that the changes they see in each other reflect how they're thinking about themselves. Hee-yeol says in an interview that he genuinely likes these guys, but also, even if he didn't, it's too late because they've spent 20 years together. I guess there are no take-backs in this kind of friendship.
javabeans: I'm so envious, but more in an admiring way than a jealous one, since this kind of thing is special and not something we're all entitled to. It's just a gift, and they have it, and they all know how special it is. Ha, and then reminiscing winds down and Hee-yeol insists on one last selca with the group, and busts out that camera-on-a-stick to do their shuffle-chant-shoot ritual. You know, at first I thought it was silly to chant the name of the place they were in because that seemed so boring, but now seeing the montage of all of these shuffle-dances, it's really handy.
girlfriday: I know. They make it look so fun, and slightly less embarrassing. Our next trip, camera-on-a-stick!
javabeans: They head back down the mountain to check out the ancient ruins, and the whole way they're looking at all the pretty women and commenting on it. Hee-yeol tells them not to include that stuff, and the caption adds, "…but then there's nothing to show."
girlfriday: It cracks me up that Hee-yeol gets it in his head that he's going to be Indiana Jones, and then how quickly that gets derailed at the sight of pretty girls. They look around the ancient city and Sang starts to get tired every time they face a new set of stairs, but Hee-yeol has this way of just telling him he's going to do it, and Sang can't argue.
javabeans: Considering how the mood was on the walk up, I'm just glad for everyone involved that the walk back down is full of jokes and smiley faces. They make it back to the train, where Hee-yeol notes that they've got a nice sum left (about $160), which I hope is going to an epic dinner of some sort.
girlfriday: They close on a montage where they've collected responses from people about their ideas of youth. Some say it's lack of fear, others say it's enjoying the moment, and the guys say that it's courage to do things, which they had lost until coming on this trip.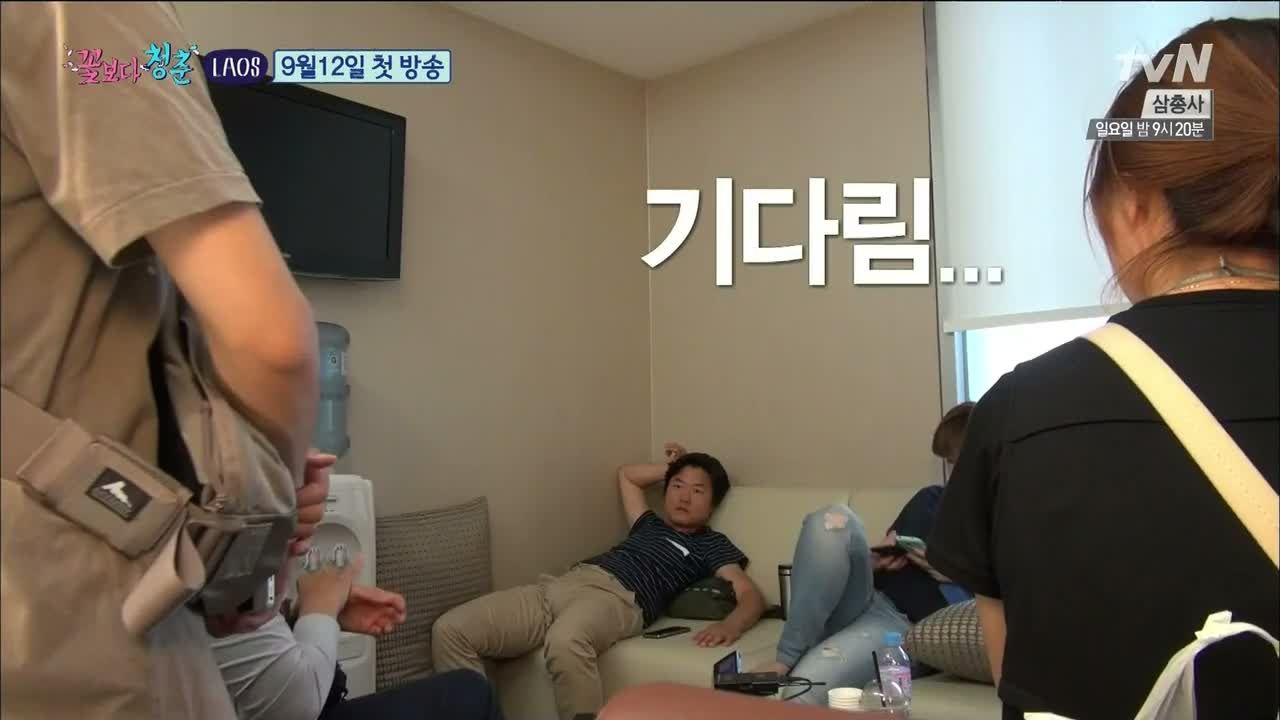 javabeans: And then as the screen fades on the Peru trip, it reopens on Na PD on the phone, strategizing, saying things like "How are we going to fool those kids and drag them along?" and "I'm sure there will be an uproar, but…"
girlfriday: Then two months later, a bunch of secret cameras get set up in a room, and the crew waits and waits. Eeeee, it's the Answer Me boys! I love that the captions call them Bait 1, Bait 2, and Bait 3.
javabeans: And they're dancing like goofballs! Adorable.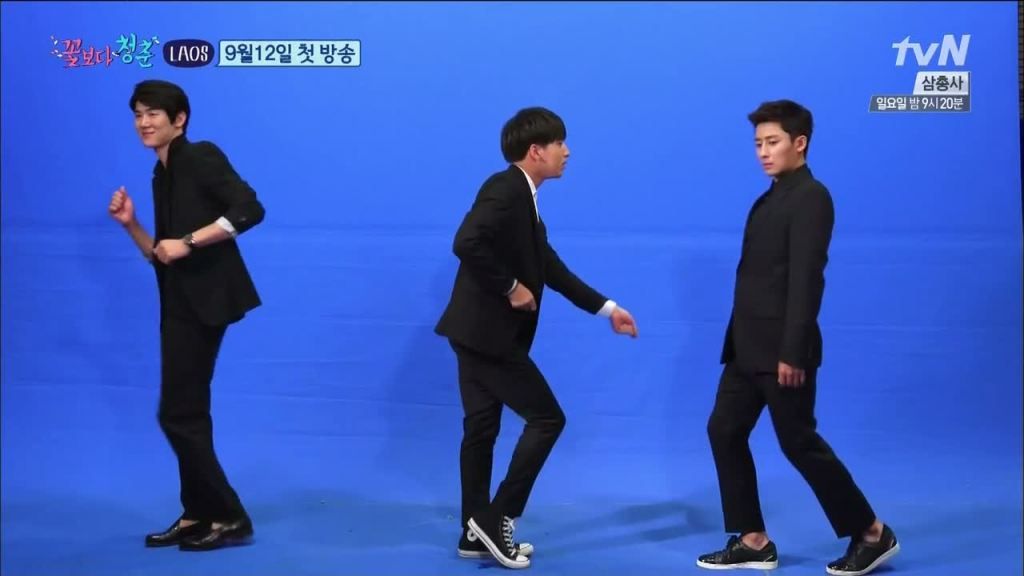 girlfriday: I had to rewind the dancing. It's too cute.
javabeans: Cue: Series of reaction shots from the boys as they exclaim, wail, and fall to the floor in shock. Once in Laos, we see them sitting pathetically on the curb saying, "We've turned into beggars!" Baro is the "well-built beggar," Yoo Yeon-seok is cutting fruit (!!!) for the boys and gets tagged the "mommy beggar," and Sohn Ho-joon gets to be "the neighborhood idiot hyung."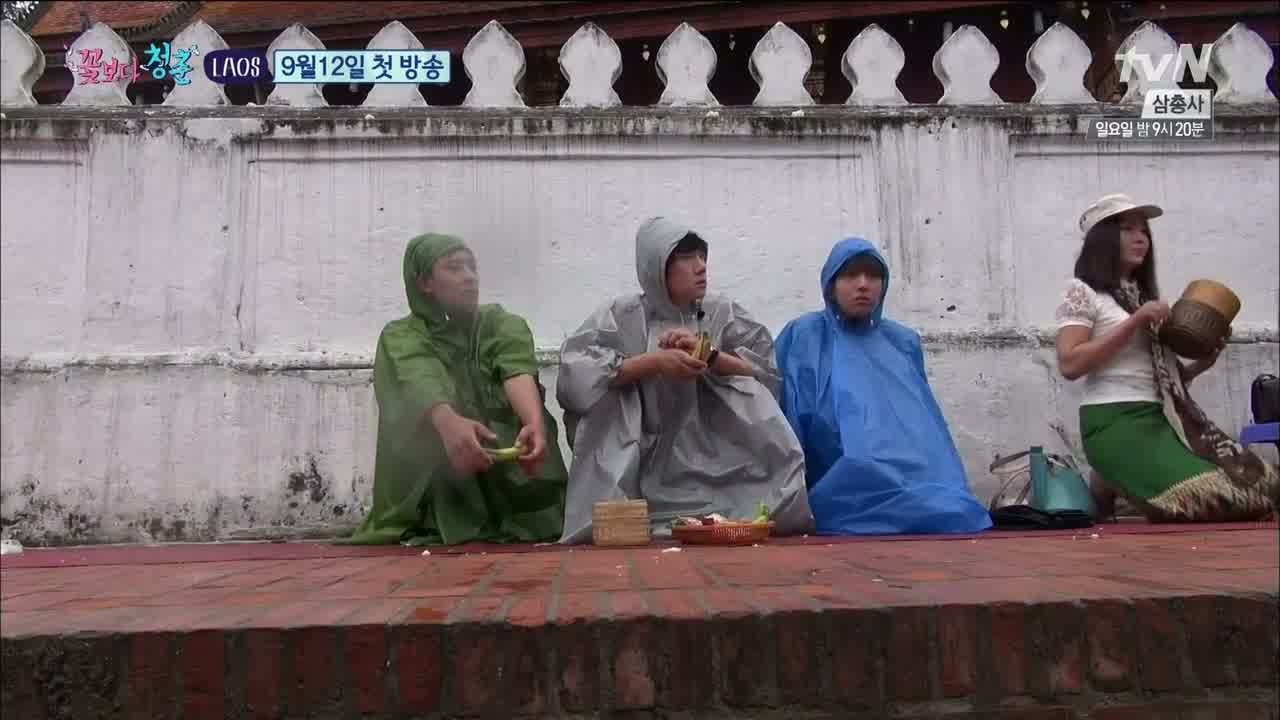 girlfriday: They play, play, and play some more, and then while they're splashing around in a river, Ho-joon says quietly to the camera, "Yeon-seokie isn't wearing any underwear right now, and his shorts just ripped."
javabeans: I can't believe they teased us like that and then just ended.
girlfriday: I hate Na PD so much right now.

RELATED POSTS
Tags: featured, Lee Juck, Yoo Hee-yeol, Yoon Sang, Youths Over Flowers