2014 Buil Film Awards
I know, another red carpet event, which brings us to three in three days. This one, the Buil Film Awards, is actually in conjunction with the Busan International Film Festival, which we posted about yesterday and which'll be running for the next week and a half.
The Buil Film Awards was a much smaller event than the BIFF opening, but while it had fewer celebrities in attendance, the awards were given to big projects, such as the record-breaking Roaring Currents. That film totally obliterated the previous record for most box office admissions and surpassed the 17 million ticket mark, and also took home the top prize here. Although I don't know much about this awards ceremony other than that it's connected to BIFF and presented by the Busan Ilbo newspaper, a glance at the nominees list shows a nice spread of nominations, which go from smaller indie flicks to the huge blockbusters.
The films up for Best Picture, for instance, were the aforementioned Roaring Currents, as well as The Attorney, Han Gong-ju, Our Sunhi, and Gyeongju. Other films that were in the hunt for awards included A Hard Day (best actor, supporting actor, new director, and screenplay); Elegant Lie (new actress); Face Reader (supporting actor, art direction); King's Wrath (cinematography, music, art direction); and The Way Home (actress). Just to give you an idea of the titles in the mix.
But enough of nominees—time for winners!

WINNERS LIST
Best Picture: Roaring Currents
Best Director: Hong Sang-soo (Our Sun-hee)
Best Actor: Song Kang-ho (The Attorney)
Best Actress: Shim Eun-kyung (Miss Granny)
Best Supporting Actor: Kwak Do-won (The Attorney)
Best Supporting Actress: Kim Young-ae (The Attorney)
Best New Director: Jung Ju-ri (Dohee, aka A Girl at My Door)
Best New Actor: Lee Joo-seung (Shuttlecock)
Best New Actress: Im Ji-yeon (Obsessed)
Best Screenplay: Shin Yeon-shik (The Russian Novel)
Best Cinematography: Kim Tae-sung (Roaring Currents)
Best Music: Jo Young-wook (Kundo: Age of the Rampant)
Best Art Direction: Jang Chun-sub (Roaring Currents)
Yu Hyun-mok Film Arts Award: Director Kim Dong-won
Buil Readers' Jury Award: The Attorney
Yay, Shim Eun-kyung for Best Actress! She was fantastic as the granny-turned-youngster in the movie Miss Granny, and is one of her generation's shining comic talents. (Her dramatic acting ain't bad, either, but she really stands head and shoulders above the rest in comedy.) It's enough to make me ignore (…or overlook, at least) that she's wearing a Pilgrim costume. All she needs is the black hat with the buckle and an aura of haggard religious persecution.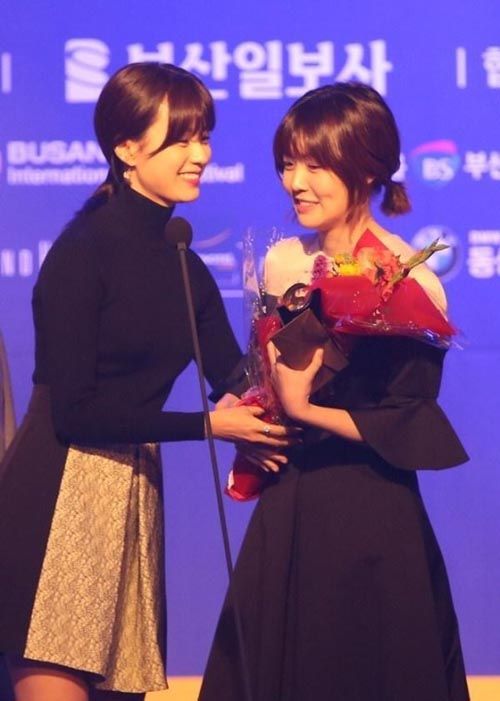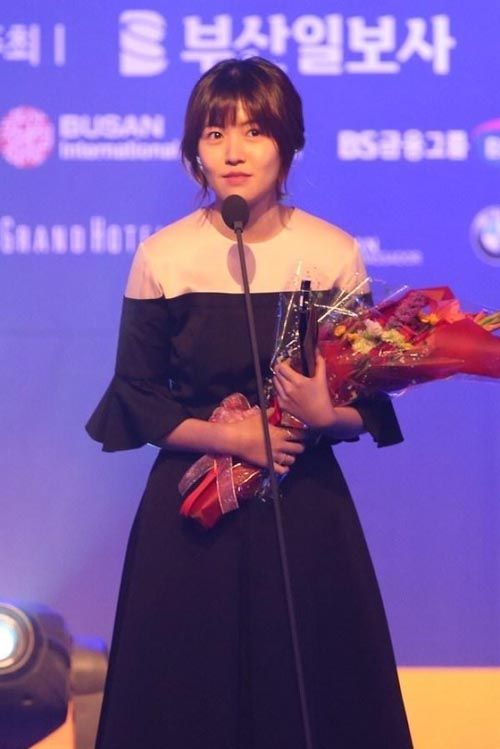 If you listed all of the awards Song Kang-ho (The Attorney) has accumulated in his lauded career, could it fit on one page? Does he have so many trophies stuffing all the shelves at home that it would count as hoarding? He has so many movies at any given moment that it's not even always clear which one he's being recognized for.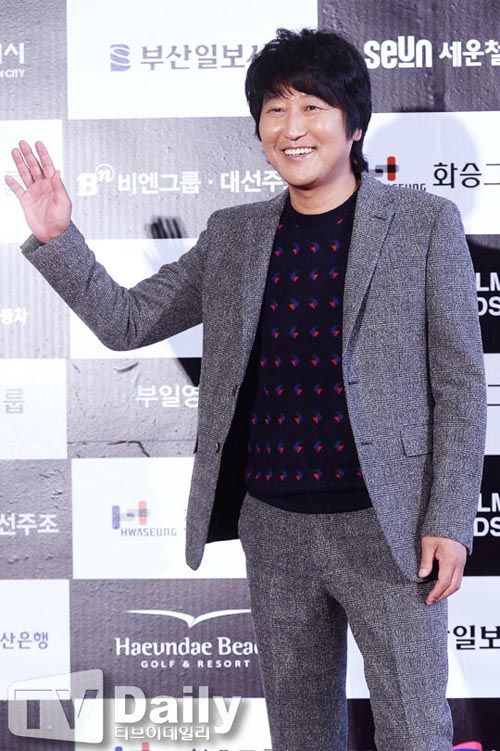 Director Kim Han-min lost out in the Best Director category, but I'm sure that disappointment is dulled by the trophy he picked up for Best Picture (for Roaring Currents). With all the buzz about this movie and now all the awards it's raking in, now I really have to carve out some time to watch it. Weekend project!
Kim Young-ae picked up a trophy for the other big winner of the night, The Attorney, and in fact arrived with her costar Kwak Do-won, who's pictured directly below her:
Lee Joo-seung (Shuttlecock), Lee Joo-seung, Lee Joo-seung… I'm carefully memorizing this name, because it seems like one I might want to get familiar with. This kid (okay, he's 25 but has a baby face) seemingly came out of nowhere this year and now I'm seeing him everywhere. He made his debut in 2008, but in the past project he's become much busier. You may also recognize him as the office maknae in High School King of Savvy and as Lee Dong-wook's high schooler brother in Iron Man.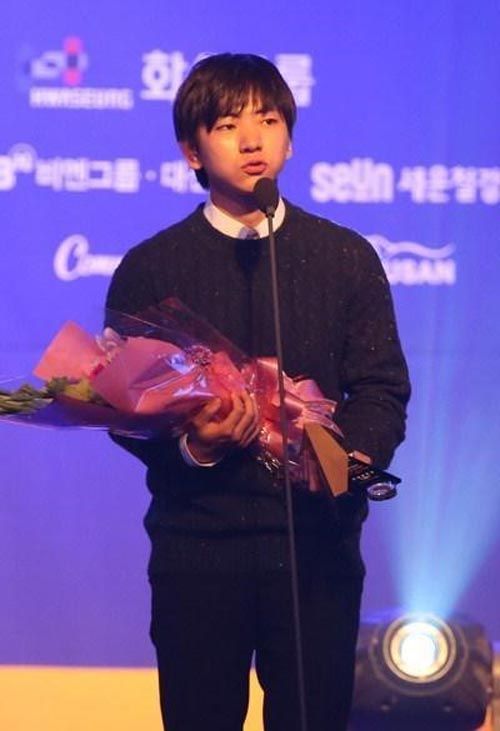 I haven't heard too much (in the way of praise) about her steamy ero-melo film Obsessed, co-starring Song Seung-heon, but I'm noting that positive reactions are mostly directed at newcomer Im Ji-yeon.
But Jo Yeo-jung did also get some recognition as her co-star in Obsessed; she was nominated for supporting actress, though she didn't win here. But how gorgeous does she look? She just glitters and glows.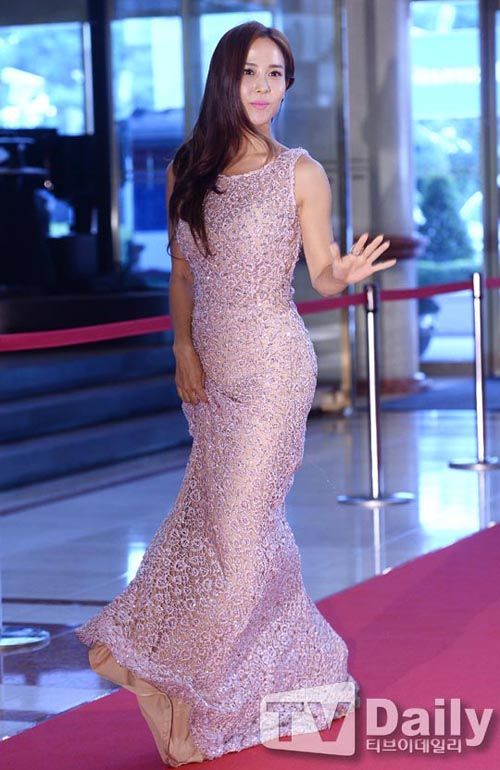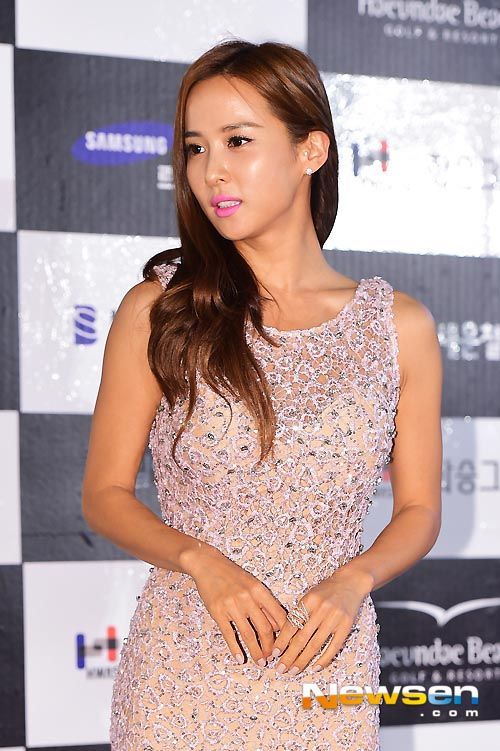 Anytime Hwang Jung-min (When a Man Loves, International Market) smiles, I find myself smiling automatically. I love the patterned suit! Even the matchy-matchy tie!
Jang Young-nam was Hwang's co-star for International Market, and came wearing a white gown that I think would be much more attractive if I could reach into my screen and rip off the sleeves and everything above the bodice. Why wasn't this a sleeveless gown?
I was all set to love the color-blocked blue gown worn by Ryu Hyun-kyung (The Informant), here with Kwon Yul (Roaring Currents), because that color is fantastic and from the front she looks comfortably elegant. But what weird slit-skirt madness is going on in the back? If you ran out of fabric, just pick a new dress.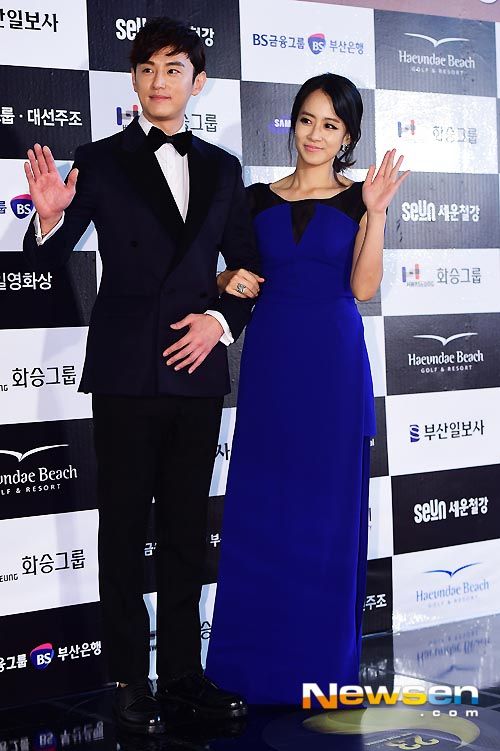 You know what? This dress worn by Jo Min-soo (Venus Talk) could have easily gone badly, with the bold, busy pattern, but I'm kind of really into it. The shape is super flattering and modern and interesting, and Jo looks way more interesting than she did the night before at the BIFF opening red carpet—that's the thing about the big formal events, where everyone tends to go for safe. I'm much happier to see the less formal events where the actors feel free to try creative looks like this one—or crazier, even.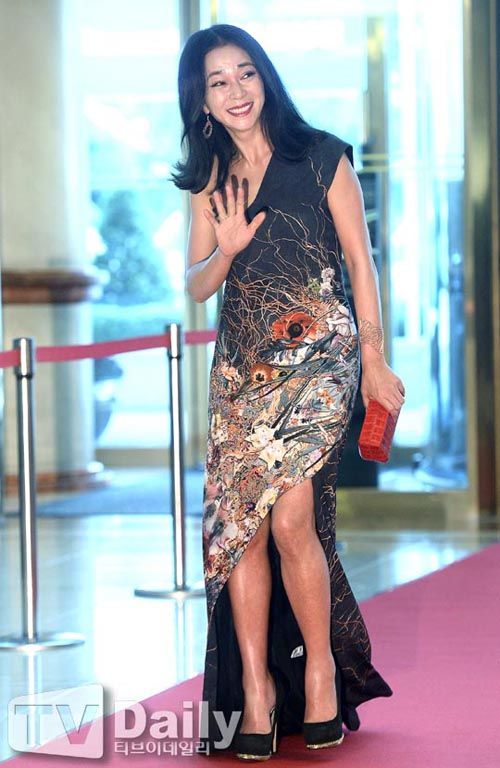 And speaking of crazy, that's definitely a word that popped into my head when I first saw Jung Eun-chae (King's Wrath). But the more I look at it, the more I actually really love it, flappy fringe and crinkly skirt and bow tie and all. Is it weird? Yes. But does she look good? Absolutely. Not crazy in the your-stylist-is-secretly-sabotaging-you-and-stealing-your-soul way, but in the isn't-my-best-friend-zany-but-awesome way. It's so wacky I would actually wear this! (Maybe. Don't hold me to it!)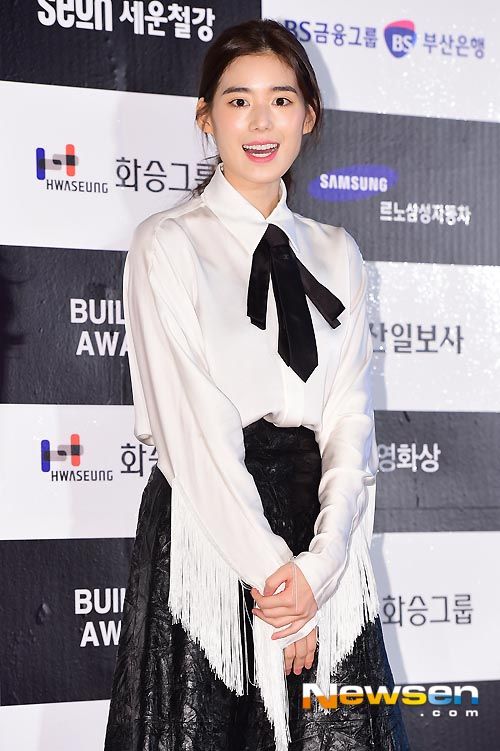 RELATED POSTS
Tags: awards, Hwang Jung-min, Jang Young-nam, Jo Min-soo, Jo Yeo-jung, Jung Eun-chae, Ryu Hyun-kyung, Shim Eun-kyung, Song Kang-ho