2014 Busan International Film Festival's opening red carpet
It's red carpet season! I both love and hate awards/festival season (fall-winter, mostly) because on one hand, it's never a burden to look at scores of beautiful people strutting a formal event looking (mostly) their best, but on the other, these posts can be massive and a pain to compile. But let our pain be your gain, I suppose?
Hot on the heels of the Korea Drama Awards just the night before, stars and film industry folks headed down to the coast for one of Chungmuro's biggest festivals, the Busan International Film Festival, now in its 19th year. The ten-day event kicked off on October 2, and over the course of the next week and a half will screen more than 300 films from 79 countries.
No awards tonight; just lots and lots of stars. So let's get to it.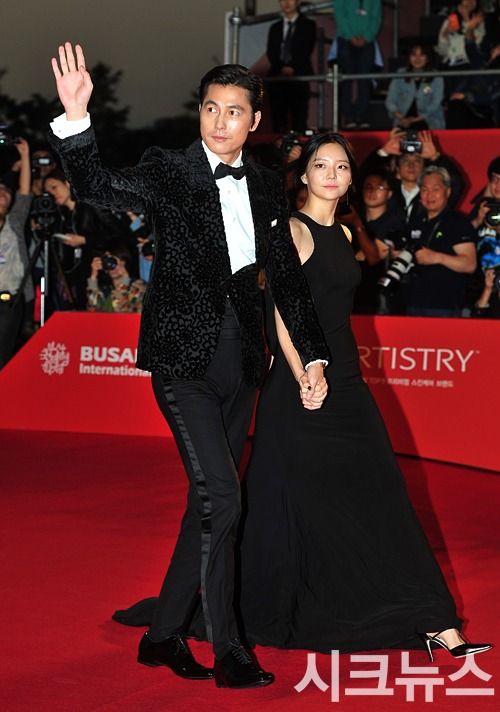 Jung Woo-sung arrived with his Madam Bbaeng-deok co-star, newcomer Esom, both of them looking polished and pretty.
Their film just opened this weekend, and has been making the promotional rounds, building up some buzz for its racy interpretation of a classic folktale…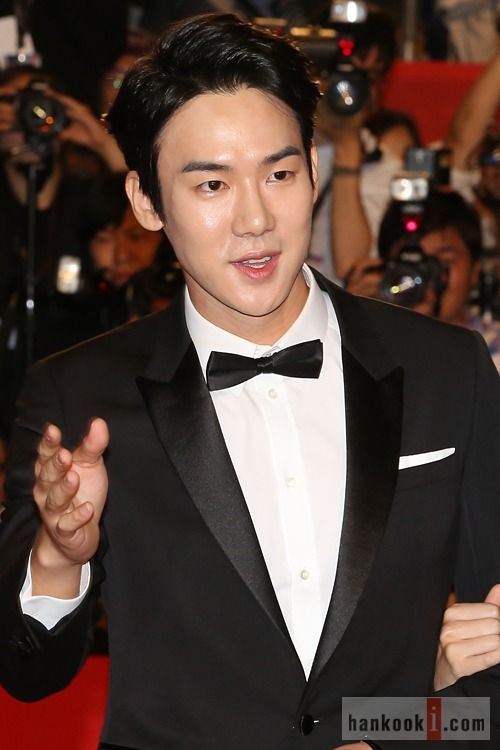 But it was The Informant, another new opener, that came out on top, taking first place on opening day. (Cha Tae-hyun's Slow Video was the third Korean film to open the same day, taking second place.) And boy oh boy isn't it a great time to be Yoo Yeon-seok, who is the It Boy (Guy? Man?) of the moment. I do wonder how long it'll take him to leave the Chilbongie image behind, but to be honest, who'd gripe about being dogged by the specter of a character loved for being sweet and perfect?
He's here with his co-stars from The Informant, Ryu Hyun-kyung, who pops in bold hot pink, and the always-wonderful Park Hae-il.
For a brief second I was confused as to why Yoo Ji-tae (Healer) and Cha Ye-ryun (She's So Lovable) came together, since it's been six years since they acted together in the romantic melodrama A Star's Lover. As it turns out, they're in another project together, The Tenor – Lirico Spinto. There were a lot of people doing the black-and-white thing tonight, but their look just may take the cake. Cool, finished, flawless.

Uhm Jung-hwa (Venus Talk, Witch's Romance) favors black for most of these red-carpet events, but I'll give it to her—she manages to do a different take every time. Well, as different as you can get within the parameters of black, sophisticated, and fits like a glove.
We can still swoon over the romance Uhm Jung-hwa had with noona-killer Park Seo-joon in Witch's Romance, right? Isn't he looking dapper here in a crisp blue tux.
This is one of my favorite looks of the night. I'm not sure what to call the not-quite-necklace worn by Tang Wei (The Golden Era, Late Autumn), but now I want one. Her graphic-print gown isn't too bad either, giving her a modern edge. If I looked like this in this dress, I'd wear it everywhere.

Moon So-ri (Venus Talk) was one of the opening event's hosts, along with Japanese and Hollywood actor Ken Watanabe (Godzilla, Inception)—aie, I love him. Don't they look elegant?

Jo Jung-seok (love him!) has already had one box-office success earlier this year with King's Wrath, and is hoping for a second in the upcoming romantic comedy My Love My Bride with Shin Mina, which releases next week.

Kang Ye-won (The Huntresses) joins in one of the trends of the night, which was long white gowns. I don't like the particular peekaboo cut of hers, which kind of looks like somebody took a sword to her front and left her flapping in the breeze. Beware of big gusts of wind!

Kim Hee-ae (Elegant Lie) also wears white (sort of—it may be champagne or silver up close, but it gives off an overall white-like impression) and looks crisp and polished. Does she ever NOT?

Aw, Yoon Kye-sang (Full Sun), rocking the classic tux, with just the perfect amount of stubble. Yum.

Honey Lee (Tazza 2) is here on the arm of Kim Nam-gil (The Pirates). He looks fantastic, even though the navy jacket and black pants count as some kind of fashion faux pas, perhaps. Her, on the other hand, I'm torn on. I love beaded gowns with wispy chiffon layers! And yet, hers looks a bit sloppy to me. Does anyone else want to rip off the sheer curtainy bottom portion, a la every spy caper comedy ever, making her dress short and sheath-like?

As with a number of gowns tonight, what really makes this work on Jung Yumi (Wonderful Mama, Mother's Garden) is that back. (I just wish that didn't mean that most of the times the fronts look a bit bland.)
How time flies. Who can recall when ten-year-old Kim Sae-ron (Manhole, Do-hee) broke out with Ajusshi and showed up at every awards show that season (1) on the arm of Won Bin, and/or (2) wearing an adorably complicated and amazing confection of a dress? (See: Exhibits A, B, C, D, and E. Well, she's grown up and still knows how to rock a red carpet.

Speaking of former child stars, Go Ah-sung (Snowpiercer) has been making the transition to adulthood gracefully, both in her acting choices and her style sense. She's got an eye for structured and chic pieces, like this white number here.
Well, I don't exactly like this gown worn by Kim So-eun (Liar Game, Mourning Grave). She looks older than her 25 years, and not necessarily in a good way. But I like the concept of the red—especially in such a sea of black and white—and the hair and makeup are spot-on. Just… RIP, giant red doily. I'll see you in hell.

Another lady in red: Similar in concept, but (imo) such a better version of it. I remember Hwang Geum-hee making the award-circuit rounds back when she was named Ji Sung-won and coming off the acclaimed thriller film Bedevilled, which gave her enough notice for her name to pop up here and there. She hasn't done much since, with one film coming out quietly this year, An American Friend.

I would've expected more crossover between events, but Clara (Emergency Couple) is one of only a few to have made it to the red carpets for both the BIFF opening and the Korea Drama Awards. Her look seems rather severe—black hair, white dress, red lips—but perhaps she was going for a big contrast with her KDA appearance, from flirty to va-va-voom. Or maybe she was channeling vampire princess bride. (I'm pretty sure I saw that monster red pendant in Vampire Idol, 's all I'm sayin'.)

Is Jo Yeo-jung (The Target, Obsessed) wearing a nightie? Granted, it's a very pretty nightie…

…but white nighties have a tendency to wash you out, as with Lee Jung-hyun (Roaring Currents)

Here's Im Ji-yeon (Obsessed),and while I don't have any complaints about the specific dress, after a while you see another lady in a vaguely bridal white gown and they all start blurring together.
Okay, I KNOW I've seen this dress a bunch of times before at various red carpets before. Which stylist keeps shopping it around? But then again, everyone always looks fantastic in it, so maybe it's worth it? This one is worn by (Kim) Soo-hyun (Level 7 Civil Servant, The Avengers: Age of Ultron), who appears to have dropped her surname, probably so as not to confuse her with Mr. Star Man Alien himself.

No matter how many times I see them together on shows or at events, every time I see Sung Dong-il (It's Okay, It's Love) with his son Joonie, I have to awww. He even let him wear sneakers!

I'm used to seeing Song Il-kook (Entangled) looking sharper, but the rumply ajusshi look is strangely attractive on him. Okay, not strangely. Just attractive.

I'm sorry for laughing, but blame Sly and Single Again, after which point I can never see Kim Gyu-ri wearing a dress with a slit and not think of her completely unrealistic fake leg in it (and how she always brooded over her giant photo baring her formerly whole leg, only the picture highlighted the wrong leg). But yes, okay, also she looks great and her shoes are highly covetable.

You know, I don't really like the front of this gown worn by Han Ye-ri (Haemoo)… but I think the back makes up for it. What can I say, I like shiny things.

Chun Woo-hee is shaping up to be an actress to keep an eye on, earning accolades for her performance in the small indie drama Han Gong-joo. Her black gown is simple, but elegant.

Jo Jae-hyun was kind of terrible in King's Wrath, but by terrible I mean amazing, of course, in portraying the ghastliness of his character. Shudders.

In addition to black and white, there were a lot of beaded champagne-colored gowns, such as this one worn by Jo Min-soo (Venus Talk, Pieta). I love how confident she always is on the red carpet.

Do Ji-won (Gold Rainbow) wears something with a similar feel, and looks awesome.

It's another similar concept for Gu Hye-sun (Angel Eyes)—beaded, long, lacy—but I do wish she'd wear things that suit her better.

Ki Tae-young is here with his Gangnam Blues co-star Kim Hee-jung, who I'm not sure picked the best gown for her. She's only 22, but looks easily a decade older.

It's shiny purple for Kim Jung-hoon, who's slowly but steadily working his way back into the spotlight after a few years of being off the radar. He had a few dramas (Her Legend, I Need Romance), had a movie this year (Stray Dogs) and released a mini-album this summer.

Kim Hyang-gi (Elegant Lie, Wolf Boy) is so adorable. Her look hits just that right note of being dressy without going overboard.

Film industry (and red carpet) veteran Ahn Sung-ki (God's Play, Top Star) kind of always looks the same, but in the best way—classic and timeless.

Aw, Choi Woo-shik (Fated To Love You), whose cheeks I always want to pinch. That tux looks a touch formal for the event, but I kinda think that just adds to his cute-little-bro appeal.

My Jang Hyun-sung (Secret Door), for a guy who's carving out a niche as the perennial villain, you sure look happy. Please enjoy yourself and stop torturing poor innocent souls in dramaland, maybe? Yes? I'll give you a cookie?

Okay, so maybe Lee Hyun-woo (Covertly, Grandly) is wearing a head-to-toe maroon suit, but damn if he doesn't make it look fantastic. Our little boy's all grown up. *Tear*

I just checked to see if Otani Ryohei (Joseon Gunman) was wearing the same tux he wore the night before at the Korea Drama Awards, because if I were a dude, that's totally what I'd do and hope nobody noticed. Maybe wear a different bow tie or something. But nope, Ryohei is a professional and got a new suit like a proper celebrity, because he is not a lazy ass who never leaves the house.

Sexy ajusshi! I can't help it; those are the first words that spring to mind every time I spy Park Sung-woong (King's Wrath, High Heel) at a black-tie event. Man knows how to work a three-piece tux.

And here's Sohn Hyun-joo (Three Days, Hide and Seek), another ajusshi favorite.

Love the shock of electric blue worn by Yeom Jung-ah (My Neighbor's Wife), who can always be counted on to turn in a classy look (and performance).

Huh. Remember when Go Eun-ah cut her hair and dressed in baggy clothes to pass for a boy to be in an idol group for K-Pop Ultimate Survival? Yeah, looking at these photos I wouldn't remember either. She is the farthest thing from tomboyish with this low-cut, form-fitting dress.

Um, no, Shin Hyun-bin (Mimi, Warrior Baek Dong-soo). No.
RELATED POSTS
Tags: Ahn Sung-ki, awards, Cha Ye-ryun, Clara, Go Ah-sung, Go Eun-ah, Gu Hye-sun, Honey Lee, Jo Jae-hyun, Jo Jung-seok, Jo Min-soo, Jo Yeo-jung, Jung Woo-sung, Jung Yumi (2), Kim Hyang-gi, Kim Nam-gil, Kim Sae-ron, Kim So-eun, Park Hae-il, Park Seo-joon, Ryu Hyun-kyung, Sohn Hyun-joo, Song Il-kook, Soo-hyun, Sung Dong-il, Uhm Jung-hwa, Yeom Jung-ah, Yoo Ji-tae, Yoo Yeon-seok, Yoon Kye-sang